Affordable Fall Throw Pillow Covers – Grouped By Colors & Patterns That Mix Well Together
One of the easiest and most affordable ways to make seasonal decorating changes to your home is by using throw pillow covers.  Bonus – storing pillow covers is a great space saving solution too!
Many of you have asked me for this post and it's here at last!  An amazing list of fall throw pillow covers, grouped together by color, that are all super affordable.  Some even come in a set of two! 
I've taken the guesswork out of it for you by choosing lively patterns that will work well together.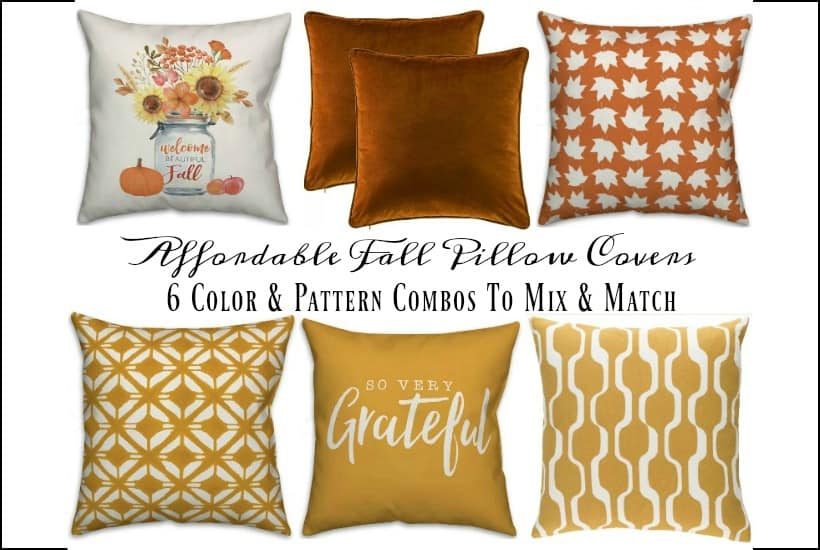 Pin
Affiliate links have been included in this post.  See my full disclosure HERE.
Here's the best fall decorating tip you'll get today!  Do you know what the fastest, easiest and most economical way to make seasonal decor changes to any room in your home is?  By changing the throw pillows you have on display, of course!

Pillow covers are usually much less expensive than buying a complete decorative pillow.  An added bonus is that they take up much, much less storage space that actual pillows, plus you don't have to purchase a special pillow form – you can just slip them right over pillows that you already own.  Win!Win!Win!
I've done the shopping for you and have put together an assortment of fall pillow covers that are grouped by color.  Whether all the pillows are on a sofa together or scattered throughout a room, these patterns will look great mixed together.  So mix and match to your heart's content, without the guesswork!
IF COPPER IS YOUR FAVORITE FALL COLOR
These soft honey bronze looks would look amazing mixed in with a few copper touches in the room. Try a copper bowl or other container holding fresh fall foliage or a gorgeous mum.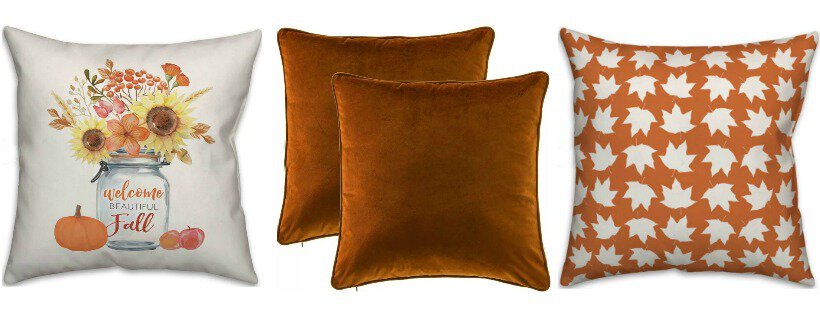 Pin
WELCOME BEAUTIFUL FALL PILLOW COVER ||SET OF 2 VELVET FEEL PILLOW COVERS || LEAF PATTERN PILLOW COVER
IF BURGUNDY IS YOUR FAVORITE FALL COLOR
Believe it or not, burgundy really is a fall color!  You'll find this rich standout color on the leaves of Red Maple, Sourwood and Japanese Maple trees.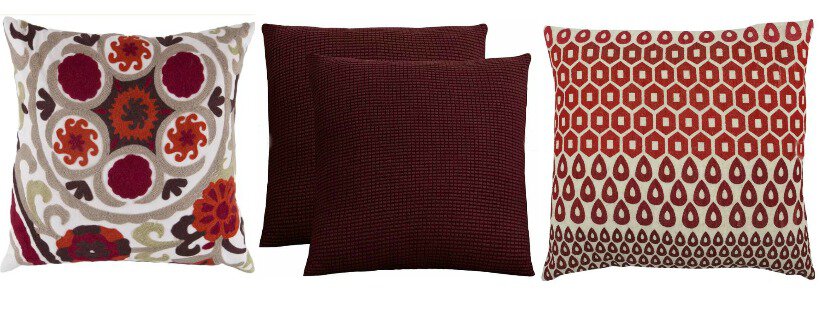 PinNEVA FALL THROW PILLOW COVER || INDOOR/OUTDOOR PILLOW COVER || DIANTHUS PILLOW COVER
IF BLUE IS YOUR FAVORITE FALL COLOR
Yes, you can decorate with charming blue for fall!  Try to select patterns that reflect the fall season.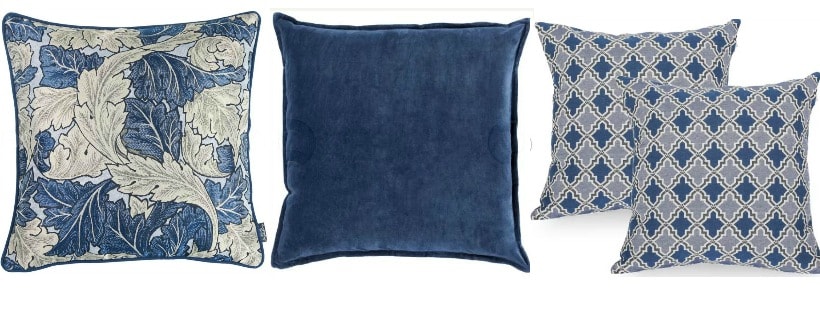 PinBRENNAN LEAF COVER || COTTON CRUSHED VELVET FEEL PILLOW COVER  || WORLD MENAGERIE THROW PILLOW COVER
IF GOLD/YELLOW/MUSTARD IS YOUR FAVORITE FALL COLOR
The beauty of soft yellows and glints of gold can be found on Aspen, Ginkgo and Tulip Poplar trees during the fall.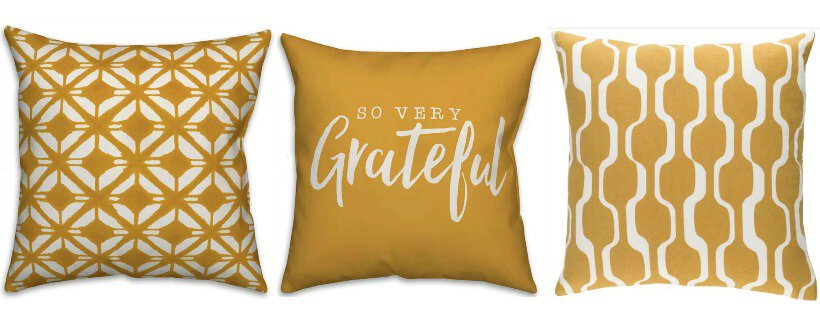 Pin
VINCENTE PILLOW COVER || VERY GRATEFUL FALL PILLOW COVER || COTTON PILLOW COVER  
IF GRAY IS YOUR FAVORITE FALL COLOR
Think gray isn't a fall color?  Just take a look around at tree trunks, dried leaves and stacks of firewood for subtle whispers of gray!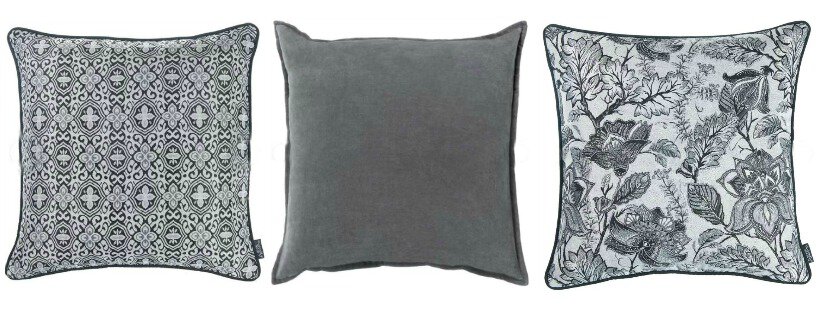 Pin
ELLENSBURG PILLOW COVER || COTTON VELVET PILLOW COVER    || ELLENSBURG PILLOW COVER
IF GREEN IS YOUR FAVORITE FALL COLOR
Maybe you think of green as more of a spring and summer color, but when when you use the right earthy shade of green, it's perfect for fall!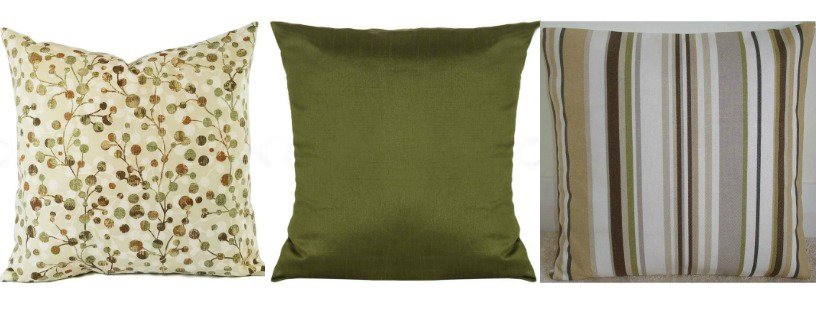 PinGREEN PRINT COVERS (SET OF 2) || GREEN FAUX SILK COVERS (SET OF 2) || GREEN STRIPE PILLOW COVER
What are your favorite colors to decorate with for fall?  Did you find a combination that you like?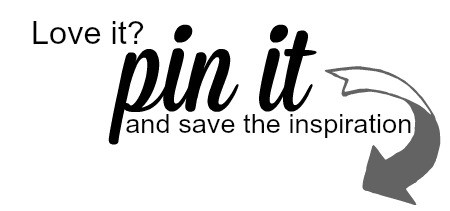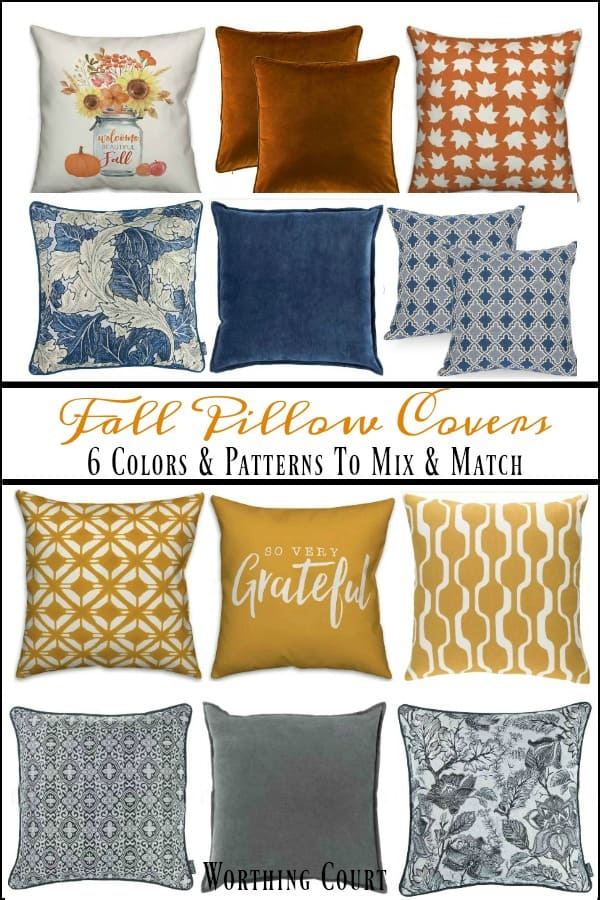 Pin