An Elegant Burgundy And Gold Christmas Dining Room
Ideas for elegant Christmas decorations in your dining room featuring rich burgundy and shades of gold.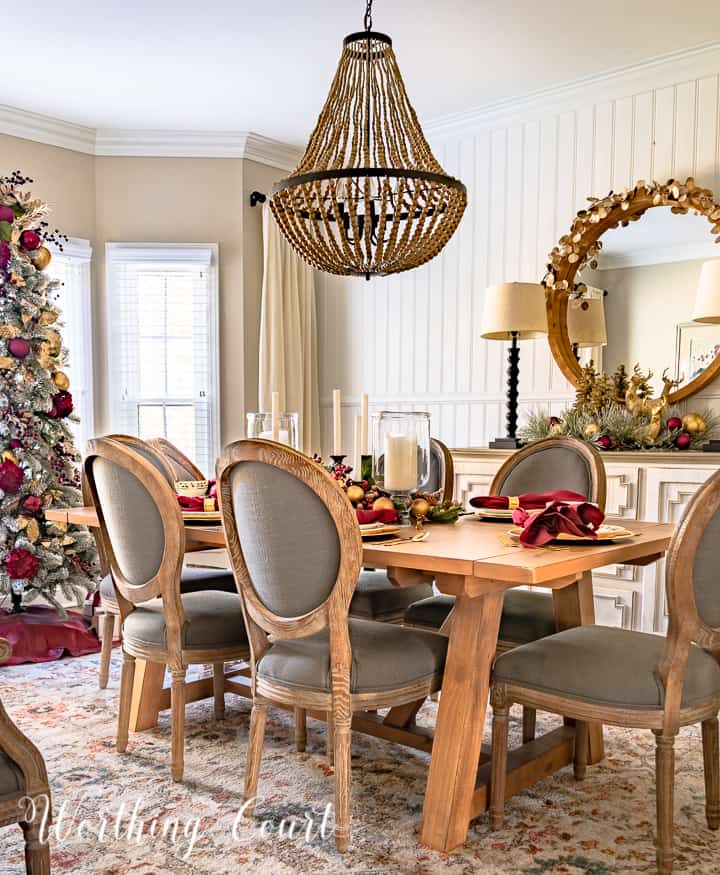 Pin
This post and photos may contain Amazon or other affiliate links. As an Amazon Associate I earn from qualifying purchases. If you purchase something through any link, I may receive a small commission, at no extra charge to you. All opinions are my own. See my full disclosure HERE.
The Christmas tree and other decor in my dining room this year is inspired by a photograph of a Christmas tree that I saw over a year ago and saved especially for this year. 
I love it when inspiration strikes, don't you? I loved the color combination and some of the elements that were on that tree, so I decided to create my own version of it and carry the look throughout the rest of the room.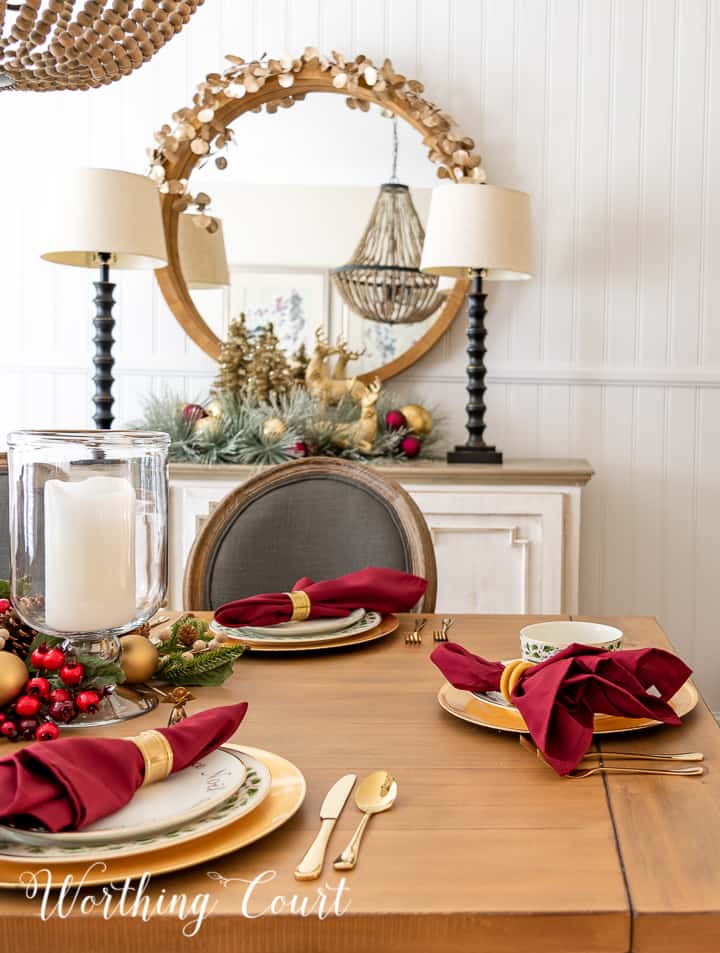 Pin
I'm excited today to be participating in the annual Celebrating Christmas home tours, hosted by my friend Leen at Sand Dollar Lane. Before I show you around (and hopefully give you some inspiration for your own home), I want to welcome you to Worthing Court!  
We have a group of several talented bloggers who are sharing different spaces in their homes decorated for Christmas today. If you're coming over from Sonya Burgess, I'm so glad that you're here! Sonya's Christmas decor is classic and beautiful. You'll find links to everyone else's blog posts down below.
I feel like my dining room should be decorated a little more elegantly than the other rooms around my home, so the gold and burgundy combination was perfect for pulling that off. I didn't have many burgundy decorations in my stash, so I did buy a few new things.
But I also brought out some things that I already owned to see if the red was a deep enough shade to combine with burgundy. Thankfully, I felt like my Christmas dinnerware fit the bill. I was concerned about the redness of the holly berries around the rim of the plates, but I believe that they are small enough and a dark enough shade of red that they fit right in with the burgundy.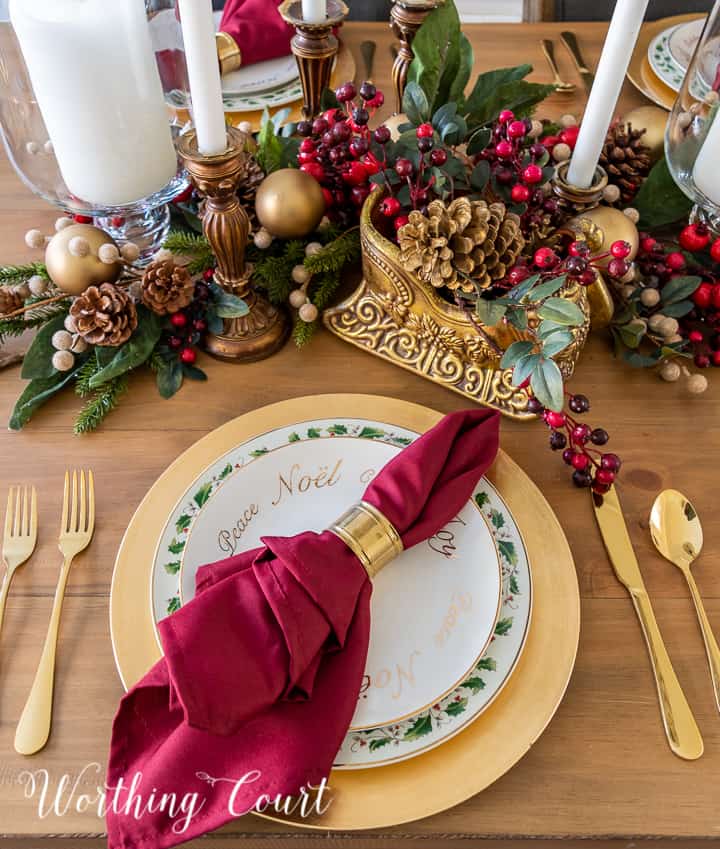 Pin
I love the combination of the gold chargers layered with my Christmas plates, burgundy napkins and my old tarnished brass napkin rings.
And how pretty is that gold flatware?!? That's one of the new items that I added this year and I'm very impressed with how lustrous it is for such an affordable price. You can find it HERE if you're interested.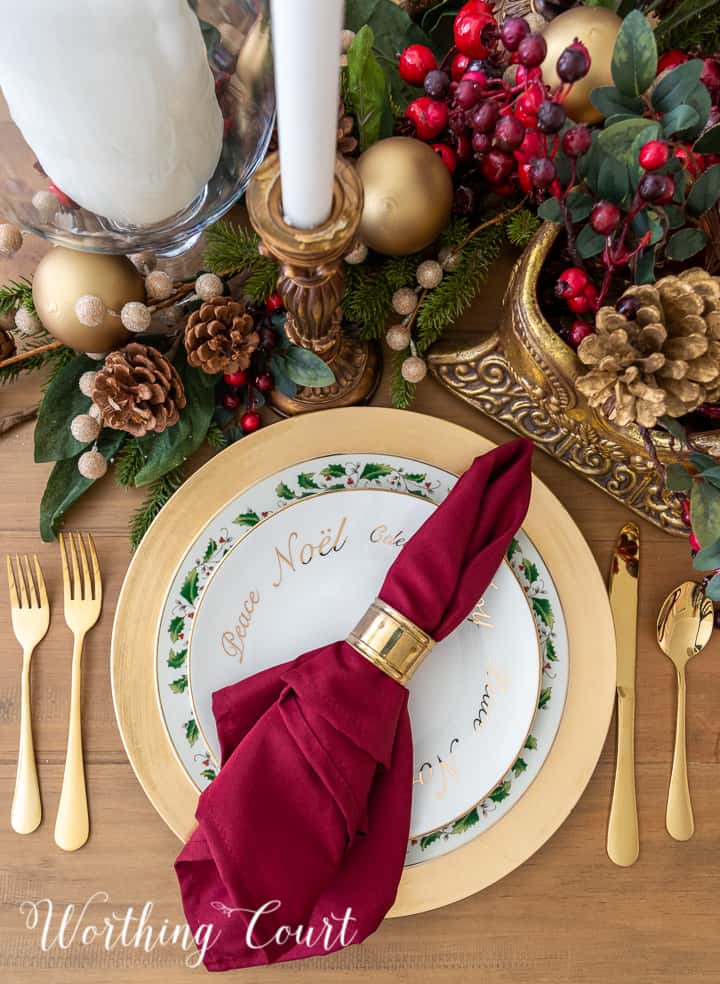 Pin
My centerpiece is just a combination of several picks and berry stems nestled between my pair of glass hurricanes. My husband took one look at the gold sleigh that I added at an angle and said that it didn't look right to his symmetrical eyes, but I love it and think that its position adds just the right touch.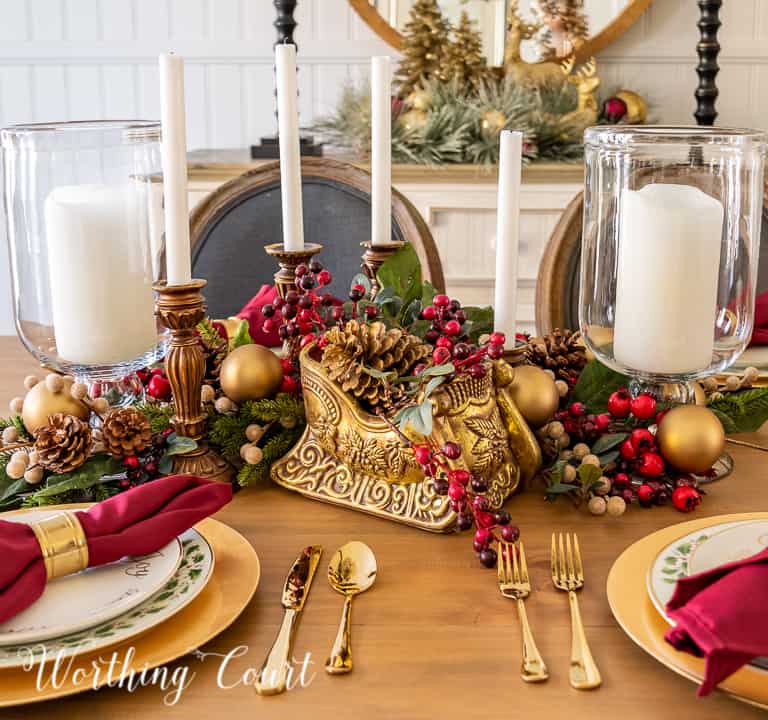 Pin
While I'm on the subject of the centerpiece, is there anything prettier than shiny, clean glass? I give the hurricanes a good wash every time I change the decor on my dining table to keep them looking their best.
They are one of those purchases that I was hesitant about, but am glad I didn't pass up! They're great quality and very affordable and can be found HERE if you're in the market.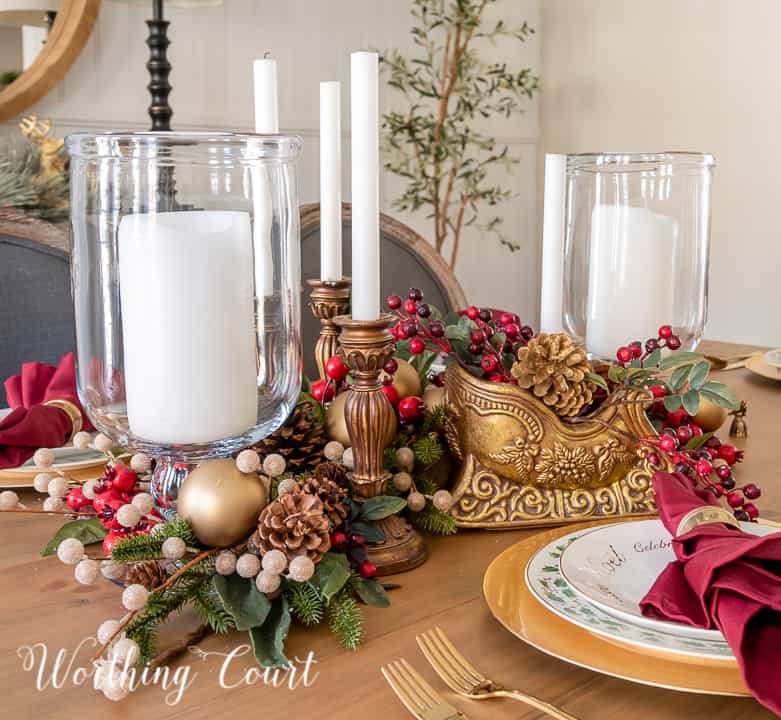 Pin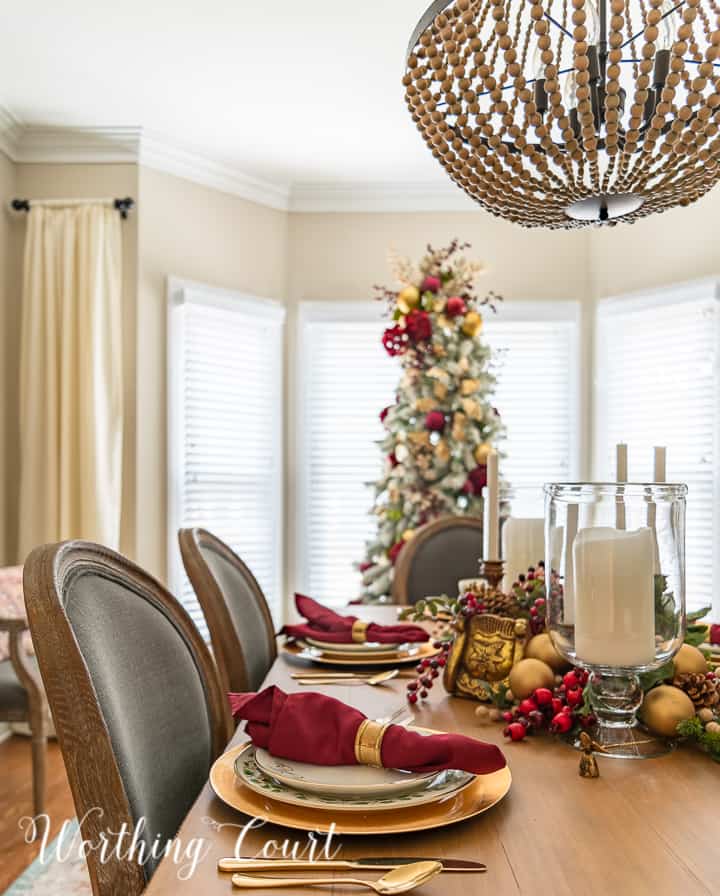 Pin
When I decorated the sideboard, I "borrowed" the gold eucalyptus garland that I had previously used when I decorated my bedroom for Christmas and used Command hooks to hold it in place around the mirror.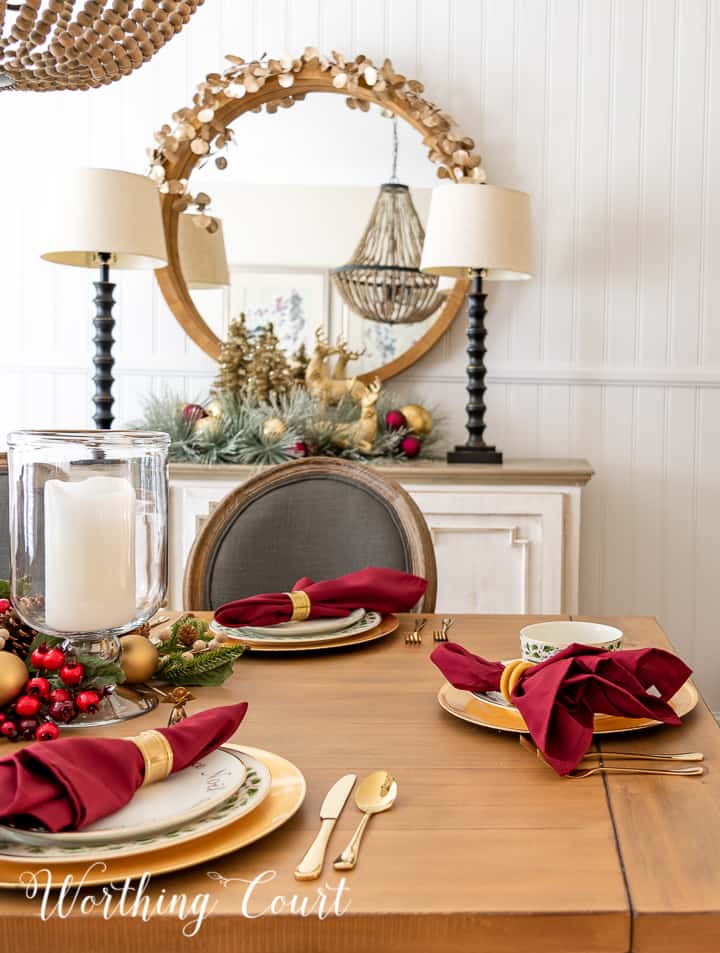 Pin
To create a vignette on my sideboard, that coordinates with the rest of the decor in the room, I combined a couple of my vintage-look gold tinsel Christmas trees with a pair of gold deer, surrounded it with a frosty long needle pine garland and tucked in a few burgundy and gold ornaments. Easy peasy!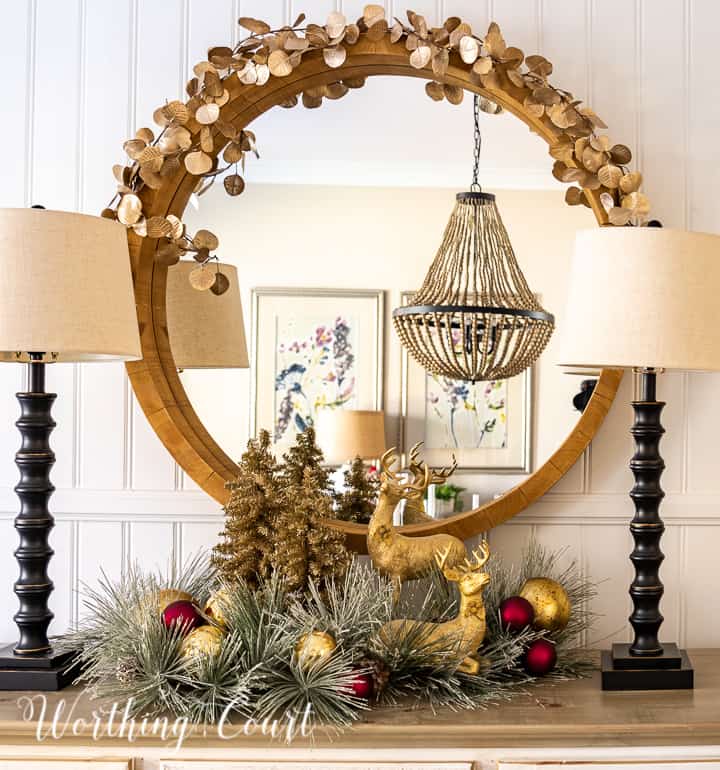 Pin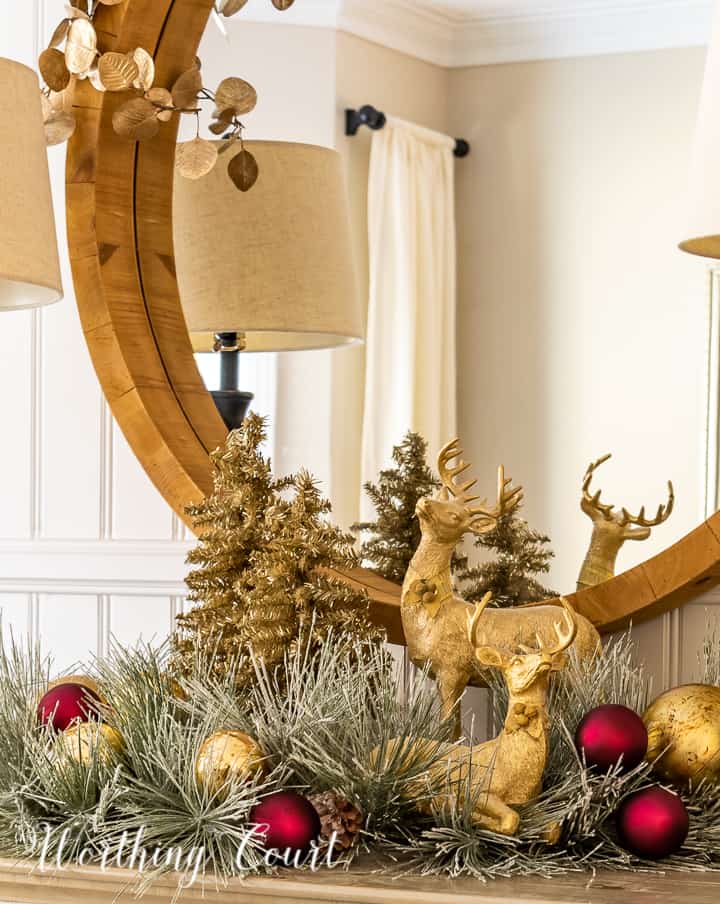 Pin
I kept things very simple on the small chest on the other side of the room by adding a few burgundy ornaments to my existing bowl of greenery and a Santa dressed in a faux velvet robe trimmed with vintage'ish look tinsel. I love him!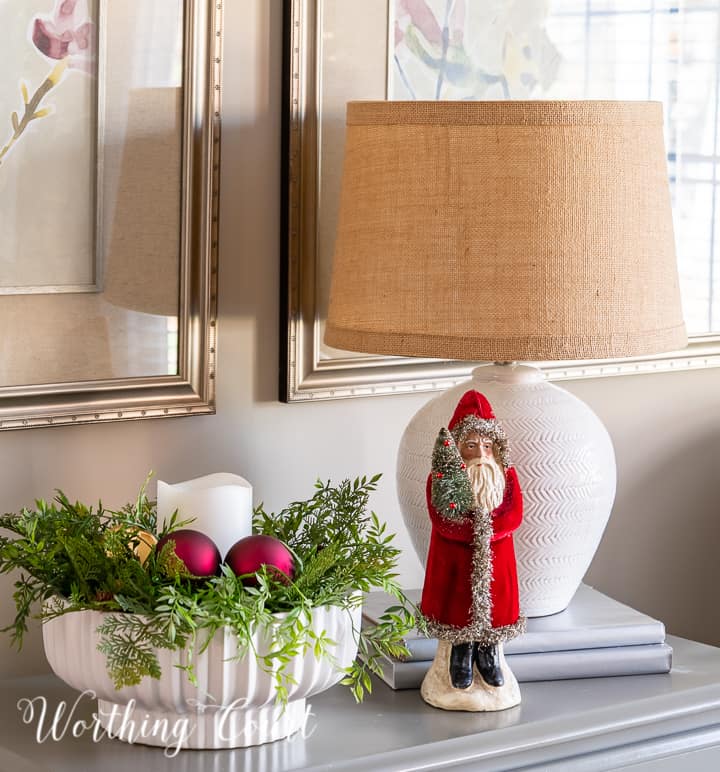 Pin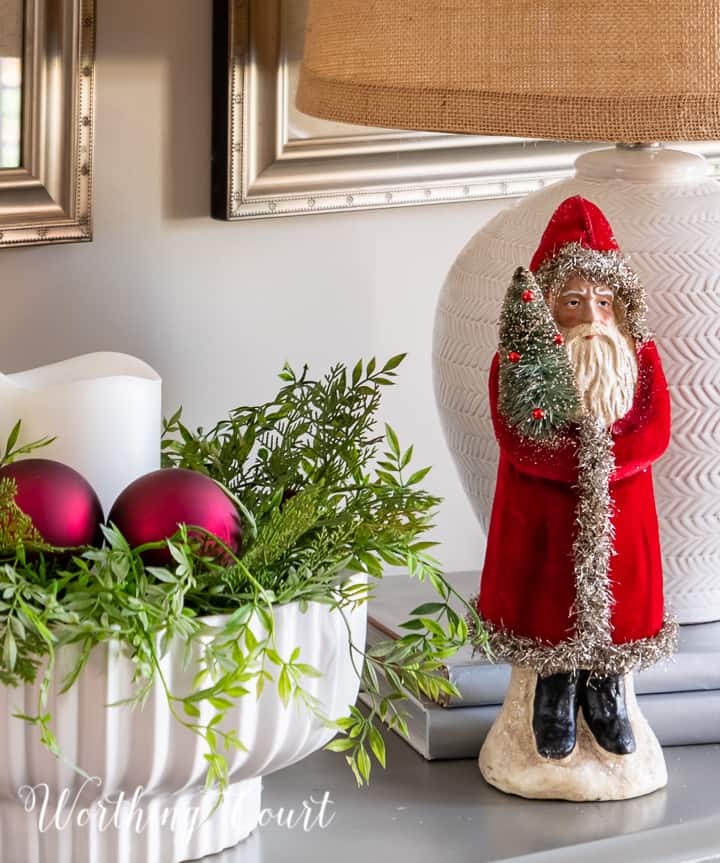 Pin
If you take a close look at the tree, you'll see that its decorations are really super simple. It's a combination of burgundy faux hydrangea stems, very inexpensive burgundy and gold ball ornaments, leafy gold stems and burgundy and gold berry picks.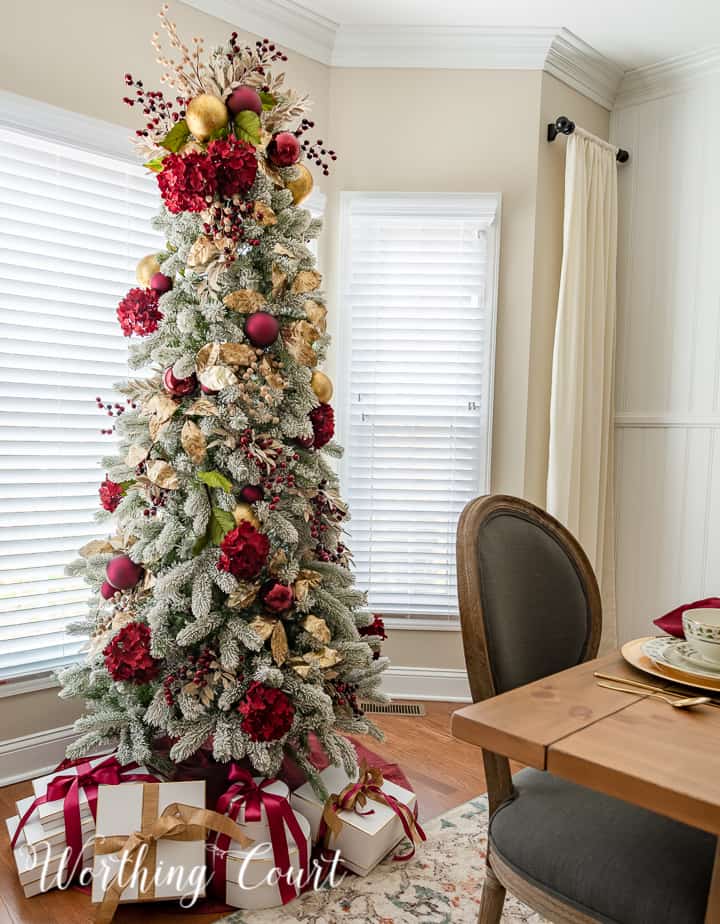 Pin
My tree topper consists of a few ornaments wired together before placing them on the tree. Wiring them together first allowed me to get them in the position that I wanted them to be in and keeps them closer together than if I had hung them on the tree individually.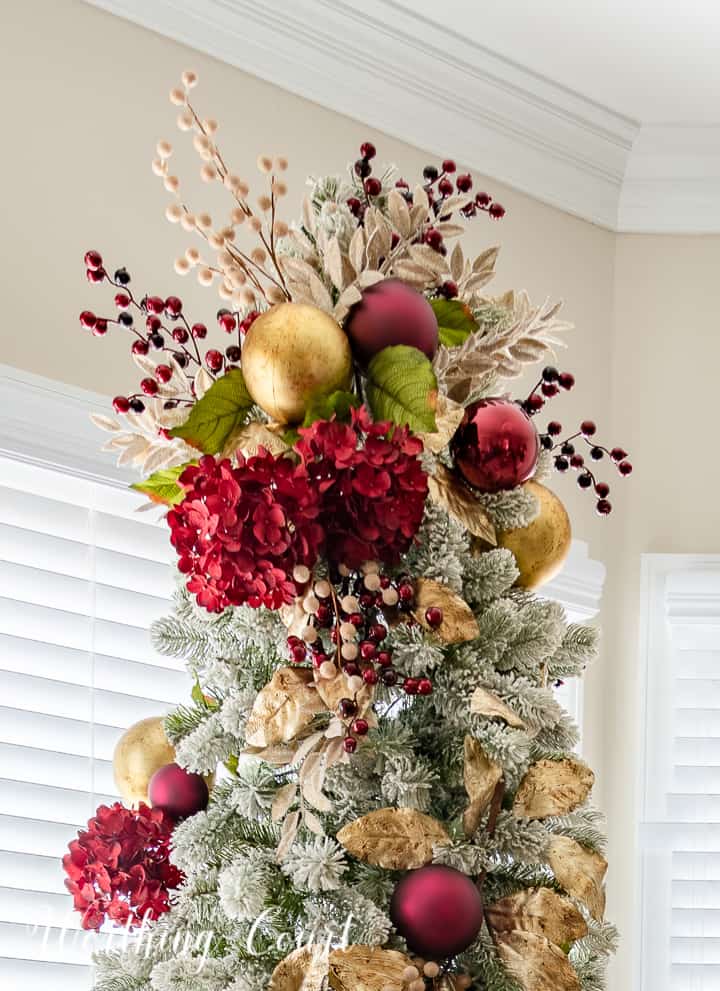 Pin
After that, it was just a matter of tucking an assortment of the leaf and berry picks around the ornaments.
You might be surprised to know that the largest gold ornaments came from the dollar store. I bought all that they had! The gold was too shiny, so I toned them down by smearing them with some dark wax.
You can see how they looked on my tree last year HERE.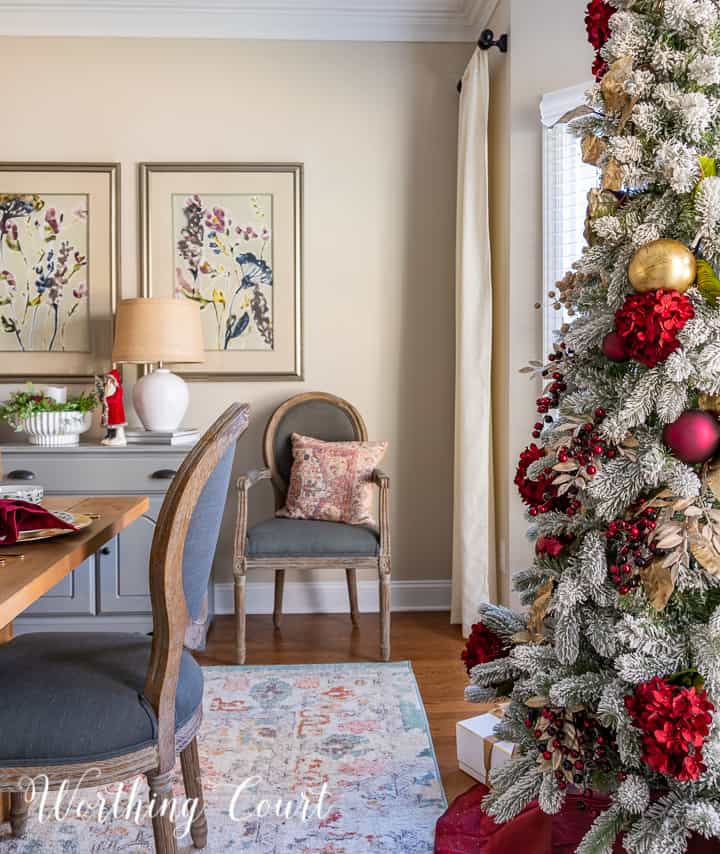 Pin
I had the same problem with the leaf stems with the larger leaves. They were way too shiny. Once again, dark wax came to the rescue. It really does a good job of toning the gold down and giving it a vintage vibe. All you do is simply smear the wax onto the surface and allow it to dry.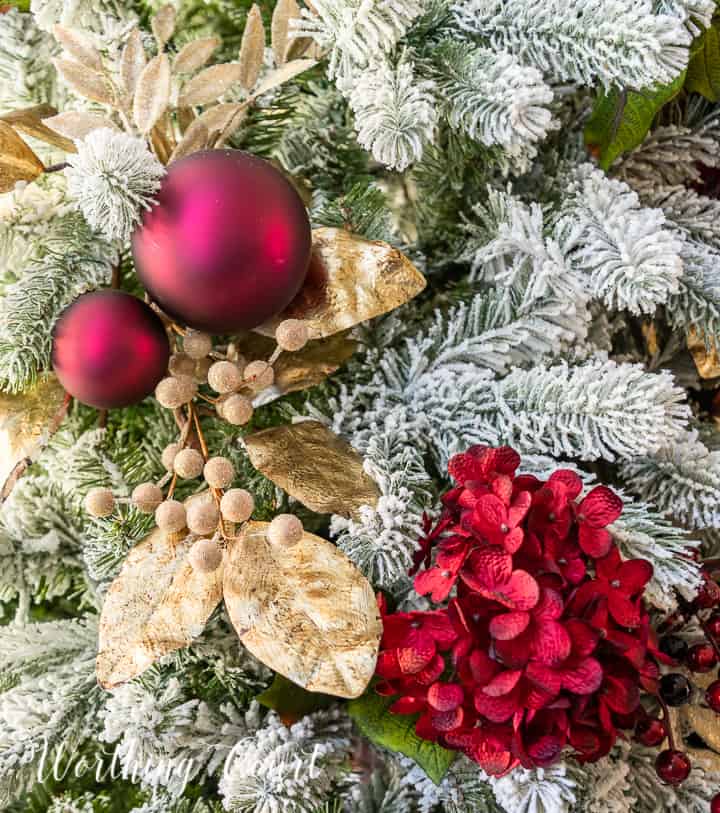 Pin
A pretty burgundy tree skirt and a few gifts tied with satin burgundy ribbon and wired gold ribbon completes the look of the tree.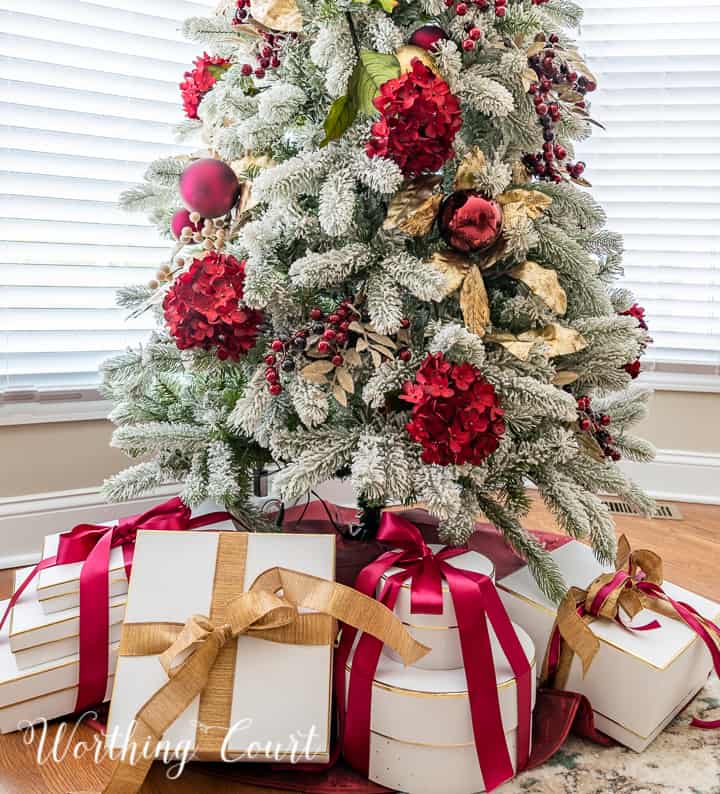 Pin
It's SO hard to properly photograph this tree because it sits in a window, but I'm really happy with how it and the rest of the room came together!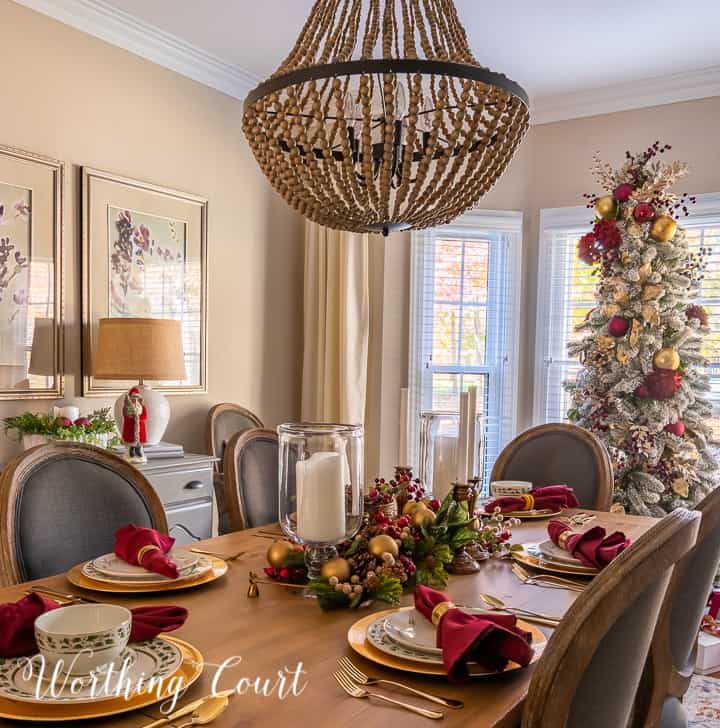 Pin
Thank you so much for stopping by today! Next, be sure to visit Kate at Southern Home and Hospitality. Her classic red and white Christmas decor is just beautiful and her Christmas tree is a real jaw-dropper!