Rustic Elegance Christmas Dining Room Decor
Take a tour of a rustic elegant dining room decorated for Christmas. The room is filled with aged gold, neutral colors and vintage inspired elements.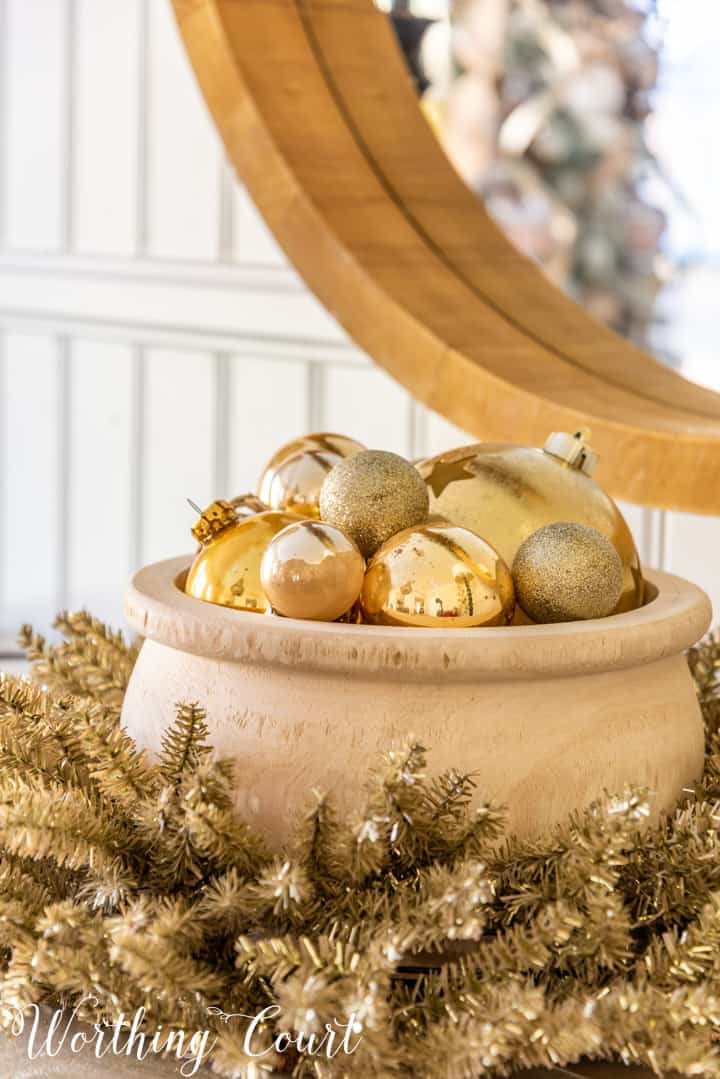 Pin
This post contains affiliate links. See my full disclosure HERE.
Are you ready for the first of my Christmas home tours? I've been working for weeks to get my home ready for you!

I want to welcome you to the Bloggers Best Holiday Home Tour hosted by my friends at The Tattered Pew and This Is Simplicite. I'm honored to be among a group of talented bloggers sharing Christmas decorations and inspiration in our homes this week!
If you're just coming over from Simply 2 Moms, welcome! Be sure to scroll down to the bottom of the post to get links to everyone else's tours.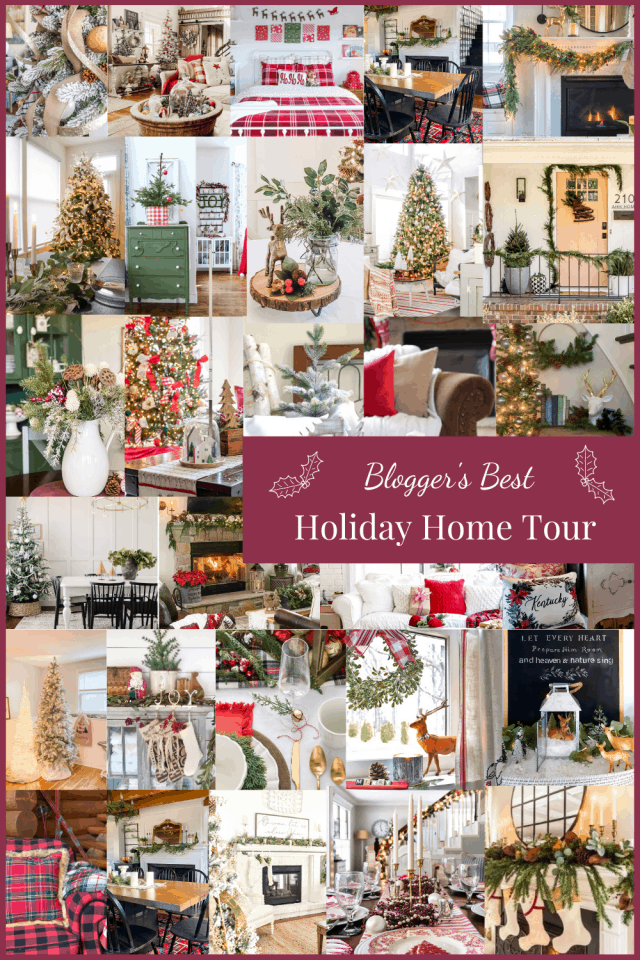 Pin
If you're an old friend, welcome back! If you're a new friend, I'm Suzy, an empty nester living in North Carolina surrounded by my hubs and two fur babies who follow me everywhere.
Come on in and let me show you around my dining room dressed in its Christmas finery. I haven't shared the room with you since we replaced some of our furniture, so I'm excited to show you around!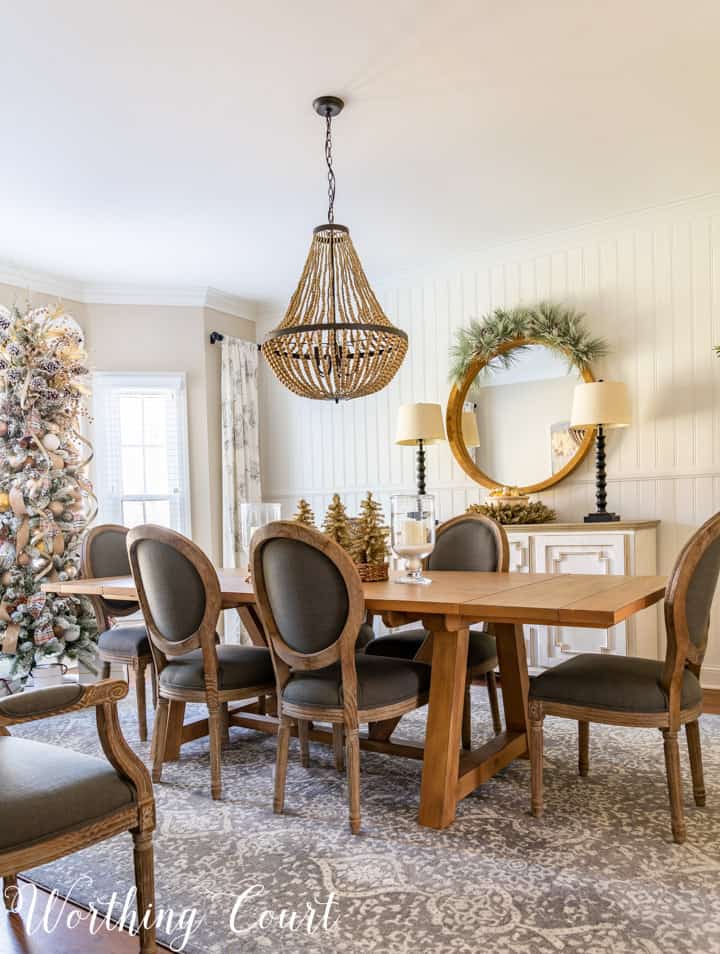 Pin
When I decorate the rest of my home for Christmas, I tend to keep things sort of casual, but I always like for my dining room to be on the elegant side. And when I go elegant I love to mix rustic and elegant together!
One of the tricks to pulling off a certain look in an entire room is to make sure to sprinkle the mix of elements throughout the whole room – not just on the Christmas tree.
In my dining room you'll find a mix of shiny and matte ornaments, pinecones and glistening leaves, tinsel, wood and wicker, moss and gold and silk and flocking spread through the whole space.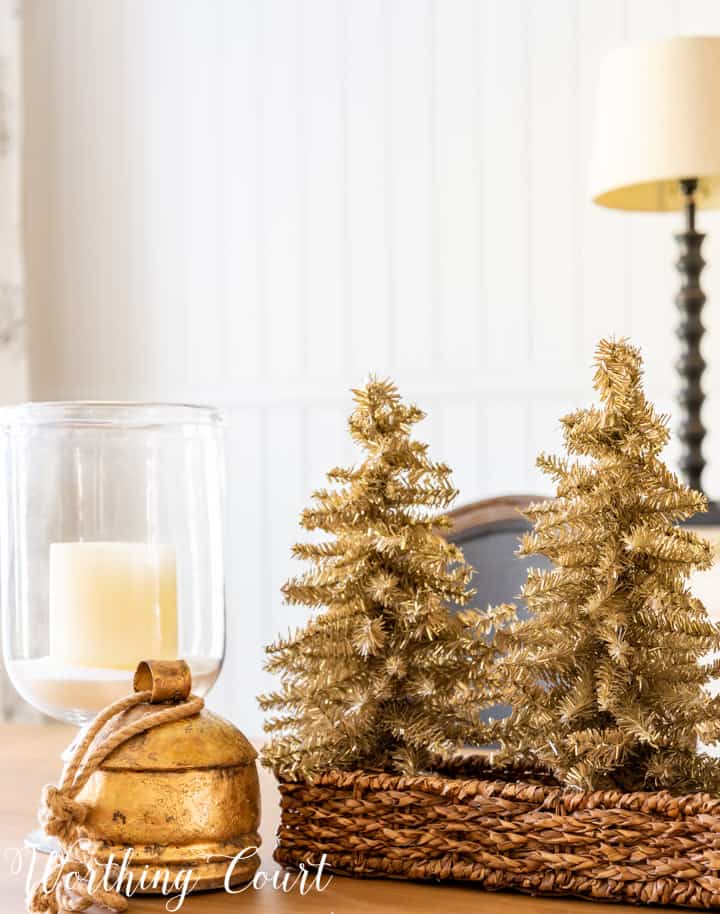 Pin
Take note of the mix of furniture too. My new table is a modern farmhouse style, but the new side chairs are regency style. The new sideboard has Chippendale style trim on the doors and drawers, but the top is stained wood and the body of the sideboard is slightly rough, distressed paint.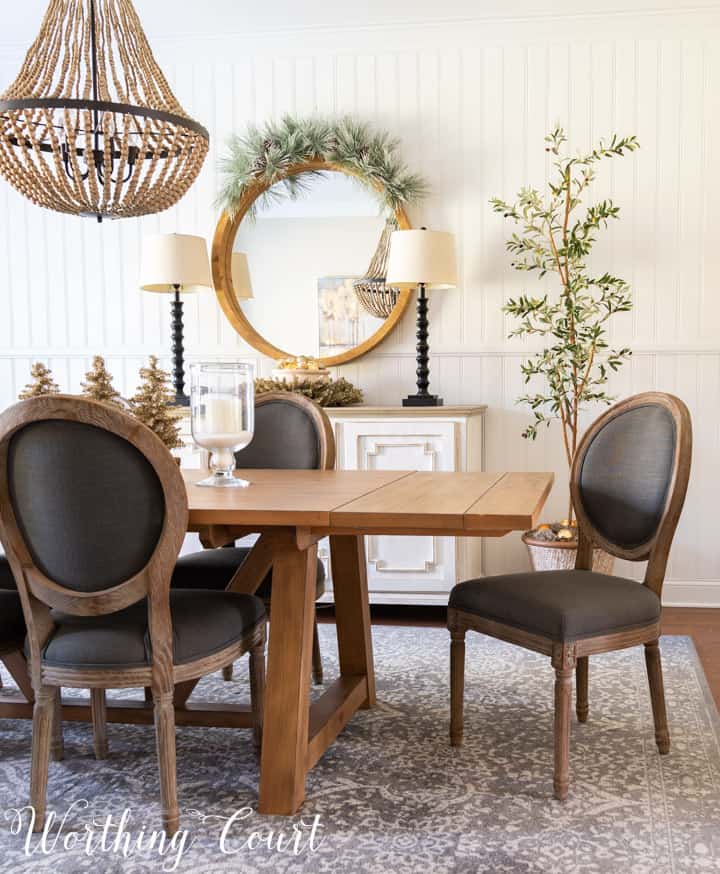 Pin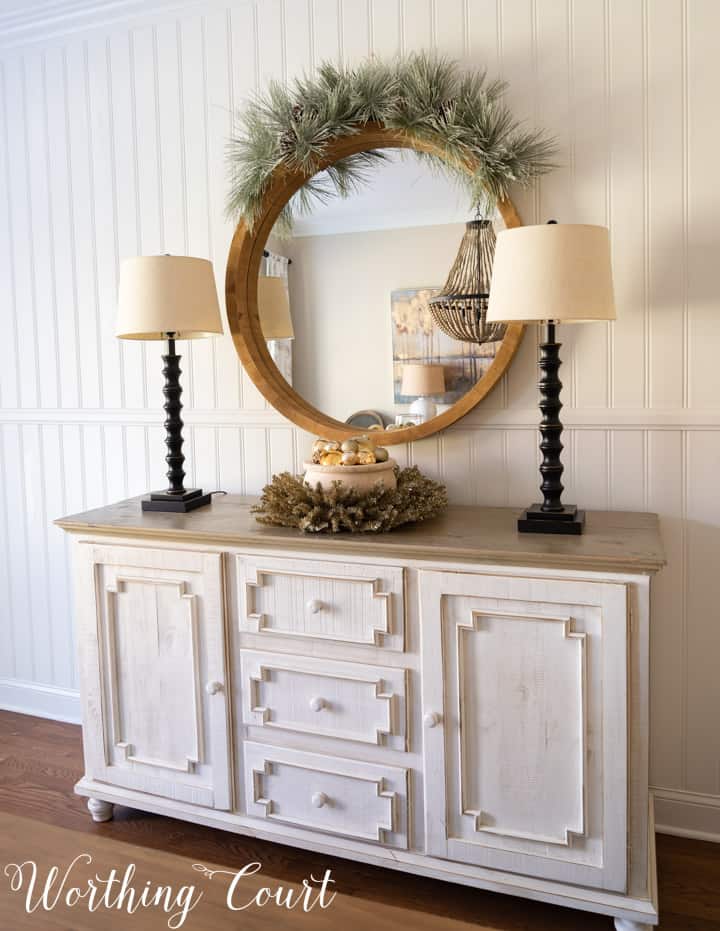 Pin
The small gray chest on the opposite side of the room is completely traditional, but is topped with modern abstract artwork and flanked by regency style arm chairs.
Never in a million years did I think I'd own a piece of artwork with gold leaf in it, but for some reason, this piece really appealed to me. Plus, I fell in love with abstract watercolor art when I gave my family room a makeover.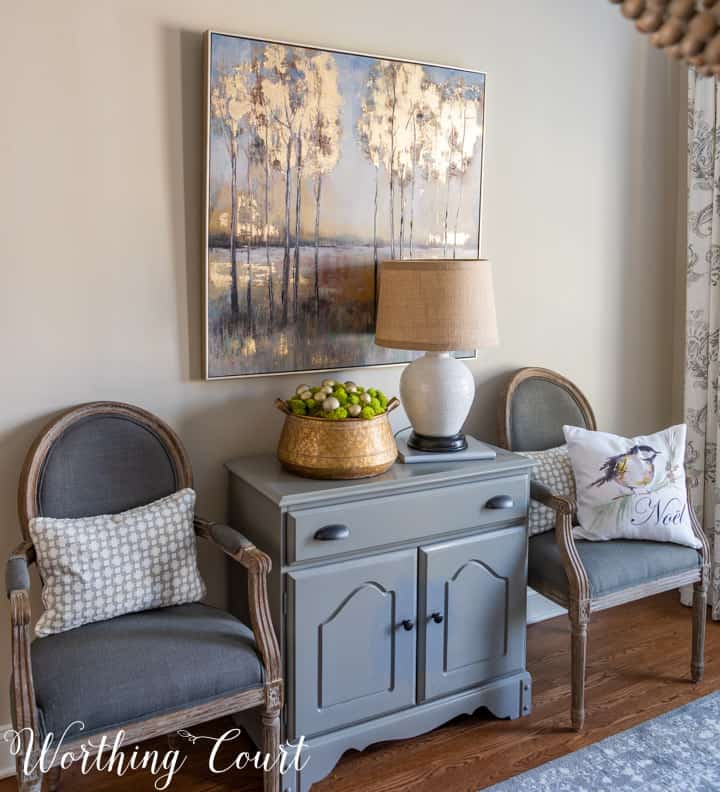 Pin
Let's get down to business and talk about the Christmas decorations in the room! My first step, after deciding on the palette and theme for a room, is to take myself to my Christmas stash to see what I might already have to create the look that I'm going for. I really love it when I'm able to use what I already own without having to purchase more.
This year's color palette and theme of the Christmas decorations was inspired by the yummy faux dupioni silk ribbon in a gorgeous Burberry inspired plaid that I used on the tree. Speaking of the tree – let's take a look at the star of the show!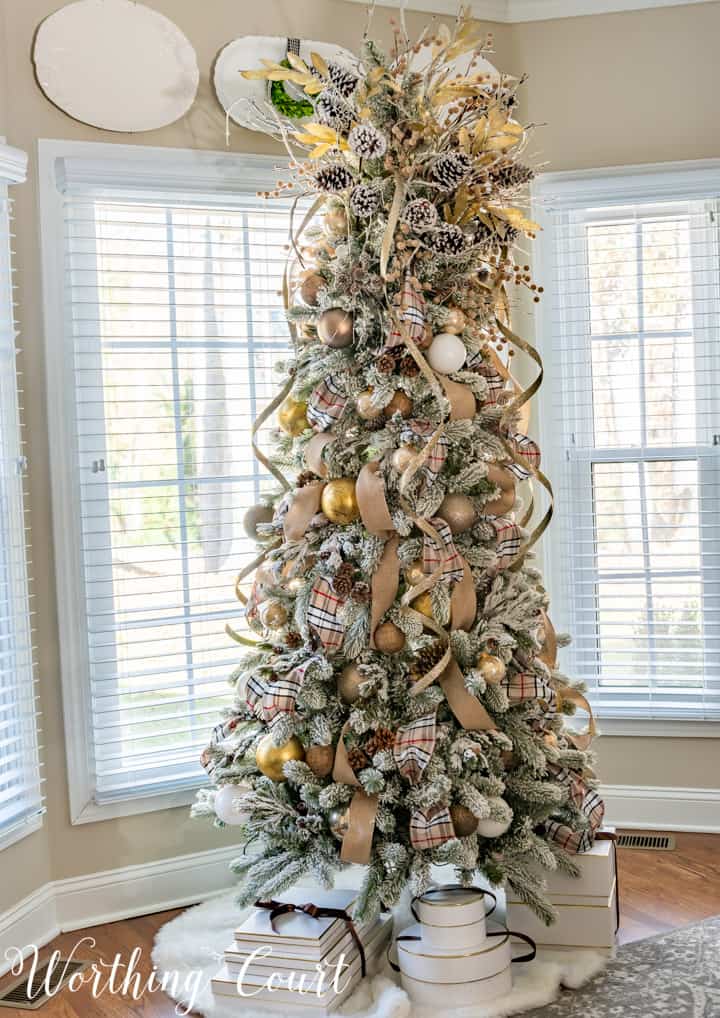 Pin
The topper is the crowning glory of the tree! It's a wonderful mix of rustic elegance and is filled with snowy pinecones and branches, glistening leaves and frosted icy looking berries.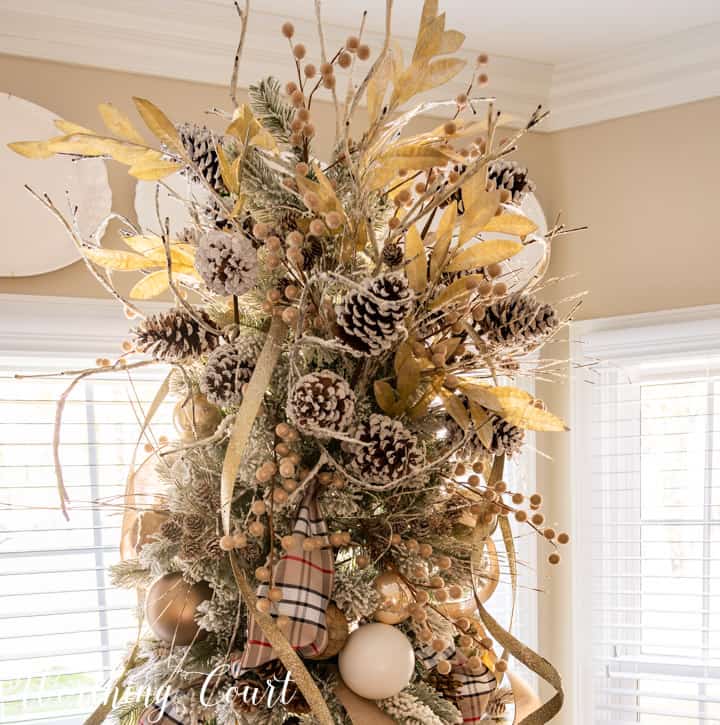 Pin
Here's a really close look at it in case you'd like to duplicate this look on your own tree. This post has lots of tips for creating a tree topper, along with step-by-step directions for decorating your entire tree – all from professional designers!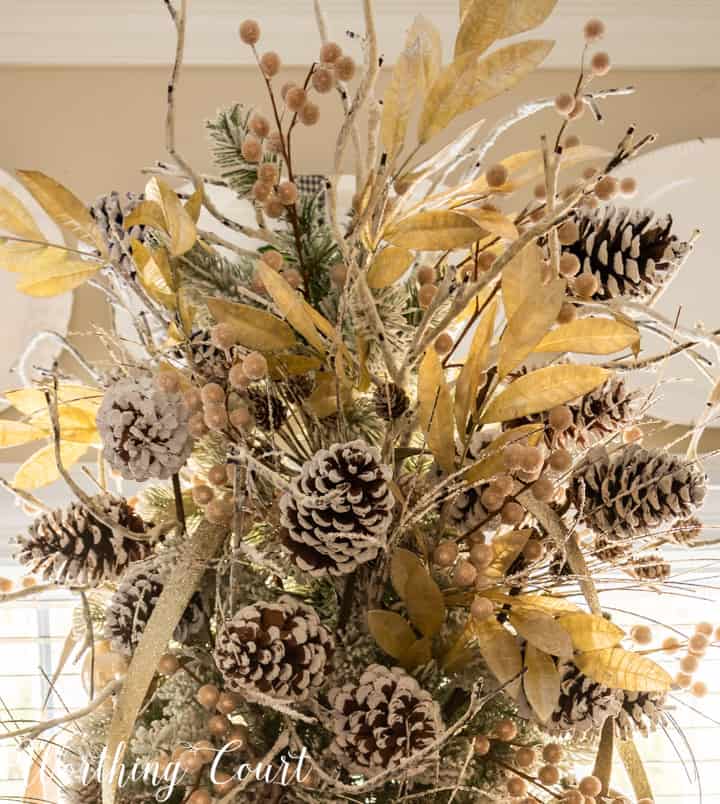 Pin
The rest of the tree is filled with more of the rustic elegance style. Oversized shiny gold ornaments (from the dollar store) were toned down and given a vintage look by being coated with dark wax (which was allowed to dry before being added to the tree).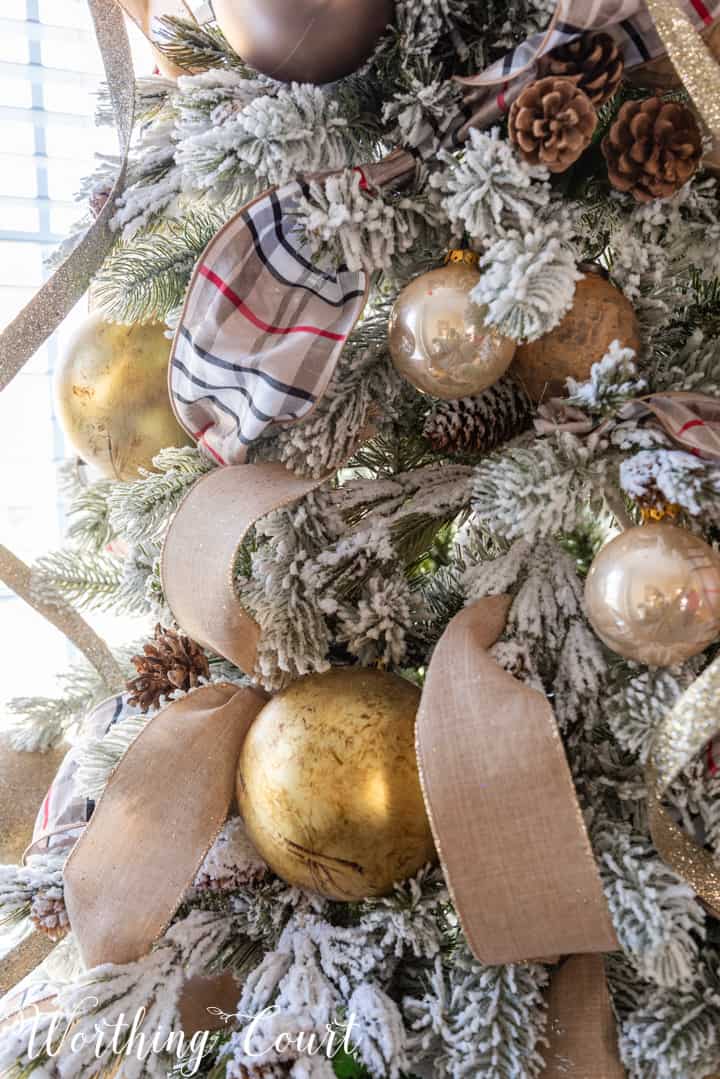 Pin
Matte brown'ish-gold ornaments with a honeycomb texture, gold pinecones, larger glitter covered ornaments and ordinary pinecones were added to the mix.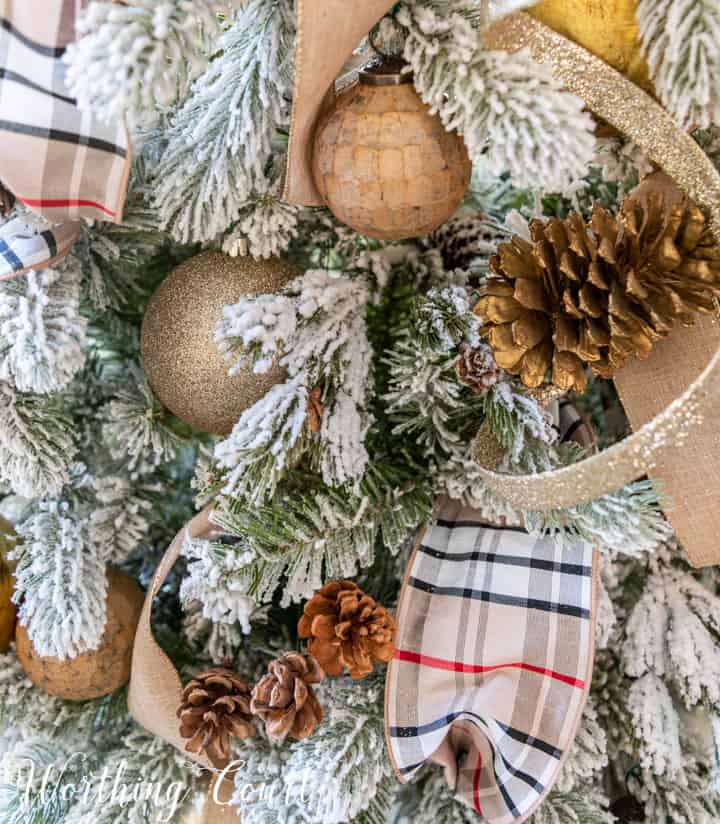 Pin
The entire look was brought together with the plaid ribbon, neutral matte ribbon edged with shiny gold thread and glittery curling garland.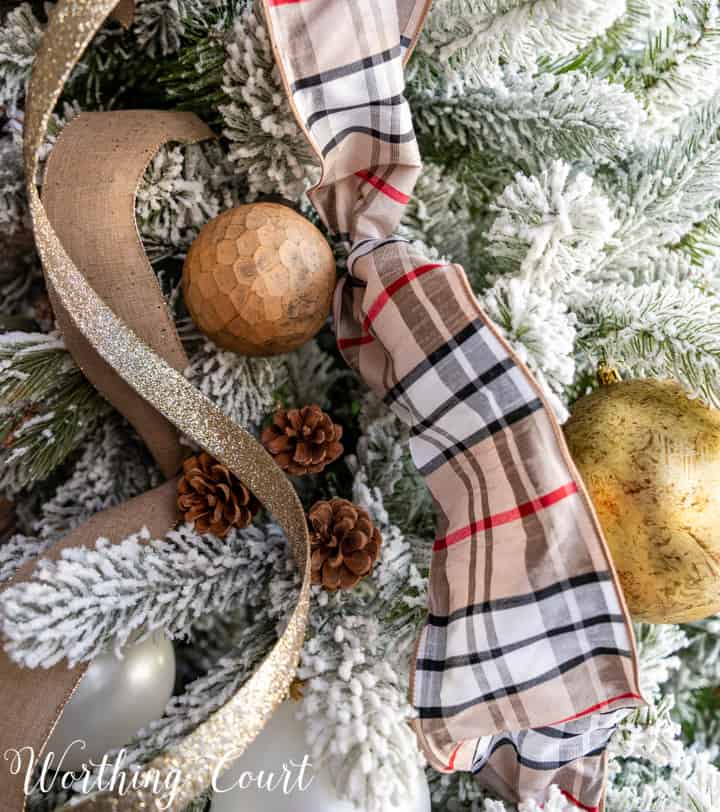 Pin
My centerpiece on the table is super simple. The trio of tinsel trees nestled in a wicker basket, flanked by gleaming clear glass hurricanes, is so appealing to me. I purchased these tinsel trees several years ago on major clearance after Christmas and love it whenever I'm able to incorporate them into my decor.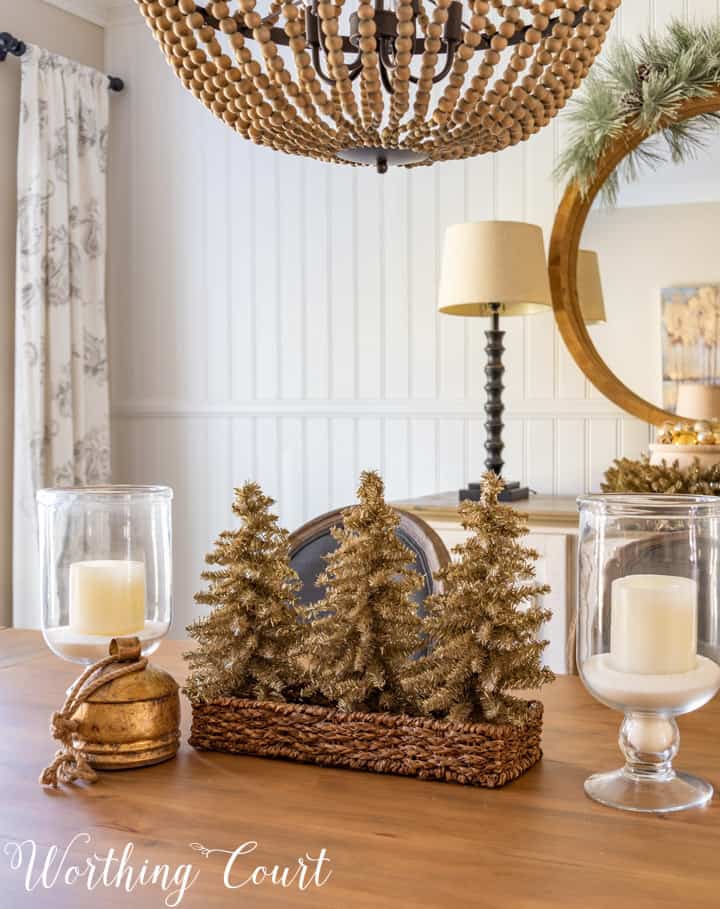 Pin
To continue with the snowy theme of the flocked tree, the glass hurricanes were filled with epsom salt to mimic the look of snow. An aged brass bell with a rope handle adds a slight vintage vibe and helps to tone down the glitz a bit.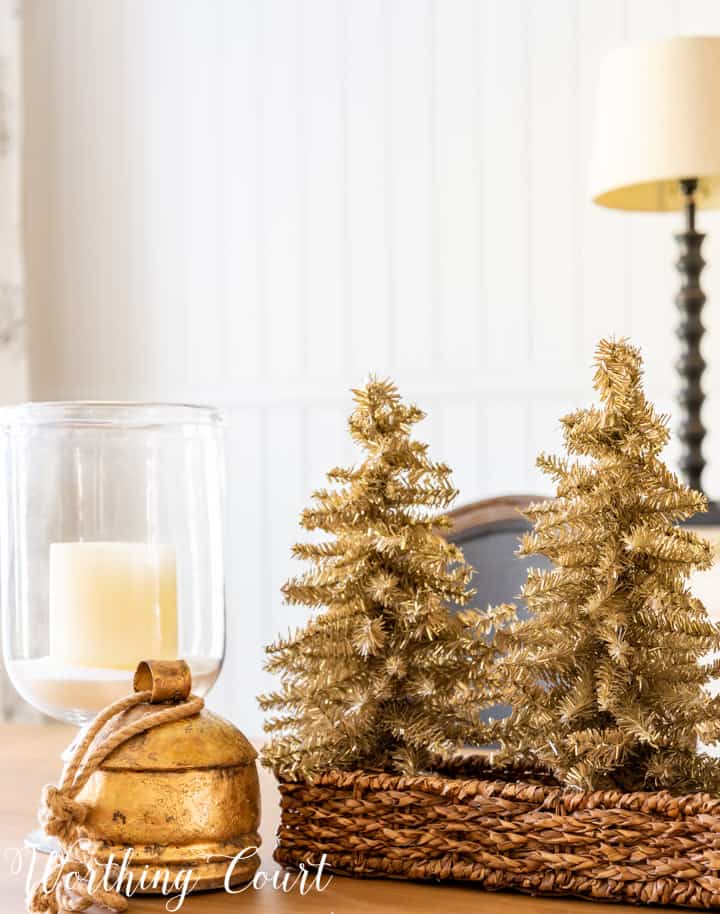 Pin
The round mirror above the sideboard was topped with a bit of flocked garland. The flocking on the pine needles and the few pinecones tie it to the look of the tree, so there's no need to add any other embellishments.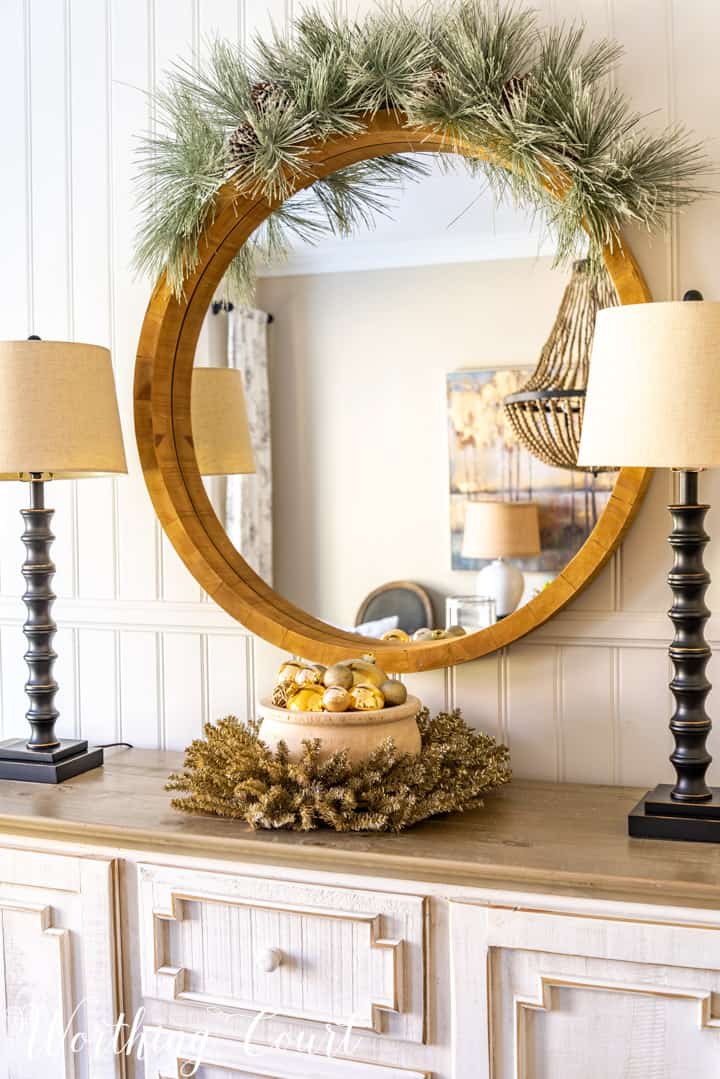 Pin
I purchased the tinsel wreath at the same time that I purchased the tinsel trees. It makes a great base for my wooden bowl that's filled with shiny and matte gold ornaments! The color of both the trees and the wreath are the perfect vintage gold.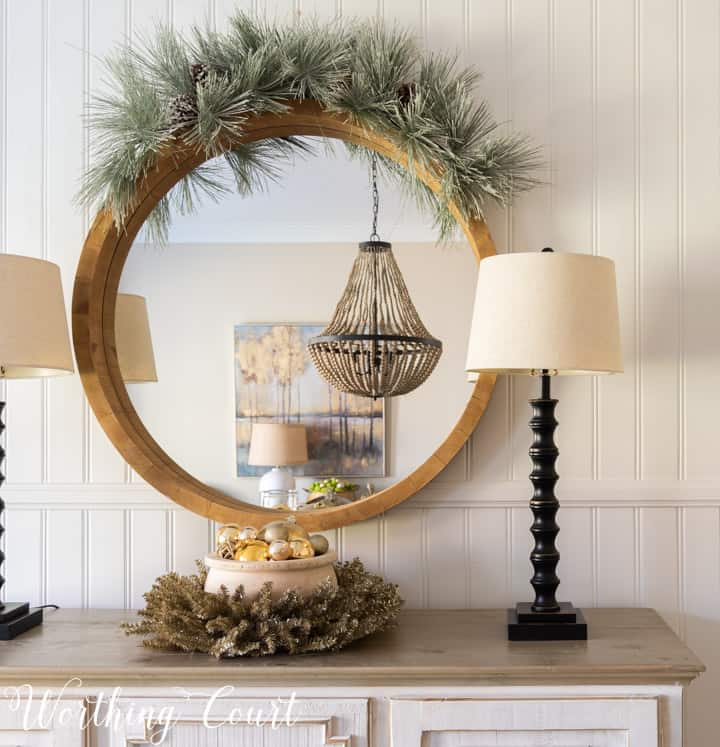 Pin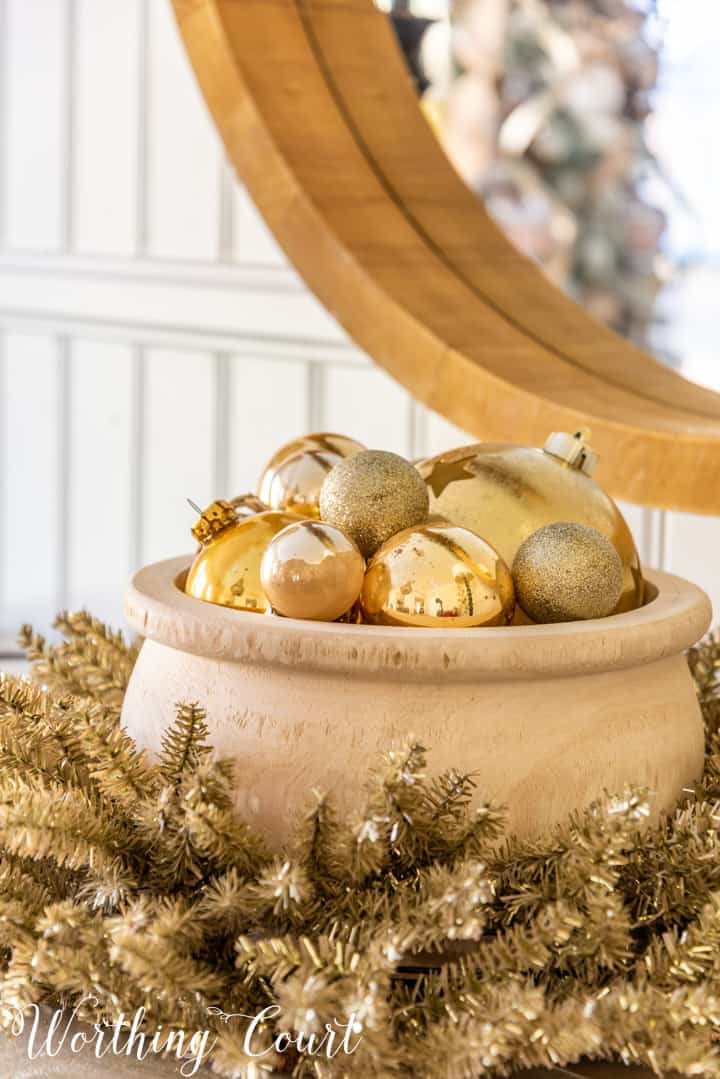 Pin
The last touch of Christmas is over on the small gray chest, where I took an existing aged brass bowl that I filled with reindeer moss and topped with smaller gold ornaments.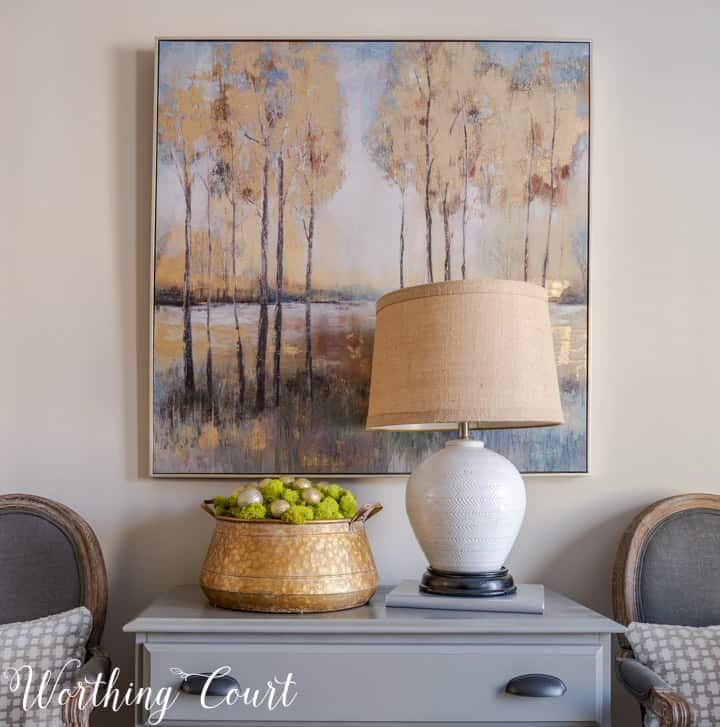 Pin
Would you believe that plastic and paper shopping bags are under all that moss??? That's what I used to give the moss in the bowl its overflowing, mounded look. There's always lots of smoke and mirrors and money saving hacks you can use when decorating your home!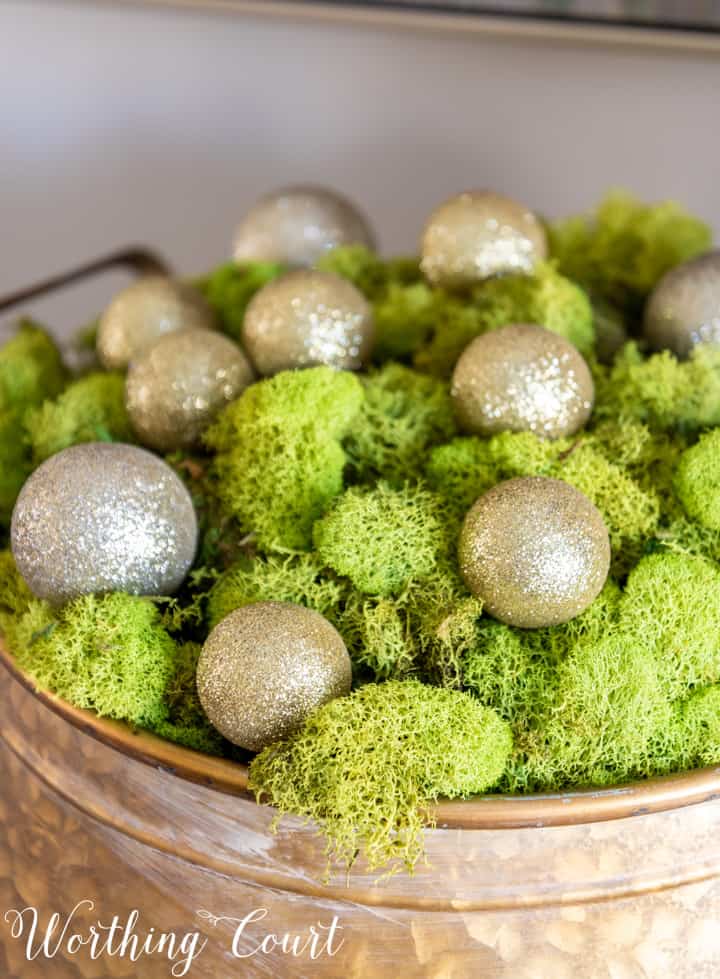 Pin
Thank you for coming along on the tour of my rustic elegance Christmas dining room today. I sincerely hope you were able to find some inspiration for decorating your own home!
You'll want to head over to Bricks N Blooms next, but be sure to come back every day this week to check out the other ladies on the tour for lots of mouth watering Christmas inspiration!


Pin
Monday's Tours

Pin
The Tattered Pew // My Thrift Store Addiction // Simply 2 Moms
Worthing Court // Bricks N' Blooms // Open Doors Open Hearts
Tuesday's Tours

Pin
Lora B Create and Ponder // This Is Simplicite
Shiplap and Shells // The Ponds Farmhouse //
Wednesday Tour's

Pin
Stone Gable // Midwest Life And Style // Follow The Yellow Brick Home
Noting Grace // My Wee Abode // The Farmhouse Life
Thursday's Tours

Pin
Aratari At Home // Caitlin Marie Designs // Sweet Pea
Fiddle Leaf Blog // First Day Of Home // White Arrows Home
Friday's Tours

Pin
Cottage On Bunker Hill // The Aspiring Home // Lantern Lane Designs
DIY Beautify // Cassie Bustamante // The Flowering Farmhouse