My Warm And Welcoming Christmas Foyer
The foyer here at Worthing Court is merry and bright and is a preview of all of the Christmas colors that you'll see throughout my home this year.  It's a place that's meant to welcome our guests with warmth during this most festive time of year!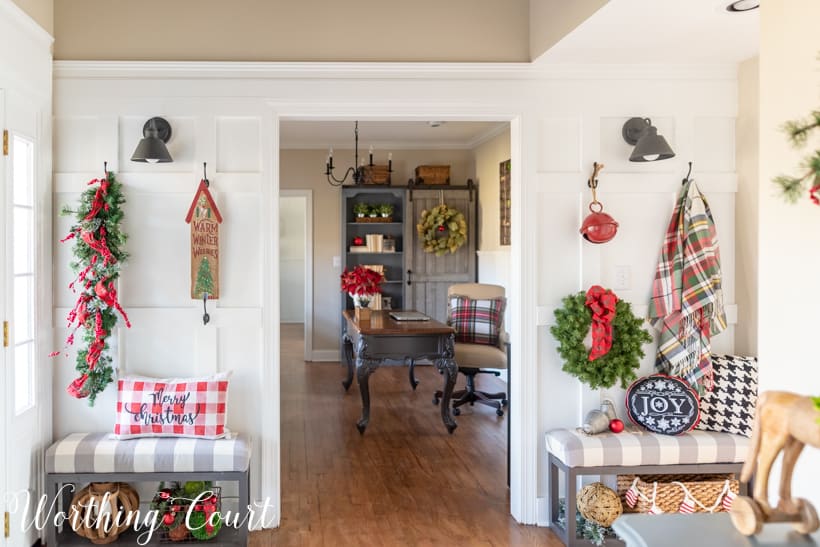 Pin
Come on in and look around!  Our Christmas foyer serves a lot of functions.  It includes the stairs that go upstairs, a coat closet…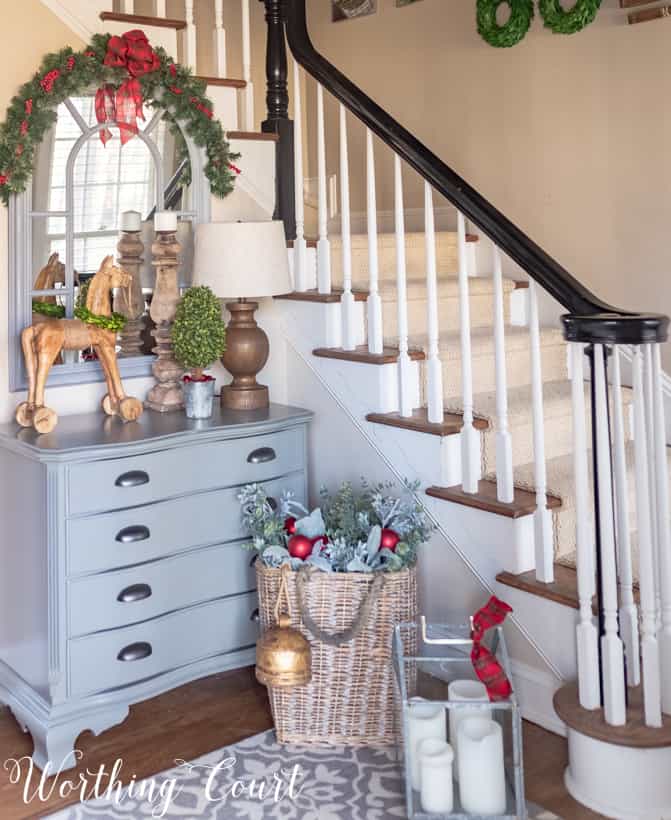 Pin
…the entrance into the family room, where you get a peek at my Christmas tree…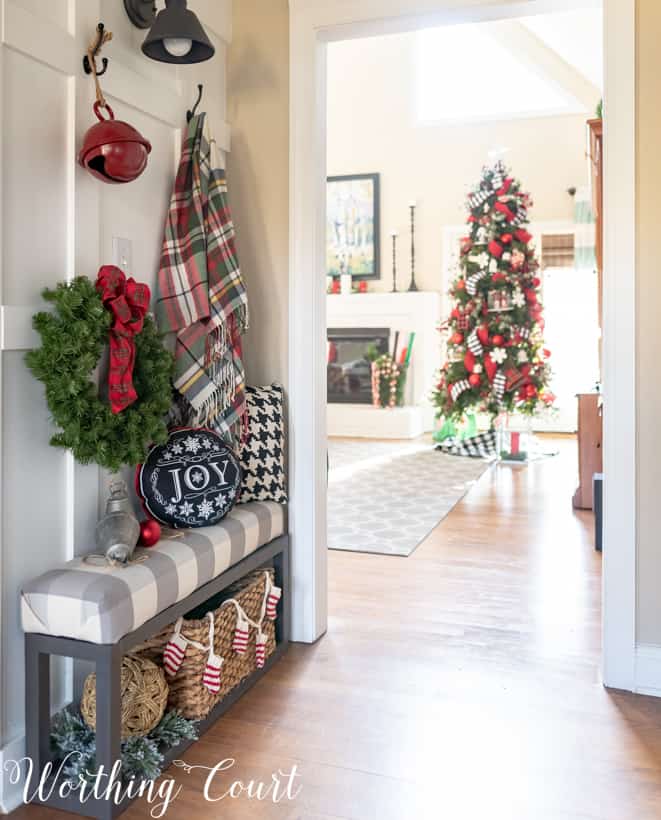 Pin
…and the entrance into our home office that leads into the dining room.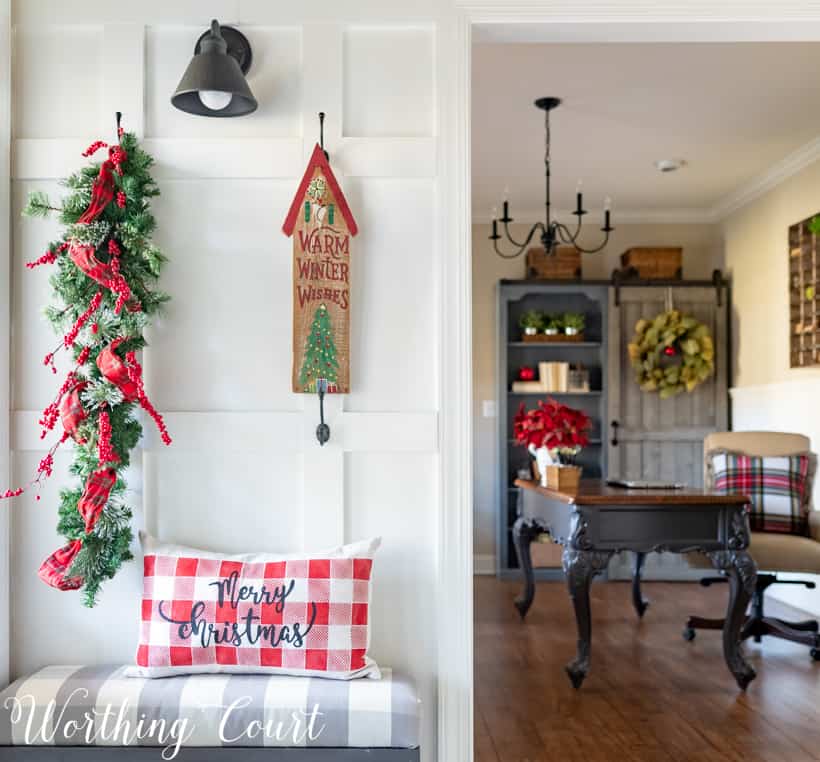 Pin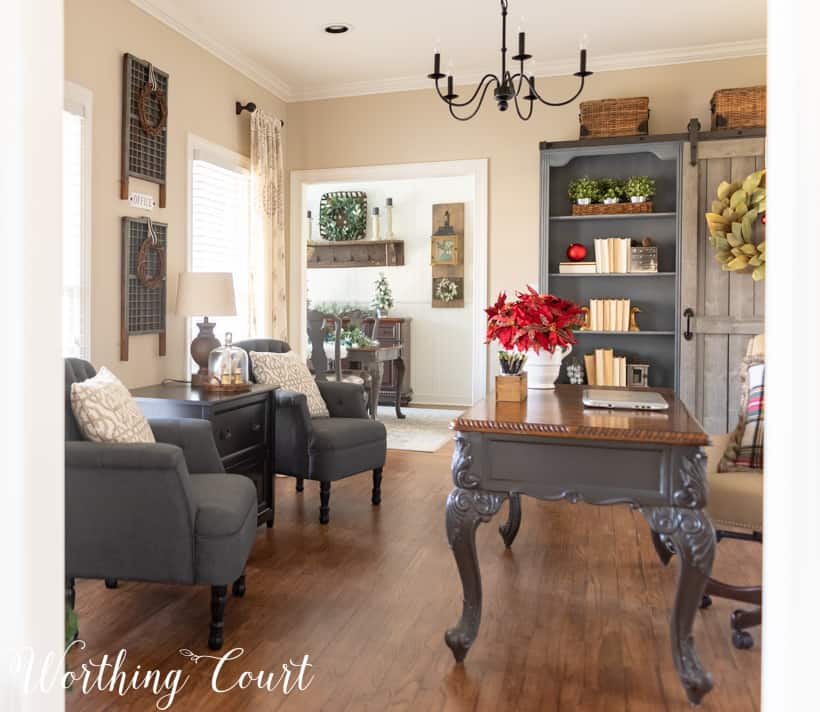 Pin
I think the front porch and foyer set the festive mood for the rest of the house, so it's important to me that both spaces be filled with welcoming warmth and charm!  It's also the place that ties all of the other rooms together so that the decorations flow from one room to the next.
I gave my wooden horse a boxwood collar and relocated him from the office to the foyer chest and added one of my favorite candlesticks and a boxwood topiary with tiny red ornaments around the base.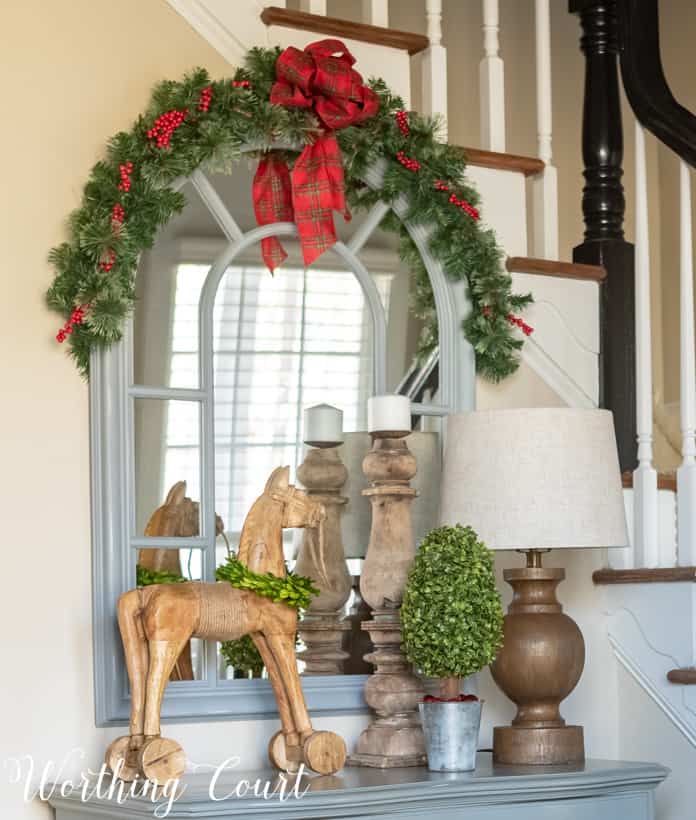 Pin
A favorite basket sits in front of the chest and is filled with artificial lambs ear, eucalyptus and other organic sagey green plants with a few frosty red ornaments tucked in between the branches.  I've fallen in love with the look of sagey green mixed with red this year!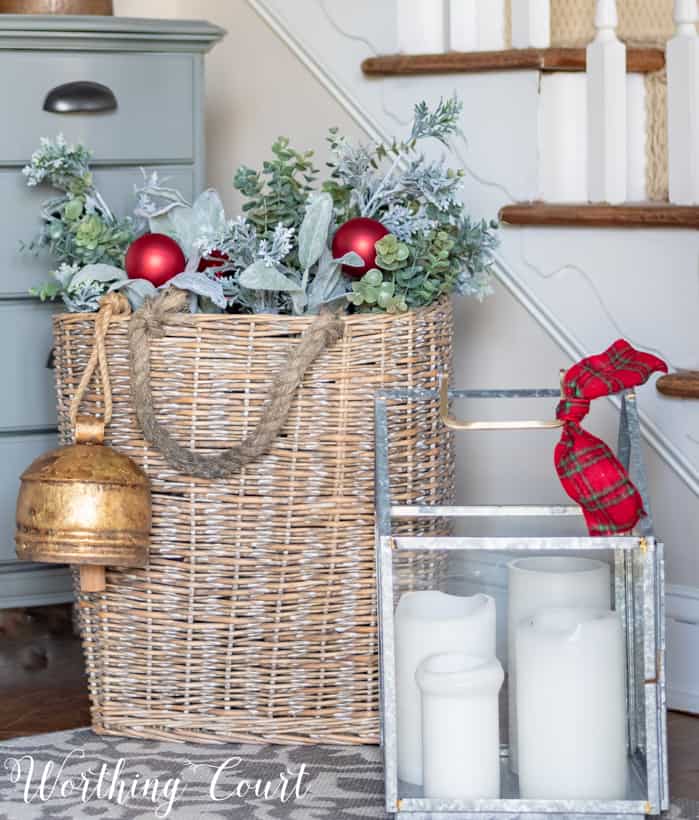 Pin
Adding the board and batten accent wall to my foyer was one of the best decor changes that I made in here when I gave it its makeover!  The hooks hold lots of fun and sentimental things.  I went shopping in my stash to see what I could put together on this wall and love how it all came together!  It's a real feature in my foyer and is a fun space to decorate every season.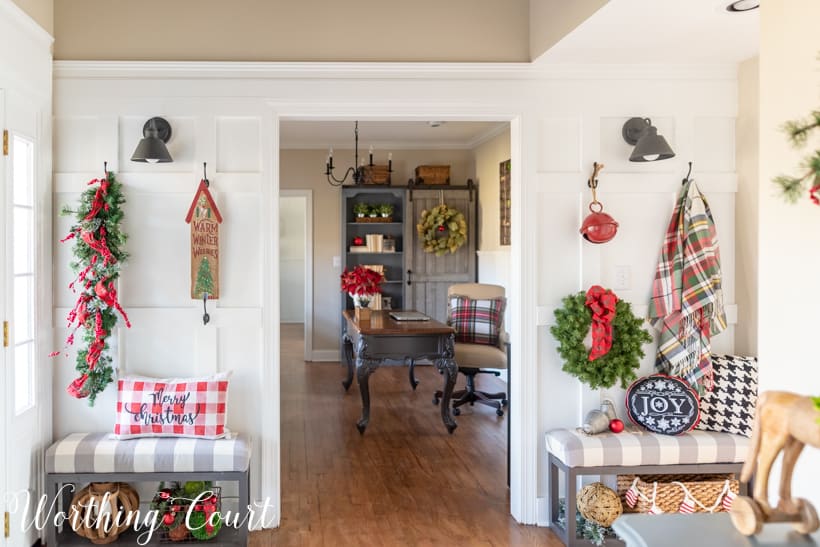 Pin
The "Warm Winter Wishes" sign was hung on my mom's front door every single year and that was always a signal to me that the Christmas season had arrived at her house.  It eventually became the only Christmas decoration that she displayed as she got older, but her sweet Christmas spirit never left her!
Pin
Our DIY benches are fun to dress up too.  As you can probably tell, I love to mix patterns, but I always make sure that the patterns "play" well with one another. 😀  Gray and white buffalo check mixed with black and white houndstooth, a traditional plaid throw with a little bit of tartan plaid ribbon thrown in!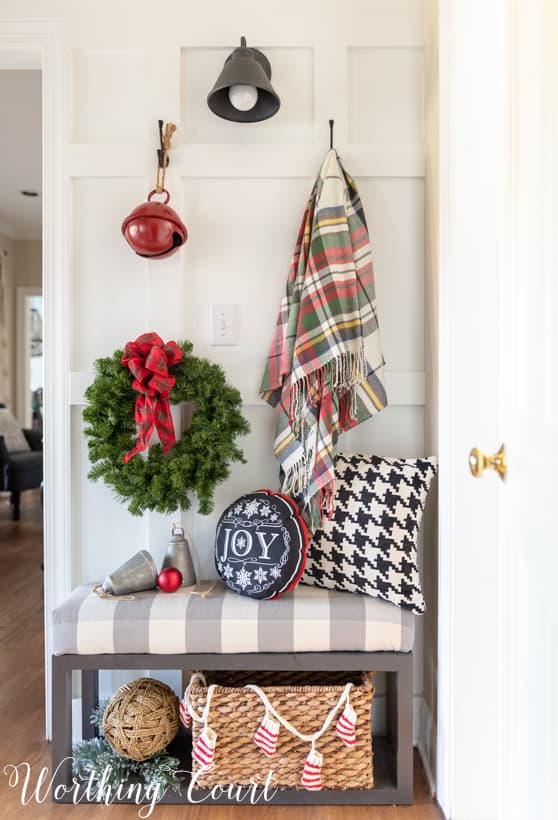 Pin
Don't forget about adding small fun details in spaces that are easily overlooked.  Those little touches can make all the difference!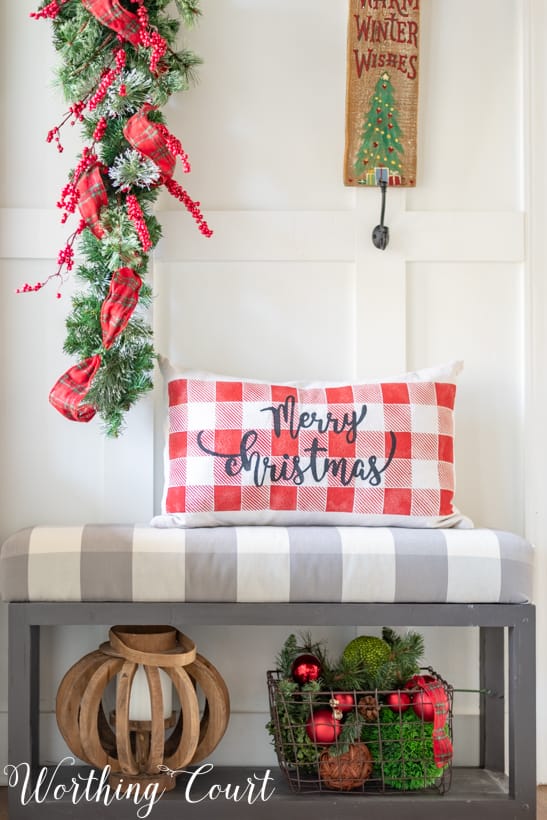 Pin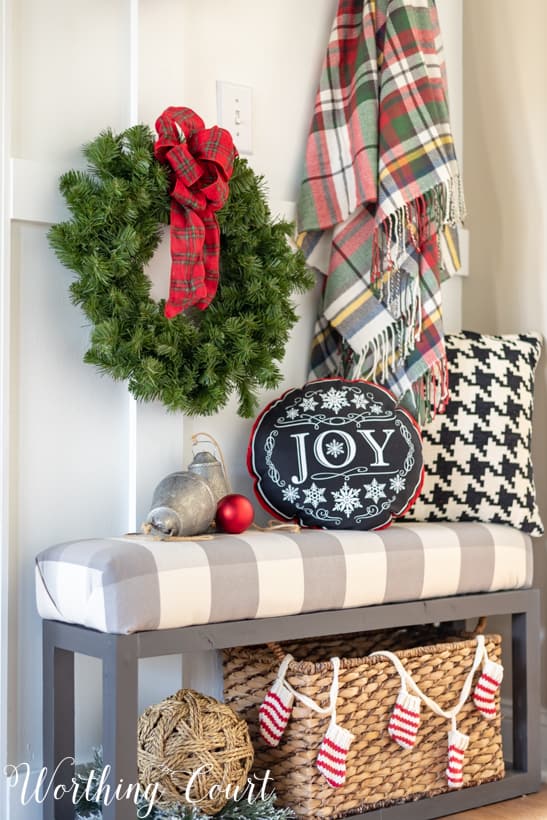 Pin
My annual Christmas party is just a little over a week away, and I'm so excited to welcome everyone into our merry and bright foyer!  Thank you for stopping by today.  I hope you found some inspiration for your own home!