My Simple And Easy To Copy Christmas Mantel And Fireplace Decor
Simple, not too fussy, Christmas mantel decorating ideas using holiday red, green, white and black mixed with everyday decor.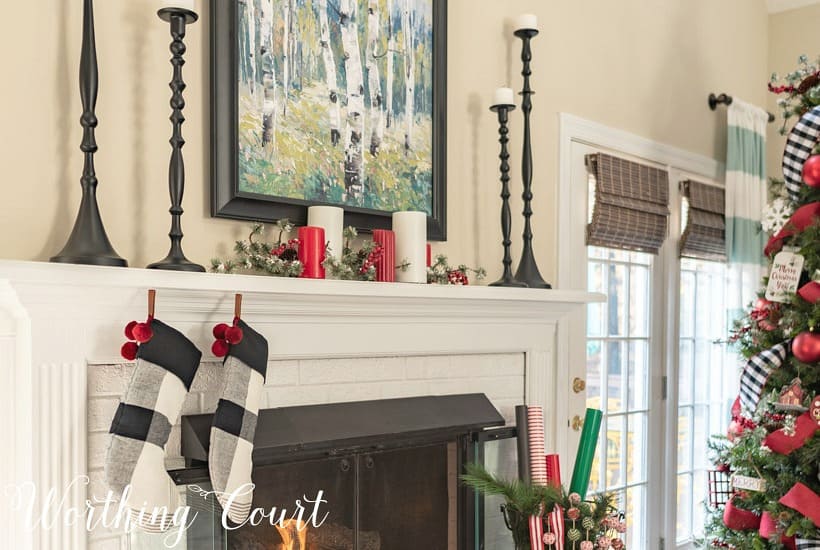 Pin
My mantel and fireplace area is typically the very first place that I decorate for Christmas every year.  I always try to do something different each time and the Christmas decor this year included a couple of changes that I've made to the family room.
If you've been watching my Instagram Stories, then you know that I've been trying for a while to talk my husband into getting rid of his less-than-stellar quality, poofy, brown leather recliner.  He finally agreed that his leather love had served its purpose and needed to be replaced – here's a first look at the new chair!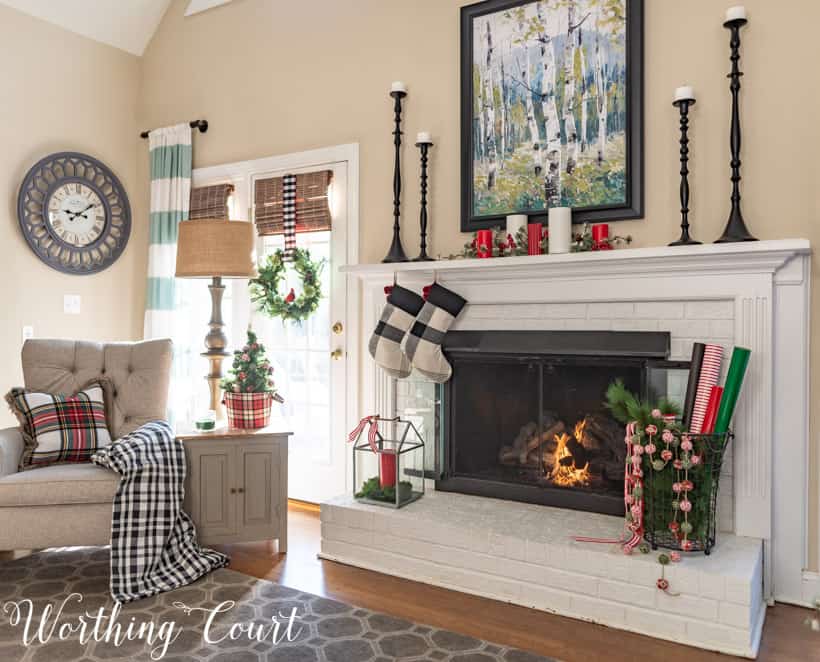 Pin
I'm planning to do a little updating in our family room after the holidays and will post more about the neutral armchair then.  But, for now, let's just say that I'm soooo glad that the big, brown blob is gone! 😀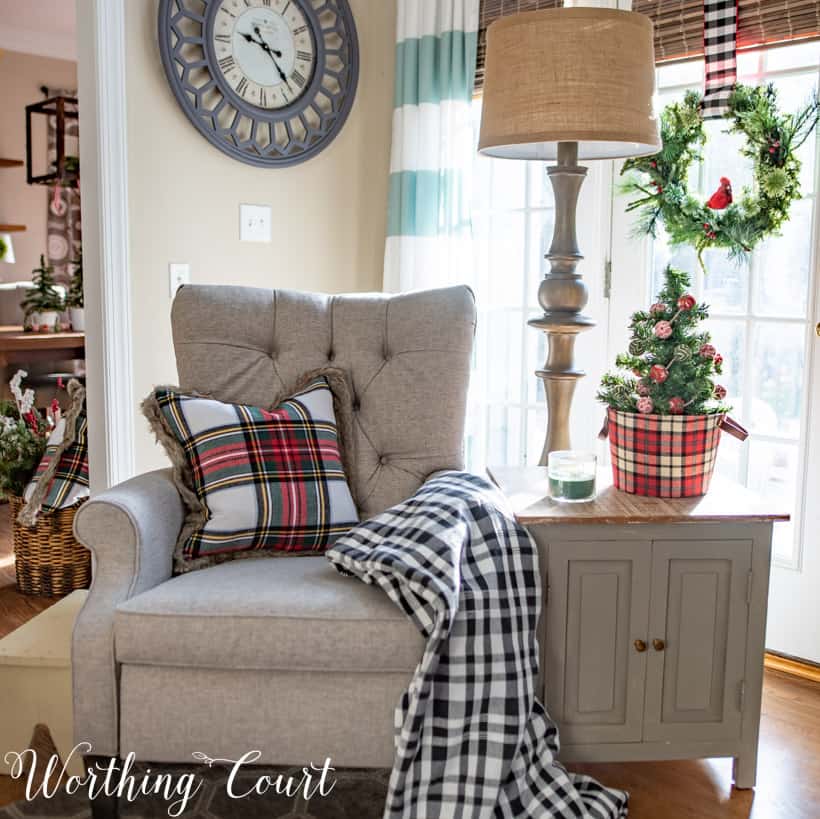 PinBefore we take a closer look at the fireplace and mantel, I want to let you know that I'm joining 25 of my blogging buddies this week to bring you Christmas decorating ideas for your whole house, hosted by my friend Angie from Postcards From The Ridge.  We'll focus on a different area each day this week, so be sure to scroll to the bottom for the daily schedule and links to all sorts of Christmas inspiration!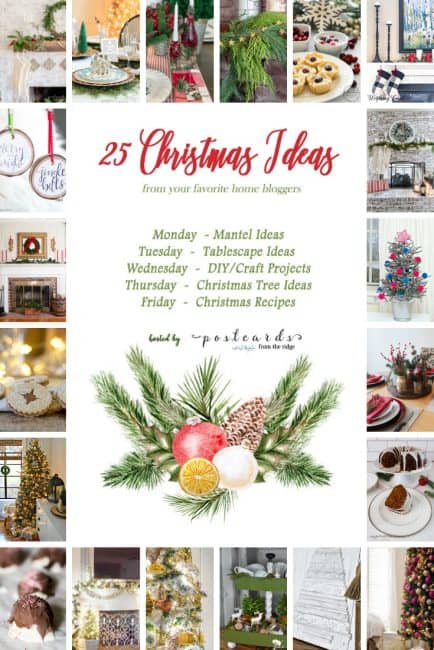 Pin
Part of the updates that I'm making to our family room are on my mantel and fireplace.  The large wood and metal arched piece that was flanked by a pair of shutters above my fireplace has been replaced with a beautiful birch tree canvas print and two pairs of tall, black candlesticks.  The ceiling in our family room is vaulted, so my fireplace always looks best with tall decorations on it.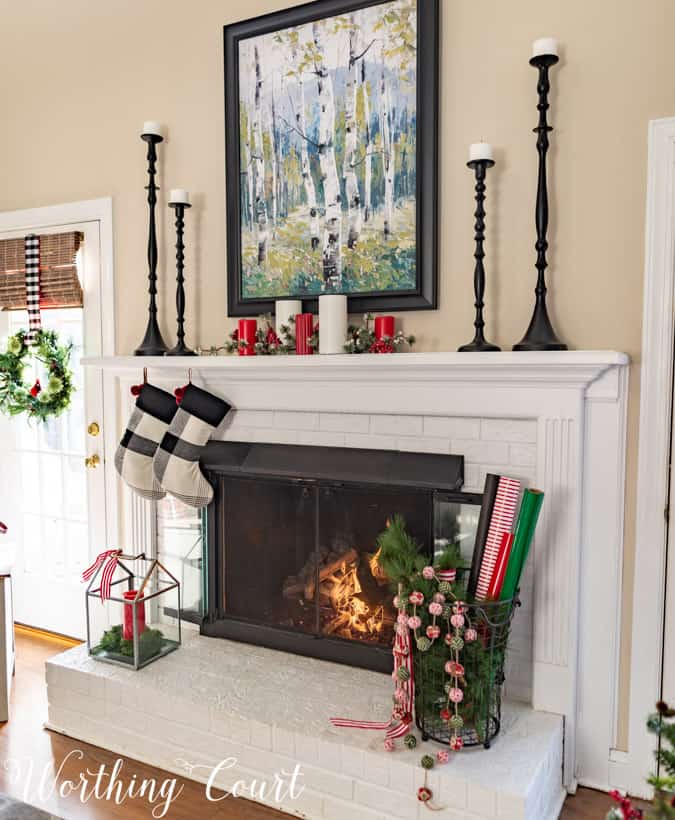 Pin
I've been striving to keep my holiday decor more simple, so my goal for decorating the mantel for Christmas, was to keep the everyday decor in place and add the festive decorations around it.  No more going to all the trouble of switching every single thing out!
The only Christmas decor that the mantel itself needs is a simple arrangement of red and white candles with a few frosted evergreen picks woven around them.  So, so easy and fast!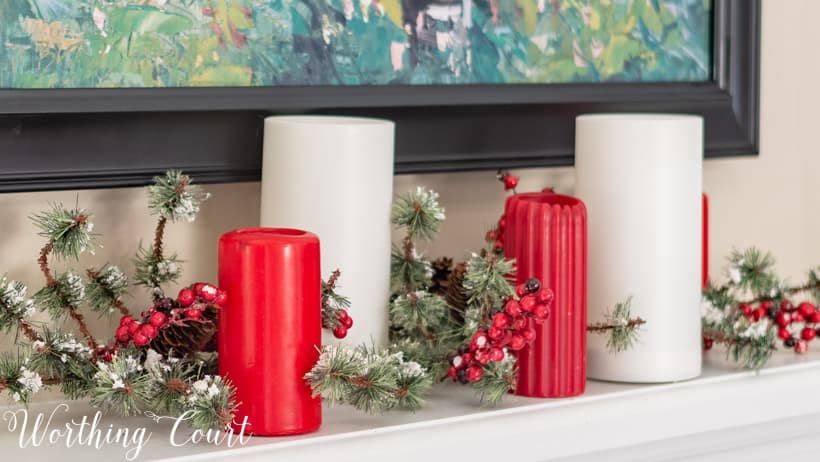 Pin
I don't usually add stockings to our mantel, since we're empty nesters, but this year, I fell in love with the red pompoms on these black and white checked ones and thought they'd be a fun addition!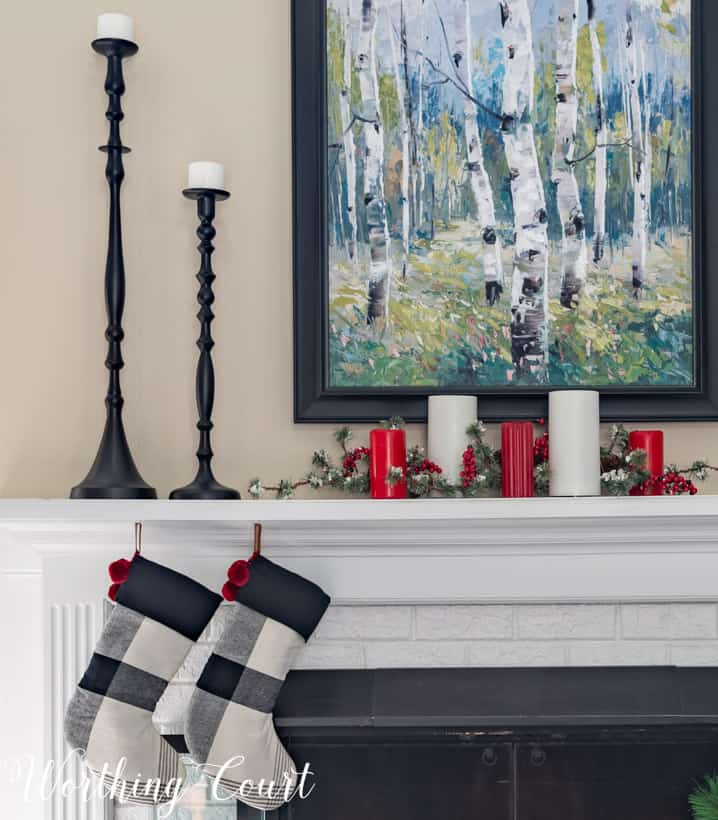 Pin
The decorations on the hearth are really simple too – a lantern and candle on one side and a black metal basket filled with greenery and a few rolls of coordinating Christmas wrapping paper along with some ribbon and a pretty Christmas garland on the other.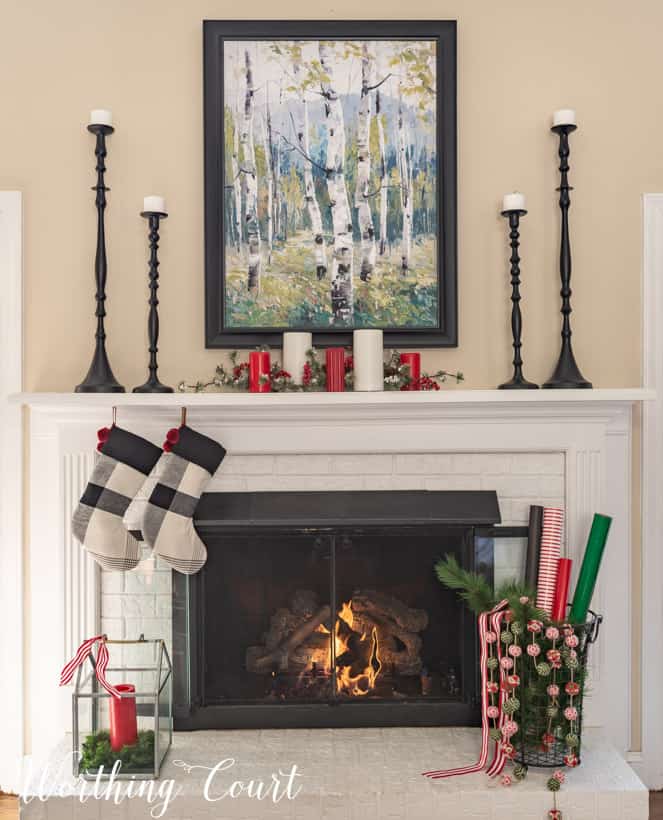 Pin
I've tied the holiday decor in the whole area together by including a strand of the same garland on the small tree on the end table beside the chair and repeating the red, green, white and black color scheme.  I'll be sharing my Christmas tree in the room soon and you'll be able to see how it ties in with the rest of the decorations too!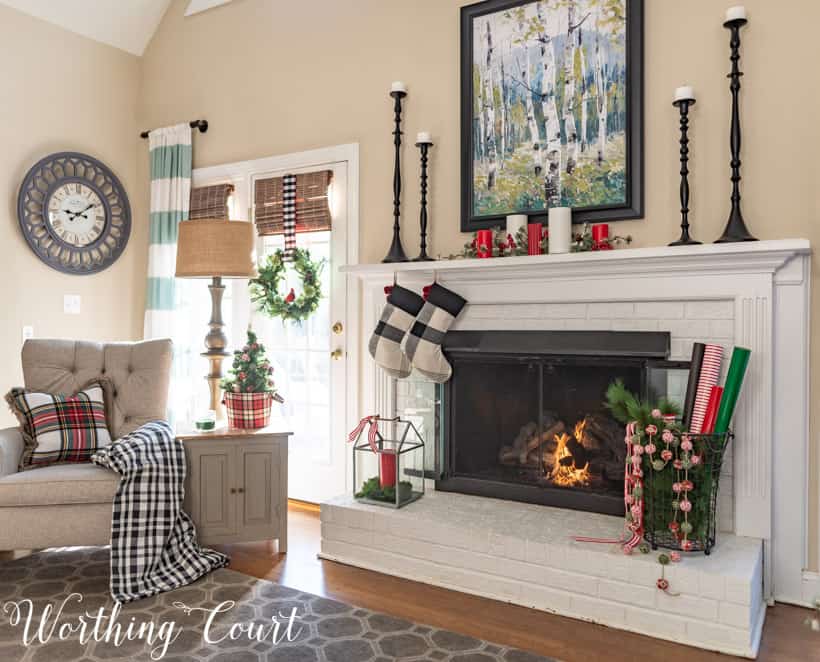 Pin
Now it's time to see all the Christmas ideas from these talented home bloggers. Here's the tour lineup for the week. Be sure to visit everyone for wonderful Christmas ideas for the whole house. The links for each topic are below the images.
Monday – Christmas Mantel Ideas
Tuesday – Christmas Tablescape Ideas
Wednesday – Christmas DIY/Craft Project Ideas
Thursday – Christmas Tree Ideas
Friday – Christmas Recipes