How To Decorate A Christmas Garland – Directions From A Pro
Create a beautiful festive Christmas garland with directions from a pro!
So far the pros at Total Bliss have shown us step-by-step directions and secrets for Decorating A Christmas Tree and Decorating A Christmas Wreath.  We're going back today so that the owner, Nancy, can show us how to decorate a gorgeous Christmas garland.
This is the stunning finished Christmas garland placed on the faux fireplace in the shop.  It has been further embellished with gorgeous silver trees and light catching crystal beads.
Pin
But it didn't always look like this.  Just like a faux Christmas tree, a holiday garland needs to be fluffed before getting started.  If your garland has lights, be sure to test those before decorating too.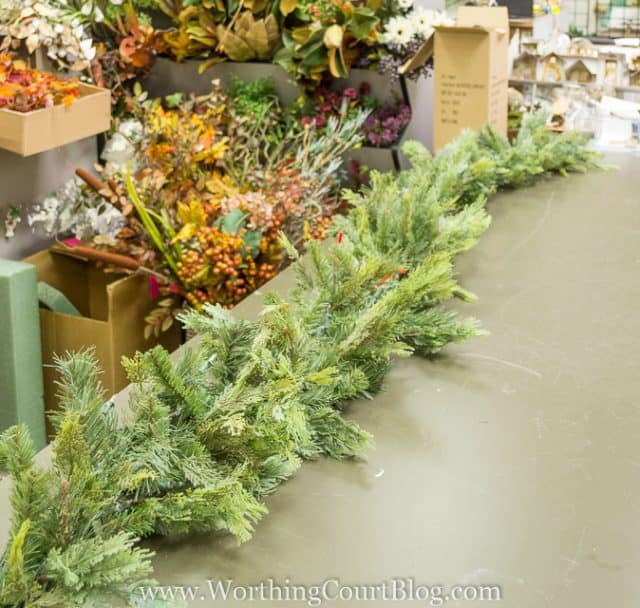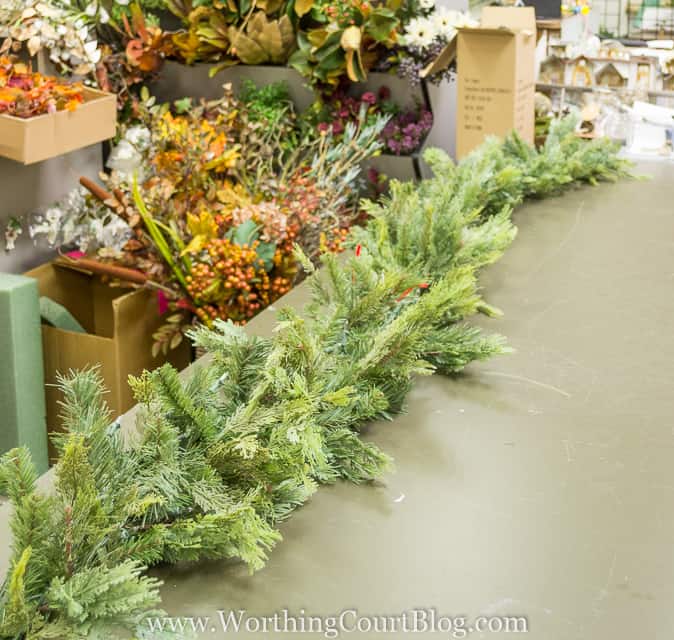 Pin
Nancy recommends decorating one half of the garland at a time, beginning in the middle and working your way toward the end.  That way you get a better idea of how it's going to look before you spend time decorating the whole thing.
Step 1 – Gather Supplies and Decorations
Depending on what you're going to decorate your Christmas garland with, supplies you may need are cable ties, green floral wire, pipe cleaners, wire snips, scissors and a hot glue gun and glue sticks.  But believe it or not, you won't need any of these unless the decorations you're using are heavy or might possibly fall off and break.
Nancy recommends color coordinating the garland with the other Christmas decor that is in the same area.
Step 2 – Find the Center
Find the center of the garland and mark with a piece of ribbon or something else.
Step 3 – Add Dimension
It's best to add dimension to a garland with the addition of stems and picks.  Start with something leafy or twiggy before adding large flowers.  You can cut them apart to make them go farther.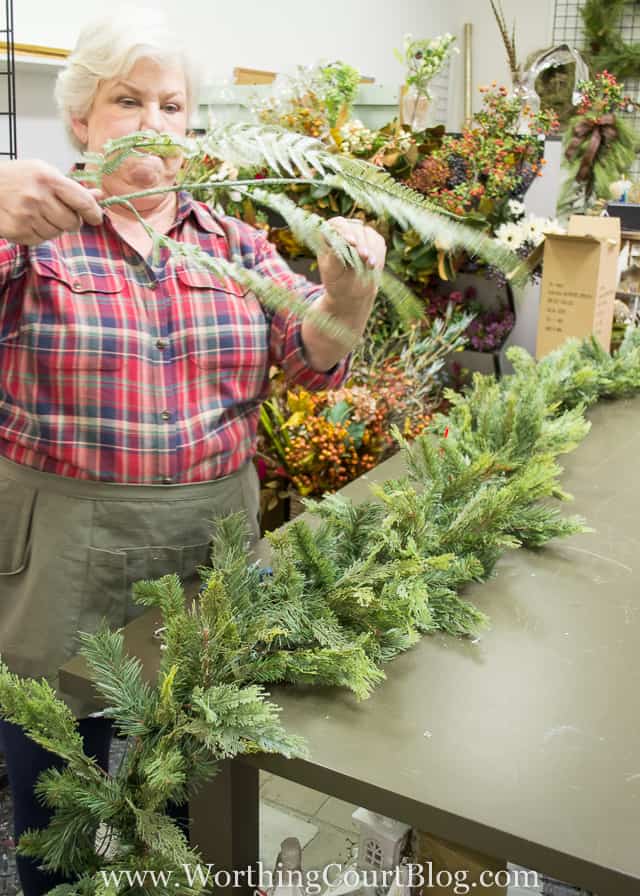 Pin
Fluff them, bend them, shape them.  Make them look natural.  And then tuck them into the garland.  No need to use anything to hold them in place, unless they're heavy.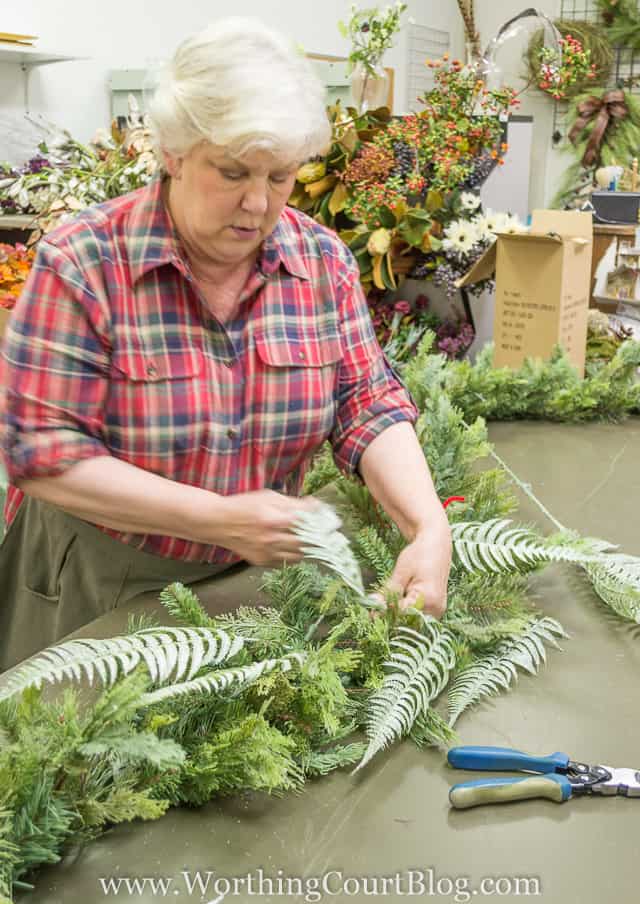 Pin
You don't need to use all the same type of stems.  Add a lot of variety by using one or more types.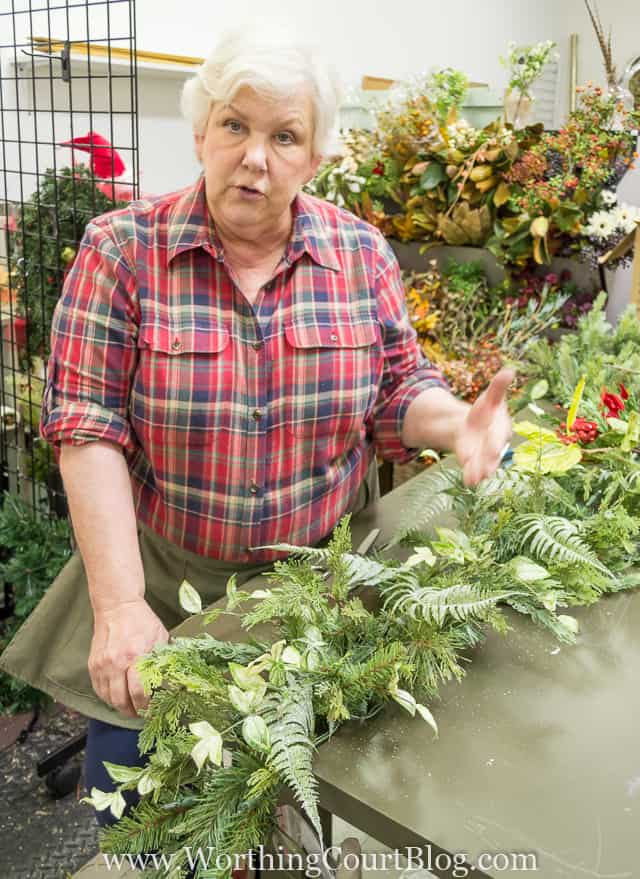 Pin
Taper off the amount of stems and other decorations the closer that you get to the tip of the garland.
Step 4 – Add Larger Elements
Now is the time to work in larger elements, such as pretty flowers.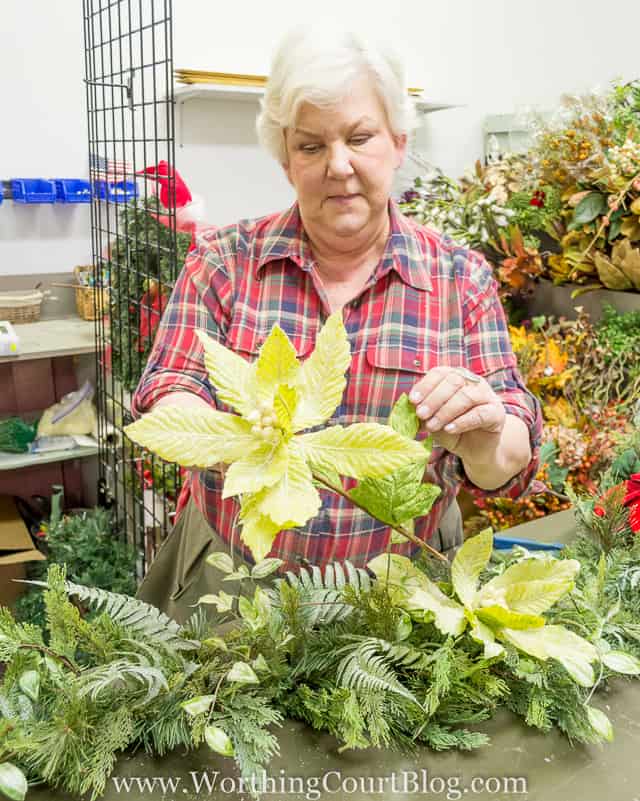 Pin
Just like with the stems – add a variety.  The Christmas flowers don't all have to be the same.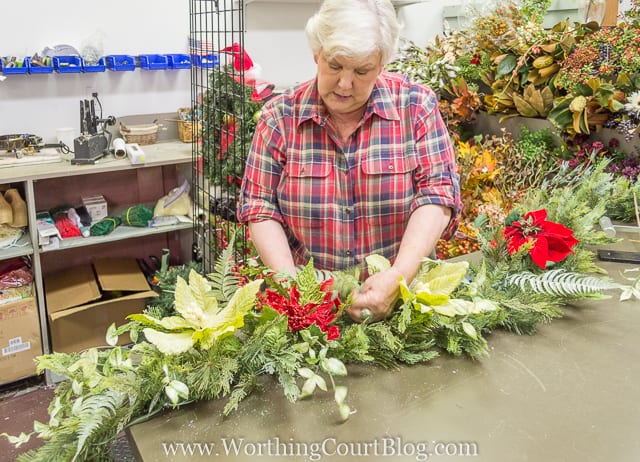 Pin
Wiring multiple floral picks together will make more of a statement.  Below, Nancy has grouped together a large poinsettia, a leafy pick and berry pick.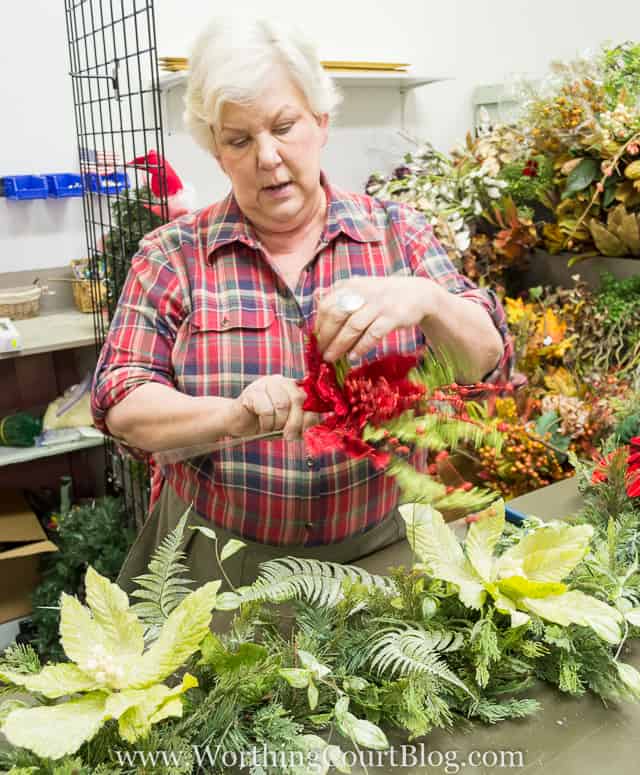 Pin
Continue tucking the larger elements into the garland, remembering to taper them off toward the ends.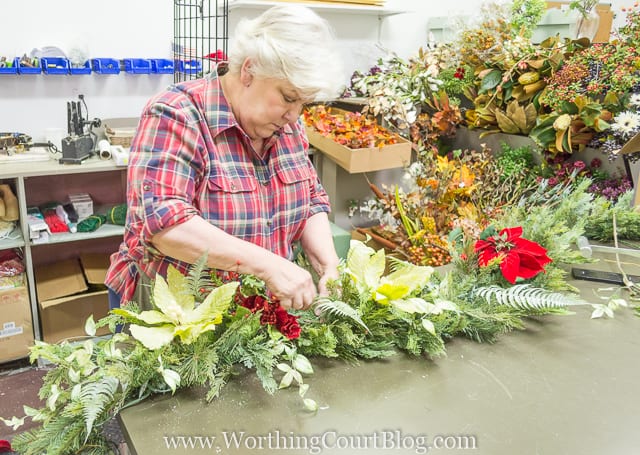 Pin
Step 5 – Add Finishing Touches
The garland really started coming to life with the addition of large red berries.  They started out as one large bunch, but Nancy cut them apart before tucking them into the garland.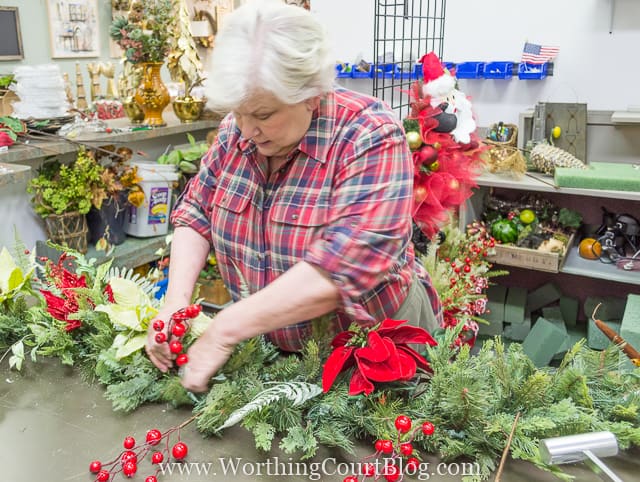 Pin
Step 6 – Highlight the Center
Sometimes, you see a bow placed in the center of a garland.  But Nancy used a grouping of large poinsettias, fern leaves and berries as the focal point for this garland.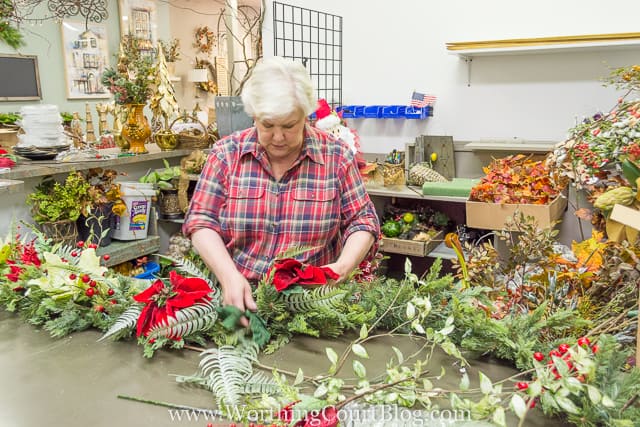 Pin
Beautiful, Nancy!  And so is the garland!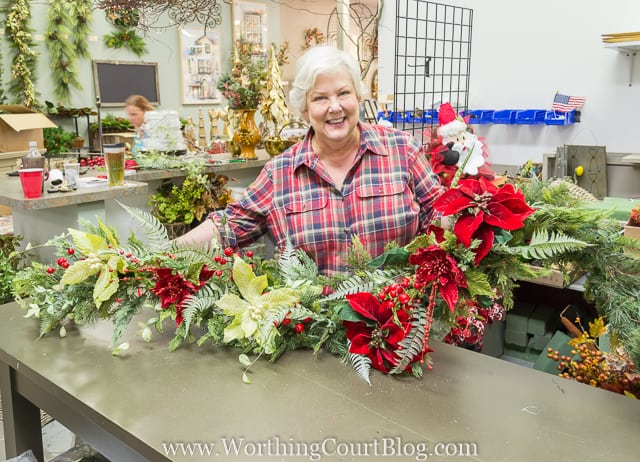 Pin
Step 7 – Repeat
Repeat the decorations on the other end of the garland and you're done!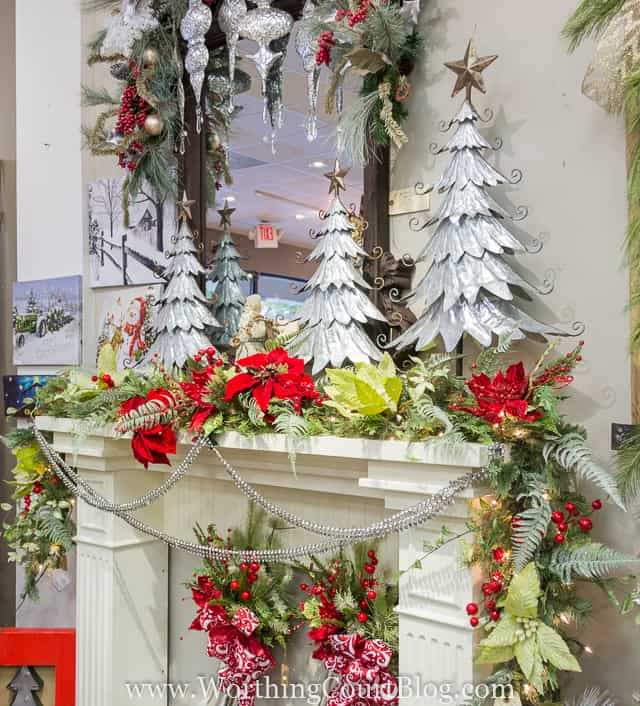 Pin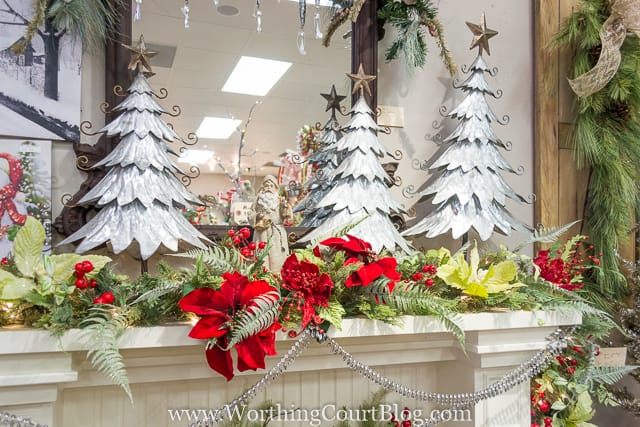 Pin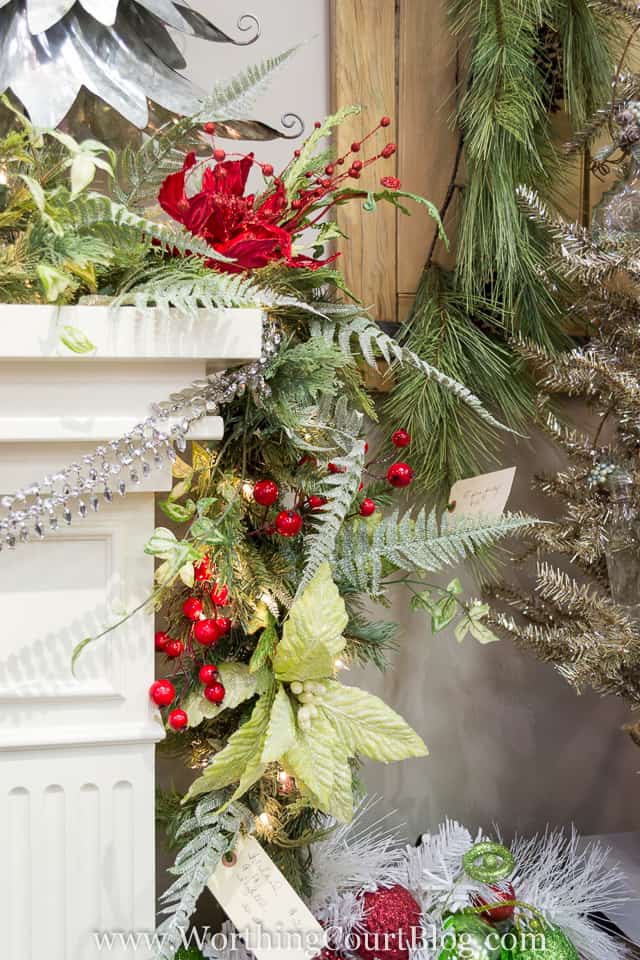 Pin
If you enjoyed these tips from the pros at Total Bliss, you won't want to miss these tutorials.
Step-By-Step Christmas Tree Decorating Directions From The Pros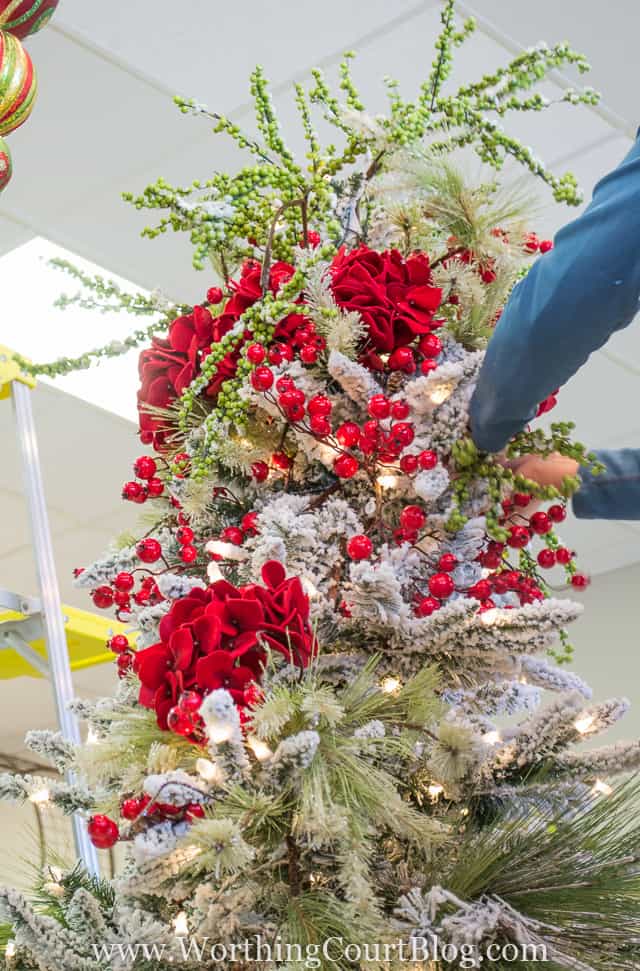 Pin
How To Decorate A Christmas Wreath – Directions From A Pro


Pin
Sharing at THESE great parties.