What To Do With That Dead Space At The Top Of Your Stairs
If you have a dead space at the top of your stairs I will show you ideas on how to decorate it!

One of the parts of my foyer makeover that I needed to address, but haven't shared before, is the dead space at the top of the stairs.  The area is visible when anyone enters our front door, so I didn't want to leave it as just a blank, blah and empty space.  Plus, there were the remains of an old smoke detector and a round metal plate attached to the ceiling (for who knows what reason) that needed to be gotten rid of.  My eye went straight to that spot every time I looked up.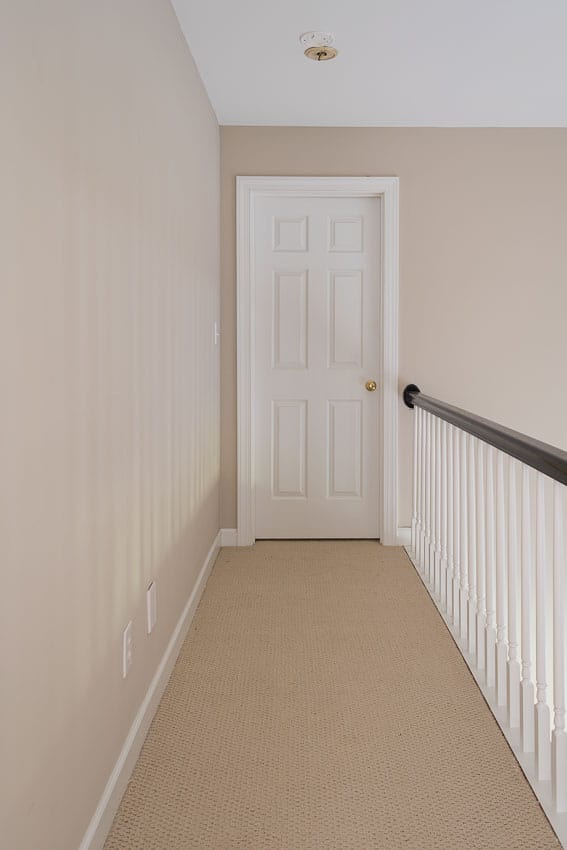 Pin
There isn't lot of room to work with in this long narrow spot, that's for sure!  I played around with a few different things using tables that I already own and even considered building another bench similar to the ones in my foyer, but all of my tables were too deep and I really didn't want another bench in this area.  Plus, the thought of all those legs and spindles was too much.
What this area was begging for was a tall'ish, narrow chest in a soft blue color!    😀   You can purchase this same chest HERE (affiliate link, see my full disclosure HERE).  It's on sale right now for $50 off!  The chest is only 12″ deep so it gives us plenty of walking room.  It's a little taller than many small chests, which makes it more visible from the downstairs area of the foyer and all of the drawers will come in handy for storage.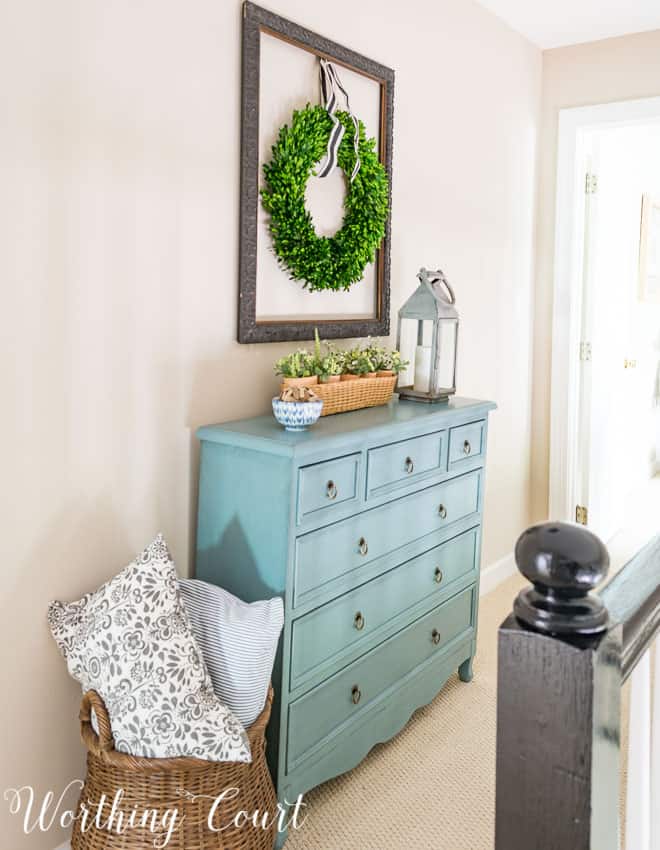 Pin
I am in total LOVE with this adorable light fixture – it's a great addition to this space!  It blends right in with the new foyer chandelier (which I haven't shared yet) and the sconces that I added to the board and batten wall down in the foyer.  The light fixture can be purchased HERE.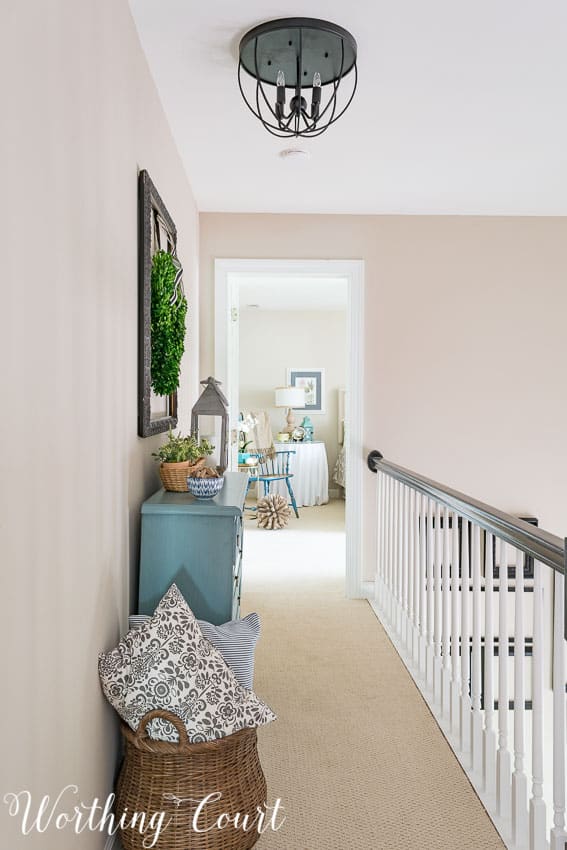 Pin
What had me stumped for a few days was what to hang above the chest.  A grouping of pictures would have been too much, considering that I'm already adding a gallery wall going up the steps.  (You can see a portion of the gallery wall in the above photo.)  And since all those frames are going to be filled with pictures of some kind, I wanted something different above the chest.  An old, chippy frame out of my attic and a boxwood wreath proved to be the perfect decor solution!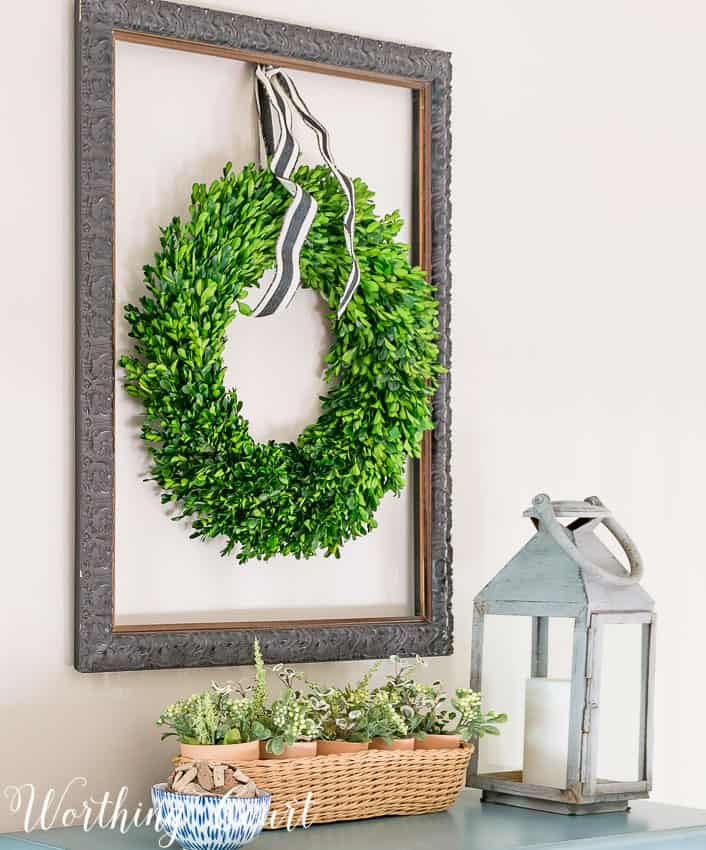 Pin
I've talked about the importance of the small things before, so this little bit of black and white ribbon, that the wreath is hanging from, helps to reinforce the black and white of my banister and the black picture frames that will make up my gallery wall.  The boxwood wreath is 21″ in diameter and can be purchased HERE (affiliate link).
To create a greenery arrangement, I filled a thrifted basket with clay pots from the dollar store (two for $1!) and filled the pots with foliage clipped from artificial greenery bushes.  Easy peasy and very inexpensive!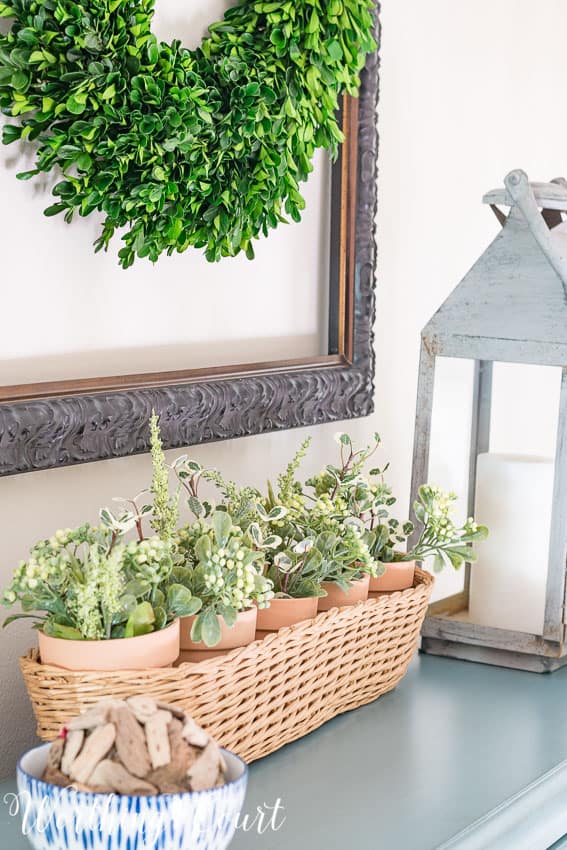 Pin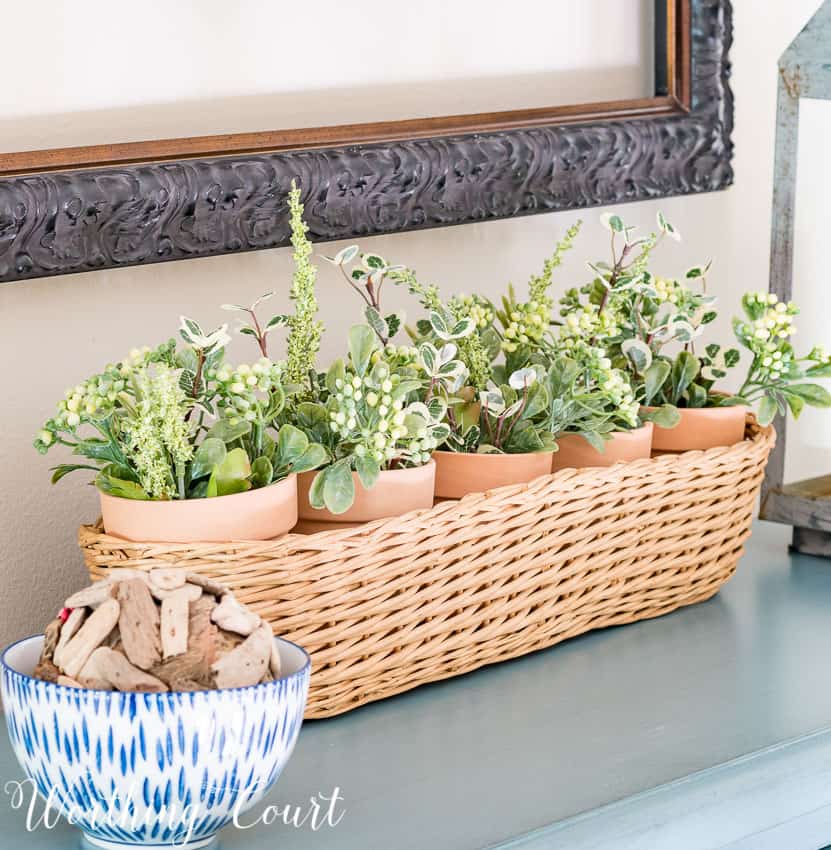 Pin
Do you have any dead space in your home that you could add a small chest too?