Decorating With Greenery For Spring
Incorporating greenery makes decorating for spring a breeze! Here are some of my favorite ways and inspiring ideas for adding it to your own rooms.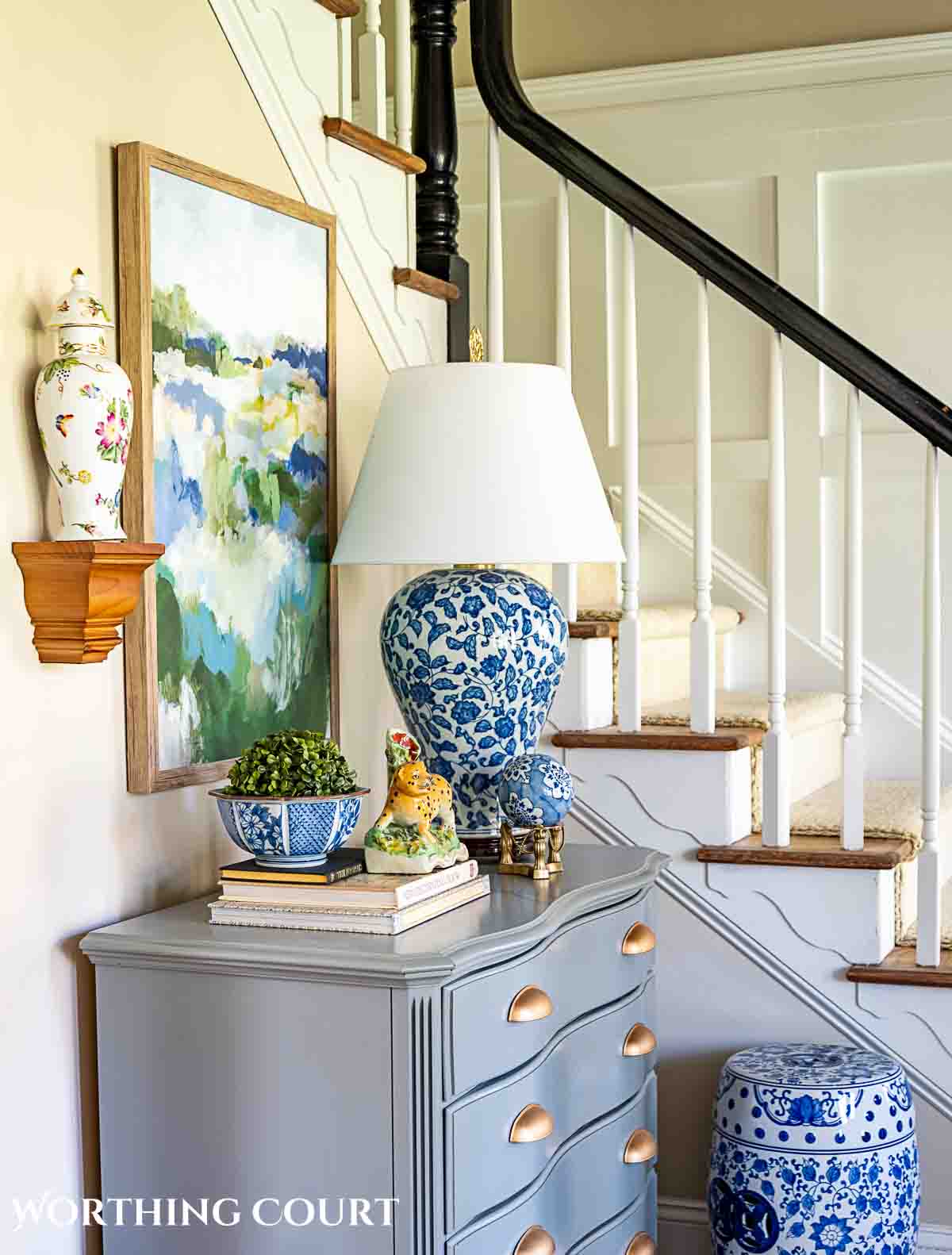 This post contains affiliate links from Amazon and other retailers. See my full disclosure policy HERE.
This week I'm joining some of my blogging friends for the 2023 Blogger's Best Spring Home Tours hosted by Kelly from The Tattered Pew. Thirty talented women are opening their homes all week long. You can visit each one of the tours by clicking on the links at the bottom.
If you're coming over from DIY Beautify, welcome to Worthing Court! Cindy always has the best ideas for creating a beautiful home on a budget. You don't want to miss her light and bright spring decorating ideas.
Now that I've happily waved buh-bye to winter, I'm giving my rooms a refreshing dose of spring. All of the evergreens such as cedar, holly and pine have been put away until the next holiday season.
This is the time of year that you'll most often find me decorating with greenery. I'll be decorating with both fake plants and fresh greenery. Honestly, there isn't a room in my house that doesn't have some type of greenery in it.
True fact: No matter if it's real or faux, I'm a firm believer that adding a touch of greenery to a room brings it to life!
SIMPLE GREENERY DECOR IN THE FOYER
Since I have a rather small foyer and there isn't a ton of space to work with, I keep things on the simple side.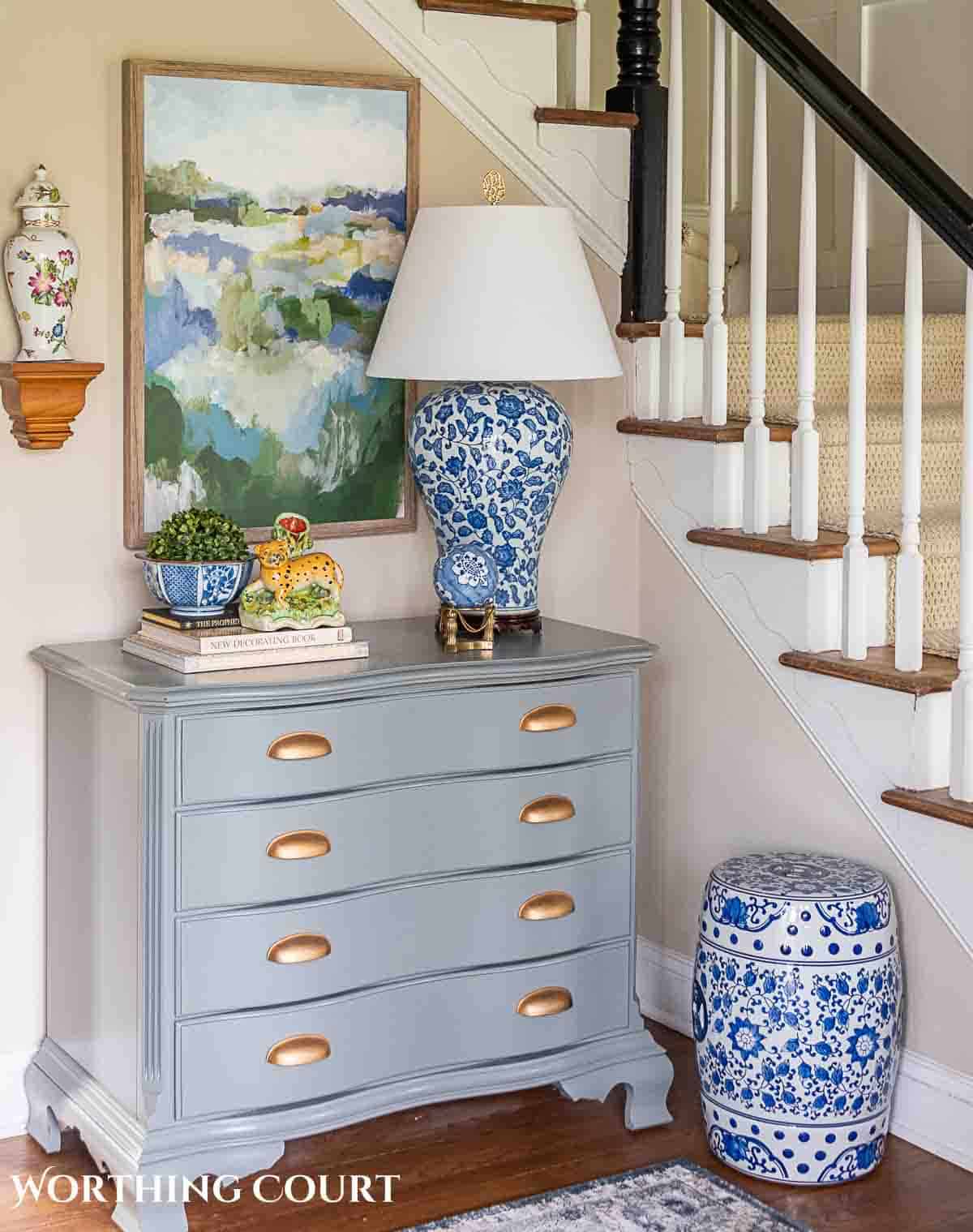 Very simple, in fact, since my small chest is the only display space I have in this area. The greenery in this spot consists of just a single boxwood orb in a favorite blue and white bowl.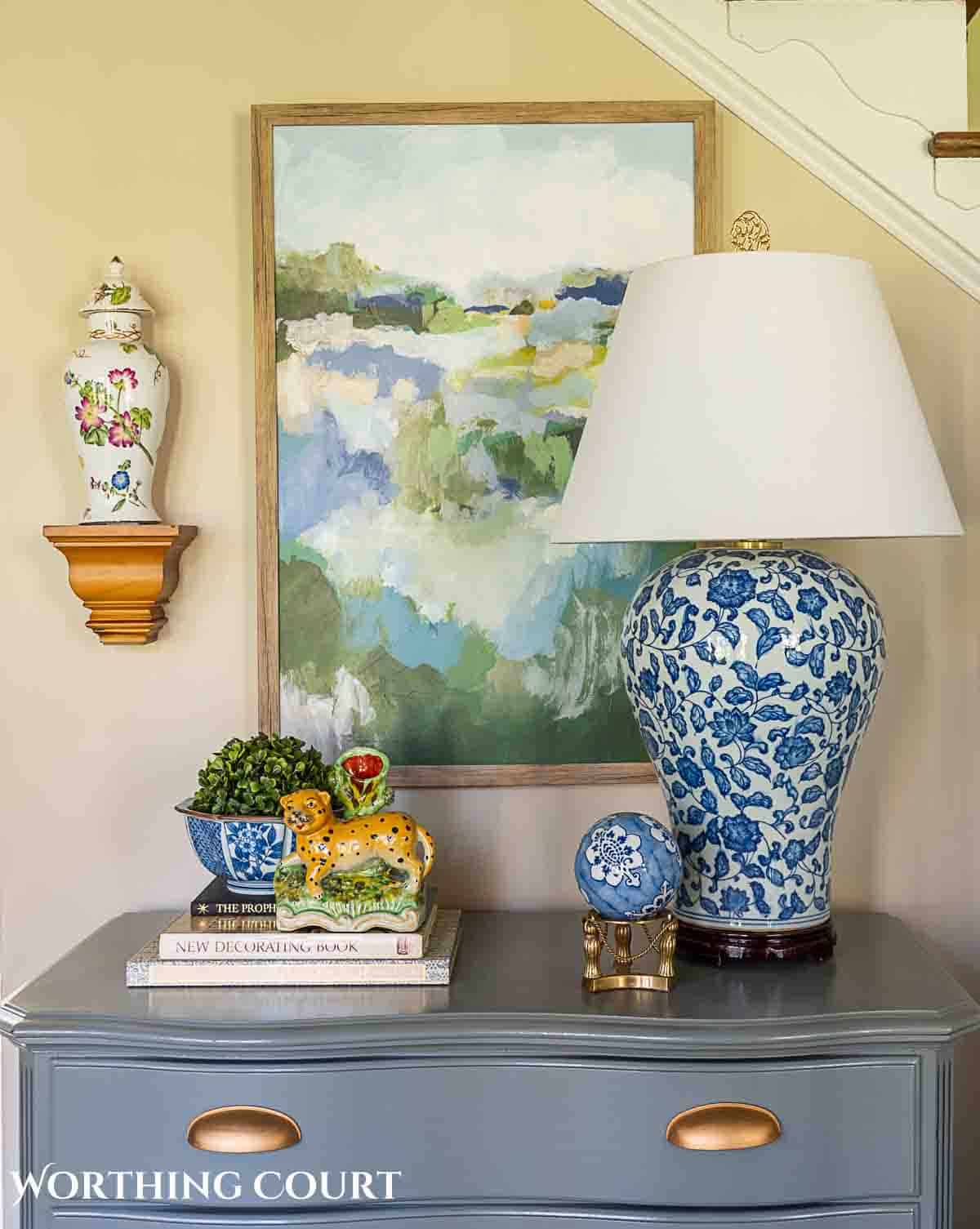 It's just enough though, as there are several other touches of green in the artwork and the accessories that make it feel like spring as soon as guests enter our front door.
A SPRINGY GREENERY VIGNETTE IN THE OFFICE
Our home office is located directly through one of the doors in our foyer. I'd like for you to get a little glimpse of life in there as you enter our home as well.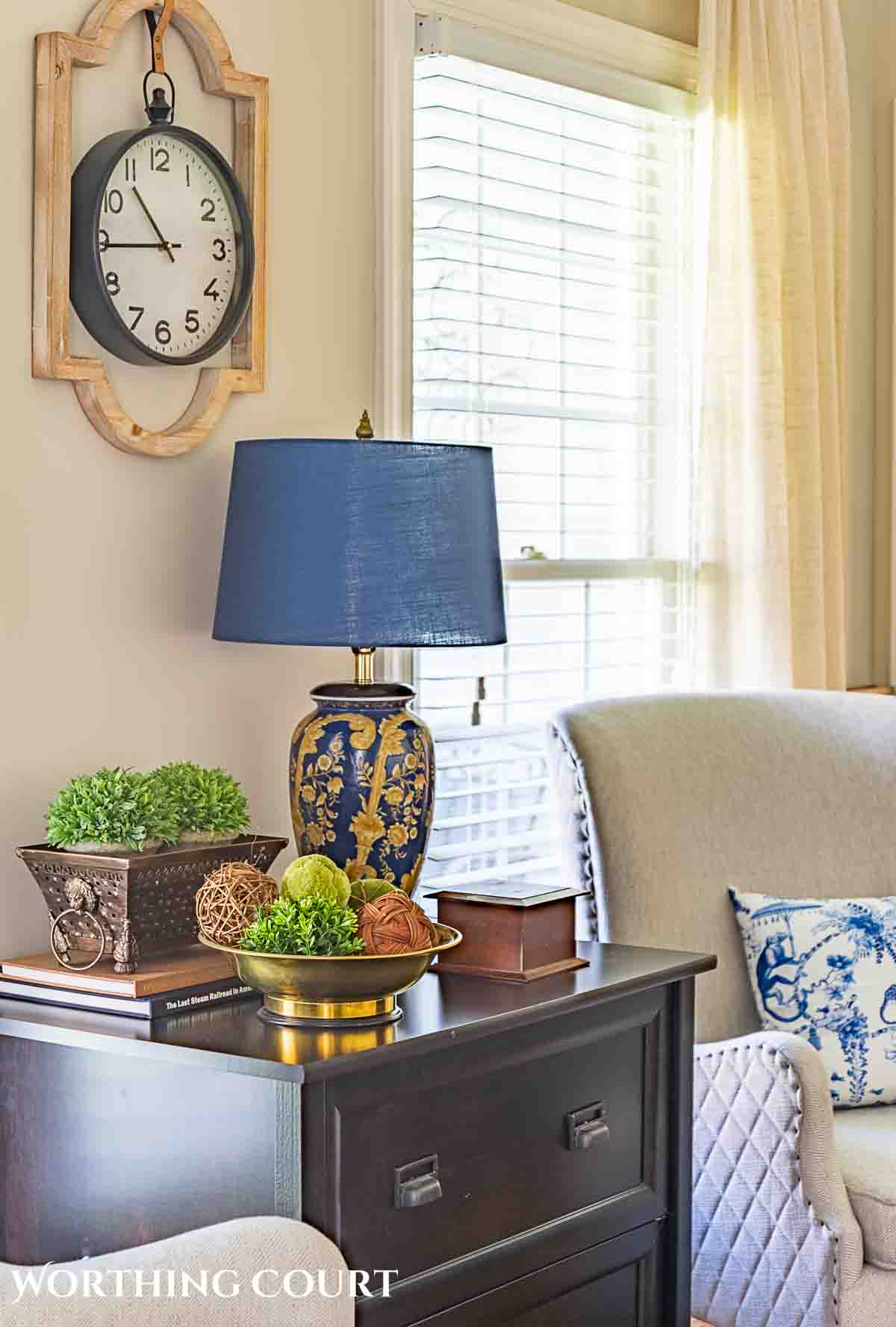 There's currently quite a bit of chaos in this room as it's in mid-makeover mode. Trust me – you don't want to see that mess, but I'll share more of what's going on soon.
I did manage to carve out a little spot of calm on a tabletop that I filled with several vintage goodies. Some I've had for a while and others are new to me.
A brass planter holds two smaller potted plants and a bowl holds a variety of orbs – some have been left natural and others are covered with moss or greenery.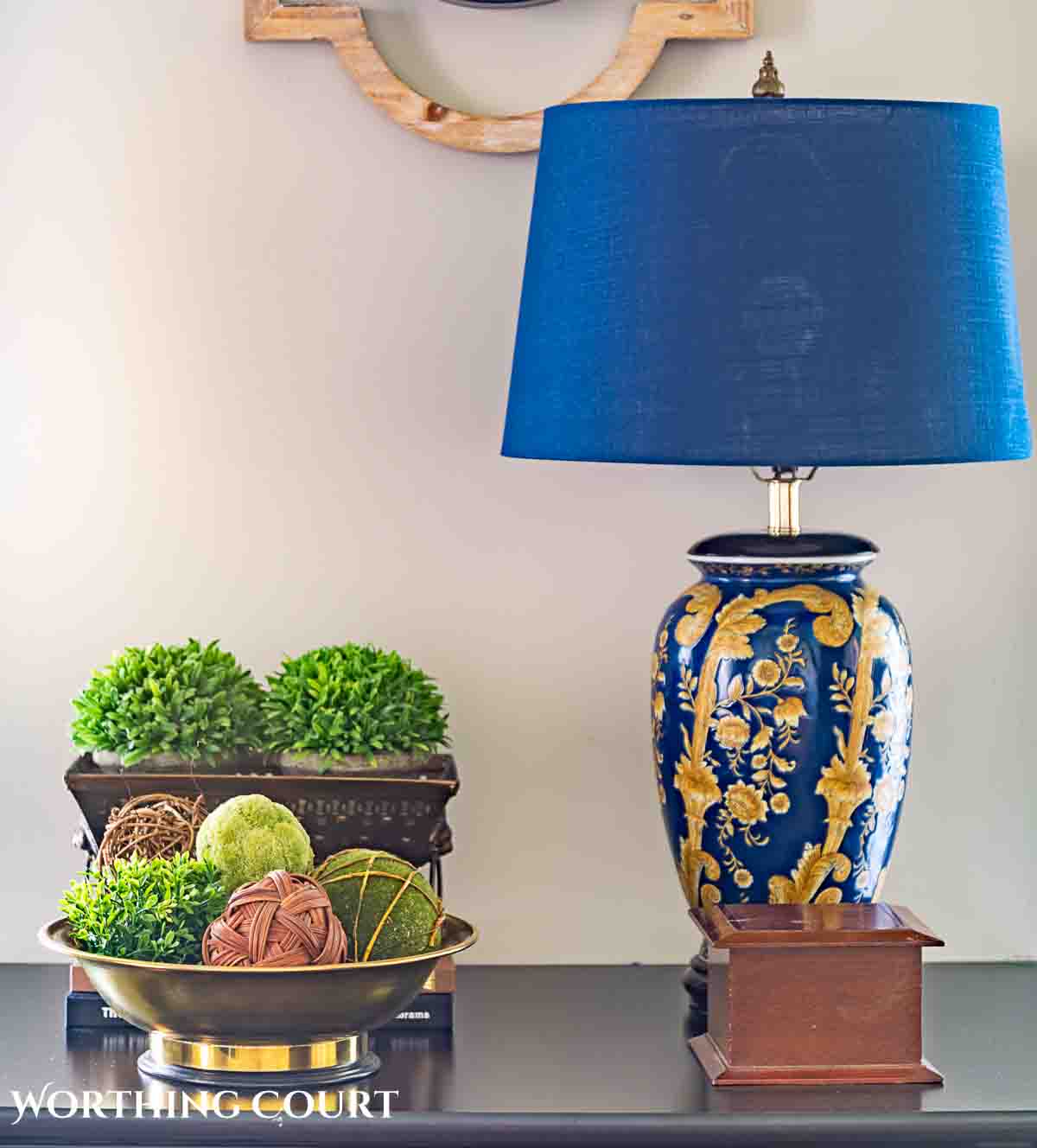 GREENERY SPRINKLED AROUND THE LIVING ROOM
There are lots of opportunities for decorating with greenery in the living room. This is one of the rooms where I've used a mix of both live and faux greenery.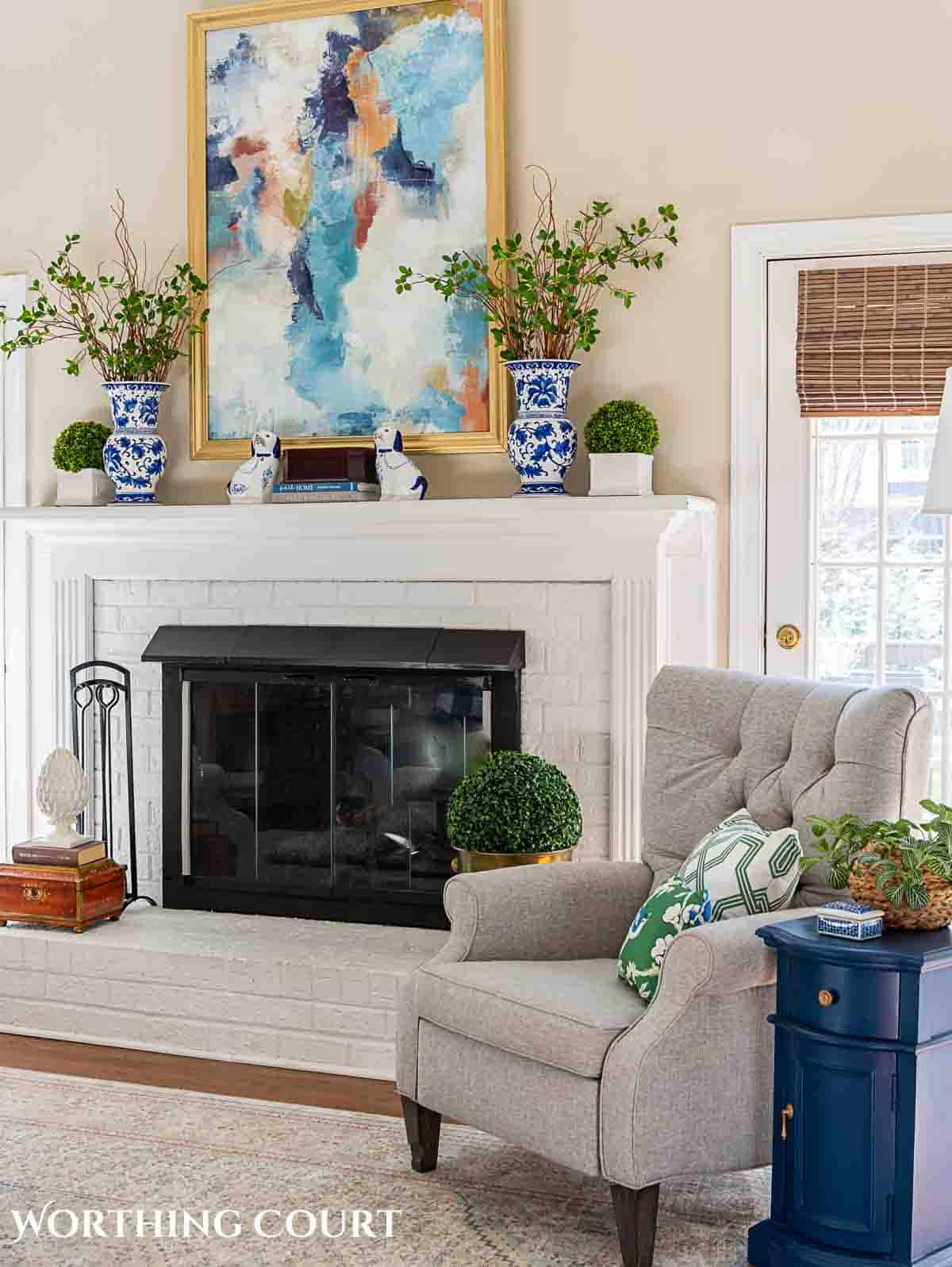 I have to gush about one thing though and that's the frame that we made for the wrapped canvas artwork hanging above the fireplace. It was easy and saved us a few hundred dollars! You can find my step-by-step tutorial HERE.
The mantel is sporting a matching pair of blue and white vases that are filled with some of my favorite faux plant stems of all time. Some have leaves and others do not, which makes it seem like early spring and is a reflection of the current state of the trees outside.
The pair of artificial boxwood topiaries in the square white containers are a recent addition to my stash. They're so versatile that I've moved them to several different locations and can't decide where I like to use them the most!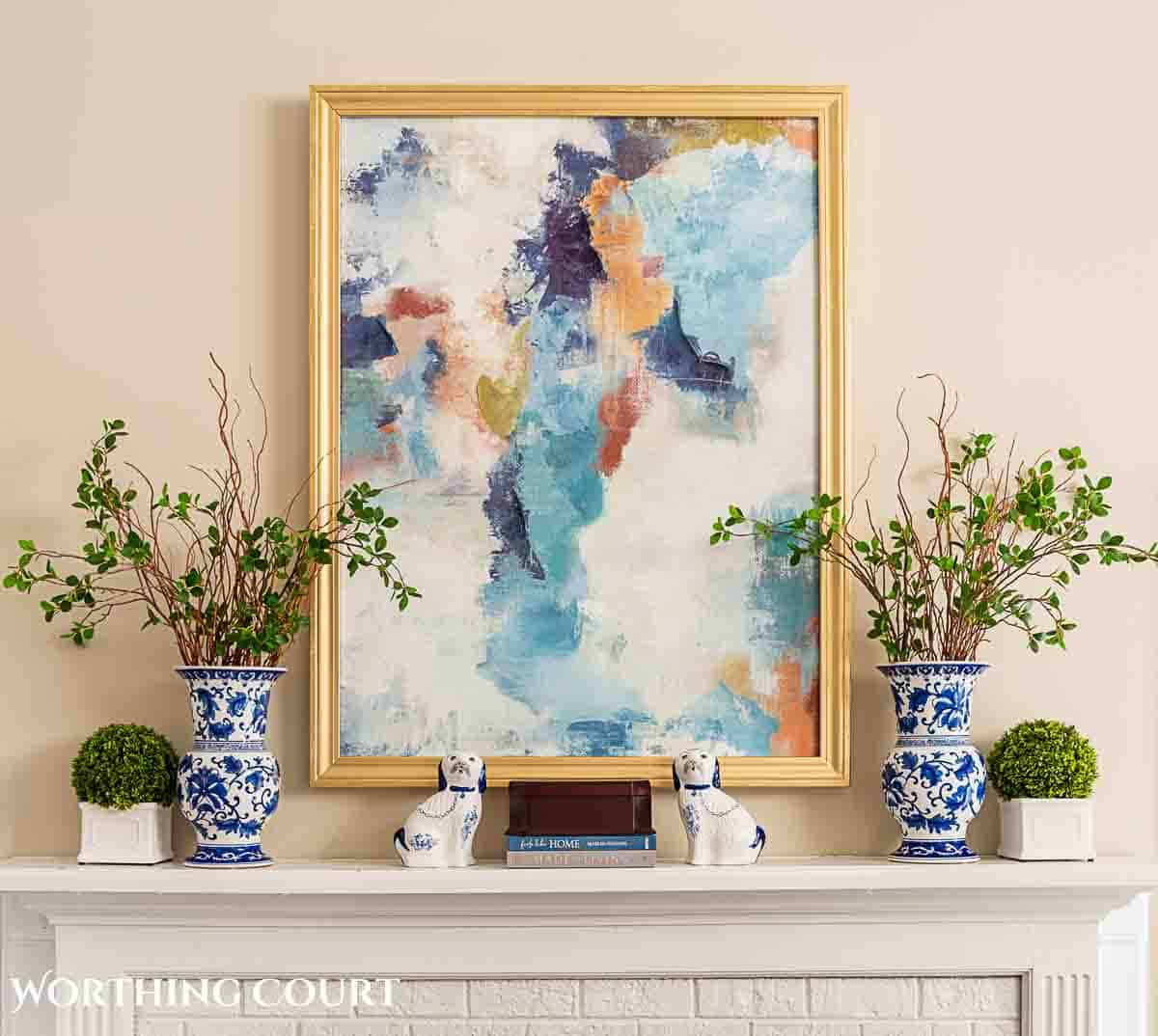 Another recent vintage find is the large aged brass urn with knobs on the hearth. It's holding a large boxwood orb and is a favorite piece.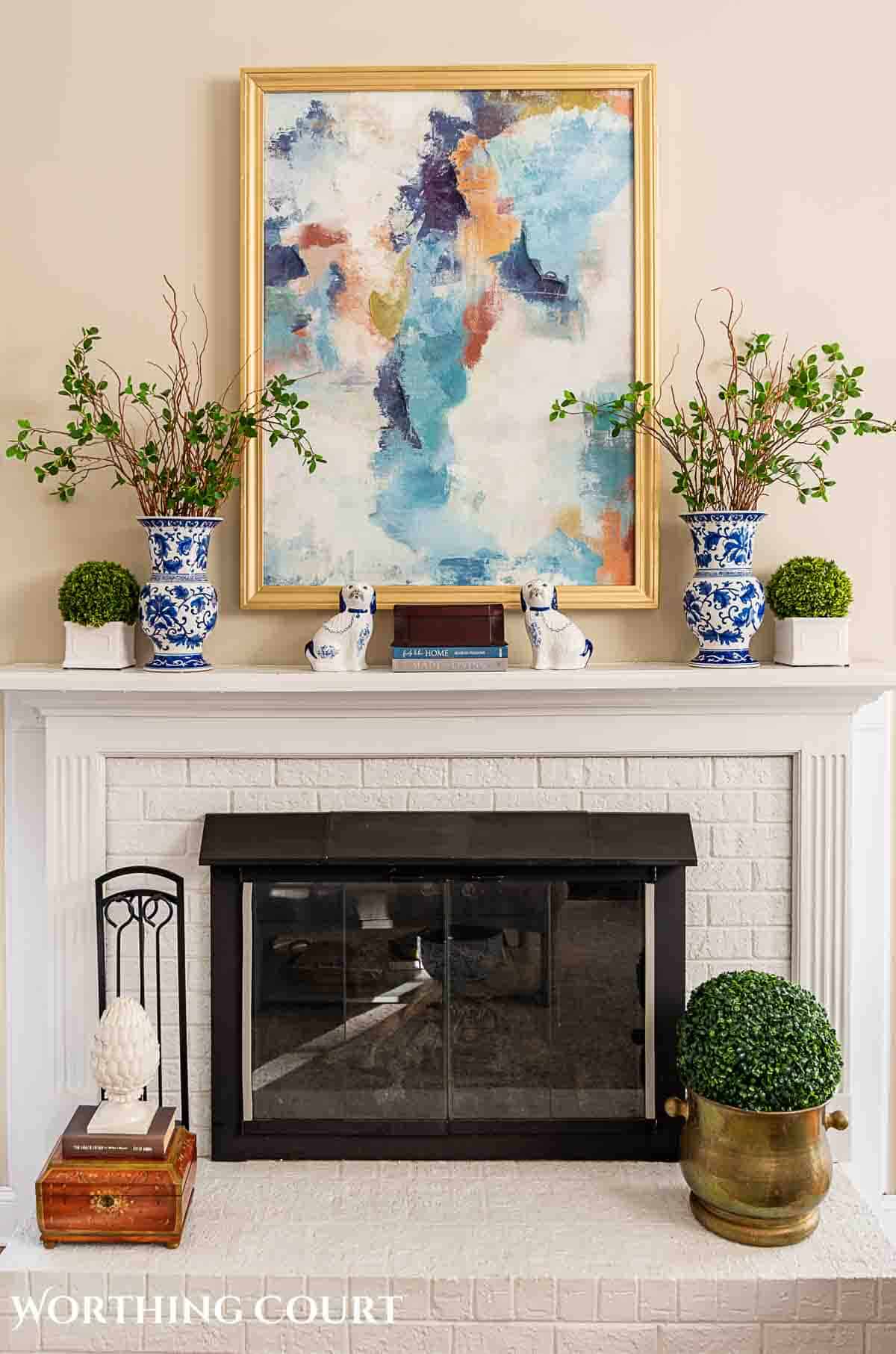 I have no clue what type of plant is in the wicker container beside the chair, but it's a quirky little thing and I love its freeform shape! It drinks a lot of water though, so I have to keep a close eye on it.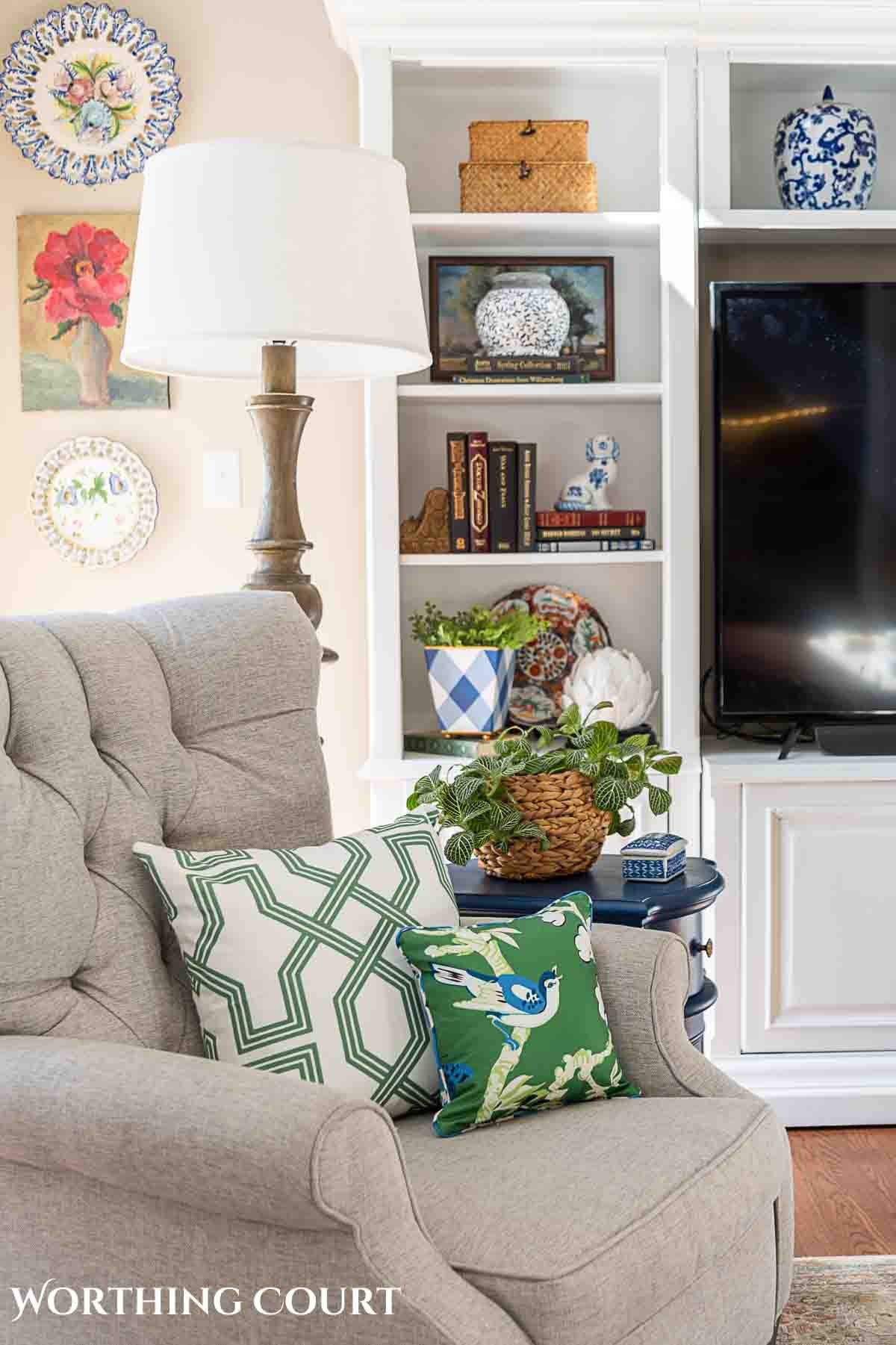 Foliage naturally has lots of texture, so it makes a great filler. I love to tuck a sprig of greenery anywhere that there's an empty spot. It's perfect to use on shelves that don't get direct sunlight. Plus, it adds a pretty pop of color to draw your eye.
The greenery is carried around the room to the coffee table, where I have a few artificial leafy sprigs in a bowl. For another pop of greenery, I placed an evergreen wreath of preserved boxwood around a candle in an old apothecary jar that's missing its lid.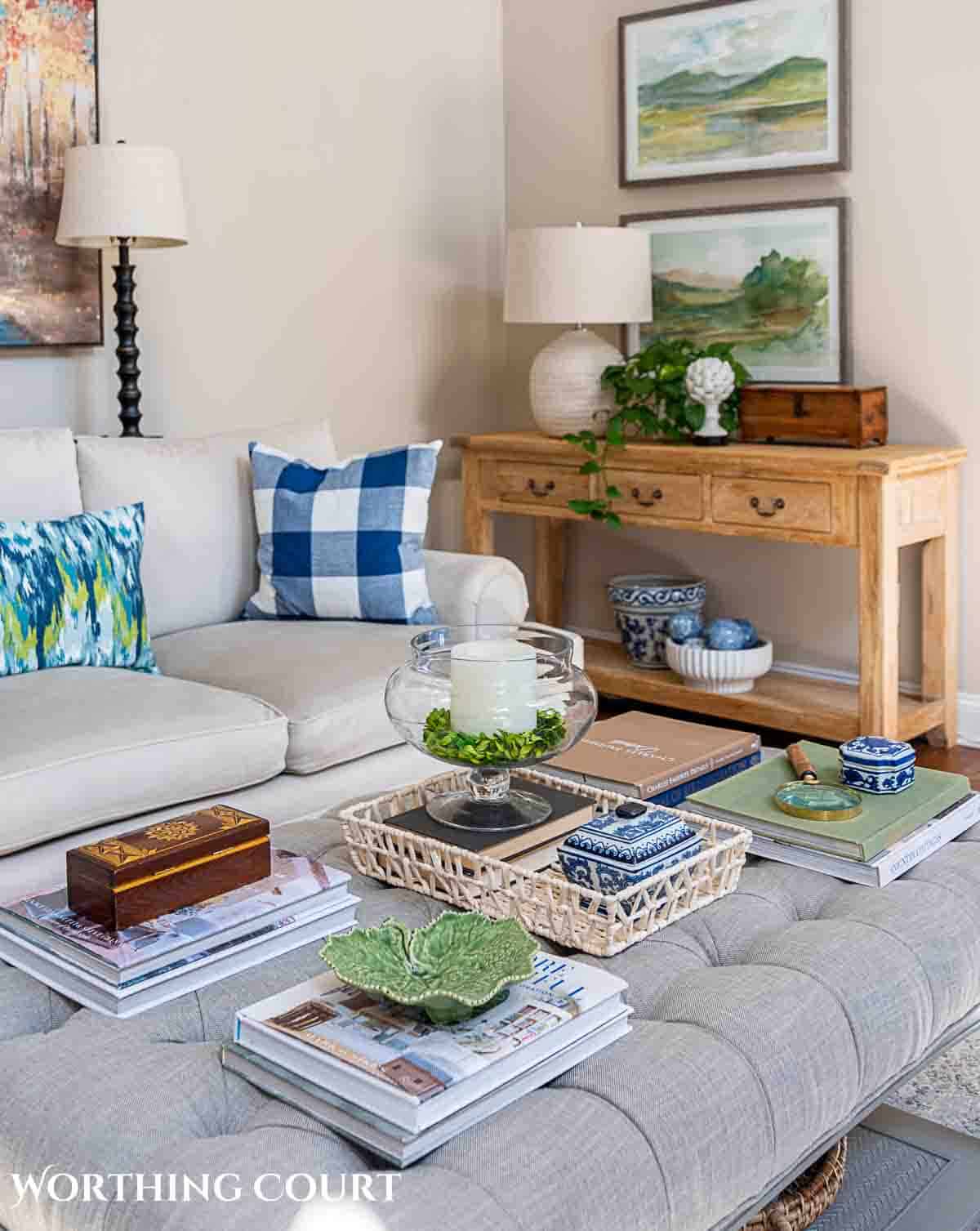 When it comes to decorating with live plants, there are two that are my favorites because they can take low light and don't need a lot of maintenance. One is a pothos, which can take low light, doesn't like a lot of moisture and you almost can't kill, even if you try.
The other is a peace lily, which is beside the chair on the other side of the fireplace. A peace lily is happy is bright light or low light. It tells me anytime it needs a drink of water by drooping its graceful arching leaves.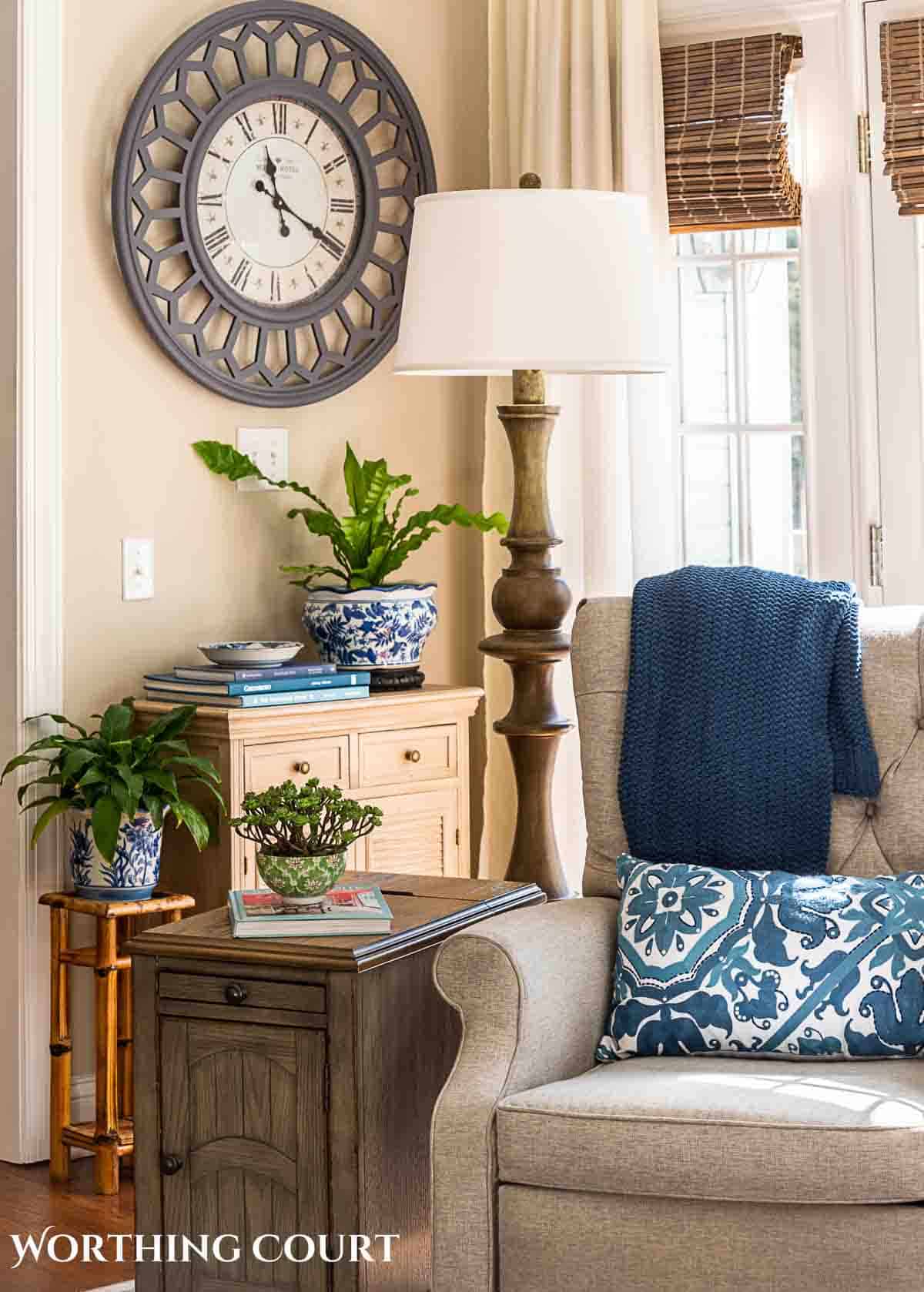 SPRING GREENERY IN THE BREAKFAST NOOK
The breakfast nook is another place where I have greenery spread throughout the room.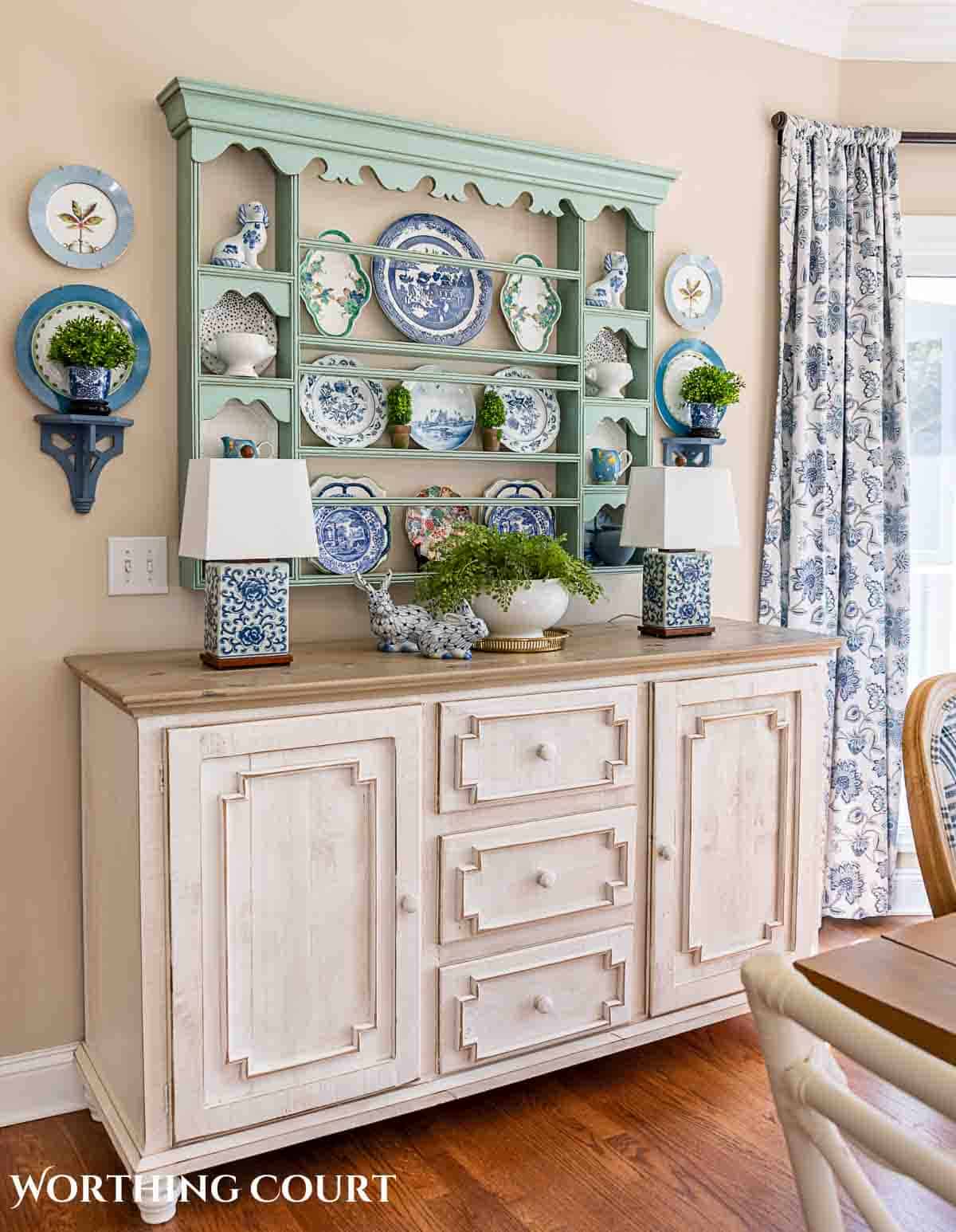 Under the chandelier, on the table, I'm using another live pothos in a pretty blue and white porcelain container for a centerpiece.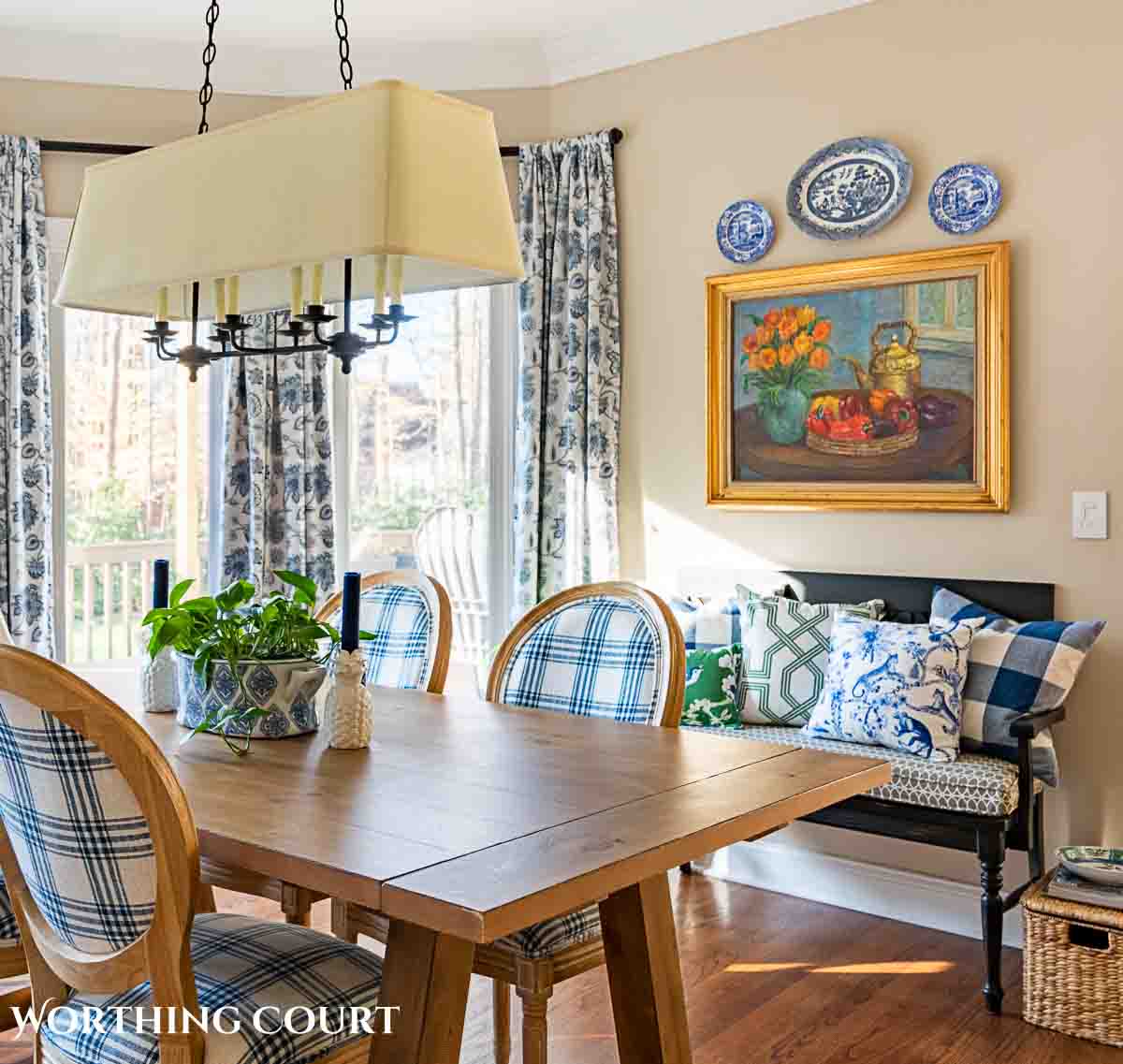 I have a faux fern sitting on a pedestal in the bay window. Pretty soon the threat of frost will end and I'll be able to plant flowers in the containers on the deck so that I'll have a pretty view looking outside this window.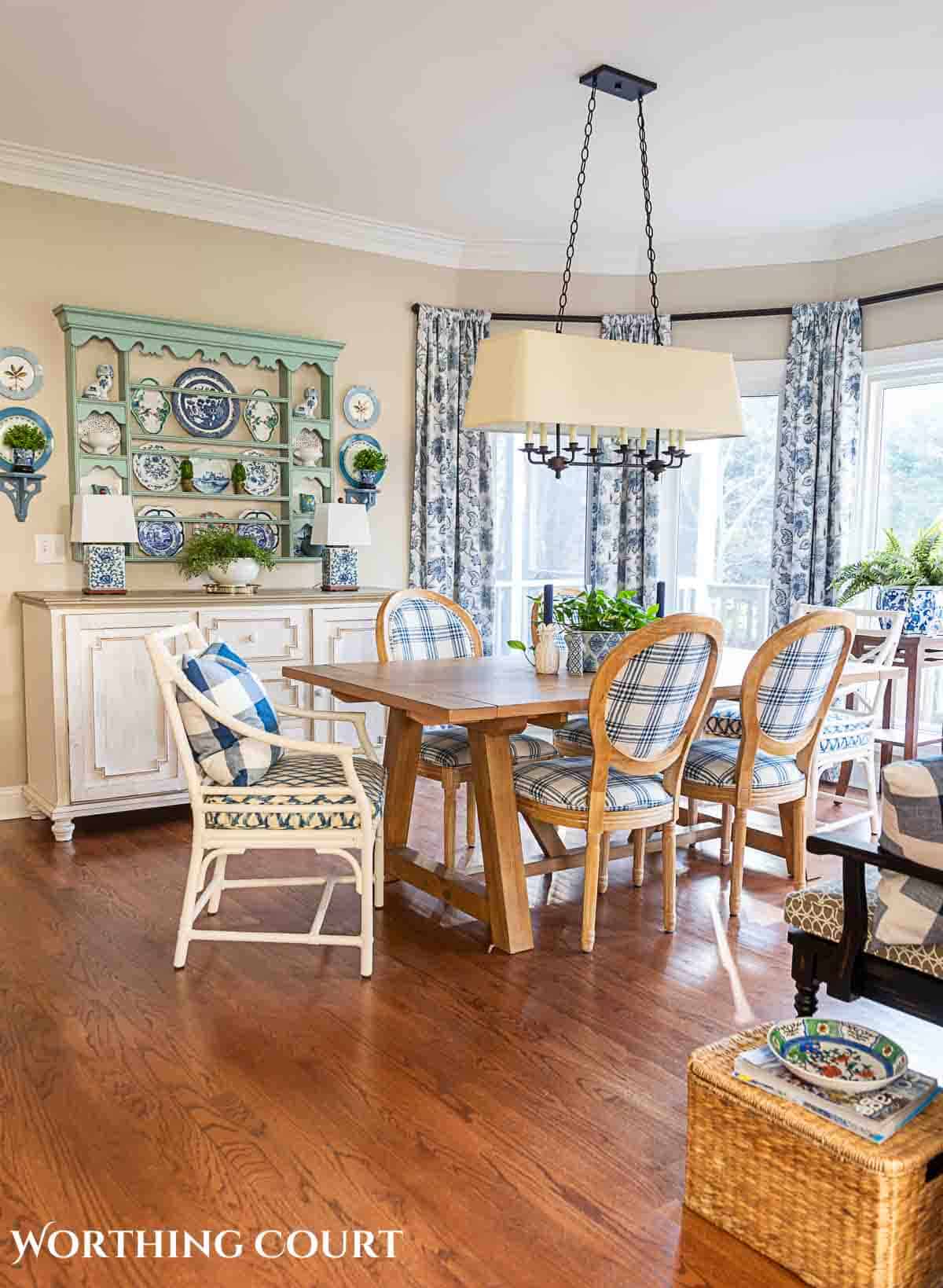 I've added more pops of greenery on the sideboard and on the brackets that flank the plate rack. If you look closely, you can see that I've also two small little topiaries to one of the shelves.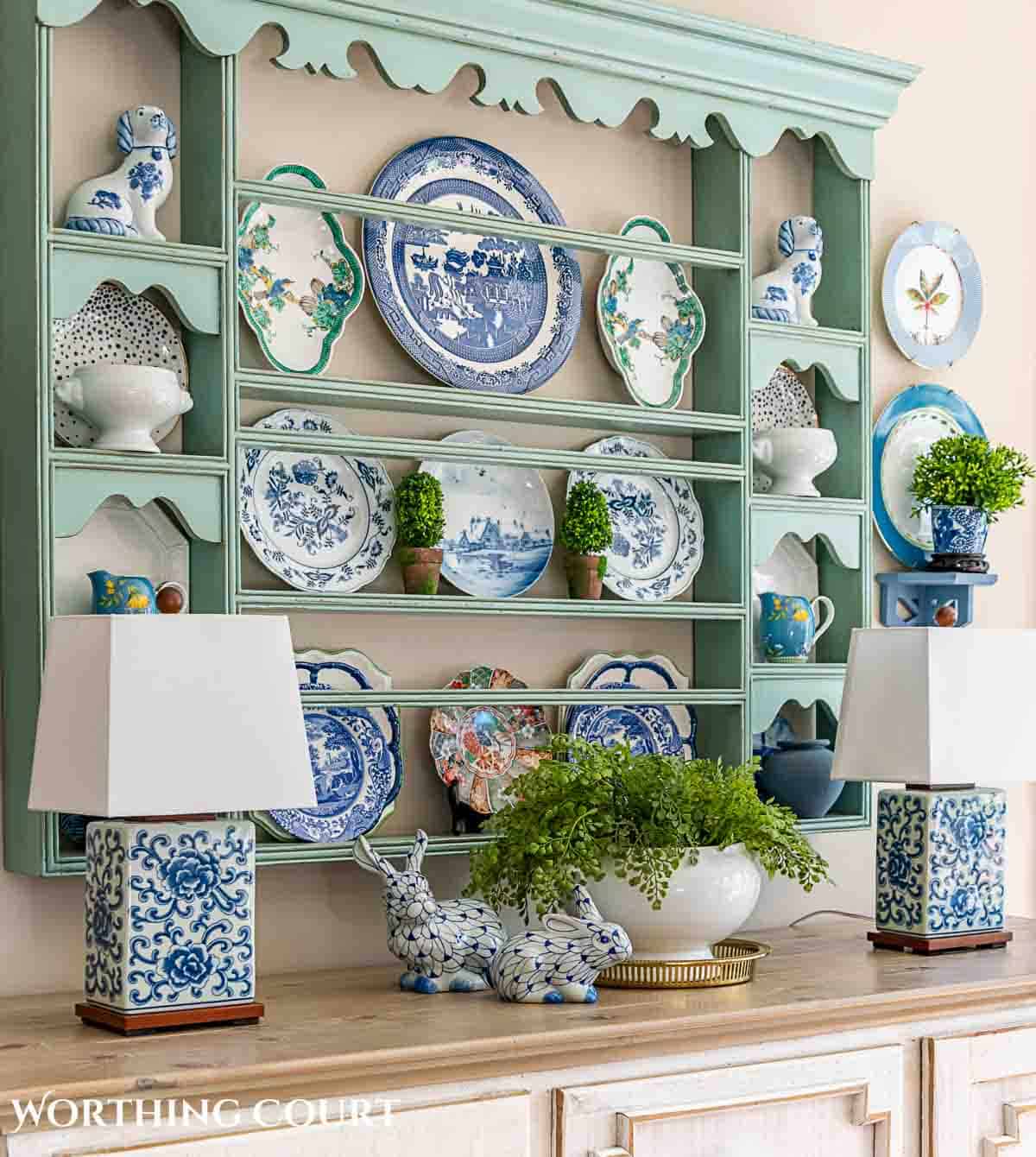 Decorating with greenery is one of my little quick tricks! Do you find yourself incorporating more greenery into your home this time of year?
Thank you for stopping by today! Next, you'll want to be sure to visit Kate at Southern Home And Hospitality where she's sharing lovely ideas for adding Easter to your spring decor.
And click on the links below to tour everyone else's home.
Bloggers' Best Spring Home Tours
This week I am joining some of my blogging friends for the 2023 Bloggers' Best Spring Home Tours. Thirty talented and creative women will be opening their homes up for you to tour all week long. You can visit each Spring home tour by clicking the links below.
Monday's Tours

The Tattered Pew // StoneGable // My Wee Abode
Cottage On Bunker Hill // Cottage In The Mitten // She Gave It a Go
Tuesday's Tours

White Arrows Home // Midwest Life and Style // Open Doors Open Hearts
Robyn's French Nest // Cloches and Lavender // This Is Simplicite
Wednesday's Tours

Eleanor Rose Home // Shiplap and Shells // Bricks n' Blooms
WM Design House // Simply2Moms // The Ponds Farmhouse
Thursday's Tours

A Life Unfolding // My Thrift Store Addiction // Pasha Is Home
County Road 407 // White Lilac Farmhouse // Thistle Key Lane
Friday's Tours

Create and Ponder // DIY Beautify // Worthing Court
Southern Home and Hospitality // My Family Thyme // Peacock Ridge Farm