How To Decorate For Spring When You Don't Have Time
Think you're too busy to decorate for spring?  Try these quick and easy ideas for refreshing your home in 10 minutes or less!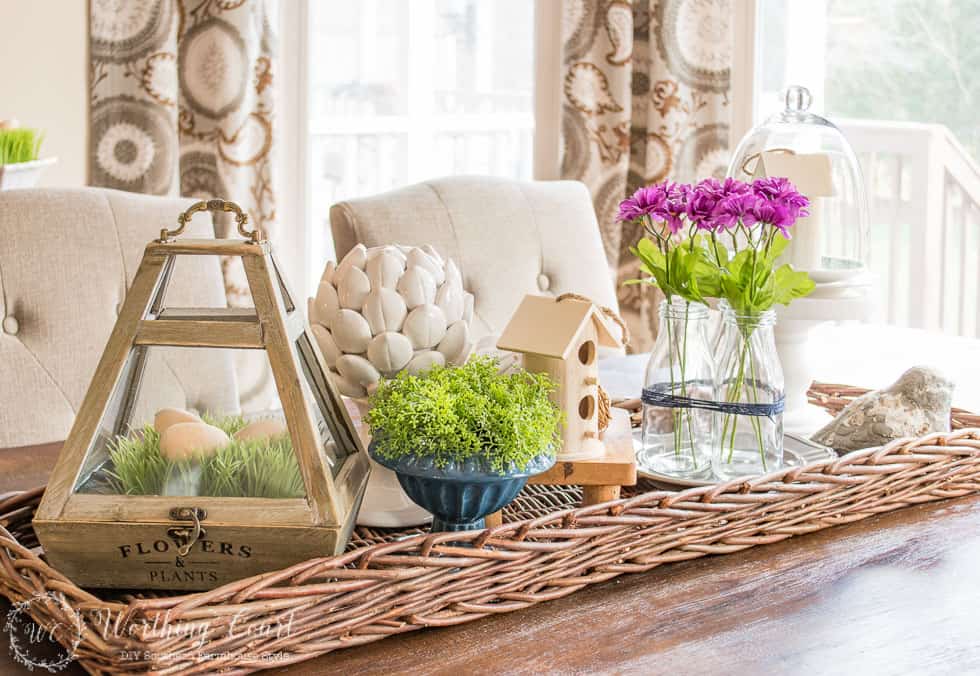 Winter is pretty much over and you're ready to freshen up your home for spring – but who has the time or energy???  I get it – really I do.  Don't worry – you don't have to reinvent the wheel or overhaul your whole home to get that springy awesomeness!  All you need are just a few simple spring decorations to tuck in here and there among your existing decorations.
I readily admit that I probably do more seasonal decorating than most people, but that's because my mission, as a home decor blogger, is to encourage and inspire you, no matter the trending season.  So instead of feeling the pressure to redecorate a whole room for the spring, let's take a look at just few really simple ideas that you can copy in ten minutes or less.
To help make it easier for you, I've included links to the exact or similar products that you can use to get the look for your own home.  Some of the links are affiliate links, which allow me to make a small commission on your purchase, but at NO additional cost to you.  See my full disclosure policy HERE.
AT YOUR FRONT ENTRY
It only takes a few minutes to fill a basket with pretty faux florals and add a touch of whimsy to create a uniquely you "wreath".  The secret is to start with the longest branches first, then tuck in a few shorter flowers, or in my case, a few colorful butterfly picks into the longer branches, but toward the front.  Add a few greenery leaves around the opening and tie a bow with nature-inspired ribbon around the basket to finish it off.  Don't be afraid to fluff and re-position the stems until you have it looking just the way you want.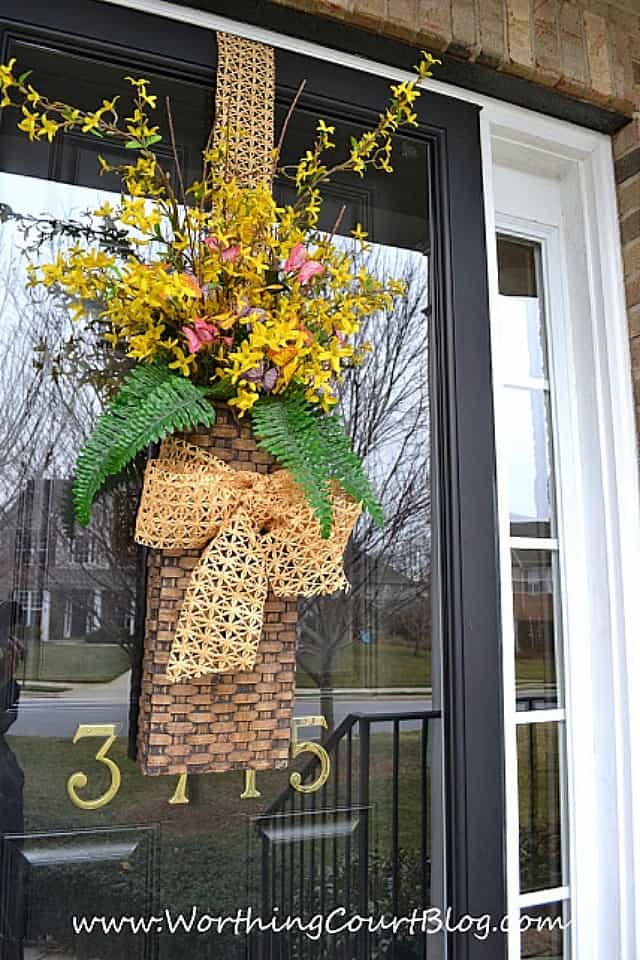 GET THE LOOK

Get an early start on spring container planting so that your plants will have time to grow and fill out before the season is over.  You can fill a container with a shrub and some ivy in no time flat!.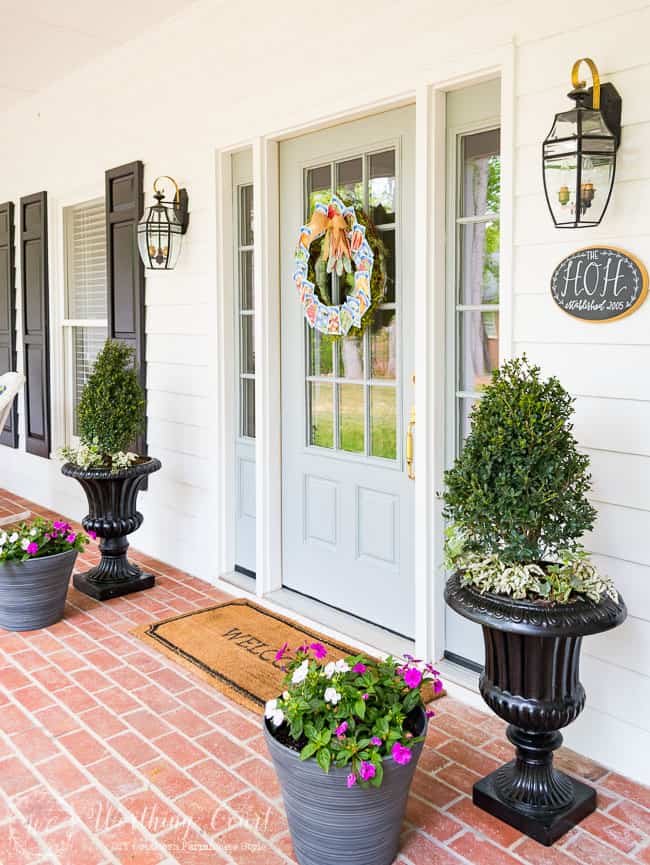 CLICK HERE  FOR THE SEED PACKET WREATH TUTORIAL
FOR YOUR ENTRYWAY
All you need for a welcoming spring vignette in your entryway are a couple of candlesticks along with a cute container filled with pretty pink (or any other color) flowers and a few eucalyptus leaves.  Oh, and a lamp to turn on in the evening will help to welcome anyone arriving at your front door too!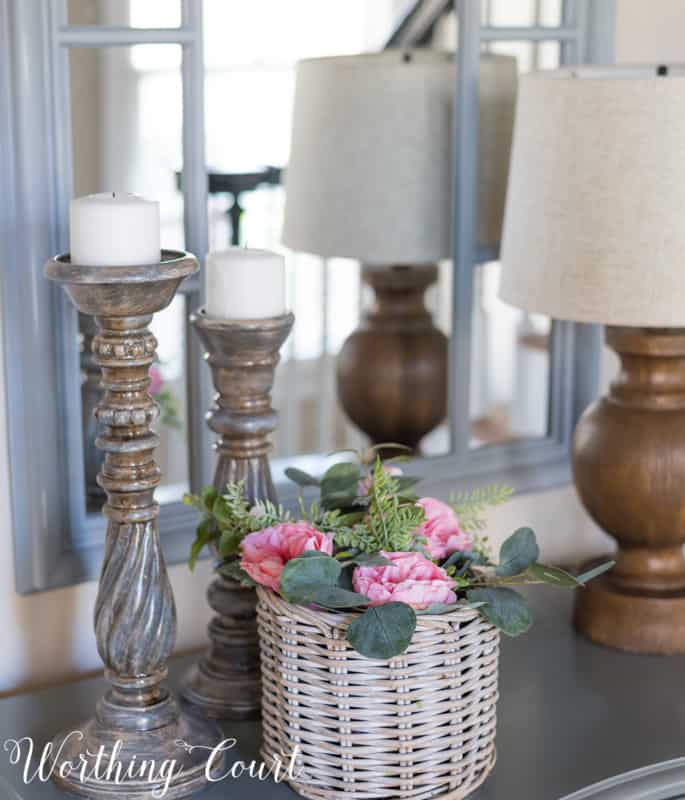 GET THE LOOK

FOR YOUR LIVING ROOM OR FAMILY ROOM
There are several quick and easy spring decorating ideas in this one corner, but you don't have to use them all.  All you need to do is to choose just one spot in your room, where you enjoy setting up a display, and put those spring greens and blues to work!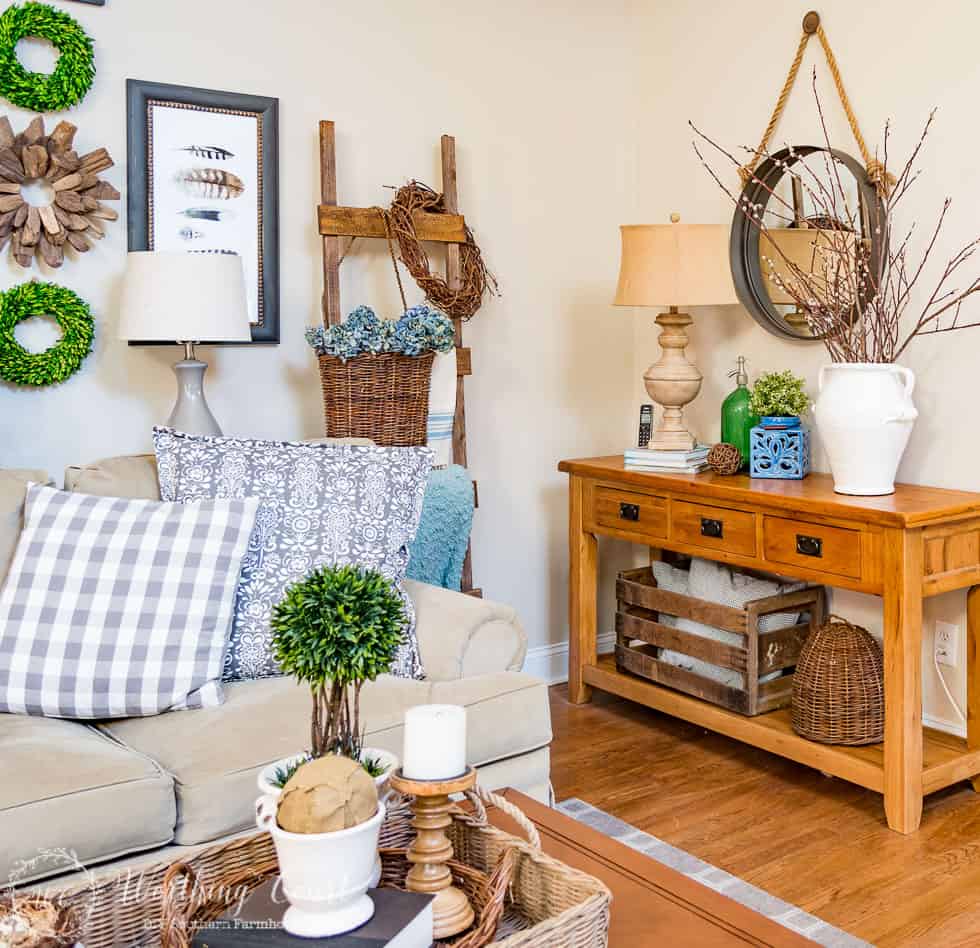 CLICK HERE  FOR THE DIY RUSTIC LADDER TUTORIAL
You don't have to have a fireplace either – here are several ideas that you could copy and place in other parts of your room.  Candlesticks that are topped with faux greenery orbs could be placed on a side table or sofa table.  A dough bowl or basket filled with greenery and/or grapevine orbs could be placed on a coffee table.  A tote filled with faux flowers could move anywhere around the room.  Each one of these ideas is a little outside of the box and will create lots of interest!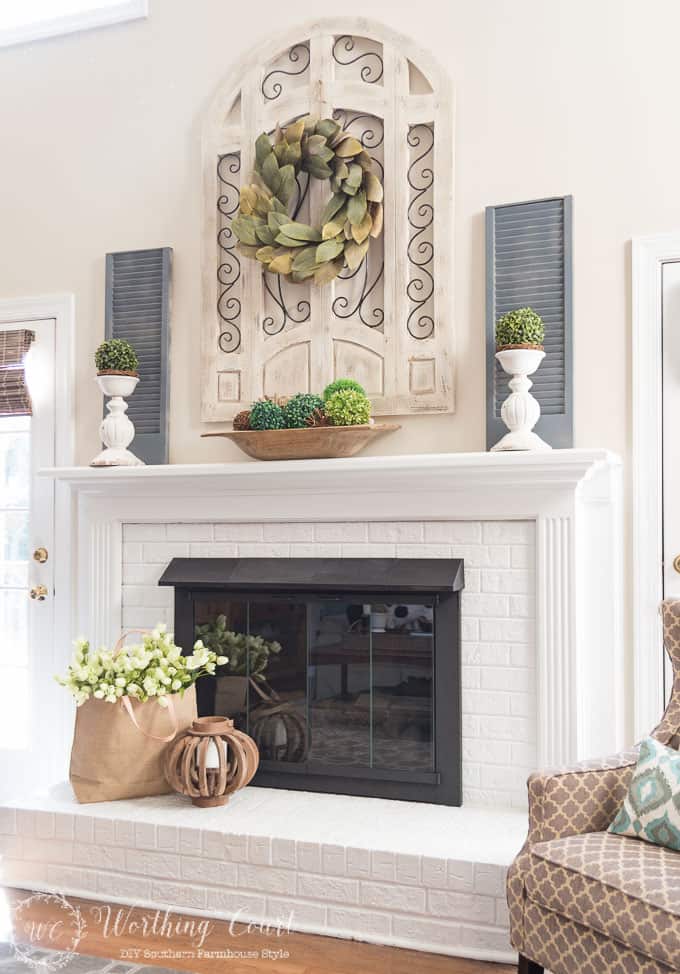 GET THE LOOK

FOR YOUR KITCHEN
I prefer the look of uncluttered countertops – too much stuff just seems to stress me out when I'm actually working in my kitchen.  All it took to make this little vignette springy was the addition of a small potted plant and a wicker tray.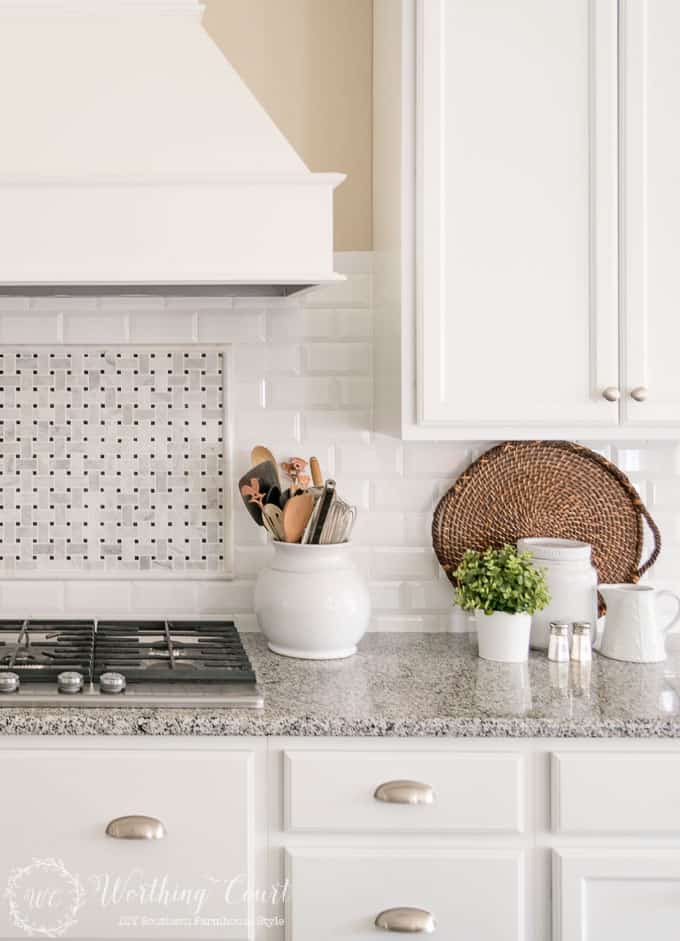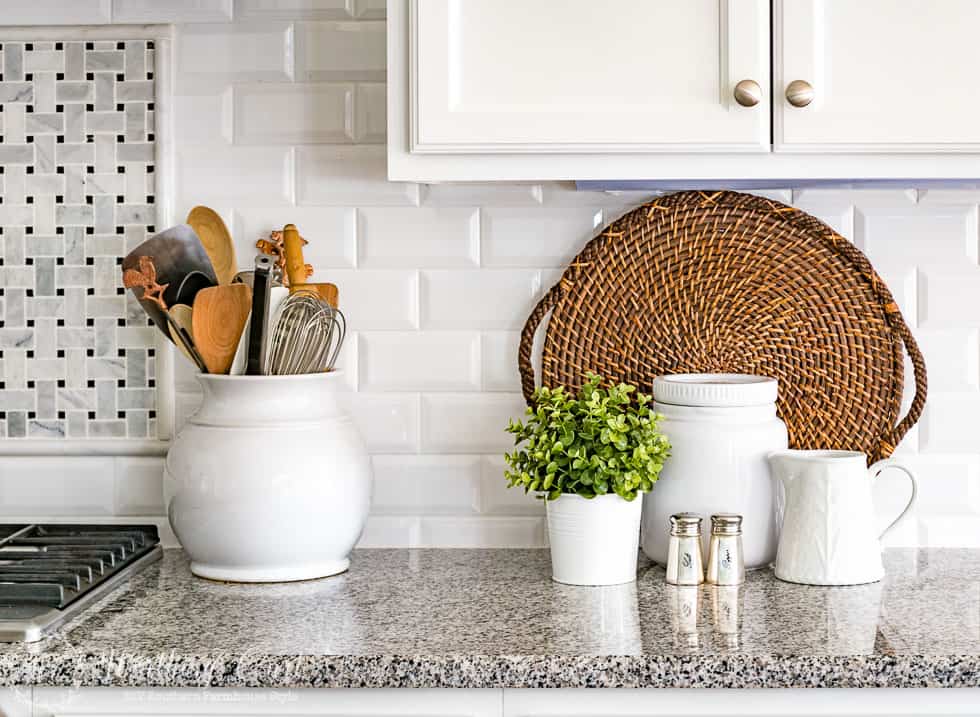 Prefer fresh flowers over faux?  Look at how easily you can add a pop of spring to your kitchen for just $5 from the floral department at the grocery store!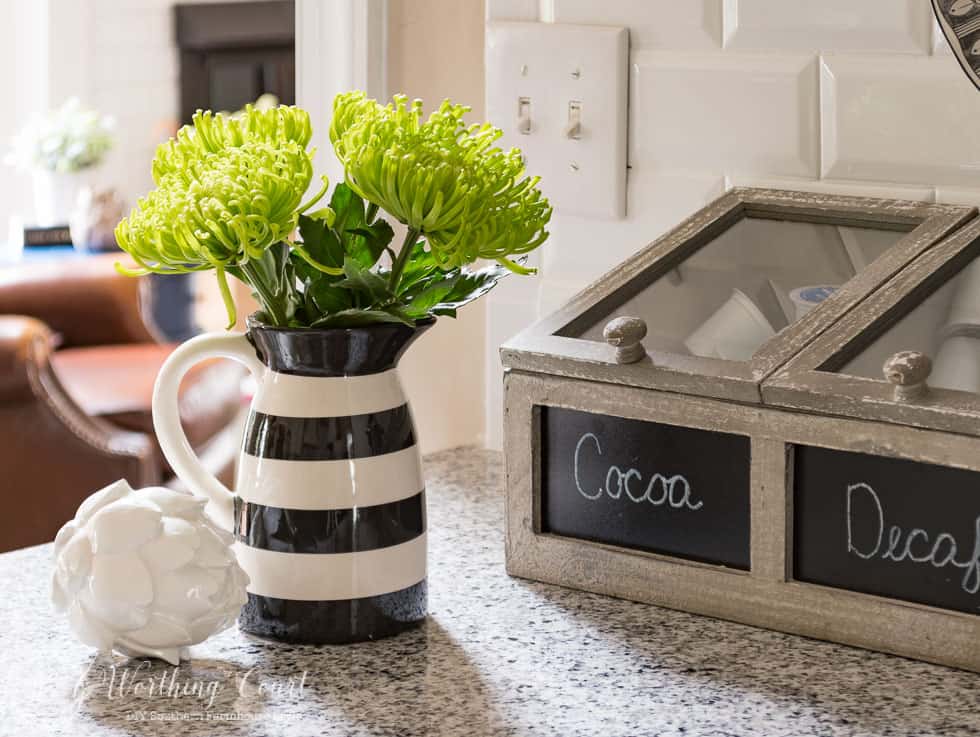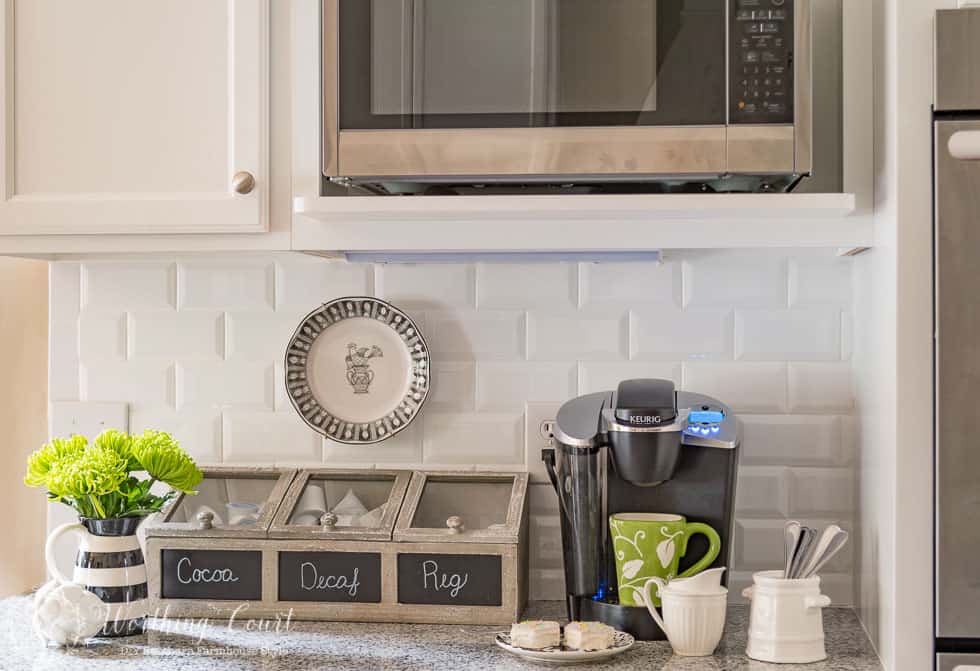 GET THE LOOK

FOR YOUR DINING ROOM
I think that most of us love to have a pretty centerpiece on our dining tables, but they don't have to be anything complicated.  Take a look at how I've styled the same wicker tray two different ways for a fresh spring look.