Breakfast Nook Ideas For Spring
Ideas and inspiration for creating a cheery and charming breakfast nook with fresh touches for spring.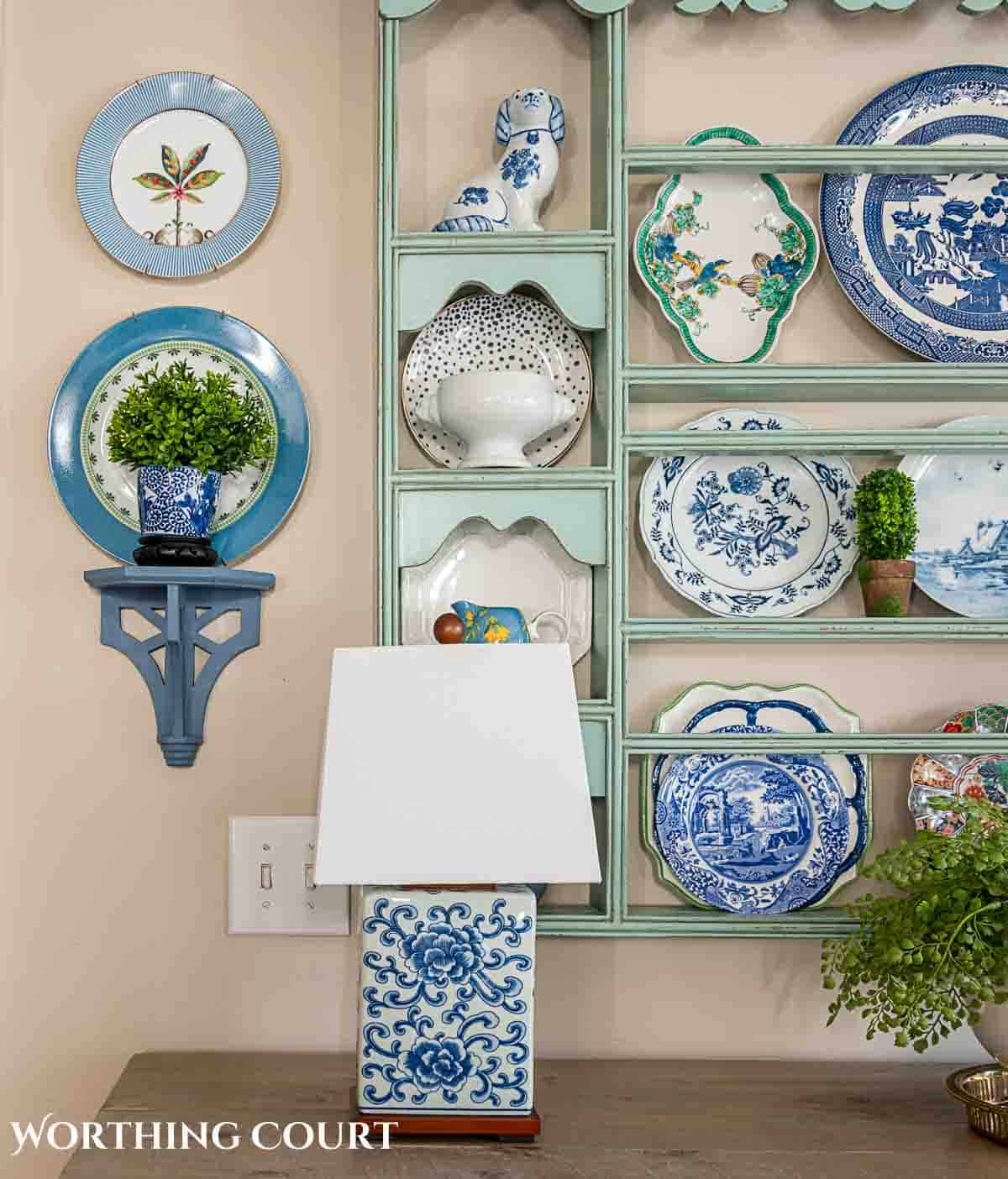 This post contains affiliate links from Amazon and other retailers. See my full disclosure policy HERE.
Maybe I really should have titled this post, "Before And After Breakfast Nook Makeover Reveal", because that's what this really is. But – it just so happens that the reveal coincides with spring decorating!
I'm happy to be joining Marty from A Stroll Thru Life once again for her annual spring tour! Marty has put together an amazing lineup of 28 bloggers who are all sharing inspiration and ideas for spring decorating. You'll find links to all of the tours down below.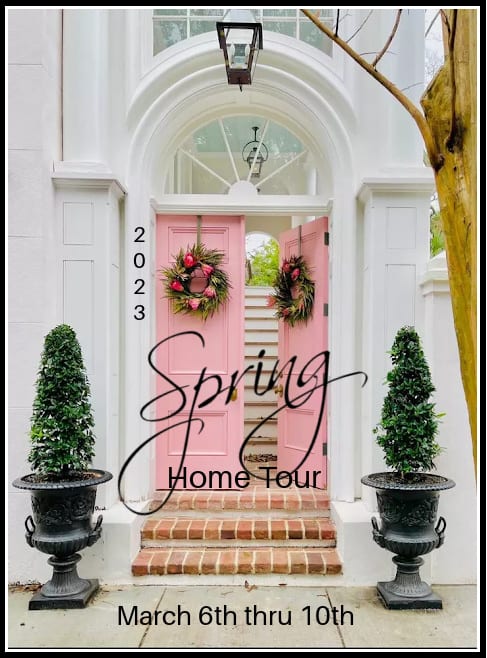 If you're coming over from Chalking Up Success, welcome to Worthing Court! Jayne's beautiful blog is chock full of decorating, crafting and diy ideas. Be sure to sign up for her newsletter so that you don't miss a thing.
The completion of this breakfast nook makeover has been a loooong time coming. I forced myself to take my time coming up with ideas. From brain storming to planning to completion – I've been working on it for over a year!
Let's start off with a look at the BEFORE. I loved all of the farmhouse charm that we added to this space when we moved in and remodeled eight years ago, but it was time for a change.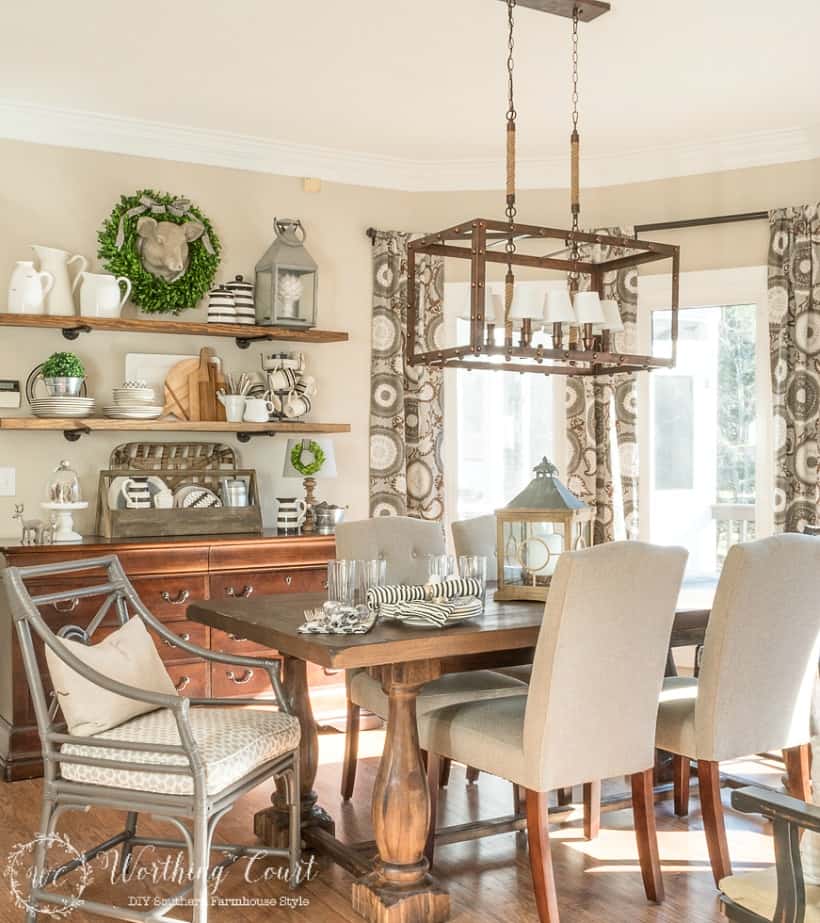 My philosophy, when it comes to breakfast nooks/rooms/kitchen eating areas, is that they should be bright, happy, cheery spaces, so I was craving a fresh, bright look for this room.
After working in this nook for over a year I hope you'll agree that I achieved that. We are certainly pleased with how it came together, especially with the touches that I've added for spring!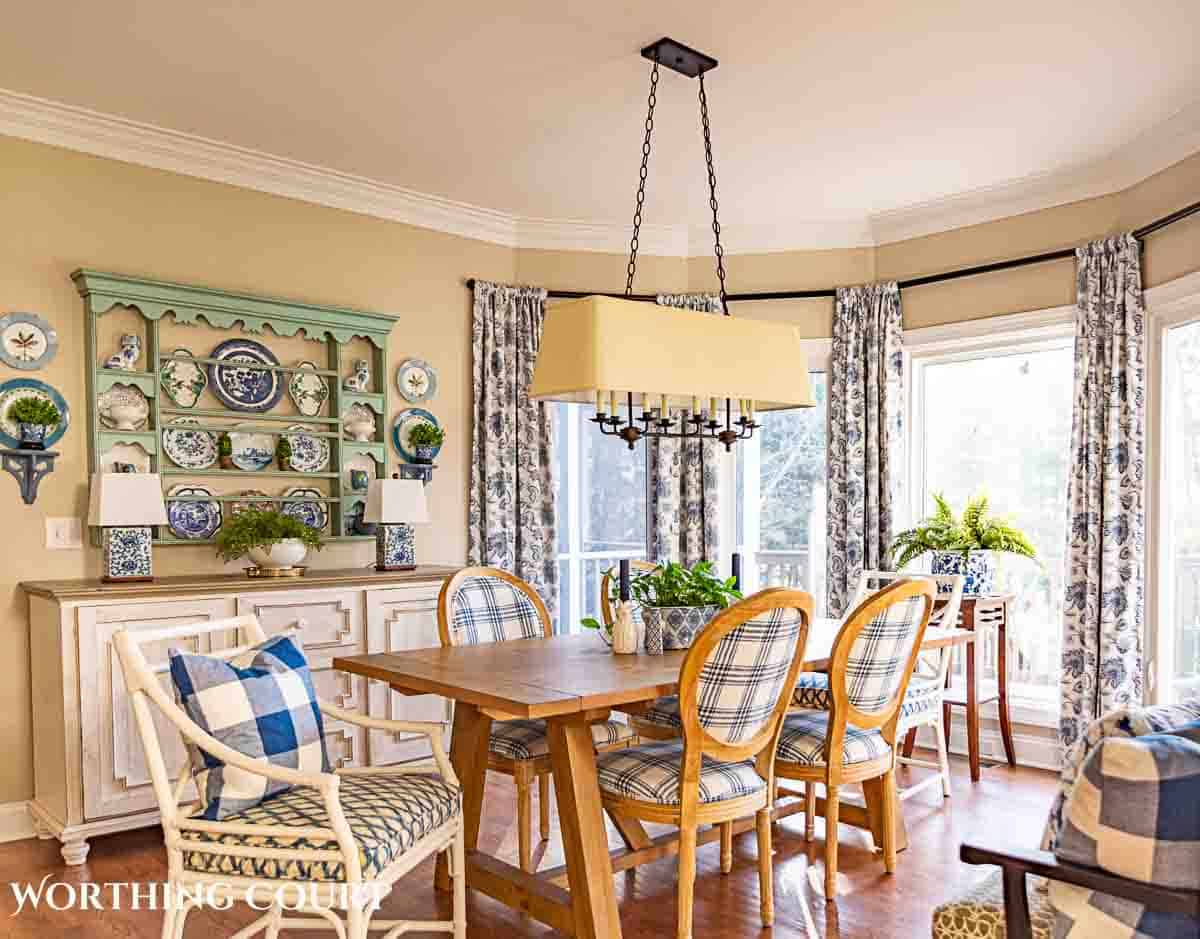 In some ways, this final look is totally different than my original design board, but the overall feel is still the same. The biggest surprise to me is that I wound up not using the original fabric that inspired this look anywhere in this area.
The original inspiration fabric was intended to be draperies for the bay window, but I was really, really dragging my feet on making them. The non-completion of that one project is what stalled everything else.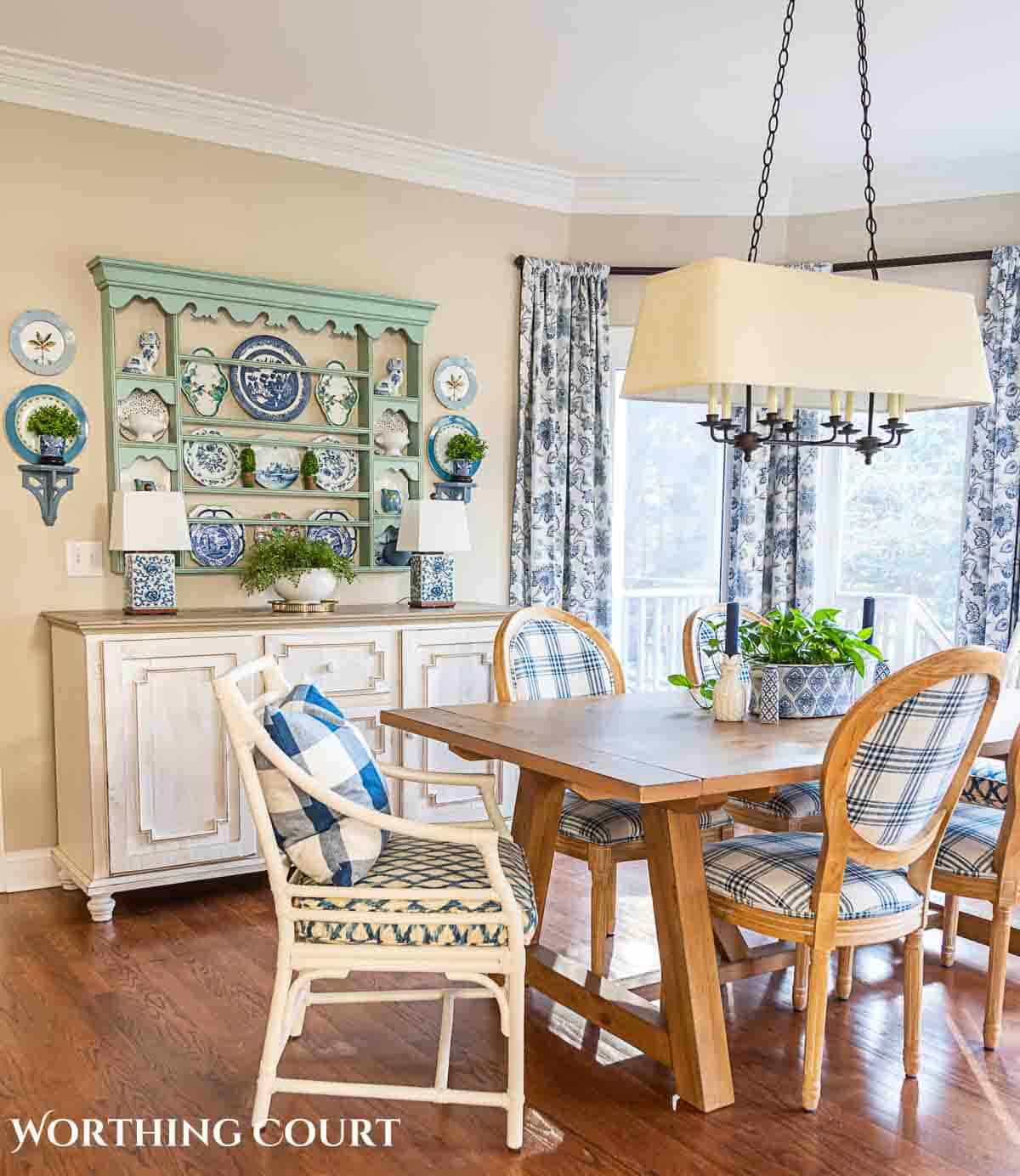 But then! I ran across very affordable readymade ones, that I love, and think work better in here than my original choice would have. I decided to hold onto the original fabric for my in-process dining room makeover.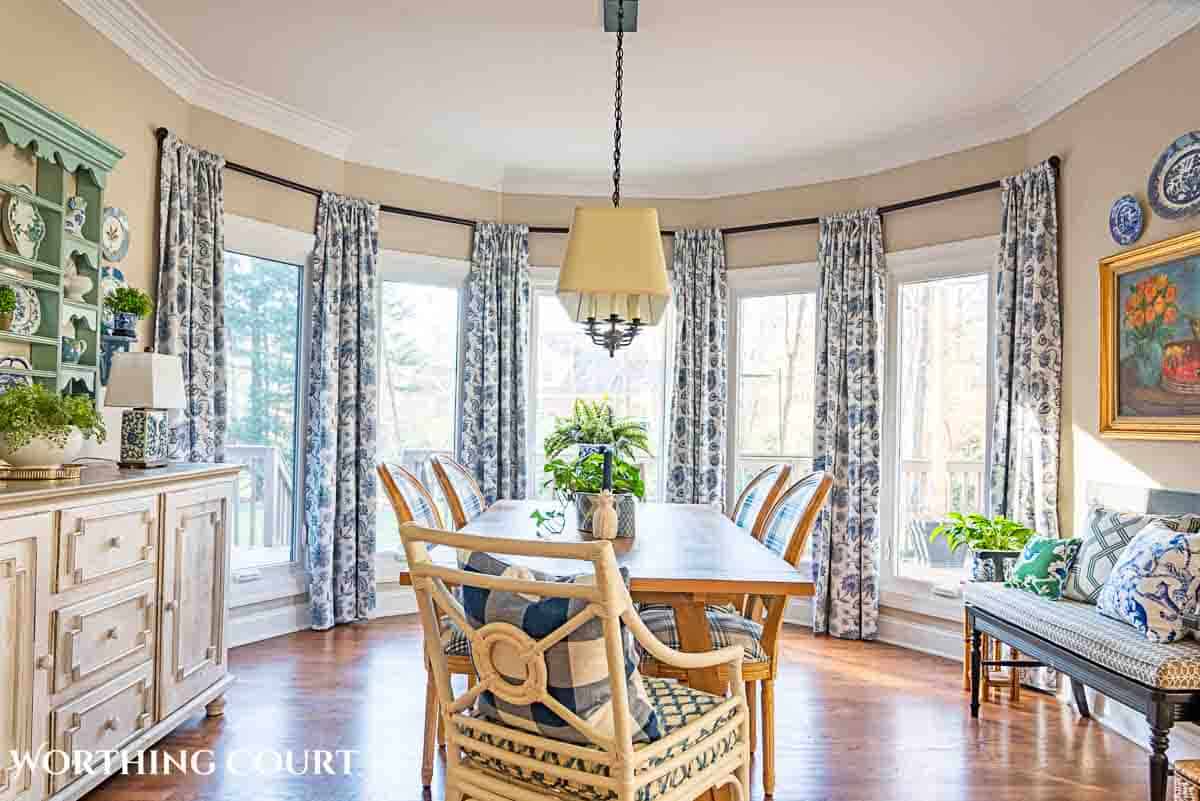 If you've been following me for a while, you might notice that I have a different sideboard in here now. I played furniture shuffle a few days ago and this piece came from my dining room.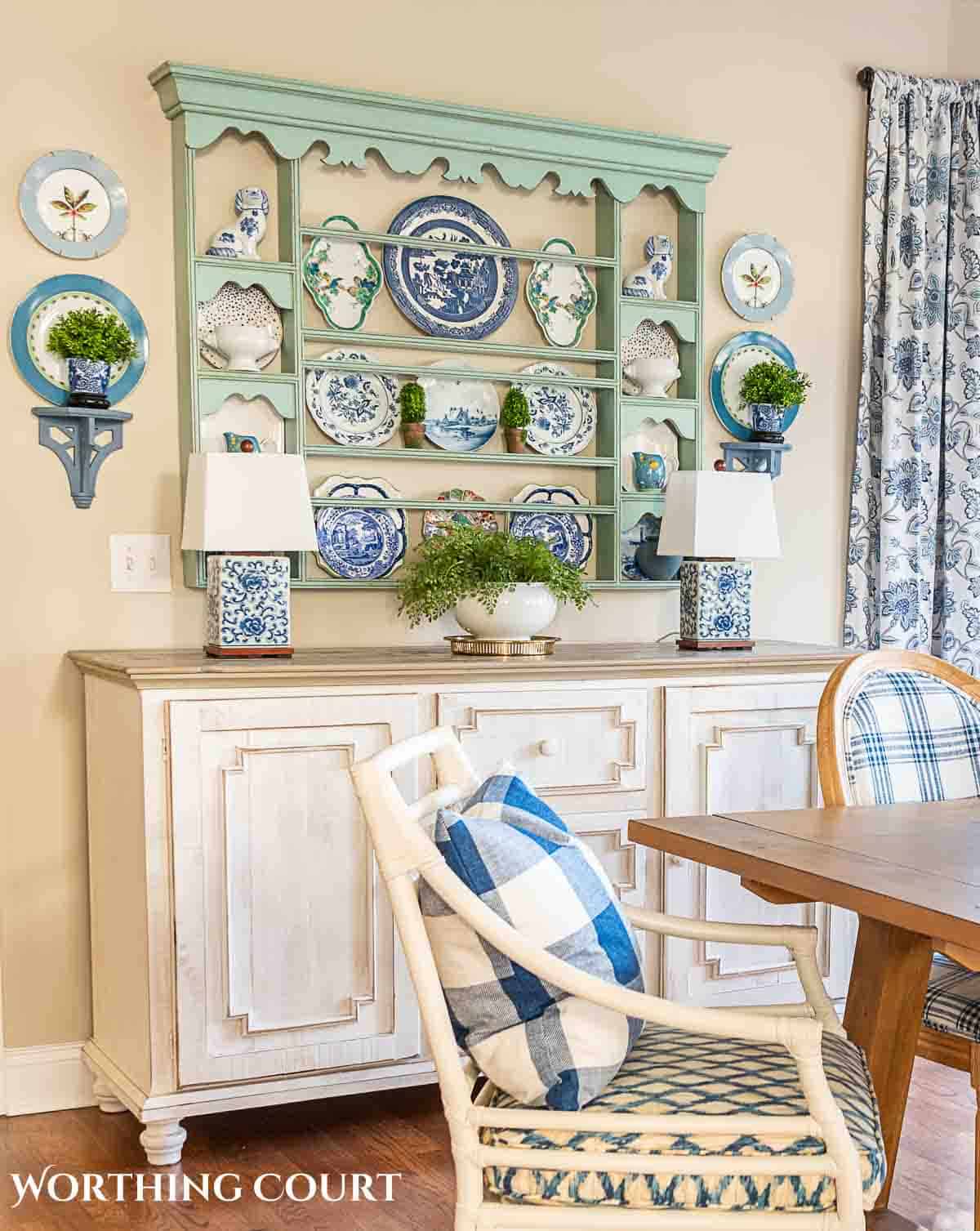 I purchased a vintage sideboard for the upcoming dining room makeover and moved the chest that had served as a sideboard in the breakfast nook to the guest bedroom.
We are in love with how this piece looks in here and I can't believe that I didn't try it sooner! It's so much brighter and the lines of this piece work better with the rest of the furnishings in this area.
In keeping with my habit of making seasonal changes to the open shelves that used to live on this wall, I've changed my plate rack up for spring.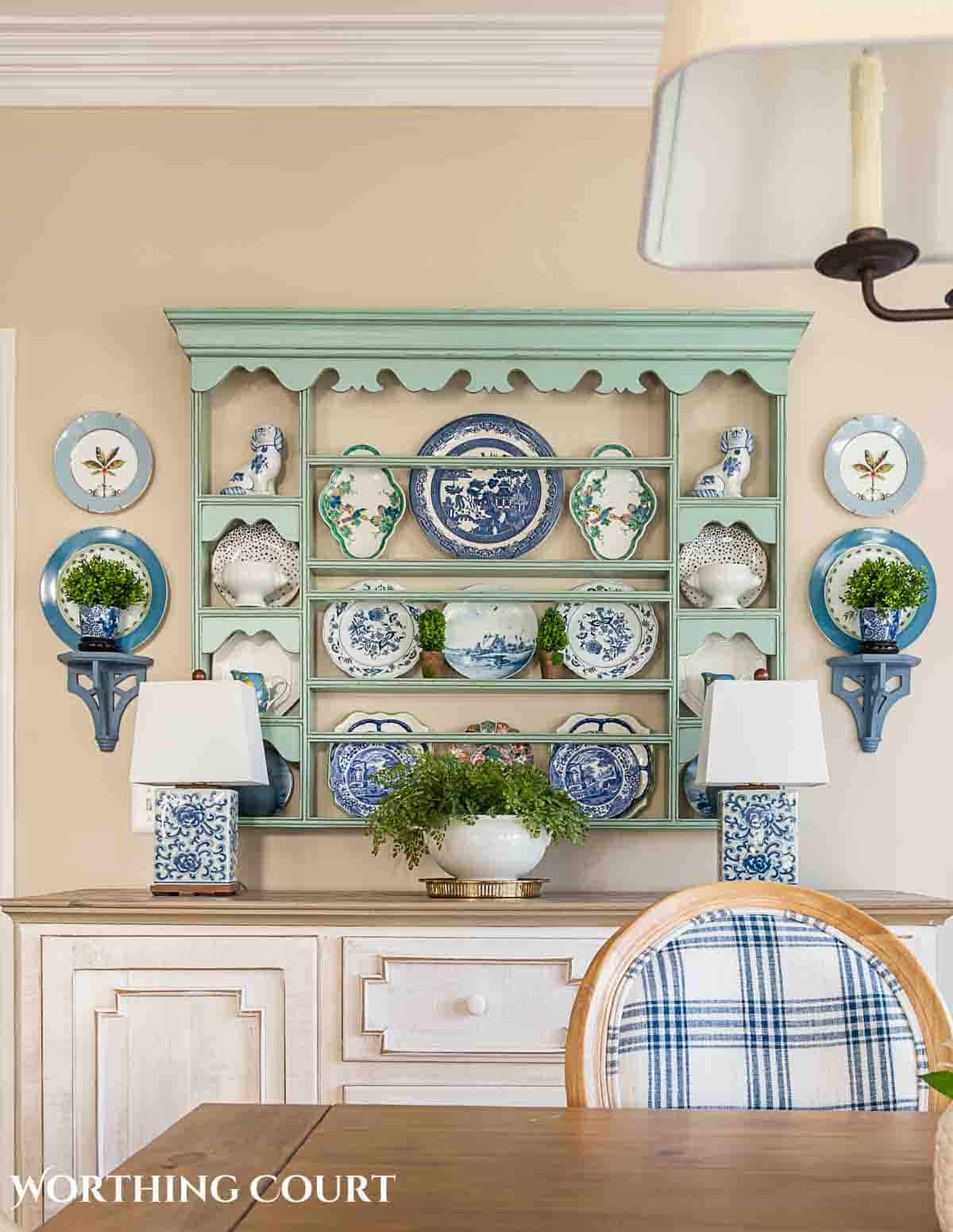 I purchased the vintage oval bird plates for my dining room, but I think the birds and flowering branches make them a perfect addition to the plate rack for spring!
The rest of the items are a combination of new and old that I've been collecting and holding onto. However, after I wrote the blog post about how to decorate a plate rack, I still felt like something was still missing from this wall.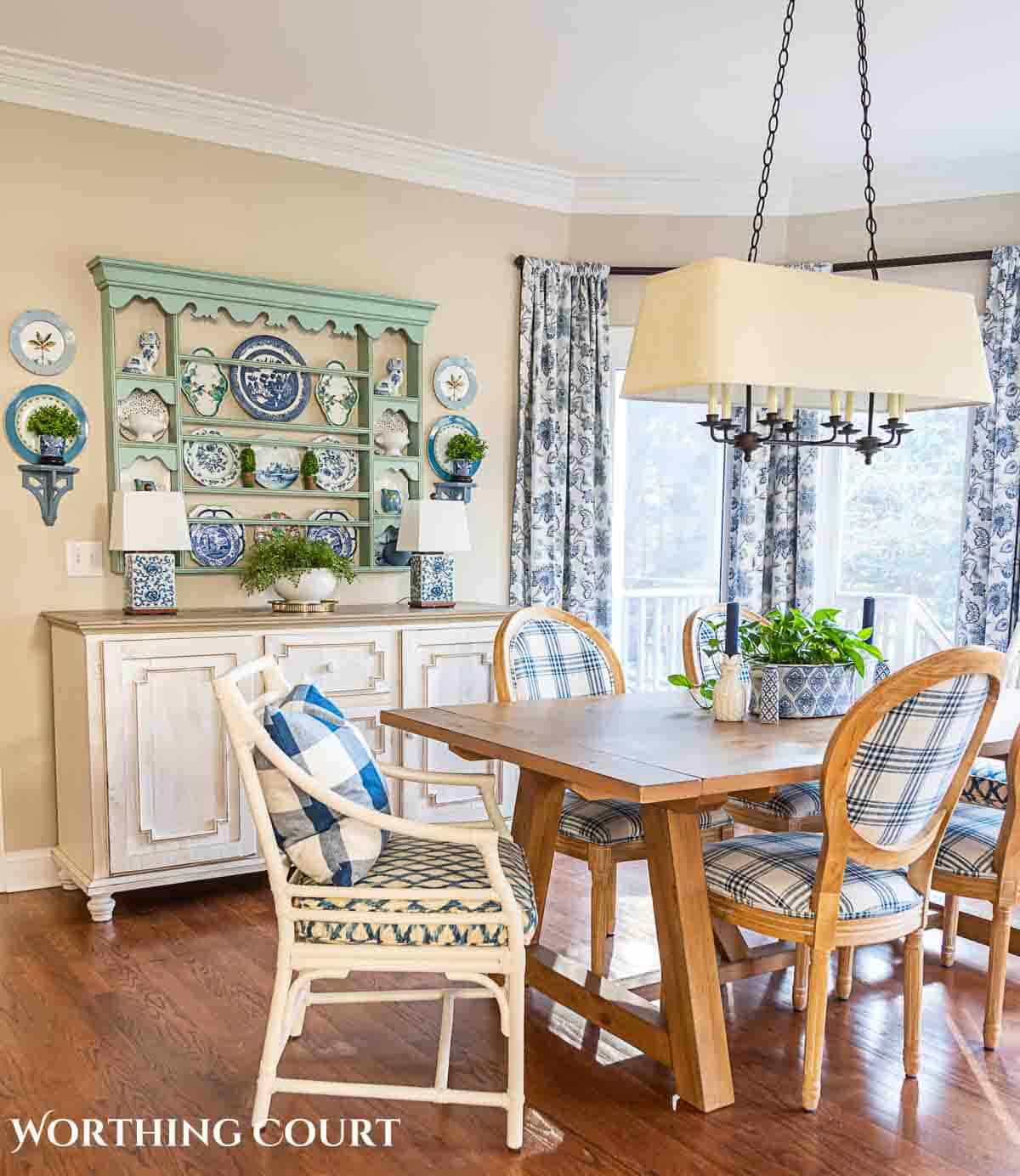 I think the addition of the wall bracket shelves on each side now fill the wall out quite nicely!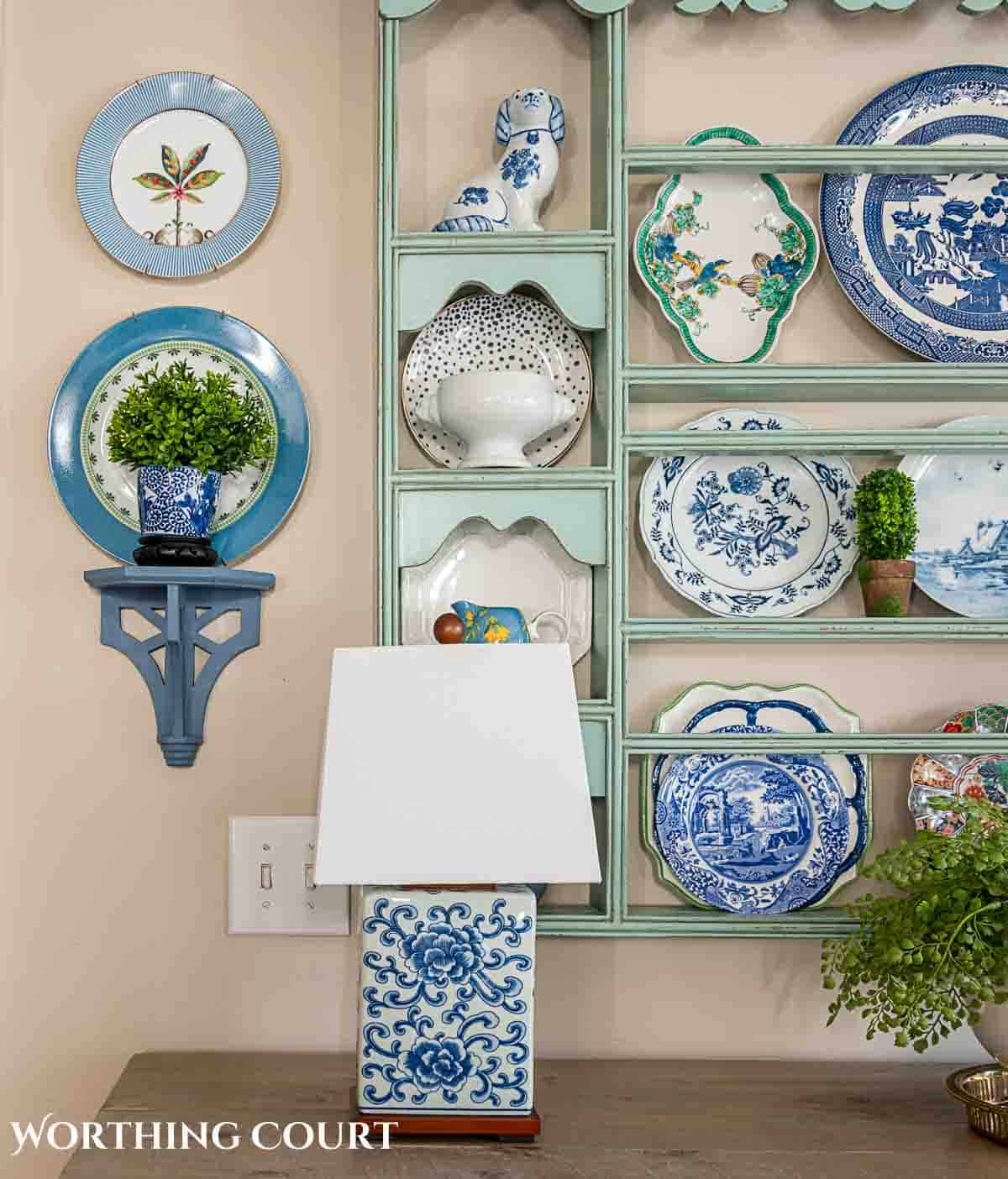 Now is the time of year when I really enjoy adding greenery, both real and faux to my rooms. It sure does bring them to life.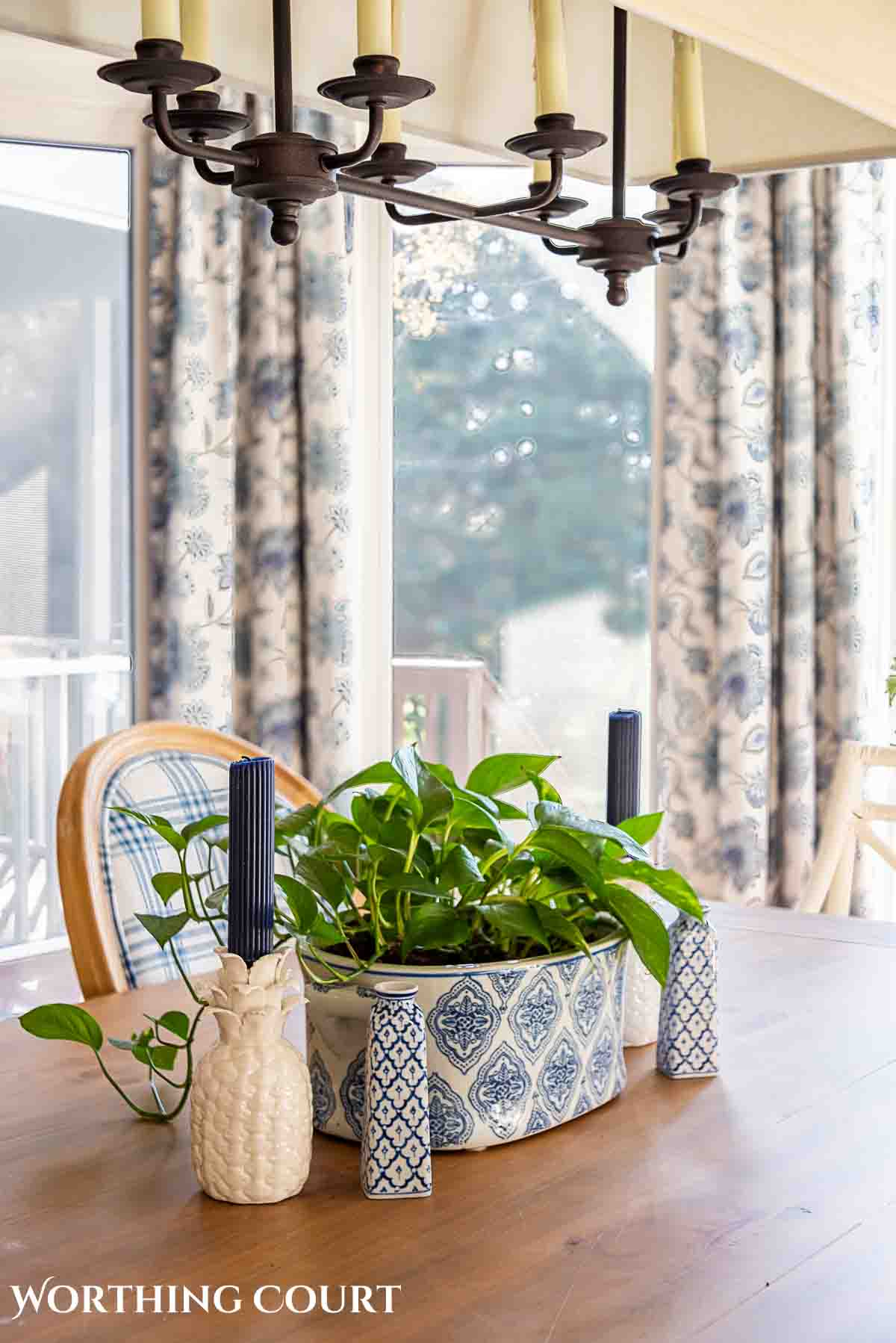 As part of the room makeover, I hung an original piece of my aunt's artwork and a few Churchill Willow plates above the artwork. The combination of the two add height to this side of the room and help to balance the height of the plate rack on the opposite side.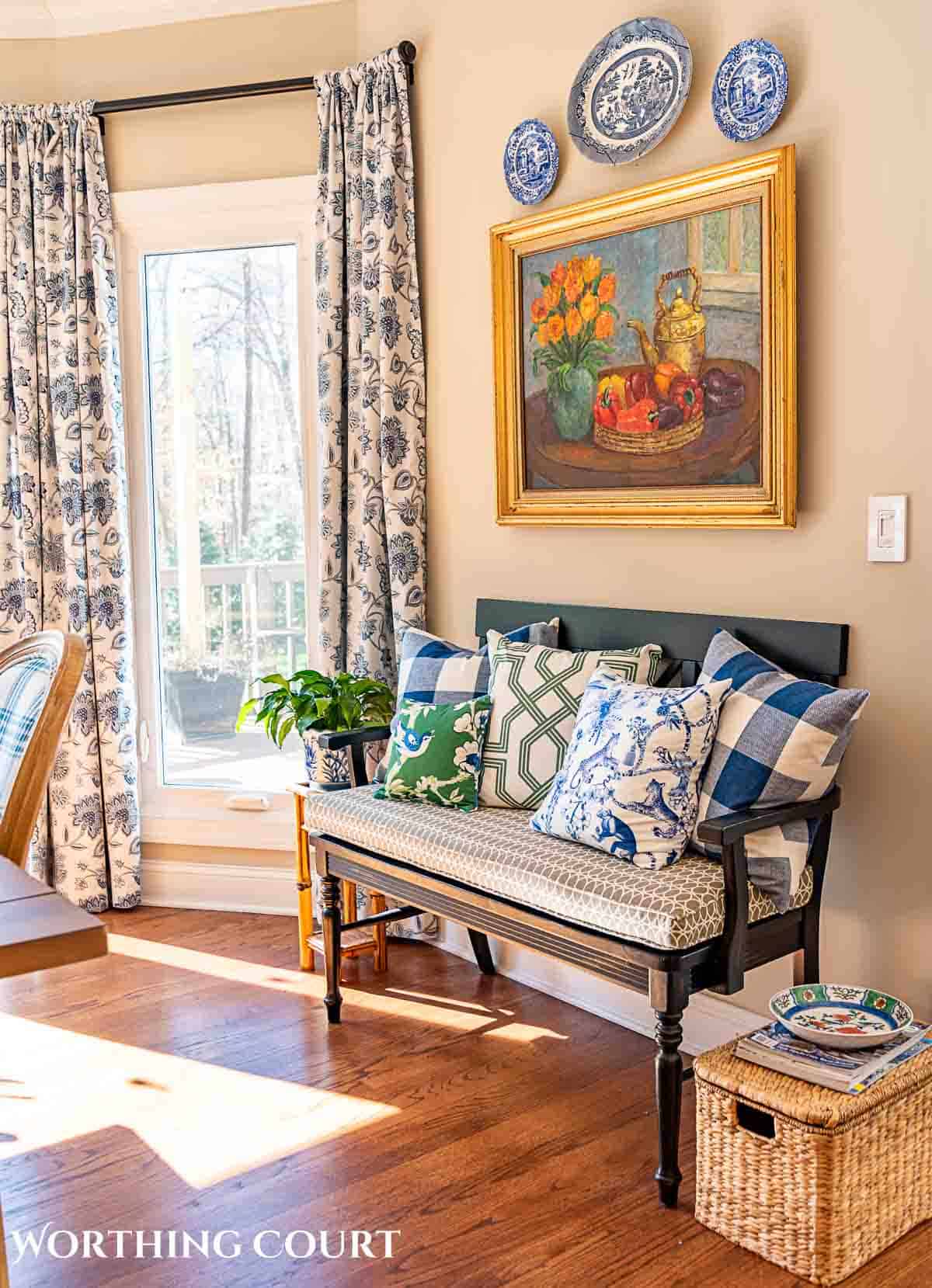 I filled the bench with a mix of inexpensive pillow covers and one special one that I made myself. How cute is that precious bird??? If that doesn't say "spring", I don't know what does!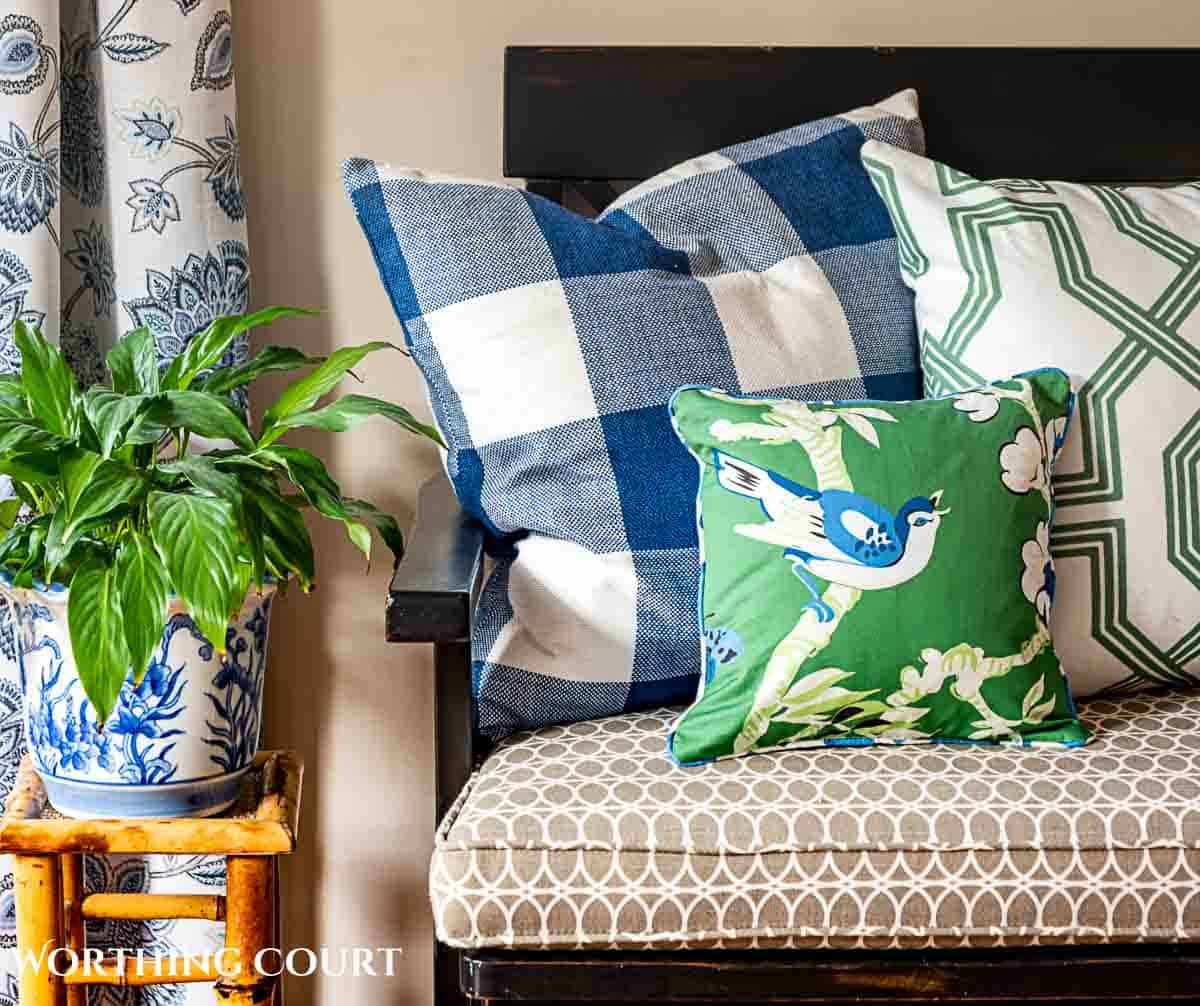 Thank you for stopping by today. I hope you enjoyed this little tour of my spring breakfast nook.
Shelley from Calypso In The Country is up next and you don't want to miss her spring tour. Shelley describes her style as casual/traditional with coastal and British colonial touches mixed in. Her home is lovely!
Monday March 6th
A Stroll Thru Life – The House of Silverado – StoneGable – My Wee Abode – Simply2Moms – Shiplap and Shells
Tuesday March 7th
Our Southern Home – Southern Home and Hospitality – Eleanor Rose Home – Decor to Adore – Clean and Scentsible – DIY Beautify
Wednesday March 8th
Worthing Court – Calypso in the Country – The Stonybrook House – A Pretty Life In The Suburbs – White Arrows Home – Chalking Up Success
Thursday March 9th
CitrineLiving – Pasha is Home – Whispering Pines Homestead – Up To Date Interiors – Pink Peppermint Design – Thrifty and Chick
Friday March 10th
County Road 407 – The Tattered Pew – Thistle Key Lane – It All Started With Paint – This is Our Bliss