How To Decorate A Plate Display Rack
Do you have beautiful dishes that you want to display? In this post, you'll learn how decorate a plate display rack and how to choose what to put on it to show your items off so you can stop hiding them in the cabinet.
This post contains affiliate links from Amazon and other retailers. See my full disclosure policy HERE.
I think that my new plate rack is the star of the show in my breakfast room. I mean look at it. Total love, even if it is an attention hog.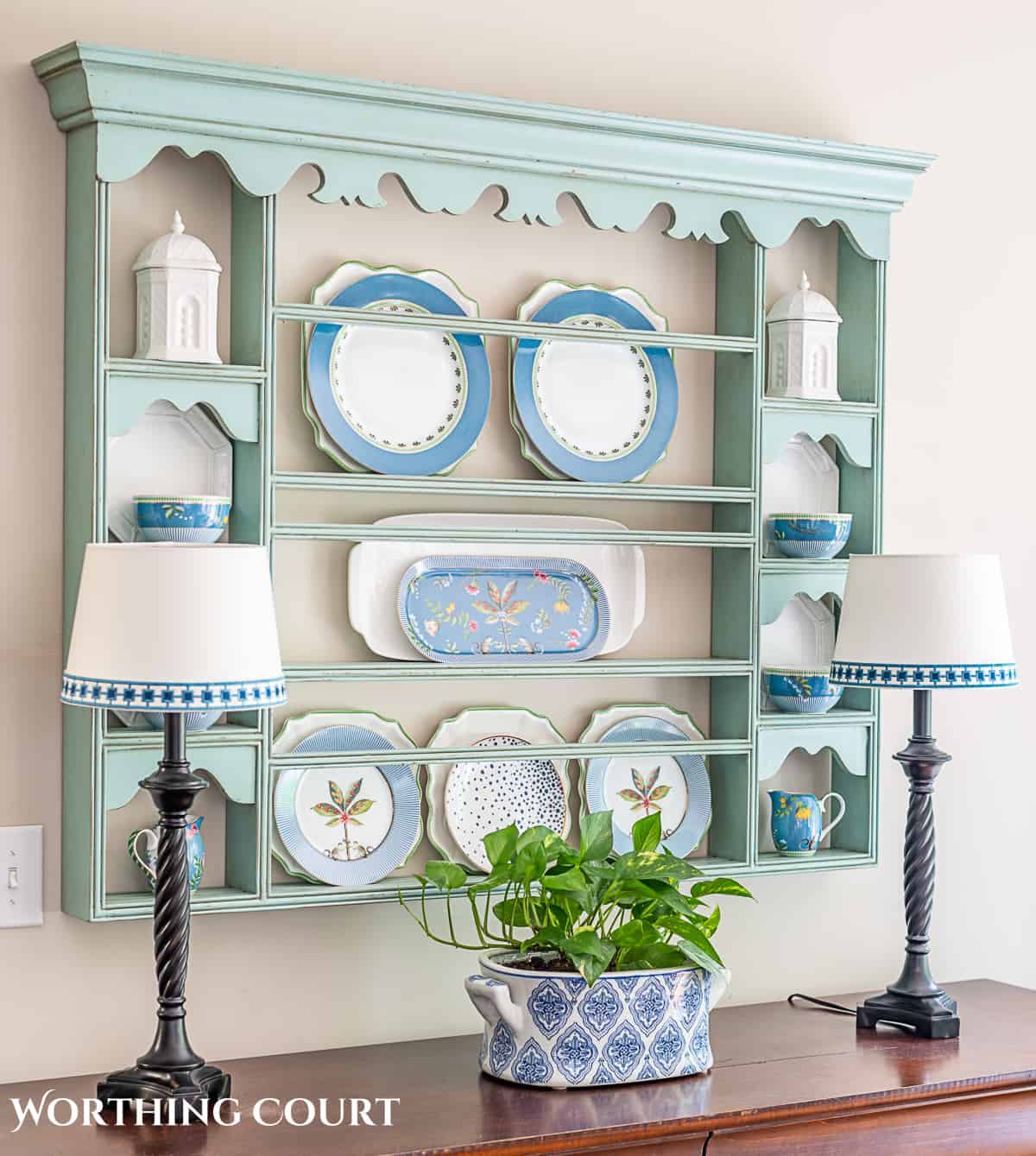 On a side note – how do you know you're a dish lover, you ask? It's when you're shopping with your daughter and she rolls her eyes and gives you a really hard time about buying the fabulous plates you just found.
Evidently, she's peeked in my overflowing dish closet. Oops. It's a good thing she doesn't know about my other hiding spots!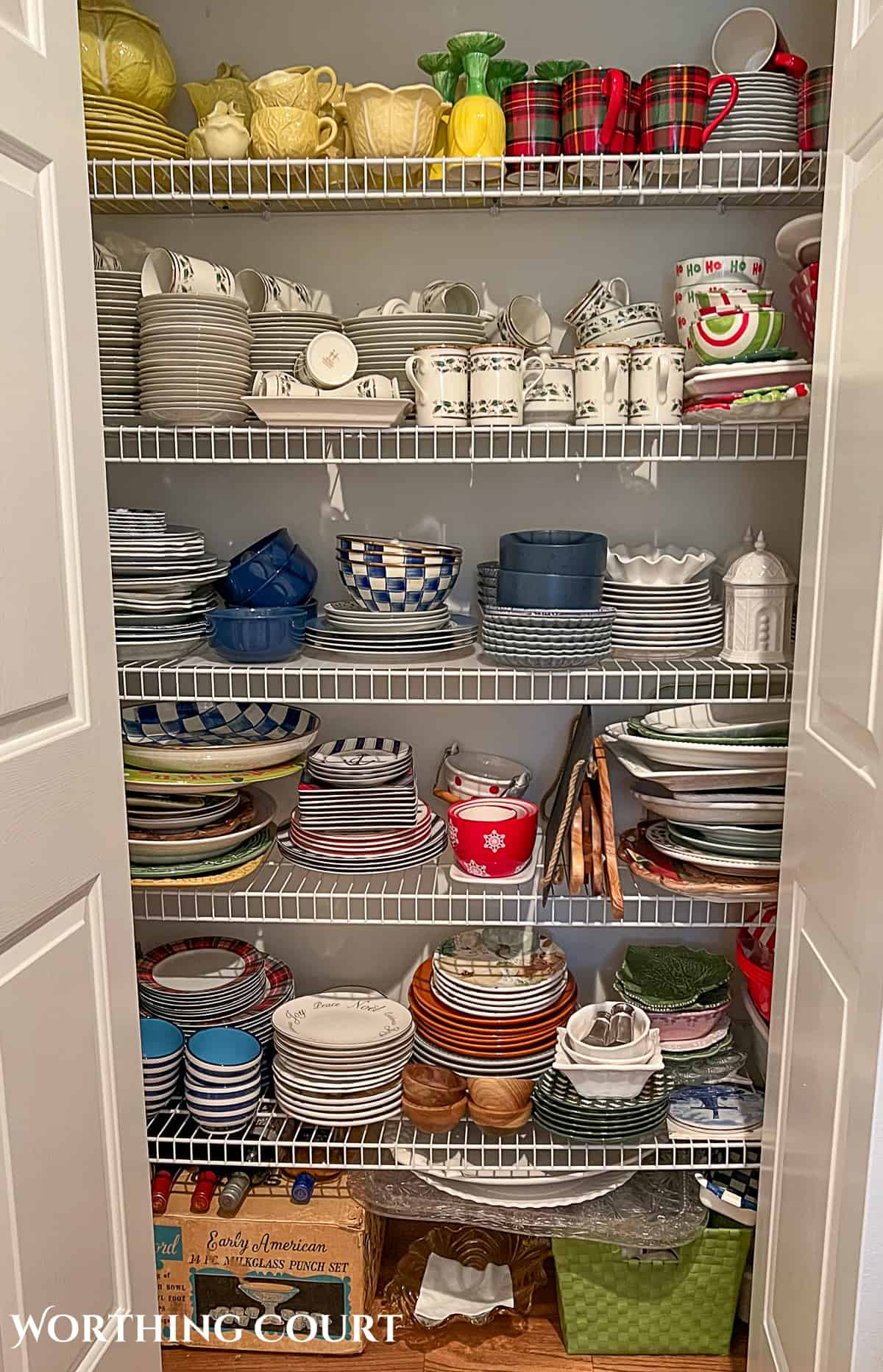 Like a good mom, I patiently explained to her that dishes are like pillows – you can never have too many, especially if they're well priced. Sometimes I just can't help myself.
But back to decorating the plate rack. No one wants to leave their favorite beauties hidden away in a cabinet or closet. Noooo – we want everyone to enjoy our finds as much as we do.
I truly thought that decorating a plate rack would be a no-brainer. Just grab some pretty plates and add them to the rack – right?
Nope – that didn't work for me. It took quite a bit of trial and error to figure out exactly what to display and how to arrange it all, so I put together this how-to guide to hopefully make it easier for you.
SO JUST WHAT IS A PLATE RACK ANYWAY?
This may seem obvious, but simply put, it's a rack to store or display your plates on.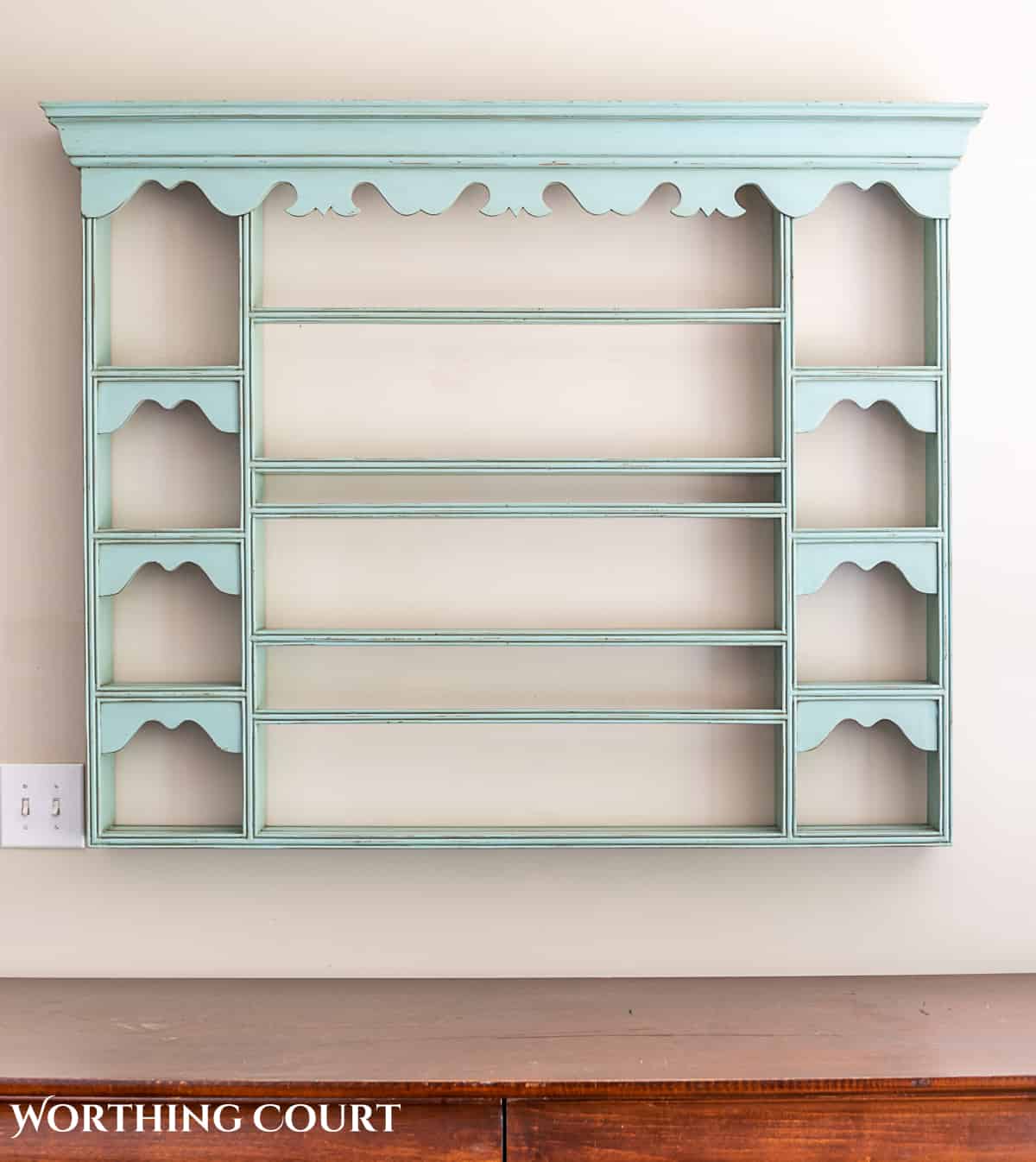 What else can you put on a plate rack? All sorts of things! Mine currently has platters, small pitchers, small bowls and a couple of candles in decorative containers in addition to my current favorite plates.
It's also a great place to display bread boards, candlesticks, trays and more. You get the idea.
TIP: To create a more interesting display, layer items to add depth and different textures, if your plate rack is deep enough.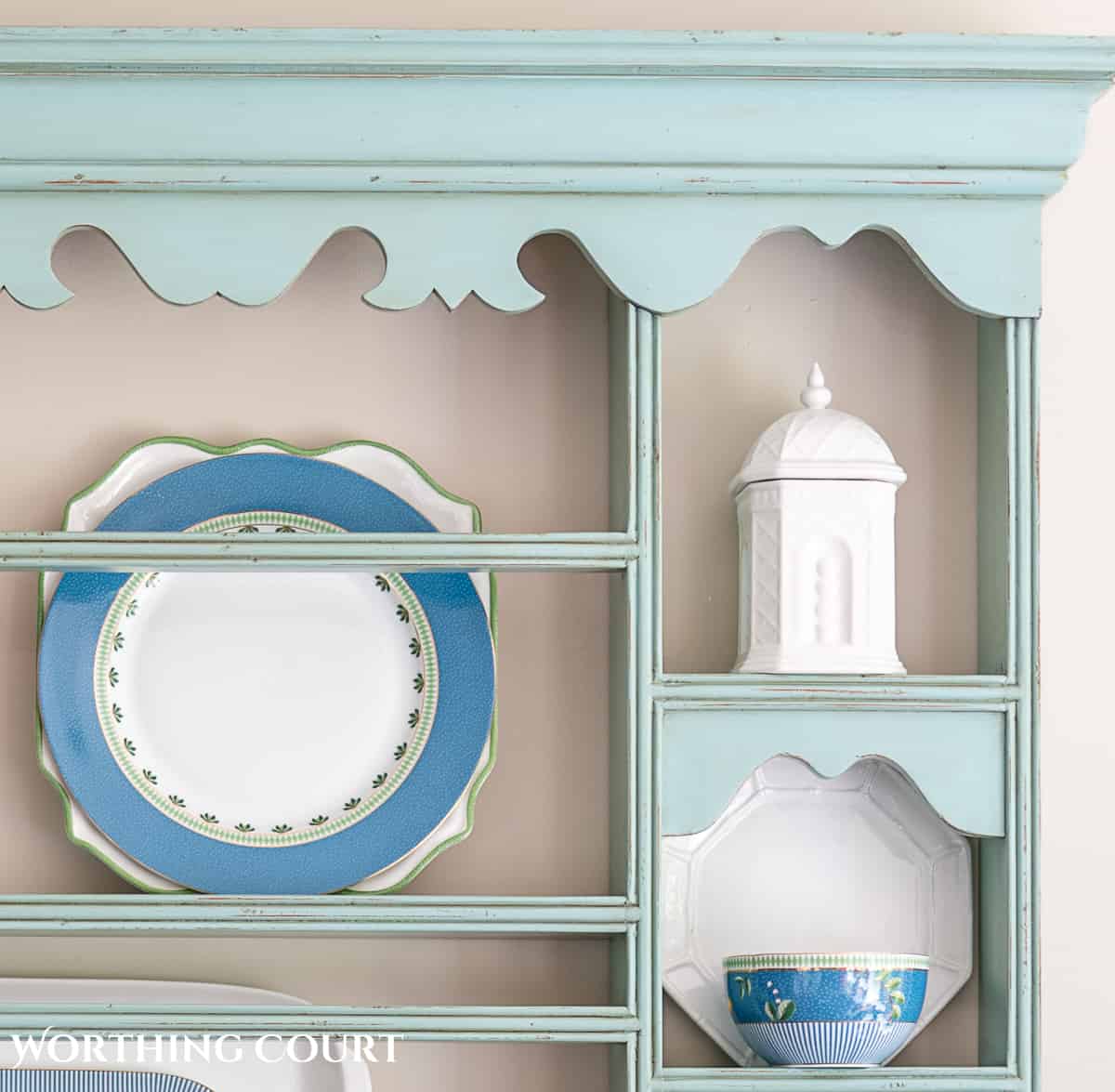 There are lots of different types – there are plate racks that sit on a surface like a kitchen counter or hutch, storage racks that fit inside of a cabinet, closet or drawer and then there are the wall-mounted plate racks, which are perfect for display and well as for storage purposes.
Today we'll be talking about how to decorate a wall-mounted plate display rack.
DOES A PLATE DISPLAY RACK HAVE ADVANTAGES?
Actually, I think that besides looking pretty, it has several:
It's a good solution when you're looking for a way to display decorative plates.
It saves storage space in your cabinets or closets.
A wall plate rack serves as a piece of art.
It makes it easy to take turns rotating different collections in and out.
The display can be be changed seasonally.
It can be used to display more than just decorative plates.
It can be a perfect spot to store everyday dishes so that they're easy to get to.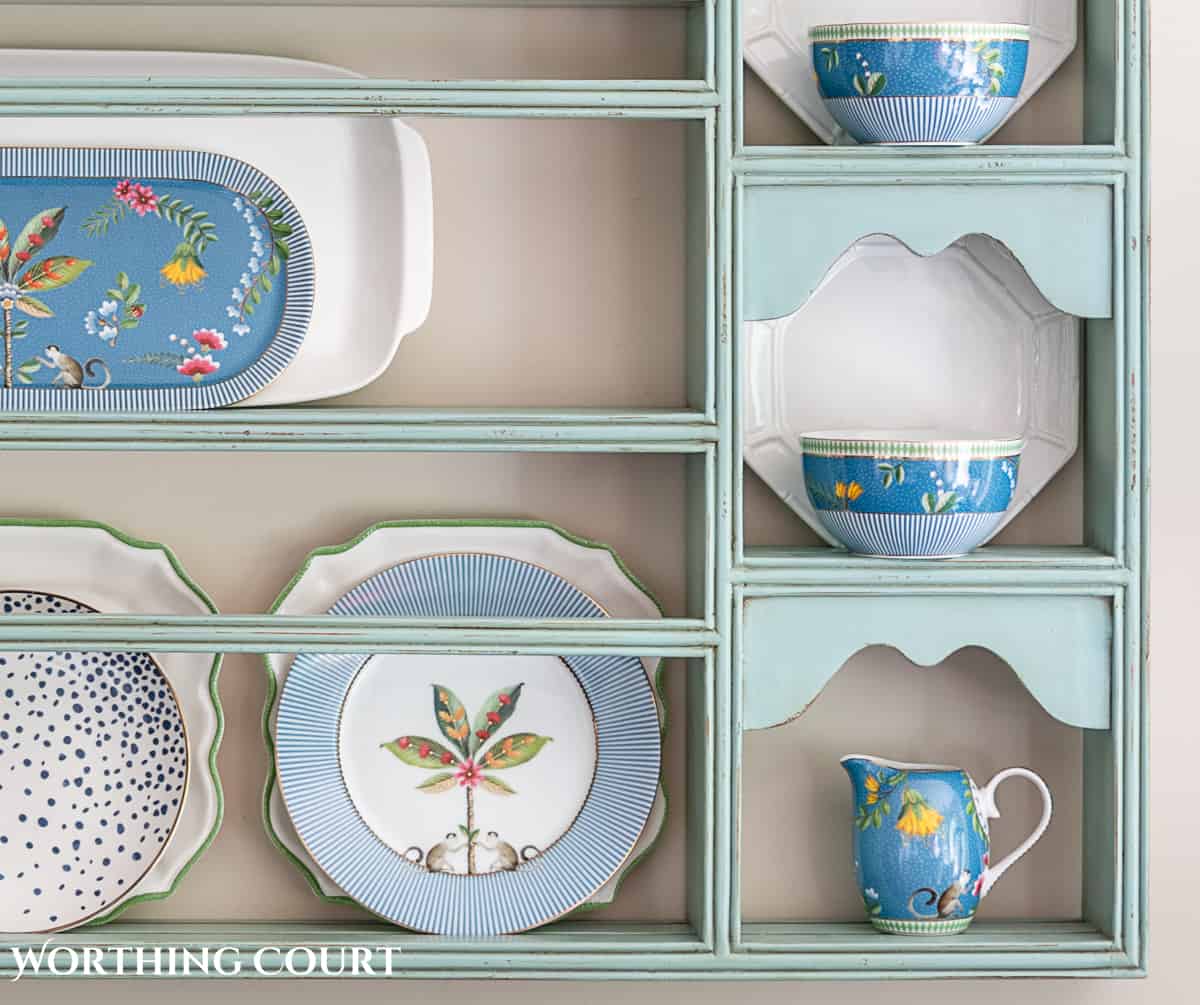 You'll see that I used mine to replace the open shelves in my breakfast room, that were above the sideboard.
By using similar colors as the rest of my breakfast room, it really does look like a work of art.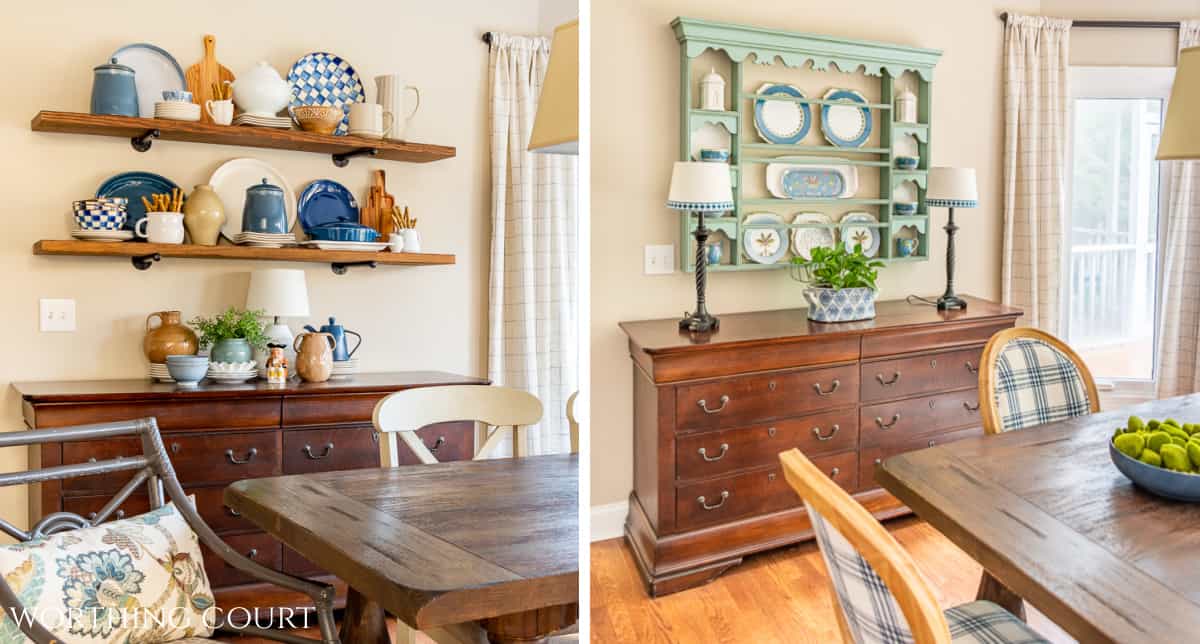 ARE PLATE RACKS IN STYLE?
I answer that question with a resounding, YES!
Plate display racks never really went completely out of style, but they are currently making a roaring comeback and I'm here for it.

I see them used with all types of decor styles – traditional, cottage, farmhouse, global and modern or contemporary. All you need to do is select a rack and items to display that go along with your decorating style.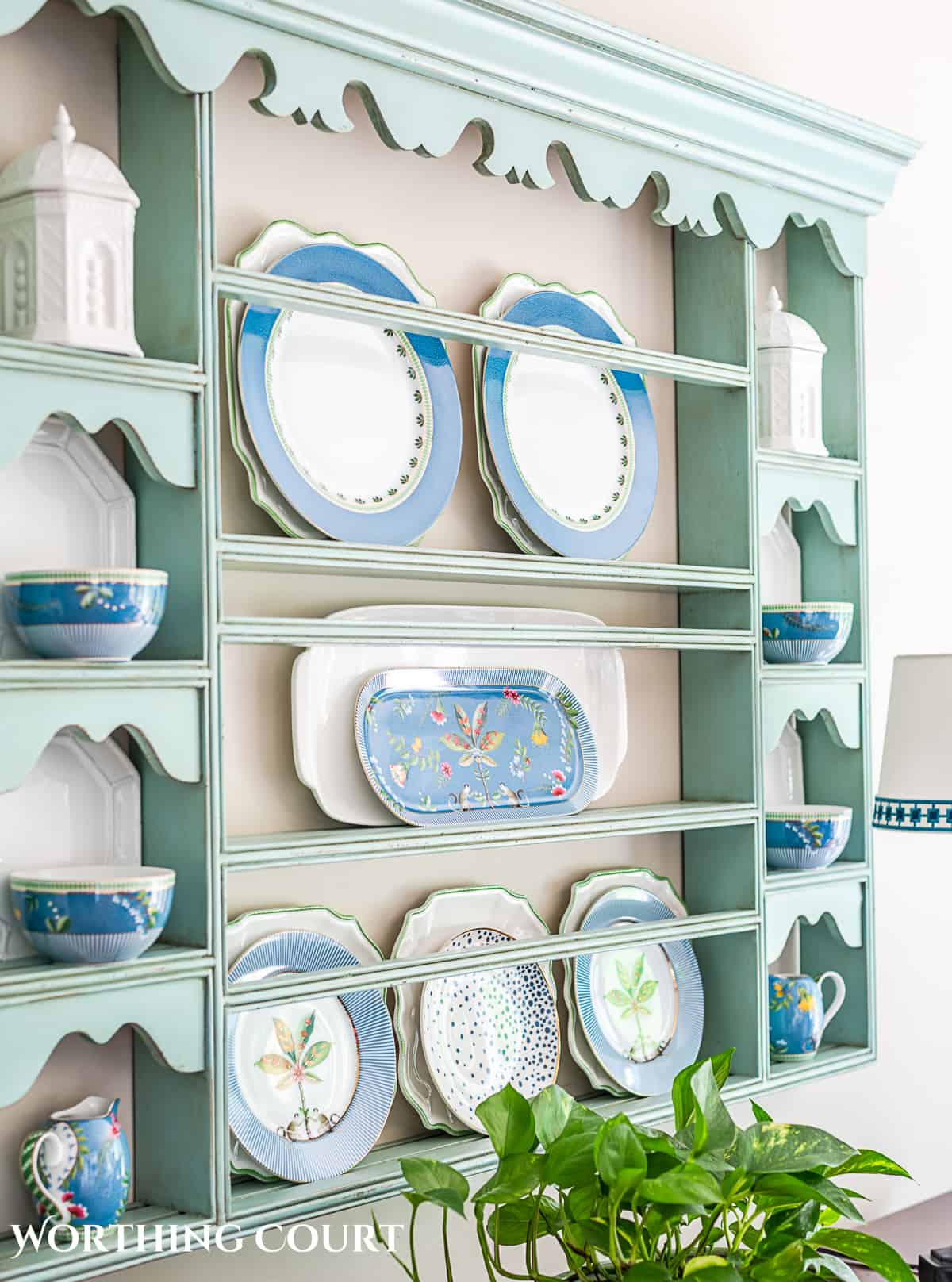 Take a look at my Plate Rack Pinterest board for lots of ideas!
Thanks to their popularity, you can find a wall plate rack in all price ranges and everywhere from thrift stores to high-end furniture retailers.
You can even have one custom made for a very affordable price, which my daughter recently ordered from this Etsy shop.
My plate rack came from Chairish. It's one of a kind, so sadly I don't have a link for it, but I've linked a few other favorites for you below. Click the arrows to scroll through. 

TIP: Plate racks are easy to paint a custom color!
LET'S DECORATE!
Supplies Needed:
There are a few things that you may want to have on hand as you're decorating your plate rack:
Command Velcro Strips – great for holding layered plates together
plate hangers – in case you want to actually hang plates on the back of the rack or the wall
museum putty – works well to keep round items (like bowls) in place
hammer
nails
wall anchors, in case wall studs aren't where you need them to be
STEP 1: After you've mounted the plate rack to the wall, gather your decorating supplies.
TIP: To make the display look its best, I recommend using items that work with the style and color scheme of the room where the rack will be located.
I wanted to use plates and other objects that would work with this gorgeous fabric that the new look for my breakfast room is centered around. I'll be using it for diy draperies and pillows (coming as soon as time permits!)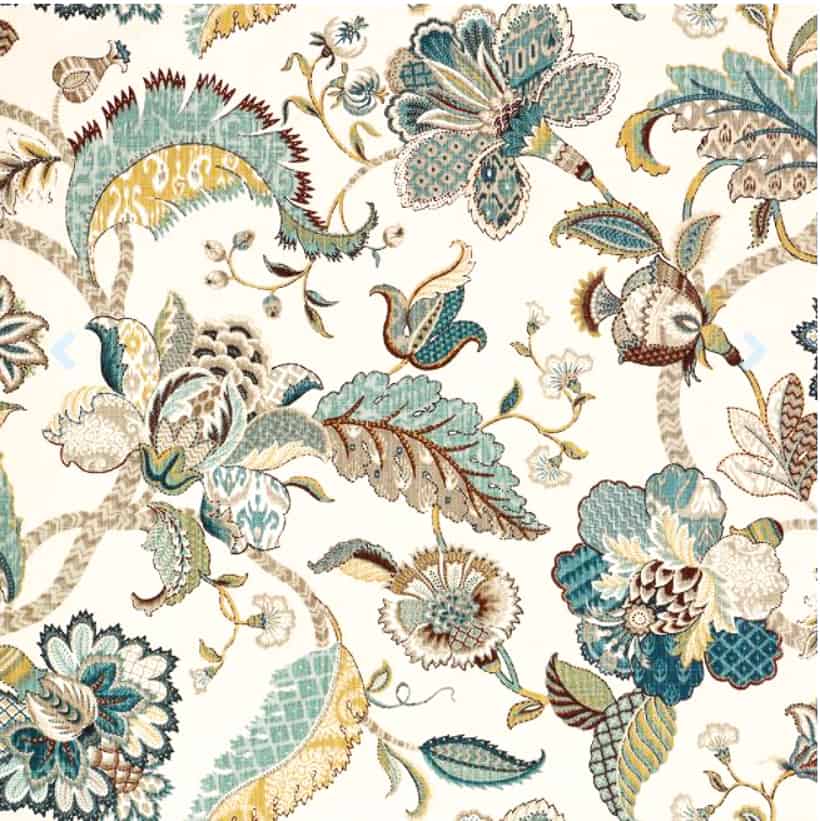 I already have lots of dishes in those colors, so I felt sure that I wouldn't have to buy anything. I raided my dish closet to see what I could find.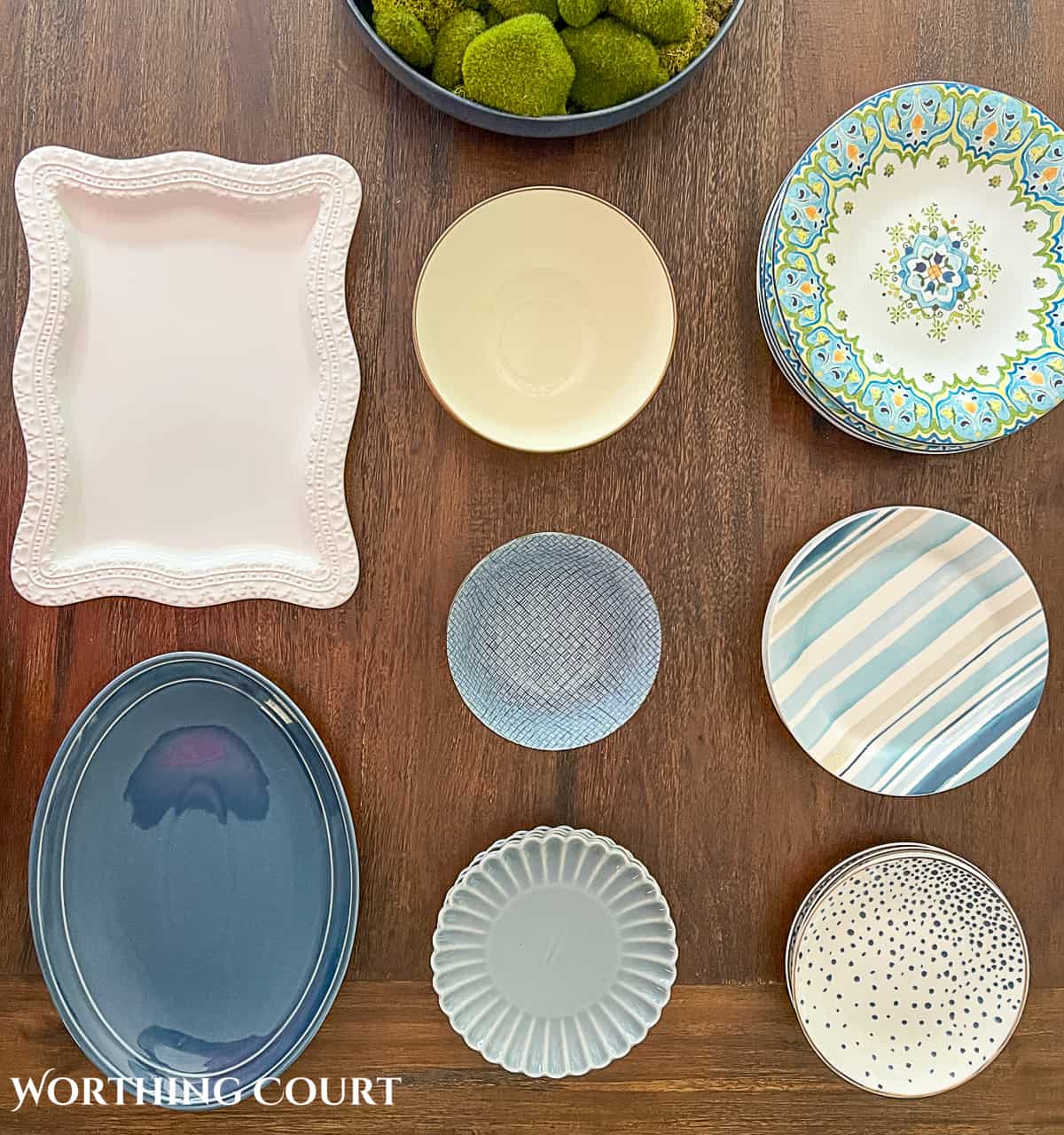 Alas, when I placed them near the fabric, I pretty much knew right away they weren't quite right. My decision was doubly confirmed once I actually tried them in the plate rack.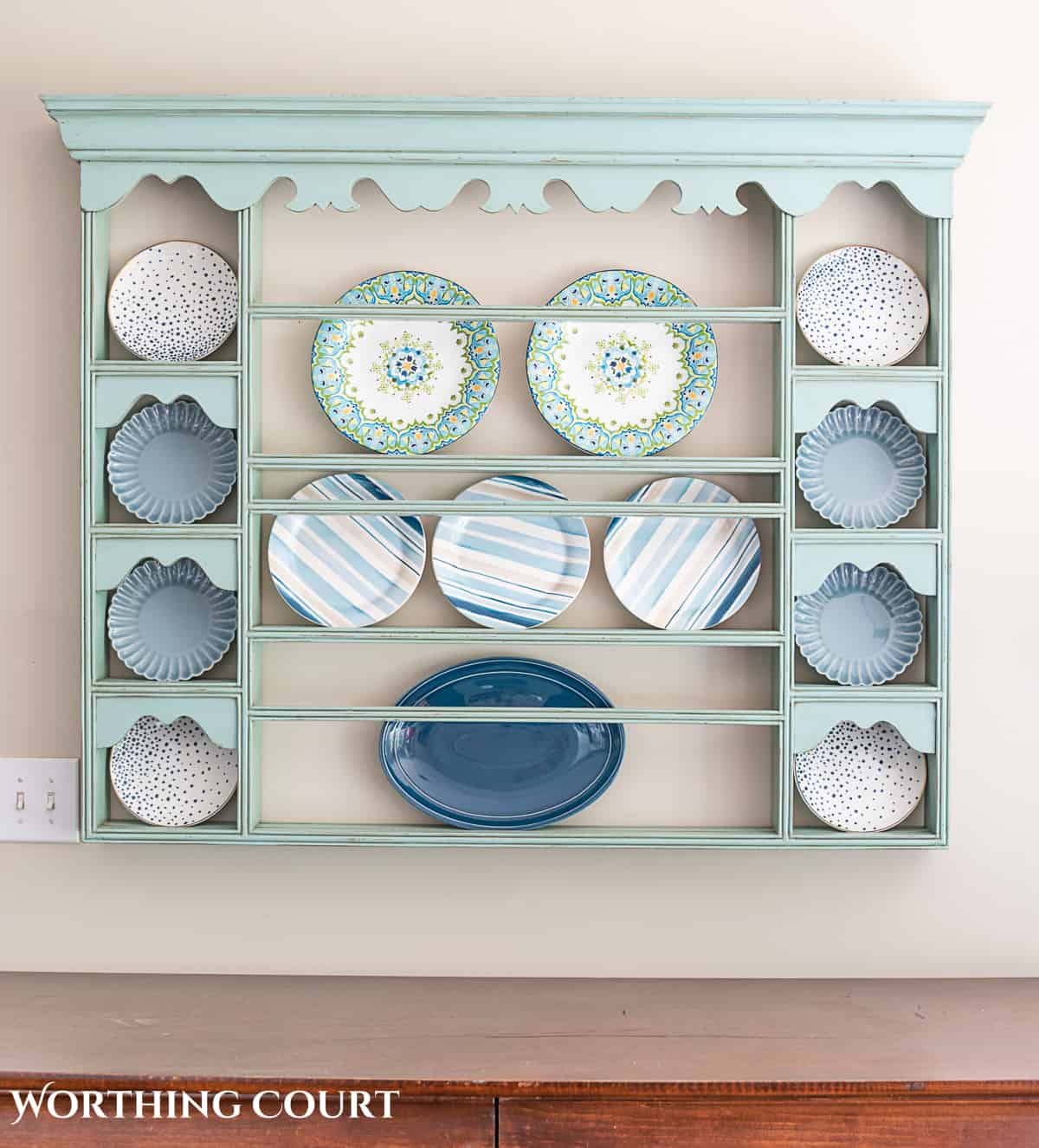 They were okay, but in my heart, I knew that I wanted to use something that was fun and had a bit of whimsy to it without looking silly, if you know what I mean.
So I went on the hunt.
Inspiration finally struck when I stumbled across this adorable tray in HomeGoods. I mean, how caauute is this? The colors are perfect, but it's the monkeys for me!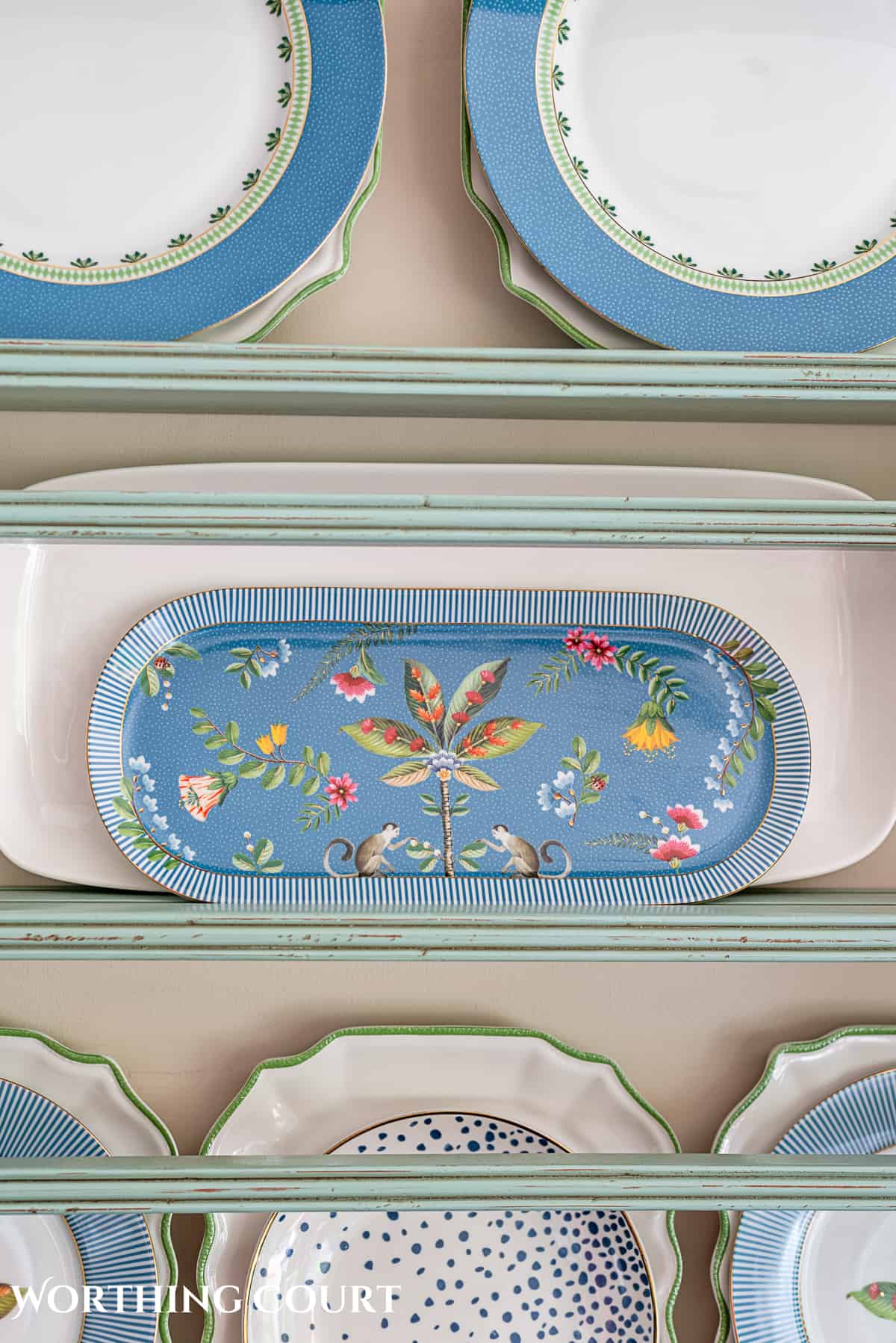 I won't even go into the story about the extremely deep rabbit hole that I went down searching for more pieces of this pattern. Ugh.
BUT – if you love this pattern too, you can find more of it HERE. The dinner plates with the blue rim, the salad plates with the palm trees, the small bowls and the small pitchers are all from the Pip Studio La Marjorelle Blue pattern. Look at the detail!
It ships from a store in Denmark, but I've ordered from them several times. The shipping rate is a flat $17.95, I received my order in about one week and everything that I've ordered from them was packaged very, very well. Check out the entire store HERE. They have so many wonderful things!
STEP 2: Try doing a "dry run" by laying your items out together on a table or the floor before adding them to the rack to make sure that you're happy with the color and pattern combinations.
It's kind of the same idea as laying out frames for a gallery wall before actually hanging them.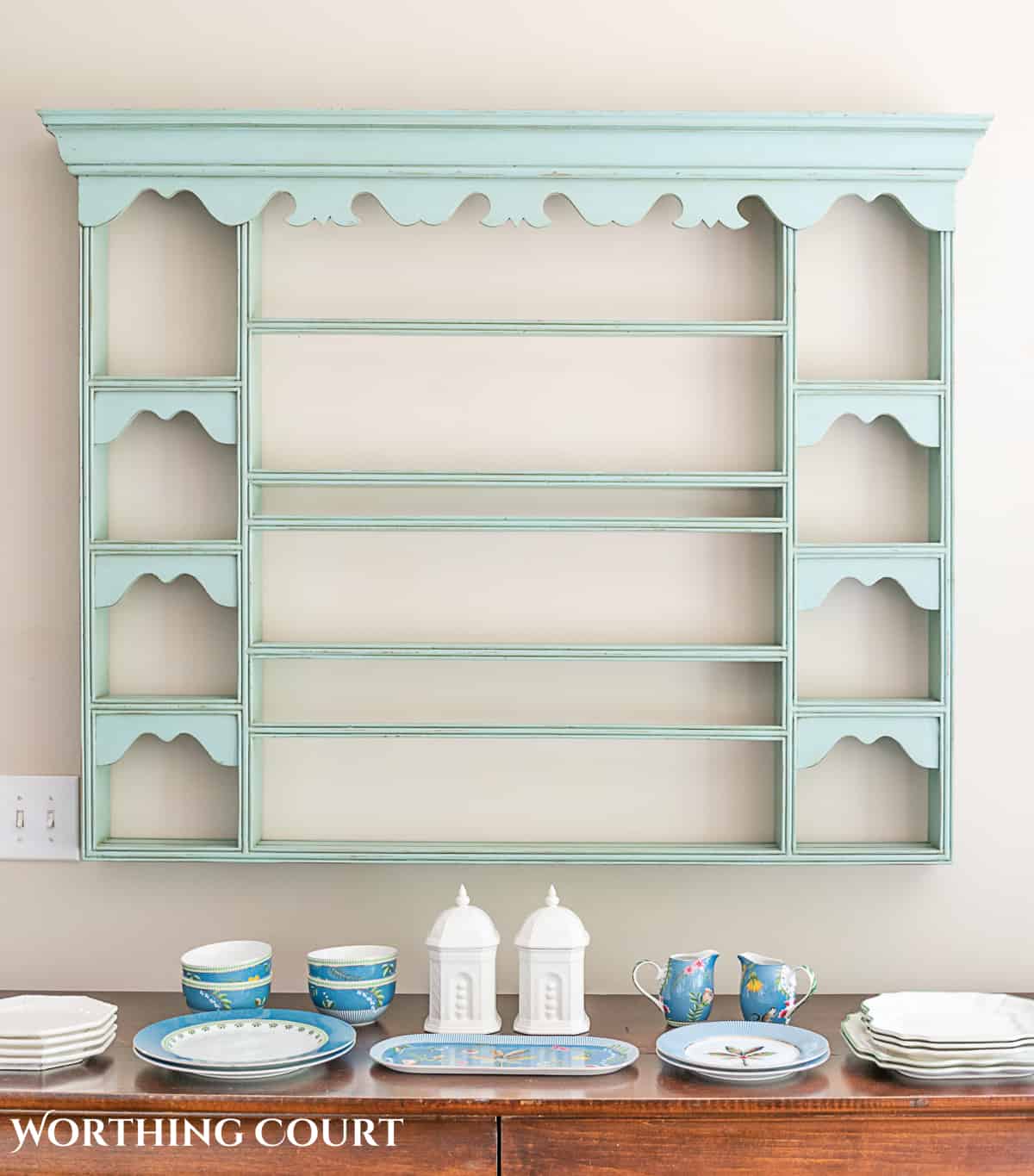 It was much easier to "play" with the arrangement on my table versus the aggravation of adding or taking away things from the plate rack repeatedly. It's also how I discovered that none of the plates I already own would work well together.
STEP 3: Time to actually add items to the rack!
Start by placing the largest items on the shelves first. These items will serve as the background for layering behind smaller pieces and can also help to fill spots where you may have too much blank space.
You can find these exact melamine dinner plates that are trimmed with green HERE, the salad plates HERE and the octagonal appetizer plates HERE.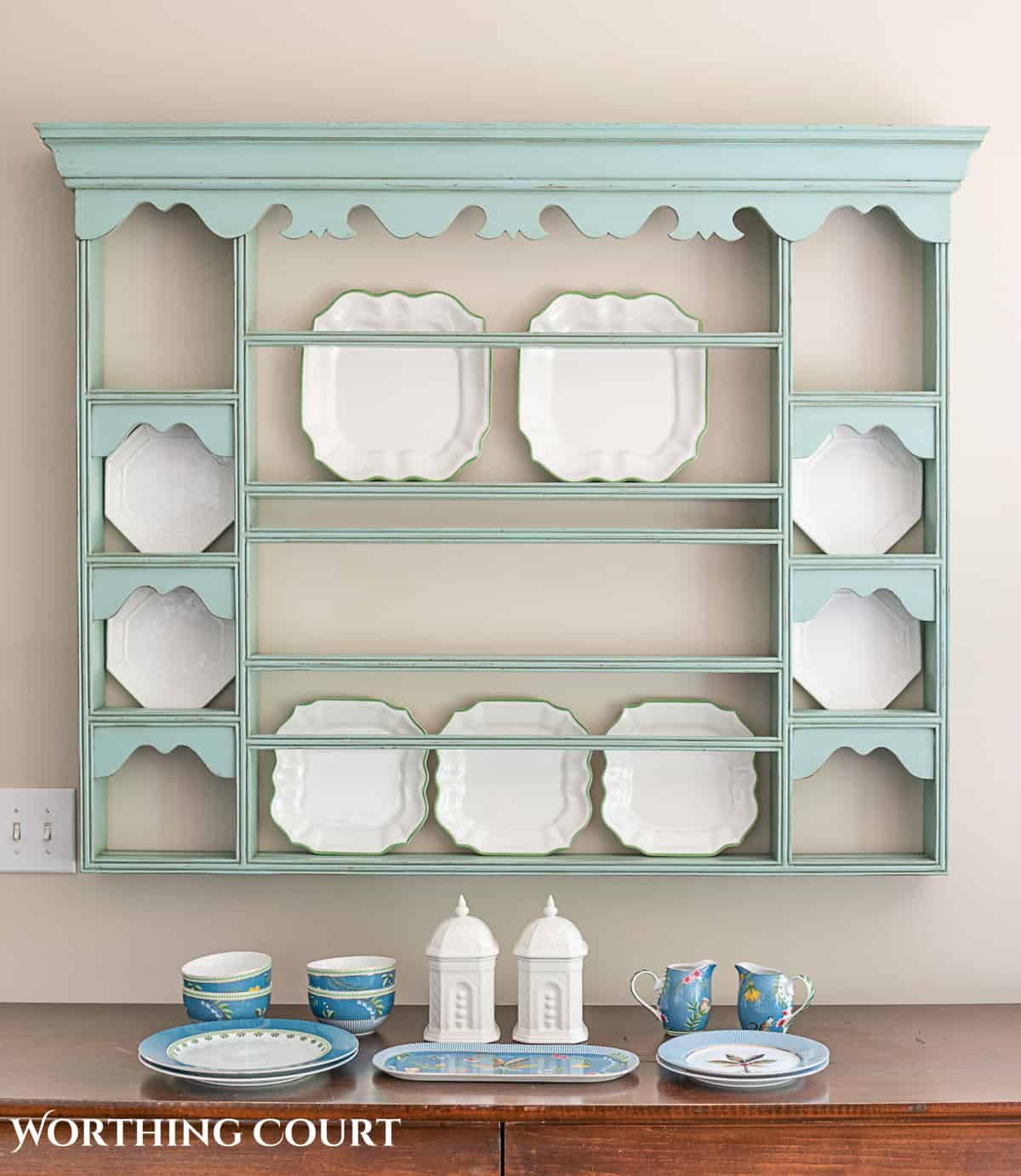 Even though I already had the pieces that I wanted to use, this really helped me finalize the design that I wanted and showed me where I still had holes or places where things didn't fit or look quite right.
STEP 4: If your plate rack is deep enough to layer, add smaller dishes in front of the larger ones.
You can see that without placing larger dishes in the back, the display looks flat and too empty.
Big difference – right?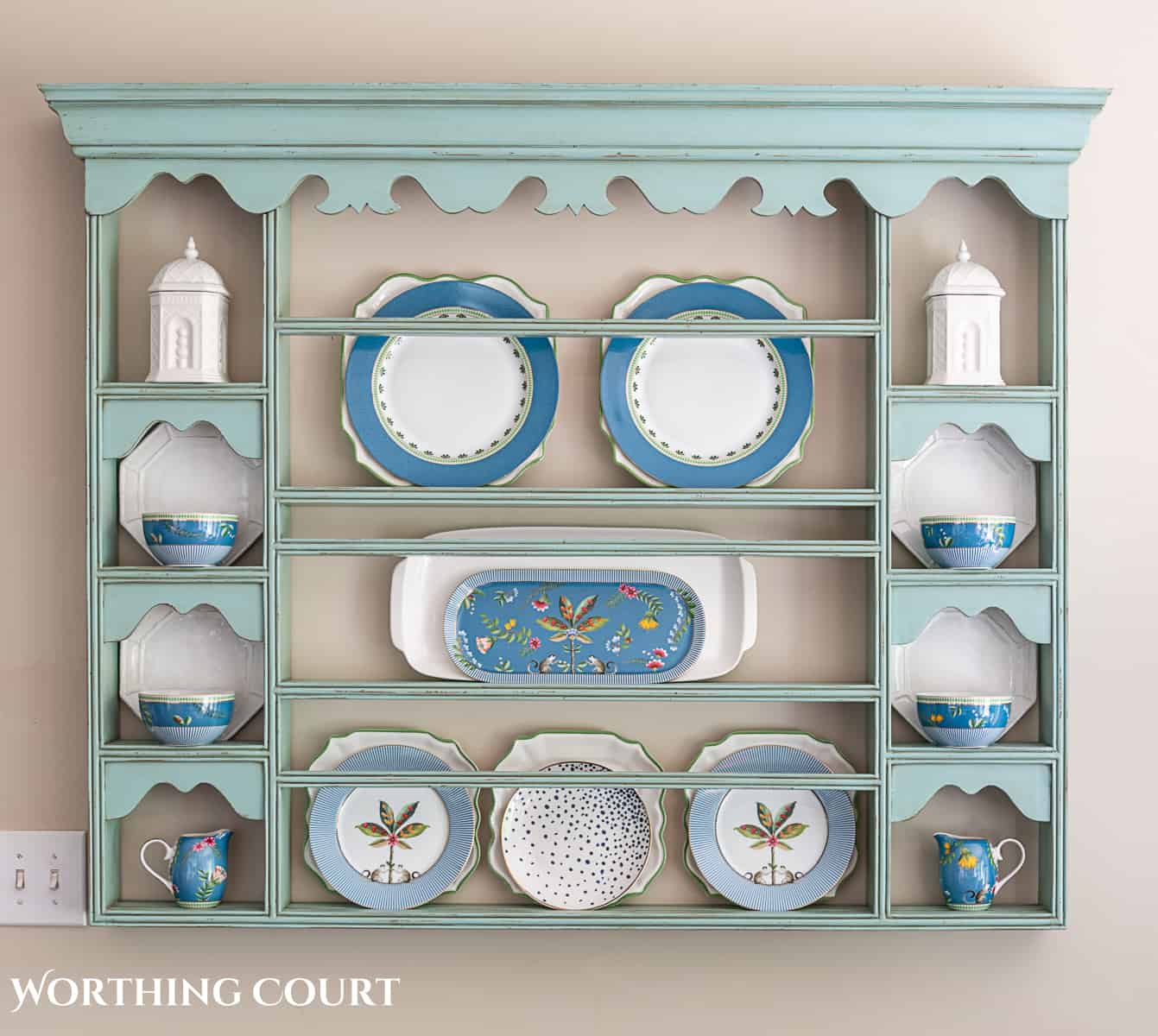 Pagoda Candles || White Melamine Dinner Plates Trimmed With Green || White Melamine Salad Plates Trimmed With Green || Octagonal Appetizer Plates || Blue Plates, Bowl And Pitchers || Oval White Platter (similar) || Salad Plate With Blue Dots (similar)
STEP 5: Add your accent pieces – those special pieces that you want to make sure are seen.
I wanted the cutey-patootey monkey platter, that gave me all the inspiration, to be front and center. But it was too small by itself on the shelf where I wanted to put it.
To solve the problem and to help the accent platter pop, I simply placed a larger, plain white platter behind it.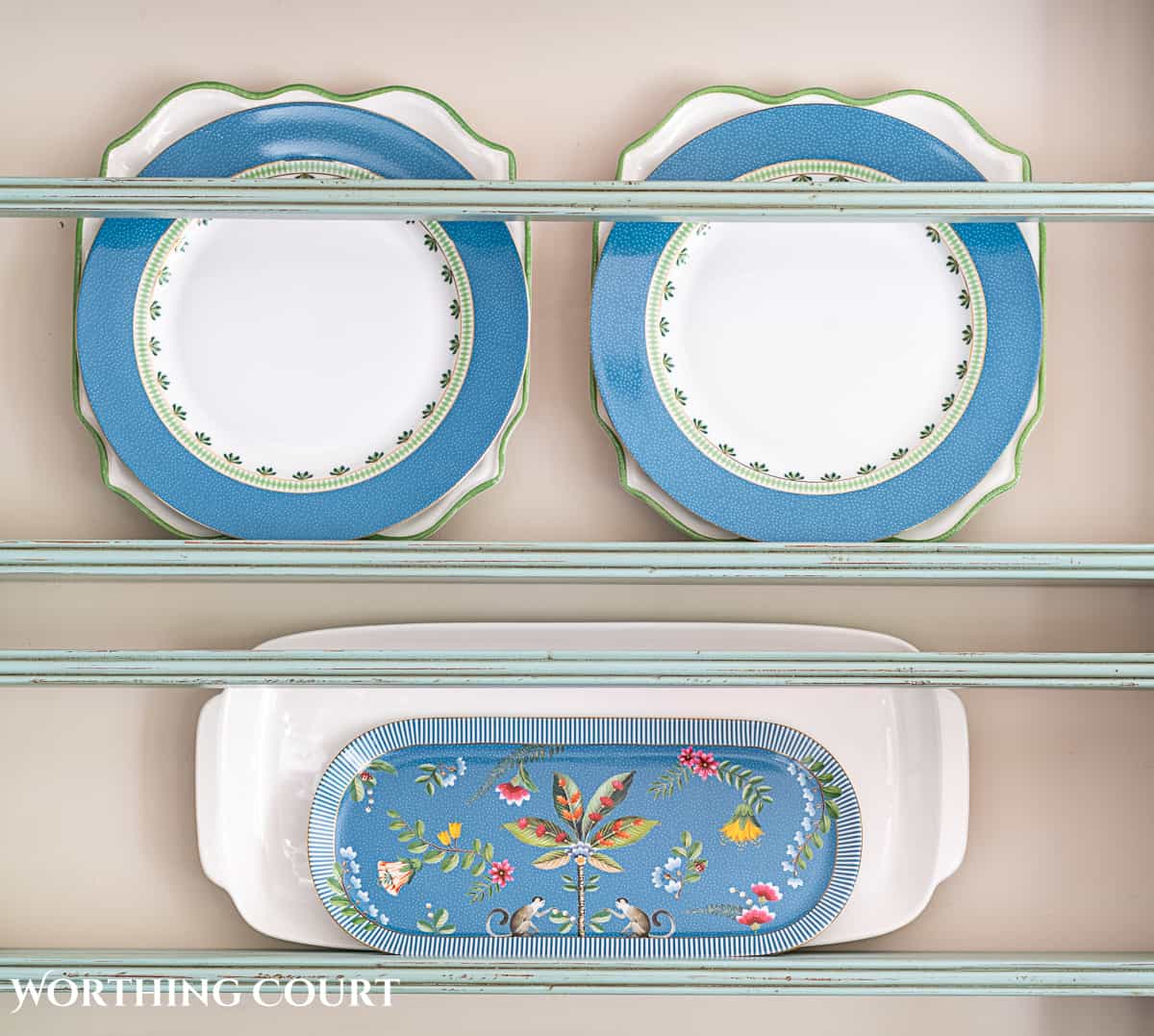 TIP: Command Velcro Strips are the perfect solution for keeping layered plates together
Of course, where you add your accent pieces will depend upon the design of your plate rack. Mine has cubbies on the sides of the horizontal shelves, which are a great spot to display smaller pieces.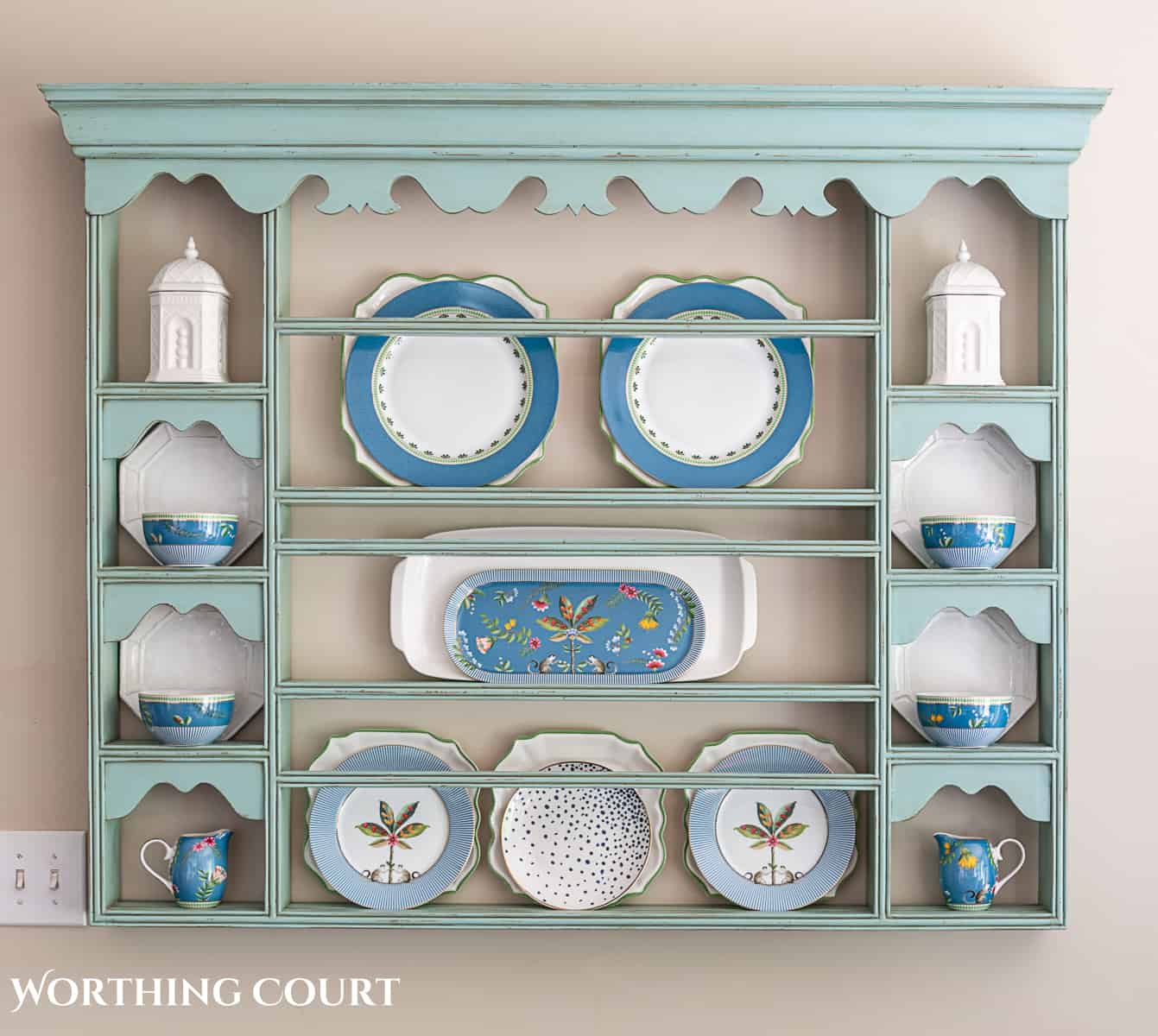 That's really all there is to it! It certainly isn't rocket science, but I still hope that having these tips will help you with yours.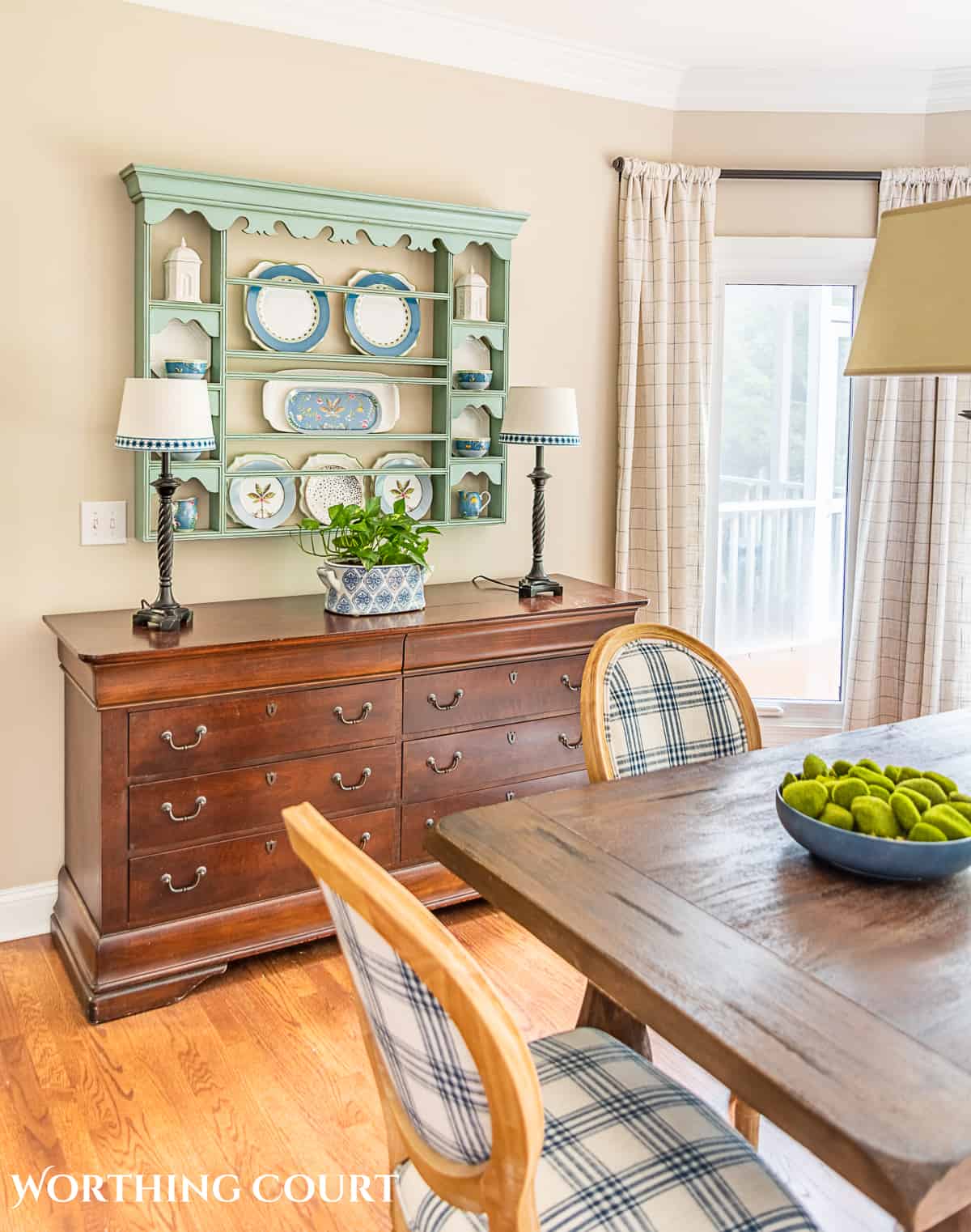 Since I hung the rack on the wall, I've already switched a few of the plates out for fall and am excited to figure out what I'll do for Christmas!