How To Make A Winter Wreath With Only 4 Ingredients!
Making a winter wreath for your front door doesn't have to be expensive or complicated. Let me show you how to make one in about 10 minutes, using only 4 ingredients.
Sometimes I feel like I talk too much about my desire to keep things simple, yet cozy after all of the fussiness of Christmas, but, it's true!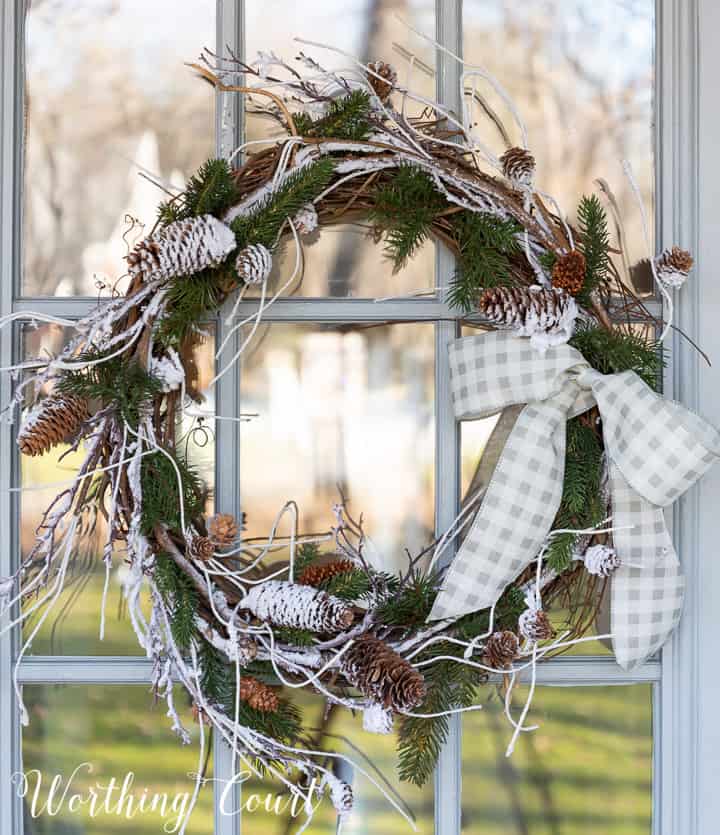 Pin
This post and photos may contain Amazon or other affiliate links. As an Amazon Associate I earn from qualifying purchases. If you purchase something through any link, I may receive a small commission, at no extra charge to you. All opinions are my own. See my full disclosure HERE.
I work really hard getting ready for the holidays so both myself and my house are super ready for a breather during the winter, so I'm keeping this simple and easy!
I've mentioned many times that I always try to make a new wreath for my front door for every season and holiday that rolls around. But – making wreaths can get expensive if you aren't careful.
A couple of ways that I offset the cost of a new wreath are:
I love, love, love using grapevine wreaths for a base! I can dismantle an older wreath and reuse the grapevine wreath over and over again.
I only buy supplies when they're on sale. This isn't too difficult because all of the crafts stores are constantly having a sale and/or offering coupons that you can use.
Not only is this wreath super affordable, it's insanely easy to make!
HERE'S WHAT YOU WILL NEED TO MAKE THE WREATH
A grapevine wreath
A wintery garland
Faux pine greenery bits
Ribbon for a bow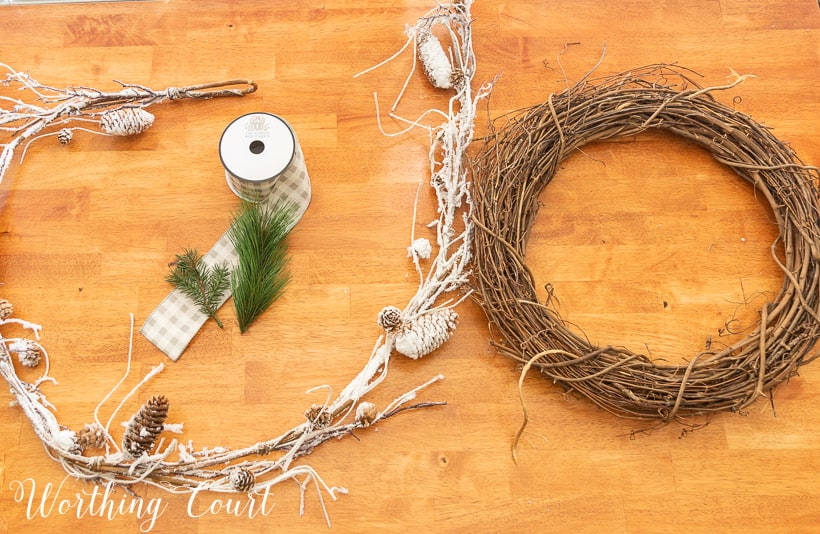 Pin
I found my snowy garland on clearance for a great price after Christmas. If you don't happen to have one or can't find one on clearance, click on the small pictures below for a few options that you can order.


STEP 1:
Securely attach the garland to the wreath using floral wire or pipe cleaners, bending the garland to match the shape of the wreath as you go. Be sure to fluff the garland either before or after adding it.
I attached my garland in 6 places using floral wire, tucking the ends of the wire down into the branches of the wreath.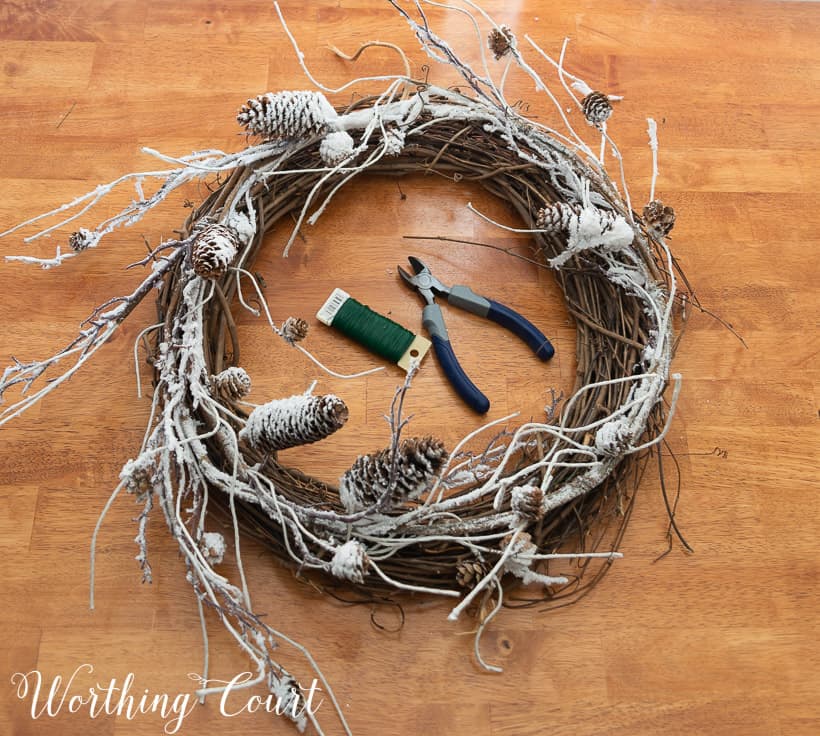 Pin
You really can't even see the wires unless you look very, very closely.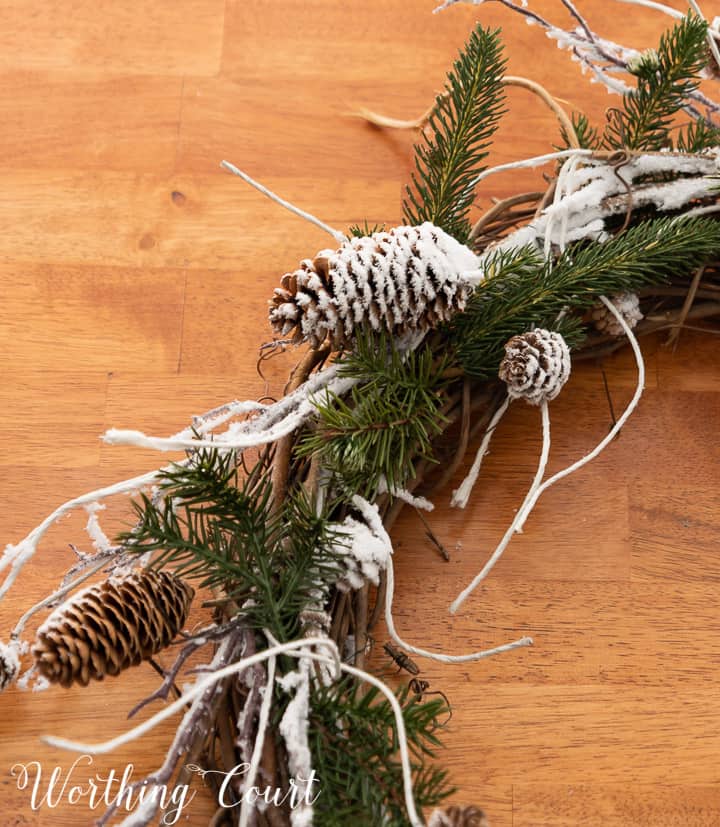 Pin
STEP 2:
Add a simple bow by tying a length of ribbon around the wreath, just like you would a shoelace or something.
Pin
I toyed with the idea of making a larger, fluffy bow with lots of loops, but decided to go this route since simplicity is the name of the game right now.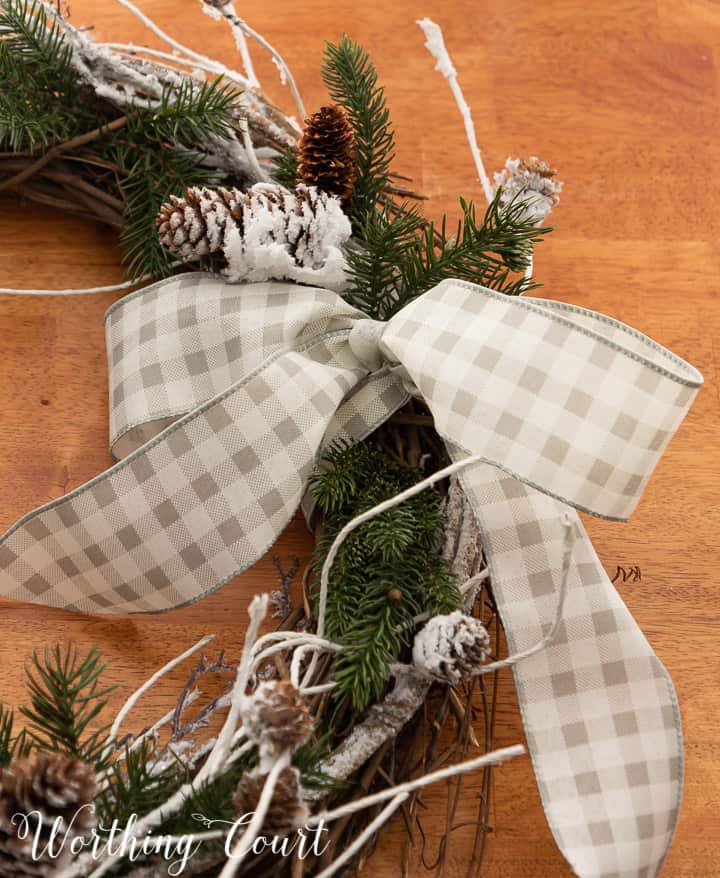 Pin
STEP 3:
Add small pieces of faux pine to several places all the way around the wreath. To attach them, simply wedge them in between the branches of the wreath. My pine pieces came from pine picks that I cut apart.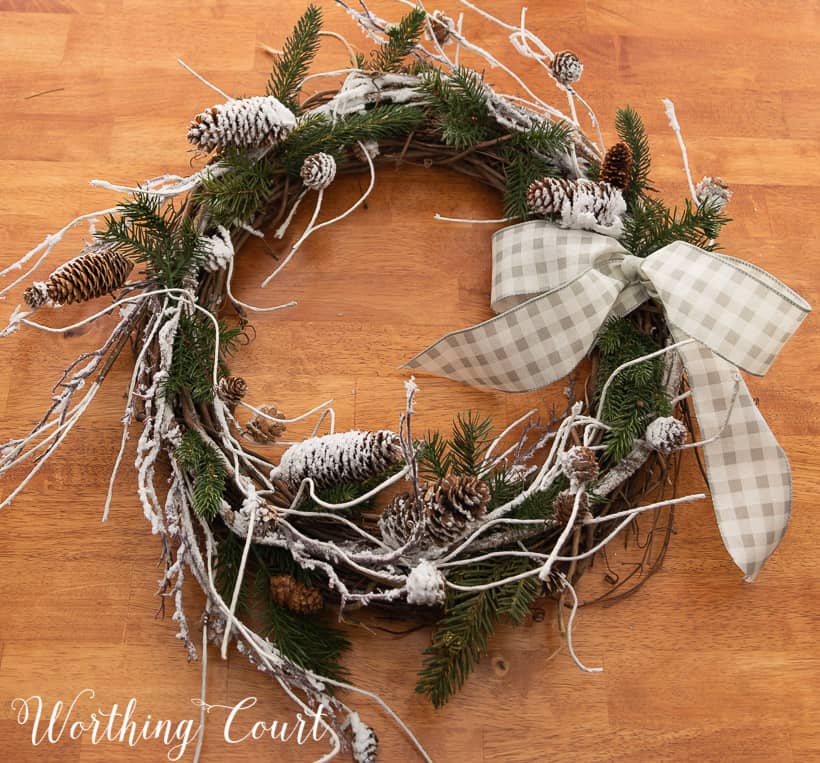 Pin
And that's it, y'all. Done in 10 minutes – boom!
All I'm using to hang the wreath from the glass on the door is a suction cup hook. If you don't have glass on your door, you could either use a wreath hanger or tie a piece of twine around the wreath and tack the end of it into the top of the door so that you won't even see it when the door is closed.
I've also attached a Command hook upside down on the inside of the door and looped a piece of twine around that.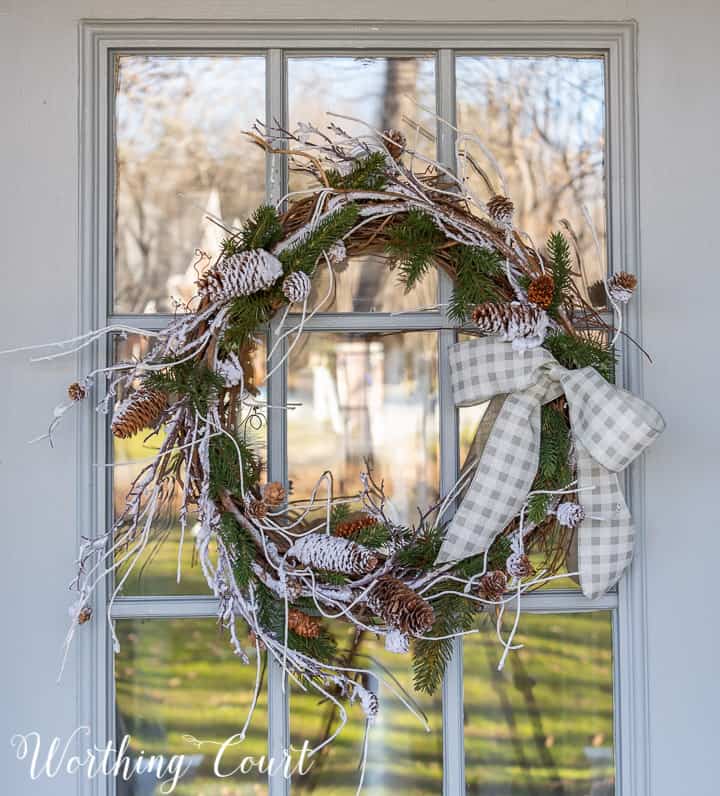 Pin
One of the things that I love about this garland and the way that it looks on the wreath, are the long twigs. I think they add so much flare to the overall look of the garland.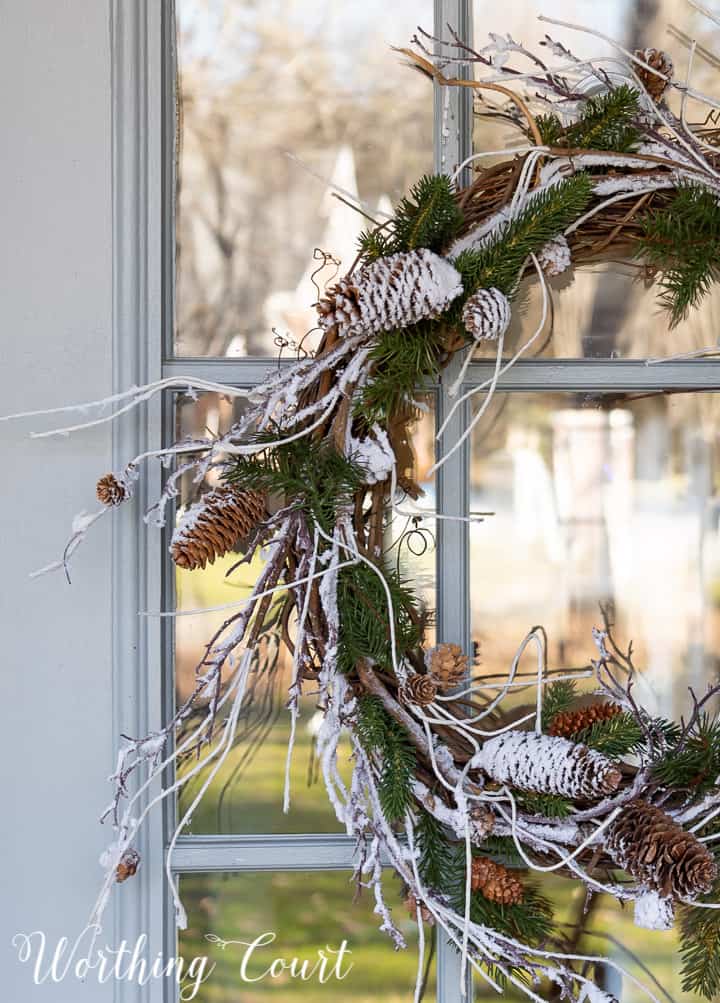 Pin
I would have liked to use green velvet ribbon to make the bow, but unfortunately I couldn't find any. I found this gray and white check in my stash and love it just as well!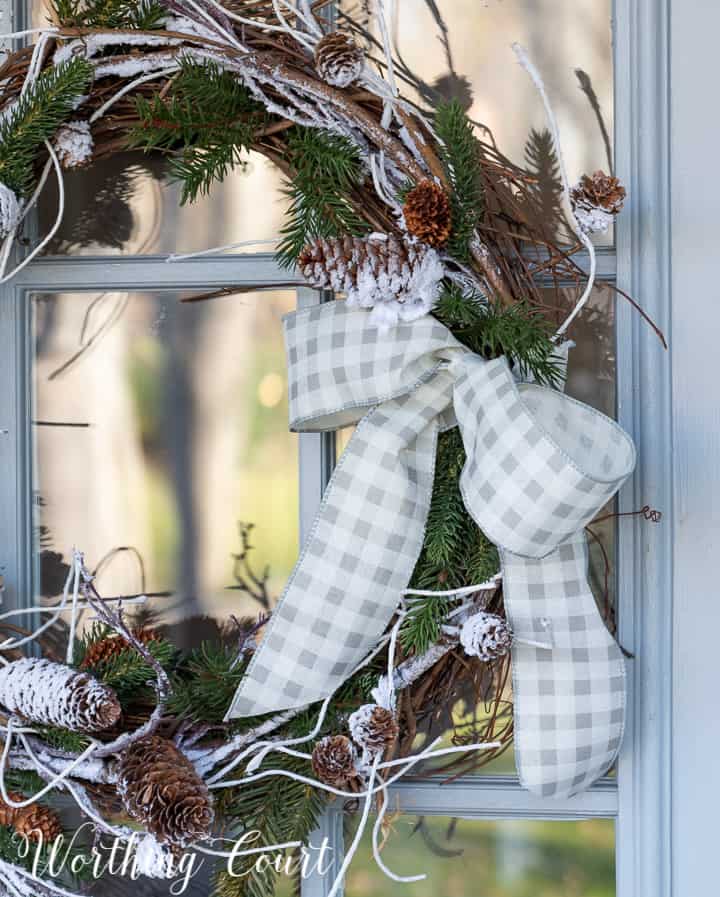 Pin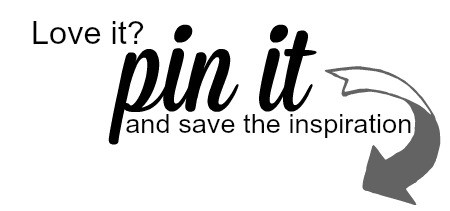 Pin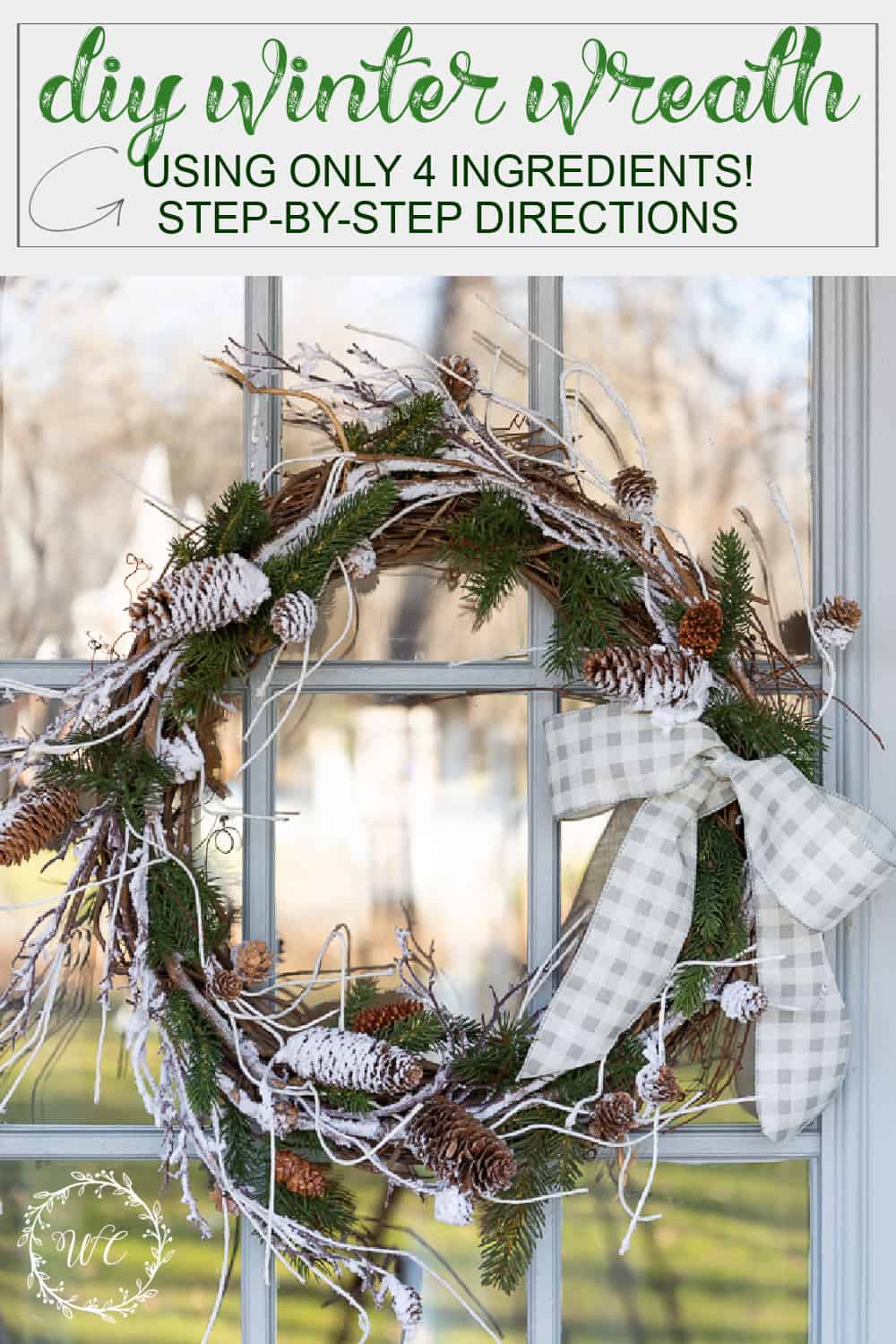 Pin