House Goals And Plans For 2021 And A Report On 2020
Do you set goals for everything that you'd like to accomplish when a new year rolls around? I never make resolutions (that I already know I won't keep), but I have found that setting goals, especially for things I'd like to accomplish in the house, really helps me to stay more focused and on track.
That's not to say that I don't stray away from the goals that I set, but having a list in place really does help me in the "what do I want to do next" category.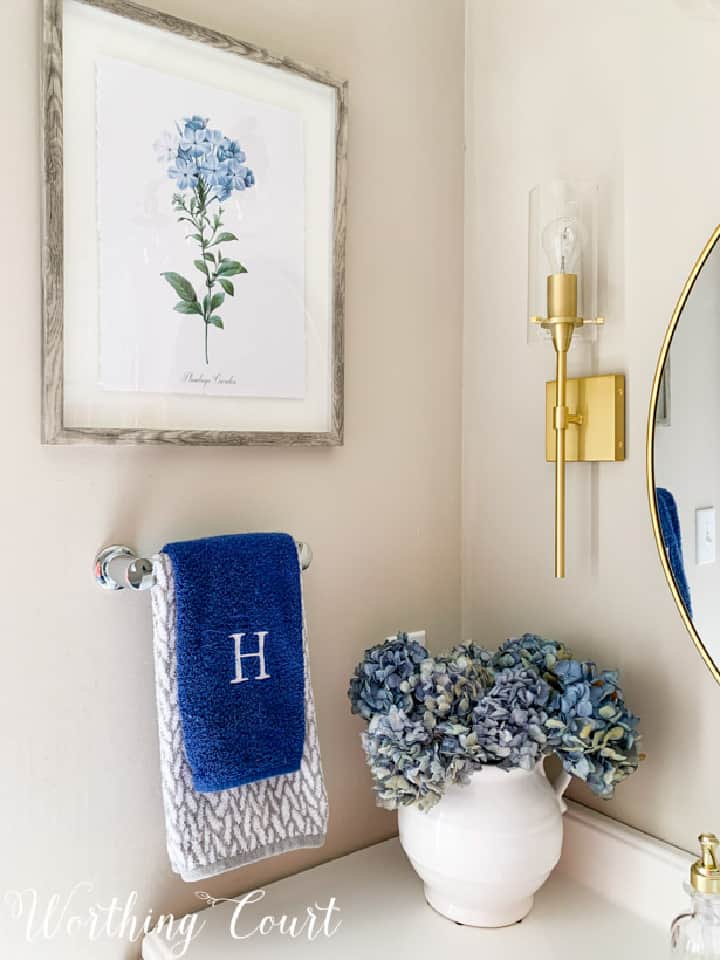 Looking back at my list for 2020, I think I was a little unrealistic with my list. I didn't do a very good job of accounting for real life happenings and for myself needing to take some time away from projects occasionally.  And I should have almost completely discounted from mid-August through December because that's by far my busiest time of year in terms of decorating.
My list for this year is in no particular order and includes finishing up some areas I already started working on. You'll see that I'm terrible about getting a project 90% complete and then moving on to something else.
MASTER BEDROOM
When I last left off, the master bedroom makeover was finished with the exception of one thing. I needed to make faux Roman shades for the windows that flank either side of our bed.
I have all of the supplies, but it's been so long that I'll probably have to measure again, but I'm ready to get going before too much longer.
You can see all how the bedroom started out and all of the updates that I've made so far HERE.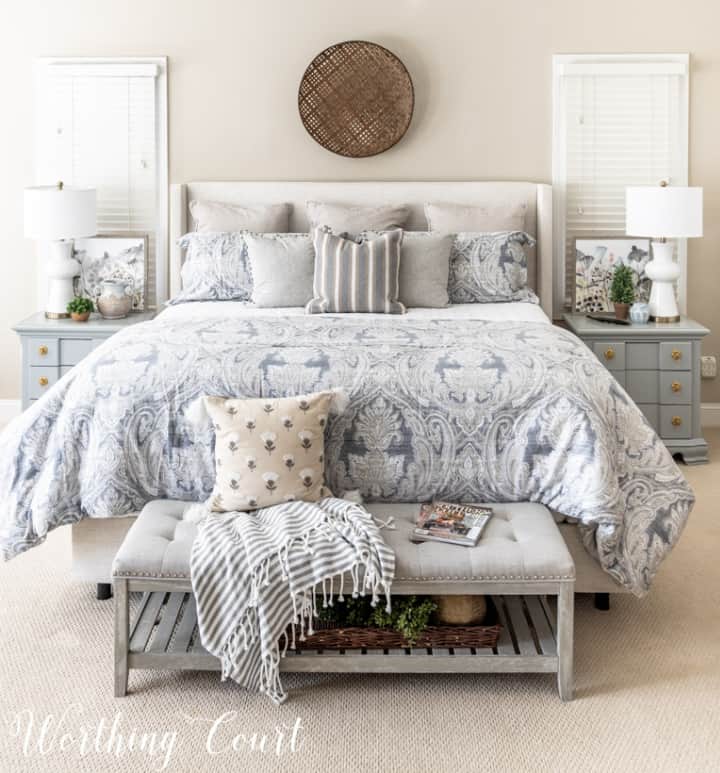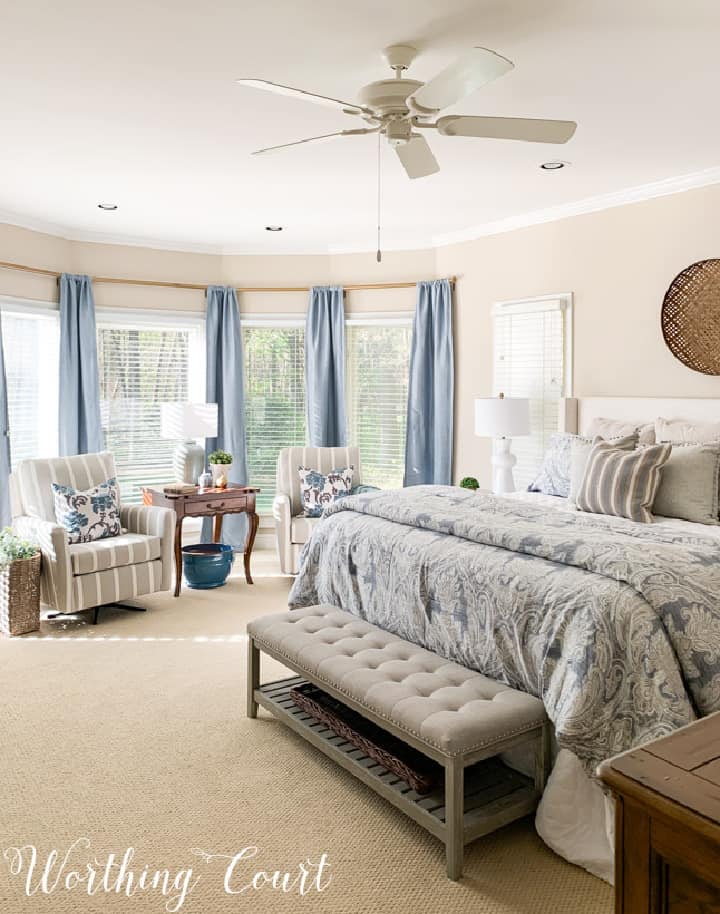 FOYER REFRESH
This is one that was on last year's goal list, but didn't have any progress made on it. Well…..unless you count the fact that I took everything hanging on the gallery wall down. The image below is from a couple of Christmases ago.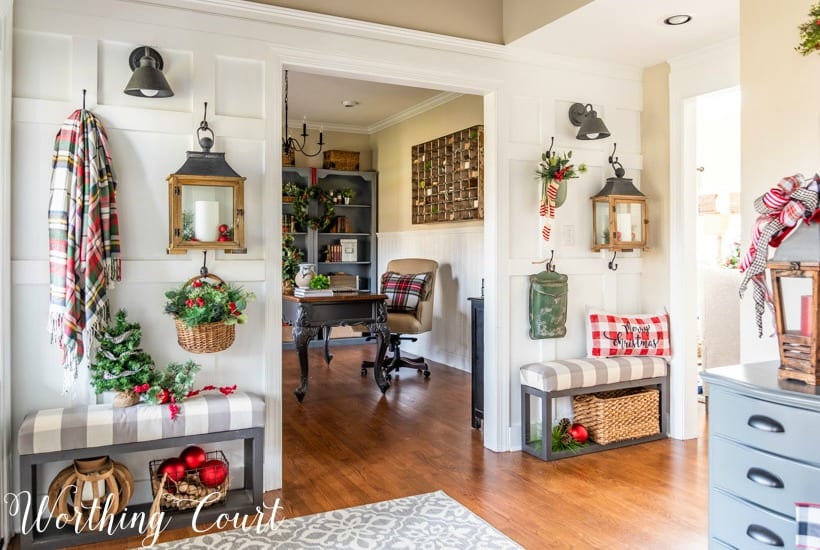 The main reason that I took everything down is because I had no idea what I wanted to do on this wall, so I wanted to live with it blank for a while. I finally came up with a plan, that was actually just completed this past weekend, which I'll be sharing soon. I'm really happy with it now and am excited to move forward!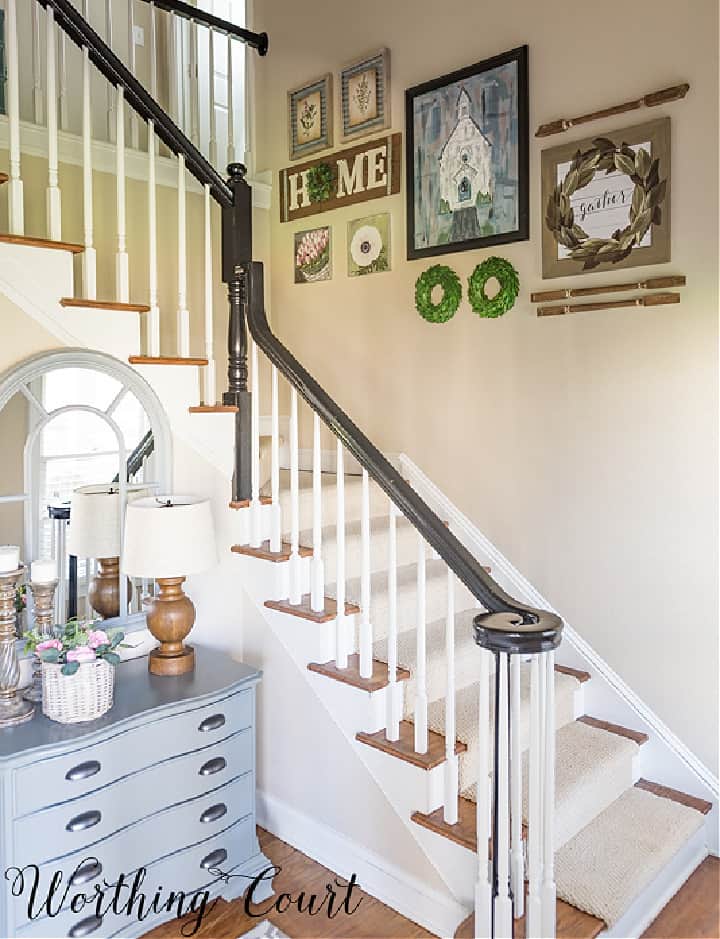 GUEST BATHROOM
This room was on the list from last year, but this view hasn't changed one tiny bit. We've already had the wallpaper removed and floor tile replaced in here, but we'd like to replace the vanity, mirror and lighting.
We did manage to complete one project in here that has made such a difference in the room.
Here you see the before image of our tub/shower combo. It's an off-white beige'ish color that made the tub and whole room look dingy and dirty.
We hired a company to come in and refinish the tub and boy what a difference! We've had this done to a total of five tubs. We've never had any problems with the finish adhering at all. The only chip we ever had in one was when we changed the plumbing fixtures and the plumber dropped a heavy wrench in the tub. Even then, the chip never got any larger, but I believe you can have a chip patched if you want to.
We no longer wanted to have glass doors, so we paid a little extra to have those removed. They removed the doors and all of the metal framework and sanded the areas. You can't even tell they were ever there. It's a great, affordable way to give your bathroom an instant update without spending thousands of dollars.
Forgive the picture, this part of the bathroom is so small that it's just about impossible to get a picture of the entire tub.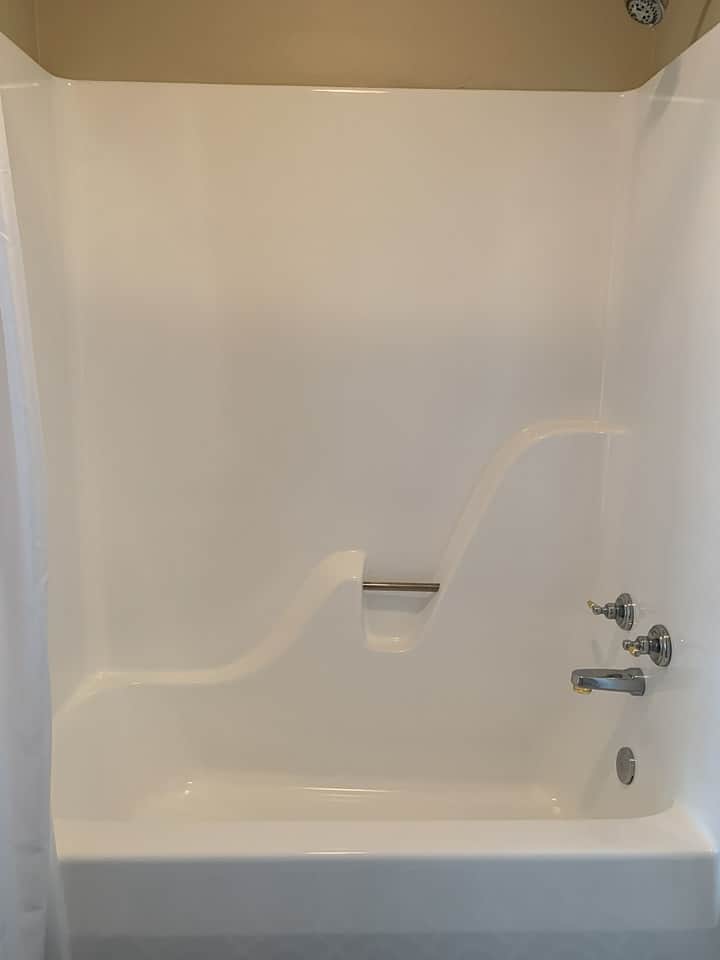 OUR DECK
This project is new to the to-do list for 2021, but certainly isn't new to the running list that I constantly have going in my head.
As you can see we have a rather large deck that stretches across most of the back of the house. To be honest, we really don't use it for much other than cooking out since it's right off of the screen porch, which is where you'll almost always find us when the weather is warm. Why sit on the open deck with the flies and mosquitoes when you can sit behind a screen – right???
The deck itself is in great shape, but I'd like to give it a very budget friendly cosmetic update. I think I've settled on a furniture arrangement, so this coming spring I hope to finish it up.
THE MASTER BATHROOM
The master bathroom was on the list for last year and did get partially completed, but we left off working on it several months ago. You can see the befores and my design board HERE and you can see the progress that we've made so far HERE.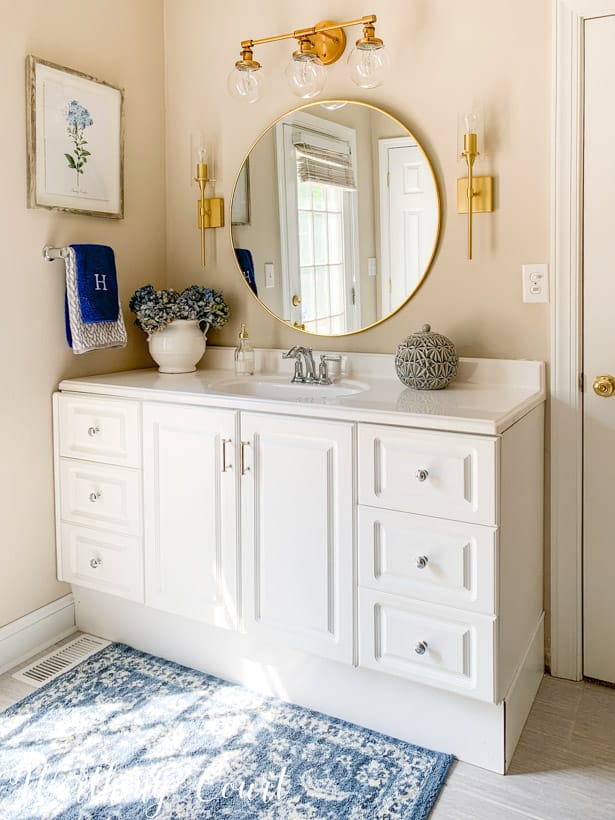 It's mostly detail work though. We need to finish trimming out the vanities, I need to repaint my dressing table, do something in the potty room and make a faux Roman shade for the French door that's in the room.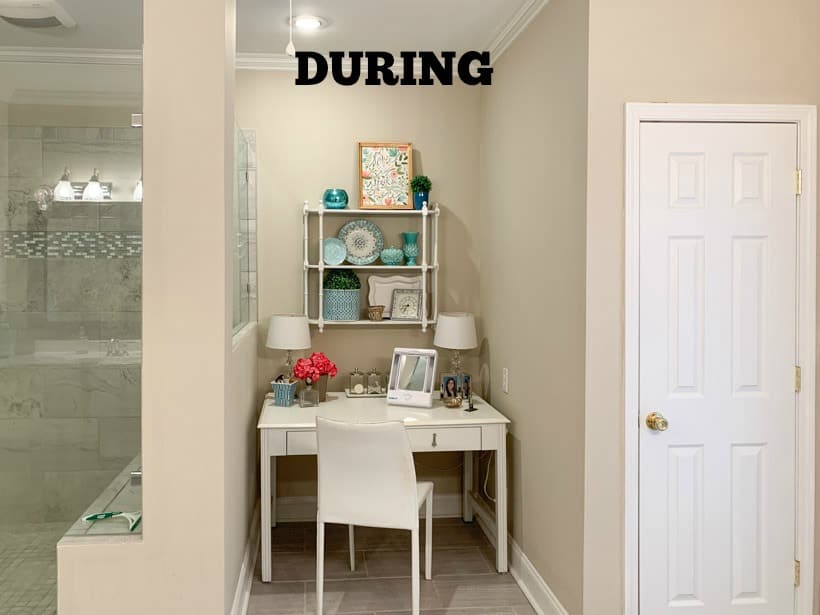 Giving our dining room and office a refresh was also on my list for last year. Those two rooms are actually almost completed, but I'm not ready to reveal them yet. Soon though!