As evidenced by my lack of progress in the last 6 months, I've been a real slacker in the home improvement department. I had grand plans for all that I wanted to accomplish in the world of makeovers last year, but for some reason, I stalled in May.
I'm rectifying that as of right now though!  With that promise made to myself, here's my list of what I'm planning for this coming year.  It's a pretty long list and budget will determine how quickly much of it gets done.
MASTER BEDROOM
On May 3, 2019, I published my mood board and grand plans that I have for my master bedroom makeover.  On June 6, 2019, I published an update and that's it – nothing since then.
I am beyond ready to finish this puppy up already!  I hope that I'll have another update ready to share with you sometime next week.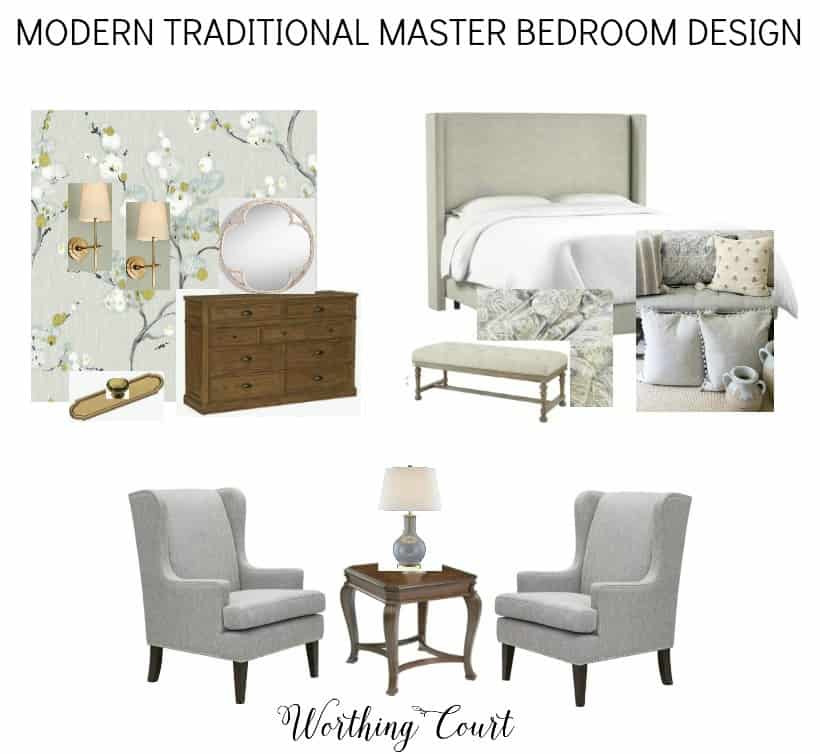 I'm sharing real-time updates in my Instagram stories and talking about why I'm making my design decisions in my Instagram stories, if you'd like to follow along.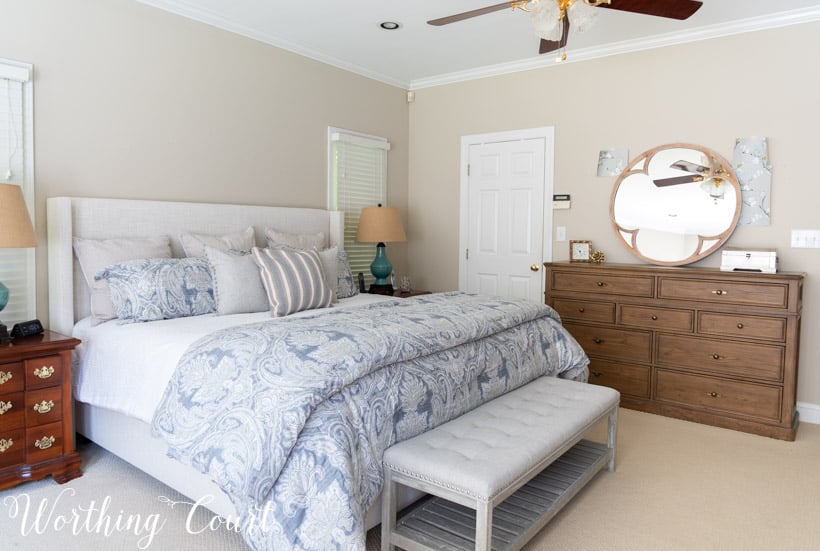 This is where I left off on my to-do list:
Purchase new dresser and chest of drawers and change hardware.
Purchase new chairs.
Purchase new bed and bedding.
Purchase new bench for foot of the bed.
Hang wallpaper.
Replace and hang mirror above dresser.
Paint nightstands and change hardware.
Makeover or replace lamps on nightstands.
Add artwork above bed and above chest of drawers.
Add window treatments.
Replace ceiling fan.
Replace lamp in bay window area.
Purchase accent pillows.
MASTER BATHROOM
I want to move to our master bathroom immediately following the completion of the master bedroom.
When we moved into this house, 5 years ago, we gave the bathroom a total remodel, but I never have come back to put the finishing touches on this room.  We need to do things like finish our vanities, finish caulking, paint the mirror frames and general decorating in the room.
These photos are what the bathroom looked like when we purchased the house and BEFORE we did any remodeling at all.  Let's just say that things already look entirely different. 😀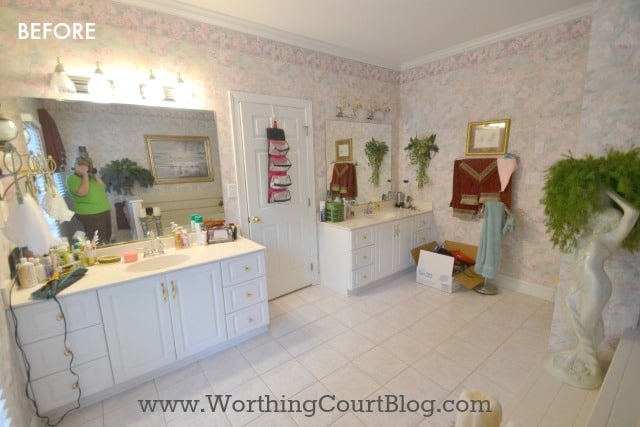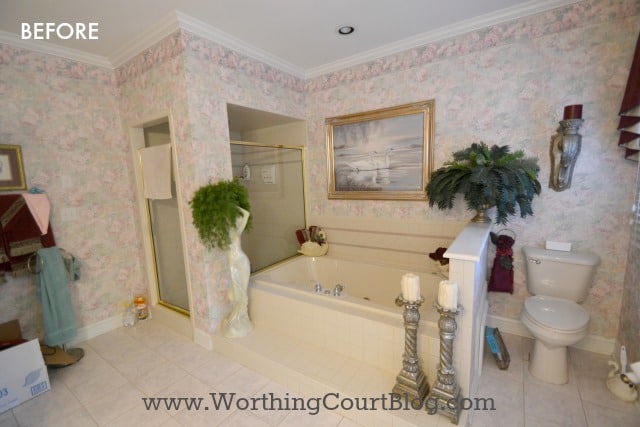 HALL BATH
During the remodel of our entire house, we didn't do a major remodel in this bathroom.  We removed wallpaper, painted the walls and replaced the flooring and toilet and stopped there.  We knew we'd eventually come back around to finish the room up.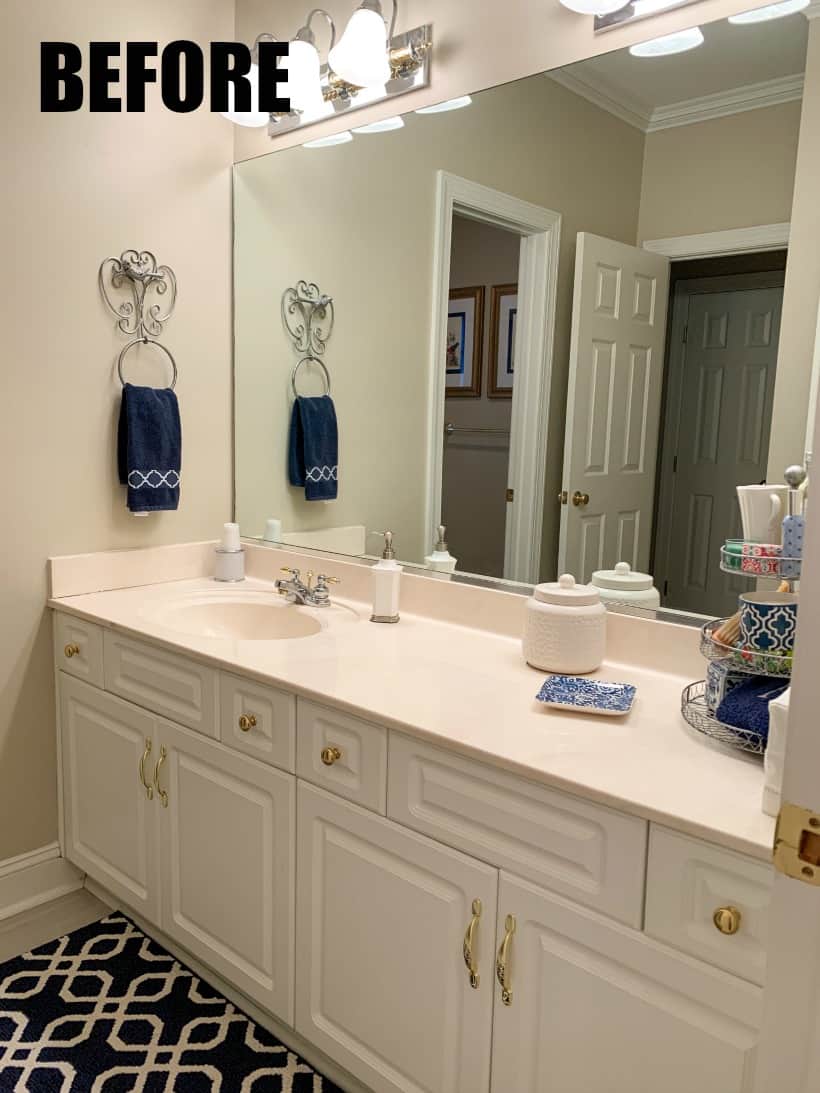 This year, we plan to paint the vanity and replace the hardware, frame out the huge mirror, replace the lighting and faucet and have our tub refinished, which will include getting rid of the glass doors.  I've never taken a single picture in here, hence the horrible pictures that I snapped with my phone last night.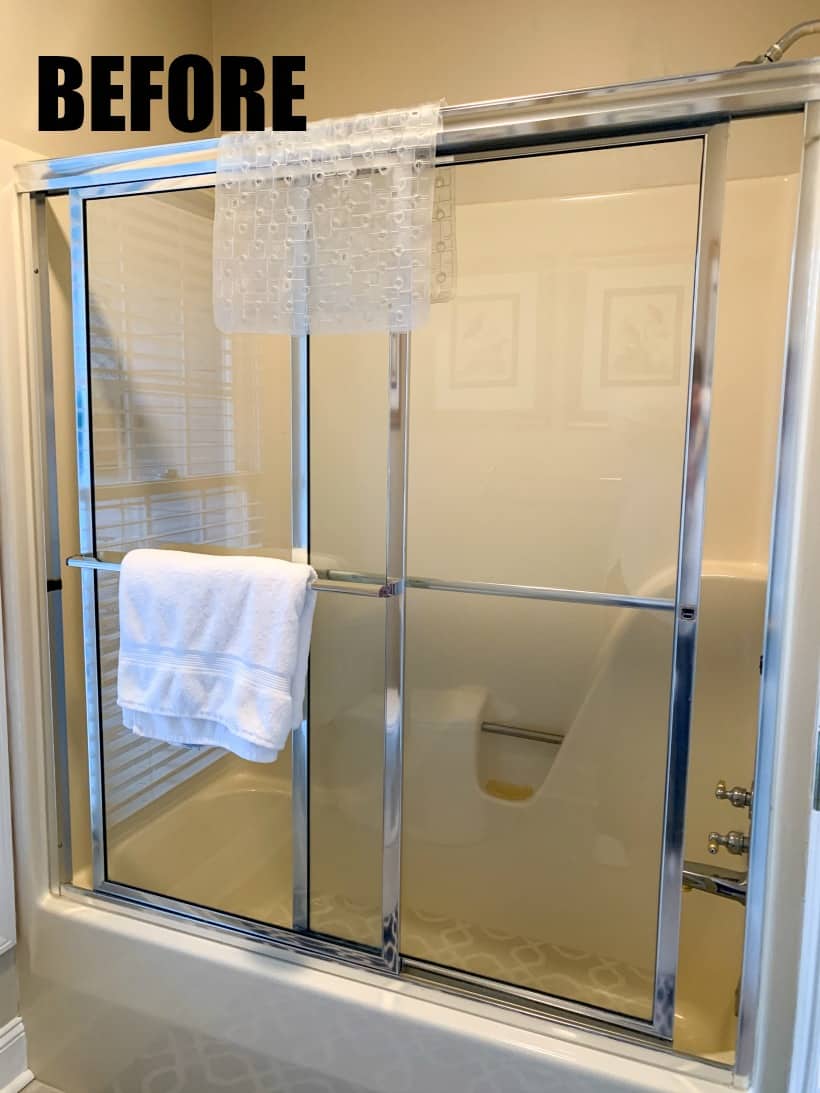 FOYER
There are several rooms in the house where the remodel and decorating was completed, but after 5 years, some of them are ready for a refresh.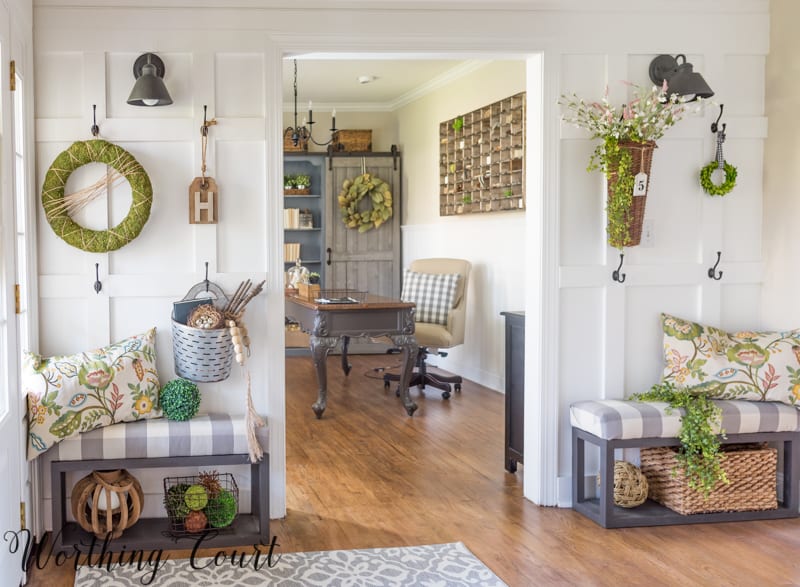 Overall, I'm really happy with how the foyer turned out, but I've never been happy with the gallery wall that I created going up our steps.  We won't even talk about the huge hole I made in the wall that's hidden behind one of the pictures.  Oops.
I'm ready to change it out, but the biggest challenge will be figuring out what in the world I want to do!  I may also change the rug and make some other small tweaks.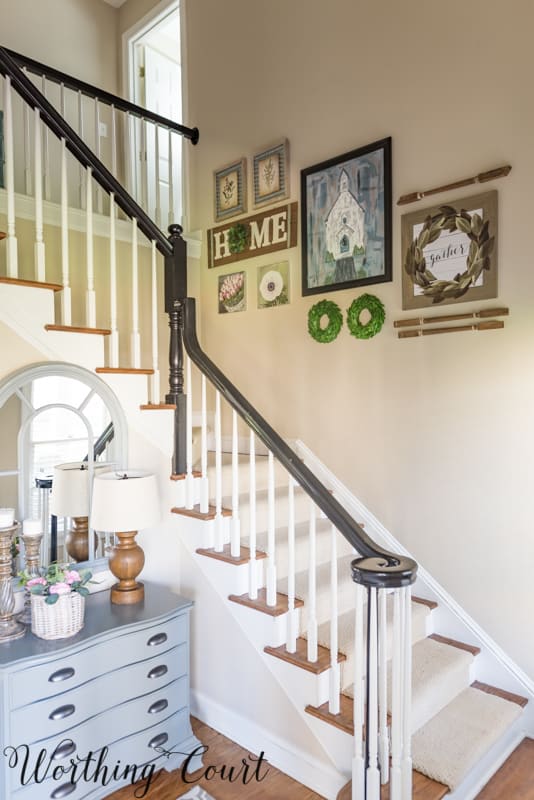 FAMILY ROOM/LIVING ROOM
Our family room underwent a pretty large refresh last spring and was given a much brighter look, but there are still a couple of things left to do – namely, replace the draperies and get a new area rug.  I also need to replace at least one of the side tables, possibly two.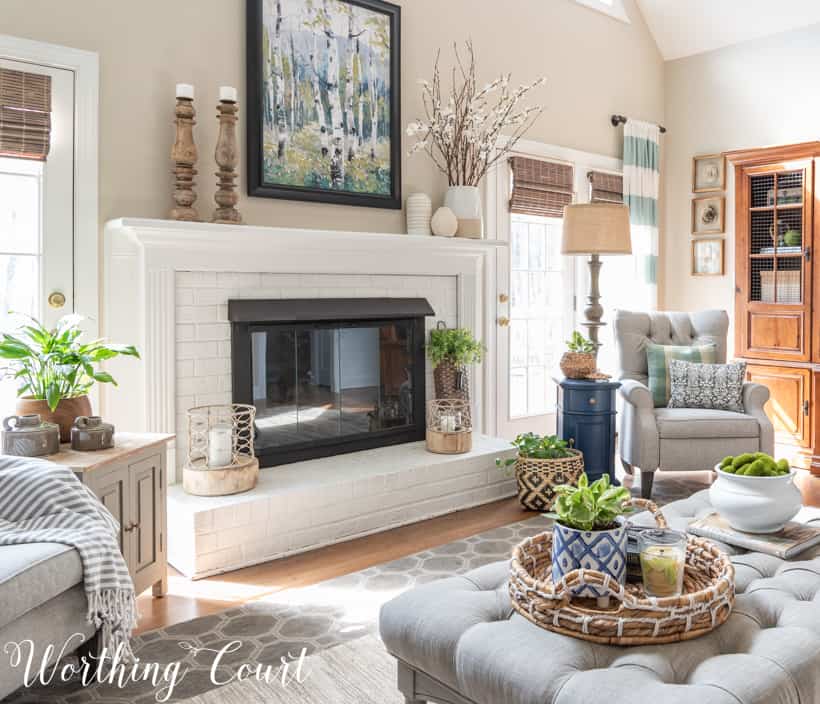 The only thing major about the next refresh is what the cost of a new area rug will be!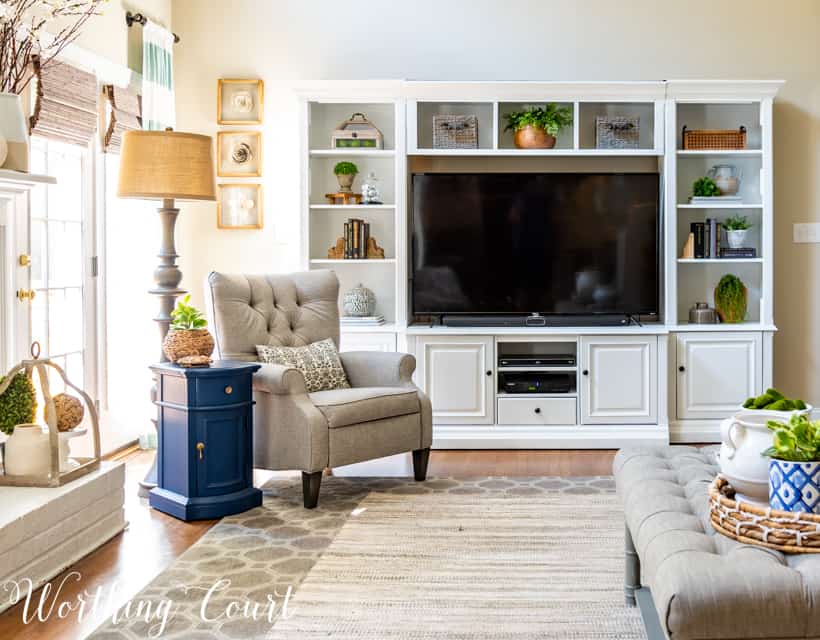 DINING ROOM
After the house remodel, I actually completed decorating the dining room in August 2016.  Good grief – has it really been that long ago???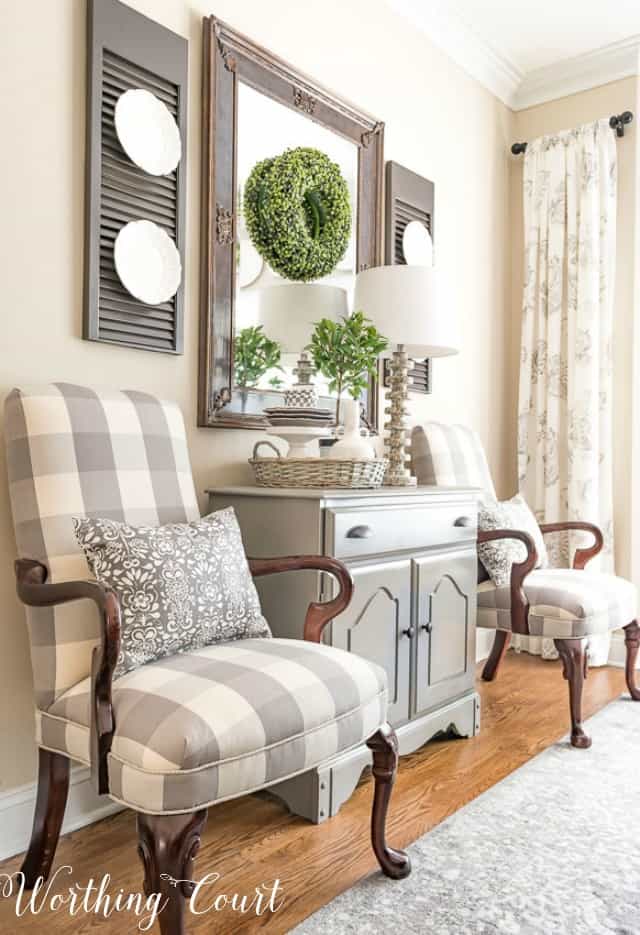 I'm ready to let go of some the farmhouse vibe in this room and give it more of an updated traditional appearance, which I plan to do with new artwork, a new area rug and possibly repainting or replacing my sideboard.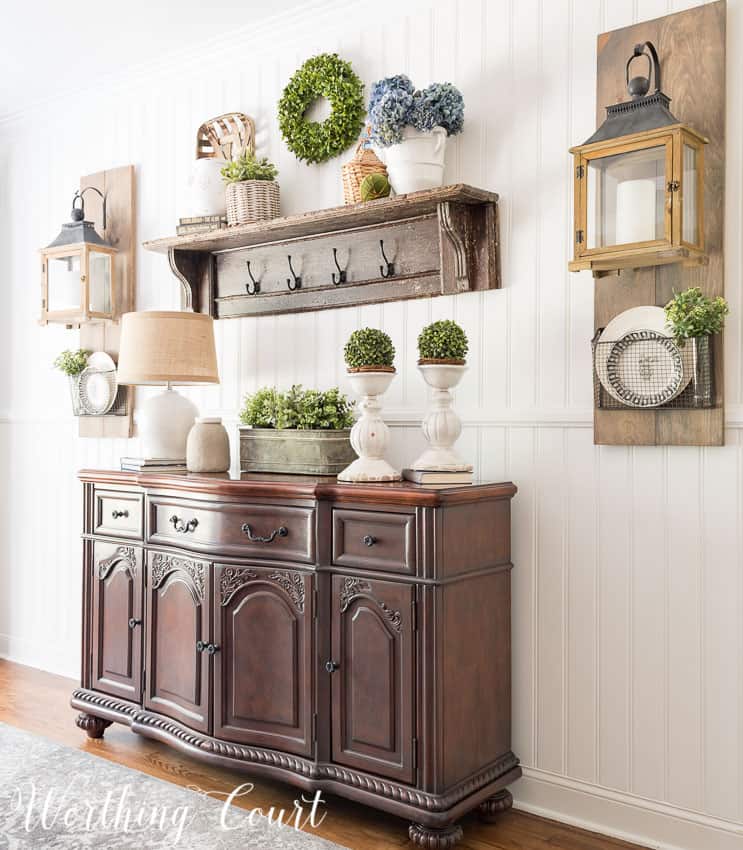 OFFICE
The decorating of the office was completed almost exactly two years ago.  This is another room where I'm ready to update and get rid of the farmhouse vibe.
I've already removed the sliding barn door, that we made for the bookcase, and have removed a lot of the art, but there's still more to go.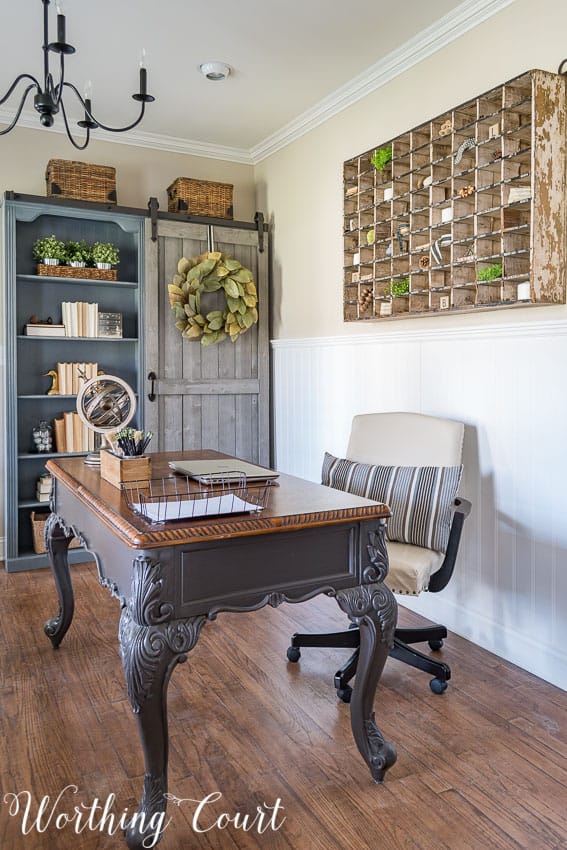 I plan to replace the two side chairs, get rid of the huge antique cubby hanging behind the desk, replace all of the artwork and possibly replace the desk.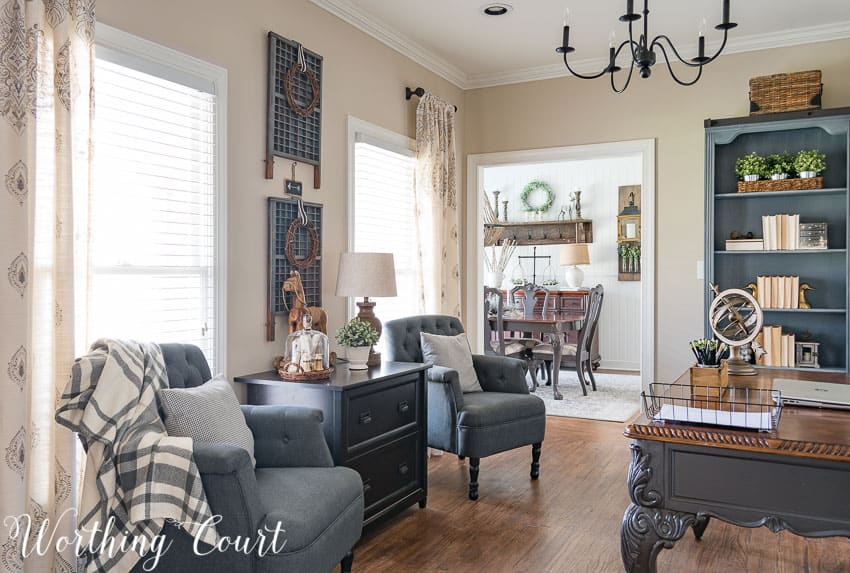 So….that's my ambitious house resolutions list for 2020, which doesn't include all of the seasonal and holiday decorating that I'll be doing along the way!  How about you – have you made any home resolutions this year?