My Master Bedroom Decorating Ideas And Why I Love To Use A Design Board
Master bedroom decorating ideas for a modern traditional style and using a design board to help stay on budget and to pull it all together.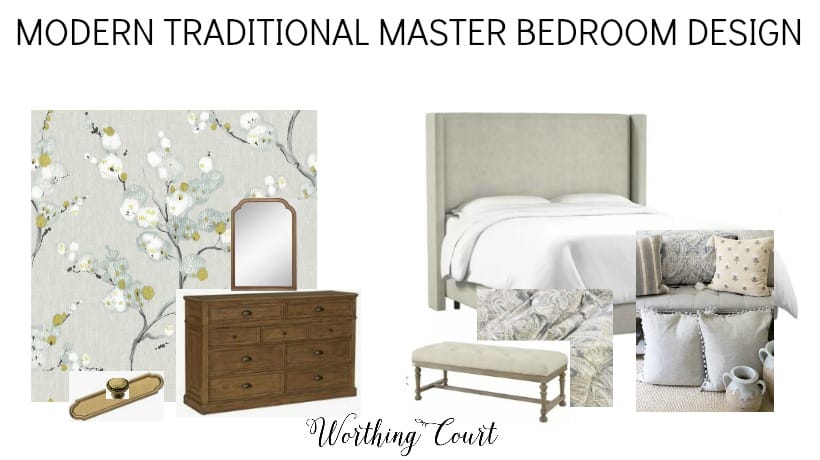 I still have a couple of finishing touches to add to complete our family room makeover, but I'm ready to move on to the next project and my head is filled with master bedroom decorating ideas!
We moved in here almost five years ago and I'm just now getting around to this room.  Before we moved in, we replaced windows, gave the room a fresh coat of paint and replaced the carpeting in the room, but have just been using the furniture that we've always had.  Well….it's time to change that!
Unfortunately, I was a bad blogger and didn't snap a photo of what the room looked like before I started makeover work in here, but here's a look at how it looked on the day that we first toured the house.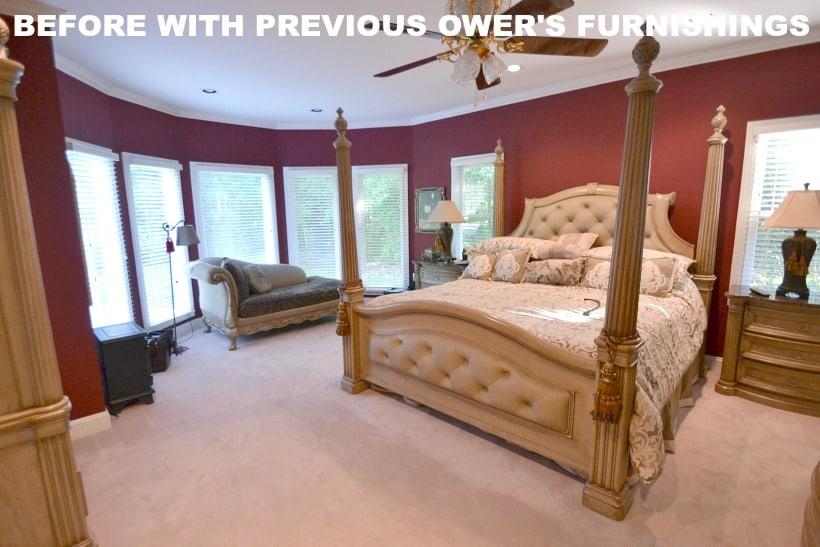 As with any total room makeover, the best place to start is by creating a design board.  I usually have a lot of different ideas flying around in my head any time that I tackle a room makeover, but creating a design board for my master bedroom plan will do SO much to keep me on budget and to not become enamored with something else and veer off in some crazy direction!  Let's take a look at all of the elements that I'm including.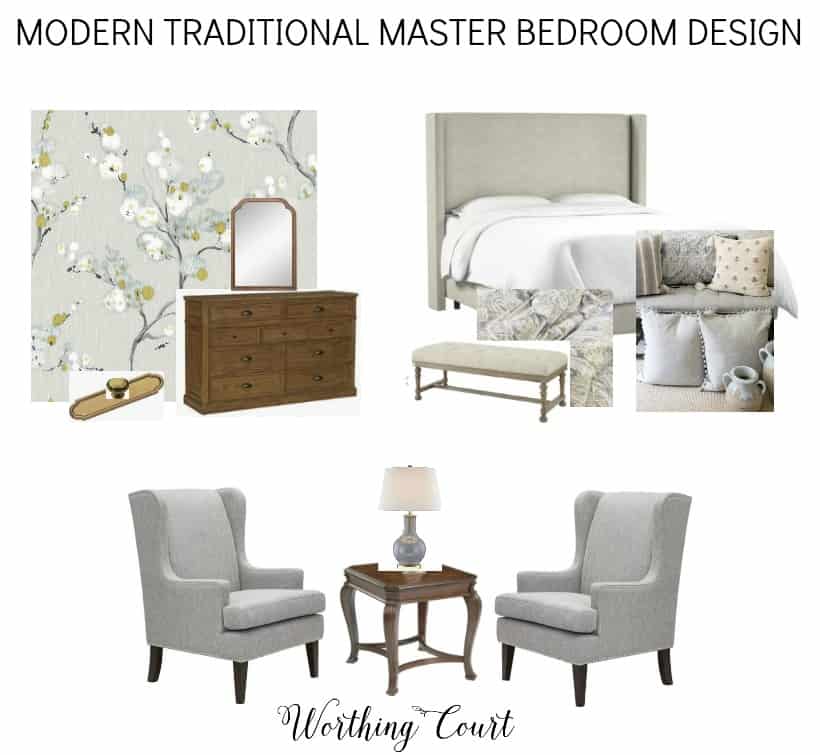 Affiliate links have been used in this post.  See my full disclosure HERE.
Let's start with my inspiration for the makeover – this gorgeous bedding that I ran across and fell in love with.  It had all of the colors in it that I wanted to use in my bedroom, plus I totally love the pattern.  Just a side note – if you happen to click on the link for the bedding, this photo below is color accurate.  The color of the bedding isn't blue at all, like it appears on the site.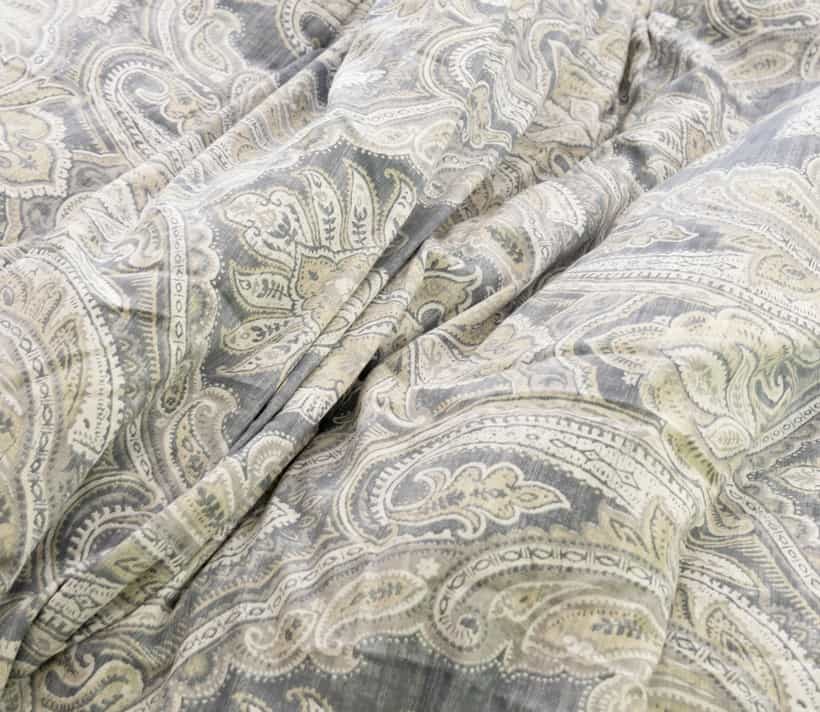 I've already purchased the bedding along with a variety of throw pillows, which my husband will just love.  😀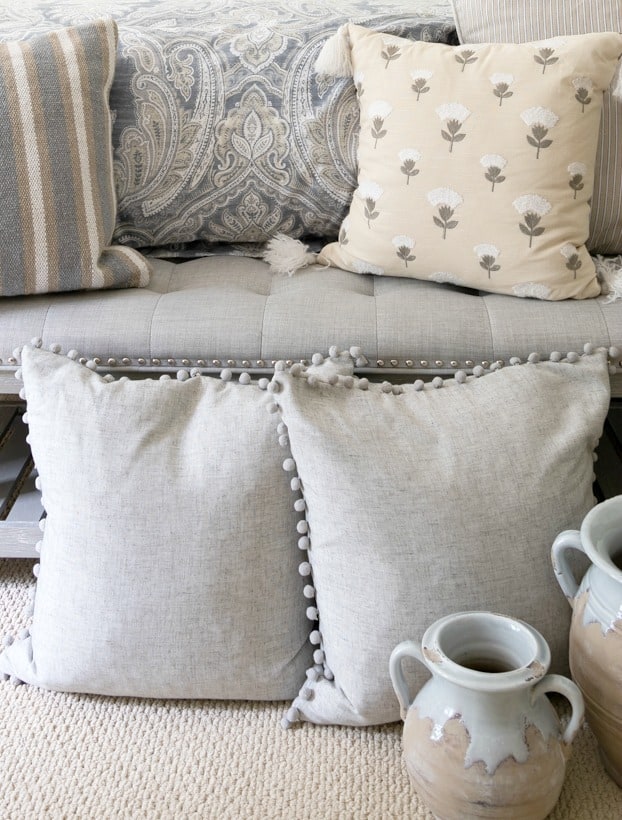 That leads me right to the new bed that I'm hoping for.  It's surprisingly affordable and has those modern traditional lines that I'm craving in this room.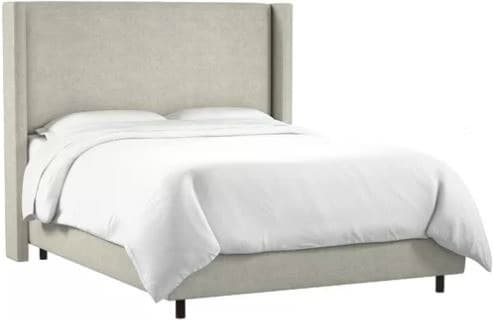 To go along with the new bed, I'll be adding a new bench at the foot.  You can get a sneak peek of the one that I already found in the photo above.  It isn't exactly like this one, but it's very similar.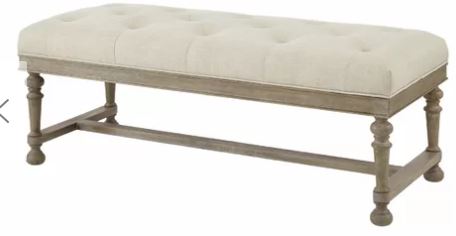 As with all my decorating, the makeover of this room will be done on a budget, but there are a couple of more costly items that we need to purchase – namely a new dresser and chest of drawers.  I've done quite a bit of shopping around and managed to find a dresser and chest of drawers that are well made and are on sale for a pretty good price.  I just don't love the hardware on them, so I'll be switching that out.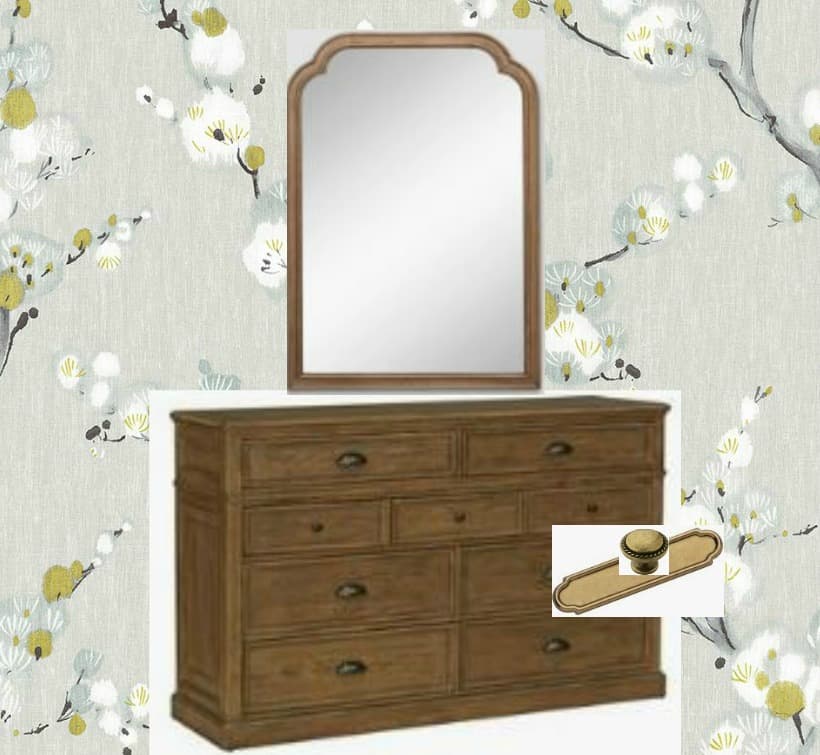 You might be wondering why I'm showing you the dresser against a floral pattern.  That's because I'm considering doing an accent wall with wallpaper since there isn't a lot of wall space in this room to add artwork to because of all the doors and windows.  These are three of the patterns that I'm considering.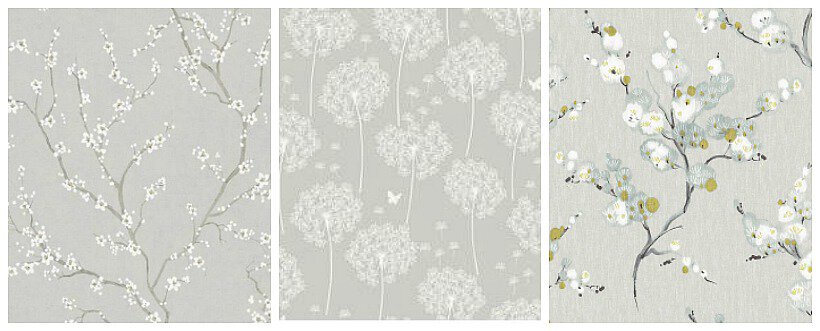 The nightstands that we already own are in great shape and we love their storage, so instead of replacing them I'll be painting them and replacing the hardware.  I'll probably go with a color something like the below picture.  Or maybe white.  I haven't fully decided yet.  I also haven't decided if I'll be replacing the lamps or painting the ones that I already have and changing out the shades.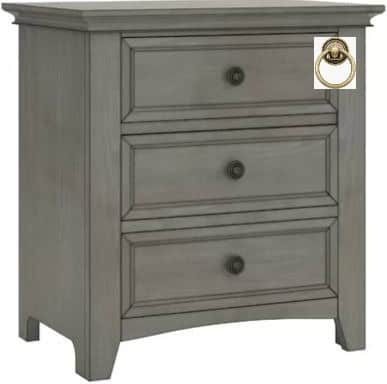 I need to replace the existing blue floral chairs in the large bay window area, so I've been on the hunt for a matching pair of wing back chairs that have updated lines to them.  I'm stalking HomeGoods for a matching pair of something like these.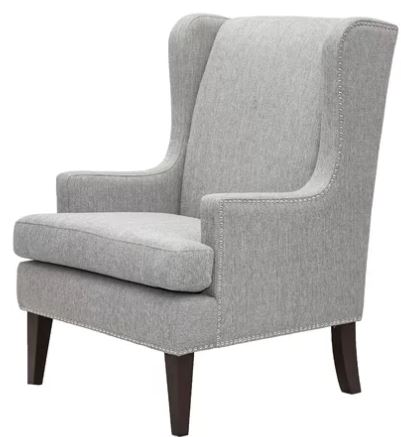 I'll keep the existing table that's between them, but will probably replace the lamp.  Oh – and I need to add draperies too, but that will be one of the last things that I shop for.  The draperies will be different, but I'm sure I'll hang them the same budget friendly way that I added draperies to the bay window in our breakfast room.
And lastly – one thing that definitely has to be replaced in this room is the ceiling fan.  Take a close look at the frosted glass, shiny brass thing in before picture above.  In a way, I hate to get rid of it because it works so well, but I can't figure out a way to update the thing, so it's gotta go.  I'm loving the clean lines of this one.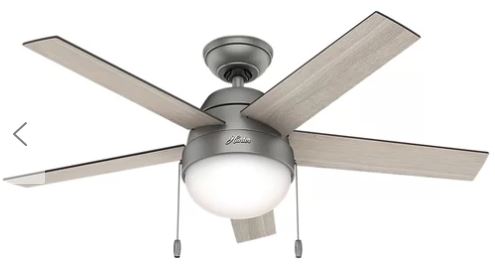 So that's about it.  What do you think about my master bedroom plan?  Any suggestions?  I'll be sure to keep you posted on the progress!