Makeover Progress In My Master Bedroom
In the world of room makeovers, the during phase isn't usually very pretty.  That's certainly the case in my master bedroom right now.  Some things are done and others aren't, which gives the room a very mis-mashed look.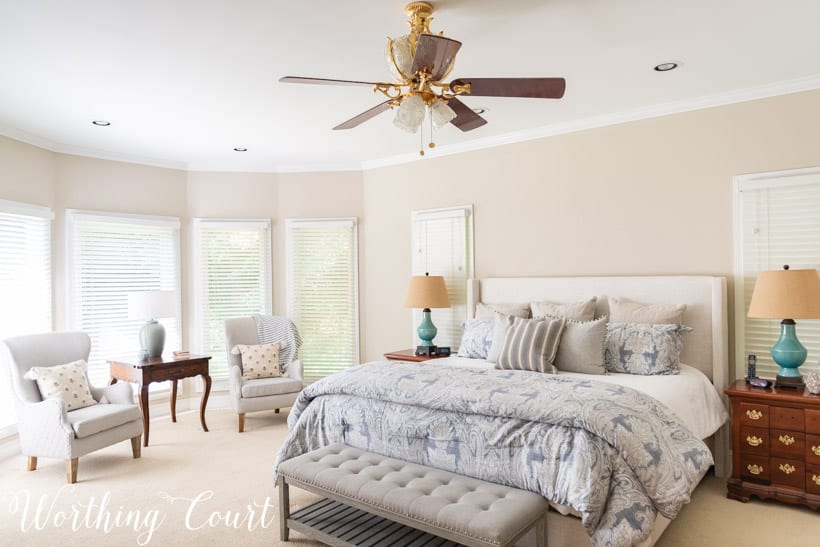 Pin
But, I think it's important to remember that in real life, things don't happen like they do on tv design shows.  It takes time, y'all!  Time to do the projects, time to search out the right things that you want to add to the room and time to save up for it all – all this while still living your everyday life.
Even though my room isn't very pretty to look at (yet), there are three reasons that I'm going ahead and posting the progress right now:
To keep myself on track and accountable.  It's easy for me to get sidetracked by my decorating disorder if I'm not careful.
To hopefully encourage you to give your own self some grace if things aren't happening around your home as quickly as you'd like for them to.  I've literally been planning, saving and working on this makeover for months!
I always want to keep things real for you.
So let's dive right in and let me show you what's been done so far.  Let me start off by showing you my updated design board for the room.  The changes that I made were minimal, but they'll help the overall look.  If you'd like to compare, you can see my original design board HERE.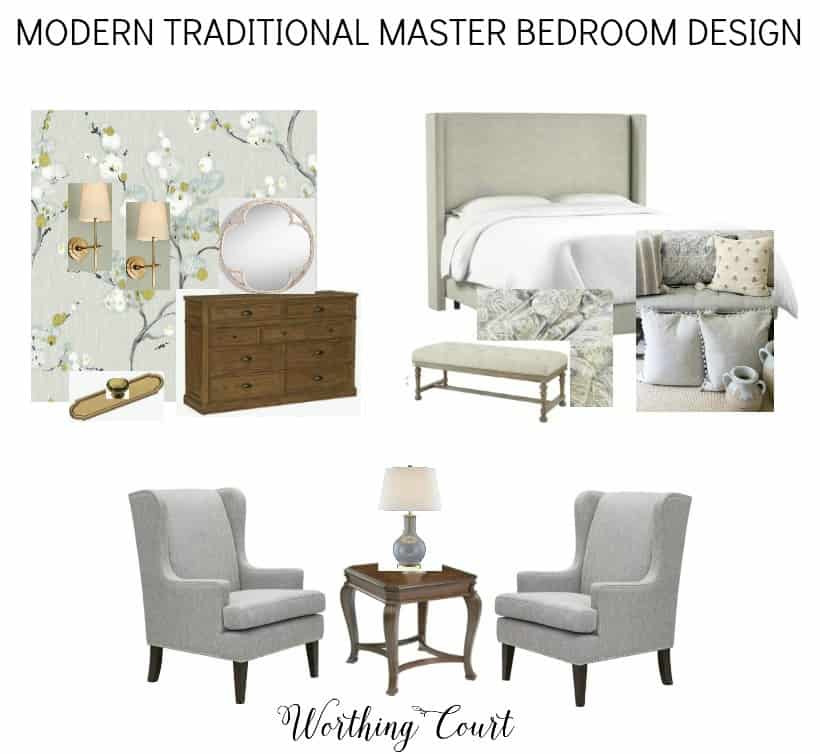 Pin
Affiliate links have been used in this post.  See my full disclosure HERE.
Wallpaper | Sconces | Mirror | Dresser | Upholstered Bed | Comforter Set | Dresser
You might remember from my original post about the bedroom makeover plans that I said I hoped to get a new bed.  There was nothing wrong with the bed that we already had, I was just ready for a change.  Well, the new bed is in place along with its bedding, pillows and a new bench at the foot and it has the perfect modern/updated traditional look that I was after for this room.
The nightstands still have to be painted and the hardware has to be changed and the lamps need to be madeover/replaced too, but those things will happen soon, I hope.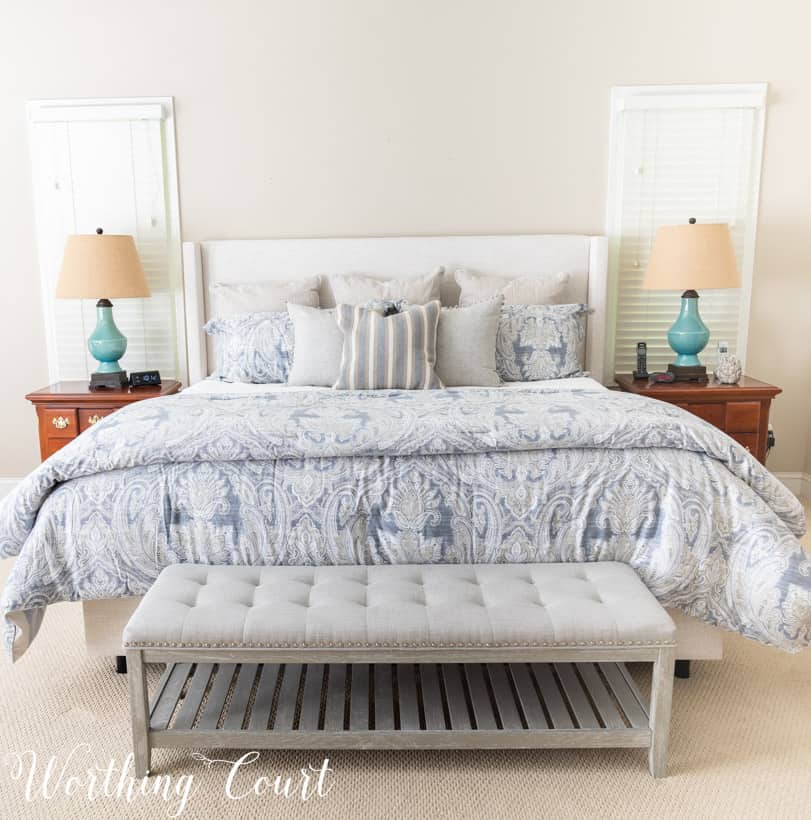 Pin
Mixing patterns and textures is my jam, so I had fun shopping for the variety of pillows that I used on the bed.  Of course, the hubs thinks there are about eight too many pillows on the bed now. 😀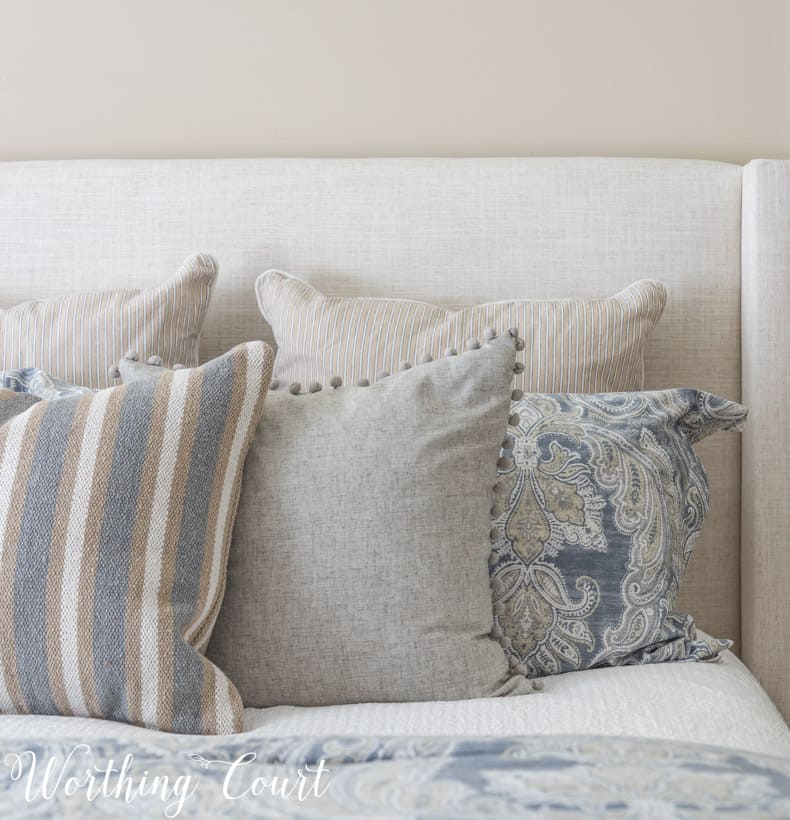 Pin
I scored two gray chairs exactly like what I was looking for to go in the bay window area.  I was immediately smitten by the two different fabrics used on them!
Pin
One of the things that I've been struggling with is what to do on the windows.  I plan to add draperies between each of the windows in the bay, but was stumped over what to do on the windows that flank the bed.  I believe what I'll do is add faux Roman shades to those windows that are in the same fabric as the draperies on the bay windows.  That should tie it all together nicely.
And yeah – that ceiling fan will be going too!  I've tried and tried to come up with a way to give it a makeover, but there's just too much frosted glass to contend with.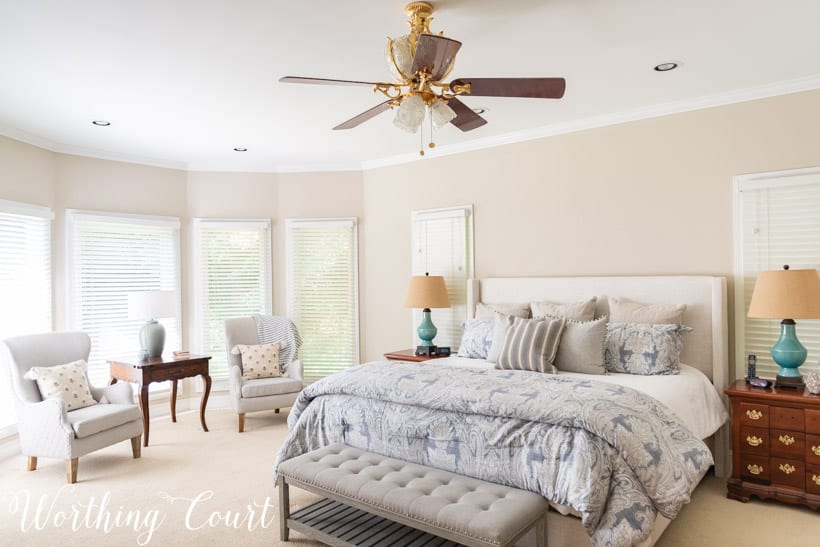 Pin
The wall that is opposite from the bay windows, on the other side of the bed is where the new dresser lives.  The hardware that it came with was a bit too rustic, so we replaced it with some vintage brass backer plates and coordinating knobs.  Such a little thing, but it made quite the difference.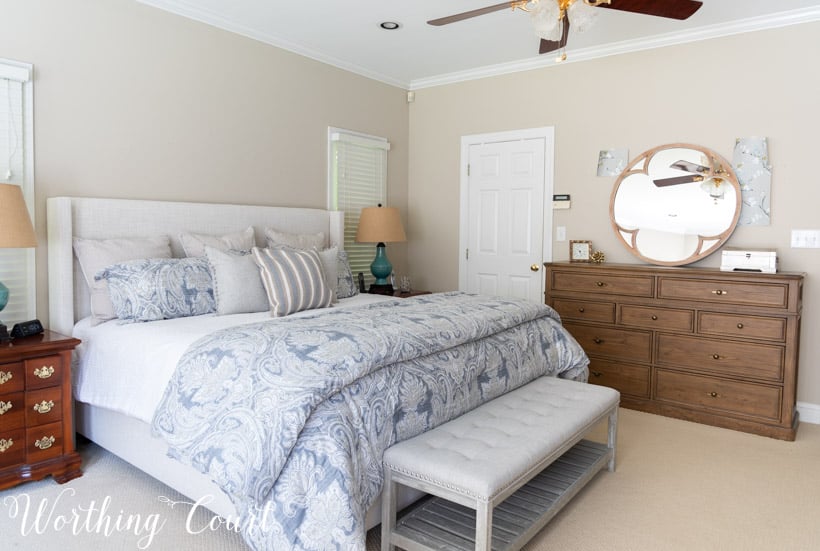 Pin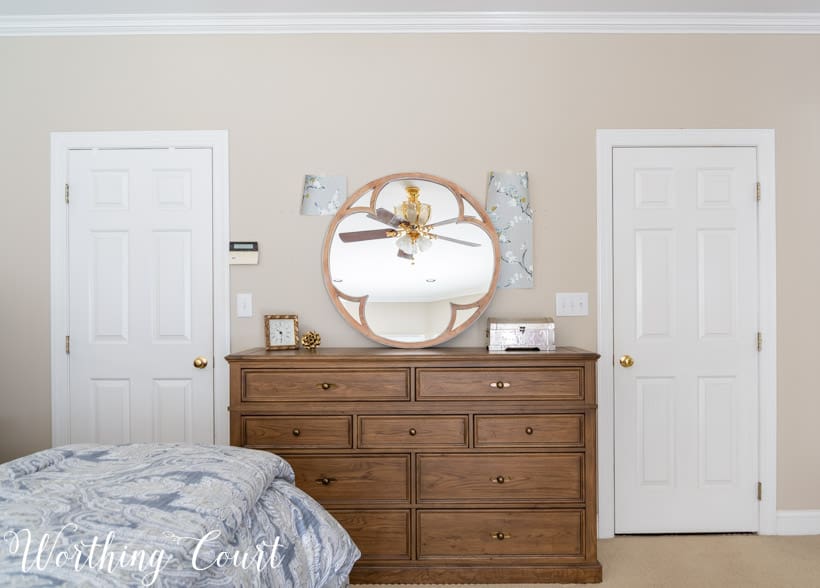 Pin
I'm planning to add wallpaper to the wall behind the dresser.  Did you happen to catch the great debate about which wall it should go on in my Instagram stories?  The vast majority voted for putting the wallpaper behind the bed since that's one of the focal points in the room, but that just won't work well in this case because of where where the wall takes a turn at the beginning of the bay window.
So, the wallpaper won't be visible until you step inside the room, but I think that's okay in this case.  It'll be a nice unexpected surprise!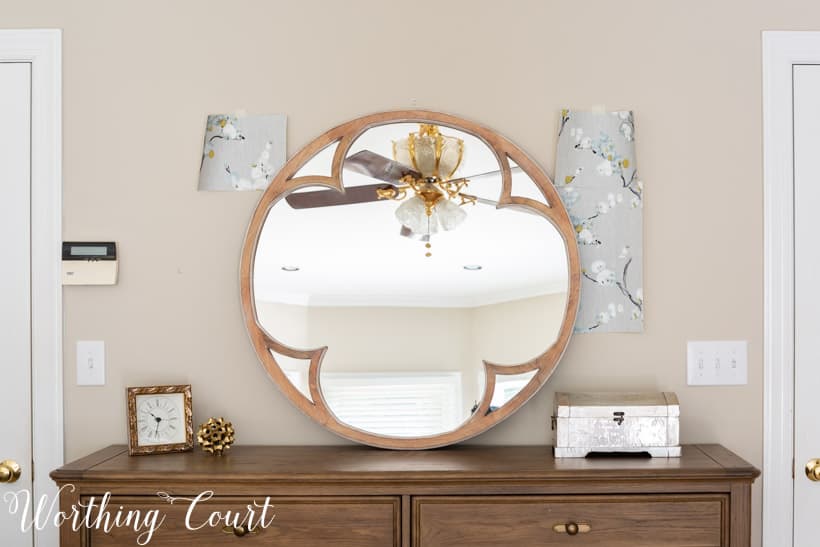 Pin
That's pretty much a wrap for what's been done in this room so far.  Here's the full to-do list showing what's been done and what hasn't.
Purchase new dresser and chest of drawers and change hardware.
Purchase new chairs.
Purchase new bed and bedding.
Purchase new bench for foot of the bed.
Hang wallpaper.
Replace and hang mirror above dresser.
Paint nightstands and change hardware.
Makeover or replace lamps on nightstands.
Add artwork above bed and above chest of drawers.
Add window treatments.
Replace ceiling fan.
Replace lamp in bay window area.
Purchase accent pillows.