A Fall Mood Board, Trends And My Decorating Plans
A fall mood board and my decorating plan to help inspire you to include the rich, deep seasonal colors that are on-trend, when decorating your home this season.
If you were to ask me what my favorite season of the year is, I'd say summer. But when it comes to clothes and home decor, fall is definitely my jam!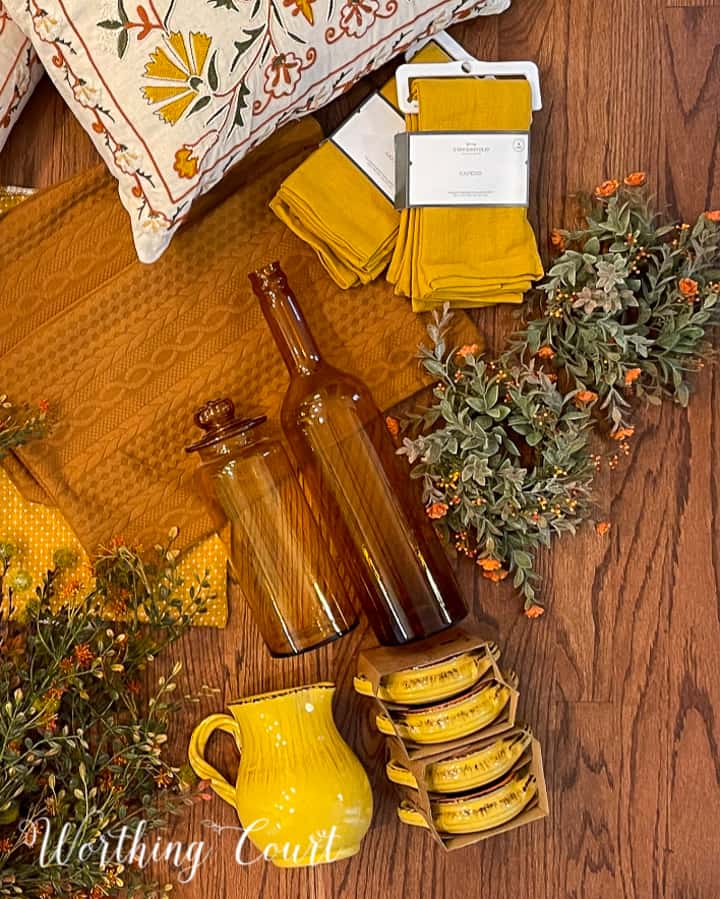 This post and photos may contain Amazon or other affiliate links. As an Amazon Associate I earn from qualifying purchases. If you purchase something through any link, I may receive a small commission, at no extra charge to you. Where possible, the exact product has been linked. If that product isn't available to link, I've linked something similar. All opinions are my own. See my full disclosure HERE.
I love to use rich, saturated colors of fall in my home this time of year to help me create a warm, cozy and welcoming vibe.
As with any decorating, whether it's for a season, holiday, or for an everyday look, I need something to inspire me! This year, my inspiration is coming from a pair of fabulous crewelwork pillows that I ran across in HomeGoods one day.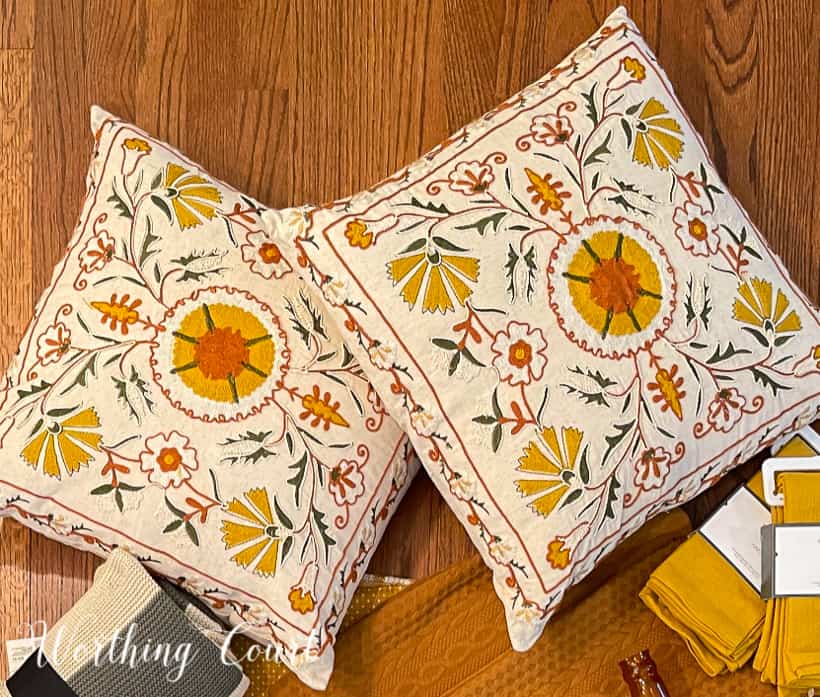 I fell hard for them and have been gathering a few goodies to go along with some of the fall decor that I already have in my stash.
Here's the mood board, but keep scrolling down to see how it all looks together in real life. I've linked either the exact item or something similar below my mood board. To see even more of what I'm loving for fall, check out my Amazon storefront HERE.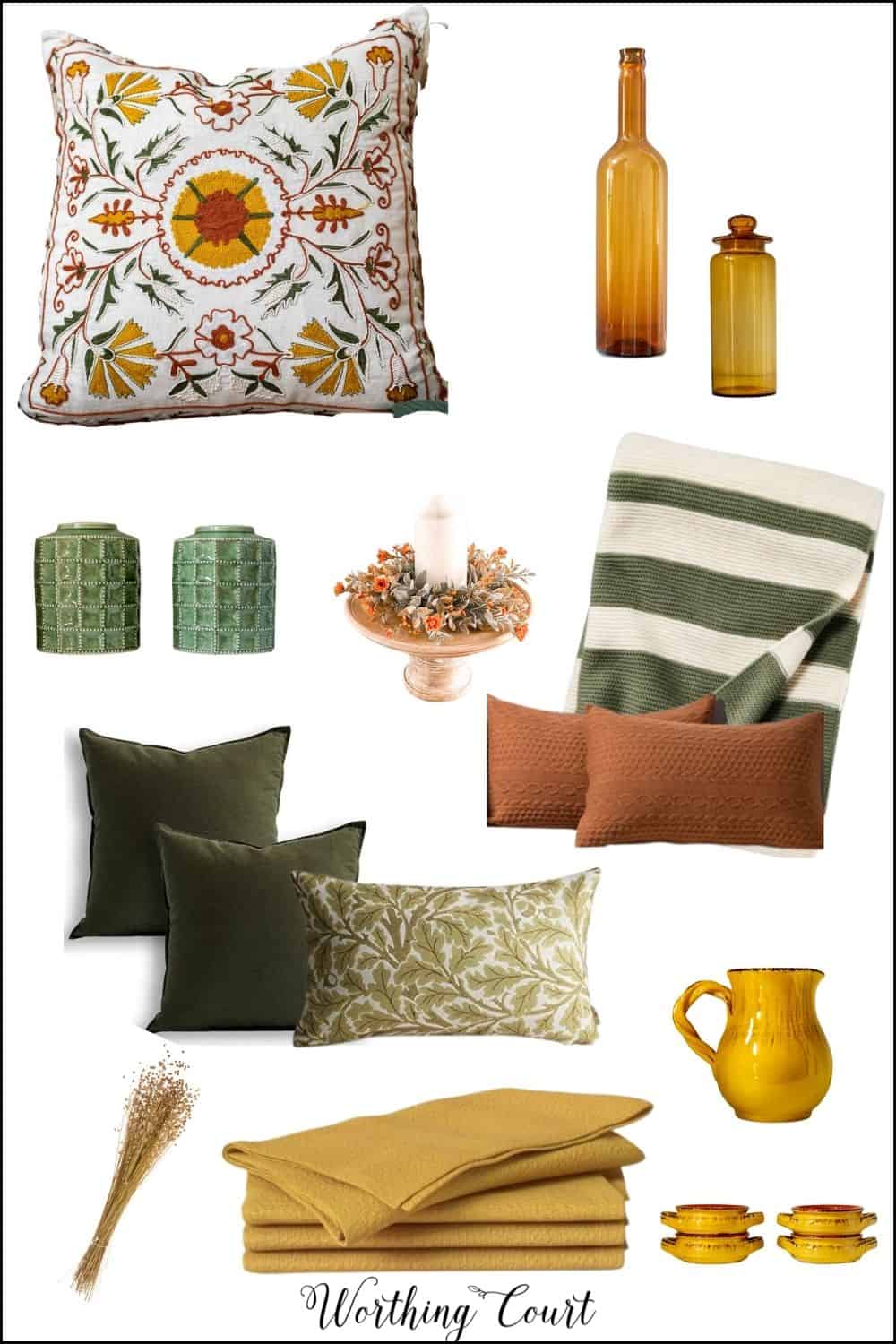 Embroidered pillow cover || Amber Colored Bottle || Green Containers || Candle Ring || Green Velvet Pillow Covers || Oak Leaf Pillow Cover || Brown/Rust Pillow Covers || Dried Stems || Mustard Colored Napkins || Dark Yellow Pitcher || Yellow Soup Crocks
I'm trying to take a more minimal approach to fall this year by sprinkling seasonal touches throughout my house instead of decorating every possible nook, cranny and surface so that my house won't scream "fall" at you when you walk in. The added benefit of going more minimal is that it takes a lot less time!
The very best way that I know of to keep myself on target and in check is to create a mood board that I can refer to over and over again. Mood boards are easy and fun to create and anyone can do it. Check out my step-by-step tutorial HERE.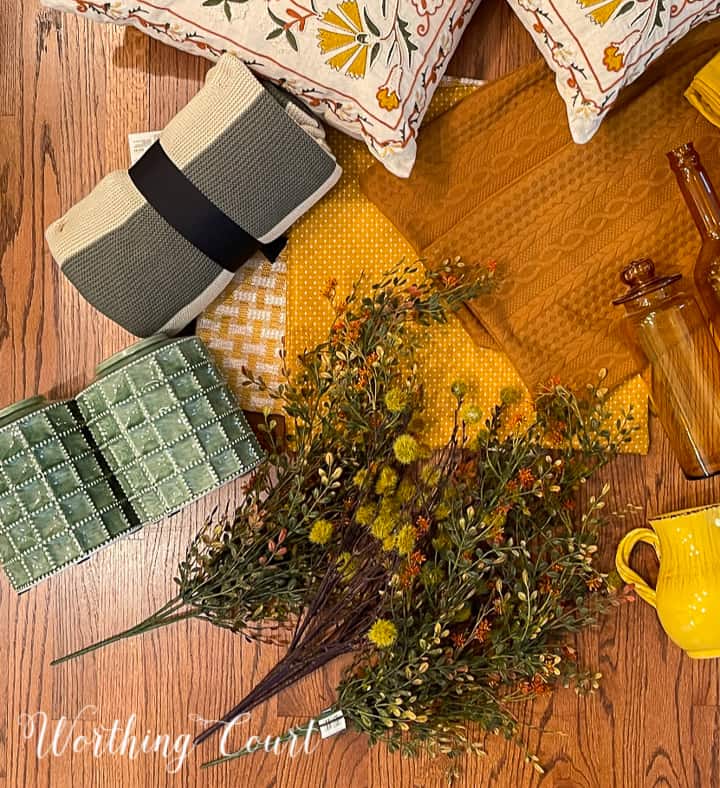 Now, I don't consider myself a person who likes to keep up with all of the latest trends when I decorate, but I do like to keep my eye on the decorating "pulse" if you know what I mean.
In my research, I found there is quite a variety of fall decorating trends for 2021. Keep in mind, that if you like to keep up with trends too, the idea is not to follow every single one of them. I mainly keep an eye on them to make sure that what I'm doing fits in somewhere and isn't way out in left field somewhere.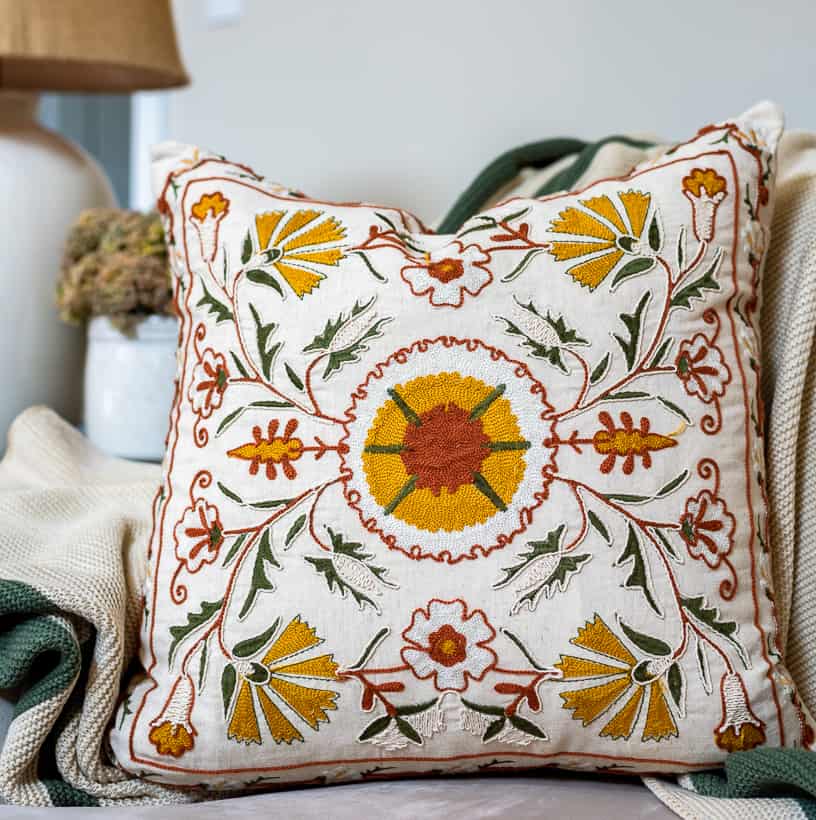 This is what I found during my research, in no particular order:
velvet
layers
caning
tarnished or brushed brass or gold
candles
chunky knits
lanterns
organic and natural
leather
plaids and checks
rich, saturated color combinations of burgundy and chocolate, dark pumpkin and brown, blush, terra cotta
Here's how all of the items that I've gathered look together. I don't know why the stripes in the throw are showing up as gray because they're definitely olive green.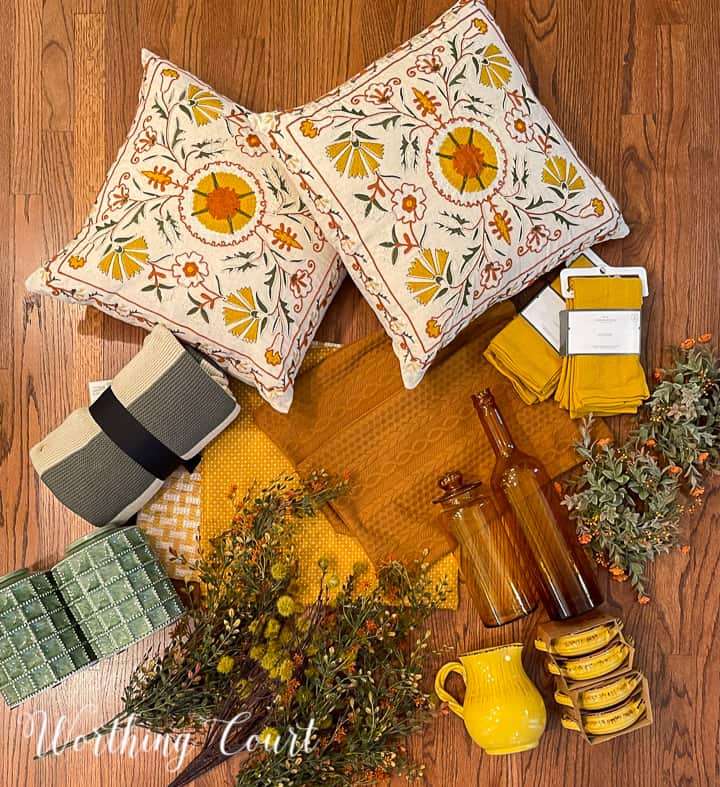 If you examine this list closely, you'll see that much of what's on it has to do with texture, not just fall colors. If you've been following me for a while, then you already know how I feel how the importance of including texture when you decorate your home!
While my decorating plans don't hit every single trend (and they shouldn't!), I do believe that I'm on trend with several of them.
I'm including texture in the knit of the fabulous olive green/cream-colored striped throw and the crewelwork pillows that inspired my whole color scheme this year.
I'm using rich saturated colors of mustard, rust, brown and olive green.
I'm including natural elements in the form of dried florals and wood elements.
I'll add layers with throws, pillows and by how I arrange different decor elements.
Do you like to plan your seasonal decorating ahead?