House Tour – The Laundry Room
Hi everyone! Today I want to show you my laundry room.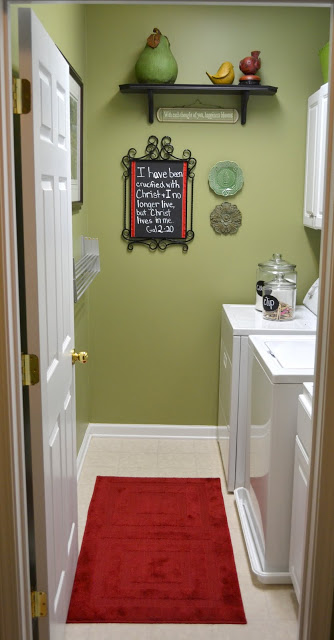 I think that I've mentioned before that our house was a builder's spec house. Everything was painted off-white. Now I know that so many of you love neutrals (and I have seen many gorgeous neutral rooms), but that just isn't me. I have to have some color!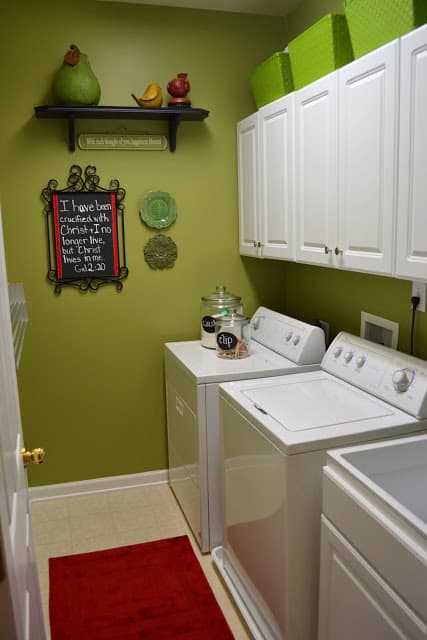 This print, by artist William Mangum, served as the inspiration for the decor of this entire room.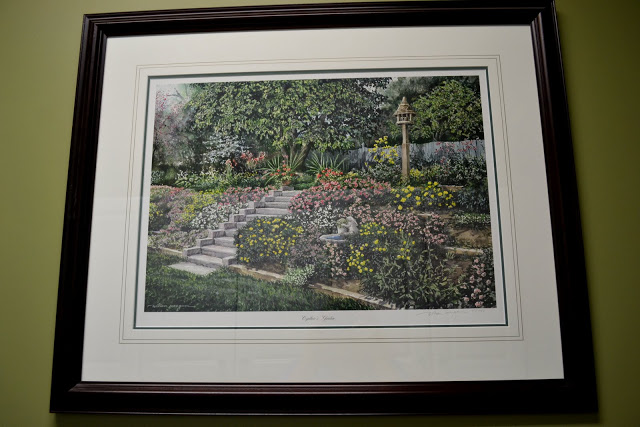 It is titled "Cynthia's Garden" and I just love it! It was the very first Christmas present that Pookie ever gave me. Want to know why I love it so much? Look closer.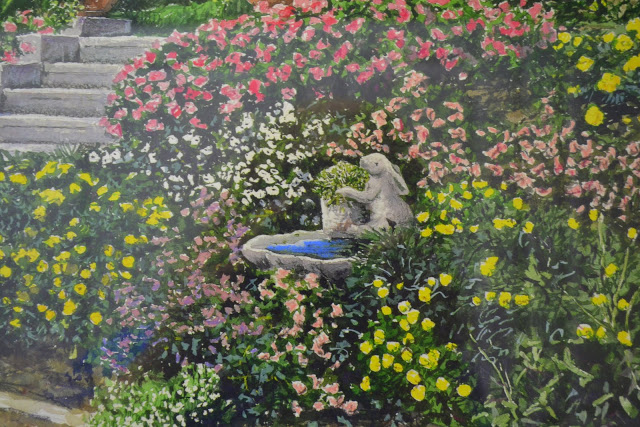 Pin
It's that bunny! I first told you here about my love of bunnies.
If you aren't familiar with William Magnum, I urge you check his work out – especially if you are from or live in or just plain ole love North Carolina.
Not only was this room painted off-white when we moved in, there was only a wire shelf above the washer/dryer and the worst excuse for a laundry sink that you ever saw. It didn't take long for Pookie to replace the wire shelf with these
ready-made cabinets from Lowes.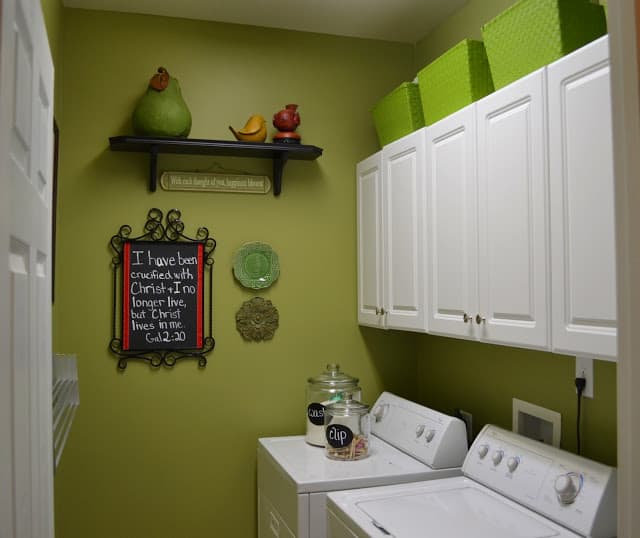 The baskets up on top came from Target and hold extra paper towels, lightbulbs, napkins and stuff.
We replaced the ridiculous laundry sink with something better. We found a close-out base cabinet at Lowes, purchased a laundry sink and dropped it in. Pookie raised it up a little so it wouldn't be so hard on my back when I wash the dogs.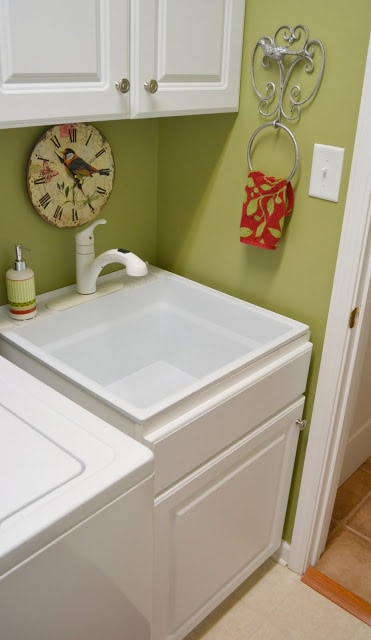 Here's a shot directly from the front.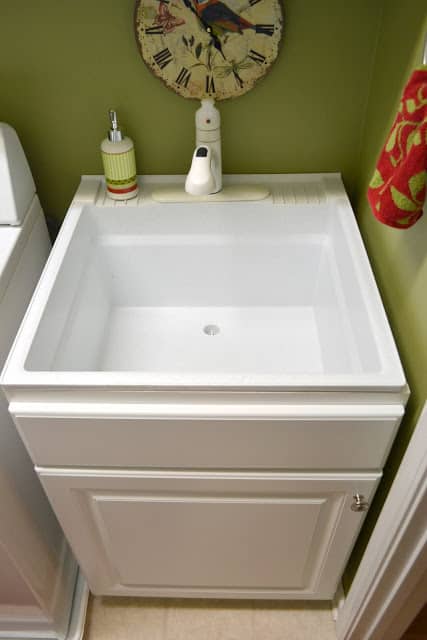 UPDATE: The cabinet that the laundry sink is in measures:
Outside dimensions are 24″ wide x 24.75″ deep.
Inside dimensions are: 21.5″ wide x 19.5″ deep.
Do you love that little birdy clock? I'll do a feature one day about the place where I bought it for a song.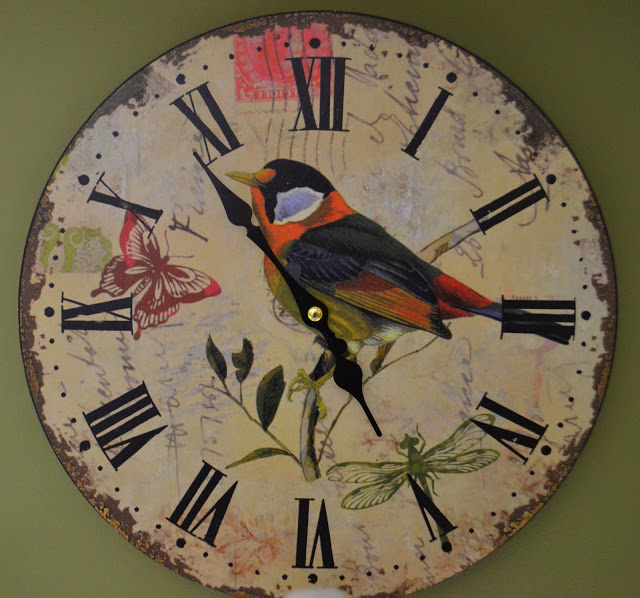 The towel holder was a Goodwill find. I think that I found the fingertip towel at Target.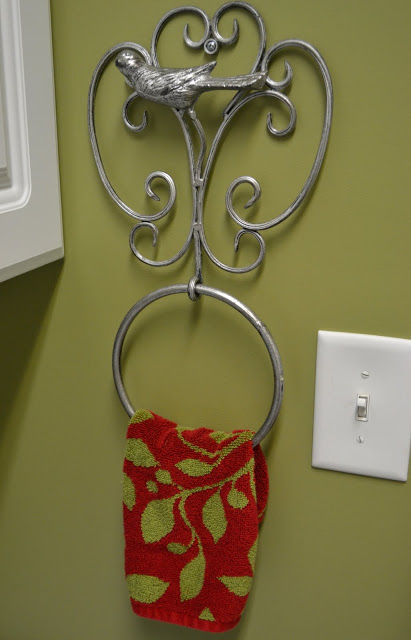 Let's take another look at the wall where my inspiration is located.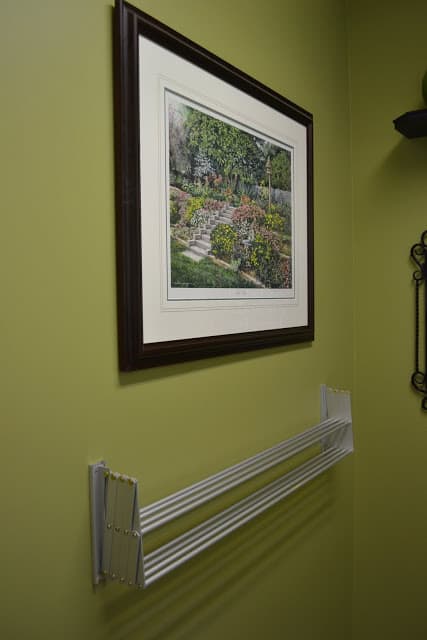 Wonder what that thing is below the picture? Why, it's only the hardest working thing in the room – after the washer/dryer, that is. It's an aluminum, expanding clothes rack. It may not be as pretty as some of the wooden ones that I've seen, but y'all, it will hold a ton of wet clothes.
I simply pull it out when I need to use it, then push it back against the wall when it's no longer needed.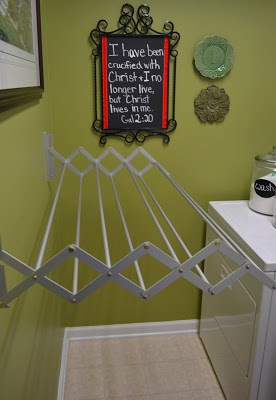 On the back wall, I originally intended to find and hang an old window frame with a mirror added to it. But once I decided to use "Cythia's Garden" as my inspiration, I had an "Aha!" moment. After raiding my stash of stuff and finding a few things at Goodwill, my garden theme came together.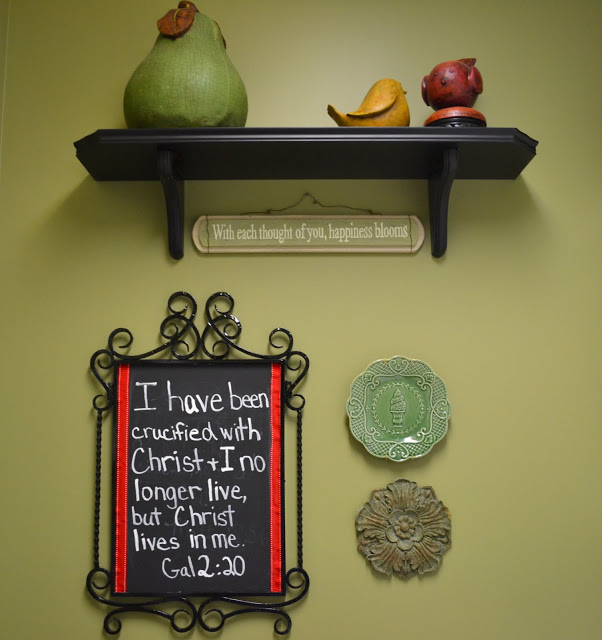 The shelf was originally white and was a Goodwill find. I found the little sign below it there too. It says "With each thought of you, happiness blooms". Awww. The giant pear and fat, little birdies were found on clearance at Lowes.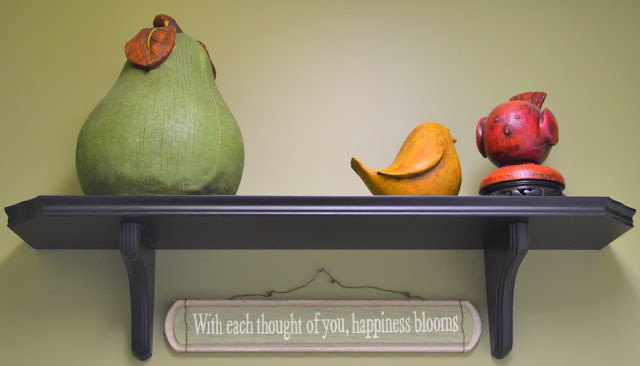 The chalkboard was also a Goodwill find. It's really a mirror with a silver frame. I painted over the mirror with chalkboard paint, painted the frame a glossy black and hot glued red ribbon down each side. Now I use a chalk pen (love those things!) to change out scripture that I want (or need!) to be reminded of.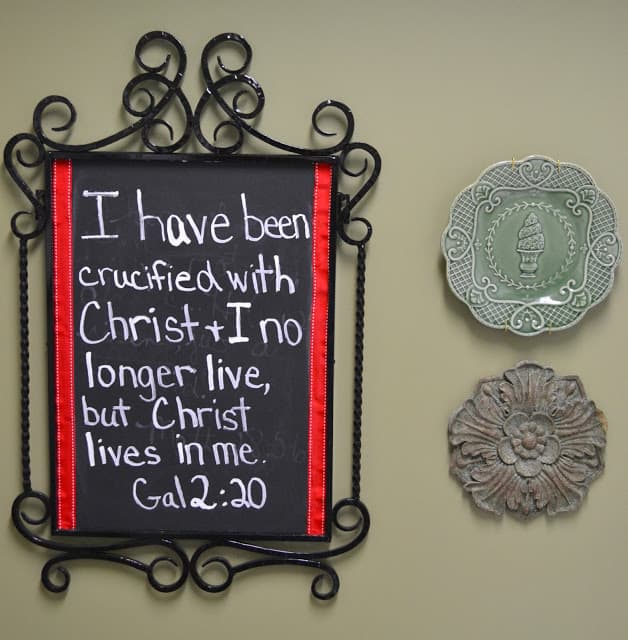 I stole the topiary plate and garden plaque from my stash.
And lastly, the most recent addition are these two jars that I purchased at Walmart, One holds my washing powders (that's laundry detergent for you non-Southerner's) and the other holds clothespins. I cut oval shapes out of some black vinyl that I already had and wrote on them with the chalk pen.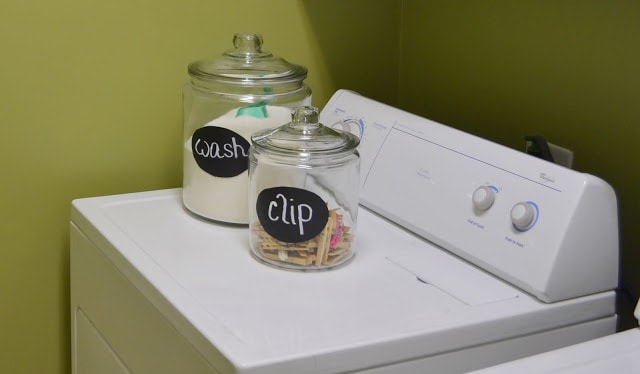 Well, that's it. Hope you enjoyed this tour of my little laundry room!