5 Ways To Decorate With Baskets – Some Of Them Might Surprise You!
Decorating with baskets is one of the easiest ways to add style, show off your personality and add texture and beauty to any room!
Pin
Baskets aren't just for using as trays or for filling with plants. You'll love these 5 easy ways to use them throughout your home. Some of them might surprise you!
Baskets are one of the #1 items that I recommend keeping in your Home Decor Wardrobe. They can be very affordable and come in an almost endless array of shapes, sizes and colors!
When I'm out shopping and run across a pretty basket that's different from anything I already own, I'll usually pick it up to add to my stash because I know that I'll eventually use it somewhere in my home.  😀
BASKETS AS A SIDE TABLE
Looking for an affordable alternative to a side table? A basket, that has been turned upside down is a great solution that I've used several times in my own home! It also is very unique!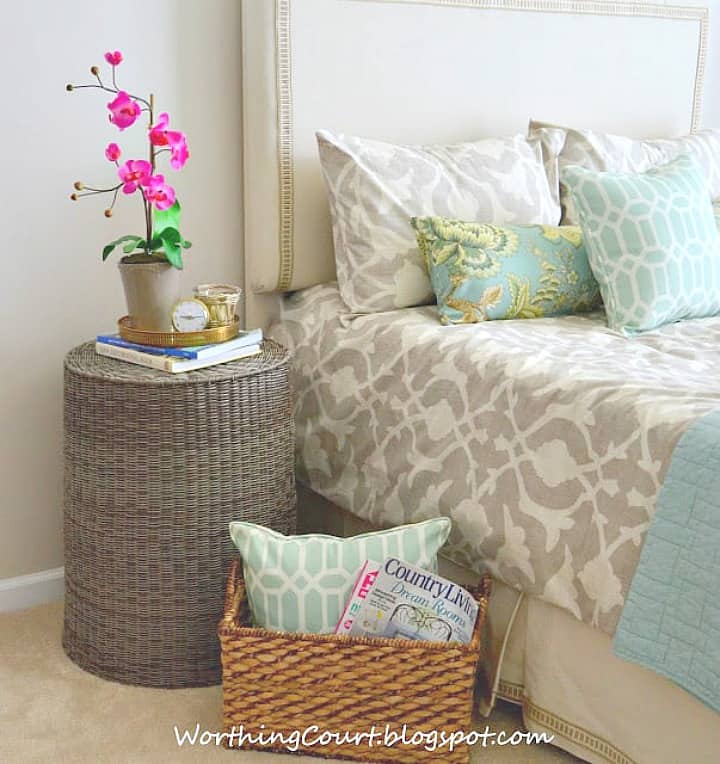 Pin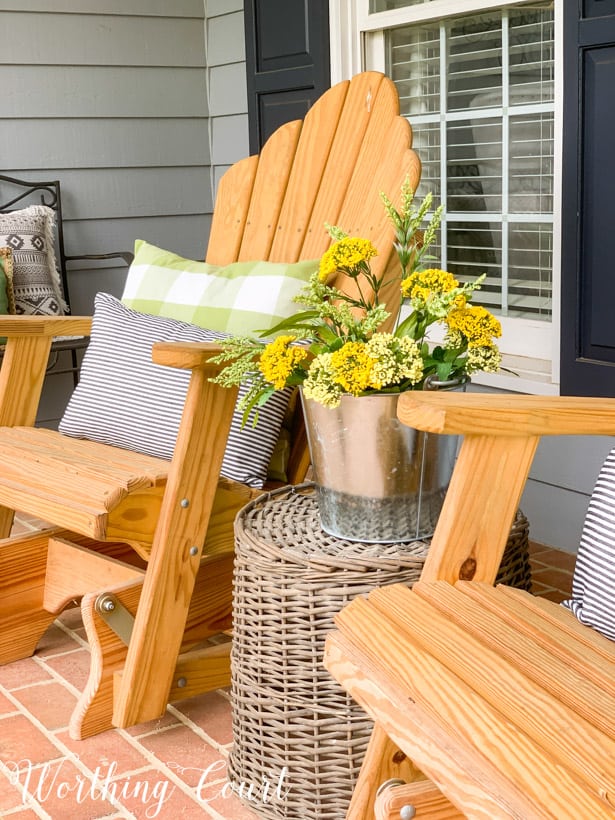 Pin
BASKETS AS WALL DECOR
Baskets with low sides make great wall decor! They can be grouped together or displayed individually and are a great alternative to a traditional piece of artwork.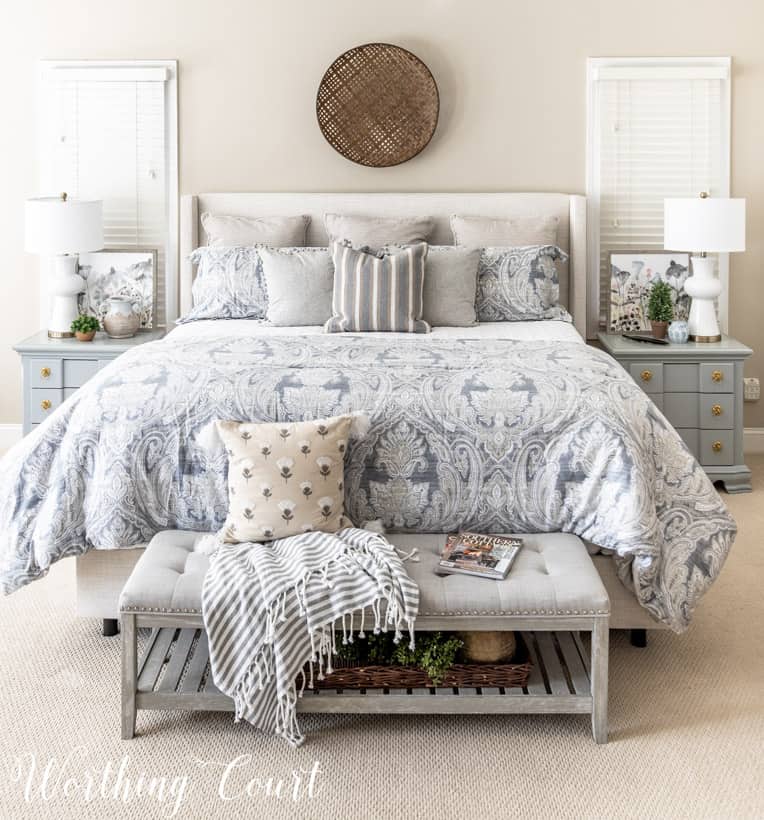 Pin
They're also perfect for tucking into a small spot where you need just a little something.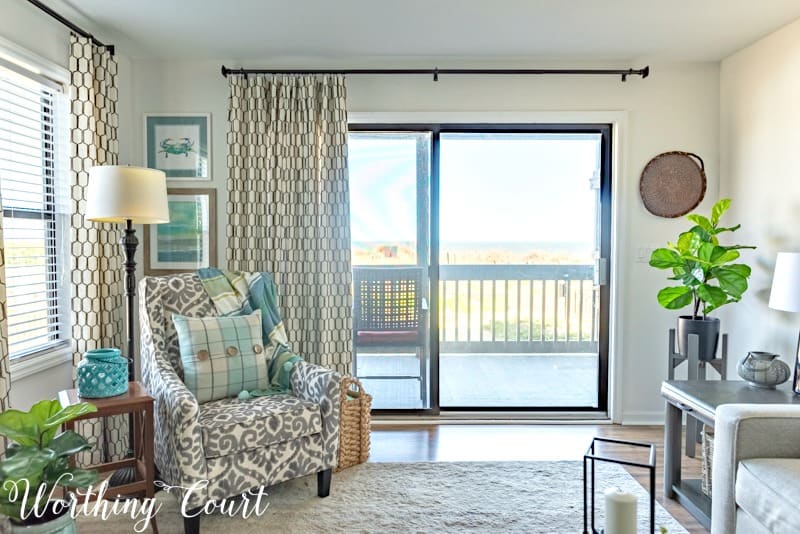 Pin
I love to use long hanging baskets, filled with greenery or summery florals on my walls too!
Pin
BASKETS TO ADD HEIGHT
If you have a bookcase or a cabinets that seem just a little too low, adding baskets to the top is a great solution. Not only are they decorative, but they can actually be functional if you don't need to access what is stored in them very often.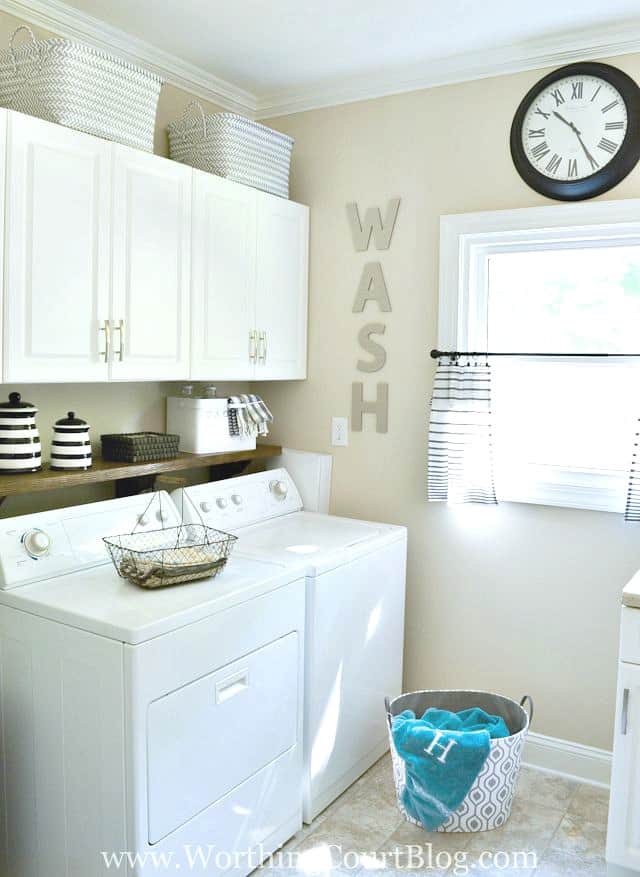 Pin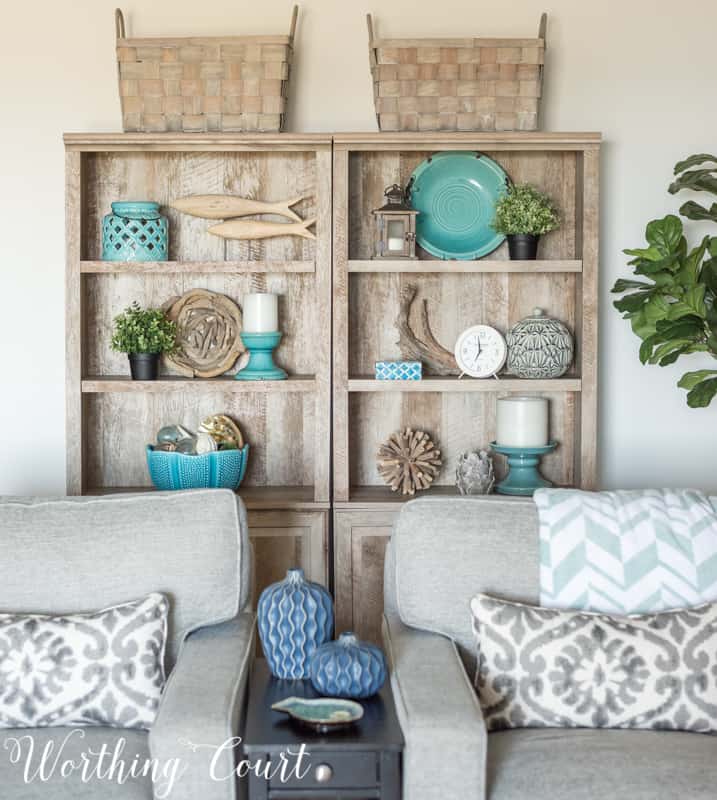 Pin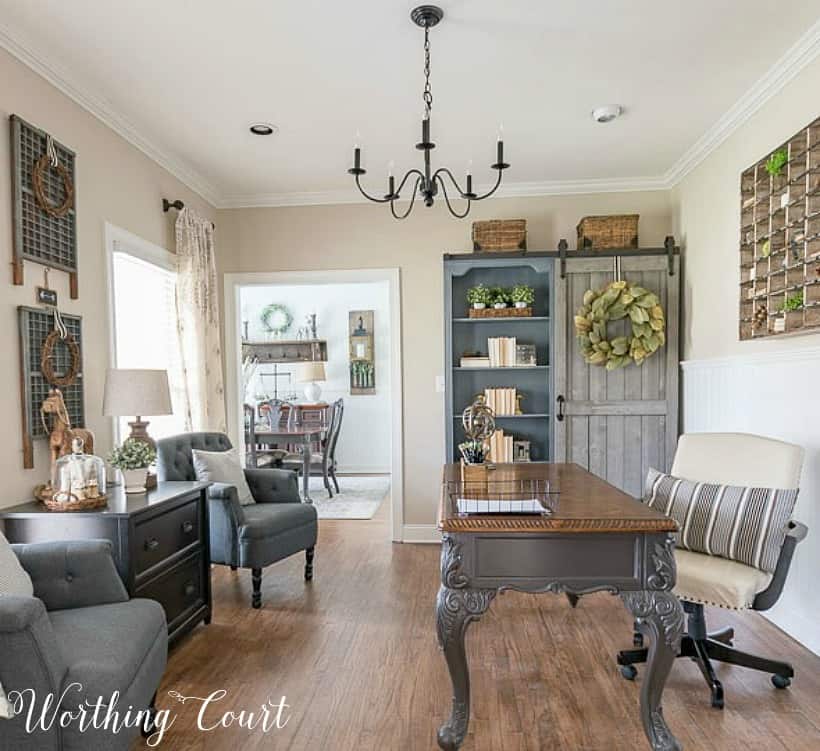 Pin
BASKETS AS A BASE
When creating a centerpiece or a vignette, I always recommend using something to act as a structure or base and to visually corral the items together.
Placing your items in a basket will immediately draw the eye and give the display a sense of importance, especially when combined with the rest of the decor in the room!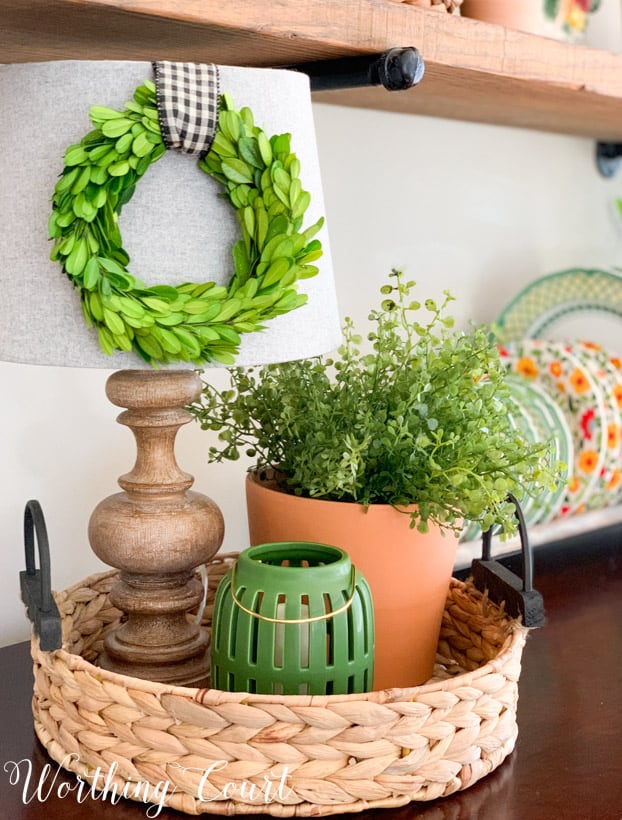 Pin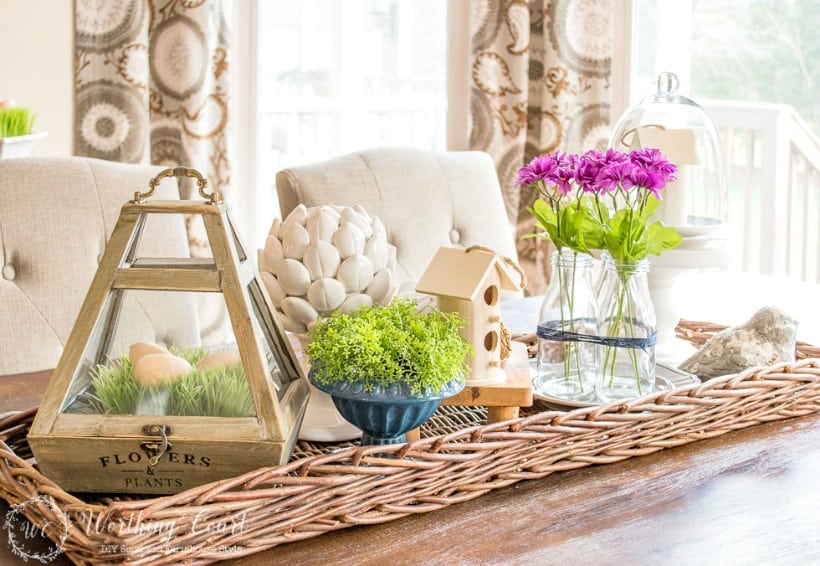 Pin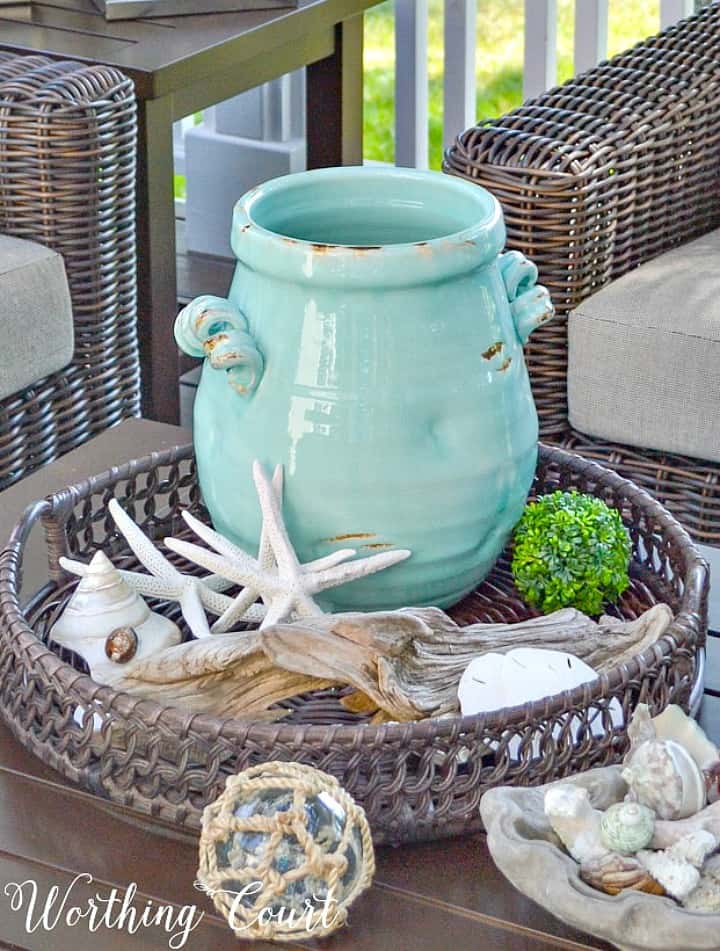 Pin
BASKETS AS A DISGUISE
Using a basket to disguise something unsightly in a room is a great decorator trick!  For example, I accidentally hung these draperies too high (they're several inches off of the floor), but since they're really only visible from this end of the window, a strategically placed basket hides the problem.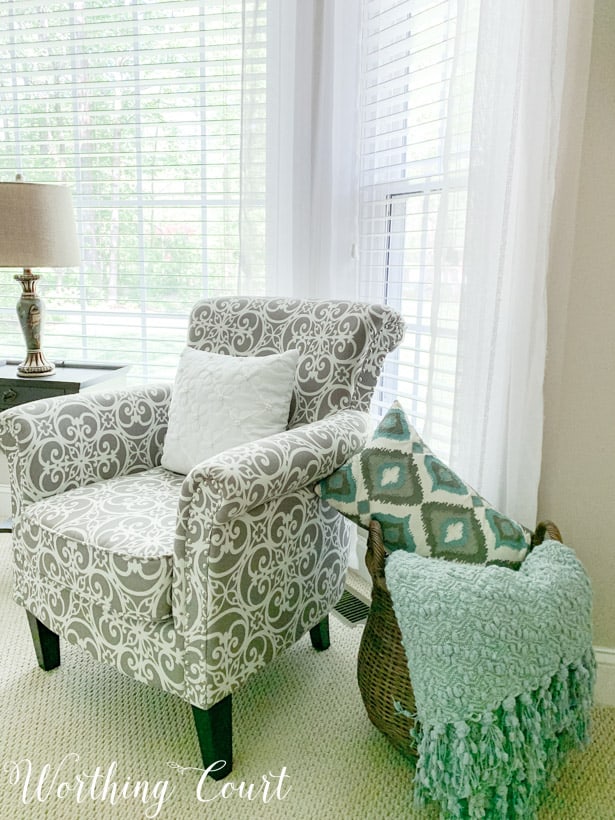 Pin
When we added remote controlled gas logs to our fireplace, I was super disappointed to find out that the receiver had to sit outside of the firebox.
No worries though – I simply make sure to keep a basket of some sort in front of it to hide the ugly little black box. You'd never know it's there and the remote still functions just fine.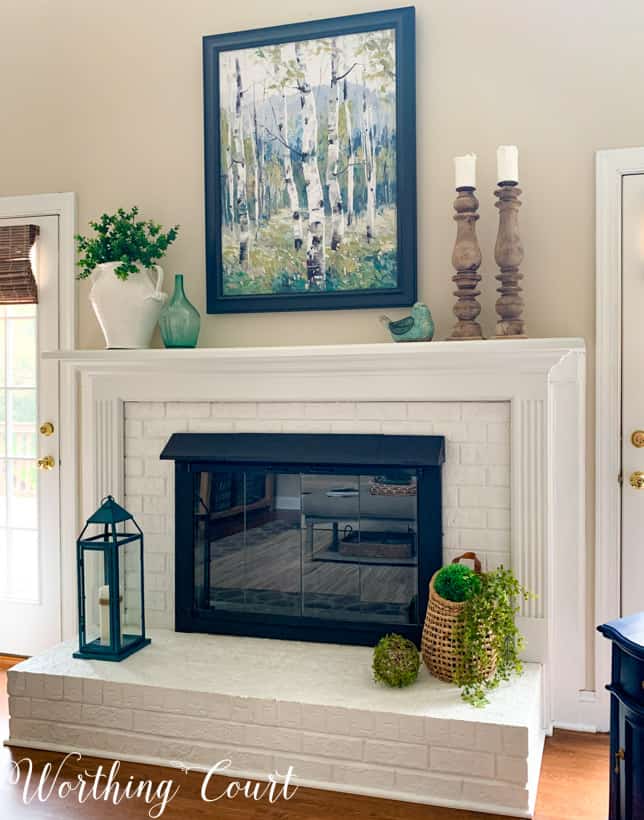 Pin
Do you have any unique ways that you use decorative woven baskets around your home?