How To Paint Furniture For A Farmhouse, French Country, Cottage Or Shabby Chic Look
I am sharing with you the best way to paint furniture for a farmhouse, French Country rustic look!
Step-by-step directions for how to paint your dark and dated furniture for a Fixer Upper style, farmhouse, French country, cottage or shabby chic look.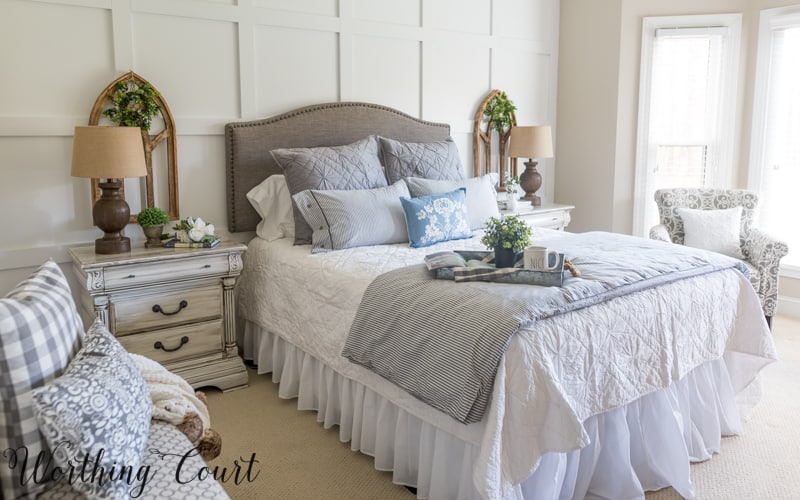 Affiliate links have been used for some items, which allows me to make a small commission from your purchase, but at no additional cost to you.  See my full disclosure HERE.
If you caught my guest bedroom makeover update a few days ago (you can read that post HERE), then you've already had a peek at the makeover that I gave to my fake cherry finish furniture with paint.
Below, you'll find my step-by-step video and the products and colors that I used, but first let's take a look at the beginning.  This is what the room and my dated furniture looked like before I started.  When we moved into this house, three years ago, I brought the bedroom furniture that I already owned with me and placed it in our guestroom.  The room stayed this way until I finally got around to giving it its makeover.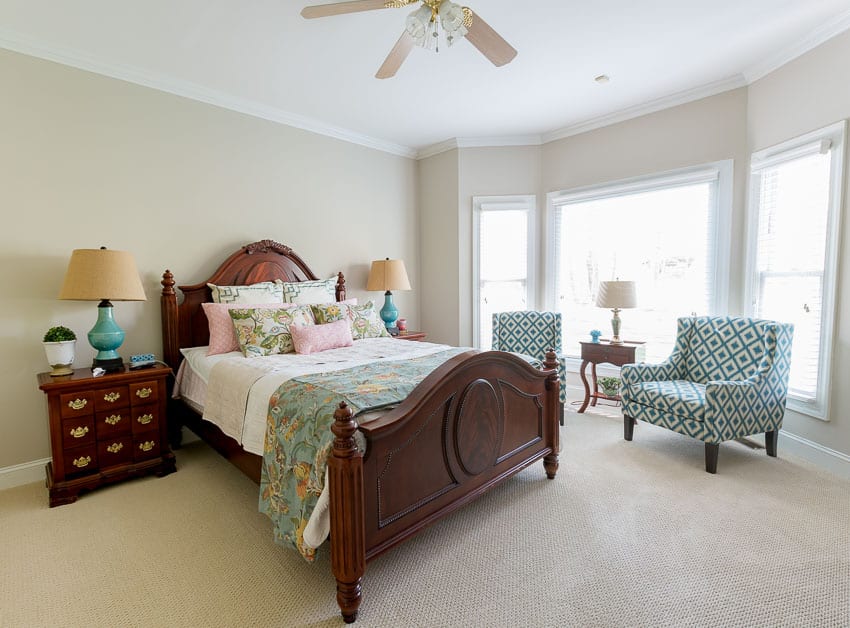 I created a mood board for the room, to help me get started (you can see the mood board HERE), but I started second guessing myself when it was time to actually get started.  I even went live on Facebook asking for your opinions about how I should paint my furniture.  Y'all were awesome and gave me SO many wonderful suggestions for what to do!  Take a look at the video HERE.  Some of you even sent me pictures of great ideas that you had, which was really helpful and actually sparked the idea for what I wound up doing to my furniture.
The nightstands that were originally in the guest bedroom are not the ones that actually go with this furniture, so I swapped them out and brought ones that matched back in.  I originally planned to keep the bed, but in the end I decided that it was just too bulky and took up too much space in the room, even though you really can't tell that in the before photo.  Plus – I didn't want every single piece of furniture to be painted.
Unfortunately, I don't have a before photo of the nightstands, but they were the same fake cherry finish as the ones in the before picture above.  You can see what they originally looked like in the video below.  And here's what they look like today!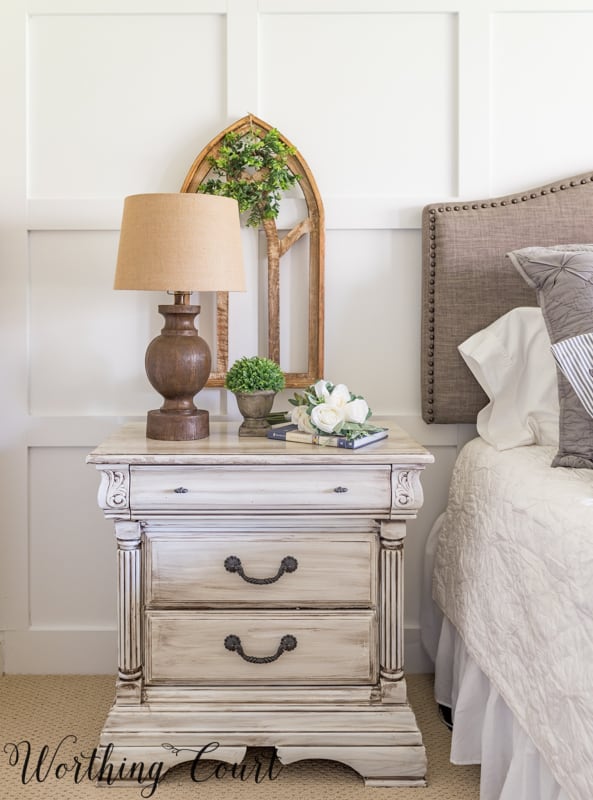 I love the beautiful white washed rustic look!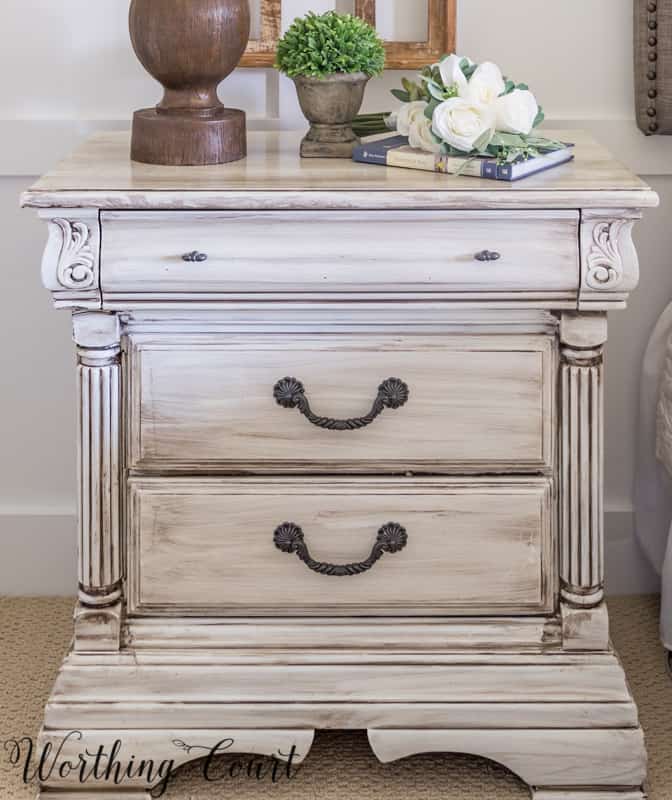 I'm so, so in love with how they turned out and I have all of you to thank for sparking my creative juices and helping me decide what to do!  I painted both nightstands the same and will be painting the dresser and mirror using the same technique.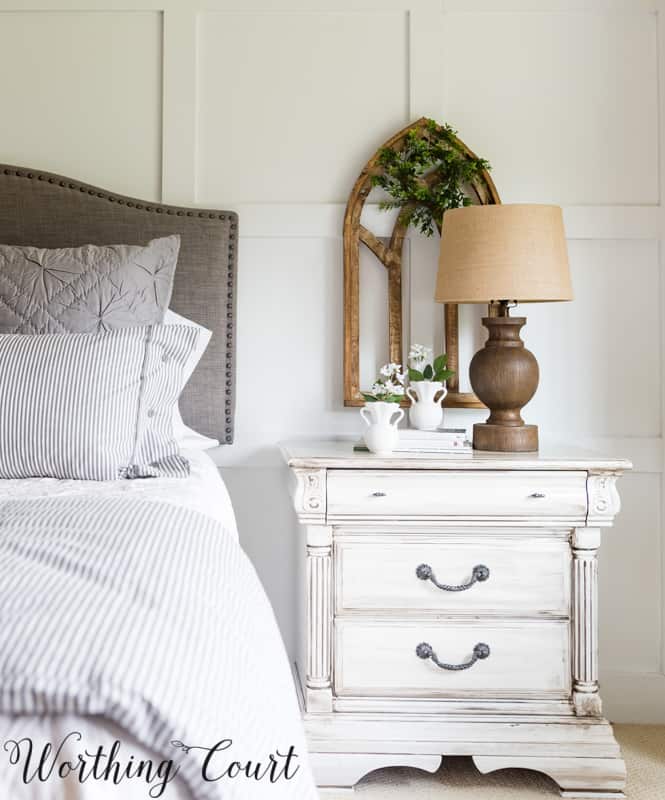 This is a very forgiving paint technique, so painting these was super simple!  I always get a ton of questions whenever I paint furniture, so I made a little video showing you exactly how I achieved this look.  You can watch the video below or click HERE, if you'd like to watch it on a larger screen.
PRODUCTS USED:
Sherwin Williams Duration Paint in two colors:
Extra White
A Custom Mix. The exact formula is in the photo below.
Hardware Paint: Rustoleum Soft Iron Metallic Spray Paint
Pre Paint Prep: Krud Kutter Gloss Off
Paint Brushes: These Purdy brushes are my favorite.
Paint Roller Frame: This Purdy roller frame worked like a charm and didn't clog or smear the paint!
Paint Rollers: These Purdy rollers are made especially to fit the above roller form.
Paint Pail with Handle: This paint pail is so handy and sure beats carrying around a whole can of paint.
Paint Pail Liners: I always keep a good supply of these disposable liners handy.
Painting Gloves: Non-Latex gloves for keeping your skin free from paint.
Here is the custom paint formula that I used for the "glaze" on this furniture and also used to paint the furniture in my dining room.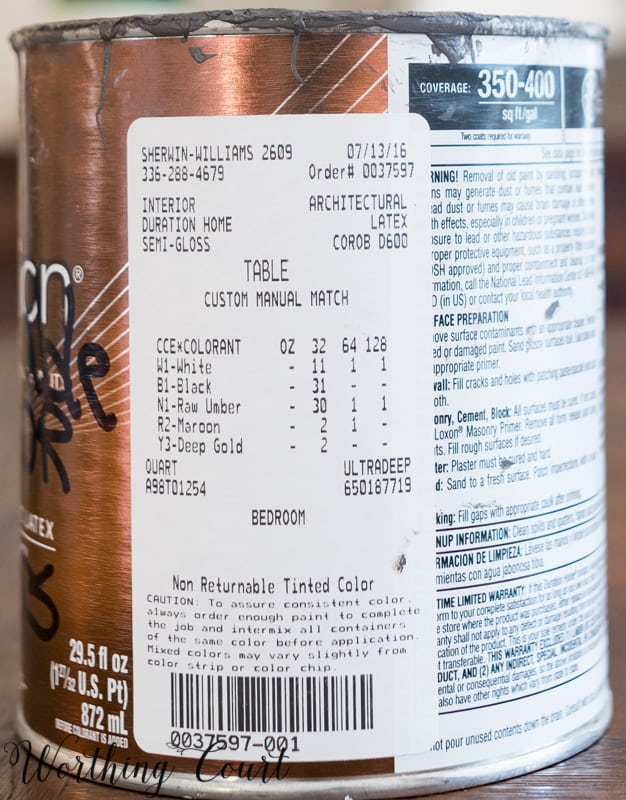 Happy painting, my friends!