My Screen Porch Is July 4th Ready!
July 4th is just around the corner and I'm happy to share my screen porch all decked out for Independence Day with you!  I'm tickled to be able to put all those patriotic crafts that I've shared over the last few weeks to good use.  I love vintage Americana and have managed to amass quite an assortment of chotchkies over the years.   I exercised restraint though and didn't use every single thing in my stash.  Some of it's kind of tacky.  lol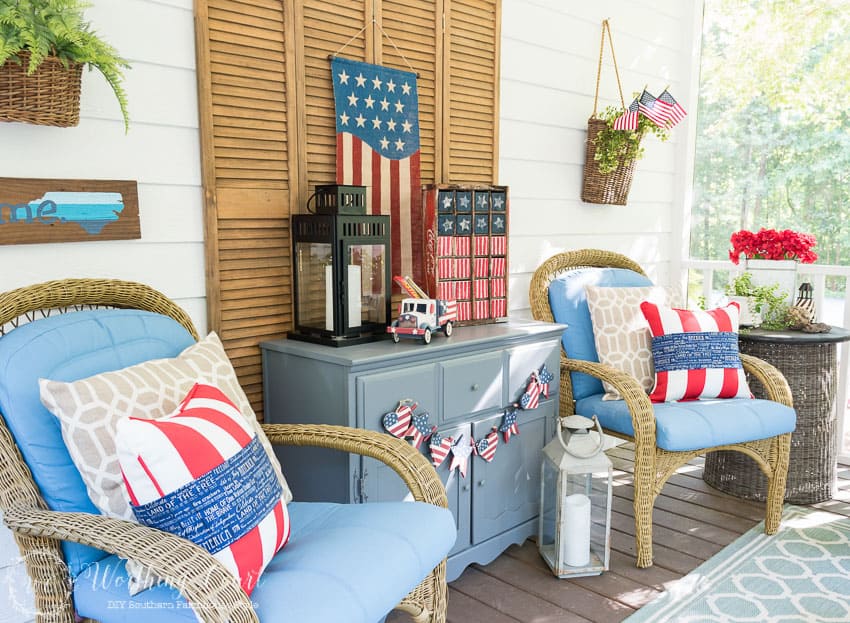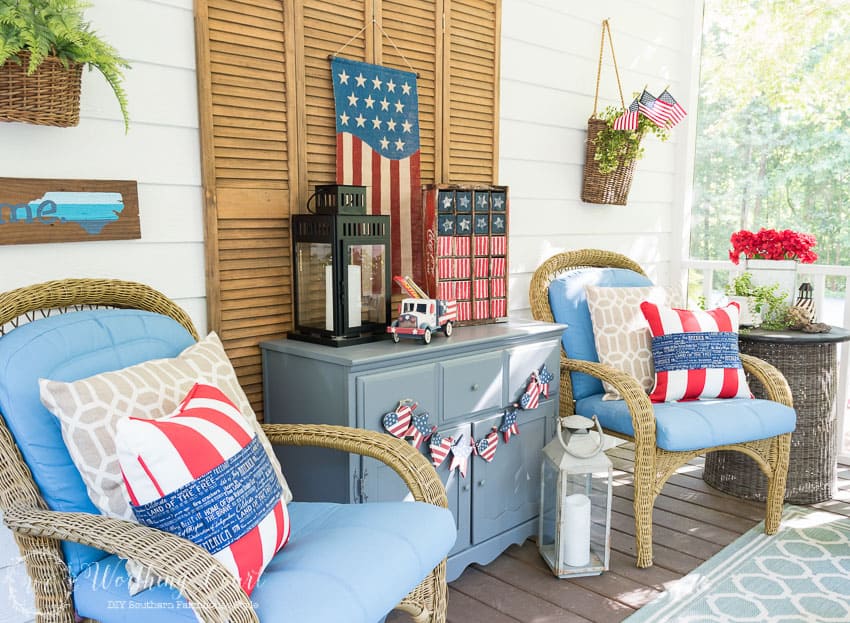 Pin
The first spot that I worked on is the side of the porch holding my chairs (with chalk-painted cushions) and the small chest that is actually the bottom half of my mother-in-law's kitchen buffet.  (Check out what I did with the top half HERE).
The black lantern came from Ikea, the burlap flag hanging came from Michaels, the painted blocks flag that fills an old Coke crate is one of the crafts that I shared recently and everything else came from my stash.  I sure do love using old bifold doors as a backdrop and wish I could run across more.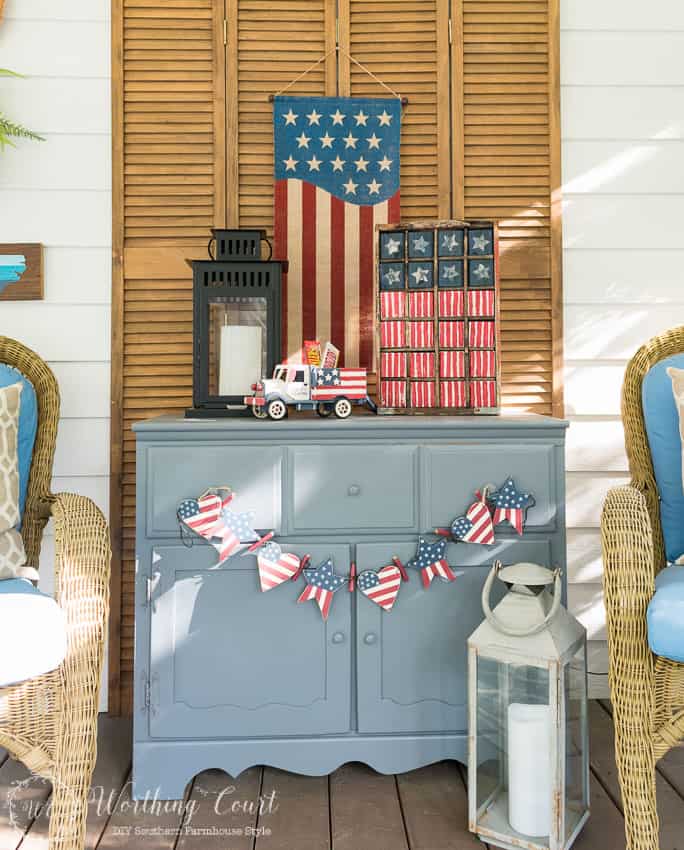 Pin
It was super easy to create a couple of patriotic pillows!  I purchased the red and white pillows (for a great price from HomeGoods) and simply wrapped them with a piece of patriotic fabric that is pinned with safety pins on the back side.  The neutral pillows came from At Home.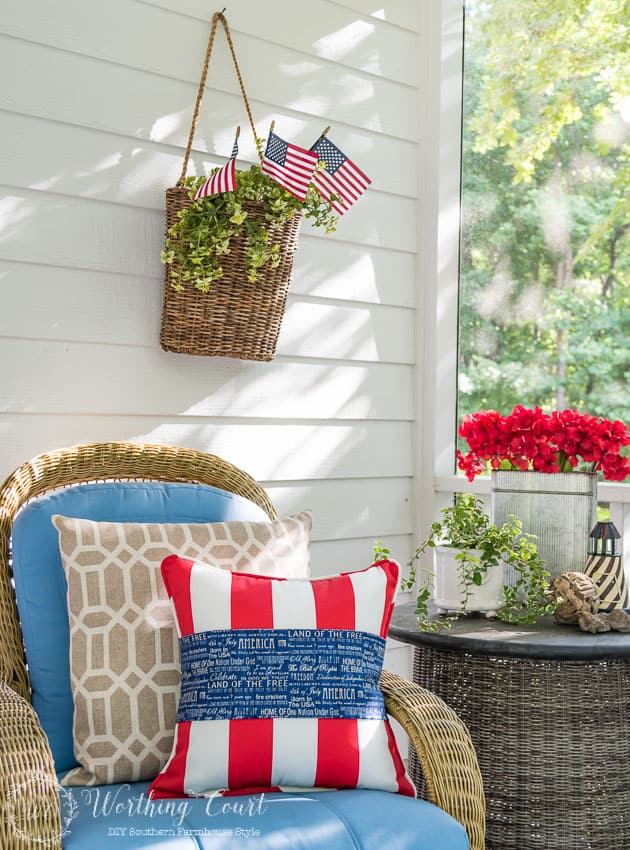 Pin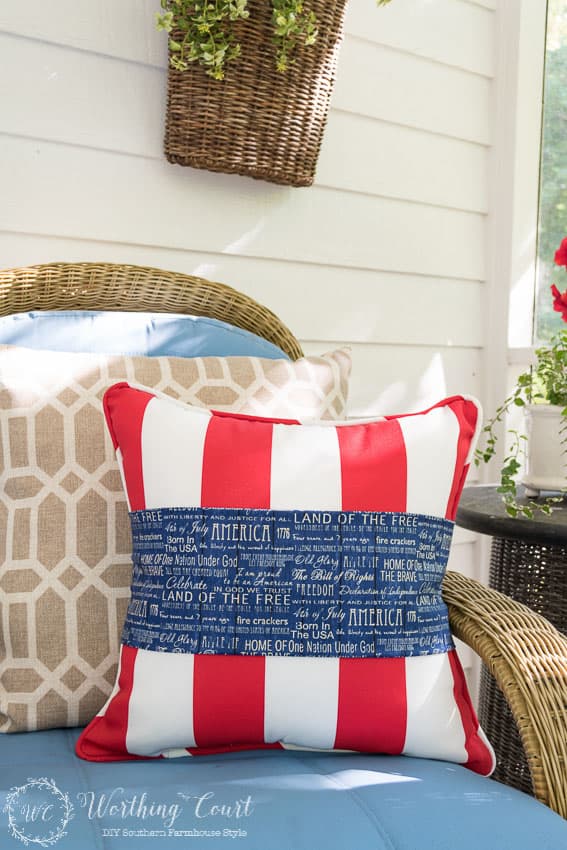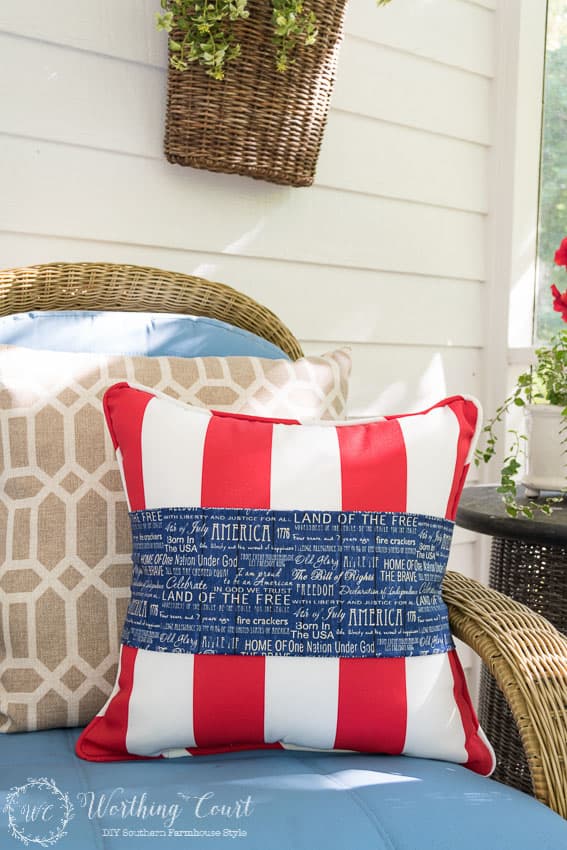 Pin
These wrought iron rockers are my fave chairs on the porch – so comfy!  A couple of outdoor poufs from Target act as a coffee table, when we aren't using them to prop our feet up.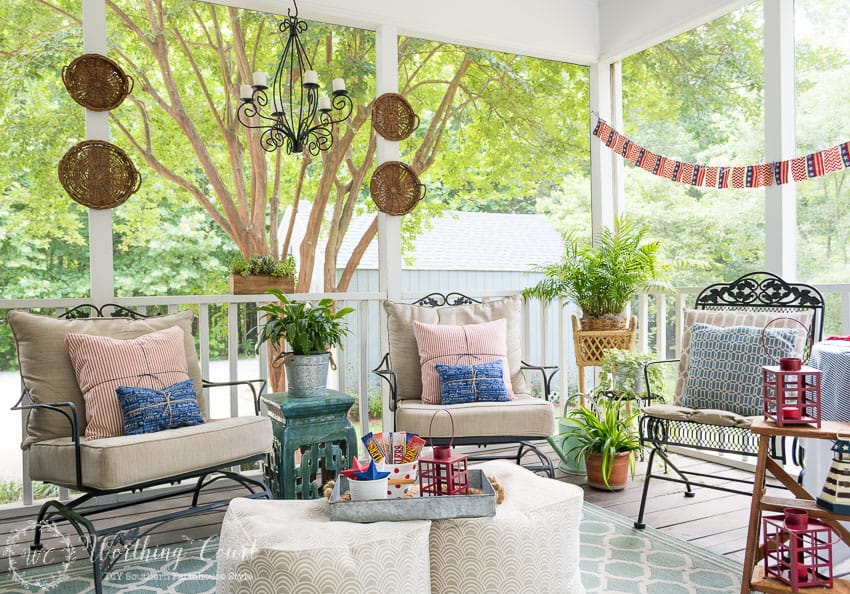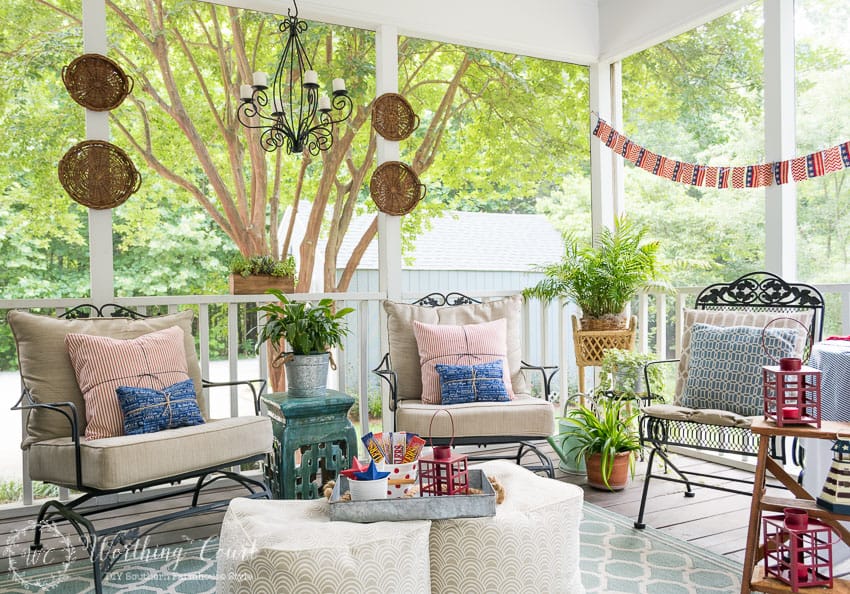 Pin
We're ready to celebrate with a bucket full of sparklers!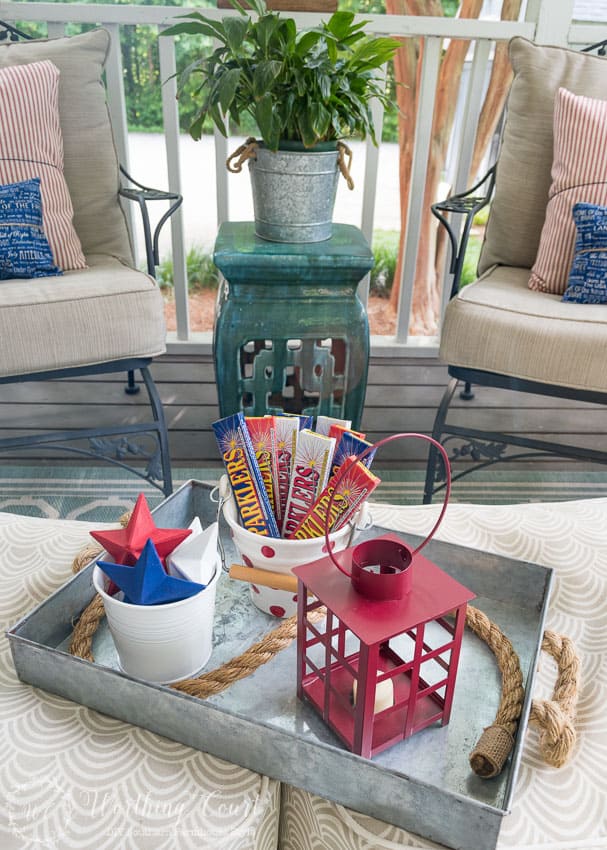 Pin
The pillows that normally live in these chairs were wrapped with red and white ticking fabric and with more patriotic fabric, then tied with twine to keep the fabric in place.  You'd never know that the smaller pillows are actually covered with snowflakes!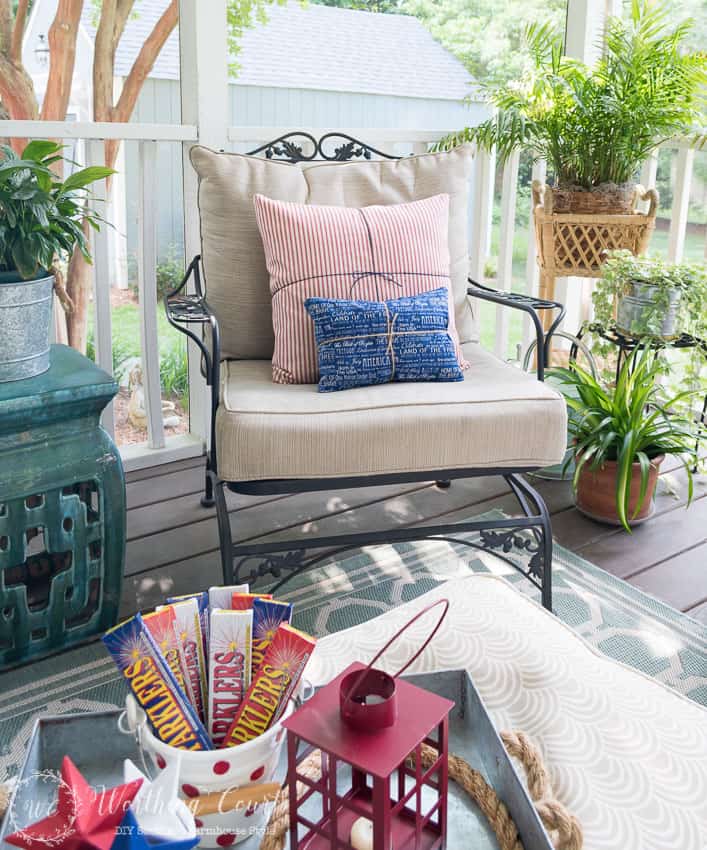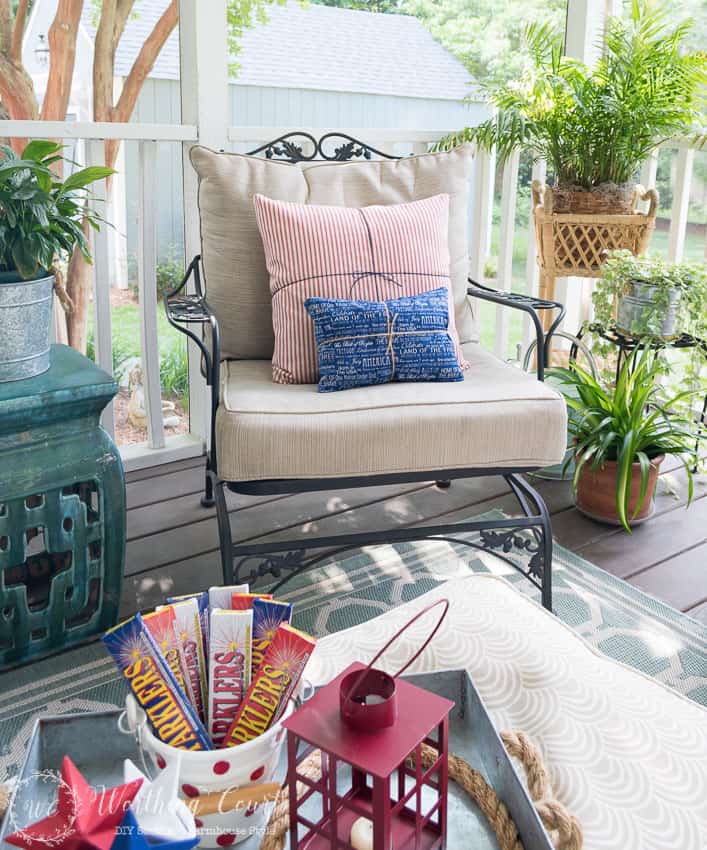 Pin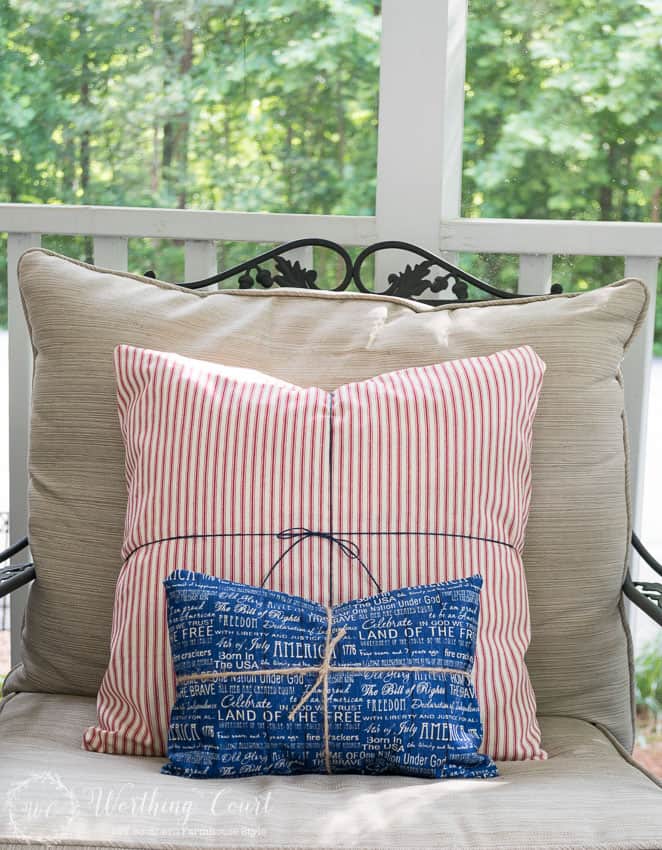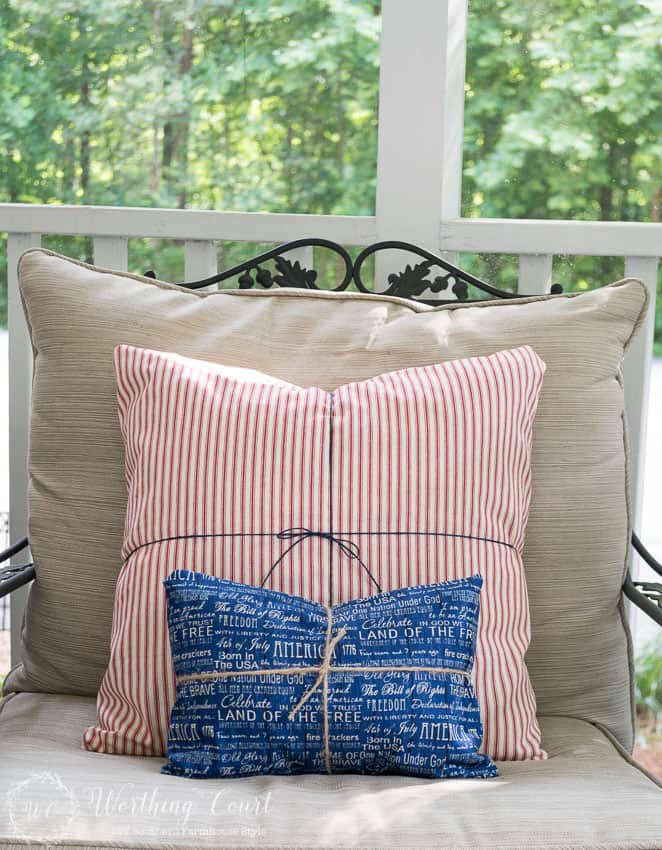 Pin
Our round table is all set for serving pimento cheese bacon burgers from the grill and for having ice cream for desert!  The table is set for four, even though I've only used two chairs in the photos.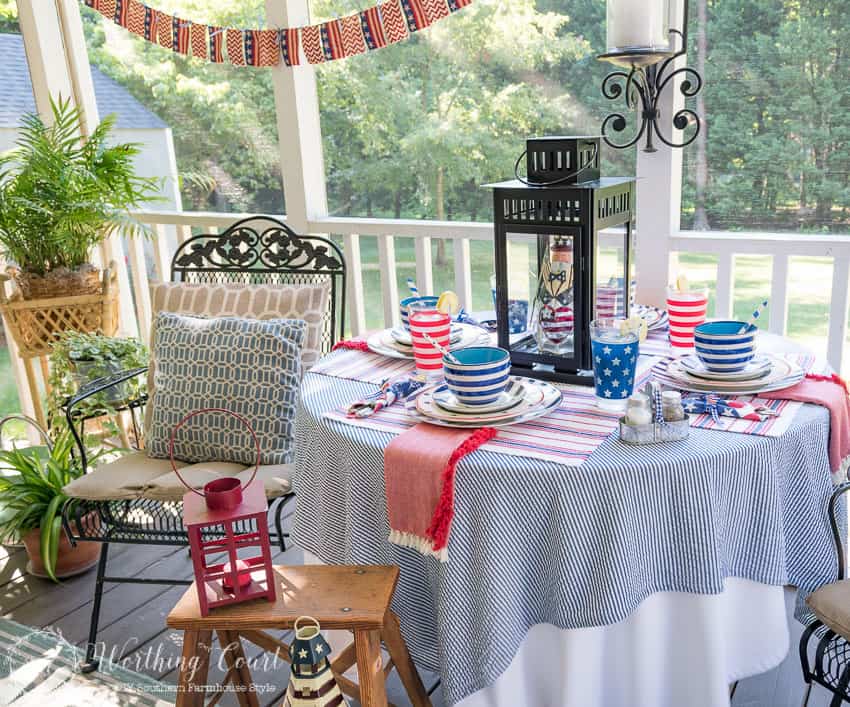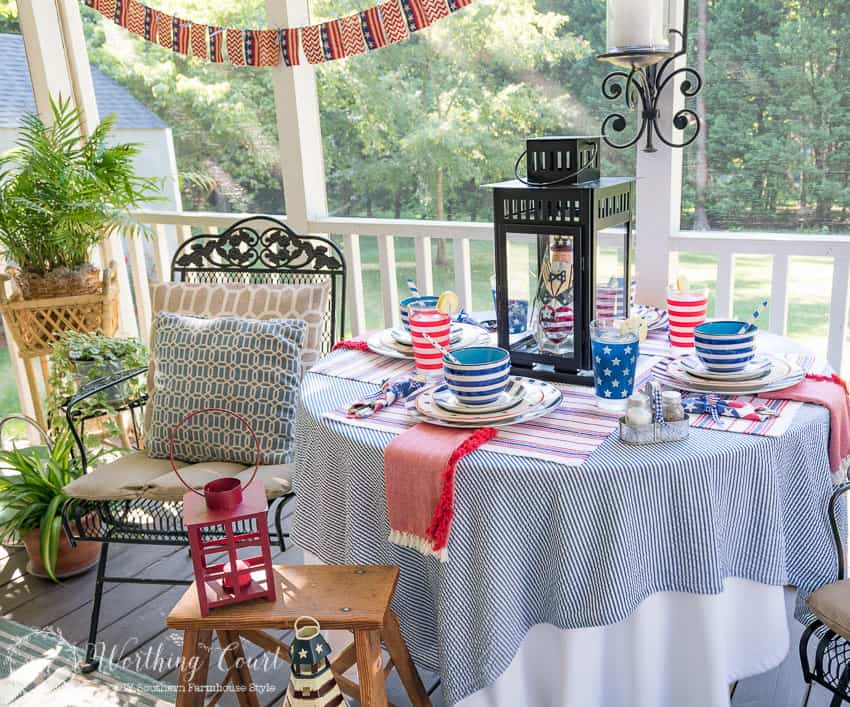 Pin
I knew when I made the super-duper easy flag banner garland that this is where I would use it.  It's makes a great backdrop to the setting.  Click HERE to see how I made it.  Trust me, this banner is easy enough for anyone to make!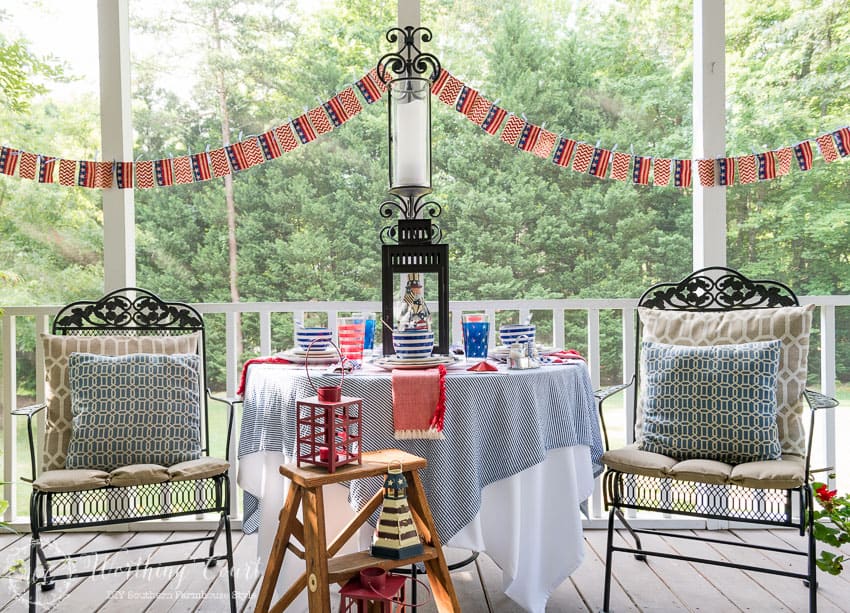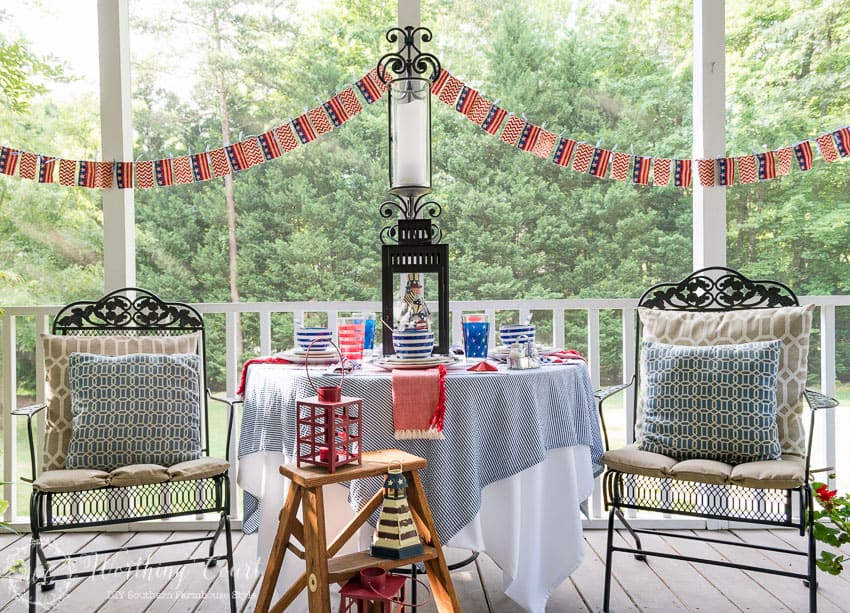 Pin
Let's see…the black lantern came from Ikea, all of the table linens, dishes and glasses came from HomeGoods (I hit them early in the season!) and everything else is from my stash.  Did you notice Uncle Sam hiding out in the lantern?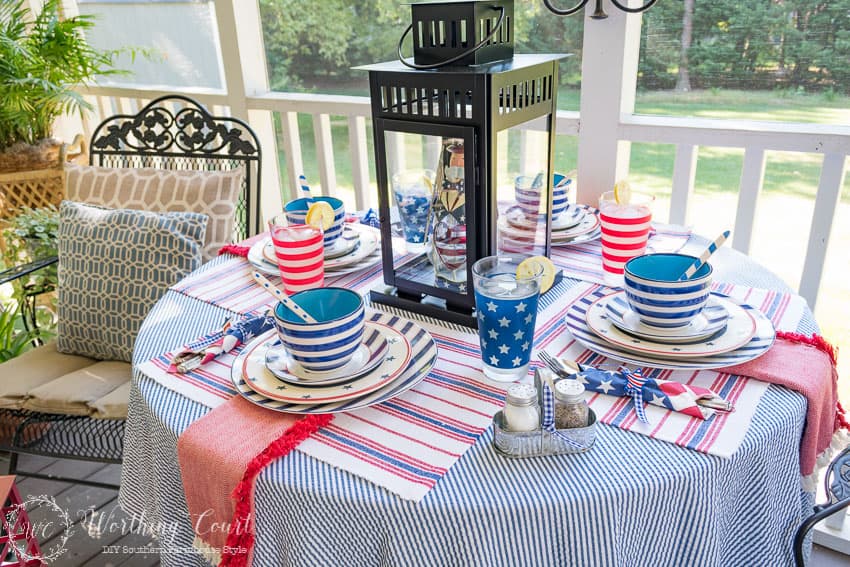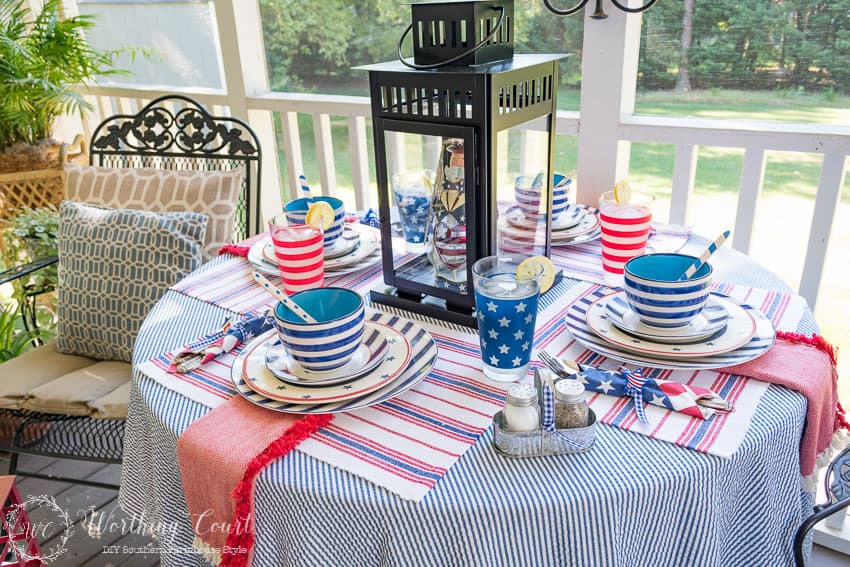 Pin
I love, love, love to layer linens and use stacks and stacks of dishes!  And how adorable are the wooden ice cream spoons???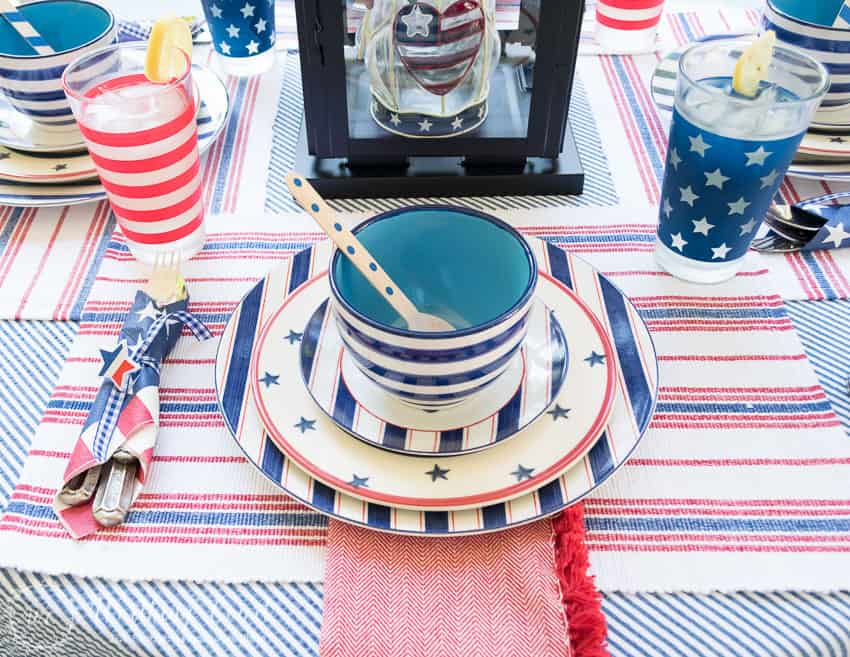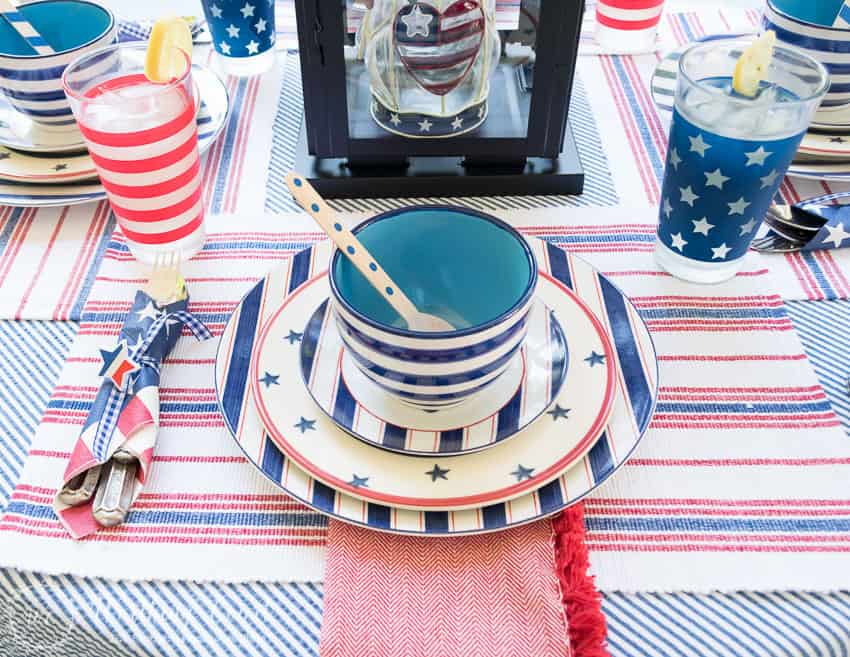 Pin
The packets of silverware are wrapped with a patriotic paper napkin and tied with a bit of ribbon.  Cute little plastic rings from Dollar Tree are clipped around the ribbon for an extra added bit of detail.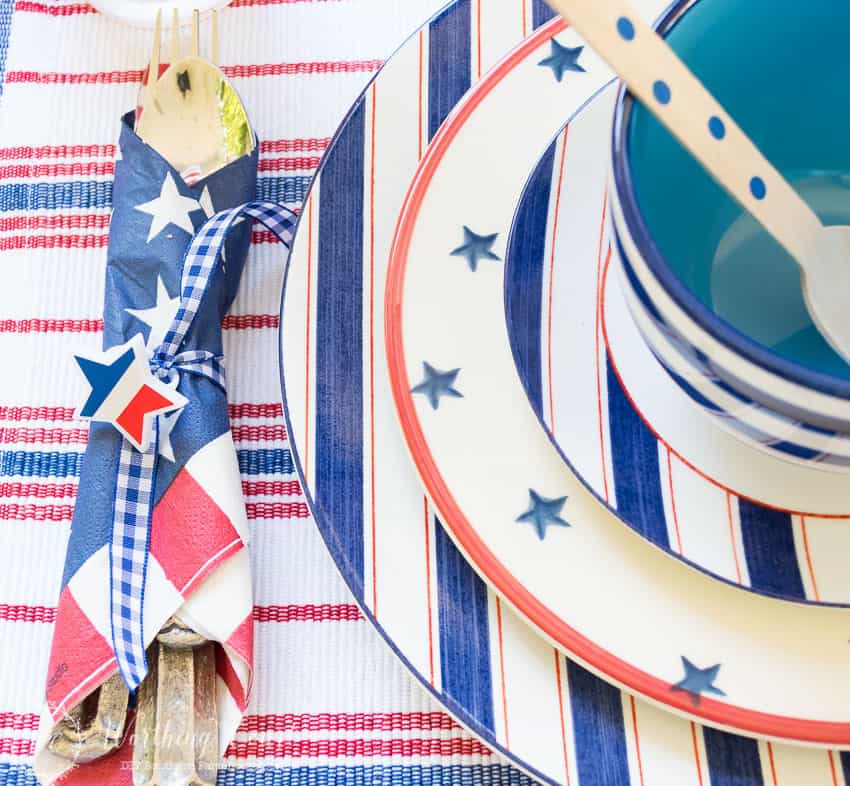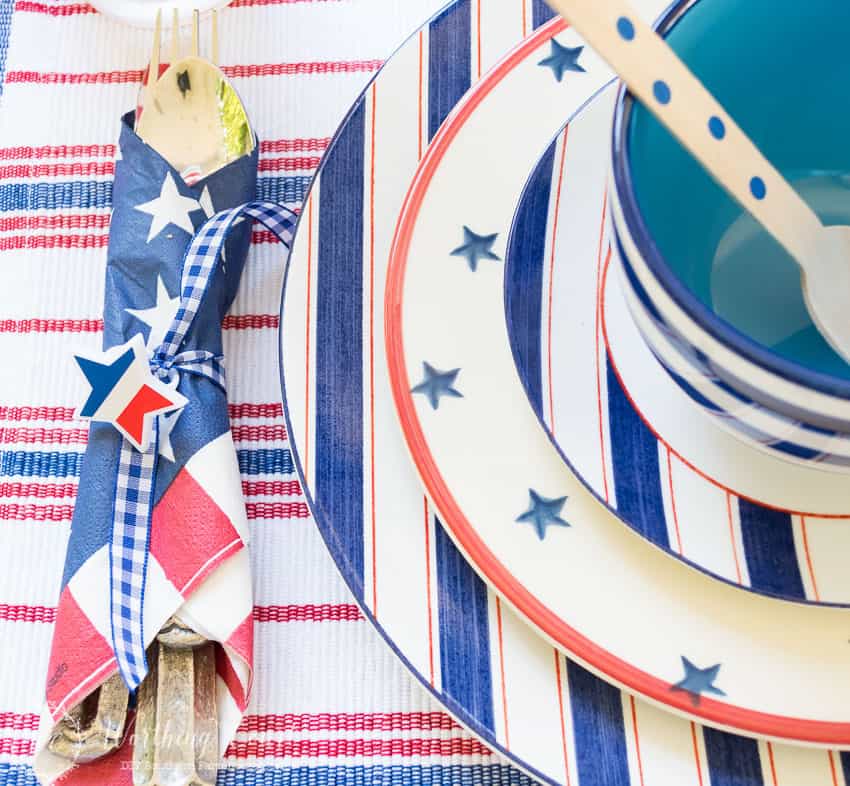 Pin
I set my vintage wooden stepladder in front of the table to fill in the empty spot where a chair will ultimately go, but it will get moved somewhere else once all four chairs are around the table.  I think that the red lanterns came from Target and the little lighthouse candle holder came out of my stash.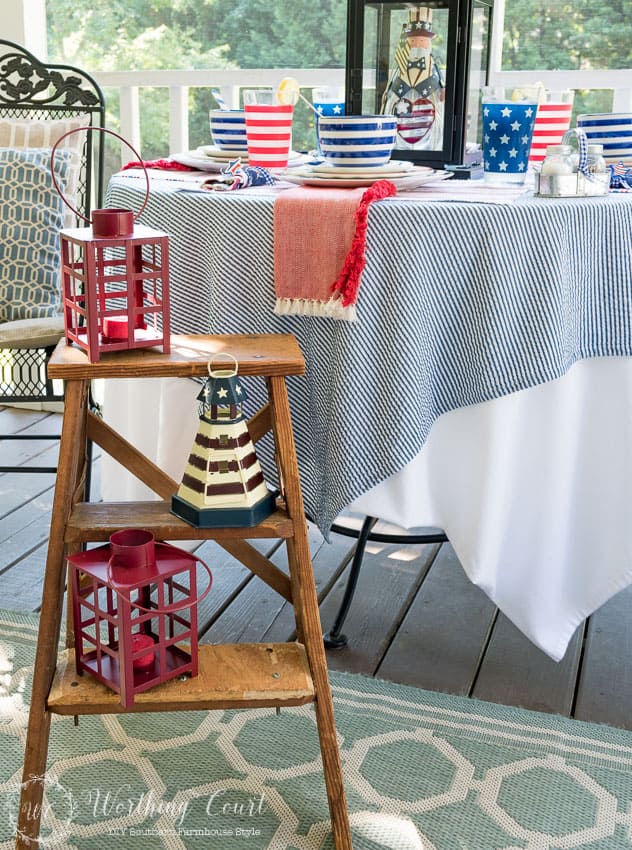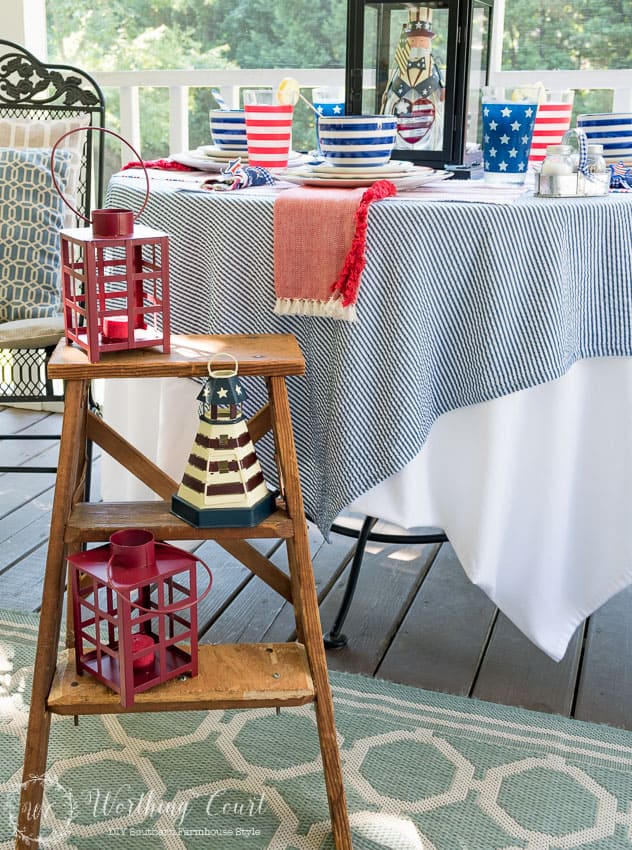 Pin
I added a couple more wrought iron chairs to the side of the porch that looks out over the deck since I first shared my porch with you (click HERE to see the before and after).  Nothing fancy, but the extra seating sure does come in handy.  Maybe you can see the birds at one of our feeders in the background.  We get quite a variety of birds visiting our feeders!  The bay windows that you see are where my breakfast nook is and makes a wonderful spot for bird watching.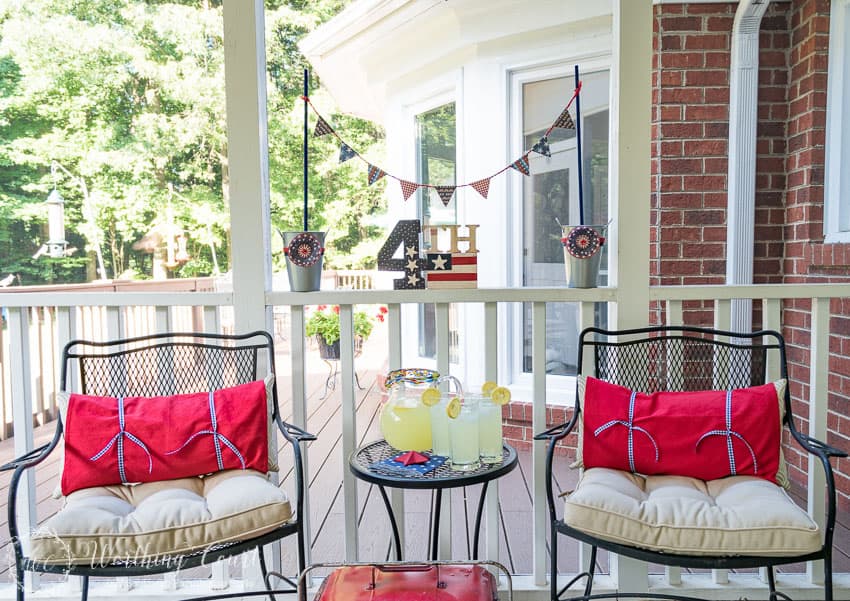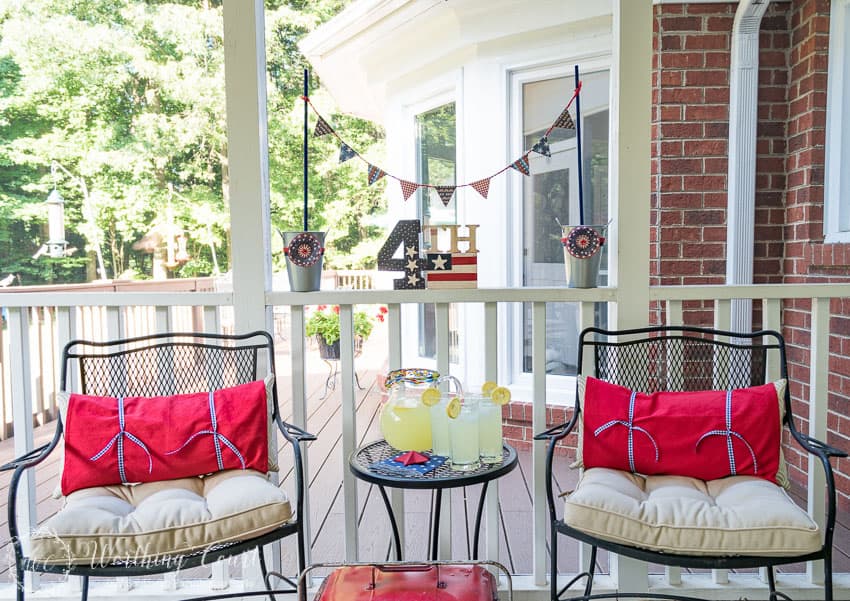 Pin
We're lemonade drinkin' ready over here!  I set my take-apart patriotic craft and a flag banner that I made and used at our previous home on the railing.  Click HERE to see how to make this fun take-apart craft and click HERE to see the vintage Americana vignette where I originally used the pendant flag banner and buckets.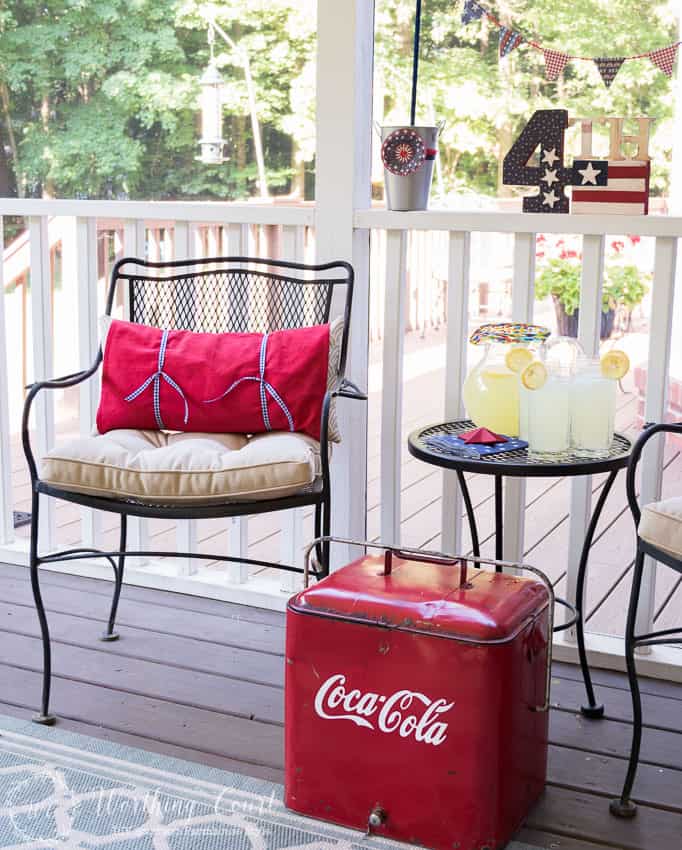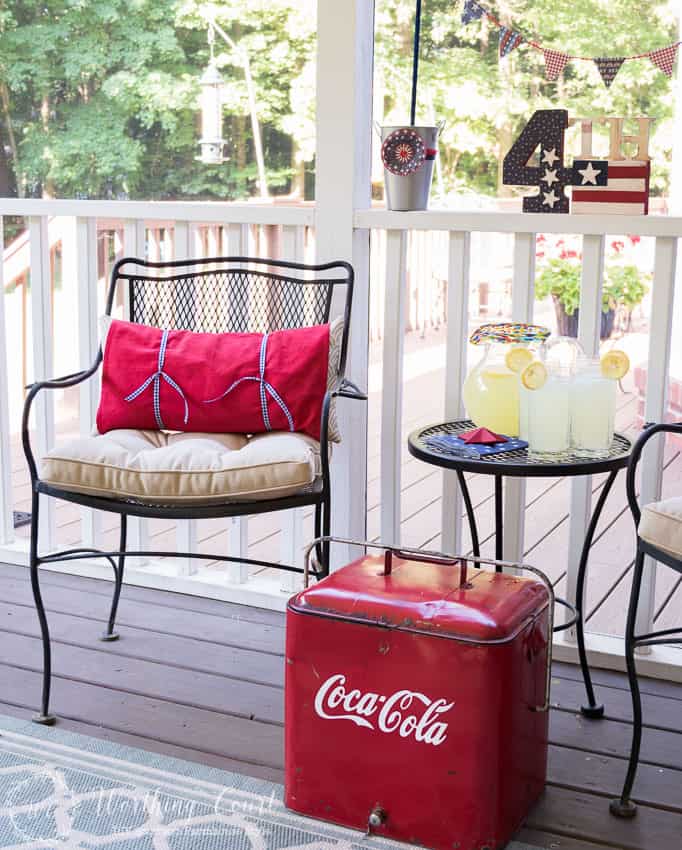 Pin
The lumbar pillows in these chairs were wrapped with red napkins and tied with blue and white check ribbon.  You can see that the napkins don't completely cover the ends of the pillows, but they still work fine for a temporary seasonal display.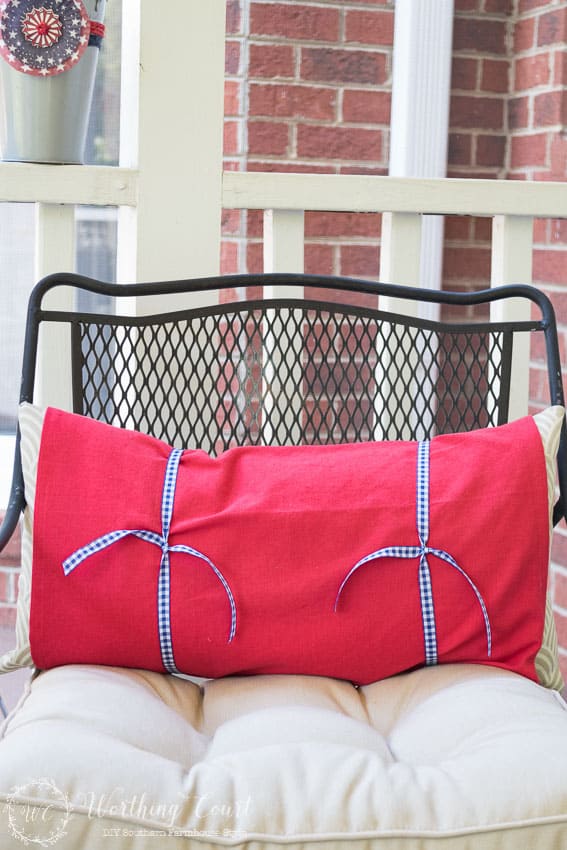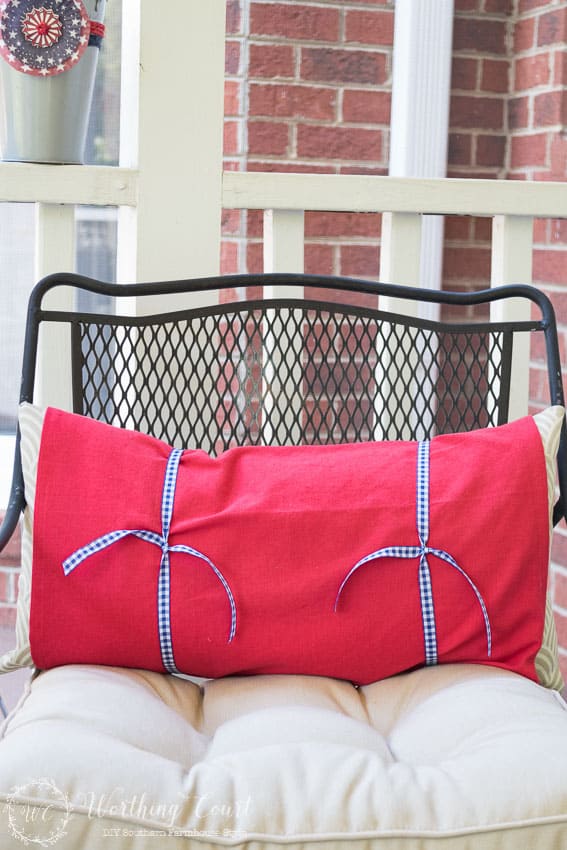 Pin
I know this is a lot of photos, but I've added a couple more that I snapped with my wide angle lens to give you a better idea of the whole porch layout.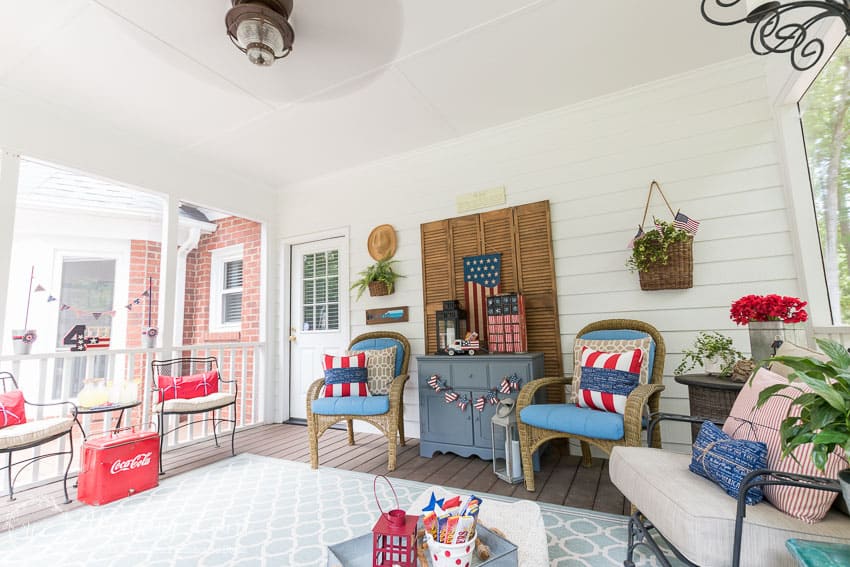 Pin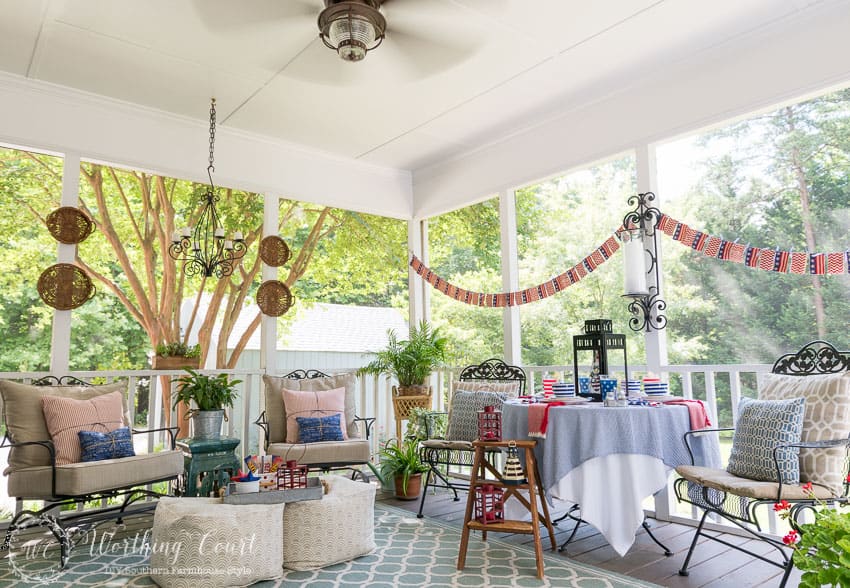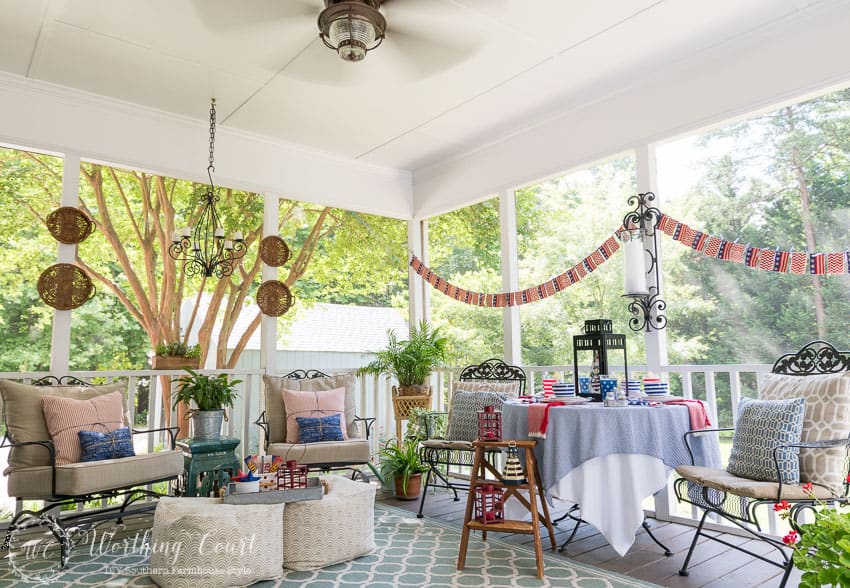 Pin
Happy July 4th, my friends!  Do you have any special plans to celebrate Independence Day?
Sharing at THESE great parties.