How To Make A Kitchen Look Brand New Without A Remodel – Before And After
Is your dark kitchen getting you down, but you aren't able to do a total remodel?  Take a look at how I used my small kitchen ideas to turn this dark and dated kitchen into a bright and cheery work space on a budget. My galley kitchen now looks and feels so much larger!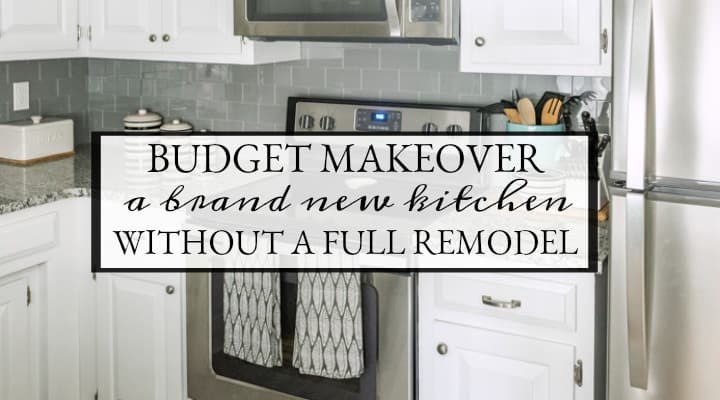 Pin
Whether your kitchen is small or large – if it's feeling dark and dated to you, but you aren't able to do a full remodel, I hope you'll find some ideas from the makeover of the tiny galley kitchen in our beach condo.  The footprint of the kitchen is only 4″ x 9′, so I had to use every trick that I could think of to give it a bright and spacious modern farmhouse feel.
Let's start with the before.  This is what the dated kitchen looked like when we purchased the condo last summer.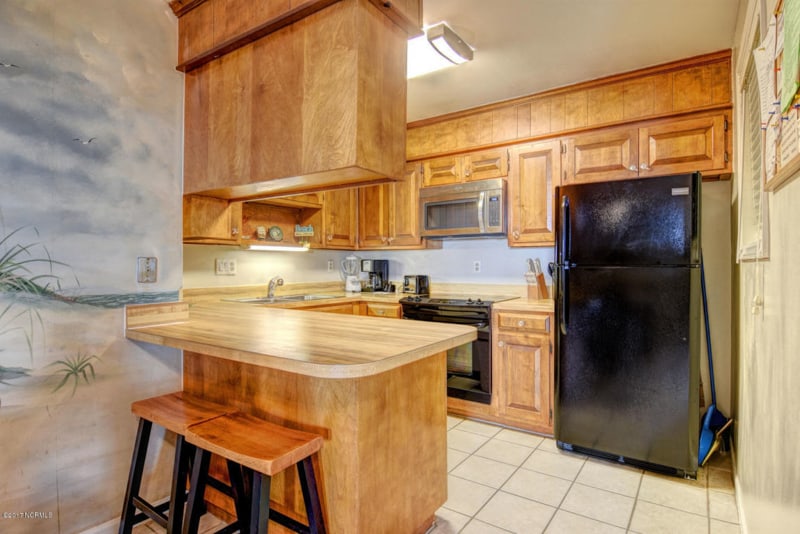 Pin
Pin
And this is what it looks like today!  So much lighter and brighter and so much more pleasant to work in.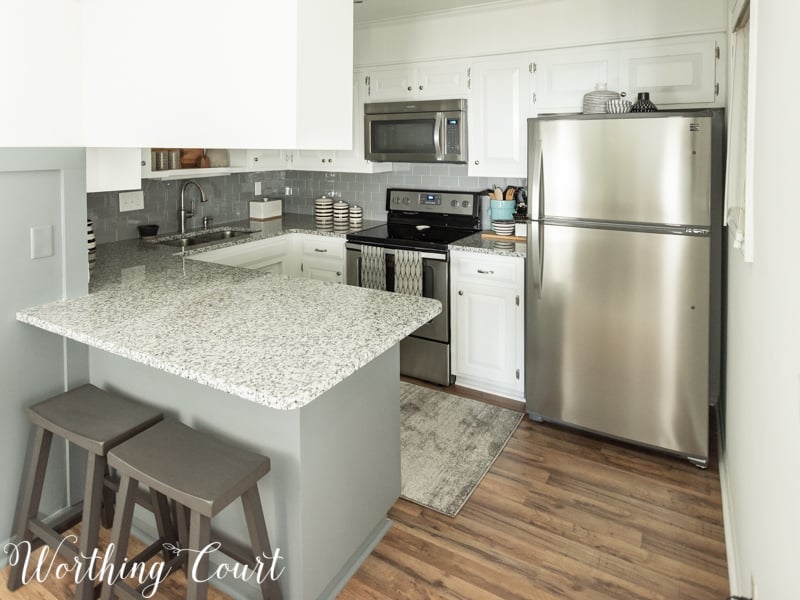 Pin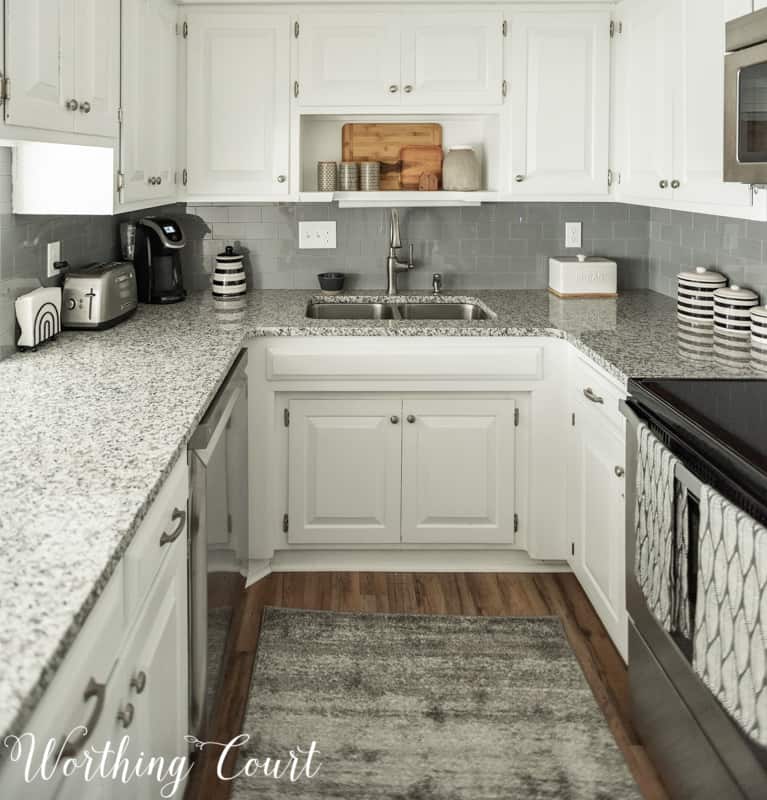 Pin
THE FULL RESOURCE LIST FOR THE KITCHEN IS BELOW
I know what you're going to say – "Why didn't you remove those cabinets above the peninsula?".  That very thing was my first reaction when we first toured the condo too.  I felt that they made the kitchen feel closed in and that they blocked the view into the dining room and living room.  But, the reality is that we need the storage space (they serve as a pantry for me) and now that the kitchen cabinets are white, it no longer feels closed in to me.  So this is very much a case of function over form, but believe me when I say that I'm almost always a form over function kind of person.  😀
The makeover of our kitchen began with the creation of a mood board.  I've found that using a moodboard at the beginning of any room makeover is so helpful for keeping my design at the forefront of my mind and for keeping me on track during the renovation process.  You can learn how easy it is to make your own mood board by clicking HERE.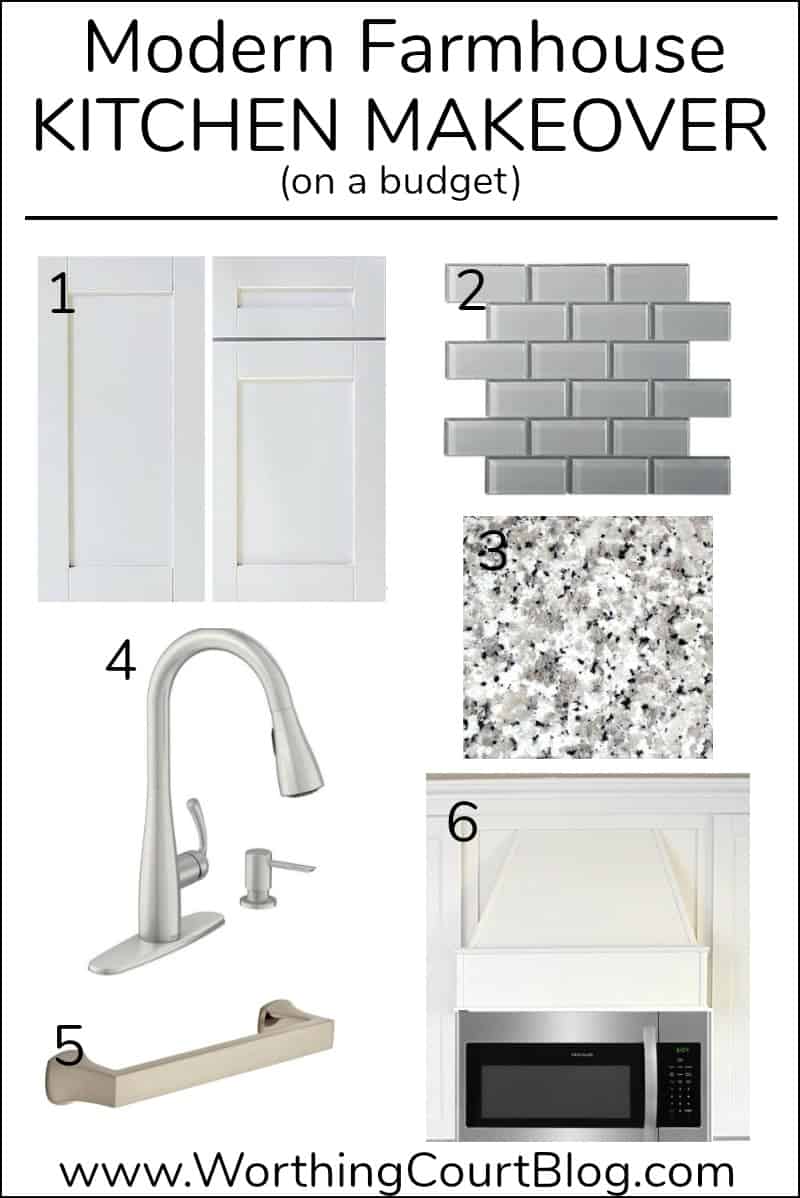 Pin
In every other post that I've written about this kitchen, I believe I mentioned that, because of the budget, I would be keeping our mismatched appliances.  During this whole process, I've been trying to minimize the fact that I had an icemaker'less black refrigerator, that was too small for the space, a stainless microwave, a black stove and an aging white dishwasher.
Well, apparently all it took for the hubs to give me the go ahead to replace the appliances was for me to give up wanting a more expensive drop-in stove and being happy with a slide-in one.  Honestly, I don't know what my hangup was about that.  A slide-in stove looks just fine and costs 2 – 3 times less the amount of a drop-in model.  With careful shopping, we were able to replace all three appliances for around $1700.
Sooo…this is a photo of the kitchen that I haven't shown you before.  I took this photo the same day that I was taking photos of the new backsplash, but I figured you didn't really want to see big empty holes in the cabinets that day.  You can read all about our backsplash HERE.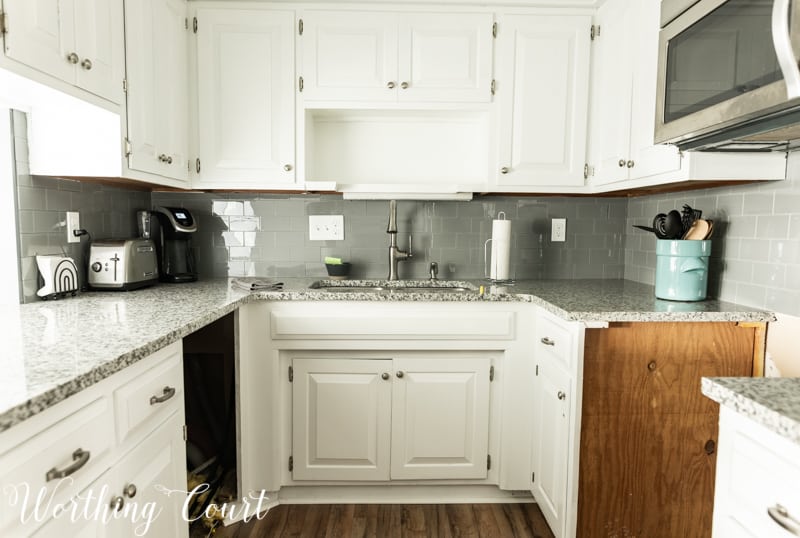 Pin
Our new stainless steel refrigerator has an icemaker (yay!) and fills the space so much more nicely.  Now it no longer looks like I have the black hole of doom at one end of the kitchen.  The microwave is the one that was already in the condo and I'm loving the new stove with its stainless door and control panel.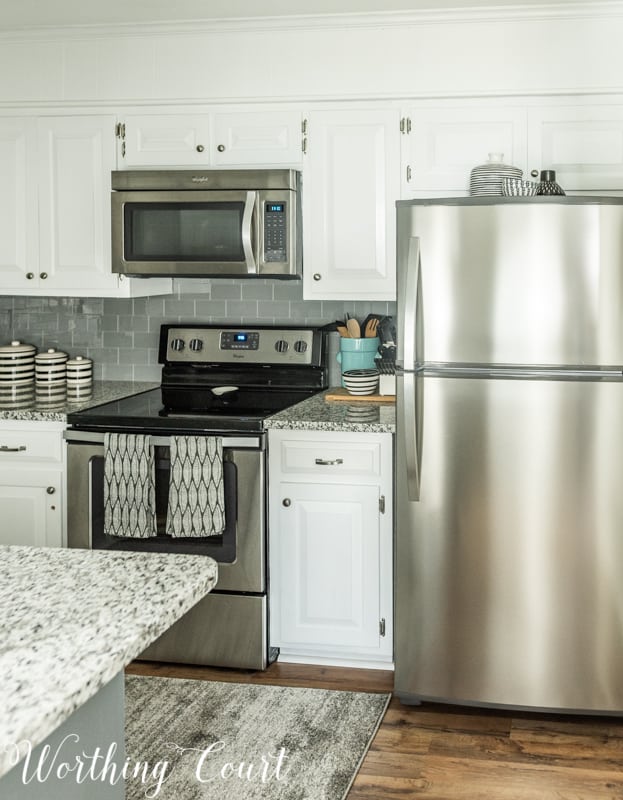 Pin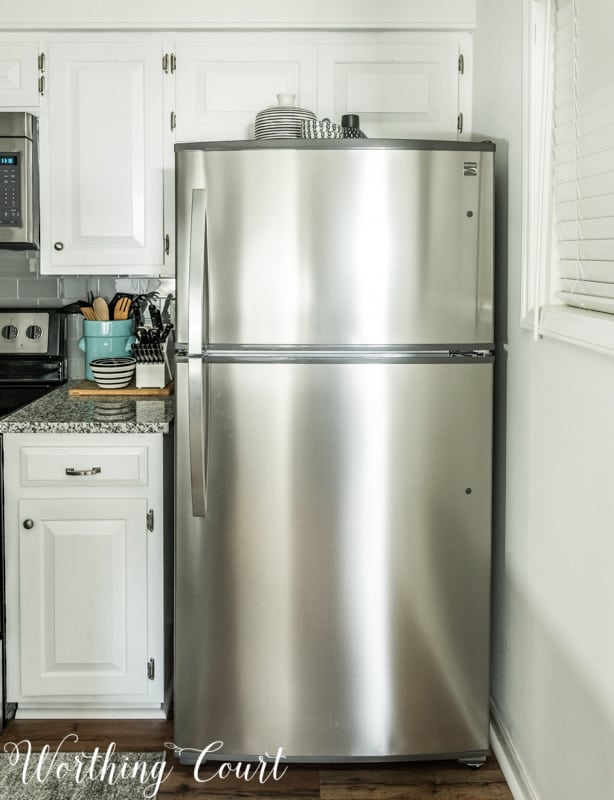 Pin
I think that the white dishwasher that was originally here was nearing the end of its life, so it's just a well that we went ahead and replaced that at the same time.  Plus, now everything matches.  😀  Oh, and you might have noticed in the above photo of the empty spaces that the cabinets below the sink were looking a bit wonky, but re-positioning the hinges just a smidge, took care of that problem.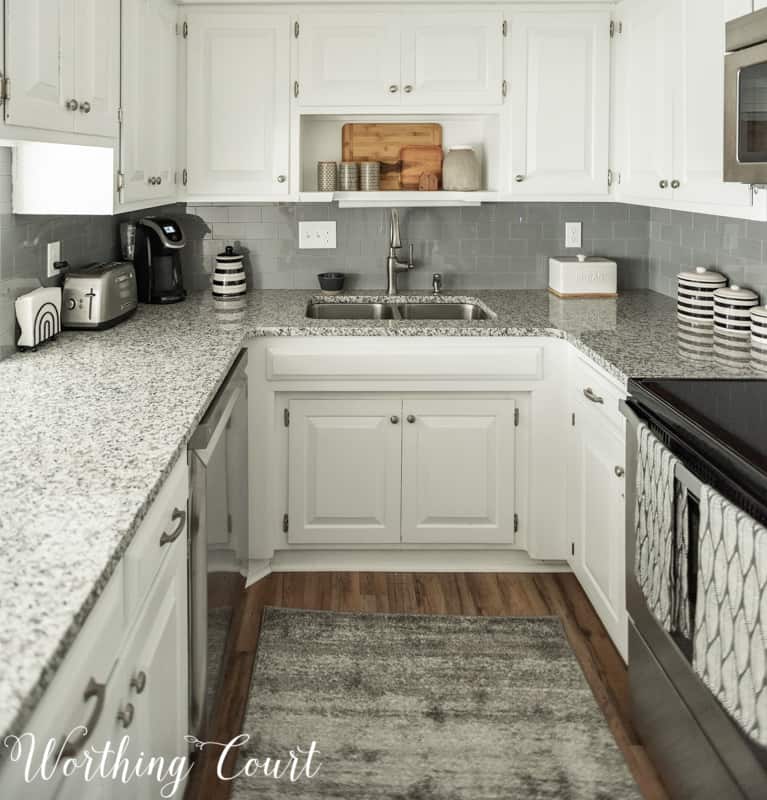 Pin
Once the major projects were taken care of, it was finally time to add all of the pretties.  I've been trying to keep a modern farmhouse vibe going on in the condo, so I made sure to keep that in mind when shopping for home accessories.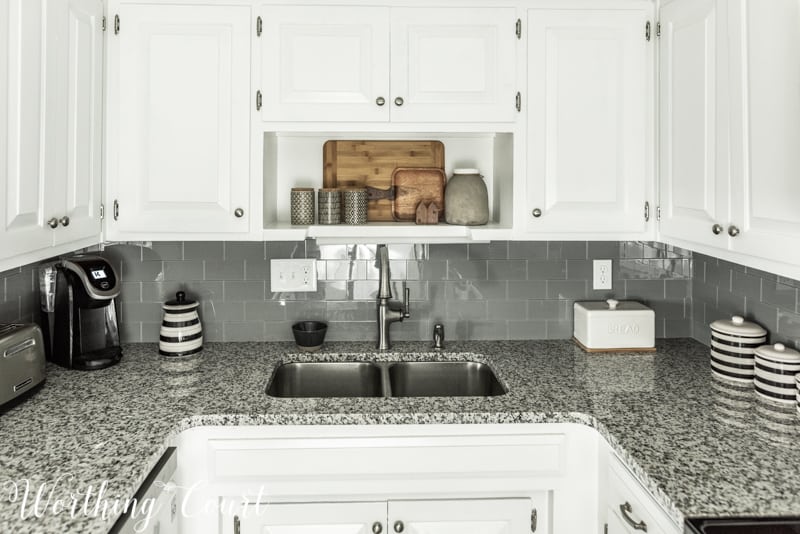 Pin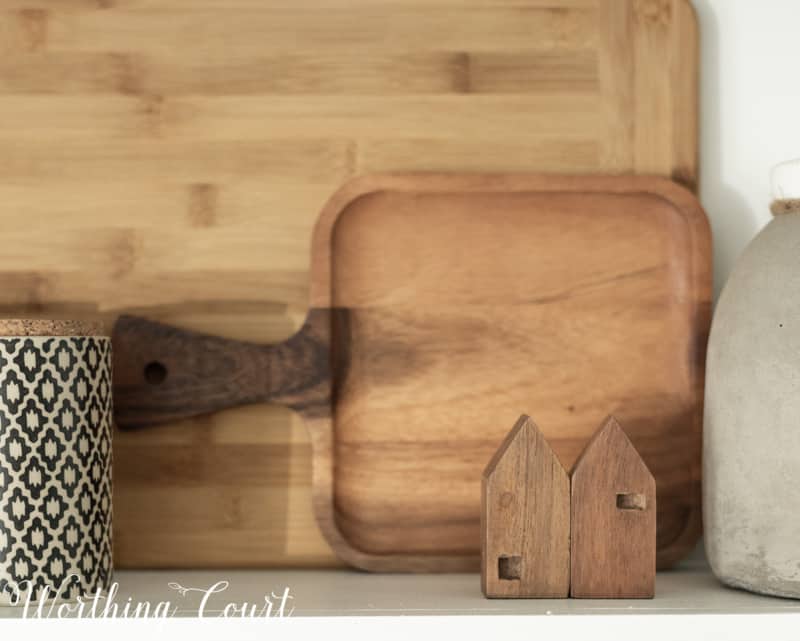 Pin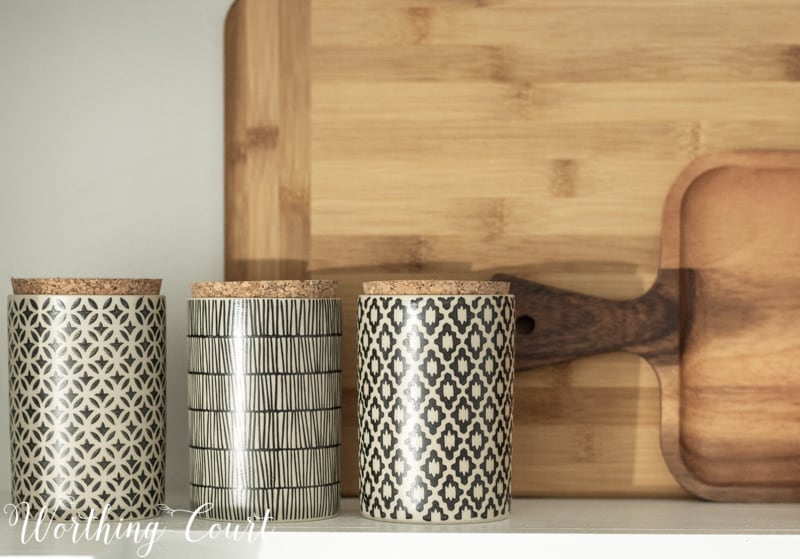 Pin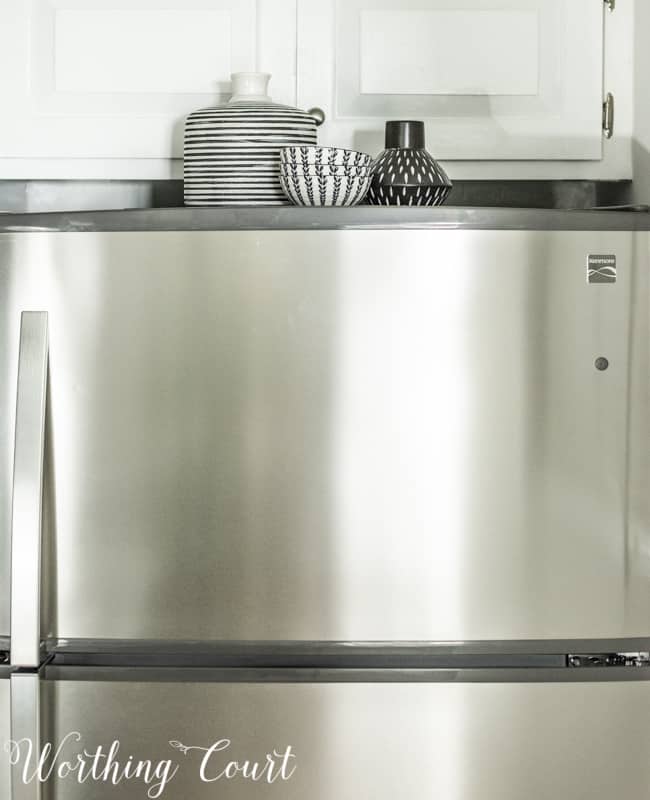 Pin
And of course I had to add just a touch of blue.  We are at the beach, after all.  winkwink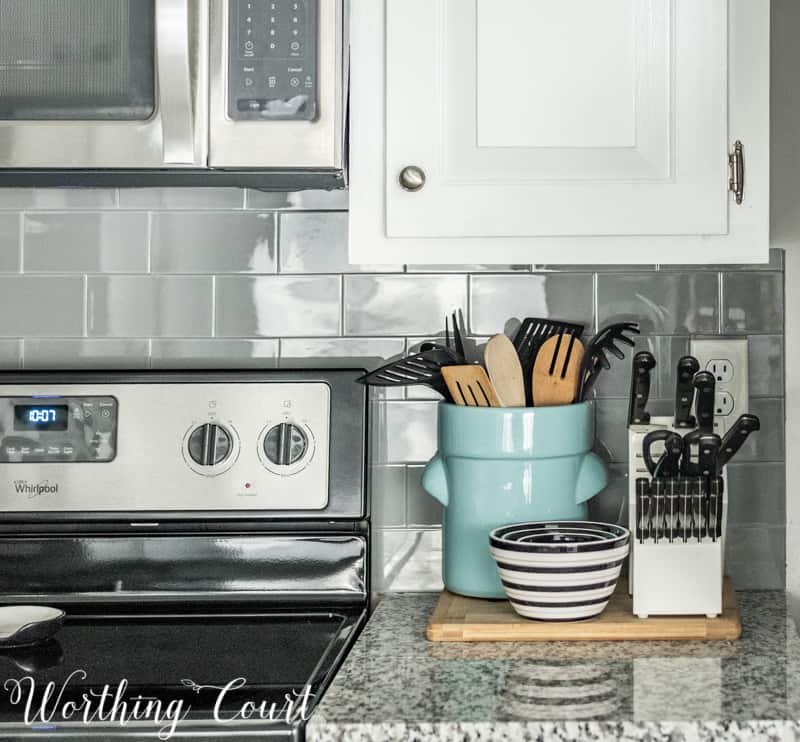 Pin
RESOURCE LIST:
Affiliate links have been used, which allows me to make a small commission from your purchase, but at no additional cost to you.  See my full disclosure HERE.
Cabinet Paint Color – Sherwin Williams Extra White
Peninsula Color – Sherwin Williams Software
Barstools – Rustoleum Anodized Bronze
Granite – Luna White
Backsplash – Aspect Peel & Stick Tile
Sprayer Faucet – Home Depot
3′ x 5′ Area Rug – Amazon
Black & White Canisters  – At Home
Blue Utensil Holder – Amazon (similar)
Black and White Jars with Cork Lids – World Market
Small Wood Houses – Target
Bread Box with Wood Cutting Board – World Market
Accent Bowls – World Market (similar)
Black and White Vase – Amazon (similar)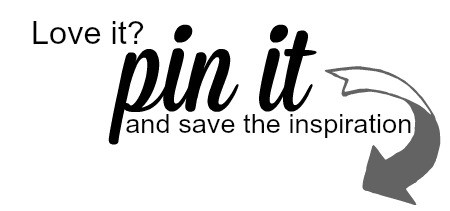 Pin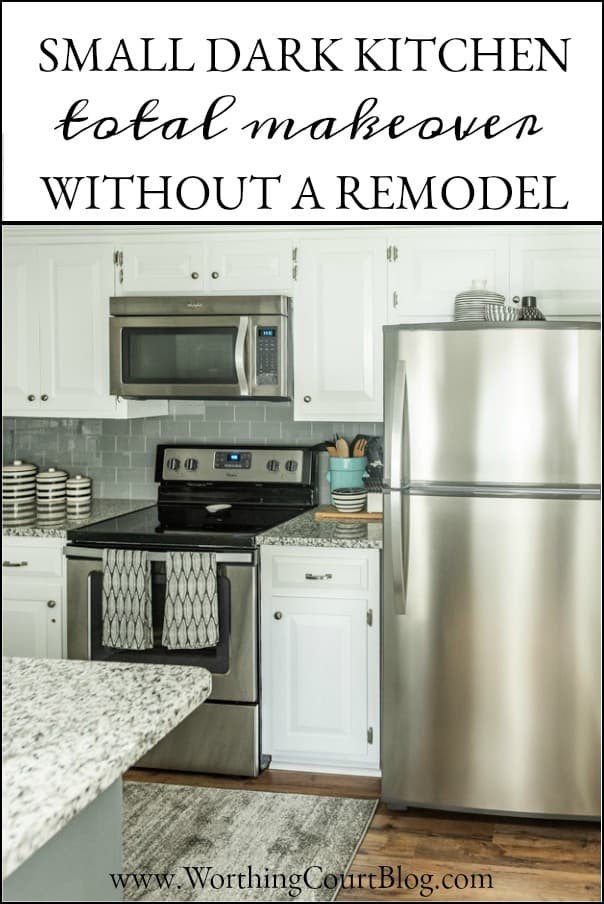 Pin