Blue And White Table Setting For Thanksgiving
A table setting for Thanksgiving featuring a color scheme of blue and white with rich burgundy accents. It's a beautiful palette for a special meal.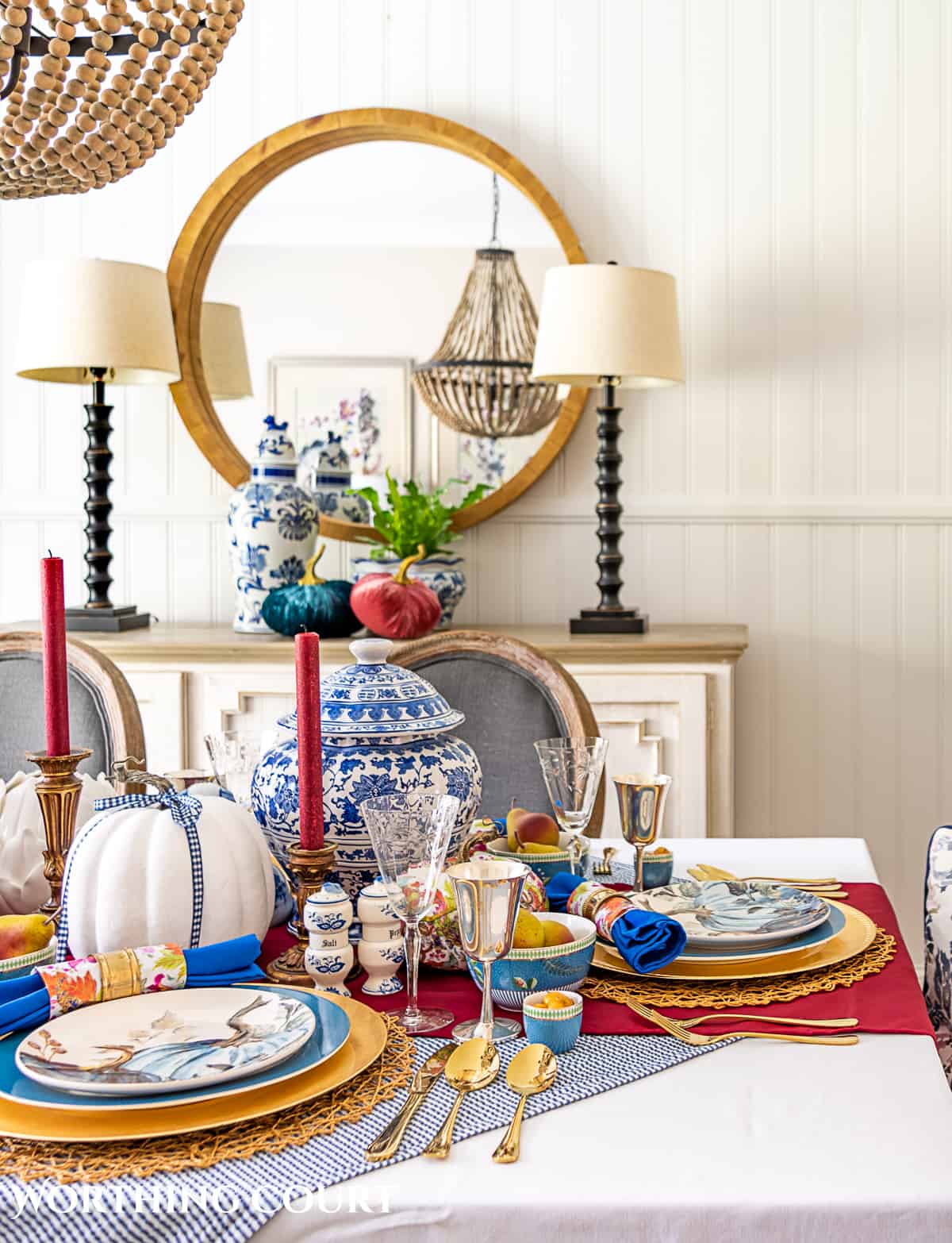 There are typically two times per year that I go all-out with my table settings for dinner. One is Christmas Eve and the other is Thanksgiving.
I'm also sharing several money saving tips for setting your table, so you'll want to read to the bottom!
As much as I adore celebrating a meal on Christmas Eve, I have to say that having Thanksgiving dinner around my dining room table is probably my most favorite meal of the year!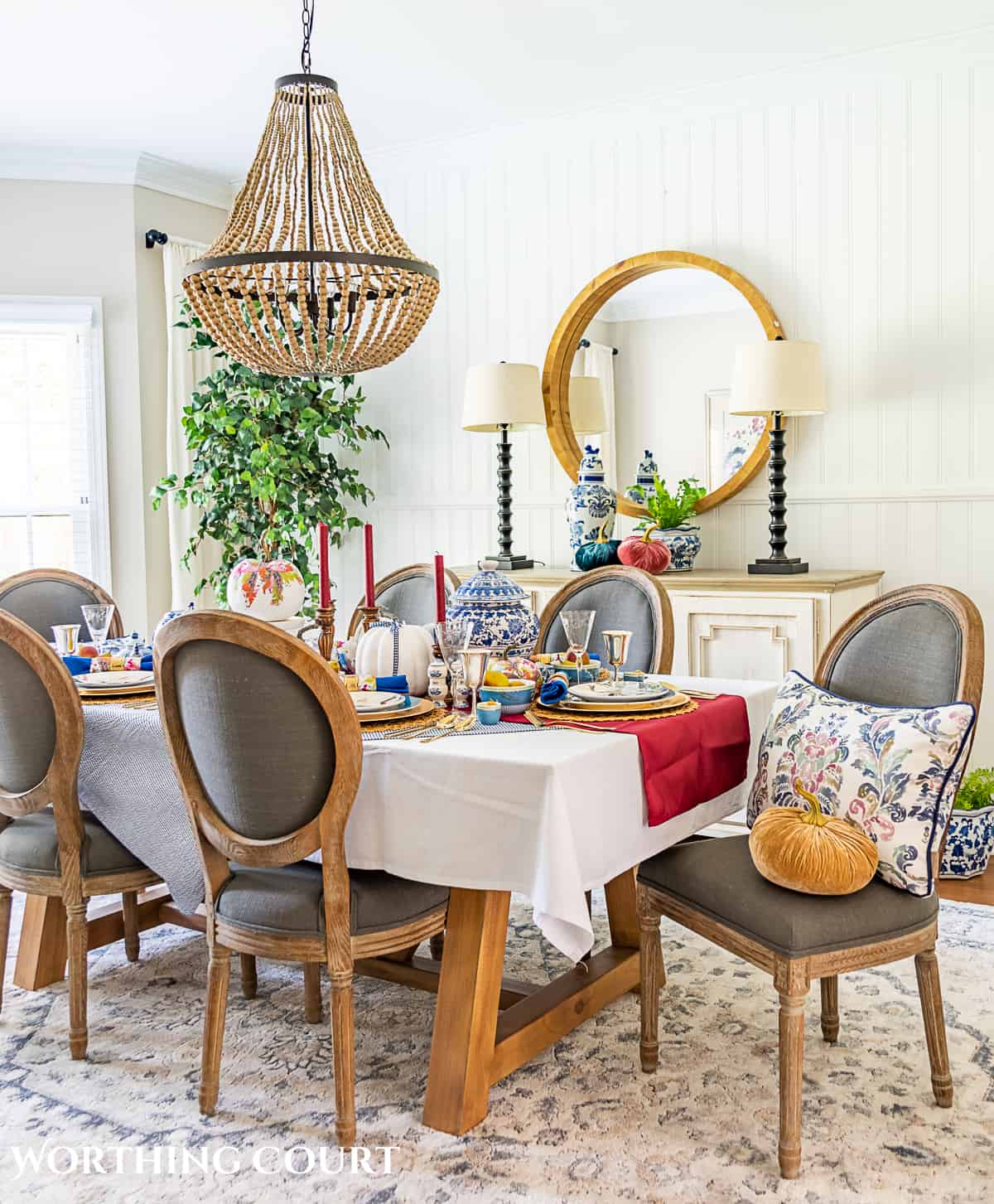 It's a celebration where the Thanksgiving menu is always super yummy, the guests come wearing their 'buffet pants', and are ready to have a great meal (can you say sweet potato casserole?) and a happy time creating new memories and reliving old ones.
I shopped my house for this year's Thanksgiving tablescape and pulled out all the blue and white decorations. Well, not all of them, but quite a few!
MONEY SAVING TIP: When you set a beautiful table, you won't need to spend money on any additional Thanksgiving decorations. The table is the only decoration a room needs!
LINENS – THE FIRST LAYER ON THE TABLE
There are three layers of linens on the table, starting with a basic white tablecloth, topped with a blue and white square tablecloth (turned on the diagonal), then finished off with a burgundy table runner layered on the top.
MONEY SAVING TIP: Don't have a table runner exactly like what you need? Instead of buying one, lay placemats or fabric napkins end to end, which is what I did here.
I prefer to use cloth napkins at special meals, but I'll talk more about that below.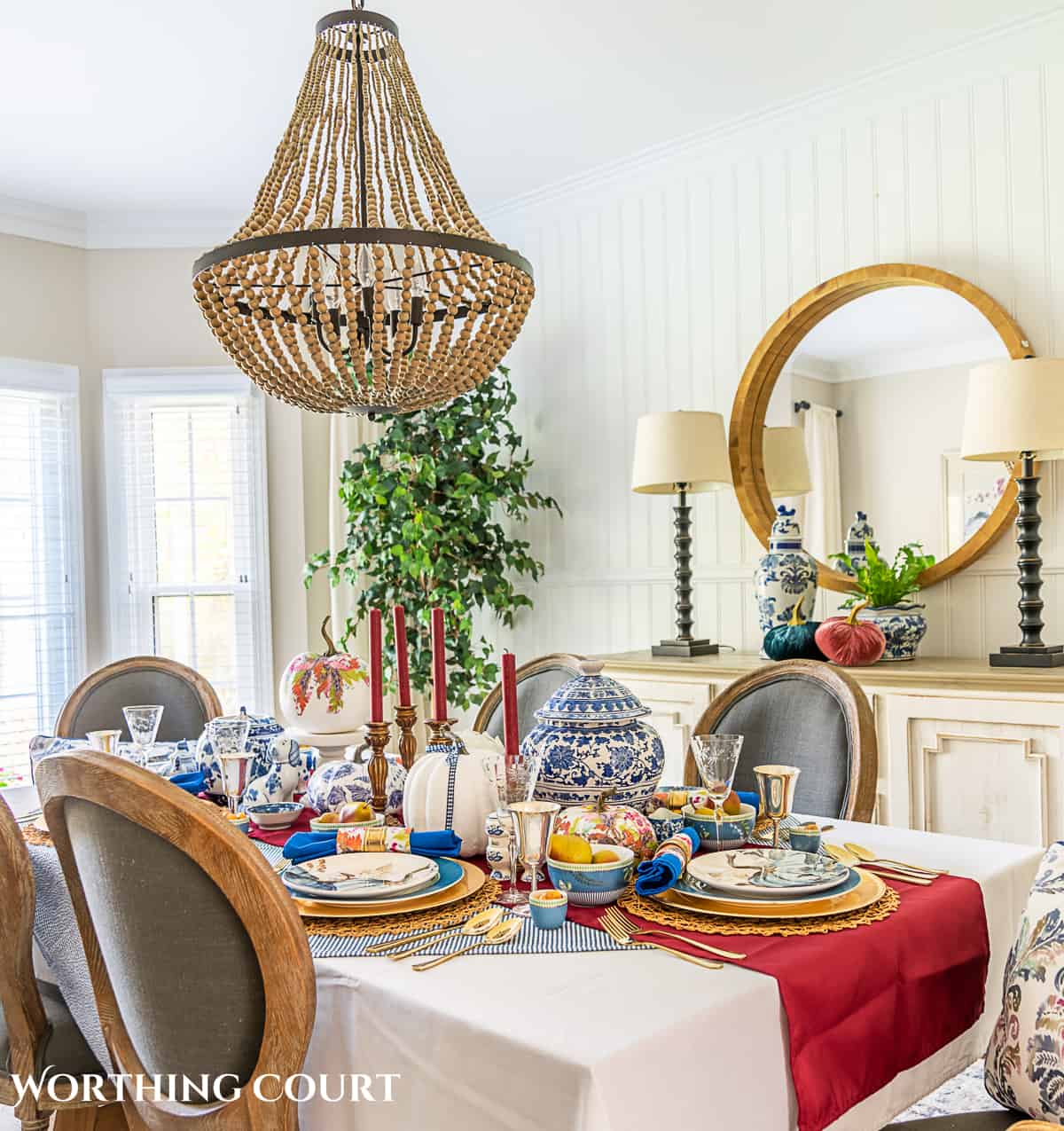 THE CENTERPIECE
My centerpiece is the second layer. I guess you can't really call this a traditional centerpiece though – it's more like a center-scape. 😉
When creating a centerpiece like this, I position the larger pieces first, then fill in with smaller accents. That doesn't mean that things won't get shifted, but it gives me a good place to start from.
In this case, I positioned my diy chinoiserie pumpkins toward one end and anchored the other end with a large white pumpkin and a tall blue and white pumpkin'ish shaped ginger jar.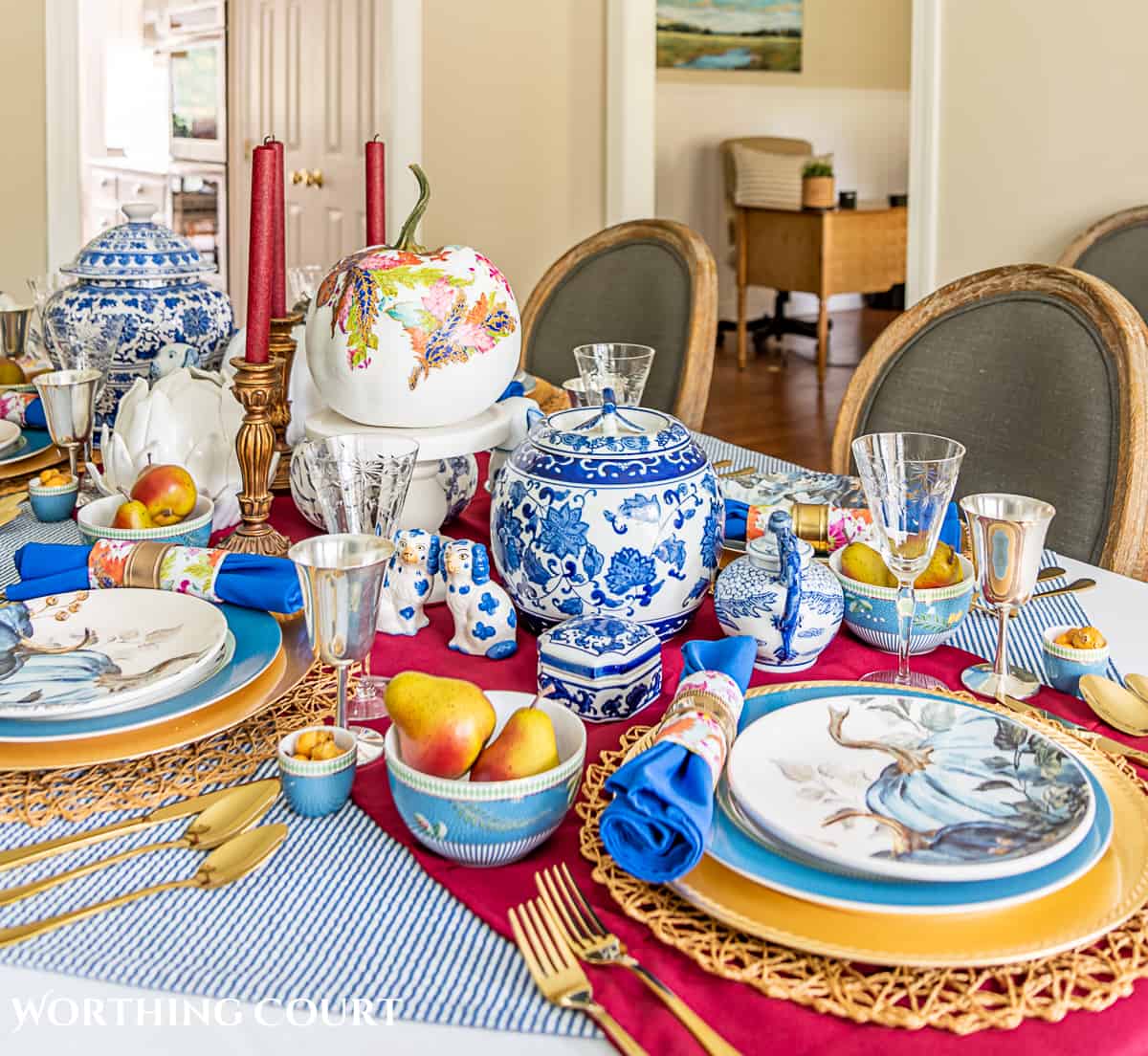 Other large items include a pumpkin-shaped lidded jar and a large white ceramic artichoke that I found at a local shop recently.
MONEY SAVING TIP: By using table decorations in the center of the table that have a pretty motif, you won't need to spend extra money to fill vases with flowers or greenery. 
Next came the candlesticks, which I like to stagger along the center instead of lining up in a straight row. I think it adds interest and tones down the formality that a table setting like this one can veer toward.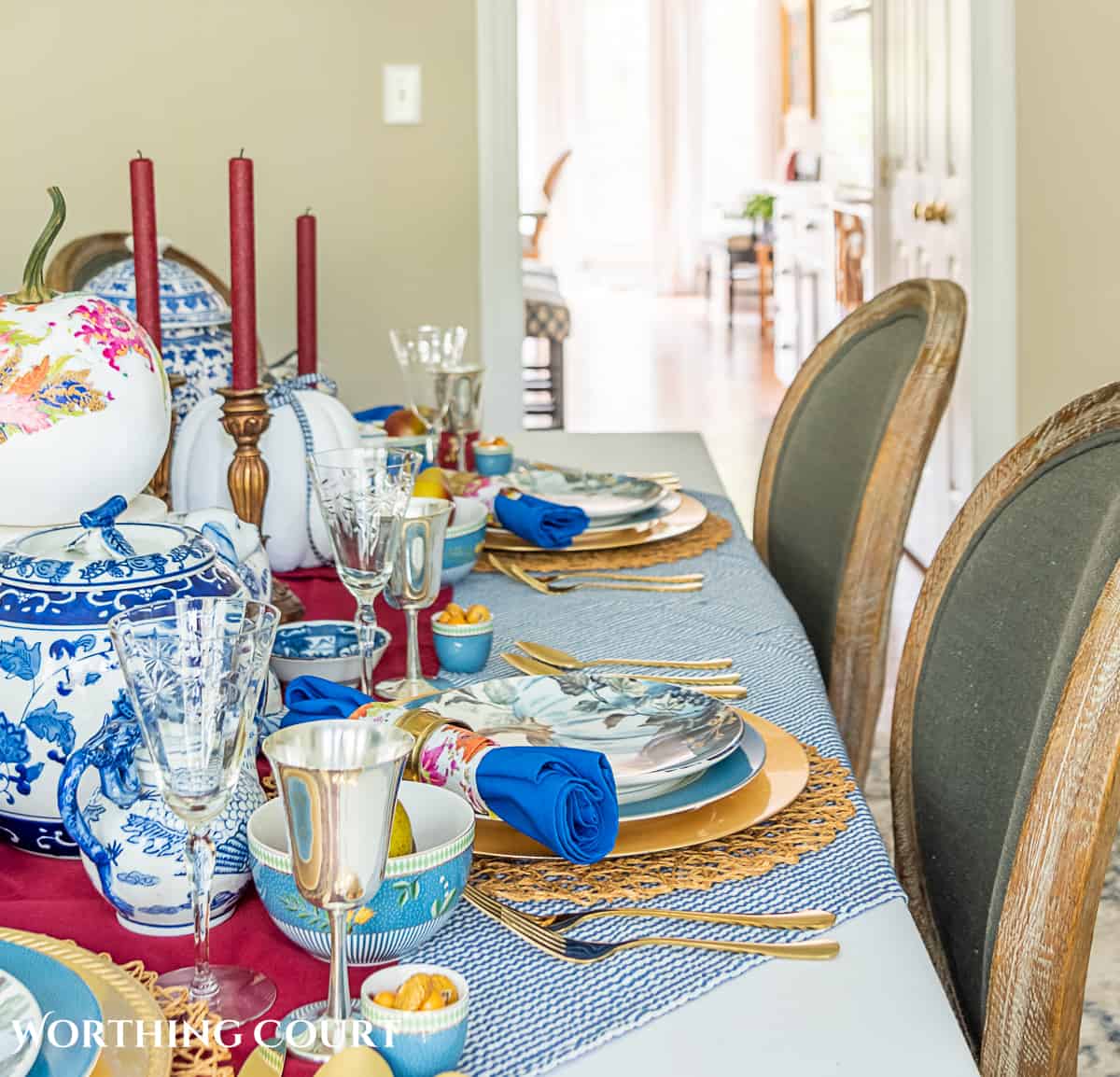 I've had my inexpensive knockoff version of antique brass candlesticks for years. Since burgundy is my accent color, I chose burgundy candles instead of using plain white ones.
Before I finish the centerpiece, I prefer to move on to the place settings since they often impact exactly how I complete the centerpiece.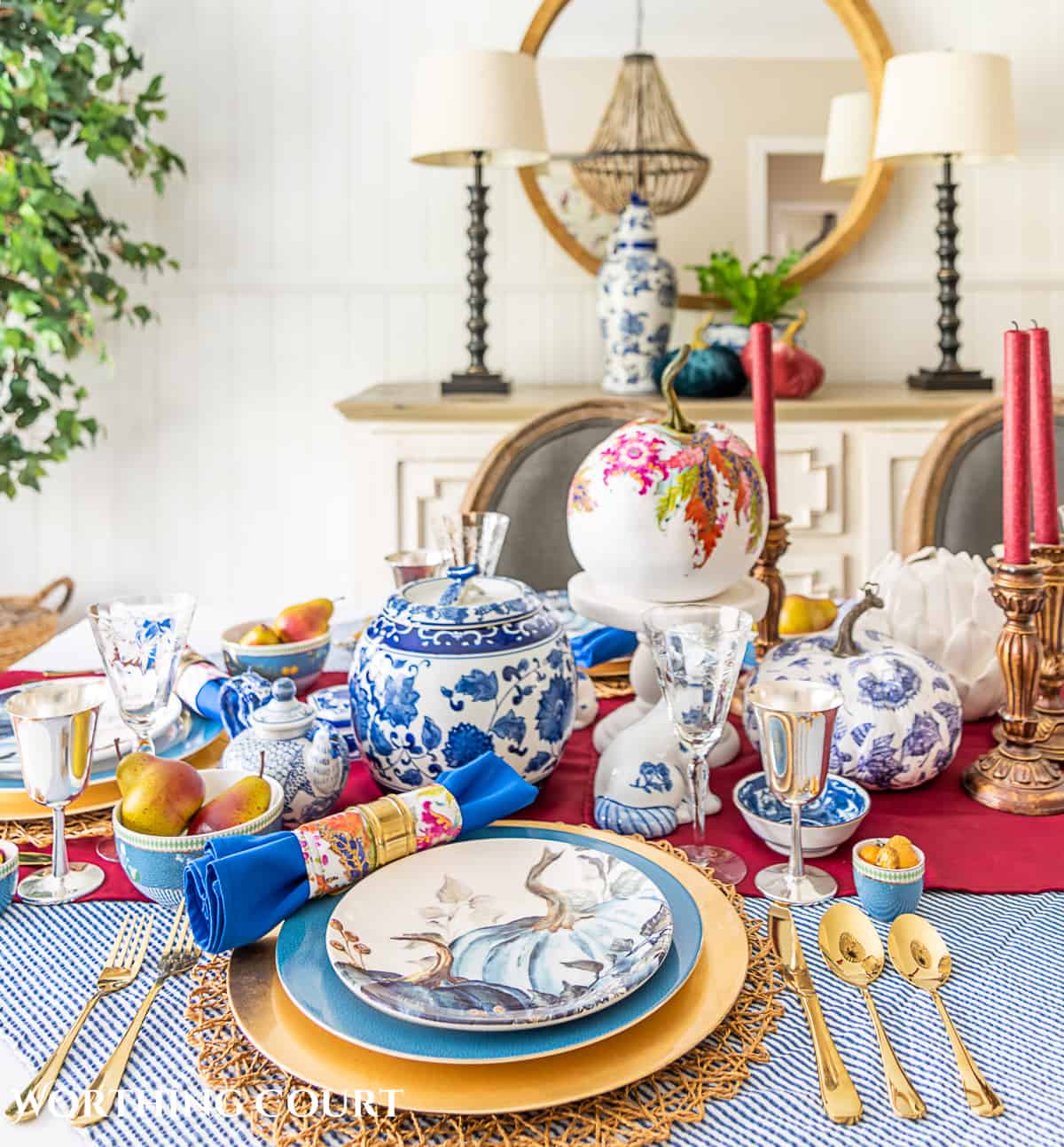 THE PLACE SETTINGS
The placemats are topped with gold chargers, a blue-rimmed dinner plate and a salad plate with pumpkins in multiple shades of blue.
MONEY SAVING TIP: Shop the dollar store for placemats, especially non-fabric ones. I have several sets that I've purchased there over the years and they still look great.
The linen napkin is placed on one side, so as not to hide the pumpkin motif. Each setting is completed using gold flatware, my grandmother's crystal goblets and my own silver goblets.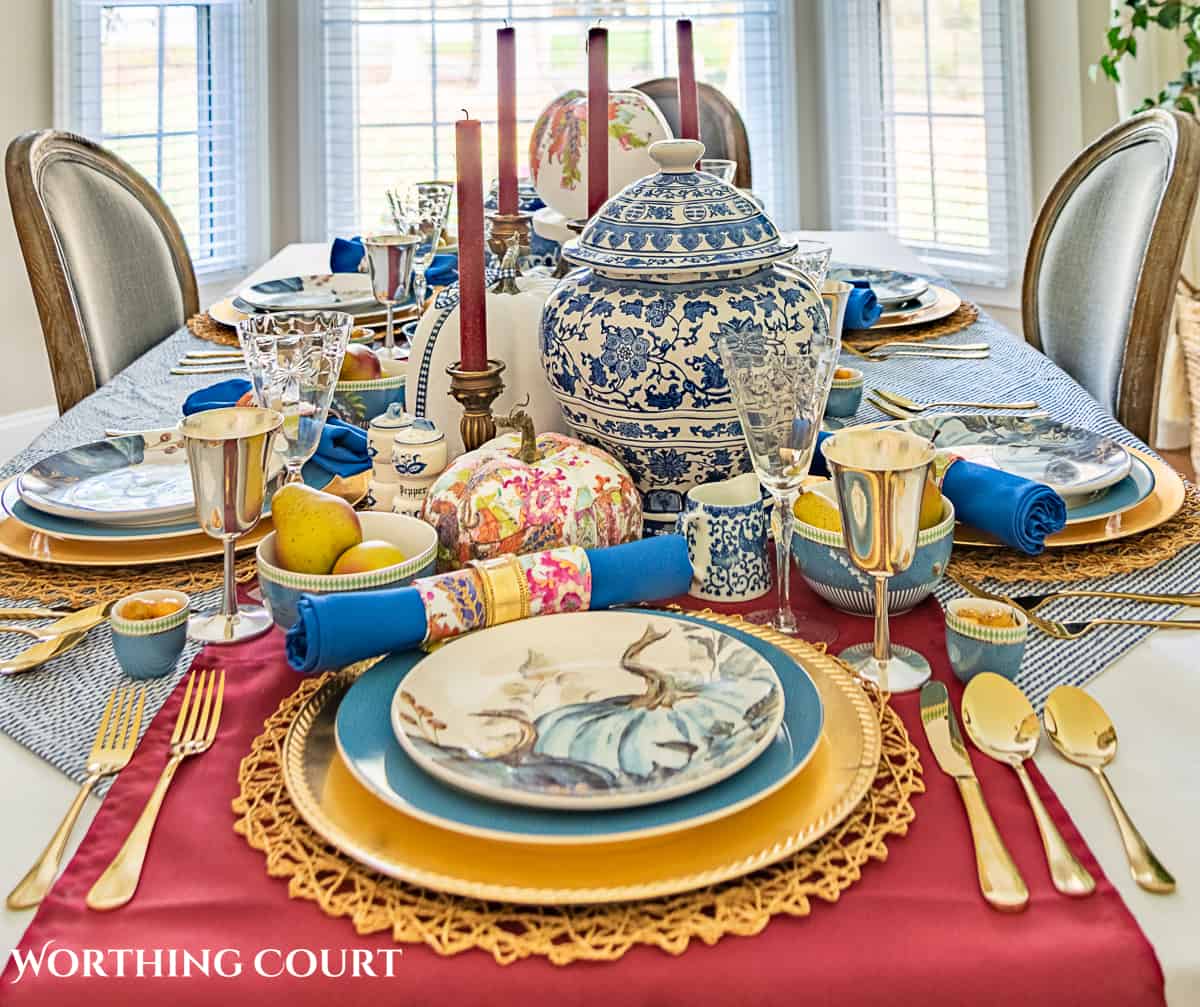 On a side note – we don't stand on formality around here, but I do believe that Thanksgiving dinner is a good time to teach the younger ones the proper way to set a table.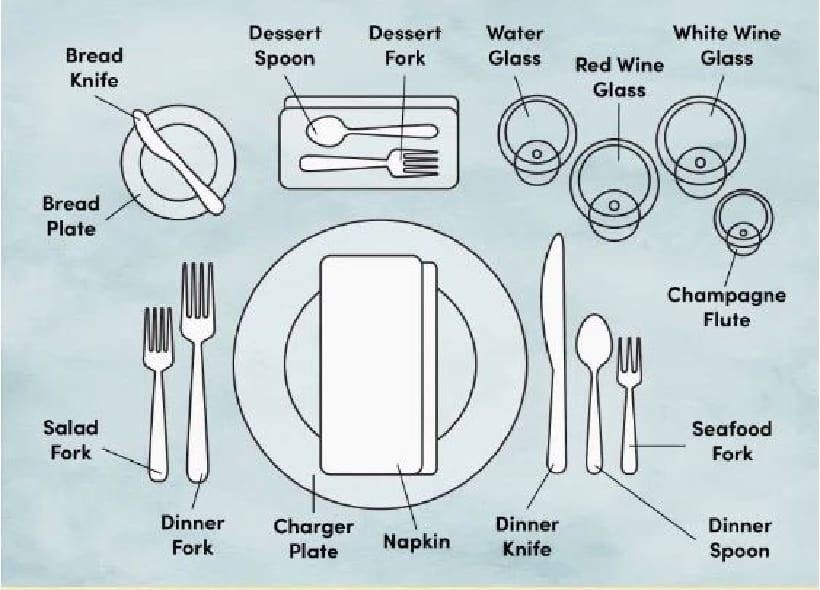 Why are there multiple forks? Which way is the knife supposed to be turned? Why is there more than one spoon? Why are there so many glasses? 
Knowing how to set a formal table is of one of those life skills that you just need to know. Kind of like knowing how to do laundry.  
They may not want to learn, but one day they'll be glad they did!
MONEY SAVING TIP: Instead of spending money for patterned cloth napkins to match a single table setting, purchase several sets in solid colors to have on hand. Then wrap less expensive paper napkins around a cloth napkin as an accent. Napkin rings hold the two together. 
FINISHING TOUCHES
A special occasion like this is a good time to show off cherished pieces that you own. I estimate the crystal goblets to be over 100 years old, so they are rarely brought out and then only handled by adults. I'm amazed at how delicate the crystal is!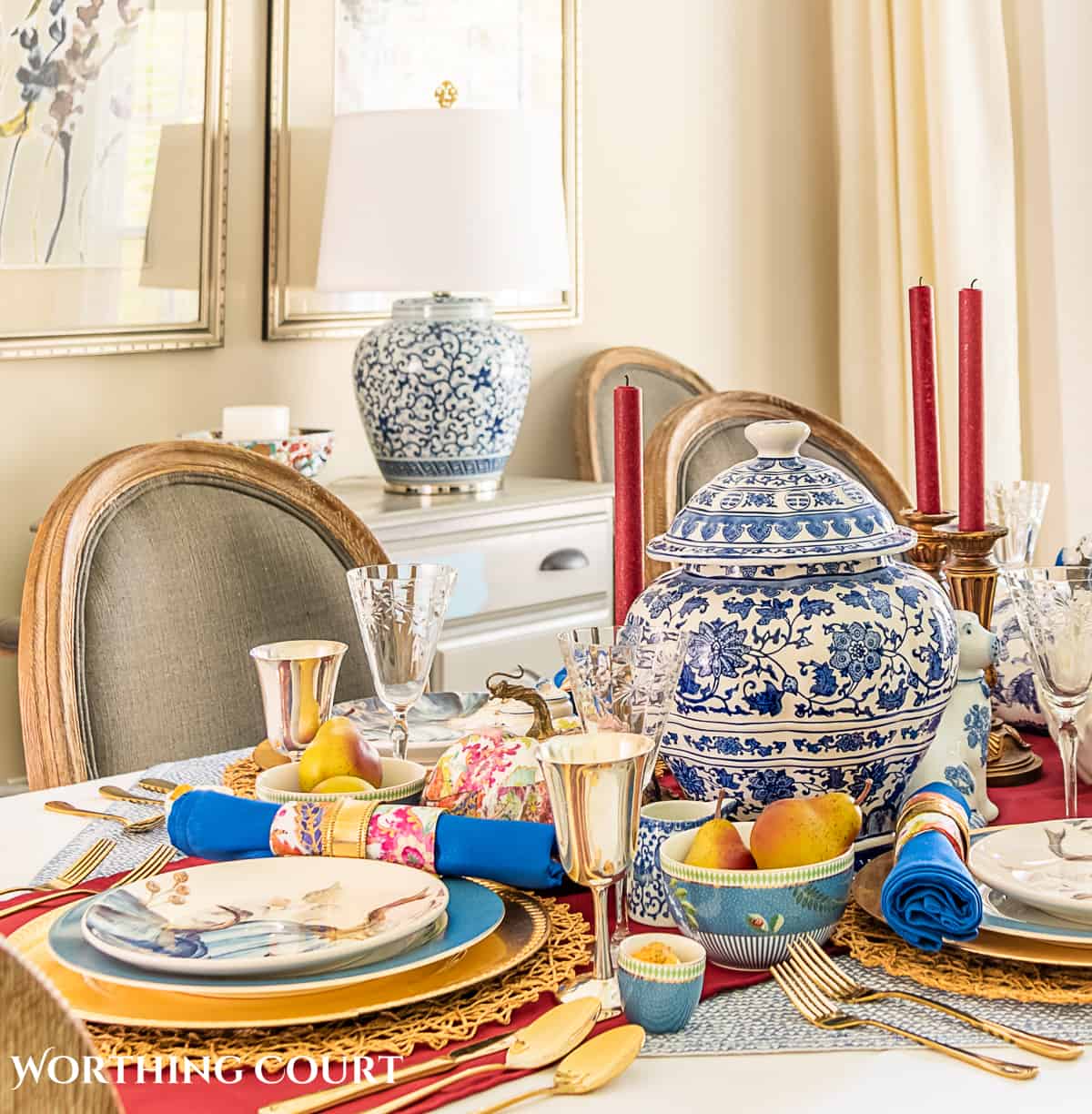 MONEY SAVING TIP: There's no need to purchase fancy china or dinnerware. You can easily ramp up the look of your everyday dishes by the Thanksgiving table decor that you surround them with.
Once each place setting is complete, I finish off the table and centerpiece by adding in smaller accent pieces and dishes. Notice that interest and texture is created by using different types of decor and varying the heights.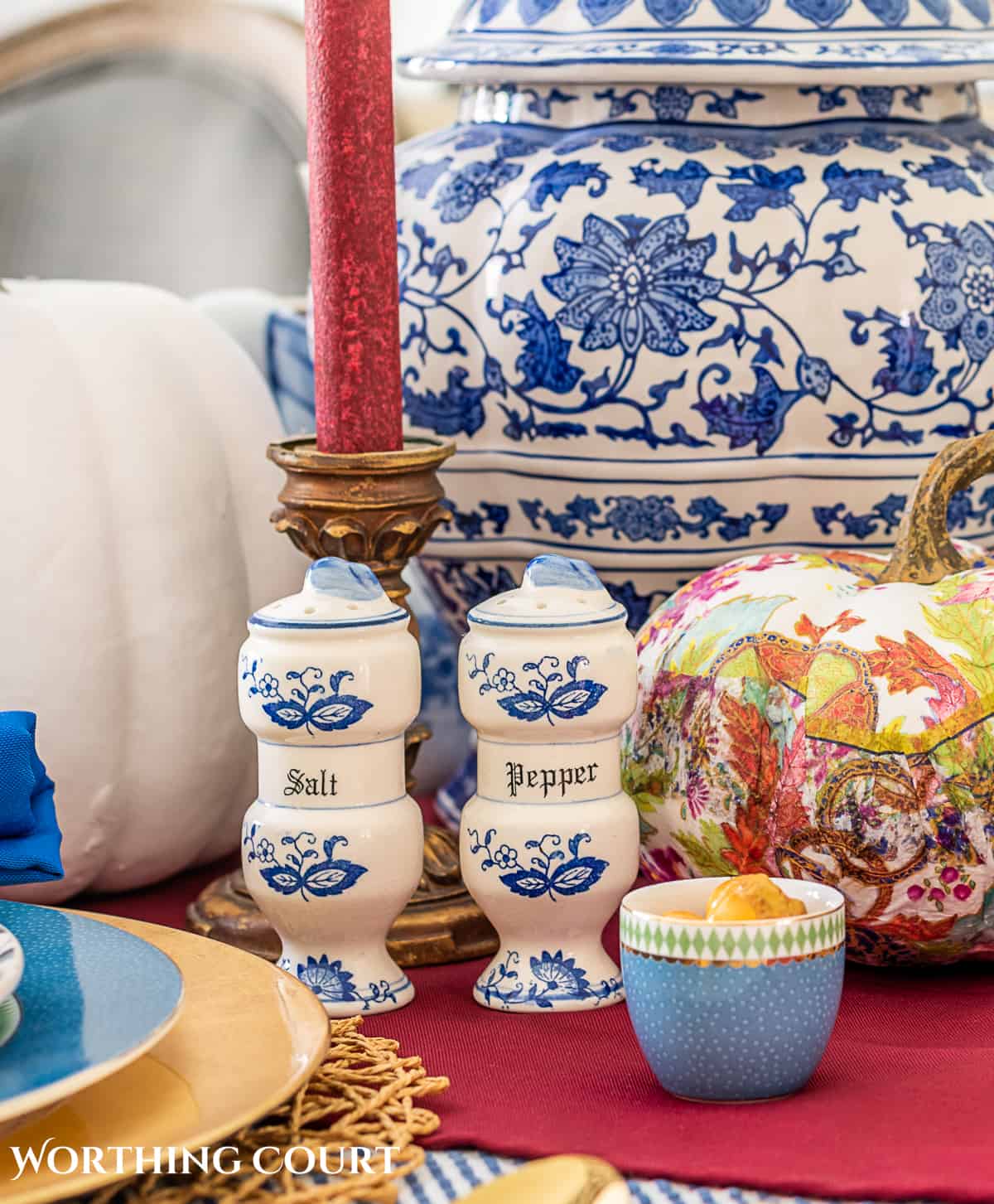 Several of the small accent pieces that I added have absolutely nothing to do with a dinner table, but serve to make the entire display look complete.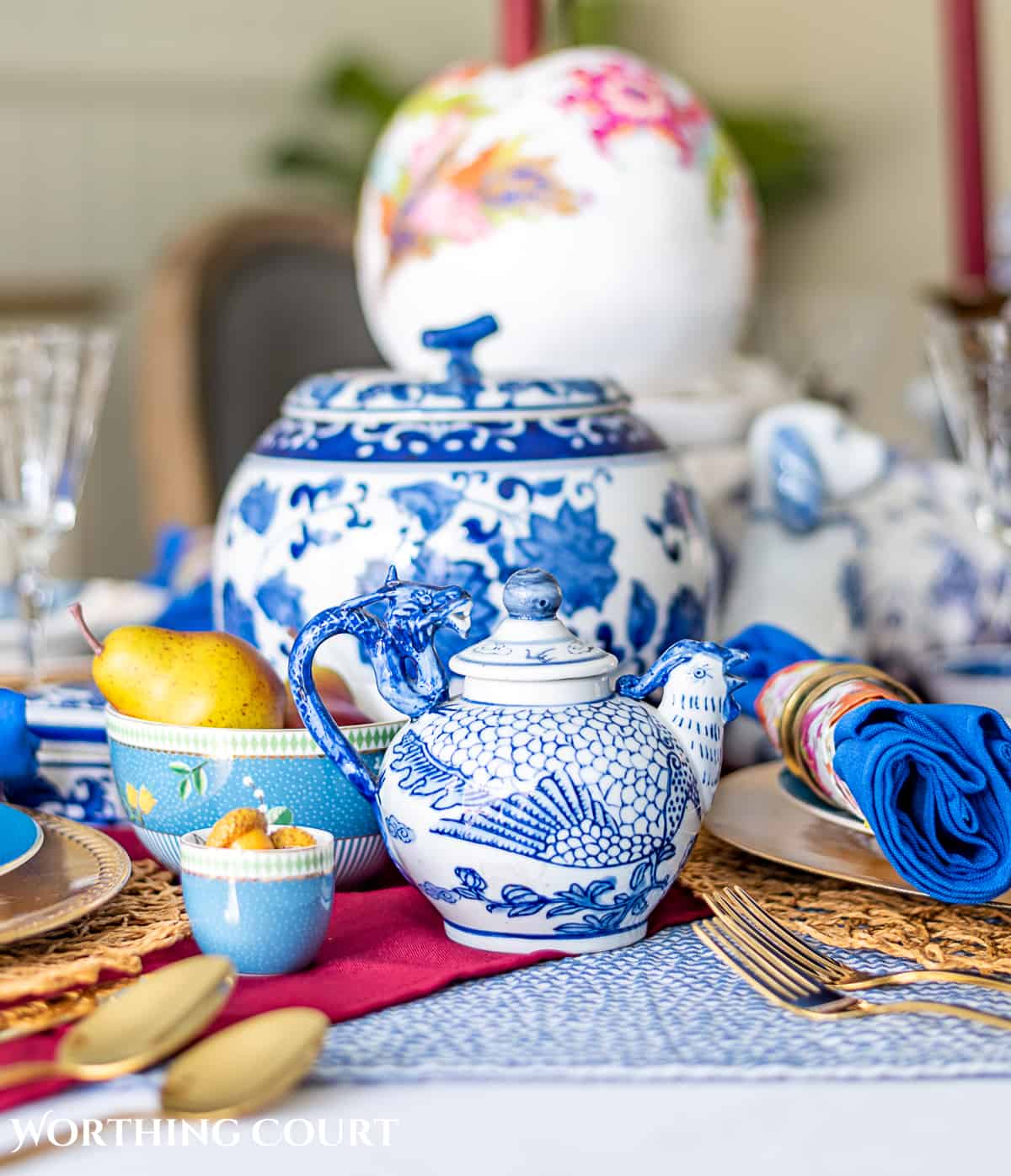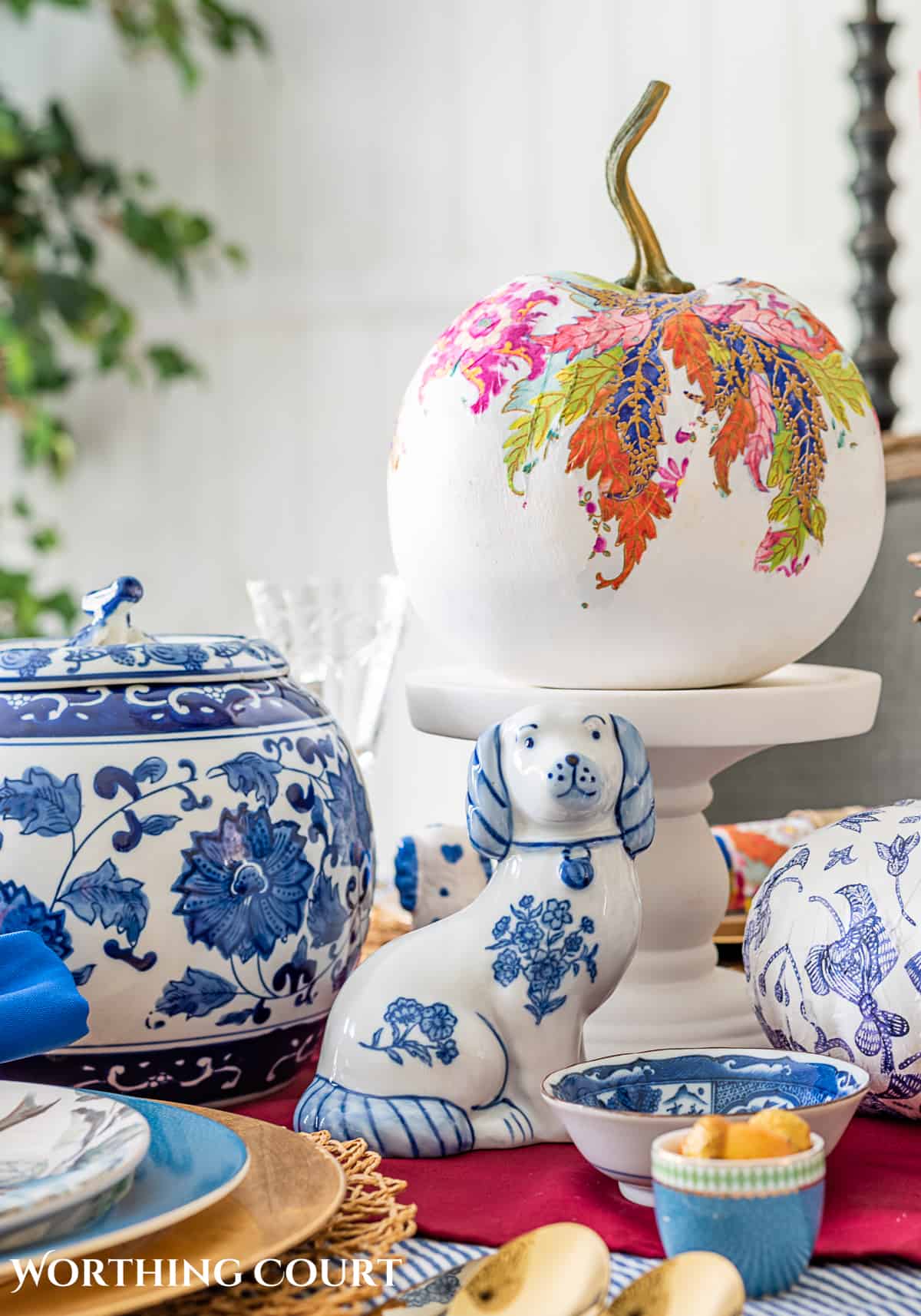 If you want an even more full centerpiece, try winding a garland through the decorations or adding a few white pumpkins or burgundy hued fall leaves to the arrangement.
My table setting for Thanksgiving dinner is complete and we are ready for turkey day!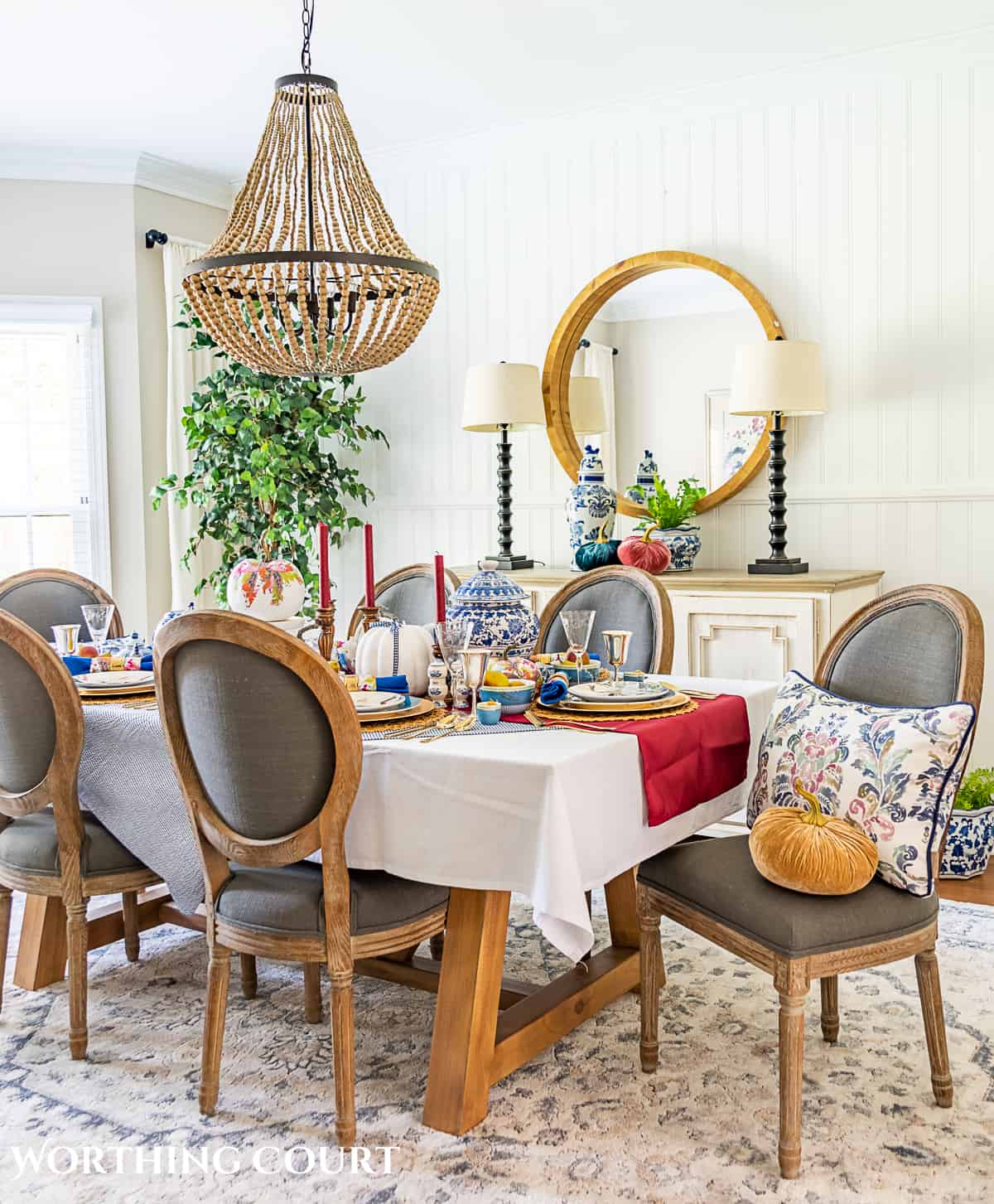 INTERESTED IN MORE THANKSGIVING TABLE DECORATIONS?
A COZY THANKSGIVING TABLESCAPE + A FREE PRINTABLE CONVERSATION STARTER
A BEAUTIFUL THANKSGIVING TABLE USING PUMPKINS AND EUCALYPTUS WITH TRADITIONAL FALL COLORS
A SPECIAL THANKSGIVING TABLE SET WITH EVERYDAY DISHES
A CASUAL, BUT ELEGANT THANKSGIVING TABLESCAPE