How To Set A Table For Thanksgiving
Use these easy tips to set a Thanksgiving table for your most memorable meal ever!
Wouldn't you love for your Thanksgiving table setting to be as special as the meal you prepare? You put a lot of effort into cooking and baking that delicious meal, so set a gorgeous table that does it justice! It really isn't hard to do at all if you'll use these 10 simple tips.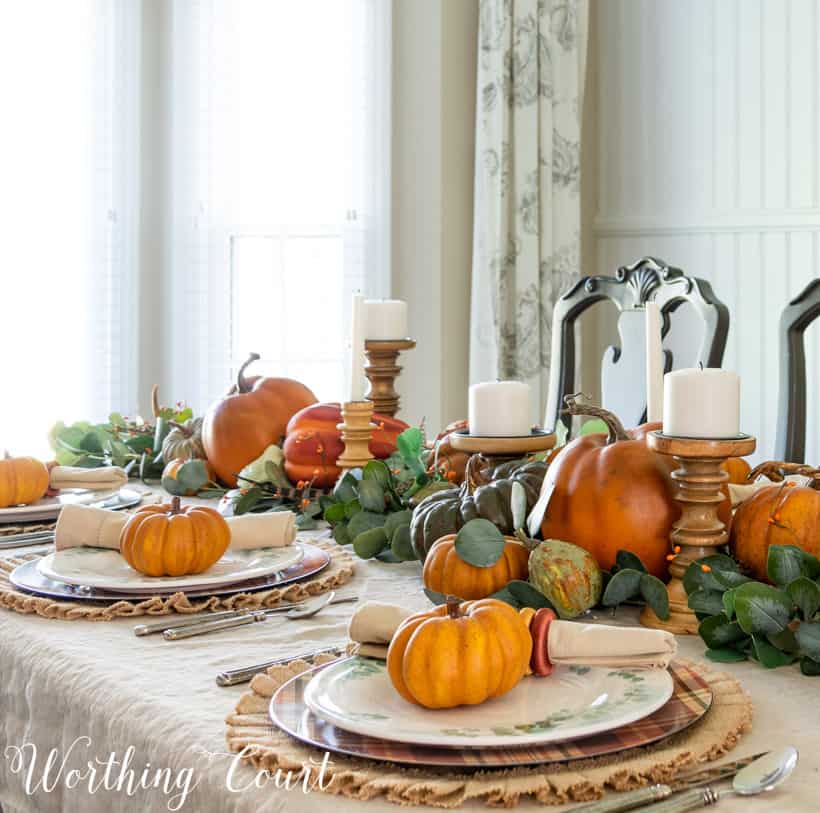 If you're hosting Thanksgiving dinner (or any holiday meal), you'll want to pin this post for later, since these tips can help you set almost any table, for any season or holiday. But, since Thanksgiving is right around the corner, they're perfect for sharing right now!
SHOP YOUR HOME
Before you run out and purchase Thanksgiving specific dinnerware or table decor, shop your own home! You'll be amazed at how you can use those items that you already have by thinking outside of the box and using your imagination.
large amber bottles
risers used to create various heights in the centerpiece
a pretty quail feather at each place setting
rustic and glam mixed together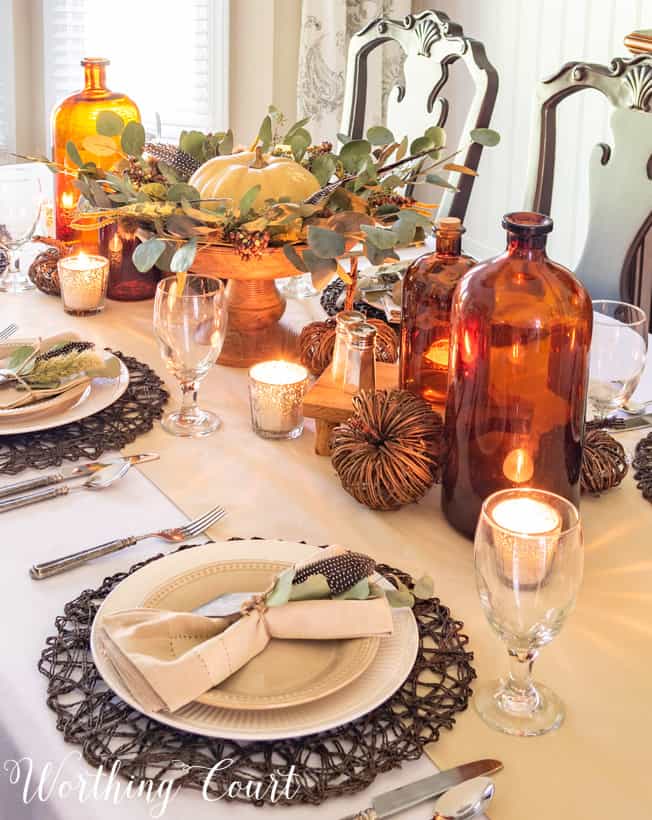 CHOOSE A COLOR SCHEME
The first step to setting a memorable Thanksgiving table is to start with a color scheme. Using a color scheme is one of those designer secrets for setting a successful holiday table!
Whether you prefer traditional fall colors or a more neutral table, choose two to three main colors for a cohesive look on your table. It will make all the difference in the world.
This table is set using three main colors:
neutral for the tablecloth and placemats
light and dark orange pumpkins
eucalyptus green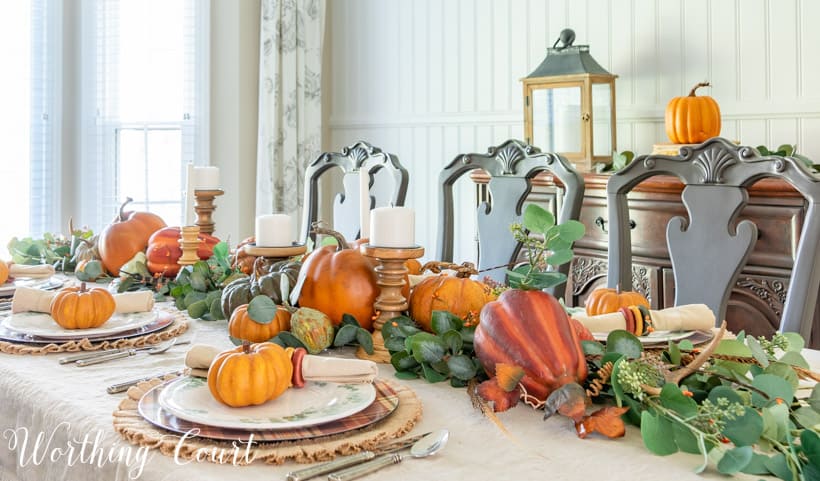 MIX AND MATCH DINNERWARE AND FLATWARE
Unless you want a truly formal Thanksgiving table setting, be sure to mix and match your dinnerware and flatware.
I'm not recommending that you just pull everything out of your cabinets and throw it on the table! Rather, use the same mixture of dishes at each place setting.
This is also a great way to use dishes that you don't have enough of, but still be able to set an cohesvie table. For example, if I'm setting a table for eight, but I only have four salad plates of one pattern and four of another, I'll alternate those salad plates at every other table setting.
I especially love different patterns of flatware mixed together at each place setting! It's a great way to show off some of those vintage or inherited pieces that you don't have enough of.
At this Thanksgiving table:
there are 4 of matching salad plates at the side settings and 2 matching plates at each end
each place setting is a mixture of two different types of flatware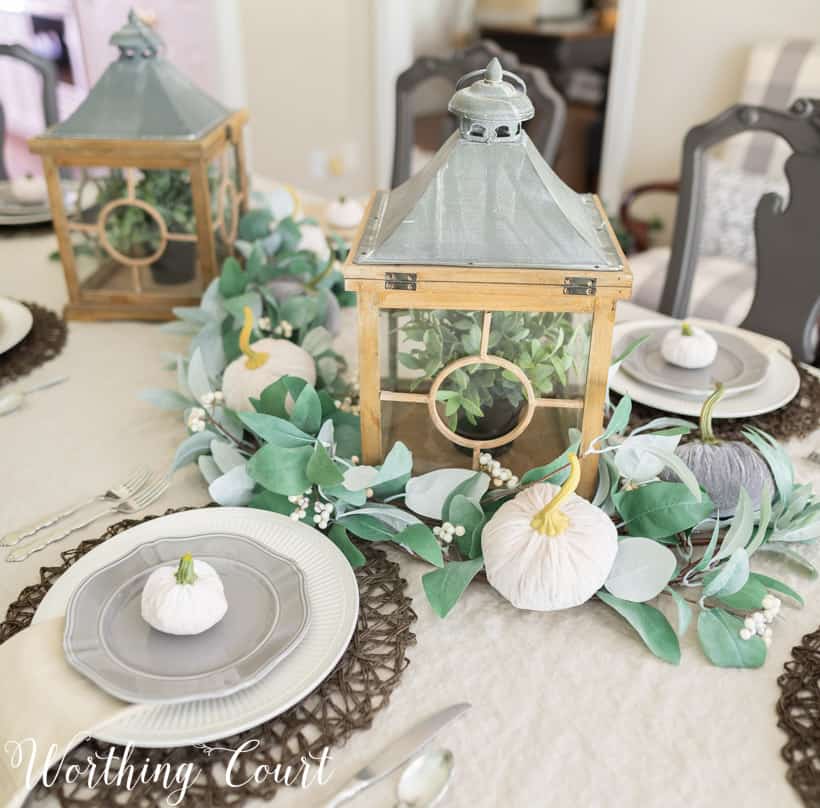 ACCENT EVERYDAY DINNERWARE
To go along with mixing and matching dinnerware, try adding an accent salad plate or bread and butter plate to each place setting. Small, holiday specific plates can often be found very inexpensively and will make such a difference on your table!
Dinnerware accents at this table:
contrasting color dinner plates
fall leaf accent plates at the side settings
cute squirrel accent plates at each end
mini pumpkin at each place setting
cute place card at each place setting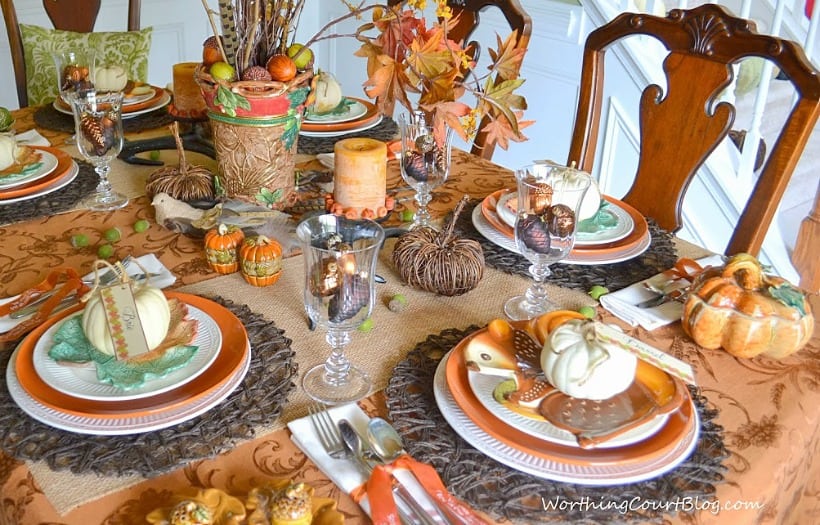 REPEAT ELEMENTS WHEN YOU SET YOUR THANKSGIVING TABLE
Repeat the same colors, in different ways, throughout your tablescape.
For example, think about what you used to create your centerpiece. Are there elements of that that you can carry to each place setting?
Repeated elements at this table:
same color of pumpkins in the centerpiece and at each place setting
eucalyptus in the centerpiece and on the dinner plate pattern
napkins rings using the same colors as the centerpiece
tablecloth, placemats and candlesticks all in the same neutral color palette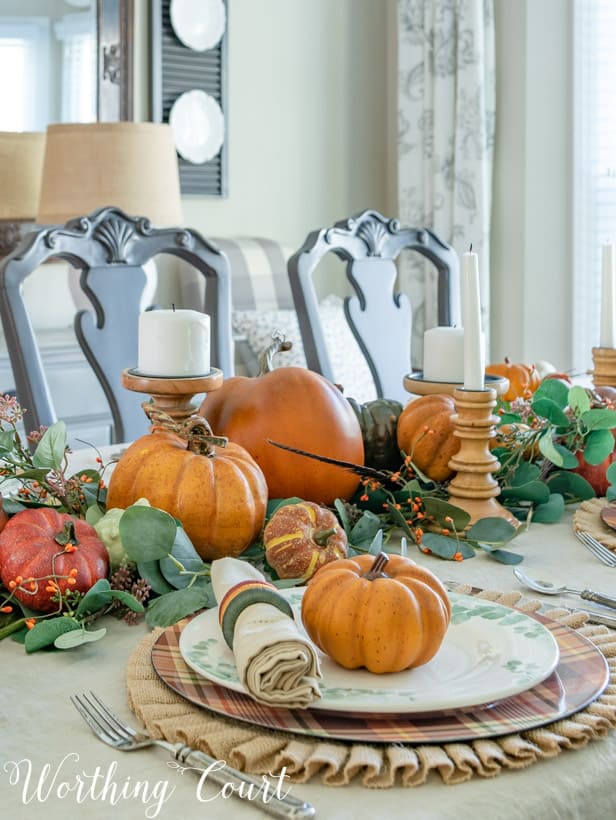 JUXTAPOSITION IS YOUR FRIEND
Juxtaposition is when at least two things are placed close together that have contrasting effects. These are some of the types of juxtaposition you can add to your table for added interest and drama:
Casual and formal
Rustic and luxe
Shiny and rough
Modern and vintage
Dark colors and light colors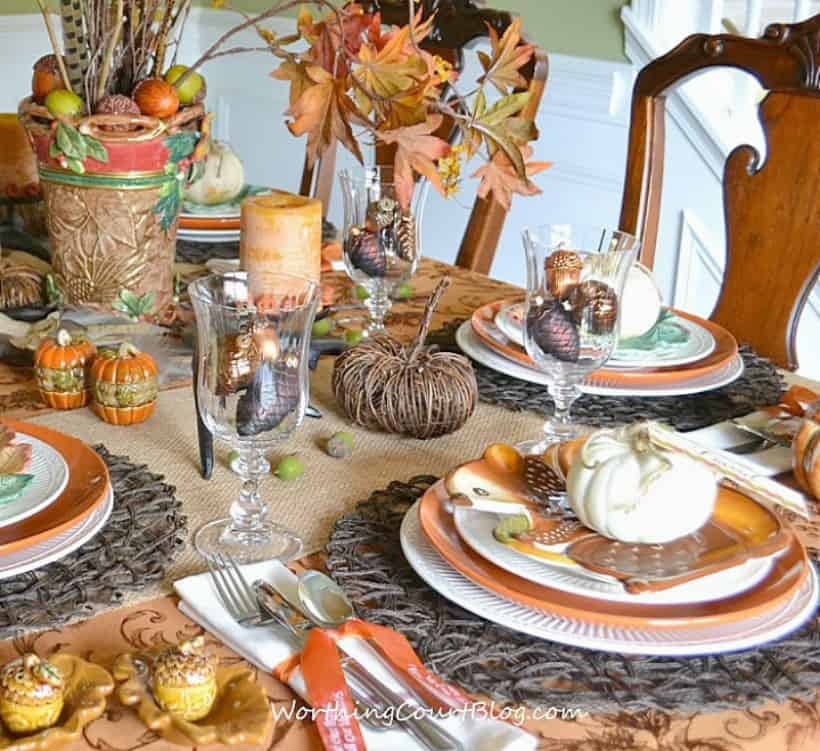 LAYER LINENS
Whether you use a tablecloth or not is up to you, but to really make my Thanksgiving table special, I almost always use one on mine. I layer it with placemats and sometime chargers at each place setting. I may have a runner going down the middle of the table too.
My very favorite tablecloth to use is a natural linen one that I have washed and dried, but not ironed. The juxtaposition of having the un-pressed, un-starched tablecloth mixed with the dressier place settings and candles adds a real drama that I just love and keeps the entire setting from becoming too stuffy looking.
Layered linens at this Thanksgiving table setting:
washed, but unpressed linen tablecloth
round, ruffled burlap placemats
rolled napkins place on top of each dinner plate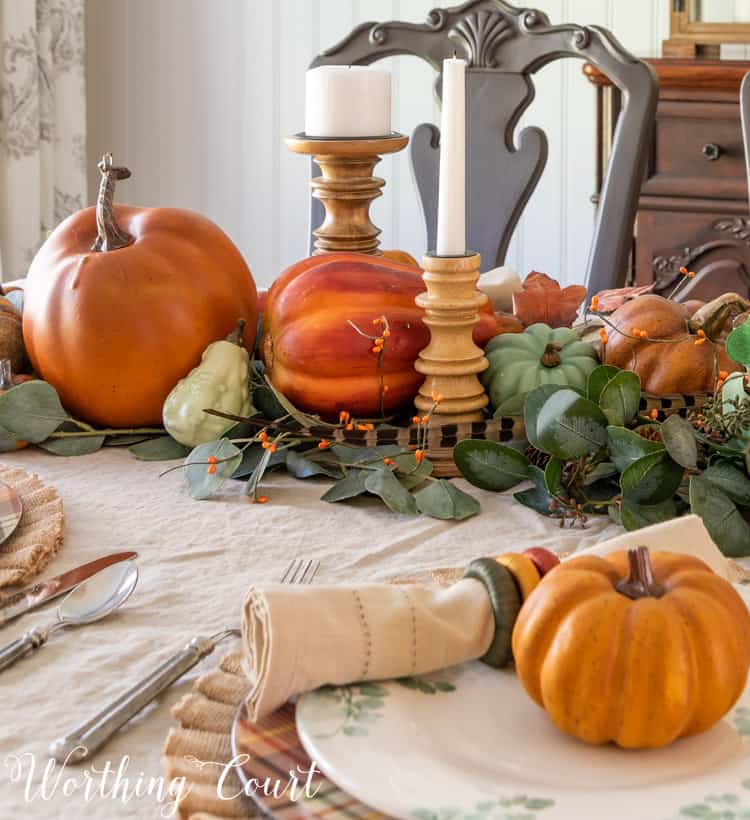 ADD A LITTLE SPARKLE
For an extra special touch, add a little sparkle to your holiday table. I love, love, love seeing the reflection of candlelight in glass on a table!
Add sparkle to your table with:
lighted candles
glass pieces to reflect the light
mercury glass
shiny tchotchkes
polished sterling silver pieces
gold flatware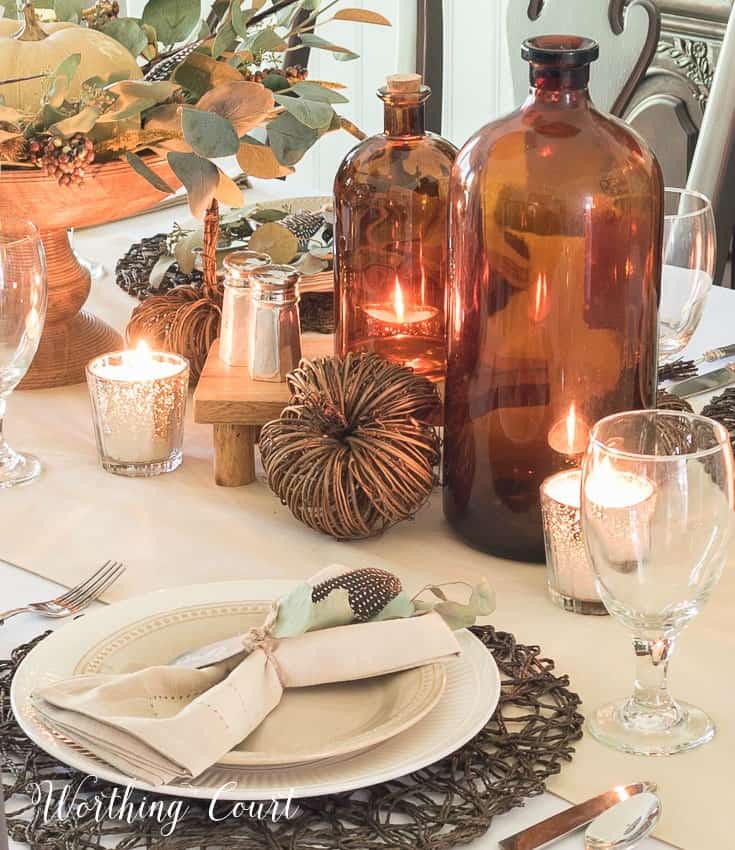 ADD A LITTLE WHIMSY
Have fun with your table! Tuck that cute little salt and pepper shaker set or those cute little figurines into your tablescape. Don't be afraid to step out of the box a little!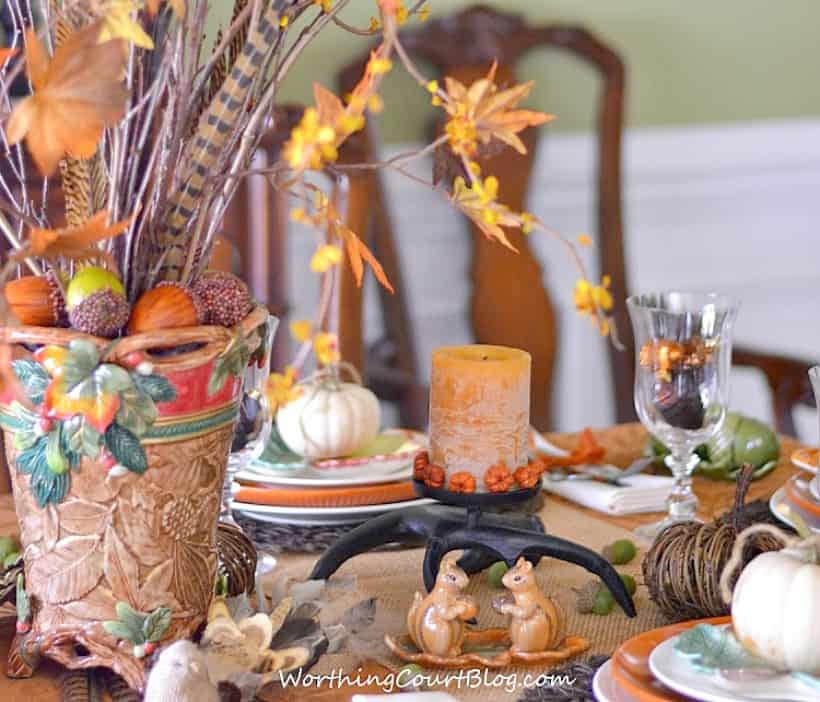 TWO RULES OF THUMB TO FOLLOW WHEN SETTING A THANKSGIVING TABLE
And lastly, here'are two rules of thumb to follow when you set a Thanksgiving table:
To keep your table decorations balanced – the more elaborate each place setting is, the more simple the centerpiece should be. Or the reverse – the more elaborate your centerpiece is, the simpler each place setting should be.
Remember – your centerpiece should not be so tall that it blocks the person across the table!
Happy and warm Thanksgiving wishes from my home to yours!