5 Spot-On Tips For Hosting Thanksgiving Or Any Holiday Meal
5 spot-on tips for successful holiday hosting at Thanksgiving or any meal.  These tips will help to make the day gratifying for both you and your guests.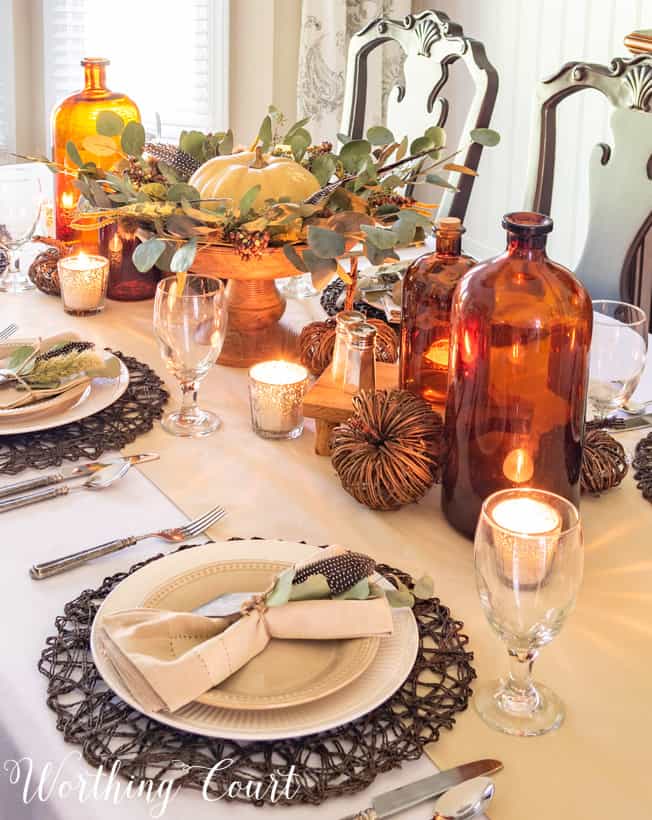 This post and photos may contain Amazon or other affiliate links. As an Amazon Associate I earn from qualifying purchases. If you purchase something through any link, I may receive a small commission, at no extra charge to you. All opinions are my own. See my full disclosure HERE.
Hosting Thanksgiving in your home is either a time honored tradition for you or else it's a rite of passage as you enter adulthood.  From the turkey prep to the table settings, the expectations of both you and your guests can be high.
At my house, the Thanksgiving meal is the most anticipated meal of the year!  Even though the basic menu remains the same every year (under strict orders from my daughter), we talk about and plan for this special holiday weeks in advance.
If this is your first or your 30th year as a host for any holiday meal, this list of 5 holiday entertaining ideas and tips will serve up a gratifying day for both you and your guests.  Here's how to host a successful Thanksgiving dinner in 5 easy steps.
SERVE YOUR MEAL BUFFET STYLE
For easy entertaining, I always serve my Thanksgiving and holiday meals buffet style!  It's the most practical and efficient way to serve a crowd or a small gathering.
If you have room, try to set up the buffet for the main meal in the same room as the dining table.
A buffet allows you to decorate your table without worrying about leaving space for serving bowls and platters.
It's a time saver for getting food on everyone's plate while it's still warm.
It avoids the nuisance of having to pass possibly hot dishes around the table, from guest to guest.
If your buffet will be in the same room as the dining table, think about coordinating the buffet with what you use as table decorations by using some of the same decor elements in both places.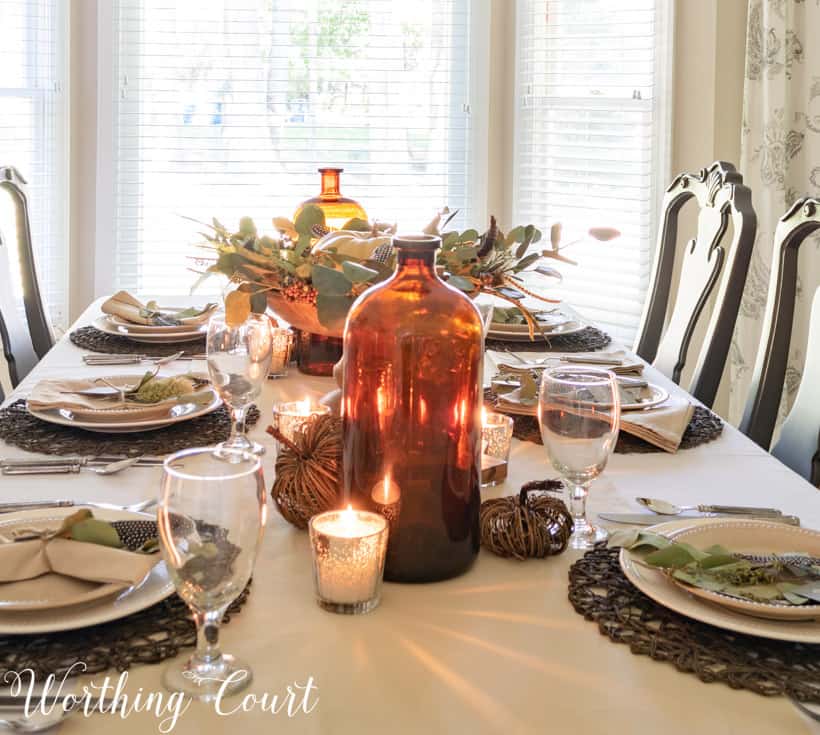 SET UP SEPARATE DESSERT AND DRINK STATIONS
There are some who prefer to have their dessert as soon as they finish their meal and there are others who prefer to wait for a while.  And then there are others who eat their main meal at someone else's home and then join us just for dessert every year.
Because of the number of people we host at Thanksgiving every year and because of the layout of our home, we usually have to split into two groups. One group eats in our dining room and one group eats in our breakfast room.
One of the best hosting tips I can give you is to set up separate stations for the meal, dessert and beverages.  It works amazingly well!  My serving layout generally goes like this:
The buffet for the main meal is on the sideboard in the dining room.
The dessert station is set up on the sideboard in the breakfast room.
The drink station is either set up on a small side chest in my dining room or in the kitchen near the refrigerator and ice.
Don't fret if you don't have multiple areas in your home to spread the serving stations out!  When I lived in a much smaller home, my buffets were always set up on my kitchen counter.  In that instance I grouped the dinner items together, the beverage items together and the dessert items together.
I've also lived in homes with such a limited amount of space, that I set up a buffet in the kitchen for the meal and beverages, then cleaned that up and reset it for desserts and coffee.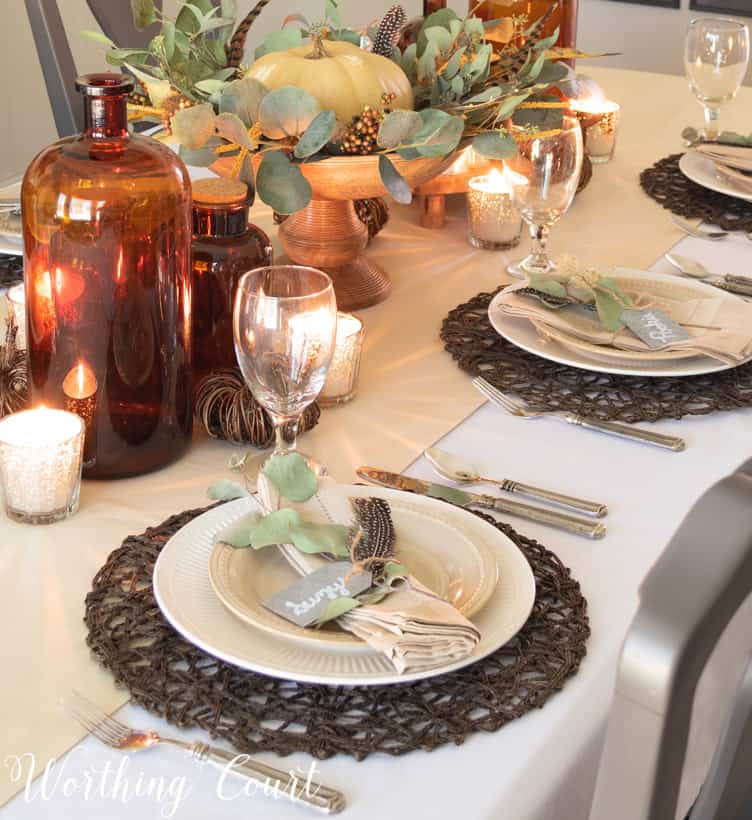 ENCOURAGE CONVERSATION
Hands down, my favorite thing about gathering for Thanksgiving, is the conversation that goes on both during after the meal!
For conversation during the meal, I created a free conversation printable that you can print on your home printer so that you can place one at each place setting. Get the conversation starter by clicking HERE.
When everyone has a full tummy and is relaxed from the frenzy of getting the food ready, the after-meal conversation is a wonderful place to learn family history, reminisce about shared memories, or to maybe even tease someone a little with a funny story from their past.
I don't have a lot of memories from my childhood, but my older brother is a wonderful source of information, plus I love any opportunity I have to "tell on" him!  The after meal conversation has also been a place where I've learned so much about much loved members of our blended family.
To be a good host, it's important to engage everyone at your Thanksgiving table in conversation, even the more quiet guests.  Here are few ideas to get conversation going, especially if everyone at your table isn't a member of your family or if your guests just don't seem to be in a talkative mood:
Set out a bowl or a jar with slips of paper and pen and request that everyone write at least one thing they are thankful for.  Pass the jar around during the meal, or assign one person (children love doing this!) to read them either during or after the meal.
Ask your guests to fill out a slip of paper, to be placed in a jar or a bowl, with a prayer request.  Those requests could be included at the prayer at the beginning of the meal or talked about/prayed over as part of your after dinner conversation.
Click HERE for my list of 5 conversation starters.
Click HERE for a list of 10 questions to ask your family around the table.
I LOVE this Table Topics Conversation Starter collection from Amazon!  Click HERE for more information.
And one last tip for encouraging fun conversation at your table – make sure your centerpiece doesn't block visibility of guests sitting across the table from one another.  It's hard to carry on a conversation with someone when you can't see them!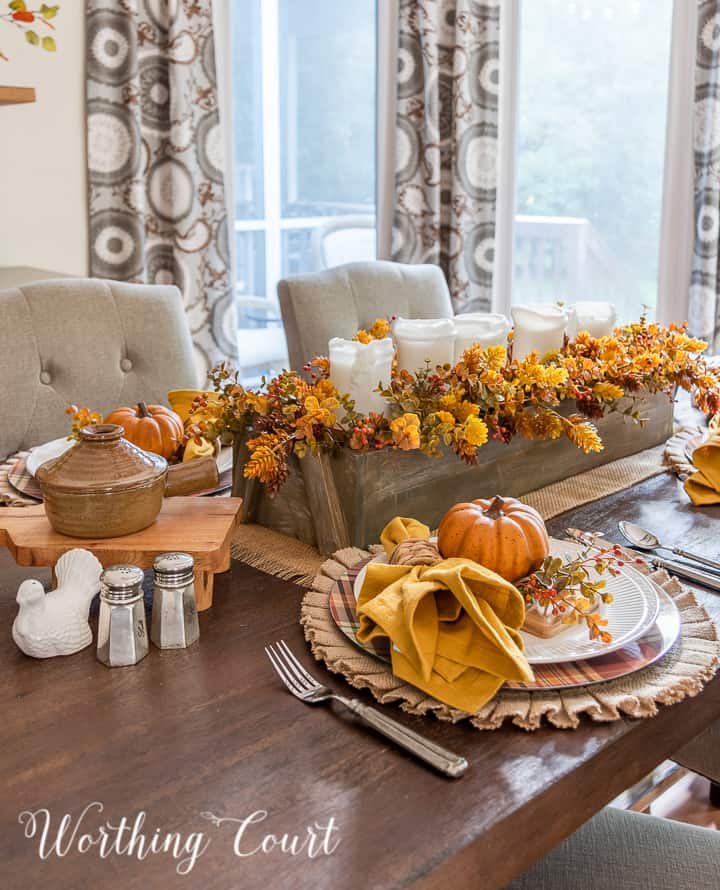 MAKE SURE YOU'RE PREPARED FOR LEFTOVERS
Raise your hand if you have a love affair with Thanksgiving leftovers!  Everyone at my house sure does! In fact, I make sure that I purposely cook extra so that we'll be sure to have leftovers for those who drop back by over the following weekend.
Here's what you'll need to be prepared for sending leftovers home with others and for any leftovers that you keep yourself:
Chinese takeout boxes work great for sending leftovers home with guests.  Click HERE for one pint boxes with a handle.
A variety of shapes and sizes of food storage containers.  Click HERE to see my favorites.
Fitted, reusable bowl covers.  THESE are ideal for storing food in their original serving containers.
Handy popup aluminum foil wrappers can be found HERE.
Many people are huge believers in eco-friendly, reusable beeswax wraps.  You can find them HERE.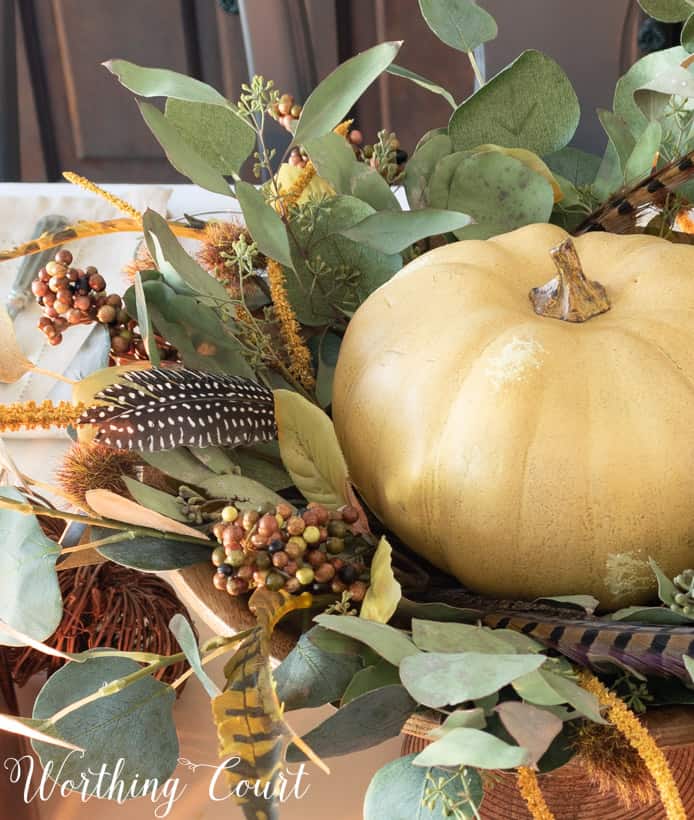 DON'T BE AFRAID TO ACCEPT HELP!
I'm one of those who used to think that I had to do ALL the work by myself in order for everyone to completely enjoy themselves when I hosted Thanksgiving, or any other gathering for that matter.  I refused genuine offers of help and would never dream of actually asking someone to help me!
It took me a few years, but I finally realized two things:
Refusing the help of others actually seemed to make everyone feel more stilted, even though those in attendance were close family and friends.  There's something about everyone working together that creates a relaxed atmosphere and a feeling of togetherness.
While others may have enjoyed not being asked to help, my approach resulted in me being worn out well before the day was ever over.  Picture someone with a grumpy attitude and a face with a pasted-on smile.  Sadly, there are many times when that was me.
Help comes in many forms when doing hosting Thanksgiving!  It isn't just help with the dishes – it's help with the meal prep, help with setting food out and refilling empty serving dishes, help setting and then clearing the table and so much more.
And don't refuse those offers to bring something!  Whether it's a side dish, a dessert or something else, asking guests to bring their favorite dish will add a huge amount of variety and fun to your meal.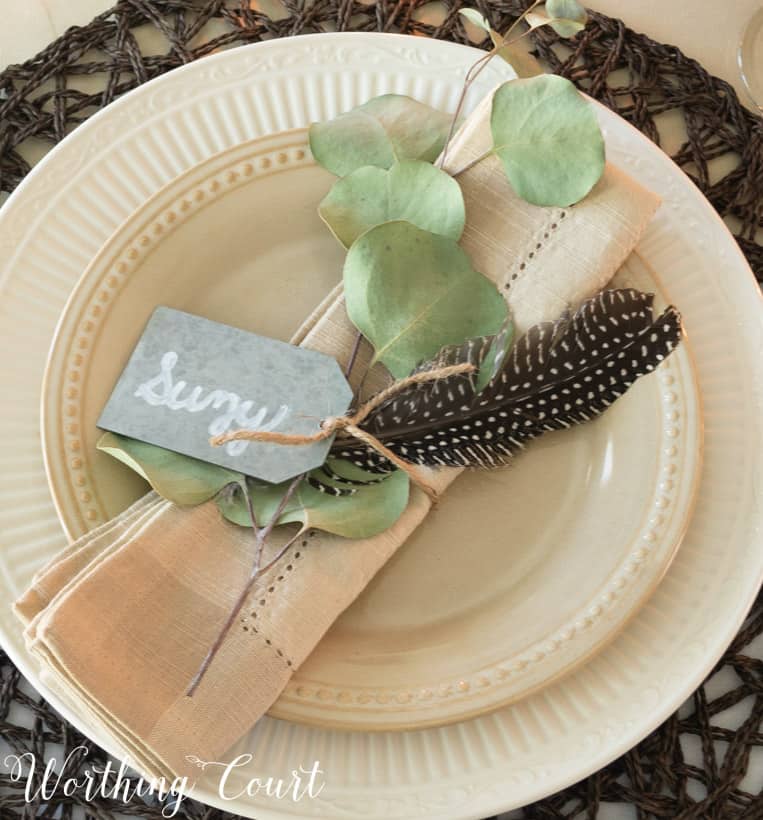 Just writing this post about Thanksgiving entertaining has me so excited for the big day to arrive!  I wish you and everyone who graces your table a very, very blessed and joyous Thanksgiving!