My 5 Favorite Tabletop Accessories For Setting A Beautiful Thanksgiving Table
I've put together a list of 5 of my favorite tabletop accessories that you can easily mix and match to set a special Thanksgiving table.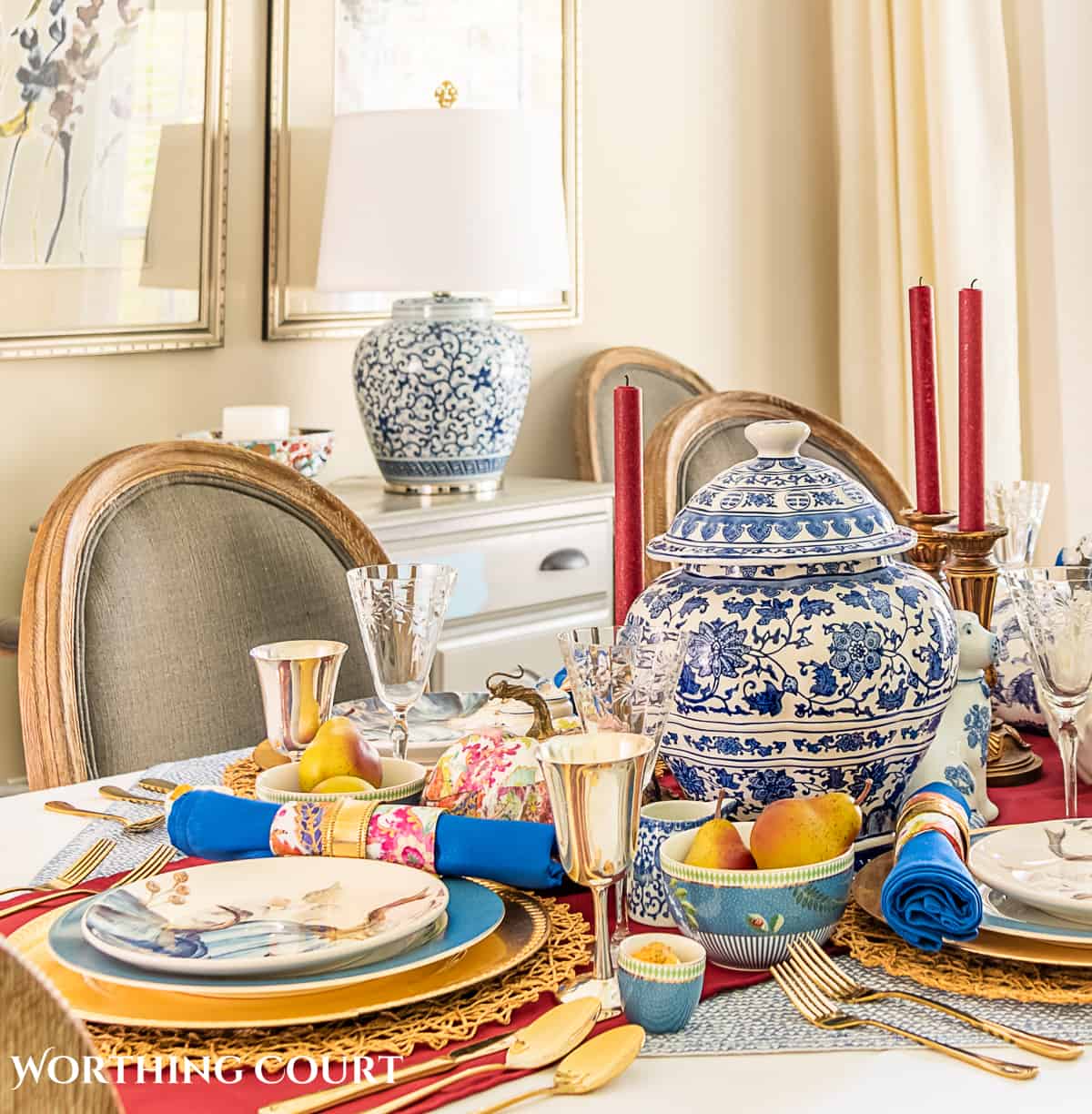 This post and photos may contain Amazon or other affiliate links. As an Amazon Associate, I earn from qualifying purchases. If you purchase something through any link, I may receive a small commission, at no extra charge to you. All opinions are my own. See my full disclosure HERE.
Sitting down to a beautifully set Thanksgiving table is akin to being the recipient of an extra special wrapped gift!
It sends a clear signal that the person giving you the gift, or in this case, the person who prepared the meal and set the table, cared enough to take the time to create a wonderful experience for you.
Personally, it means the world to me to give the gift of a beautifully set Thanksgiving table! In fact, it's one of the ways that I express love to my family and friends during the holidays.
I've learned through the years, that to be a proper hostess, I need to set my table early. If I wait until the cooking starts, it just won't happen.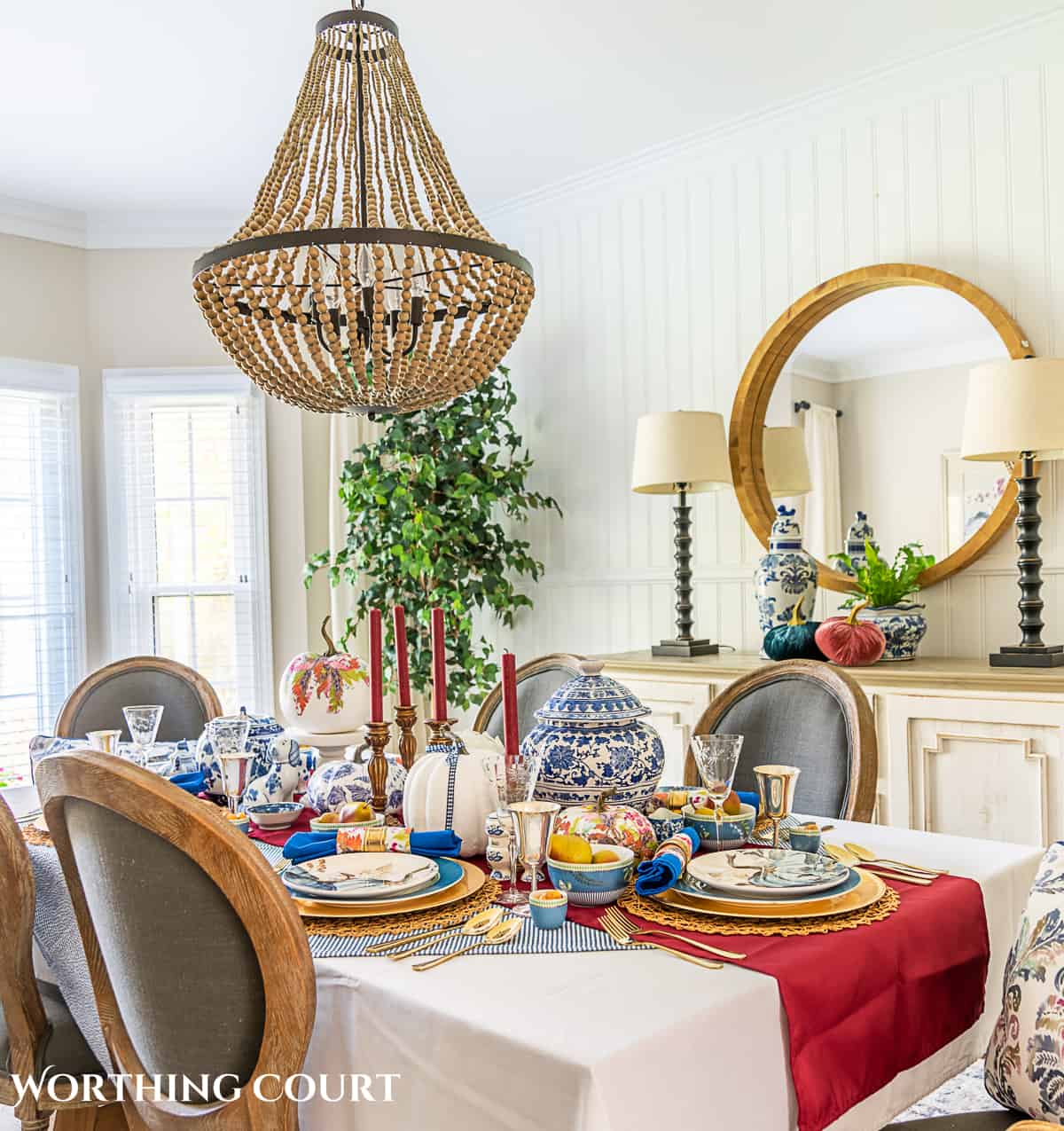 Of all the tables that I set throughout the year, the ones that I set for Thanksgiving are my favorite. I think that's because I know that my table will soon be filled with friends and family, talking and laughing and creating lots of new memories!
This list of my 5 favorite tabletop accessories will work whether setting a casual or formal table, that you can use year after year.
WOVEN PLACEMATS
You may think of woven placemats as being appropriate for use only on a casual table. Well, I hope I can redirect your thinking on that!
Their texture is amazing and looks wonderful mixed with all the elements of a formal table too. They help to soften the hard edges of the dinnerware and flatware and will give a formal table an inviting vibe.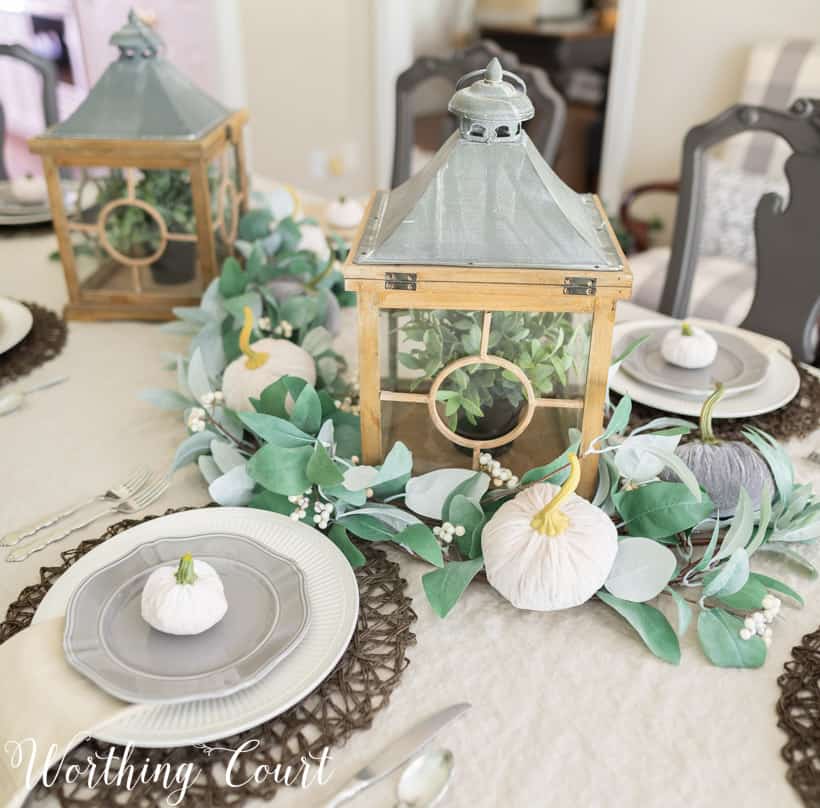 Add even more texture by layering different shapes and designs of woven placemats! Here I've mixed the same round woven mat with a rectangular-shaped mat made from multicolored pieces of wood woven together for a casual, yet dressy vibe.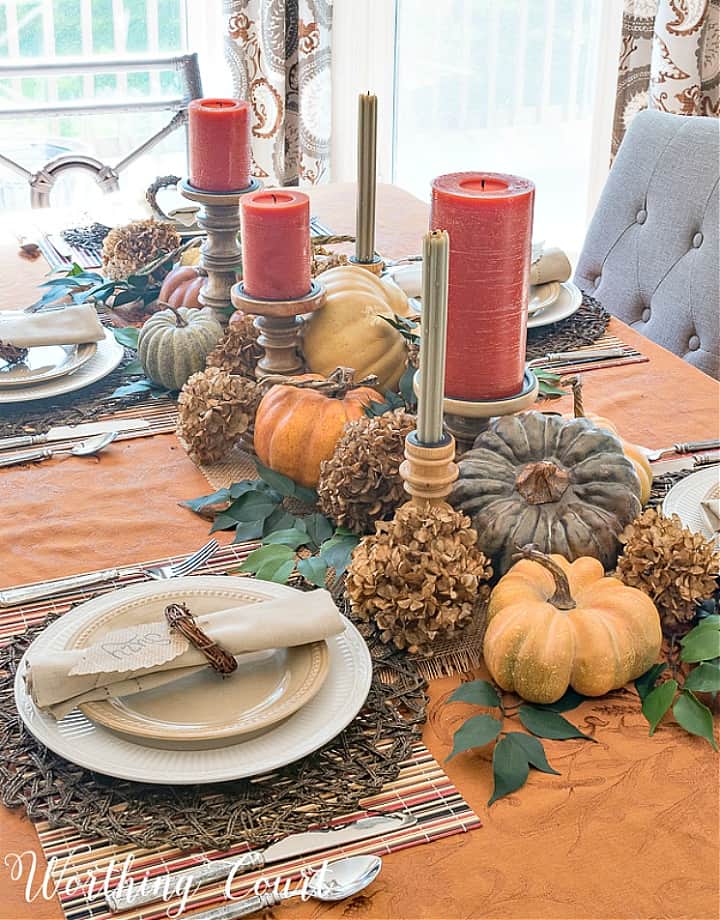 USE THE ARROWS TO SCROLL, CLICK/TAP ON ANY IMAGE TO SHOP:
PEDESTALS & RISERS
Using pedestals and risers, as part of your table centerpiece, will quite literally elevate your Thanksgiving table to a whole new level!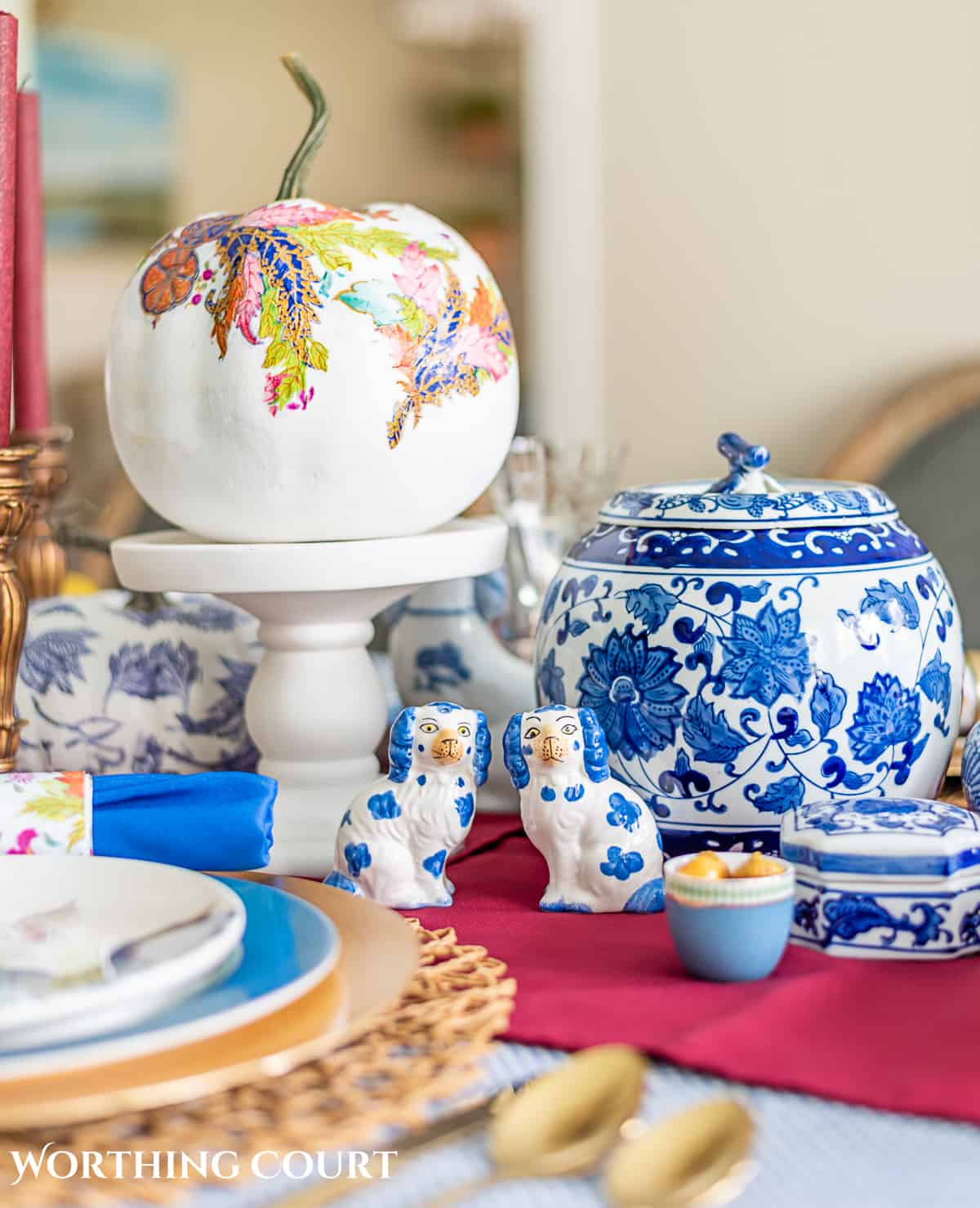 They will immediately add importance to your centerpiece. Adding varying levels to any type of display, even a tablescape, always, always makes it more appealing to the eye!
You can easily build your own and make it any size that you need! To see how easy it was to build the one below, head over to my Instagram profile and click on the highlight titled DiyRiser.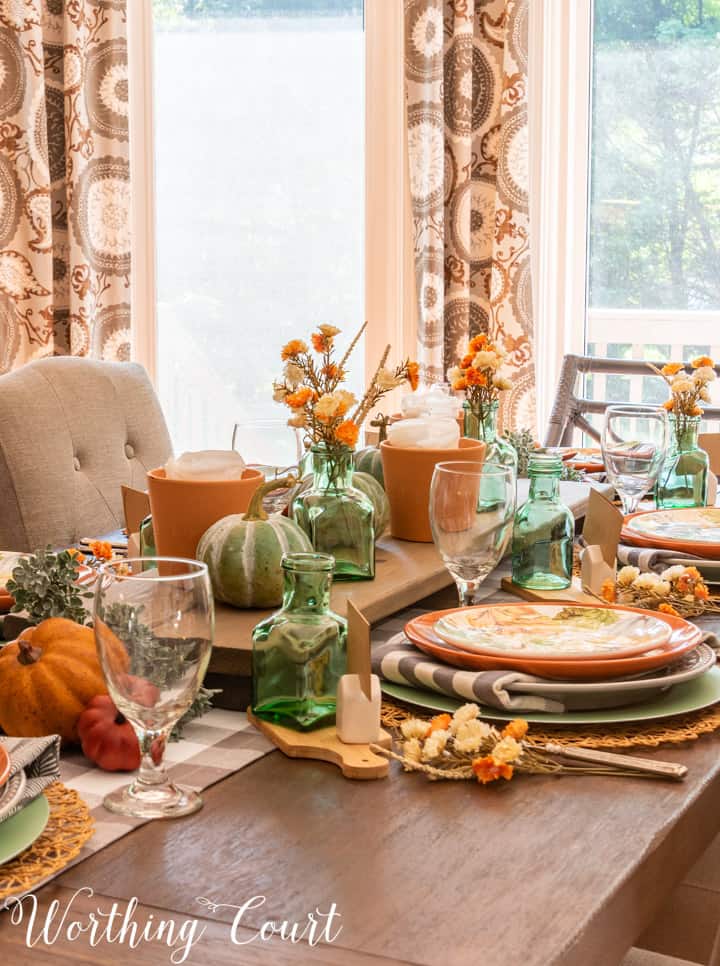 Risers also make a great spot to place salt and pepper shakers, butter dishes, and other small serving pieces.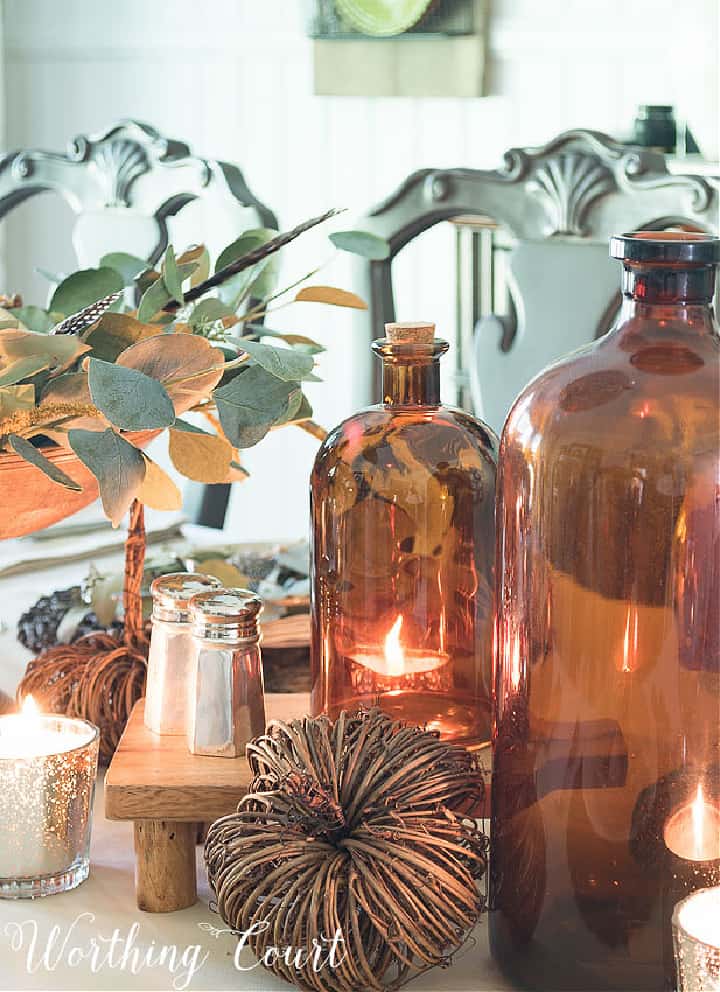 USE THE ARROWS TO SCROLL, CLICK/TAP ON ANY IMAGE TO SHOP:
A PAIR OF LANTERNS OR HURRICANES
Speaking of centerpieces, I love using a pair of matching lanterns or hurricanes on my table. They're extremely versatile and add a special touch of ambiance that you just don't get with plain candles.
Any shape will work. Grab a pair that aren't so tall as to block conversation and you'll find yourself using them on many of your holiday tables.
It's fun to think outside of the box and decorate the lanterns with something other than a candle too!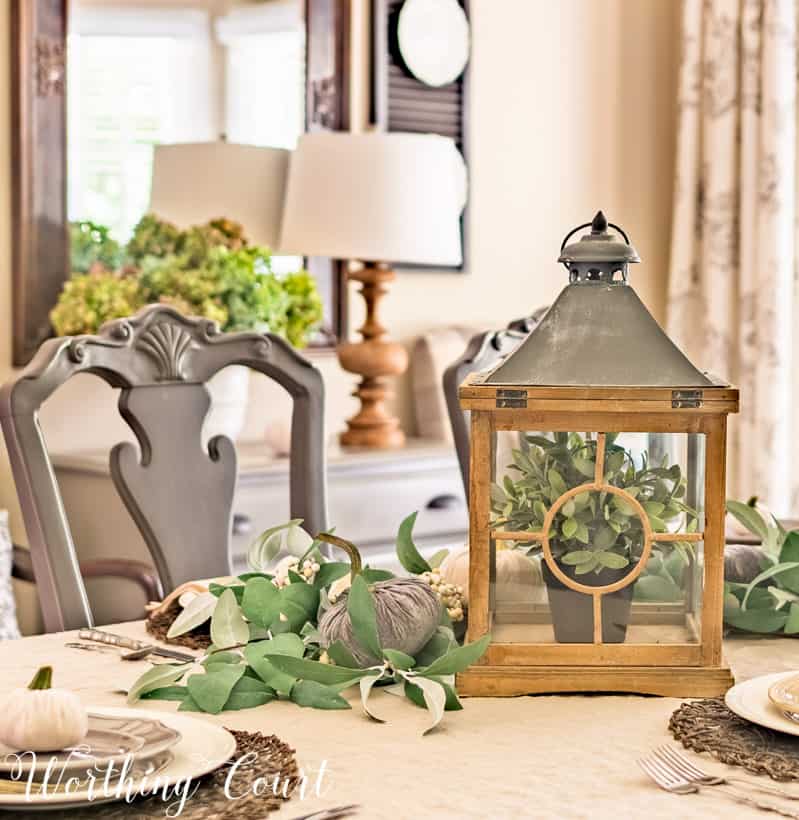 USE THE ARROWS TO SCROLL, CLICK/TAP ON ANY IMAGE TO SHOP:
A FALL-COLORED TABLECLOTH
Even if I'm setting a more casual table for Thanksgiving, I love to use a tablecloth. For some reason it makes my table and the occasion itself seem more fancy.
A solid color one works the best so that you aren't limited by what colors and patterns you can use on the rest of the table.
I have a rust-colored one that I especially love using this time of year. If the right side of the tablecloth is shiny, I simply turn it upside down and use the dull side.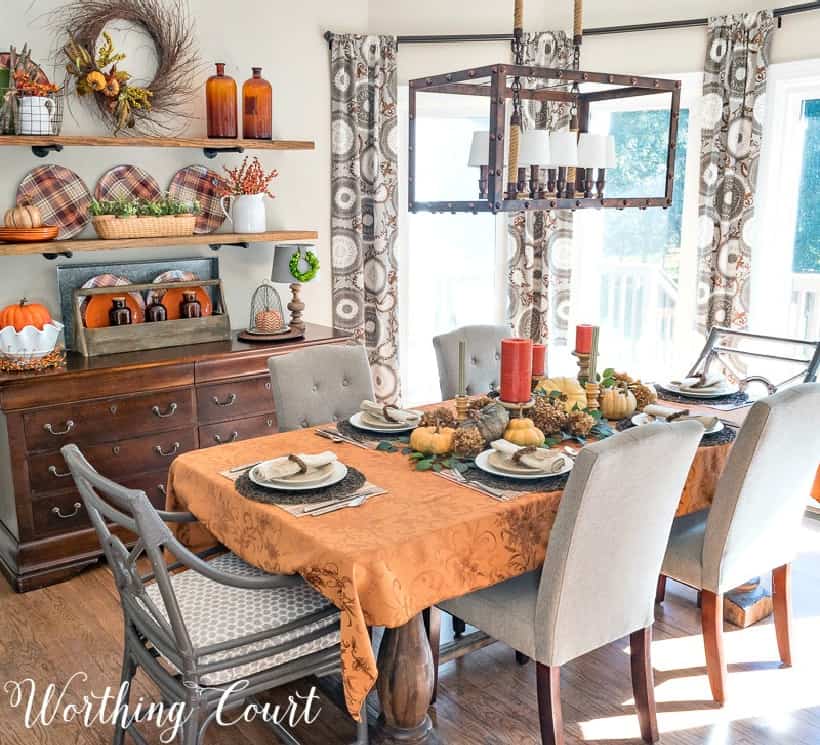 Another trick is to layer a runner over the tablecloth. Here's another think-outside-of-the-box moment – turn the runners so that they go from side to side on your table and use them as placemats for each place setting.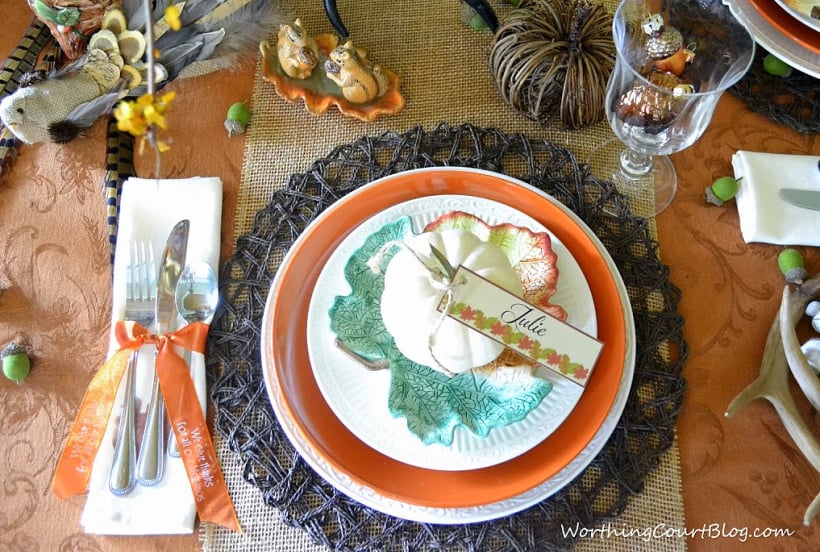 USE THE ARROWS TO SCROLL, CLICK/TAP ON ANY IMAGE TO SHOP:
BASIC WHITE DISHES
Last, but certainly not least, I simply must add basic white dishes to the list. Seasonal dishes and plates are fun, but nothing beats having a set of basic white dishes on hand!
They're kind of like blue jeans – they go with literally everything and look great on any style table.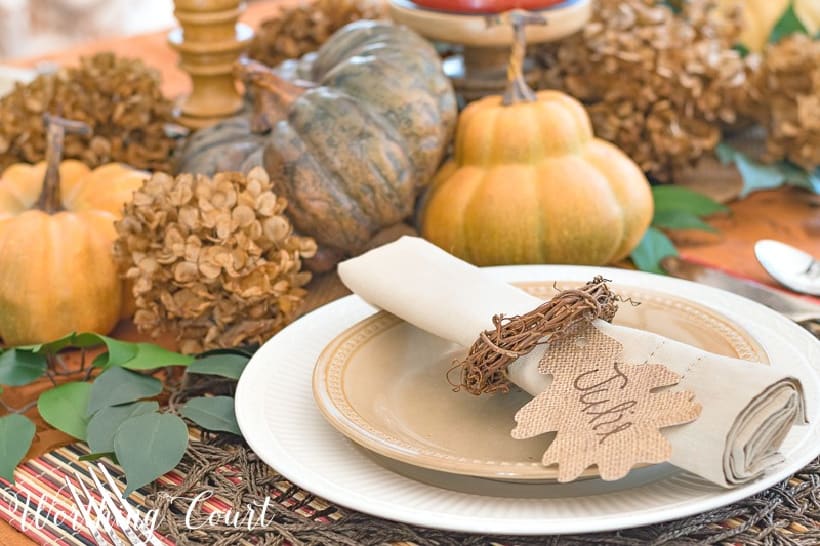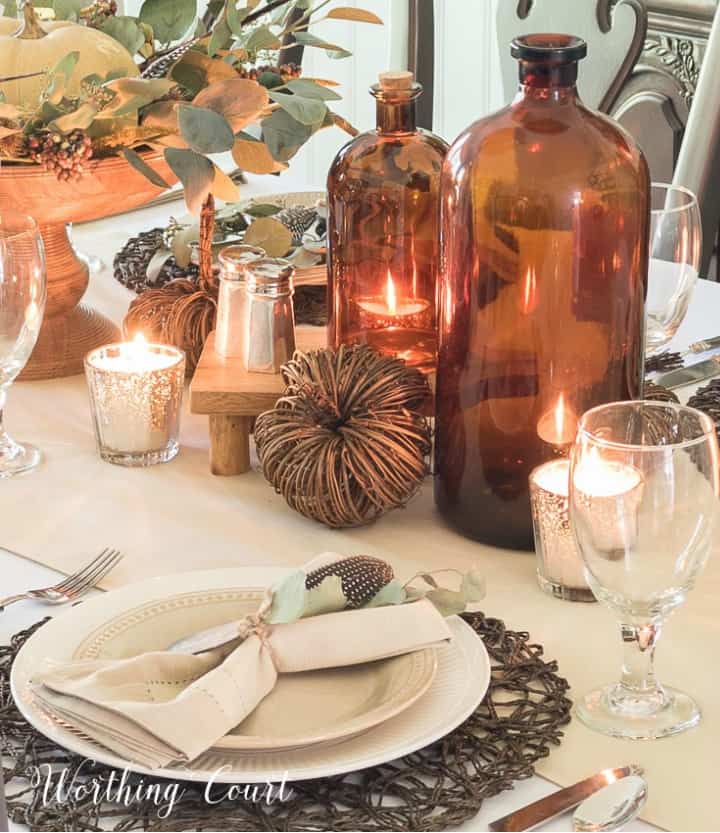 USE THE ARROWS TO SCROLL, CLICK/TAP ON ANY IMAGE TO SHOP: