Updated Traditional Red And Green Christmas Living Room
Over twenty-five bloggers sharing their homes decked out for Christmas.
I've decorated my home for Christmas with lots of different color themes over the twelve Christmases that I've been blogging, but this year's is my favorite!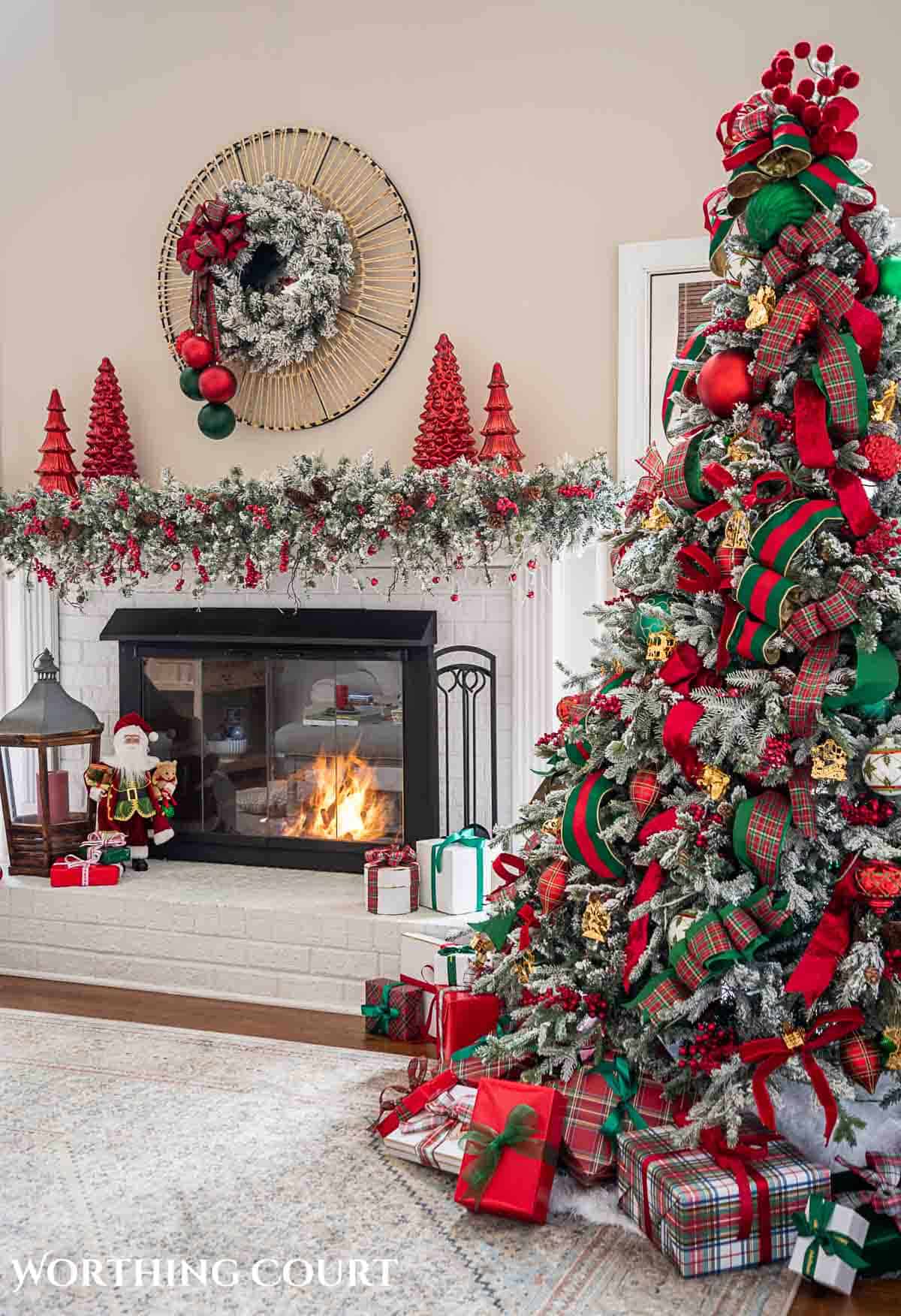 This post contains affiliate links from Amazon and other retailers. See my full disclosure policy HERE.
I've returned to my traditional red and green Christmas roots, but in a fresh new way!
Welcome to the annual Christmas homes tour, hosted by Marty from A Stroll Thru Life. If you're coming over from Kate's house at Southern Home And Hospitality, welcome to Worthing Court!
Kate is a personal friend of mine, so I'm glad we're on tour together. Isn't her home lovely?
My Christmas tree is located where it's visible as soon as you come to front door, so it's always the star of the show. I usually spend several days working on it off and on.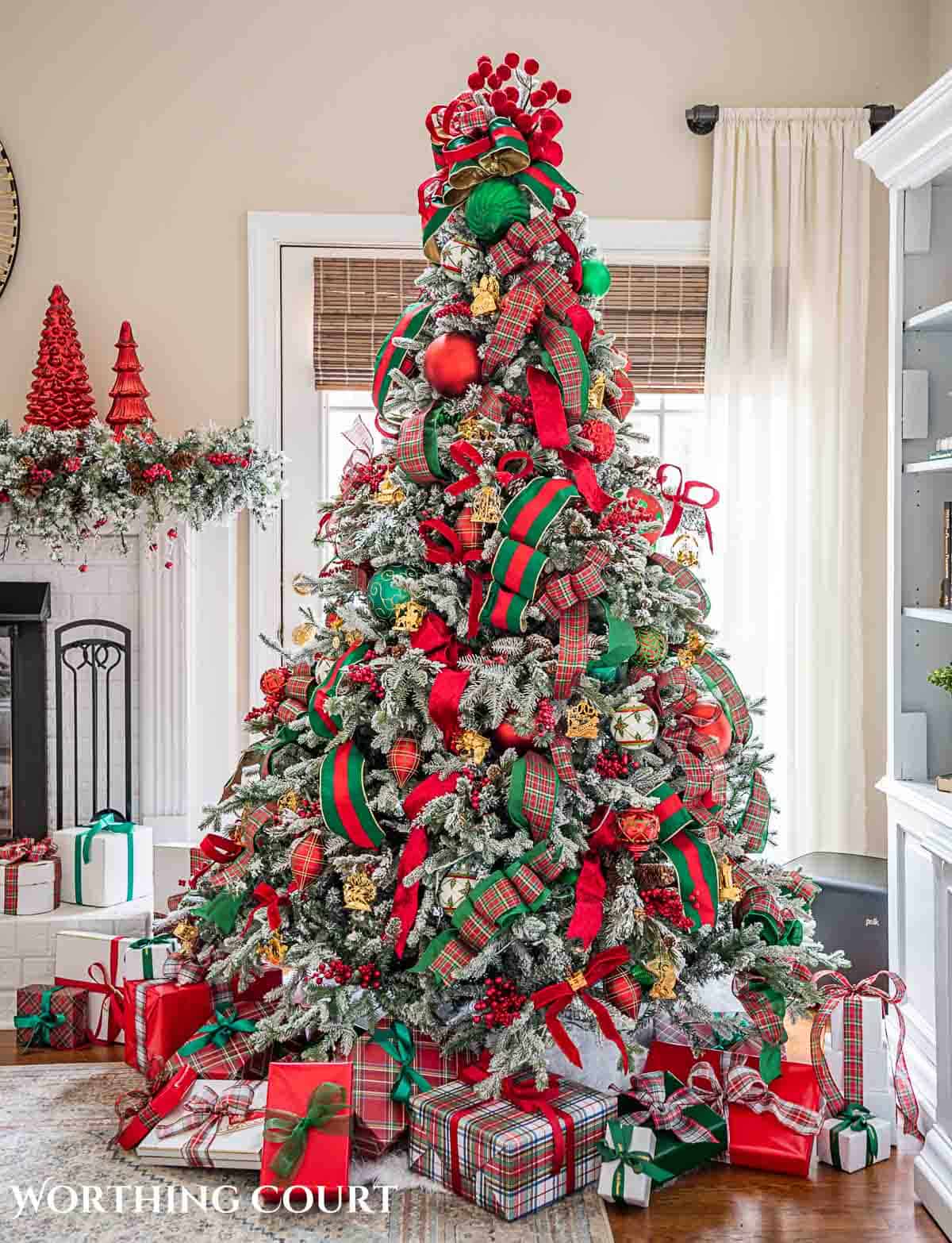 This year it's bedecked with lots of red and green ornaments and touches of gold.
I always like to start with my topper when decorating a Christmas tree. For me, it sets the tone and provides me with the direction for the rest of the tree.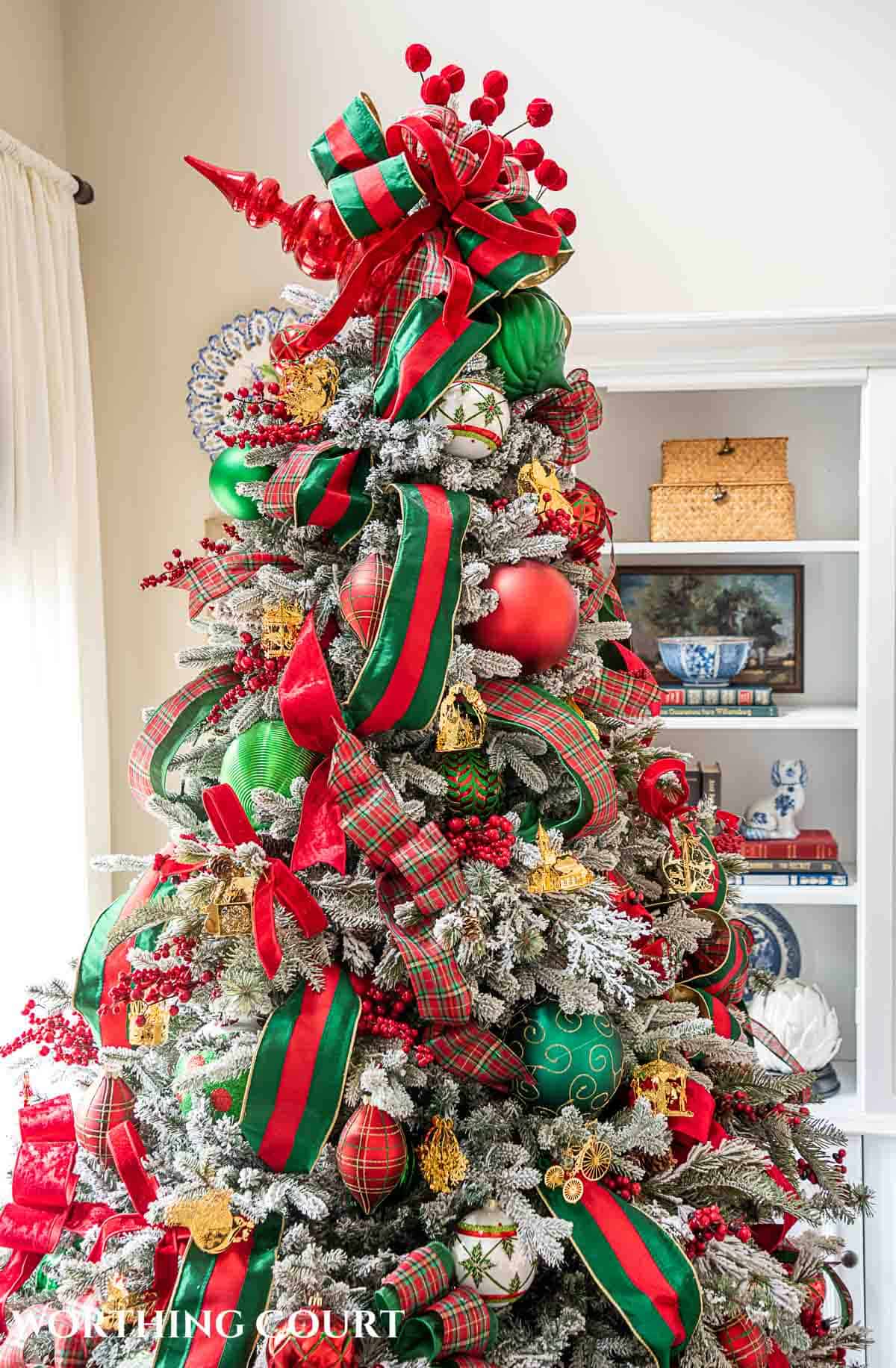 This year's topper is a mix of oversized ornaments, placed opposite one another on the diagonal, a few red velvet oversized berry picks and a mix of ribbons. Easy to do, but still makes quite the statement!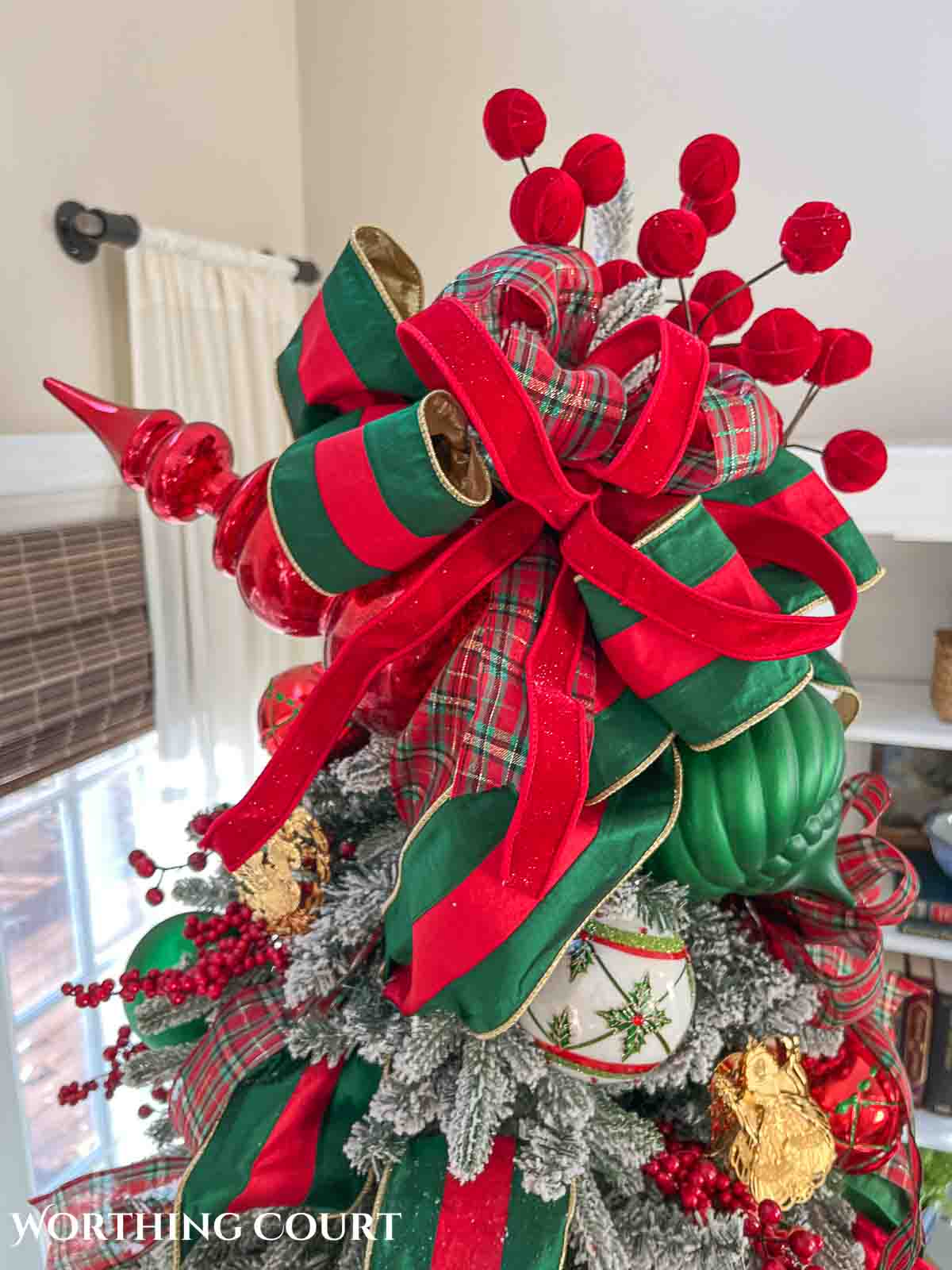 From the topper, I move onto adding large ornaments and/or unexpected elements, then onto smaller ornaments and so on.
I place any feature ornaments where they can best be seen next and then it's time for ribbon and picks.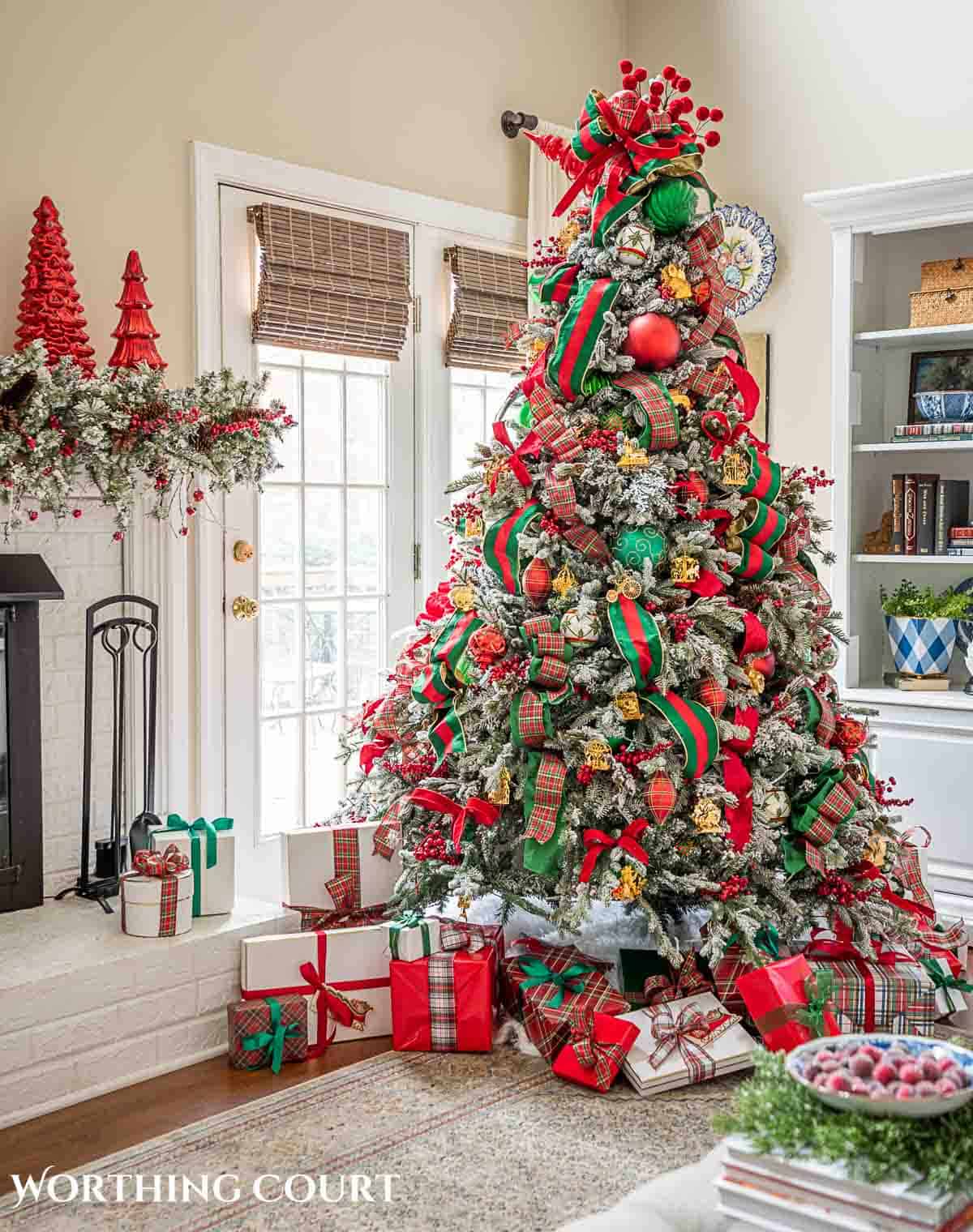 The ribbon is a fabulous green with red stripe, that I purchased HERE. It's backed with luxe gold and looks so pretty paired with vintage brass ornaments that I inherited from my mom. She collected them from the Danbury Mint back in the 80's.
They are truly special ornaments to me, so I placed them on branch tips so that they will easily be seen and appreciated.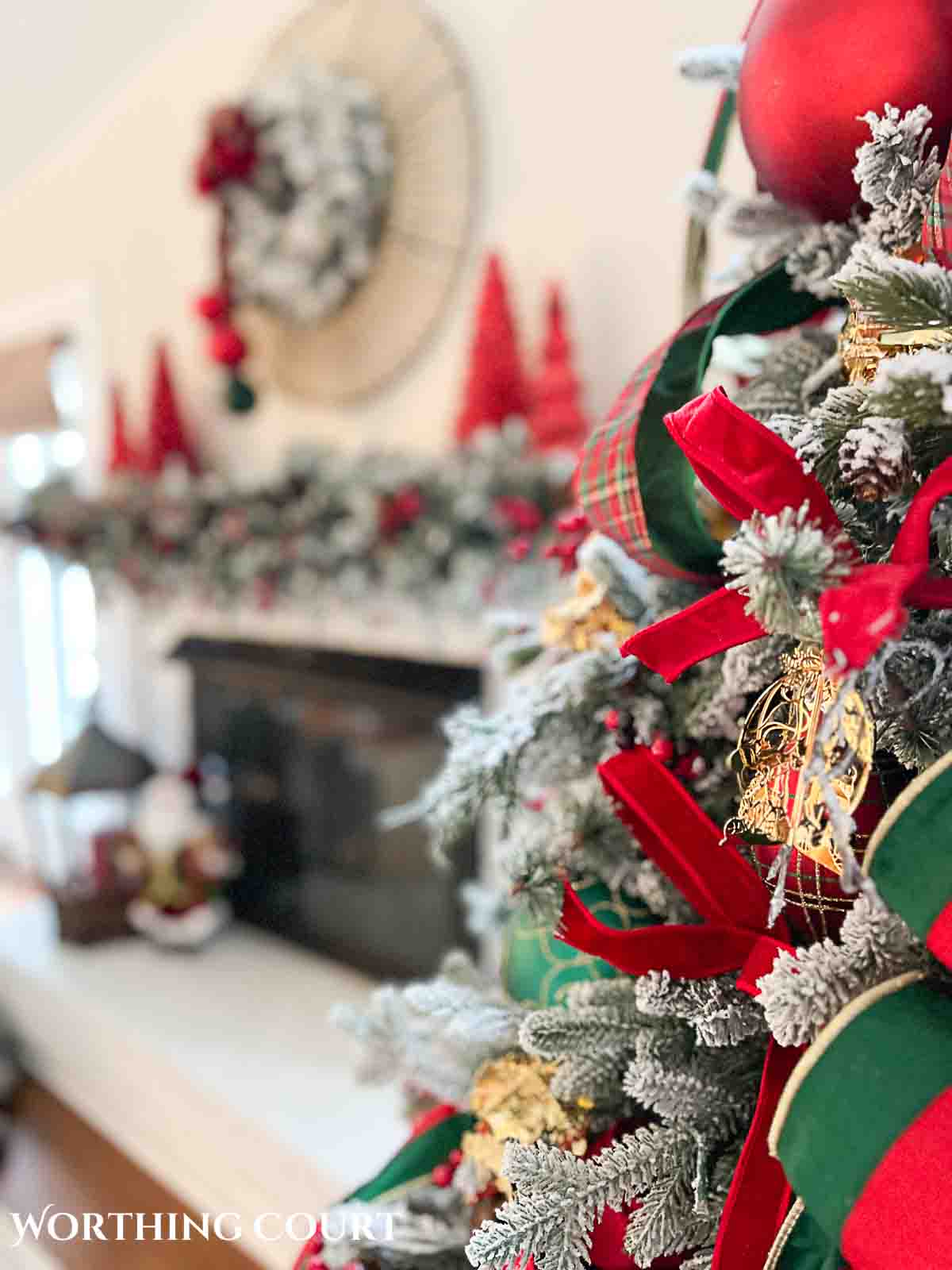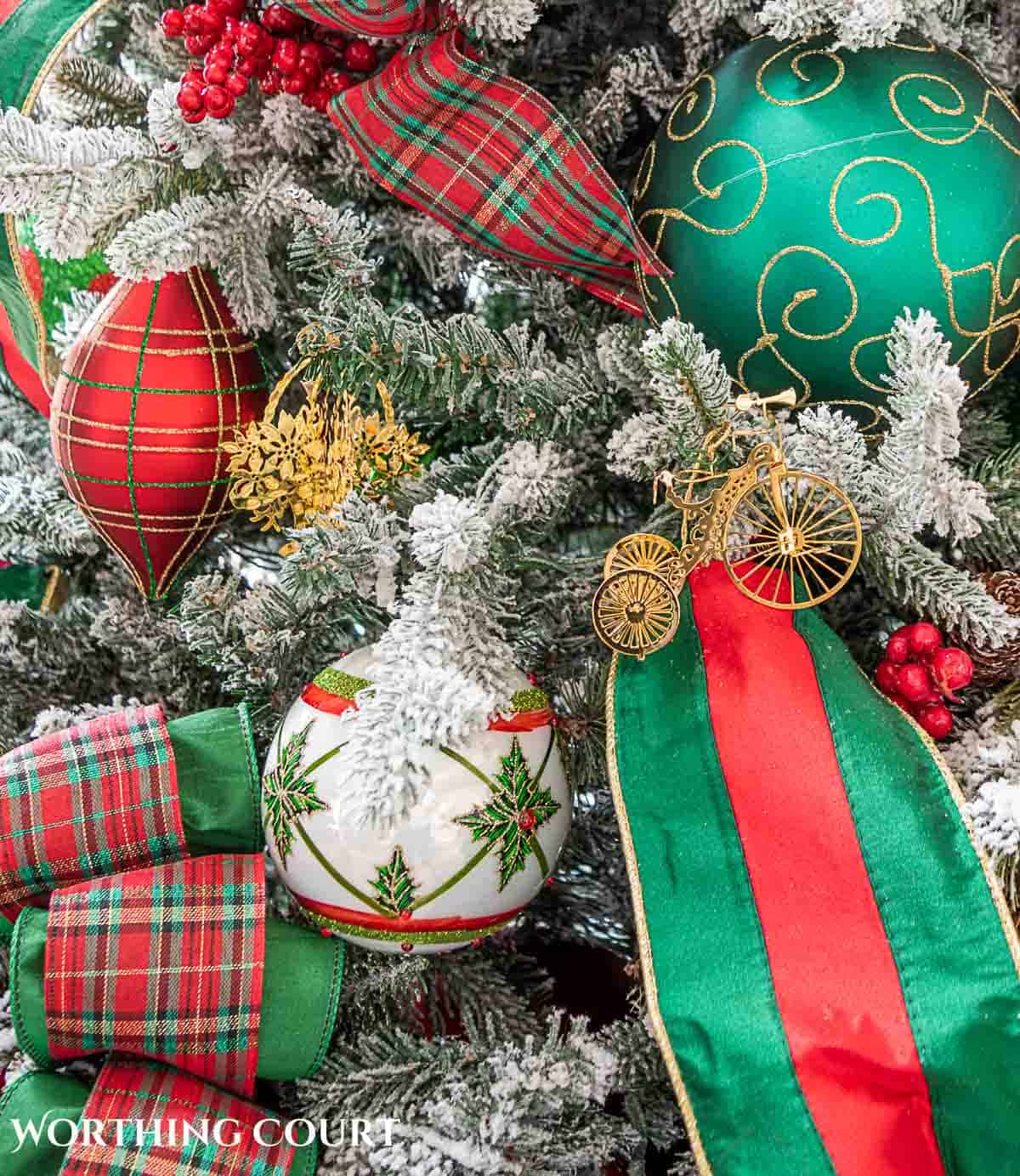 TIP: Want to learn how trained designers decorate a Christmas tree? Read THIS POST, which will take you through the process step-by-step.
I actually used four different ribbons on this year's Christmas tree. In addition to the green with red stripe, I also used a 2′ wide solid red velvet and a 2″ wide tartan plaid. A 1″ red velvet was used to add fun bows around different parts of the tree as a finishing touch.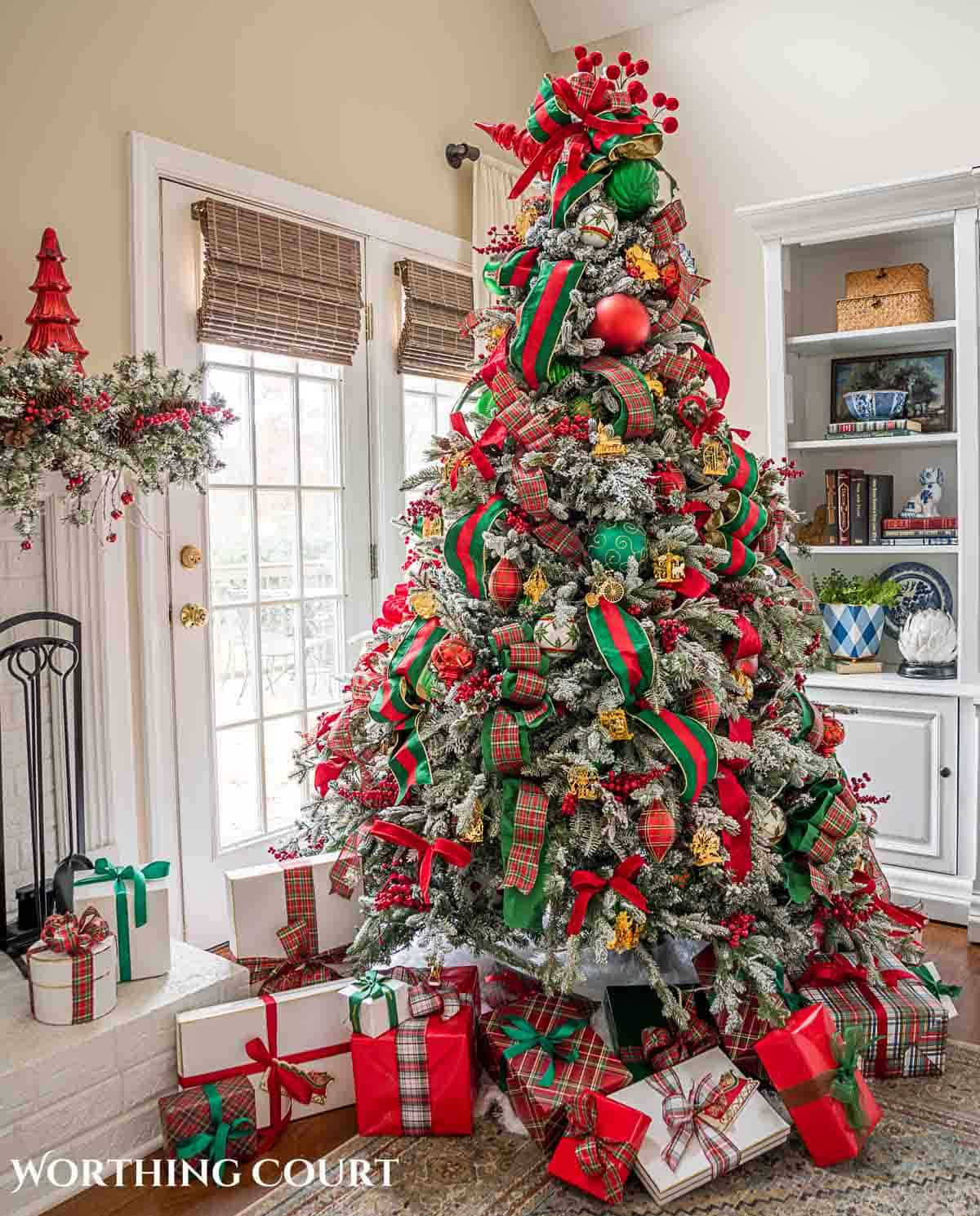 Want to ramp up your Christmas decor without buying more decorations? Wrap your presents to coordinate with your tree! I've done it for years and it makes such a difference.
Yes, I've used several different patterns of wrapping paper, but it all works well together because it's Christmas plaid!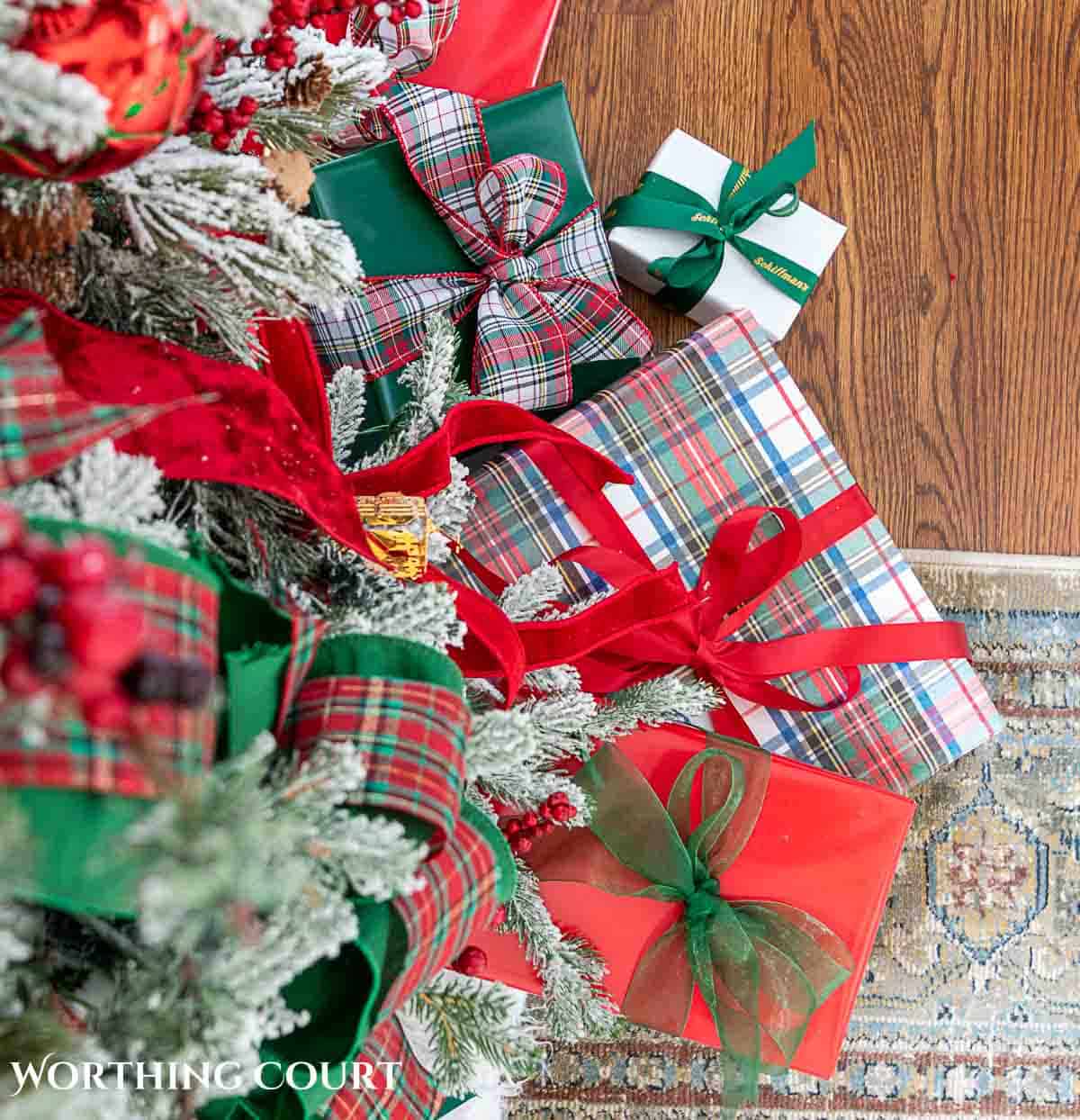 The fireplace is located right next to our tree, so I always decorate it as if it's an extension of the tree.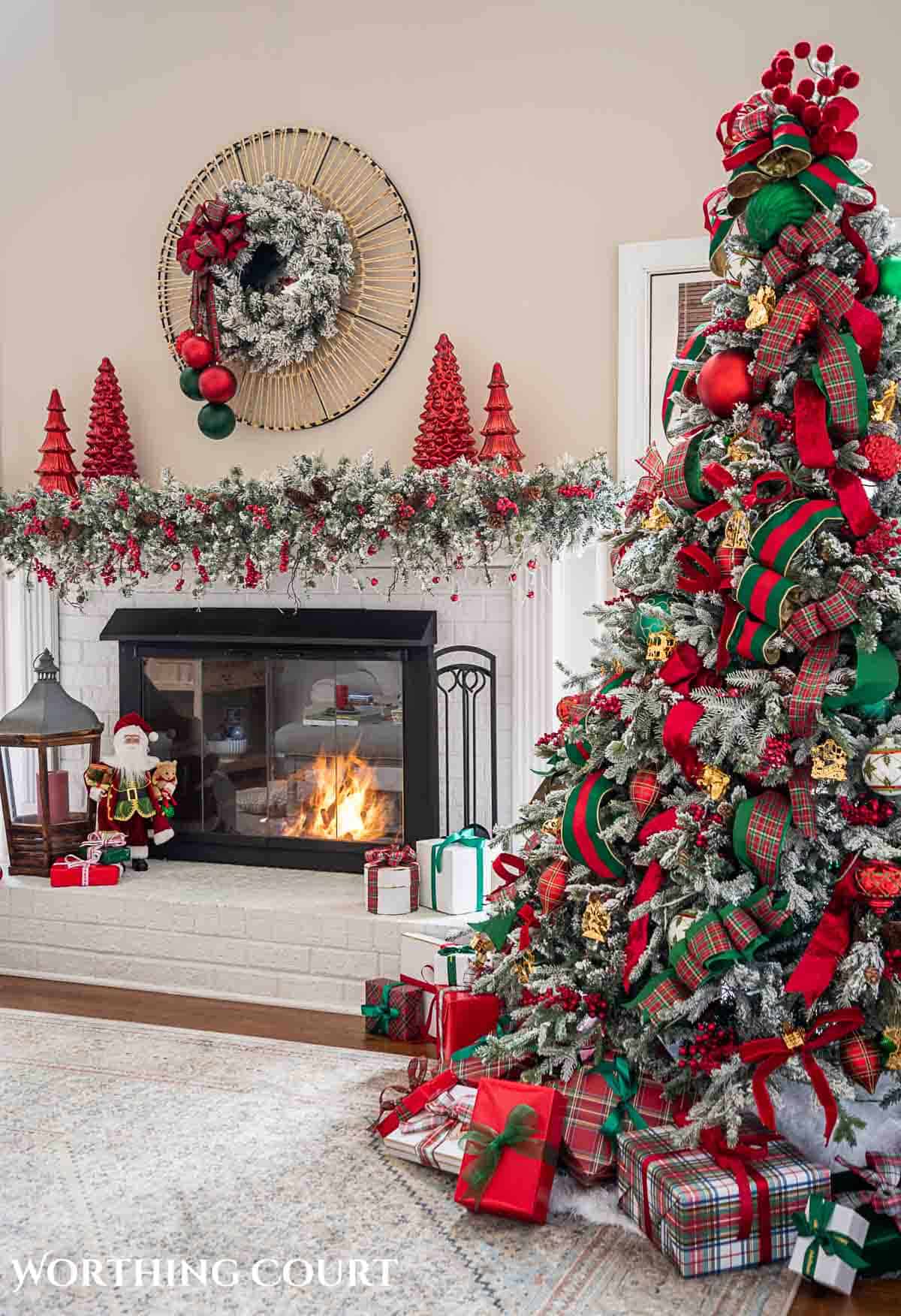 The garland is made up of three different ones wired together. The base is an very inexpensive flocked garland, that I doubled up, with two other garlands wired to it.
I then added some of the same picks that I used in the tree to the garland to really tie it all together.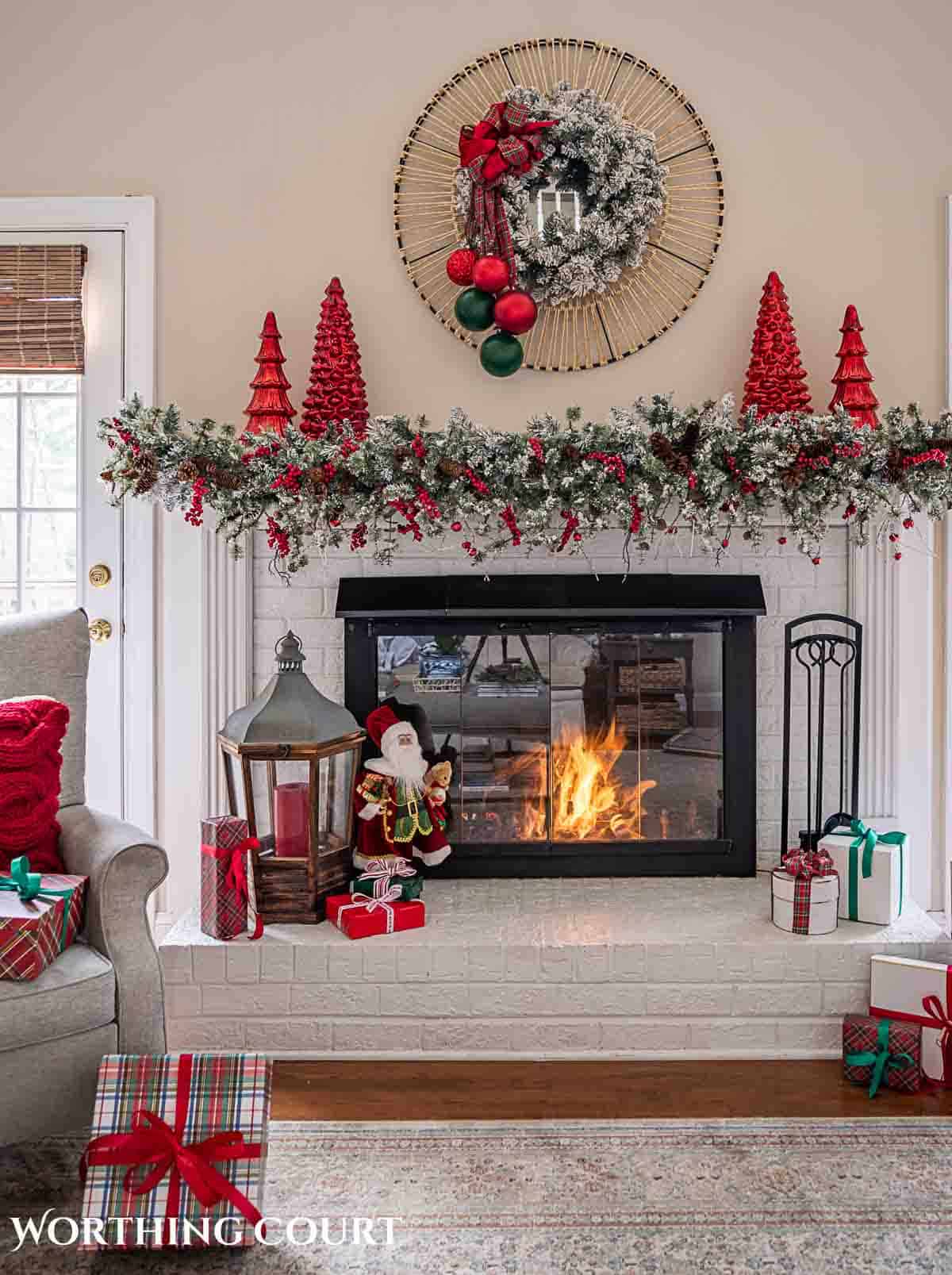 The red mercury glass Christmas trees were purchased on major sale and are such a fun addition this year! I already have plans for how I want to use them next year. The large one is can be found HERE and the smaller one HERE.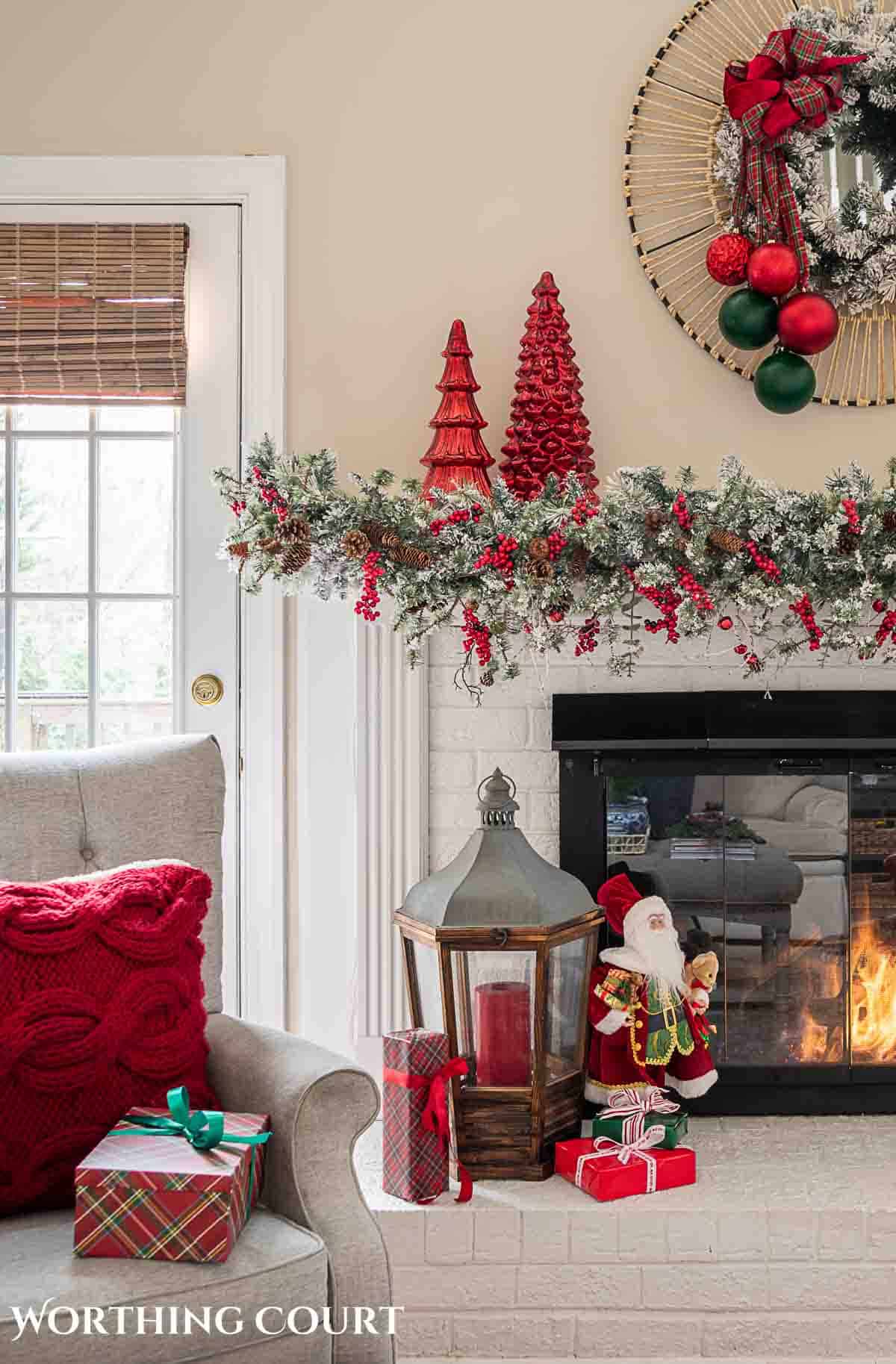 A flocked wreath works perfectly on my round mirror and how fun and unexpected are the ornaments that are dangling from some of the same ribbon that I used on the tree?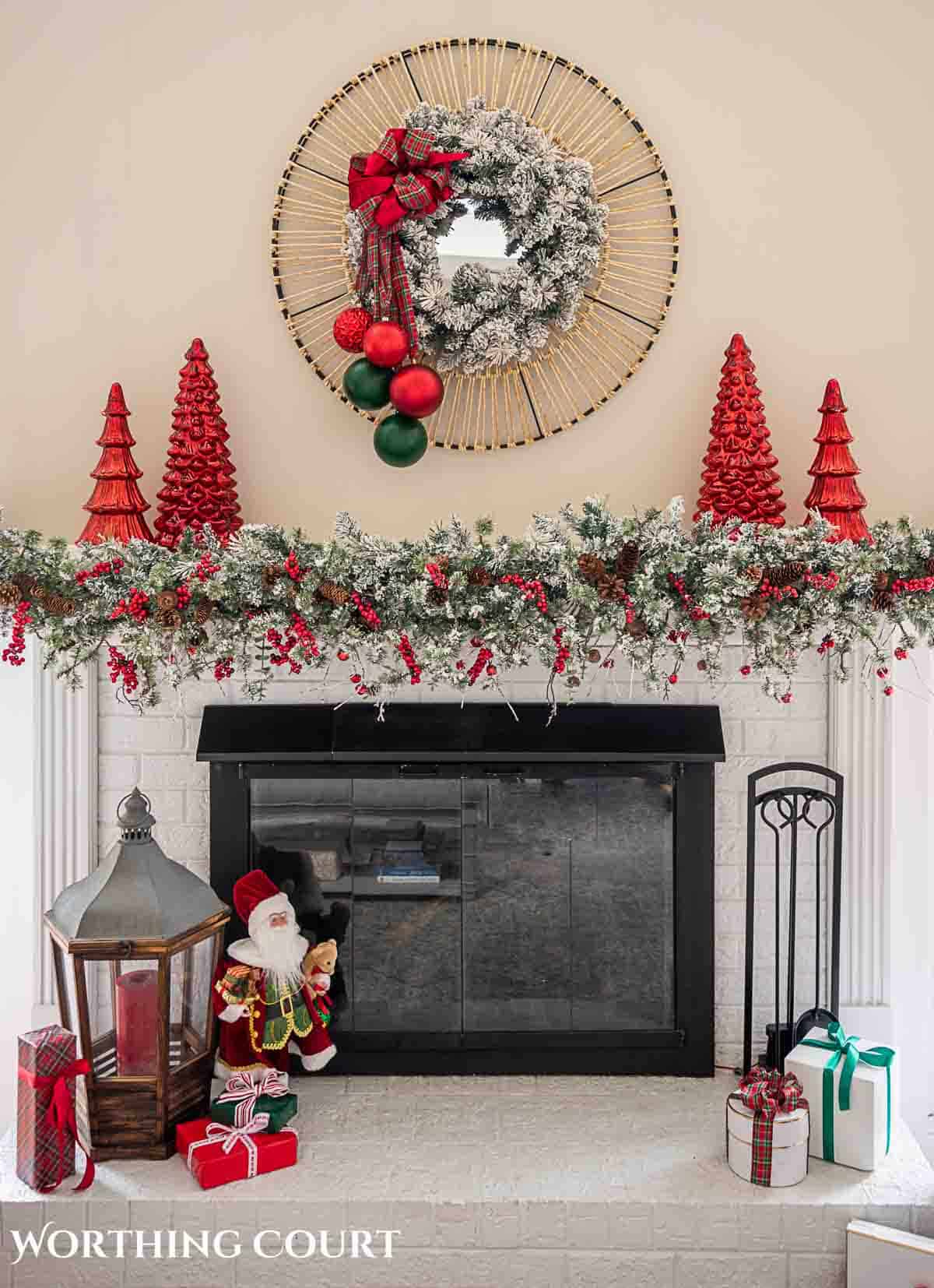 It's easy to decorate for Christmas when you just add seasonal touches to your existing decorations, which is what I've done on the coffee table.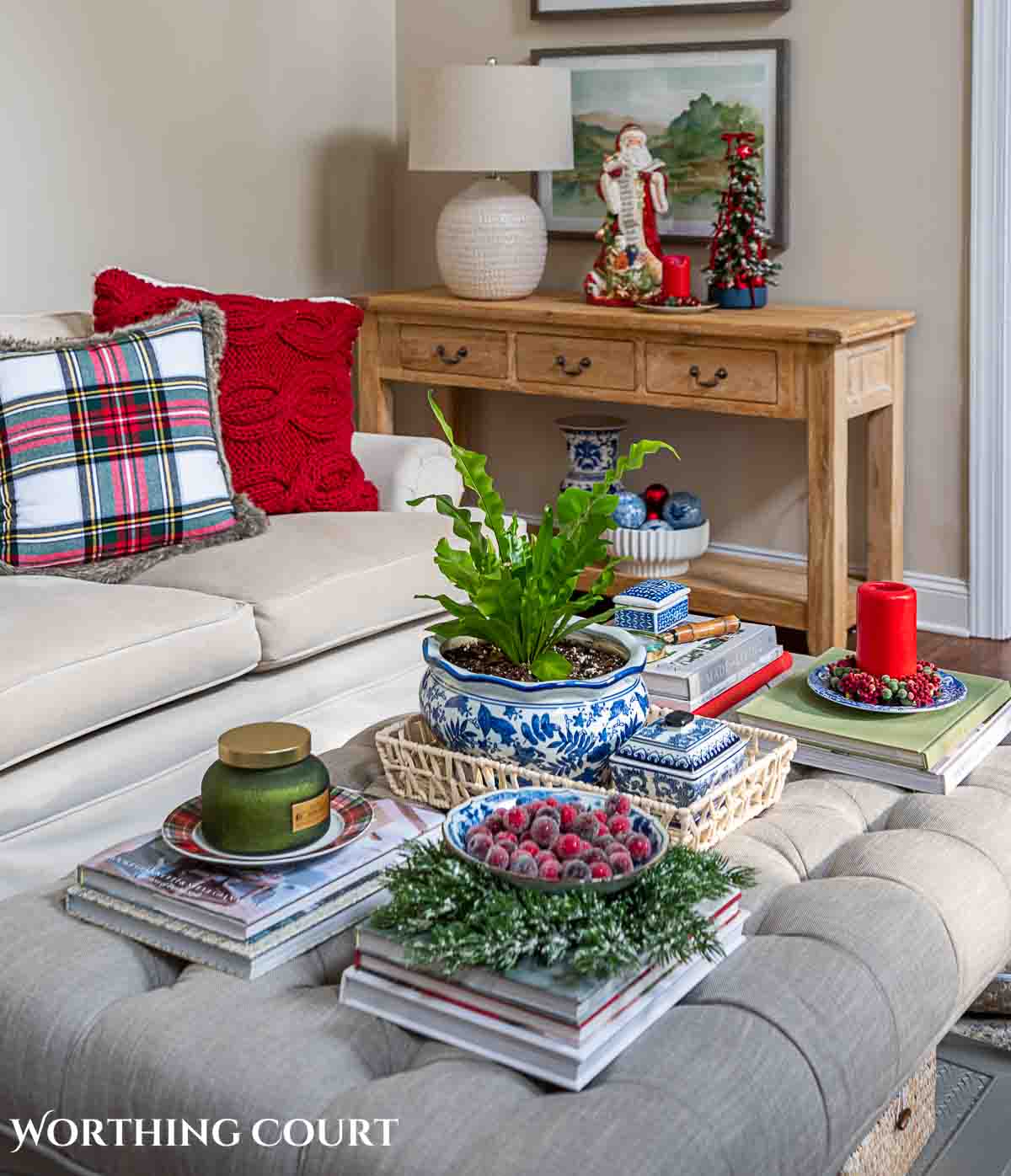 Coffee table books make a great base for holding special candles and a bowl of frosted cranberries.
Last, but not least, let me share an early Christmas present with you.
On a recent day date with the hubs, I ran across THIS FITZ & FLOYD SANTA and was totally smitten. He's large and in charge and I love him!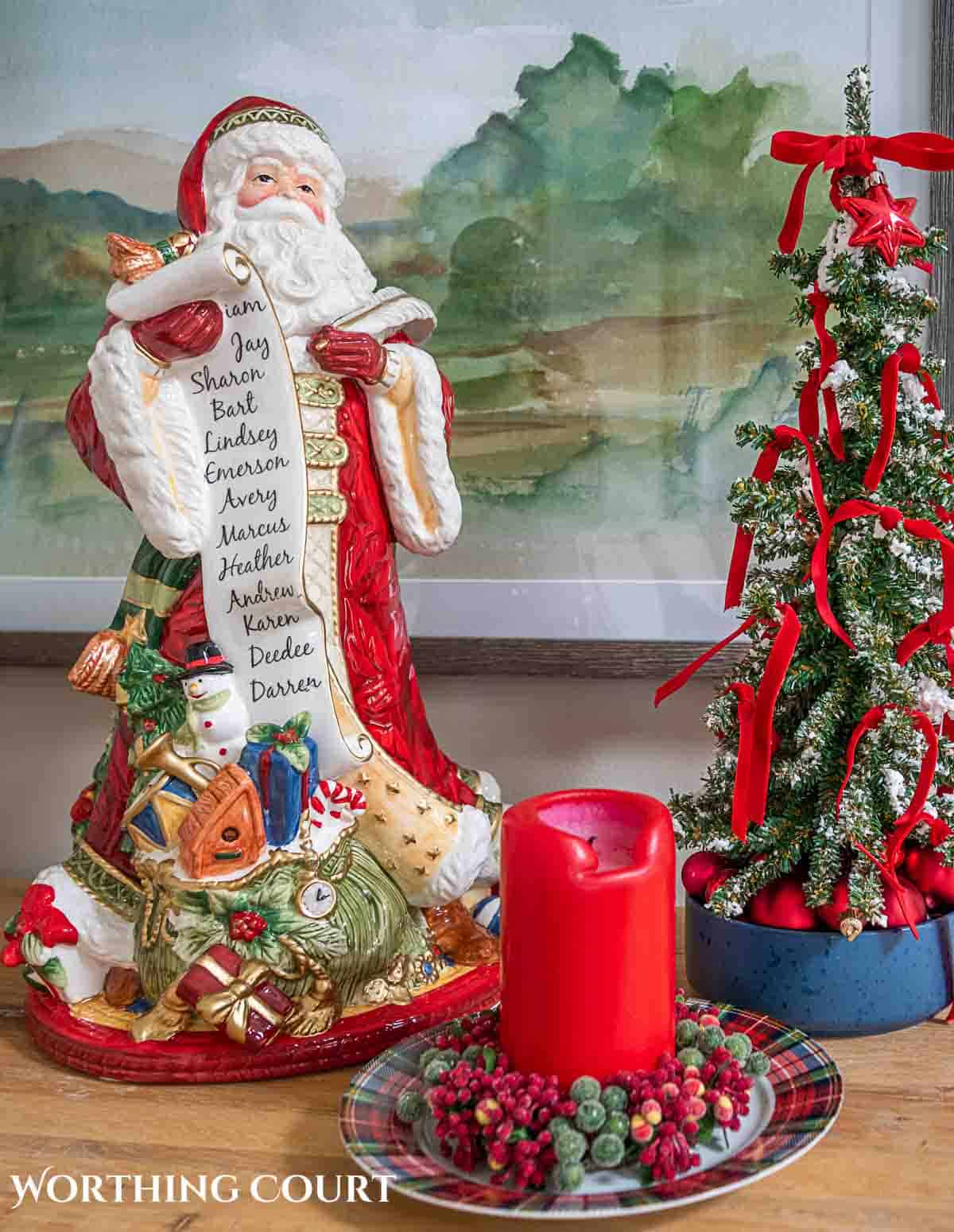 I oohed and aahed over him for quite a while at the store and into the evening after we came home, but couldn't bring myself to spend the money. The hubs scored major brownie points when he came home with him the next day!
Even though he was also on major sale, he's still an investment, but I will use him for years to come and then pass him to my daughter one day.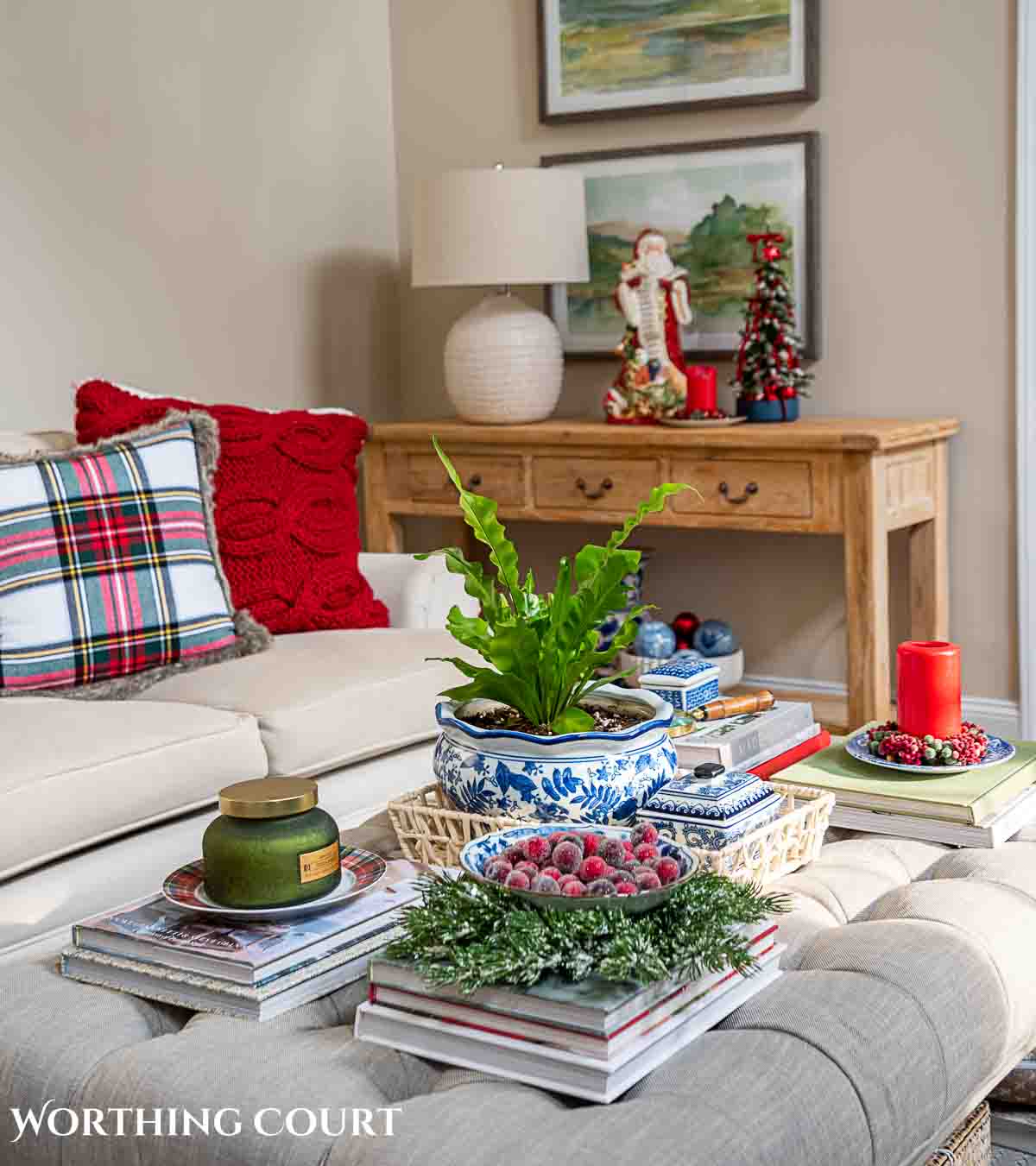 Thank you for stopping by today. I hope you've enjoyed this peek into my Christmas living room. If you haven't already, stop over at A Stroll Thru Life and check out Marty's lovely decorations.
And come back every day this week for more Christmas decorating ideas!
A Stroll Thru Life – StoneGable – Thrifty and Chic – Southern Home and Hospitality – Worthing Court
Tuesday December 6th
Our Southern Home – This is our Bliss – The Stonybrook House – A Pretty Life In The Suburbs – Up To Date Interiors – Shiplap and Shells
Wednesday December 7th
Whispering Pines Homestead – Calypso in the Country – White Arrows Home – Designing Vibes – Decor to Adore – Clean and Scentsible.
Thursday December 8th
CitrineLiving – Pasha is Home – County Road 407 – Simply2Moms – Southern State of Mind – Chalking Up Success
Friday December 9th