Classic, Updated Traditional Christmas Family Room Tour
A classic Christmas family room tour featuring updated traditional decorations in red, white and natural wood tones.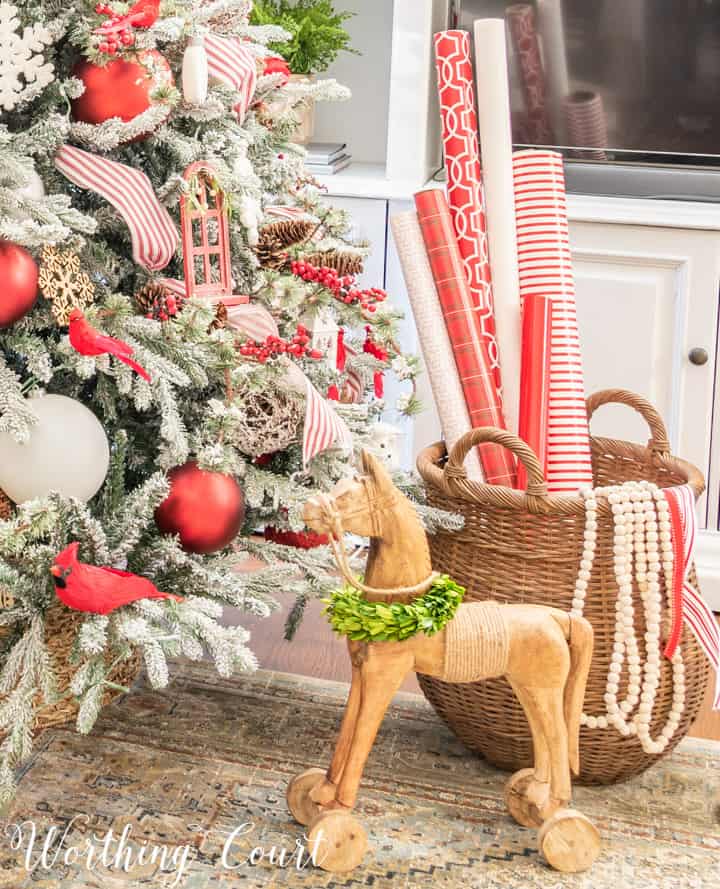 Pin
Help yourself to a steaming mug of hot cocoa and come on in because today I'm thrilled to welcome you back to my home for a tour of my family room for day 1 of the annual Christmas Home Tours hosted by Marty at a Stroll Thru Life! I've gone all out to deck the room out for the season and hopefully give you inspiration for your own home!
We've got 30 amazing bloggers that are sharing their homes with you over the next 5 days. Scroll down to the bottom of the post to get the links to everyone's tour and be sure to check back here each day of the week to see the new tours. There's a wide variety of styles represented, so there's sure to be something for everyone!

I'm second on the tour, so if you're coming over from A Stroll Thru Life, I'm so glad to have you! I love how Marty decorated her home for Christmas this year. Her use of natural elements and neutral colors is spot-on!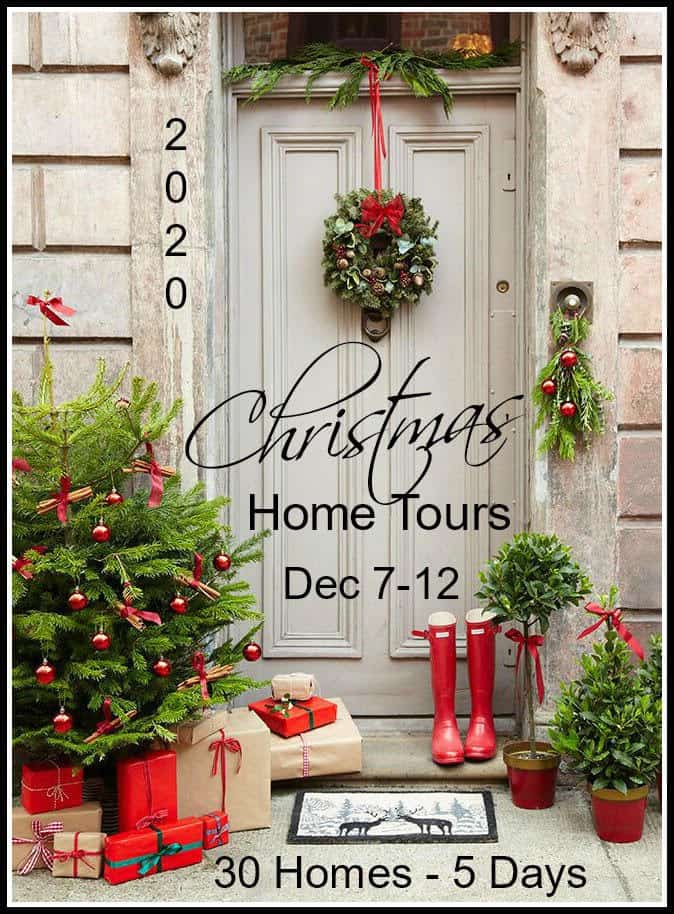 Pin
If you're new here, welcome to Worthing Court, where I share easy and affordable decorating ideas, decorating lessons and easy to do diy's with step-by-step turorials. My goal is to help and inspire you to create a home that you'll fall in love with and that functions well for you and your family.
If you happened to see the tour of this year's Christmas front porch, you already know that I try to decorate the porch so that it's a reflection of what's to be found on the inside of my home. It's all about keeping things cohesive!
Once you enter our front door, you walk straight through our foyer (that I'm planning to make over after the holidays, I hope!) and into our family room, where the first thing you're greeted by is our amazing Christmas tree. This year, I traded in our 9′ tall, too skinny, unflocked beast for this gorgeous 7.5′ tall flocked beauty.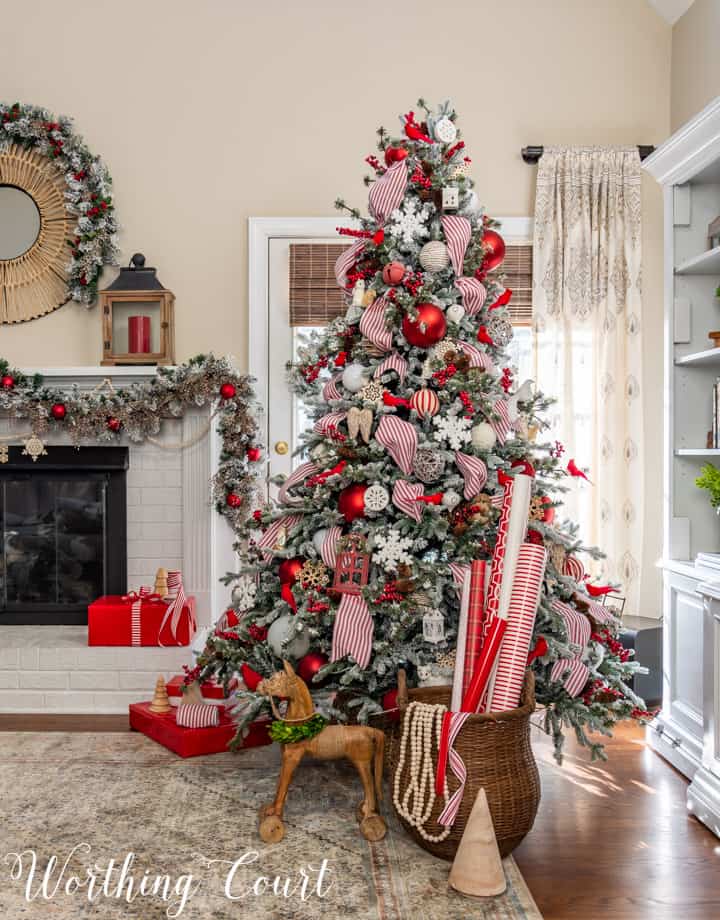 Pin
It's perfectly shaped and full, has tons of lights, is much easier to decorate and looks so much better in its spot! An added bonus to purchasing a new tree is that I had an "aha moment" for an easy way to fluff the tree. You can see what I discovered and read all about that right HERE.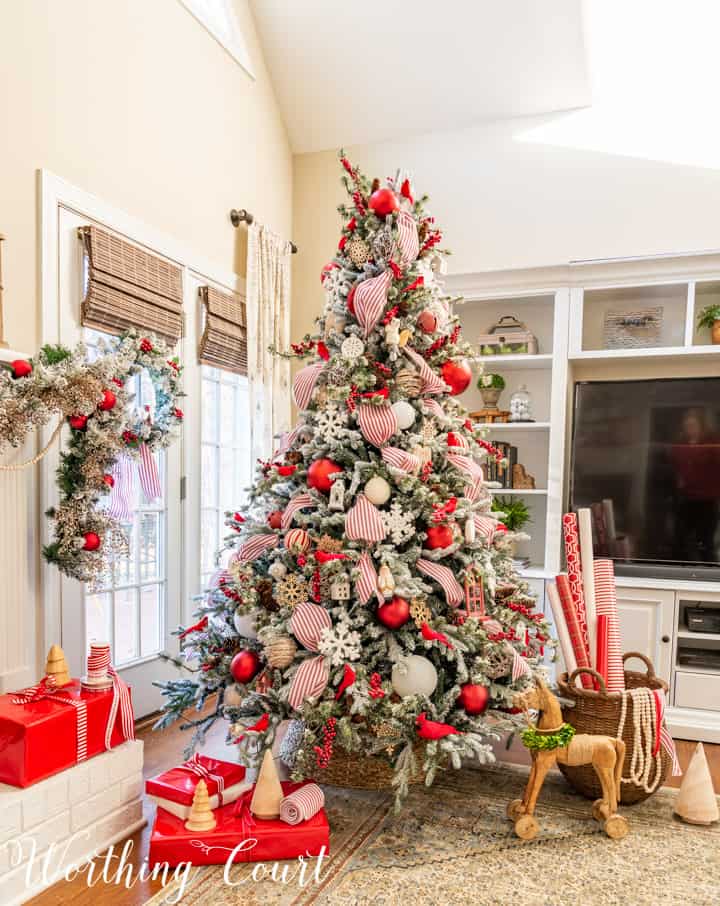 Pin
Using red as part of my Christmas decorations is a must for our family, but what really inspired me to use my color scheme of red, white and natural toned wood are the cute, white-washed wood angel wing ornaments that I found this year. Take a complete tour of the tree, get my tree decorating recipe and see how I decided to go topless (ahem) this year HERE.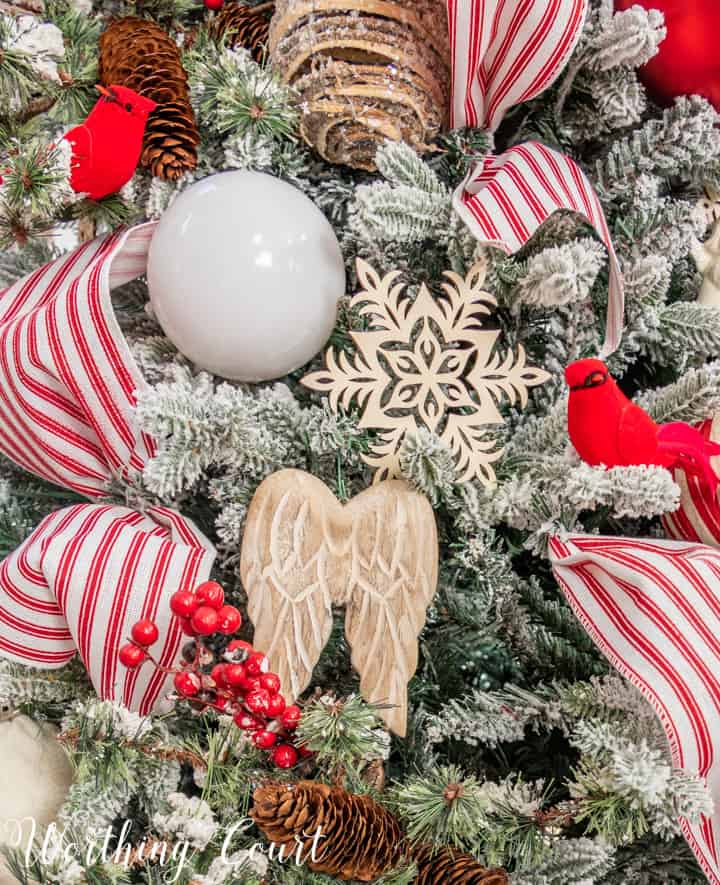 Pin
My Christmas tree is always the first thing that gets decorated in my house, but it's followed immediately by the fireplace, that sits directly beside it. I started out by layering three garlands together to get a lush full look. One is plain faux greenery, the second layer is flocked greenery and the third is a natural colored bushy garland covered with tiny leaves.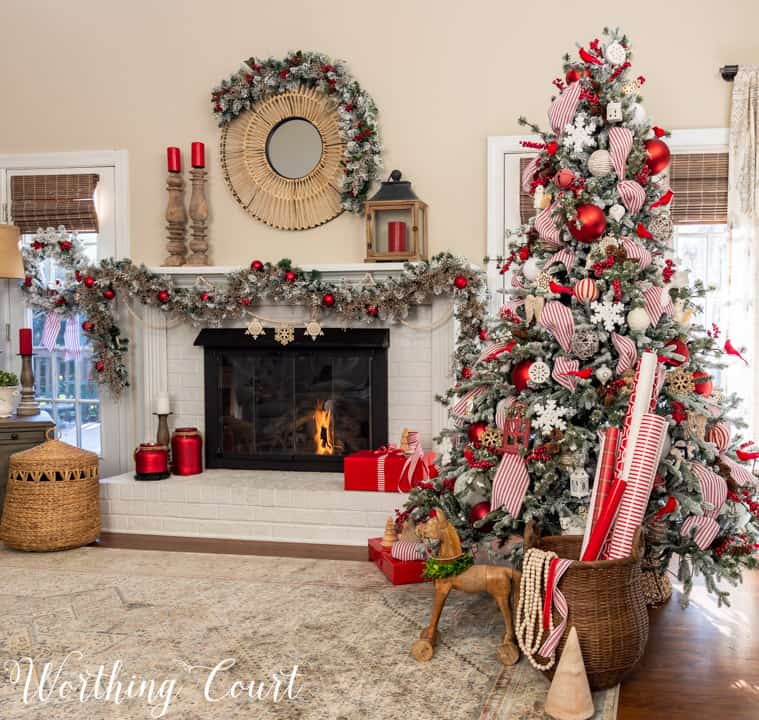 Pin
To keep things cohesive and continue my same updated traditional theme and color scheme, I added natural wood beads, wooden snowflakes (just like the ones on the tree), wooden candlesticks and wooden Christmas trees along with a few pops of red.
The round mirror above the fireplace got outfitted with an asymmetrical garland using the same garlands infused with sprigs of bright red berries. I just love this look! It's modern, but still traditional.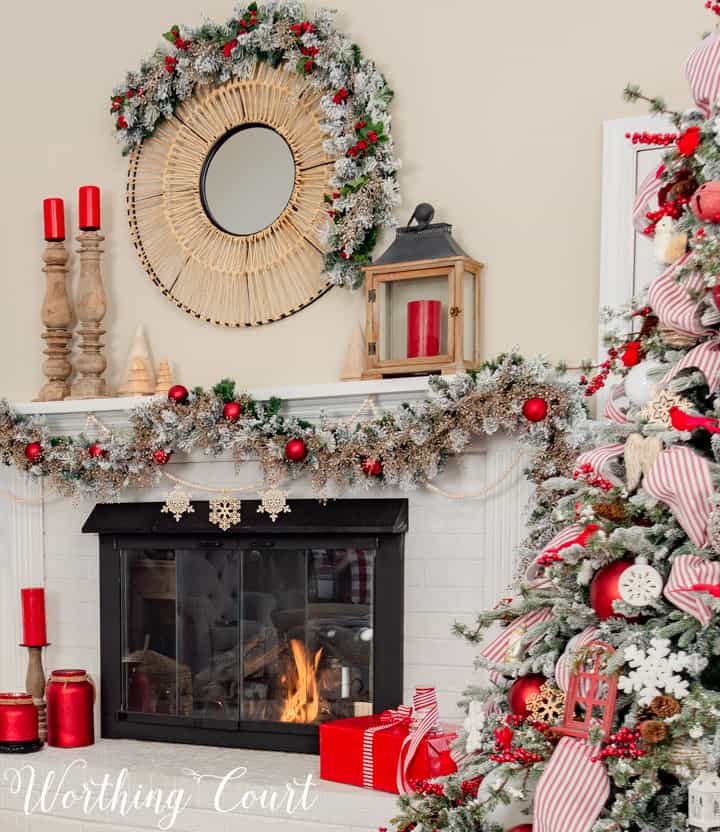 Pin
I kept things very simple down on the hearth, but I did make sure to continue the red and natural wood color scheme by displaying a wooden candlestick and a pair of red mercury glass lanterns. I adore red mercury glass!
A few gifts stacked on the opposite end of the hearth carry even more of the red and white across the fireplace. Gifts wrapped to match your tree can act as decorations too!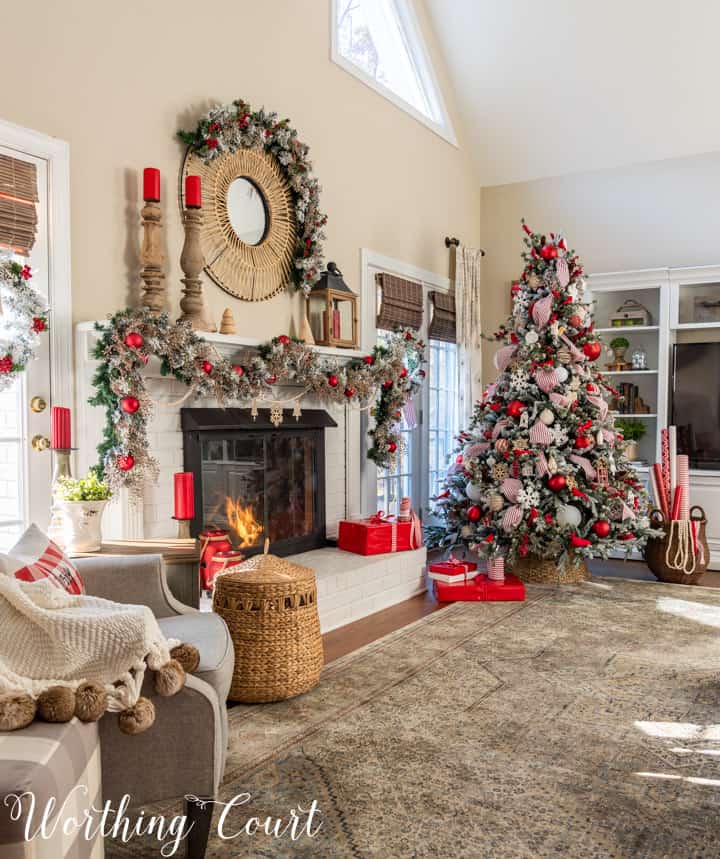 Pin
Pin
As you can see the wall where our fireplace is, is a very long wall with a set of French doors flanking either side of the fireplace. The windows in the doors always look a little bare, so this year I added a flocked wreath to each door with more red berries and a strip of the same ribbon that I used on the tree.
I topped the wreaths off with a cute little Christmas house ornament, nestled into the branches of each one (you can't see the wreath behind the tree in this shot).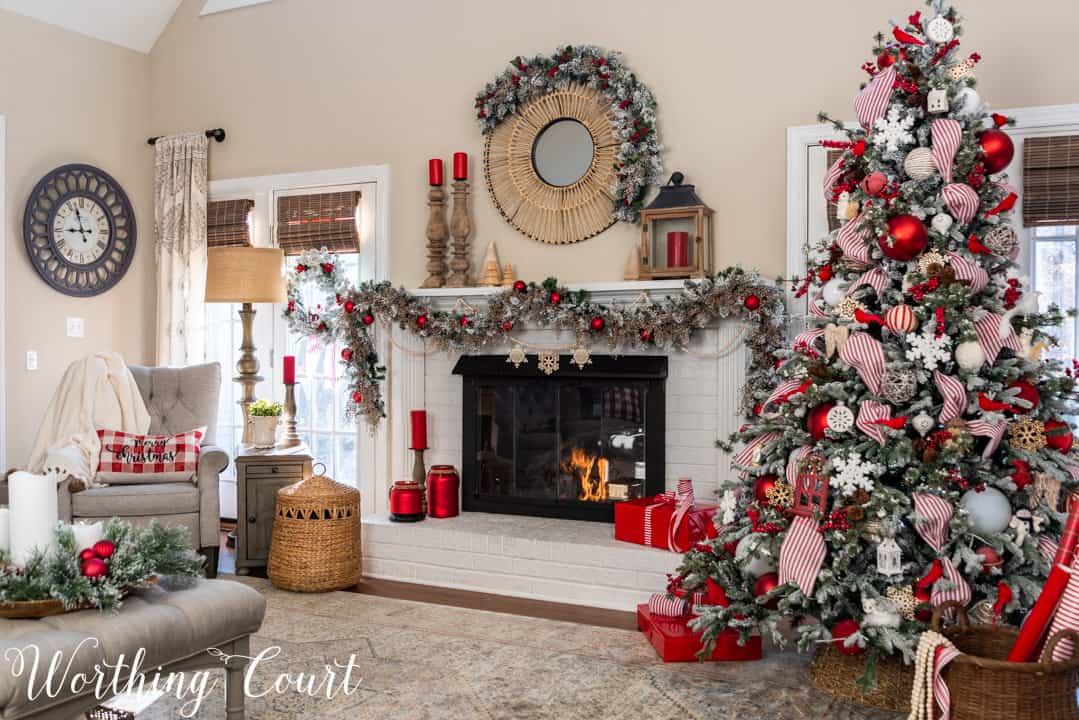 Pin
The wreath really helps to fill in the empty looking spot beside my husband's chair.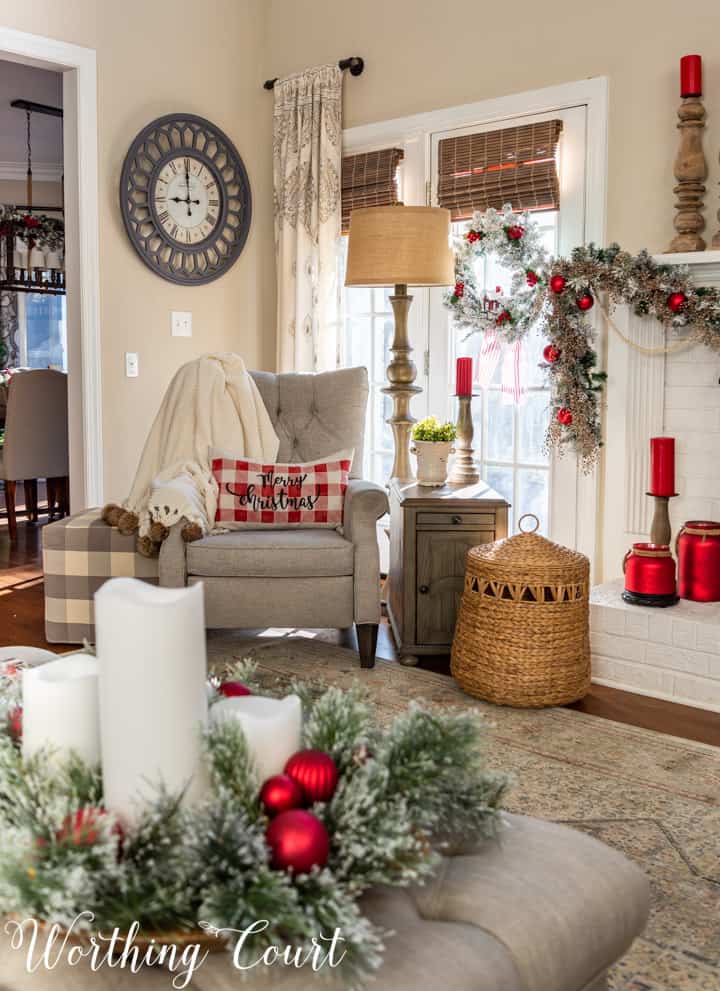 Pin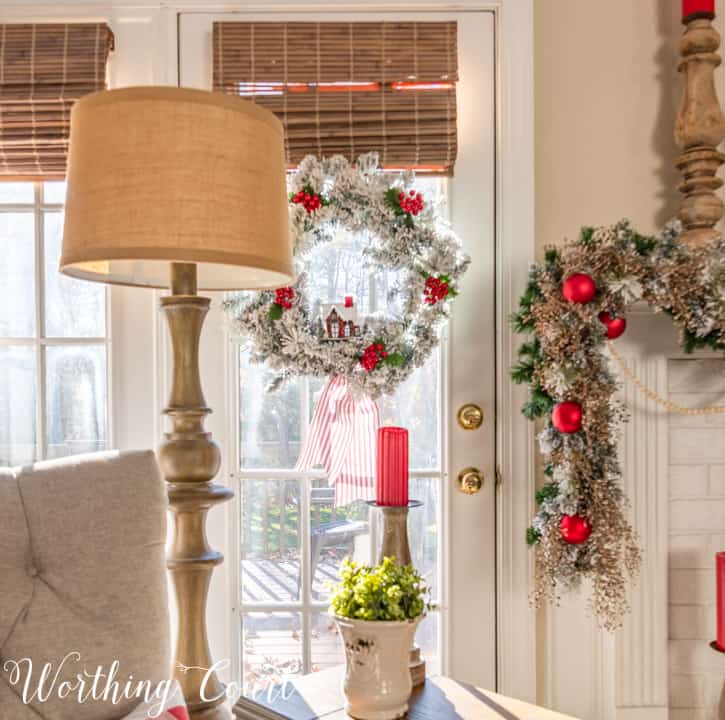 Pin
The couch and upholstered coffee table are located on the wall directly opposite the fireplace, where things are more simply decorated.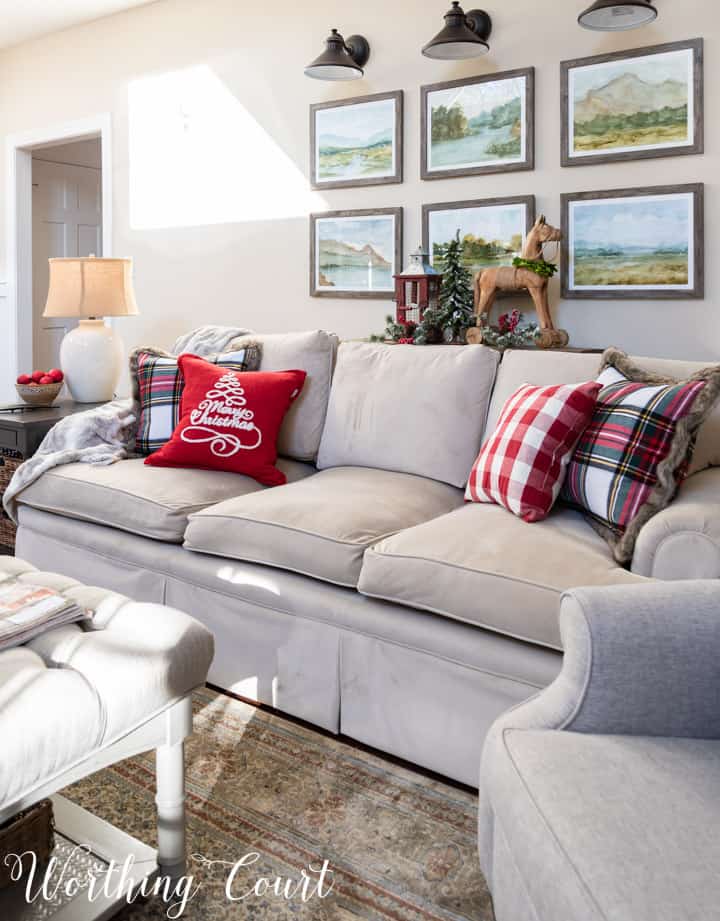 Pin
I used my DIY riser on the sofa table, behind the couch, to display a simple vignette. The wood horse (one of my favorite things!) and frosted pine picks bring all the elements of the tree and fireplace over to this side of the room.
You might have noticed that I borrowed the horse to display beside the tree, but he was just visiting over there temporarily.  😀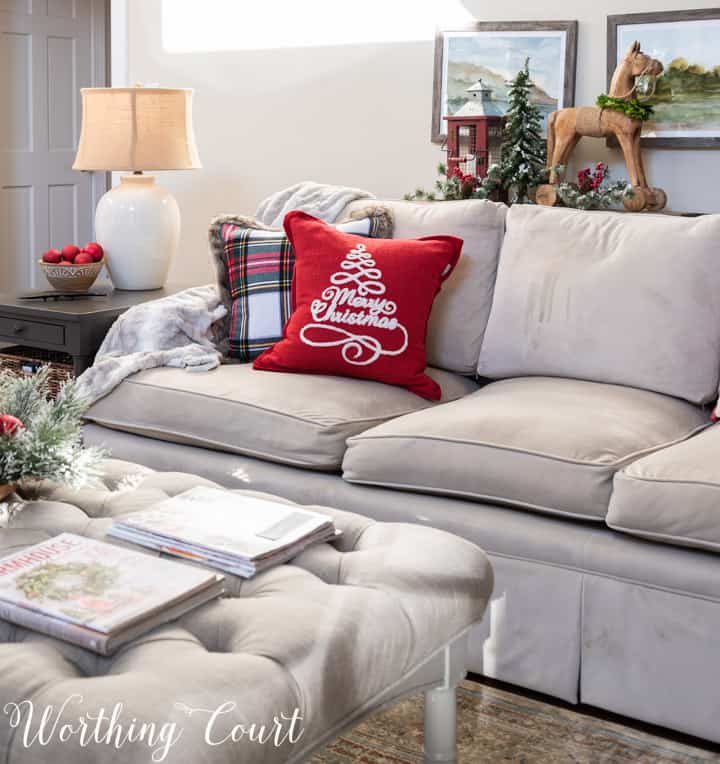 Pin
A vignette, like the one I've displayed on one end of my coffee table, is the easiest thing to create and can be finished in 10 minutes or less!
It's simply a large, round wood tray that I filled with various sizes of candles and frosty faux greenery that fills in all of the empty spots. Of course, I just had to add more red by tucking in a few red tree ornaments.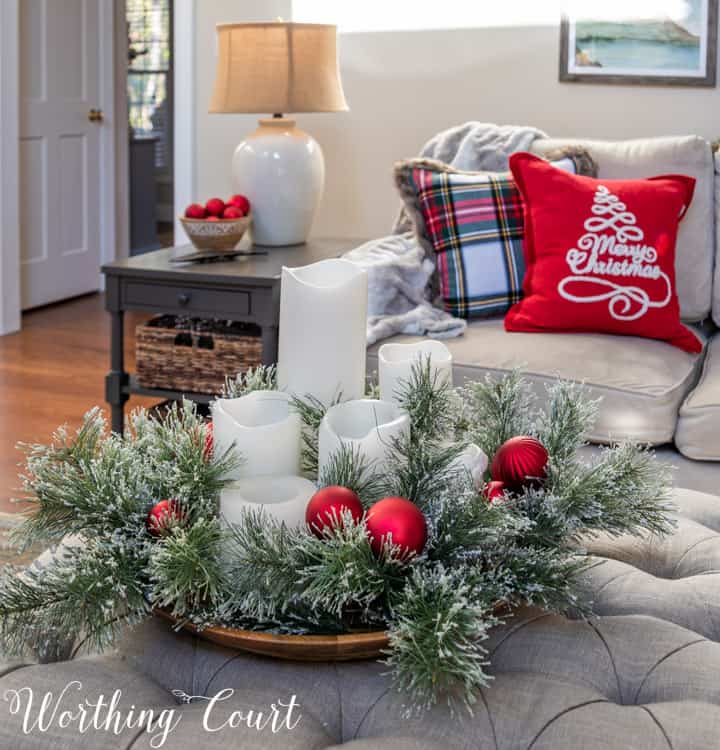 Pin
I'll tell you a little secret – I have bags and bags of round red Christmas ornaments in my stash! They are so, so versatile for decorating way more than your tree.
A cozy throw and a few Christmas pillows on the couch are all that was needed to complete this side of the room.
Well, that's it for my family room this year. Thank you so much for coming by. I hope you were able to get some ideas to use in your own home!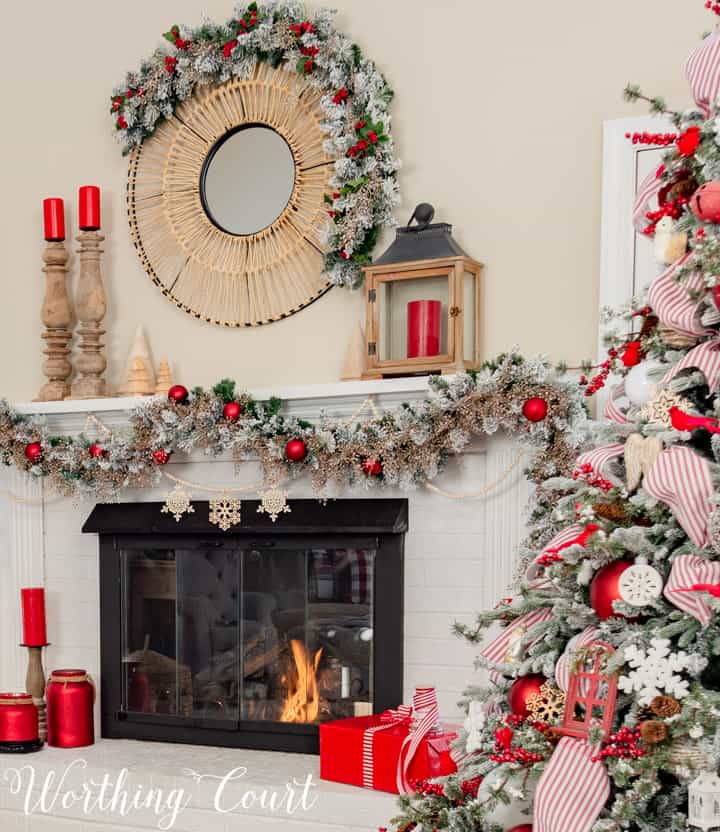 Pin
Next, you'll want to go drool over Tammy's Christmas kitchen at Clean And Scentsible. I picked up several ideas for my own kitchen! And of course, enjoy visiting all of the others who are joining this year's Christmas Home Tour!
Monday December 7th
Pin
A Stroll Thru Life – Worthing Court – Clean and Scentsible – StoneGable – Pink Peppermint Design – Decor To Adore 
Tuesday December 8th
Pin
Modern Glam – It All Started With Paint – Town and Country Living – Hymns and Verses – Making It In The Mountains – Life On Cedar Lane 
Wednesday December 9th
Pin
Designing Vibes – Inspiration For Moms – Grace In My Space – The Wood Grain Cottage – Whispering Pines Homestead – Remodelando la Casa
Thursday December 10th
Pin
CitrineLiving – Our Southern Home – Southern State Of Mind – Duke Manor Farm – White Arrows Home – Thrifty and Chic
Friday December 11th
Pin
11 Magnolia Lane – Follow The Yellow Brick Home – Delightful Order – Southern Hospitality – Cassie Bustamante