My Simple And Cozy Fall Mantel And Fireplace Decor
Adding fall touches to your everyday decor items is a simple idea for decorating your fireplace and mantel. This look would be easy to recreate in your own home!
Decorating a fireplace mantel and hearth for fall doesn't have to be expensive or hard at all!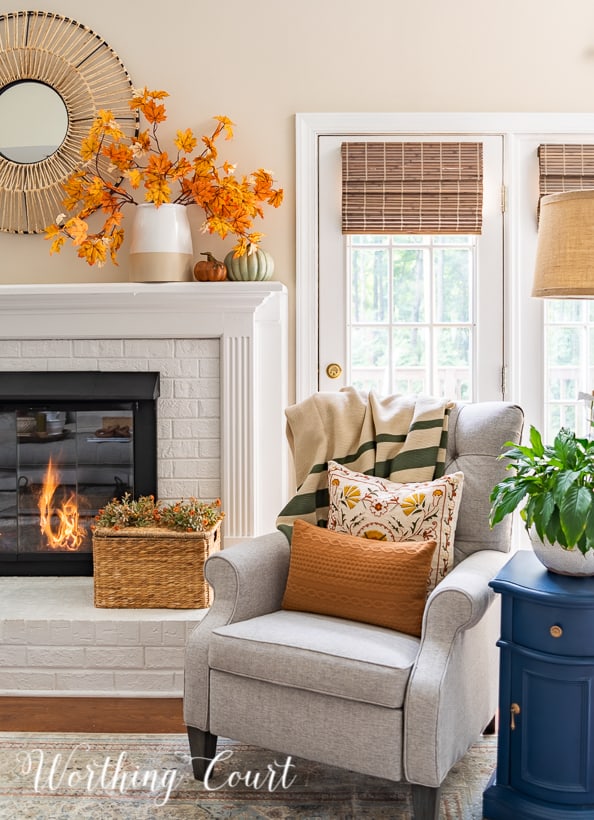 Before I go any further, let me say that I'm delighted to be participating in the 2021 Harvest Home Tour hosted by Kristi from French Creek Cottage today. There is an amazing group of 30 talented bloggers sharing fall outdoor spaces, entryways and foyers, fireplaces, tablescapes, living rooms, recipes and crafts all in one day! Links to everyone's posts are down below.
If you're decorating on a budget (like I always am) or are striving for a simplified yet cozy look, the best advice that I can give you is to shop your house and use what you already own. If you'll do that, you'll create a look with so much more charm than if you were to go out to a store and purchase everything new!
Then all it takes is just adding a few fall touches such as leafy stems, pine cones and a few pumpkins (but not too many!)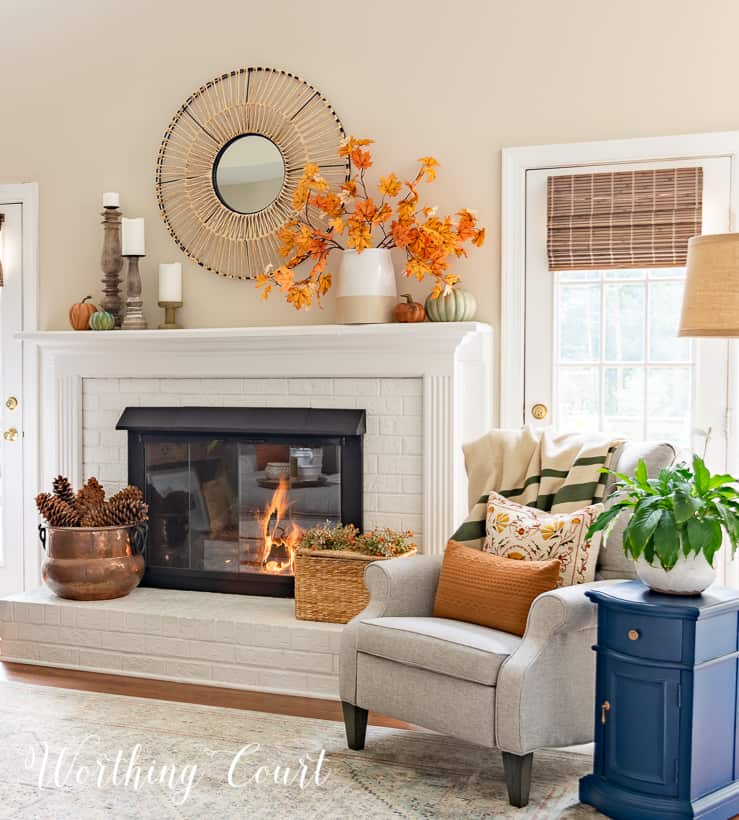 In my case, the only new purchase that I made for my fall fireplace this year is the foliage gracing the top of the lidded basket on the hearth. Even though I've pared my seasonal decor down quite a bit from days gone by, it looked just a little too lonely without a little something to top it off.
I've worked really hard at using restraint in my seasonal decorating lately and let me tell you, it doesn't come easy for me! One thing you'll never be able to do is to call me a minimalist. LOL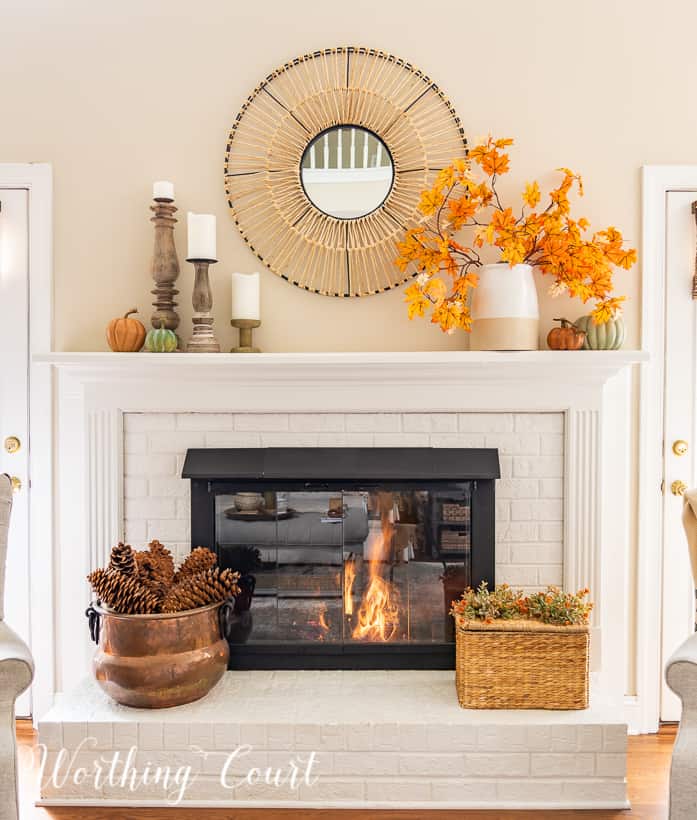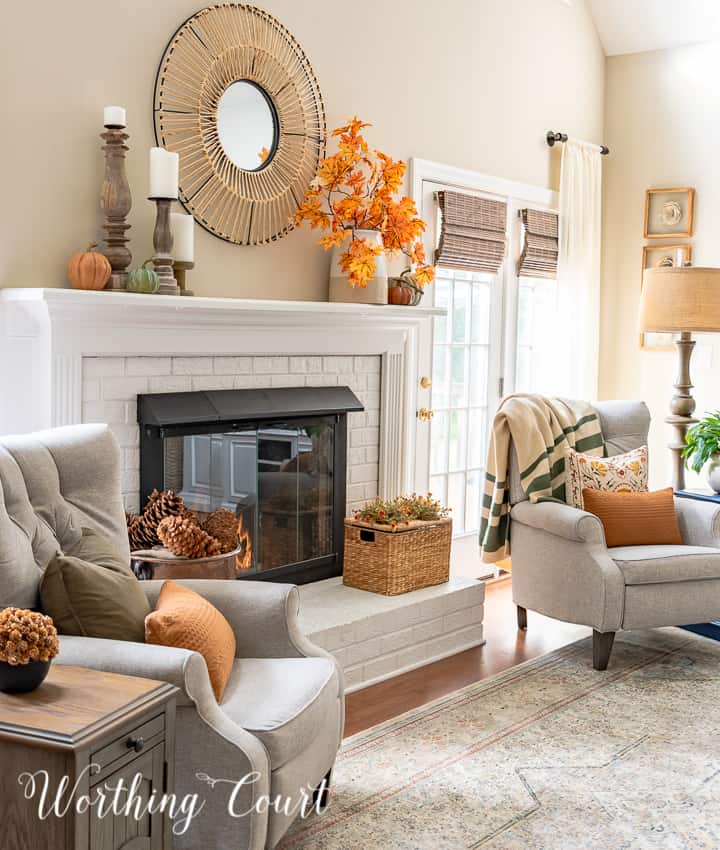 Even though I want to simplify my look, I feel that it's important that my rooms feel cozy and inviting. For me, there's a fine line between keeping things cozy versus paring down so much that I wind up with a too- sparse look, which then looks cold and uninviting to me.
There are a couple of tricks that I used on my fireplace to create coziness without using too many things to decorate with.
The coziness comes not from the amount of decor, but from the texture of the decor.
Using warm, not bright and not all neutral colors definitely adds to the cozy factor.
Using large accessories makes a more simplified statement and helps to fill the space so that I don't wind up with a too-sparse look.
For example, the large urn on the mantel is overflowing with faux leafy stems. The combination of the oversized urn along with the fullness of the stems helps to fill the space on my mantel and the warm color of the leaves says fall without being in your face bright orange.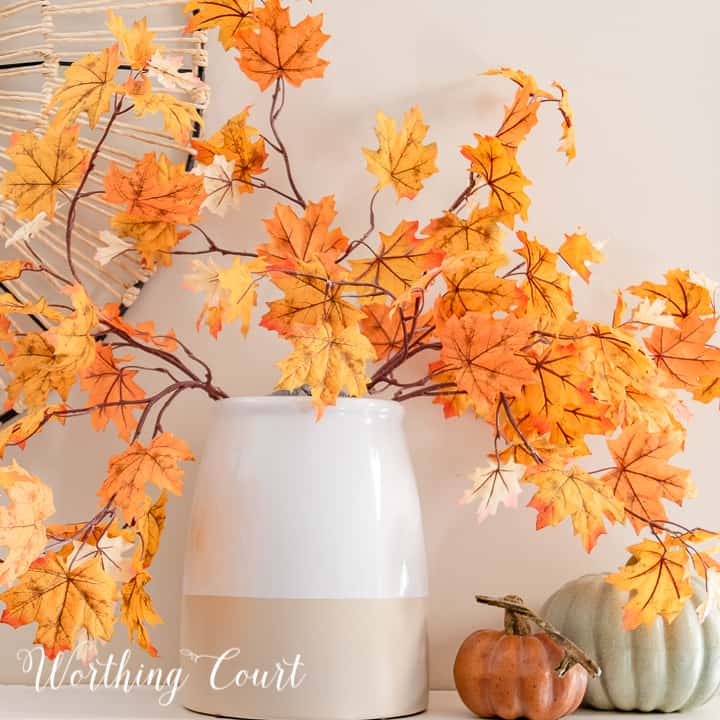 And yes, I said no bright colors, but my orange is a deep rusty orange.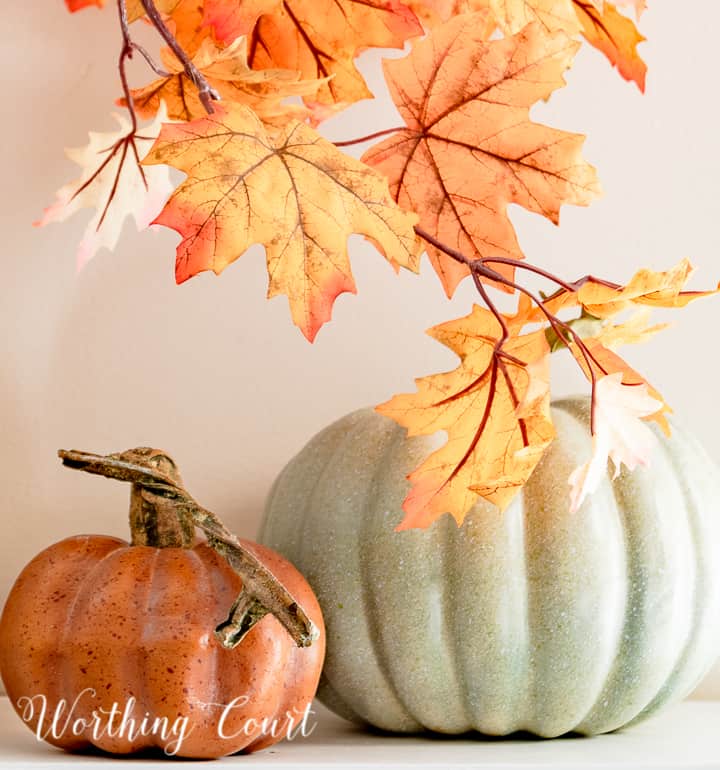 The large, chunky candlesticks that I used on the opposite side of the mantel have much more presence and fill the space so much better than if I had used smaller, thin ones.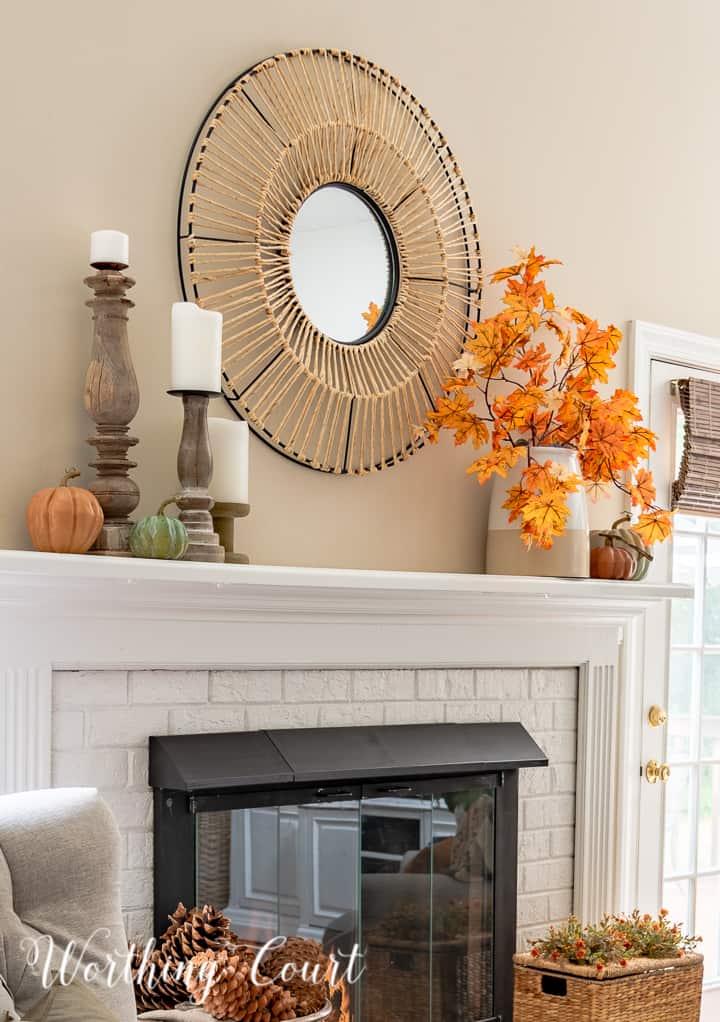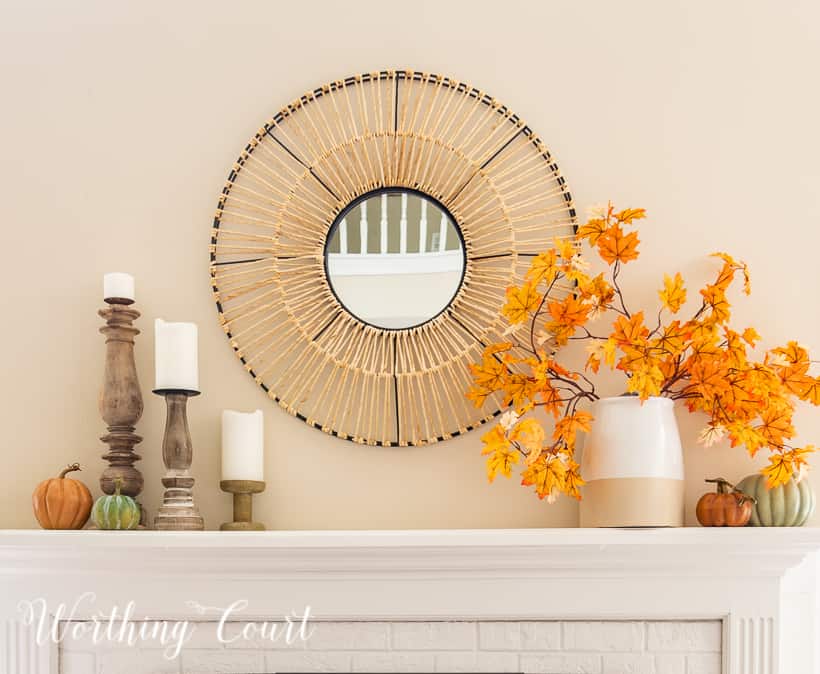 One of my most loved finds is a huge and heavy copper pot that I found on a shopping excursion last year. My photo doesn't do it justice!
I filled it full of extra large pine cones that I've had for probably close to 10 years. I didn't have quite enough to completely fill the pot, so I tucked a thick woven throw blanket down in the bottom and then added the pine cones on top. You'd never know the blanket is even there.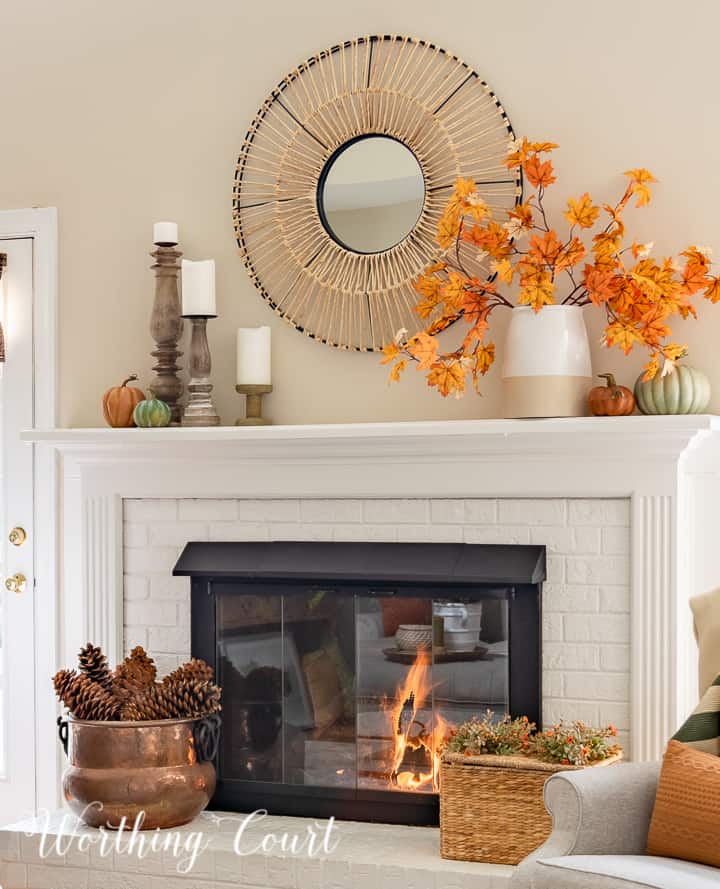 Let's just all pretend that isn't 95° outside with 5000% humidity and that the roaring fire really is necessary. M'kay?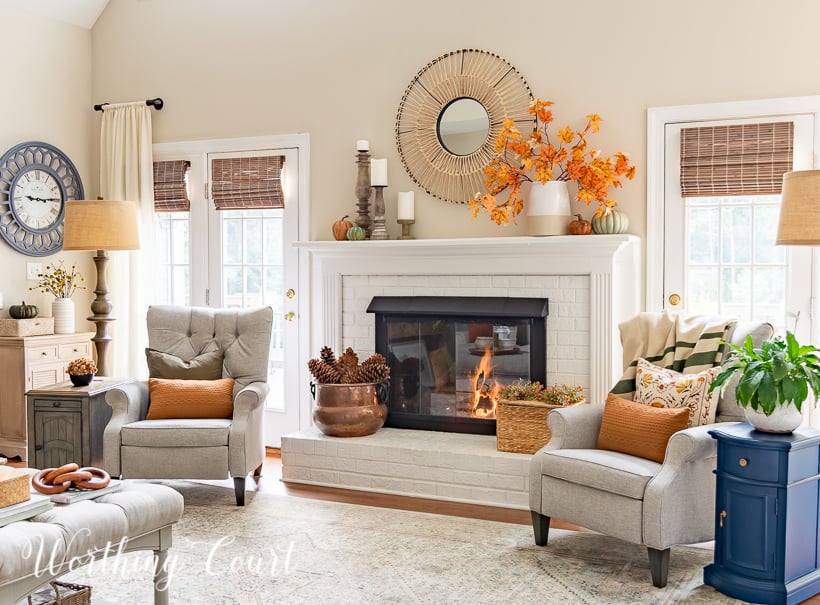 I'm thrilled to be joining in today as 30 talented bloggers bring you the best of all things home! Please continue along this inspiring Harvest Home tour, and visit the other participants in each of the following categories.