Fall Decor For Open Shelves And A Fall Centerpiece
Fall decorating inspiration and ideas for open shelves and for creating an easy centerpiece for this wonderful season of the year.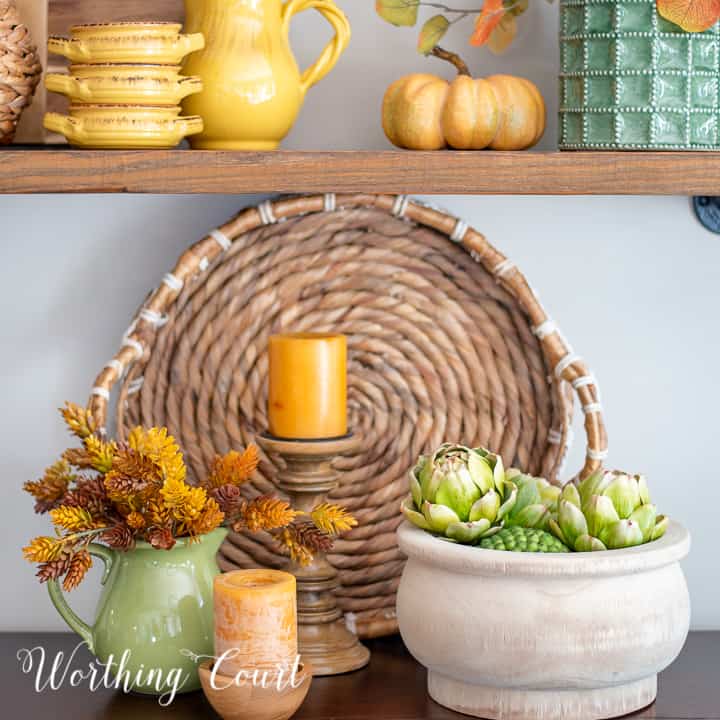 You may already know that I have a rather large set of open shelves above a sideboard (that's really a bedroom dresser) in the breakfast room area of my kitchen.
But, in case you've never come to visit me before and you're new here – welcome to Worthing Court! I'm excited to be participating in the Ready For Fall Home Tour with my friends Jenn and Vicki from 2 Bees In A Pod. The ladies have rounded up a wonderful group of eleven bloggers who are sharing a space in their homes today, that has been decked out for fall. You'll find links to everyone's tour down below.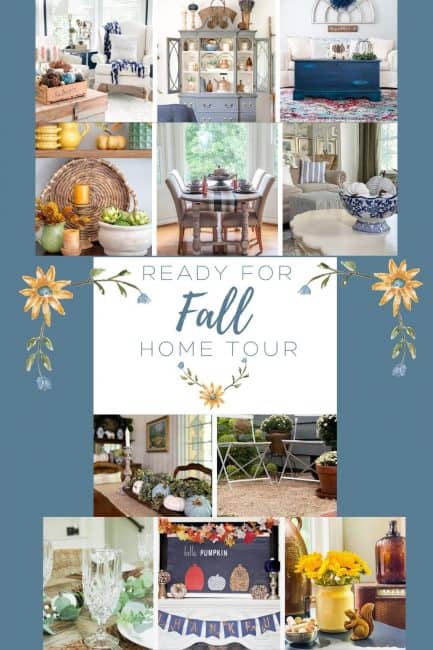 The ladies behind 2 Bees In A Pod, Jenn and Vicki, are a talented mother/daughter duo who share the design aesthetic from each of their beautiful homes. If you haven't already, be sure to go back and take a tour of the wonderful living room that has been decorated to bring out the beauty of this wonderful time of year.
On a side note – having a dresser in your kitchen or dining room makes the best storage for all sorts of kitchen'y and dining room'ish things ever! Check out this older post from when I first brought the dresser home where you'll see exactly what I keep in each of the drawers.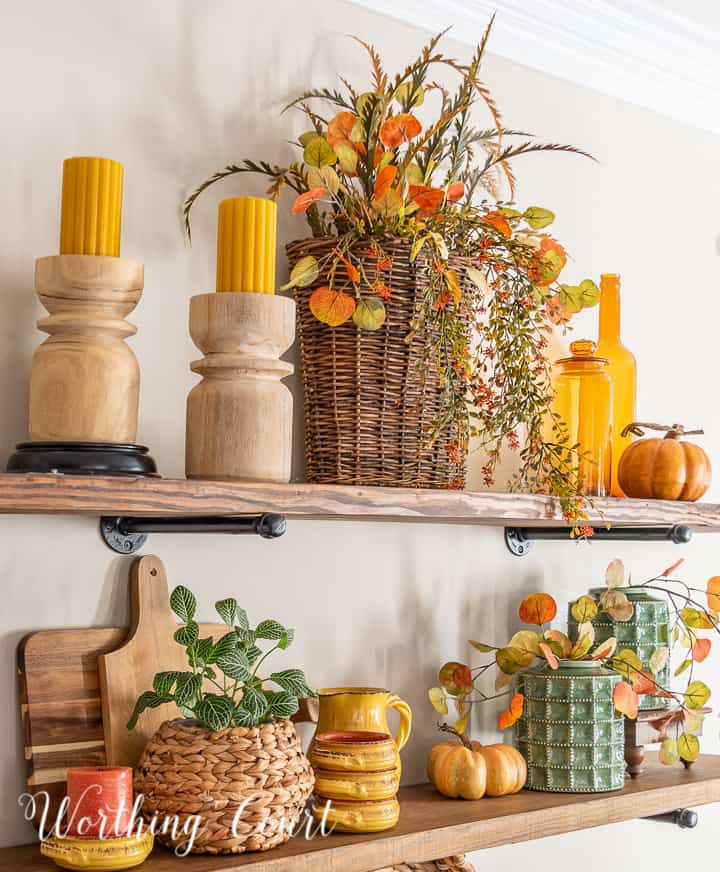 But, let's get back to talking about the shelves. Open shelves are awesome for decorating because you don't have the confines of a closed-in bookcase to deal with, which allows all of your decor to shine!
I am a big believer in creating a cohesive home, so if you take a look at my fall front porch this year, you'll see that I've carried the same color palette into the interior of my home.
The shelves are in a pretty prominent place and are visible from our family room so I always make sure that I decorate them for all the seasons and holidays.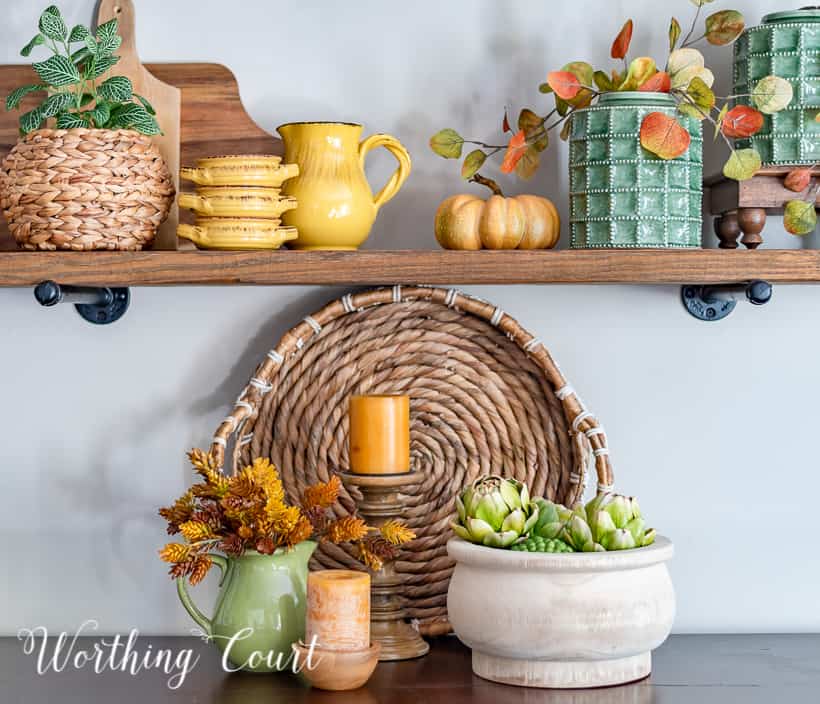 I estimate that I redecorate these shelves at least four or five times each year. Add to that the fact that I've been doing something different each time for the seven years that we've lived here and well……that's a lot of shelf decorating y'all!
I came up with a system a year or so ago that made things much easier on myself. It involved using a lot of white dishes and accessories and then just switching a few things out for whatever season or holiday I was decorating for. You can read more about it HERE.
But this fall, I decided that I really wanted to use the warm colors of the season and removed all of the white pieces that I had been using over the last few months.
BTW – if you struggle with shelf, bookcase or entertainment center decorating at all, I think you'll find THIS POST with 12 secrets to successful shelf decorating very helpful. There's a free printable checklist available too!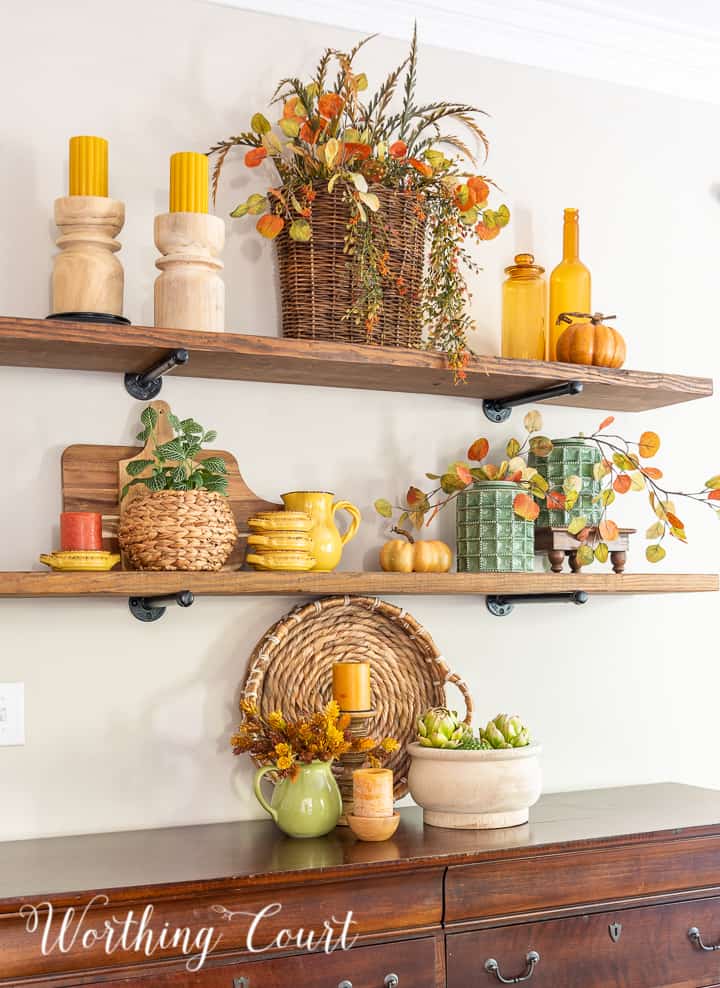 On a recent shopping excursion to a local shop, I found a few fall-colored accessories that inspired my entire fall color plan this year. I shared my fall mood board and a summary of what the fall trends are this year in THIS POST.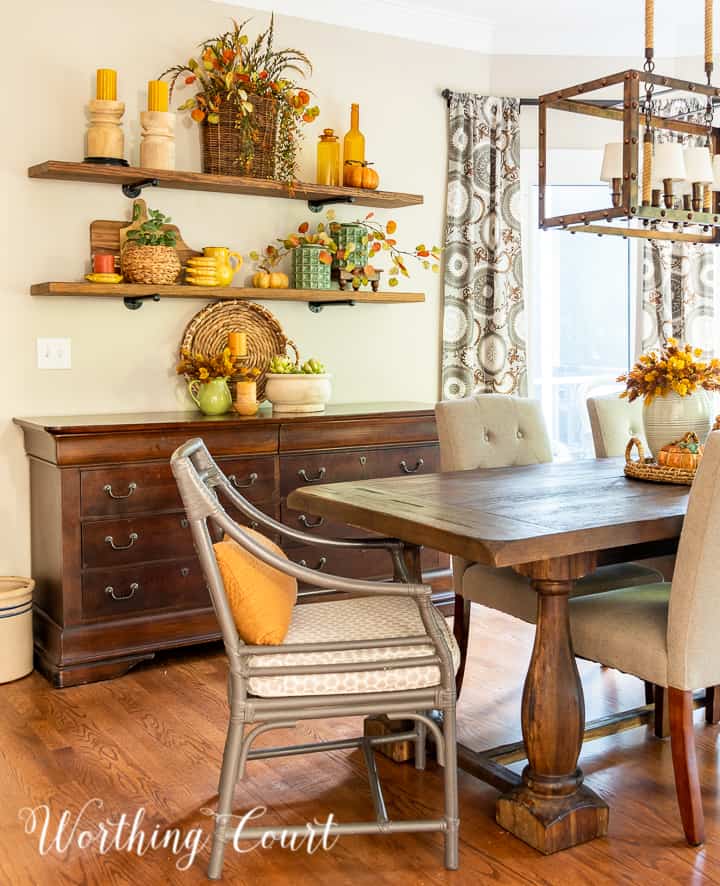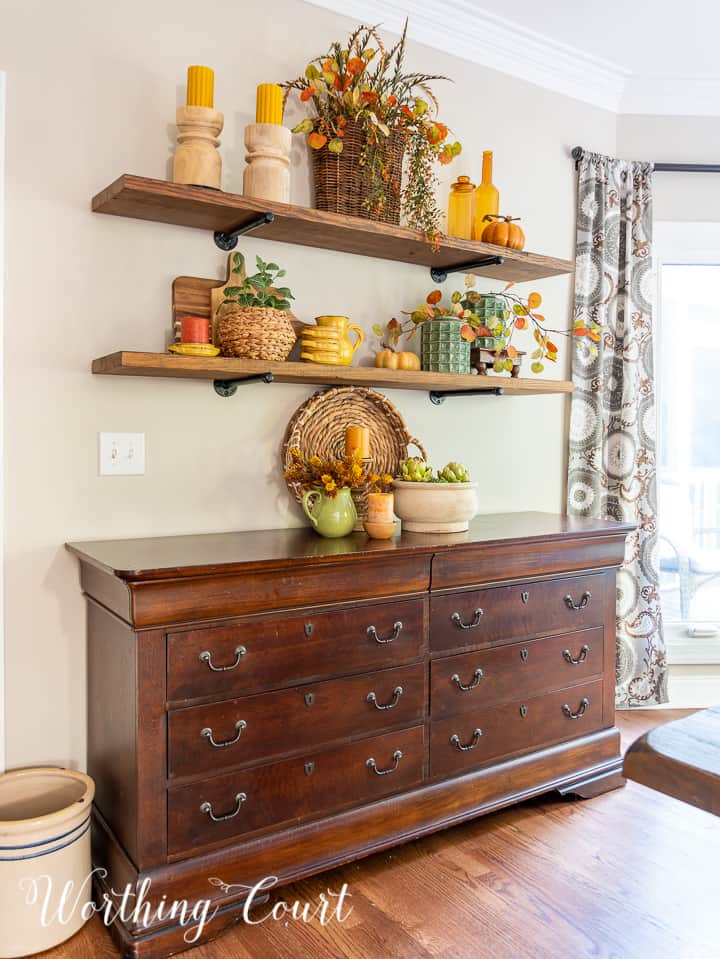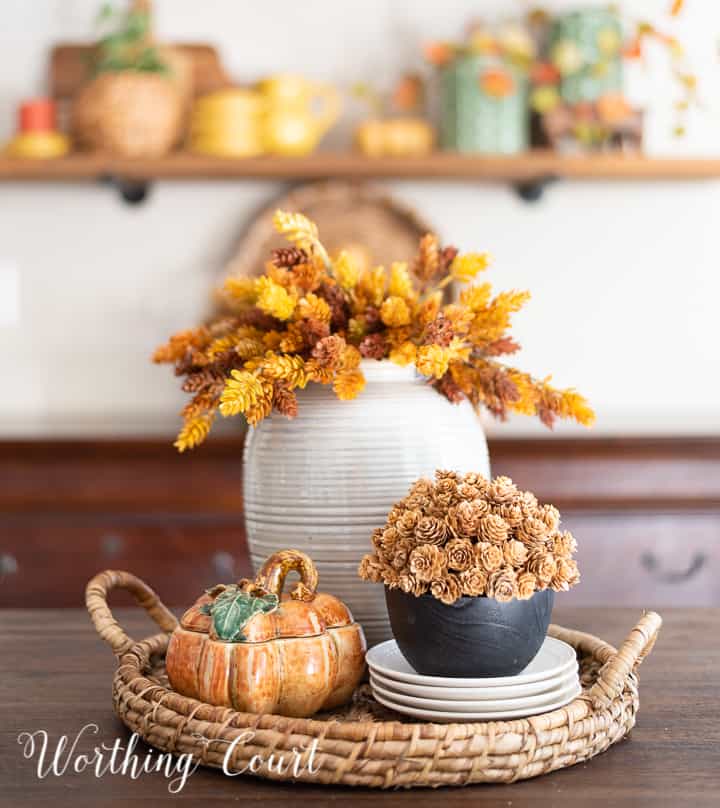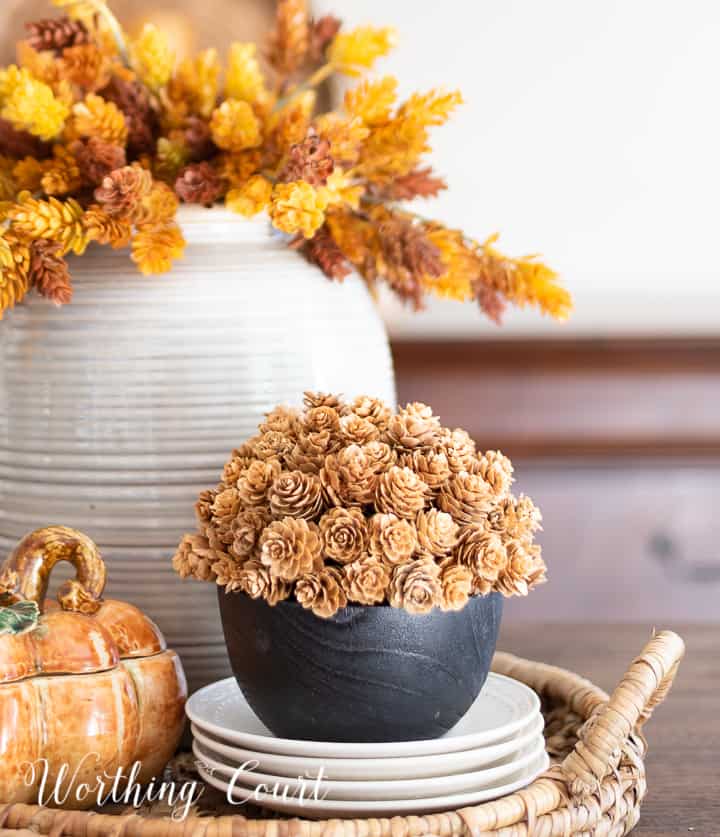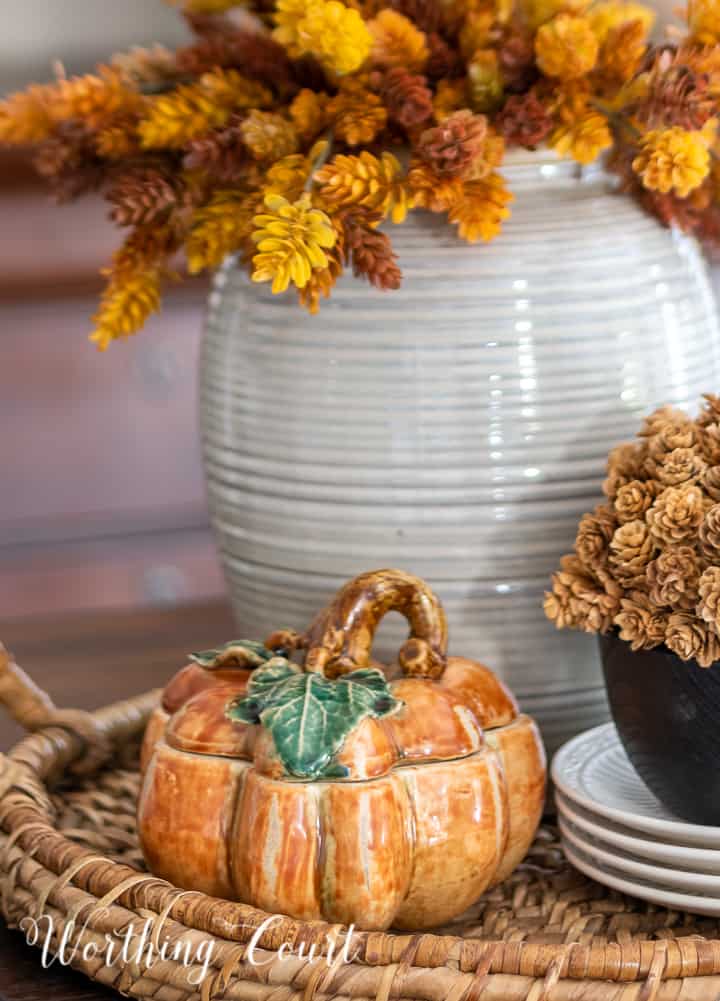 I love to add texture wherever I can because it adds so much interest and depth to any design. Using woven baskets, trays and planters is a great way to do that. And the wooden bowls, cutting boards and candle holders along with all of the leafy stems give off an organic vibe that I love for fall!
You might notice that I didn't include any of the bright oranges, like I have in years past. Instead, I kept with a theme of deeper, more saturated mix of rust, amber, mustard and deep green. I kept the pumpkins to a minimum too, but I still have to have just a few.
The centerpiece on the table, that sits directly in front of the shelves and sideboard, is a continuation of the same color story, textural and organic elements. I wanted it to blend with the rest of the room, but not match it, if you know what I mean.
Even though I took all of the white off of the shelves, I did use a stack of small white saucers as a riser for a cute pot of mini pinecones. In this case I think the white gives the centerpiece a much needed little pop.
I've had the pottery lidded pumpkin box for many years and always include in my fall decor somewhere in the house. This year, it made it to the centerpiece. With all of the rich saturated colors that I used in this space, I feel like the whole area just glows with fabulous fall goodness!
Next up on the tour is Cindy from DIY Beautify. You'll love her blog, where she shares her beautiful home and a wide variety of diy projects. Be sure to click here check it out and then come back to click the links to all of the other tours.
Thank you for visiting today and happy fall!