Creative Pumpkin Decorating Ideas
Pumpkins aren't just for placing at your front door!  Don't get stuck in a rut – get creative and use them throughout your home as part of your fall decor.  Take a look at these many ways that I use them around my home.

Let me preface this by saying I'm kind of teasing here – kind of.  Do you know what a pumpkin snob is?  I admit that I used to be one.  There was a time when I would never entertain the thought of allowing artificial pumpkins into my home – horrors!  My motto was go real or go home!  That idea of mine lasted about as long as it took me to realize that I was spending a small fortune on real pumpkins every year, only to throw them out when the season was done and start all over again the following year.  No bueno.
When I decorate for fall, pumpkins are a huge part of my decorations.  I mean, come on – what's fall without pumpkins???  😀  I use them in every room, indoors and out and trying to purchase real pumpkins each and every year to use in those spaces got way out of hand.  So….by necessity, I'm a convert.  I'm no longer a pumpkin snob.  Once I realized that the artificial pumpkins of today aren't necessarily the awful plastic things that they once were, I fully embraced the world of faux! Besides – where can you possibly find a real plaid pumpkin?  😀
Now that I've gotten that off of my chest, I'll get off of my pretend soapbox and share some of the many, many creative pumpkin decorating ideas that I've come up with.  Grab your favorite beverage because I have lots to inspire you!
PUMPKINS EN MASSE
Most of the time, you'll see solitary displays of pumpkins (I do that too), but you'll get so much more bang for your buck when you display them in a group.  On your mantel, try turning a long basket at an angle and fill it full.  Add just a little bit of foliage for interest.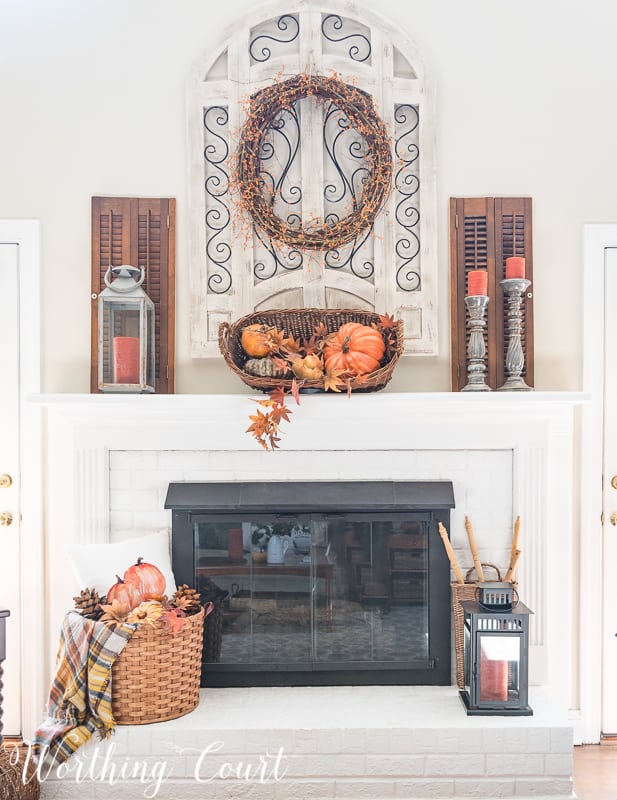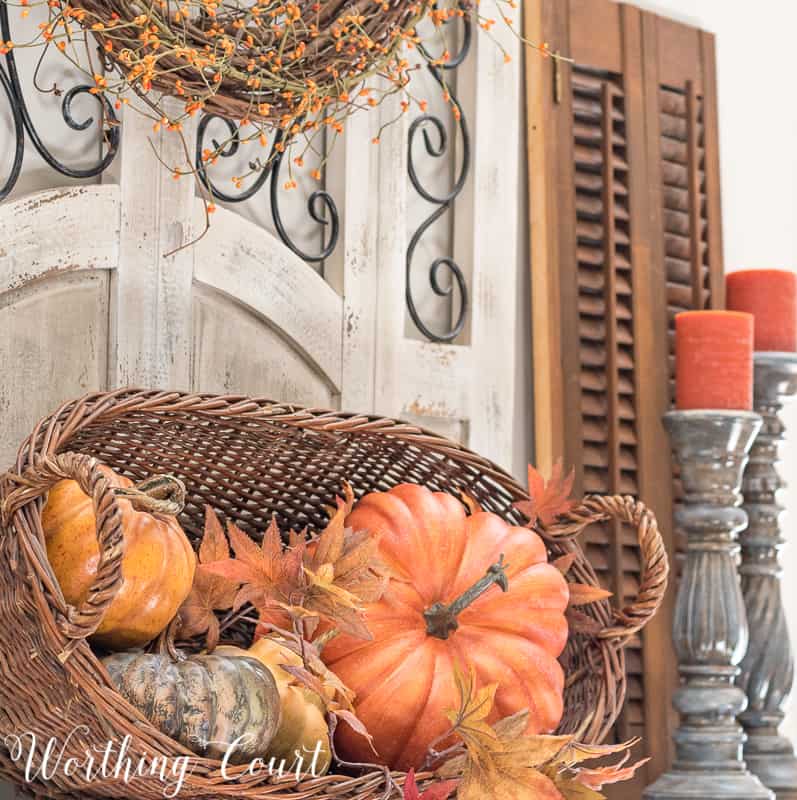 Many of you have asked me for ideas to fill your dough bowl for fall.  My favorite way is to fill it full to overflowing with all the fall things.  This dough bowl centerpiece in my fall dining room contains a grapevine wreath, an oversized wicker acorn, a spikey orb, multiple pumpkins in different colors and sizes with several cotton stems tucked in all the empty spots.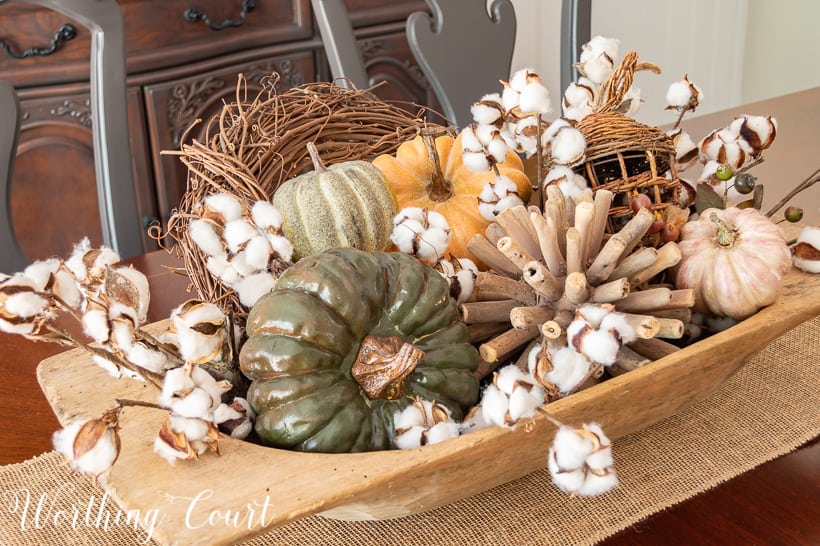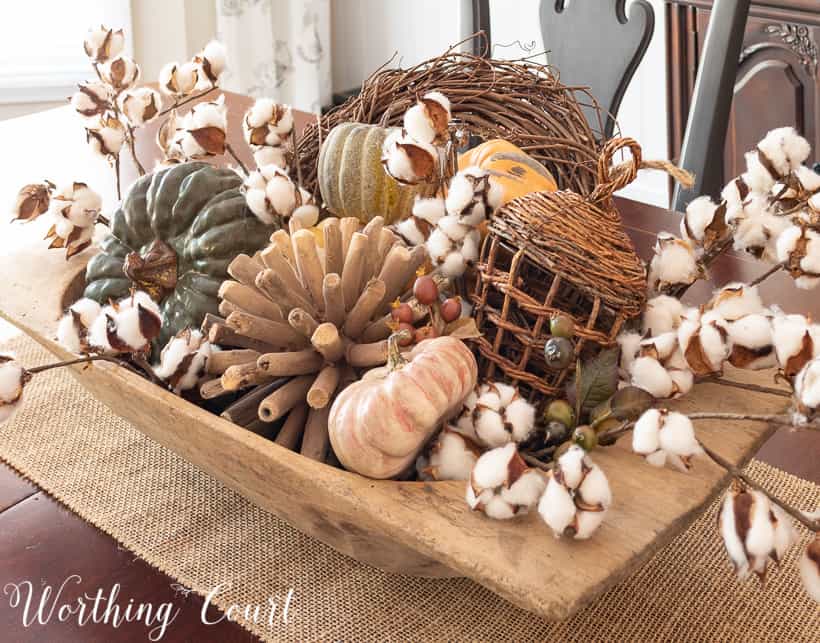 The arrangement of pumpkins on the chest in my foyer this fall hints at what fall is traditionally all about – the bounty of the harvest.  Different colors, shapes and sizes of pumpkins have been turned this way and that to make the display more interesting than it would be if they were all lined up in a straight row.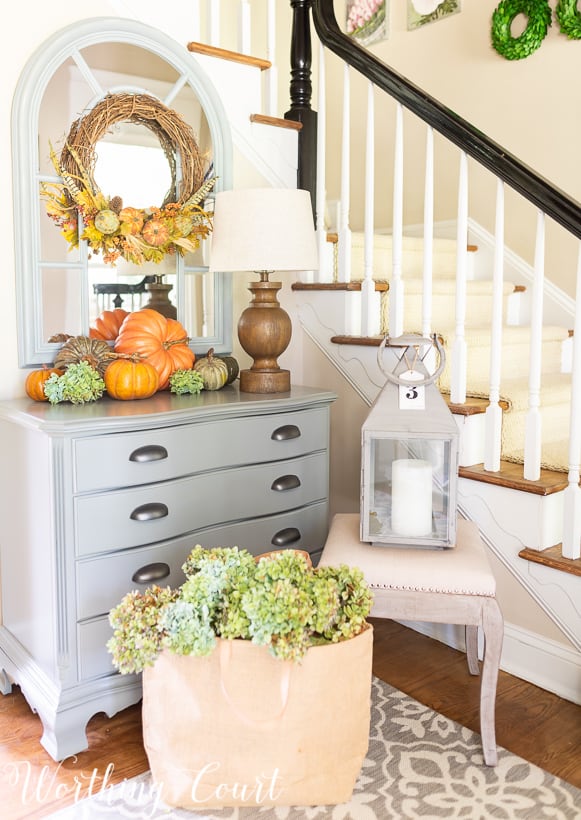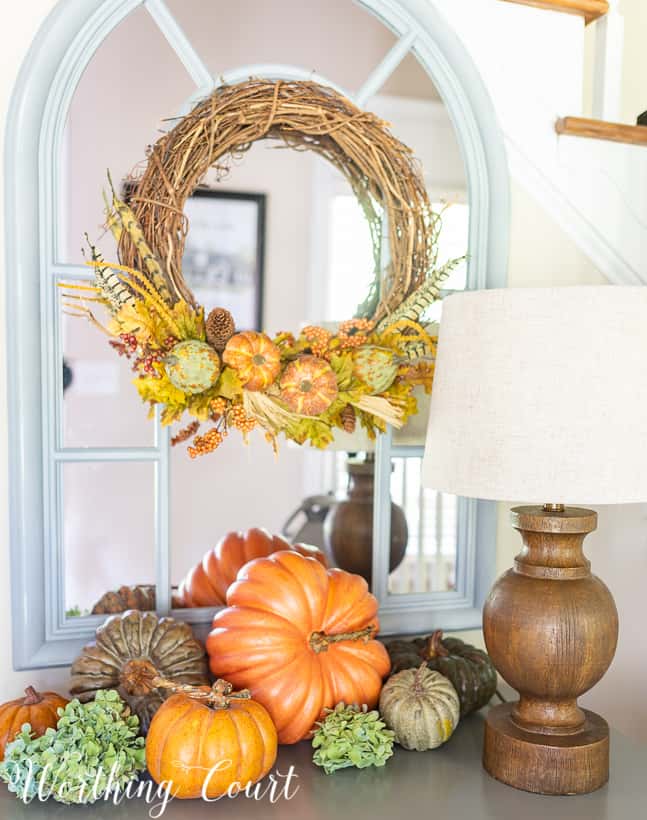 This centerpiece in the dining room of my former home remains one of my favorites to this day.  I created it before I learned my lesson about using real pumpkins every year.  The soft buttery yellow, white and pale green pumpkins look terrific piled in a tool box with a few sprigs of fresh greenery tucked in.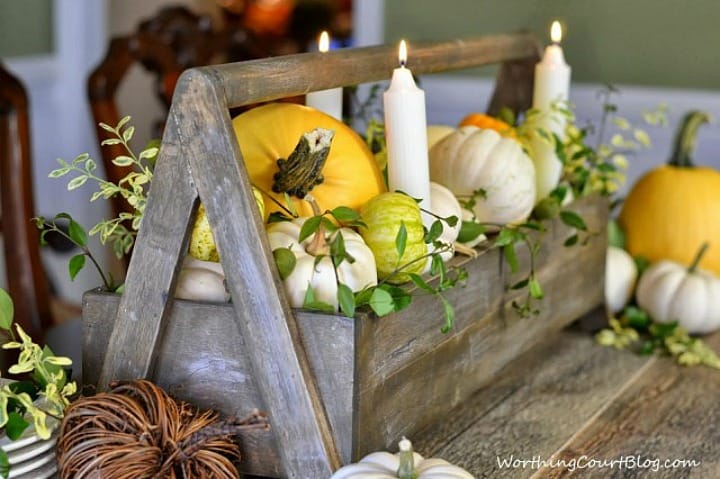 Pumpkins make great filler too, such as in this centerpiece on the table in my breakfast room.  This reinforces my point about saving money by being able to use artificial pumpkins over and over again.  You should recognize some of these from both the dough bowl and arrangement on my foyer chest in the photos above.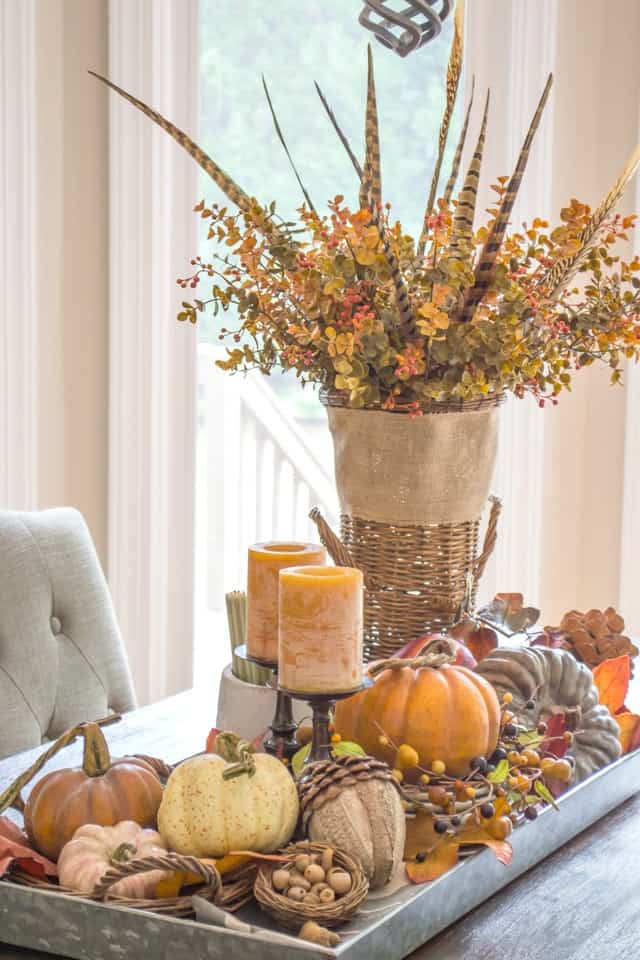 STAND ALONE PUMPKINS
Stand alone pumpkins can make a statement too, as long as they're displayed in a clever way, such as these that I've displayed on my set of reproduction vintage scales.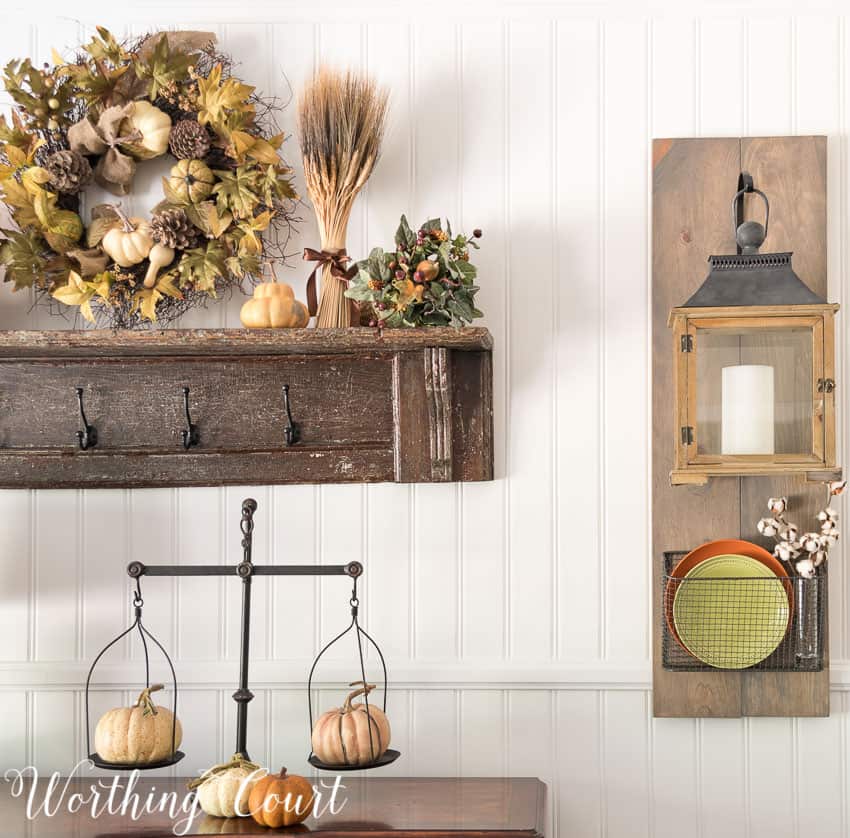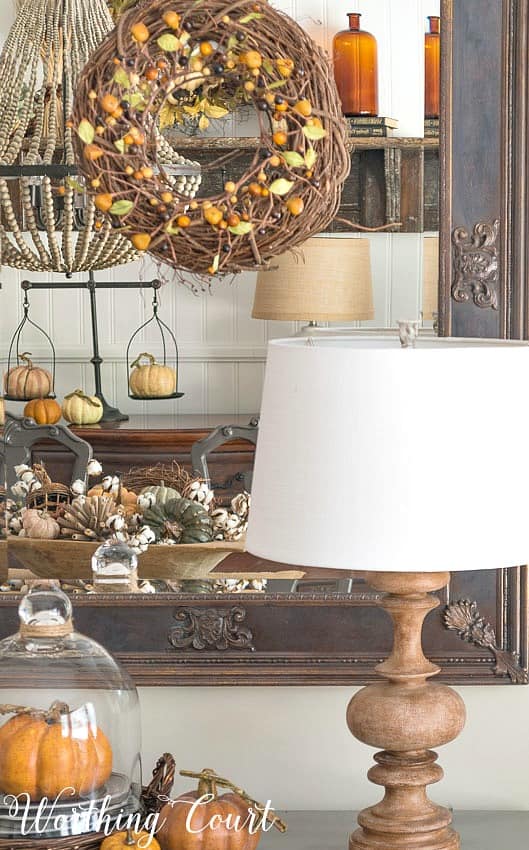 On my front porch, I've used ginormous faux pumpkins in place of fall mums in urns flanking my front door.  The urns were simply topped with grapevine wreaths before placing the pumpkins on top.  To add interest, I wound a pip berry vine around the wreaths.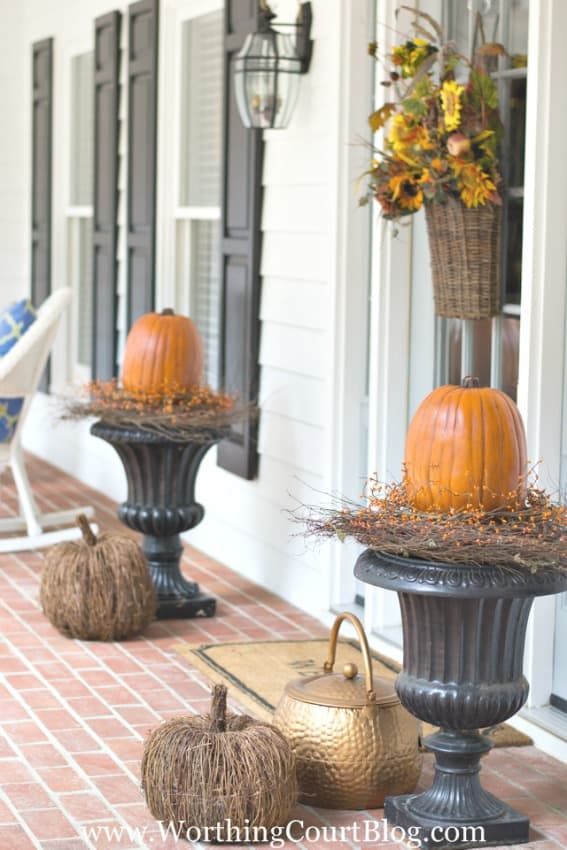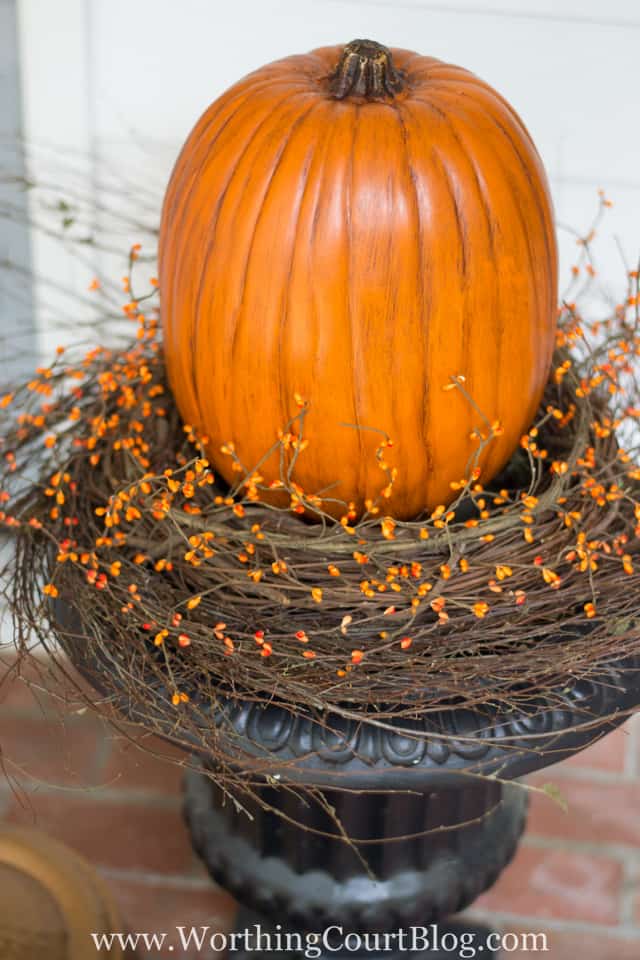 To give a solitary pumpkin real prominence in a display, raise it up on a pedestal.  Tuck in faux greenery and other filler to soften and fill in around the edges.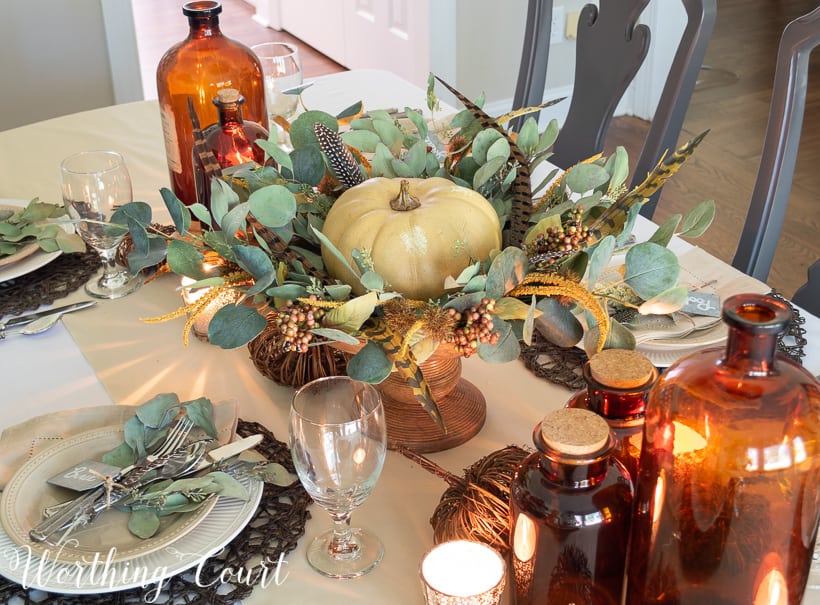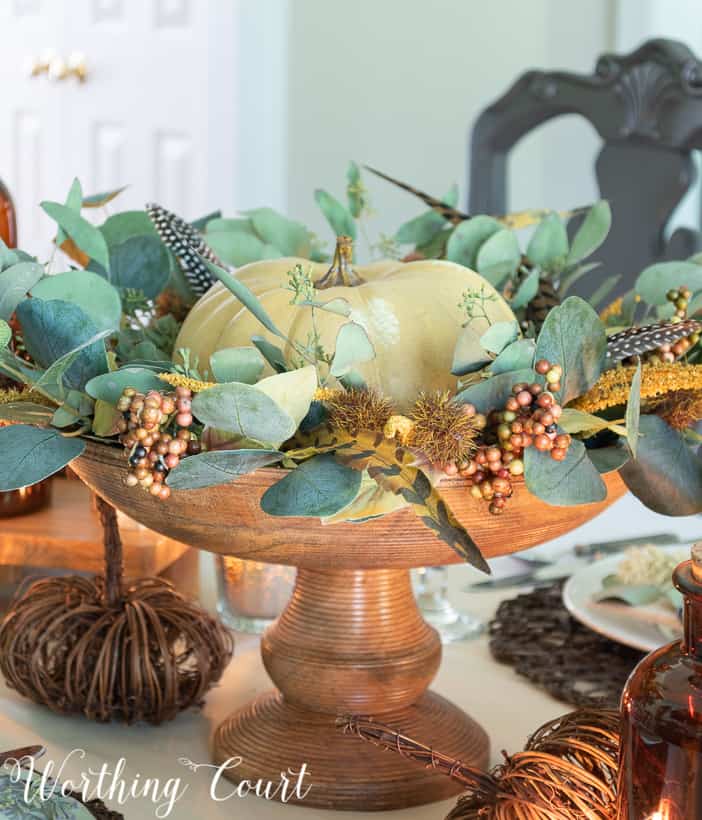 A FEW MORE IDEAS
My latest pumpkin obsession is with velvet pumpkins – so, so yummy and lush!  Gray and white ones look great when mixed with a eucalyptus garland running down the center of my dining room table.  And speaking of velvet pumpkins, just wait until you see what I have coming your way next week!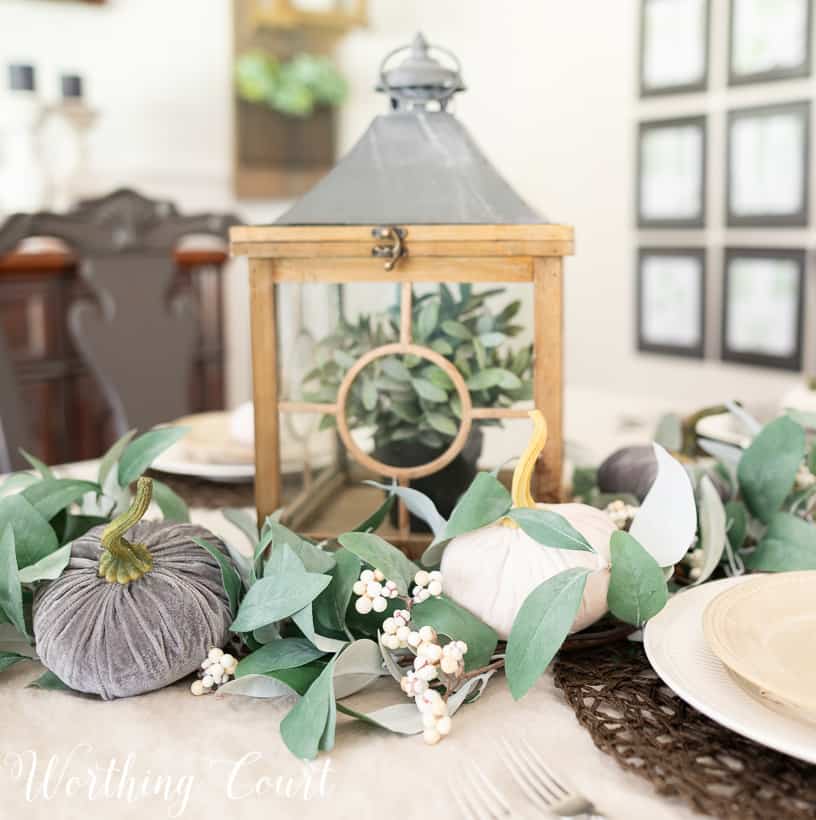 One of my favorite reasons for using faux pumpkins is that they can be purchased in all sorts of patterns.  If you know me at all, then you know that I crave all the plaid things during the fall!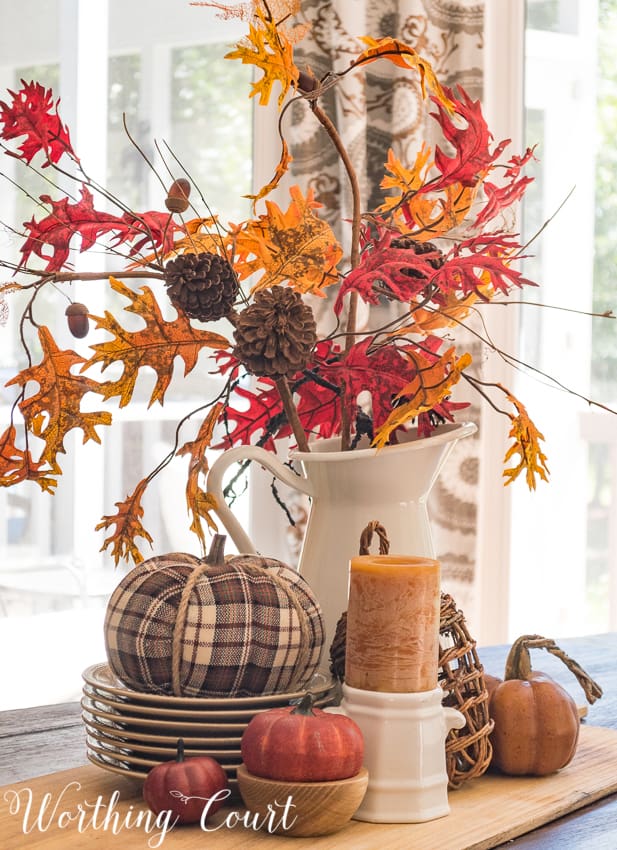 Pumpkins stacked on books and a terrarium filled with pumpkins make an unexpected coffee table display.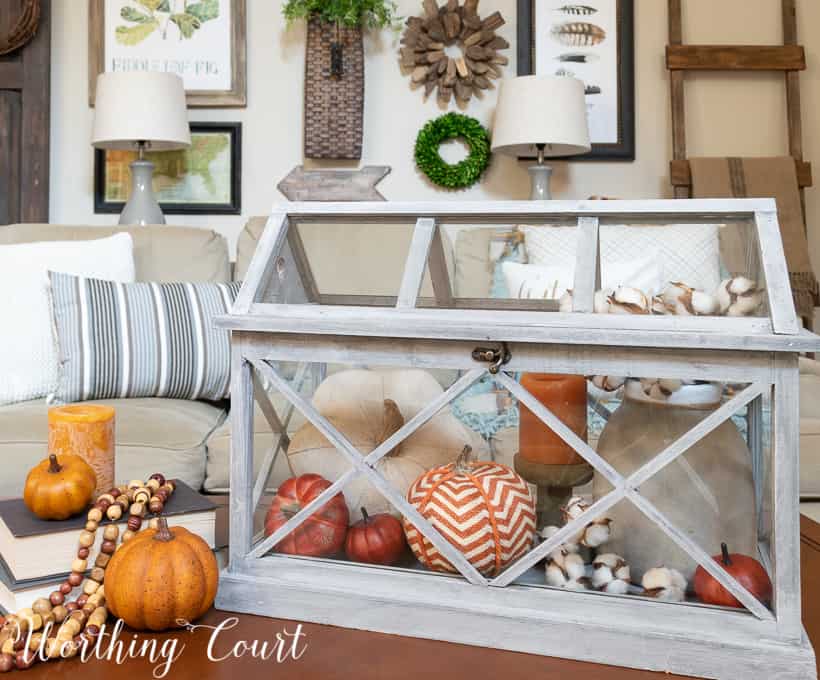 On my fireplace hearth, a wooden crate holds a lantern and is topped with a single pumpkin and fall foliage.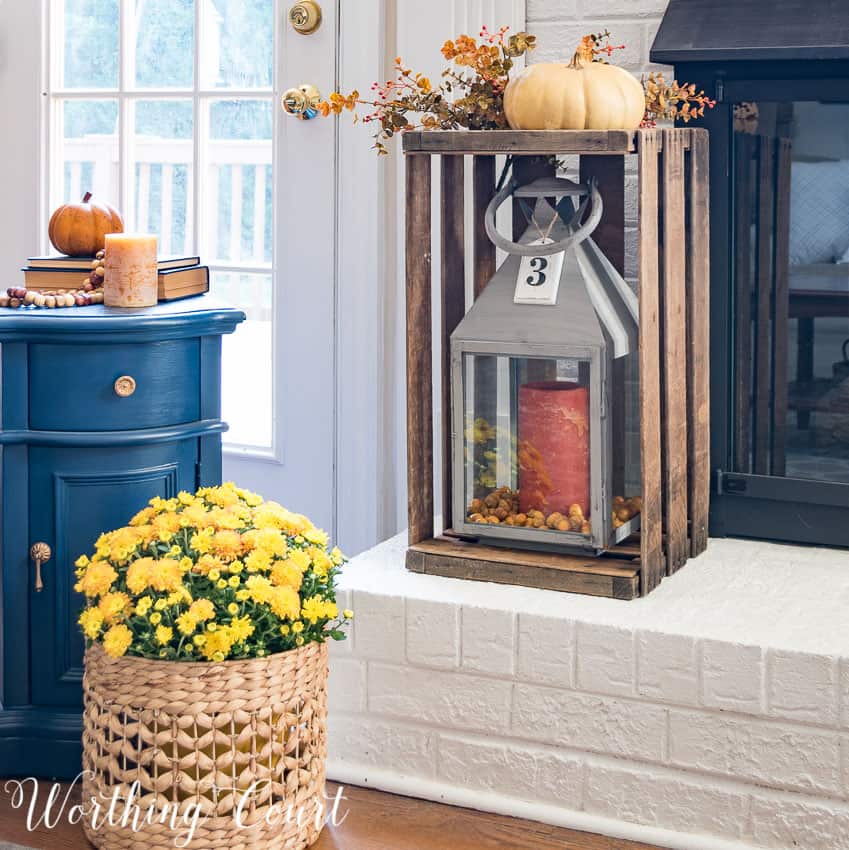 For a super simple pumpkin display, try scattering single pumpkins in multiple places around a room!  Do you spy the mini pumpkins behind the sofa?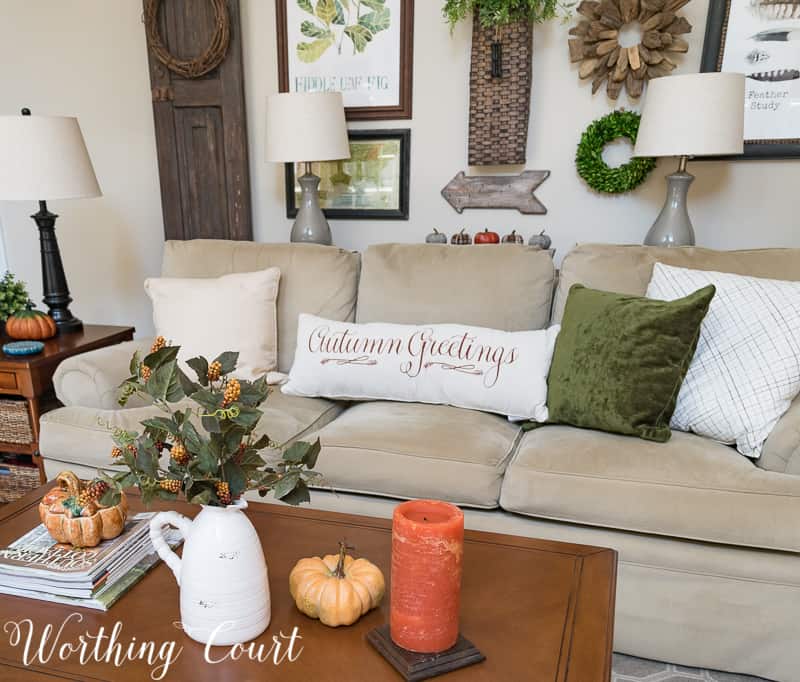 I could go on and on, but I think you get the idea.  If you're stumped about how to use this flexible fall fruit, don't be. There are a bajillion and one ways to incorporate pumpkins inside and out of your home this autumn!