In this week's discussion about the Principles Of Interior Design, we're going to learn about the importance of using the principle of emphasis and focus as a part of the interior design process.
This is the second in a seven week long series covering the 7 Principles of Interior Design. CLICK HERE to see Week 1.  For this week's lesson, we'll be using my family room as our example.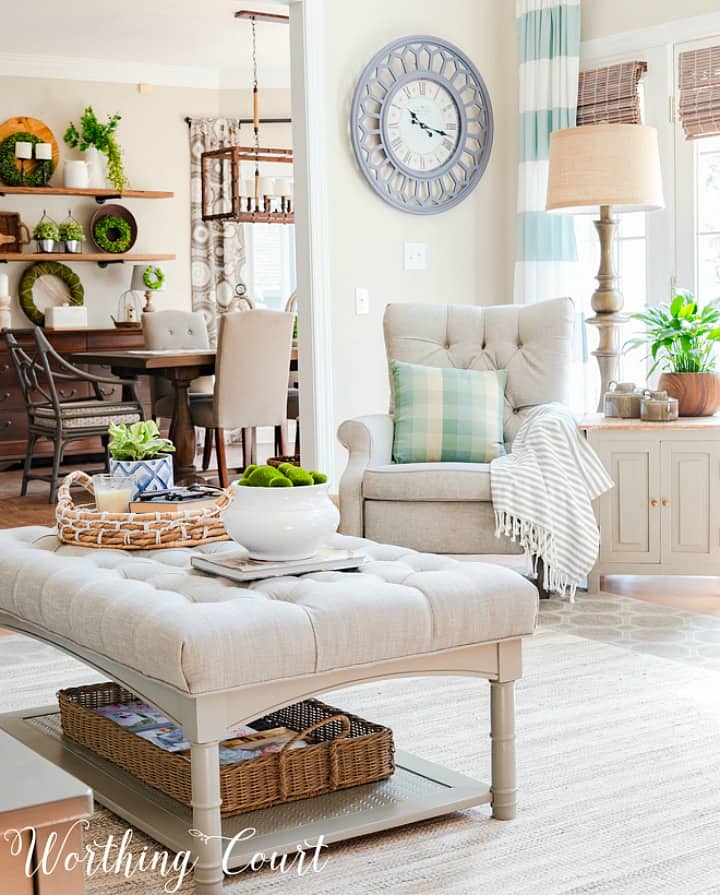 WHAT IS A POINT OF EMPHASIS OR FOCUS?
The design principle of emphasis and focus is pretty much exactly what the title suggests. It means to give emphasis, or to create a focus on something that is of particular importance or prominence. In interior design, it's all about creating a focal point within a space.
Whether you realize it or not, when you enter a room, your eyes immediately scan the space and rest on elements that attract attention.
Every room should have an emphasis or focal point of some kind – something that will dominate the rest of the decor in a room and pull the room together. A focal point will help to establish visual hierarchy in the design and will act to anchor the room. There are many, many types of focal points – to name just a few:
architectural elements, such as a fireplace, windows or trim work
decorative items, such as large wall decor, a headboard, a bookcase or entertainment center
prominently displayed accessories or floral arrangements
a furniture grouping
a gallery wall
a painted or wallpapered feature wall
negative space, leaving empty space around an object (yes, empty space can draw your eye too).
The large entertainment center acts as one of the focal points in my family room (we'll talk about having multiple focal points below). Obviously, it's large and attracts attention.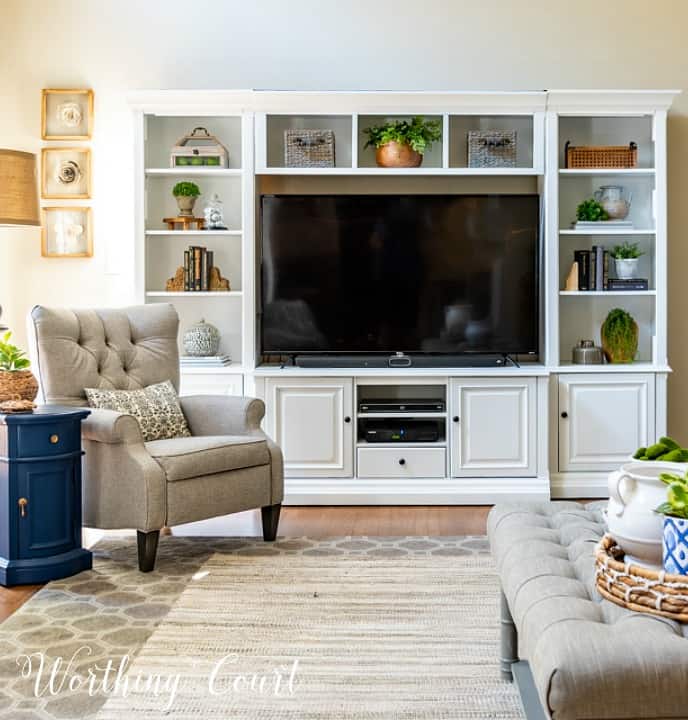 SUPPORT THE FOCAL POINT
Other items that surround the emphasized point or focal point, should compliment it, but also contrast with it, to give it the top priority in the space. Items placed around the focal point, with no real thought behind it will only create a confusing design.
Contrast comes in many forms and can work in an all neutral room as well as a colorful one. We'll talk more about contrast in a future Principles Of Design post.
My wall that my fireplace is on is really one long focal point. It's the first thing you see when you enter the room from one of the doorways and is reinforced with the French doors that surround the it.
To support the emphasis on the fireplace itself, which is the actual thing I want your eye to focus on, I've flanked it with a pair of recliners and floor lamps and added artwork and accessories that draw even more attention to the area. Notice that both chairs are angled toward the fireplace and help to draw your eye in.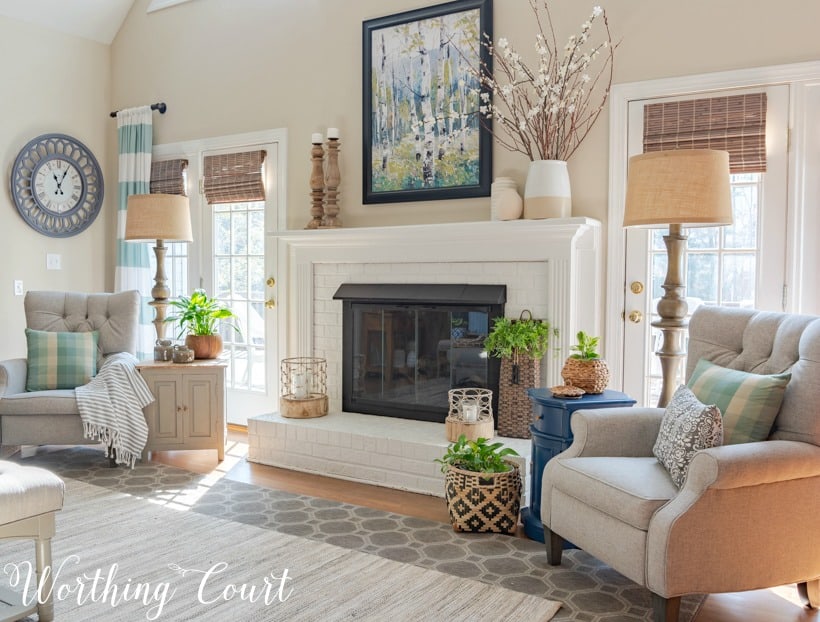 As I mentioned above, my large entertainment center also acts as a focal point in this same room.
The opening to the hallway on the right side (you can see it in the photo below) pretty much dictates that I cannot really use furniture to draw your eye to it like I did around the fireplace. In this case, your eye is naturally drawn there because of the sheer size of it and the fact that it contains a large television.
But- I still want to visually support it and add some contrast to the area, which I did with the style and colors of the accessories that I used on the shelves and the stacked artwork to the left. The type of accessories and their color all help to bring additional attention and help this rather large piece of furniture fit into the overall design of the room.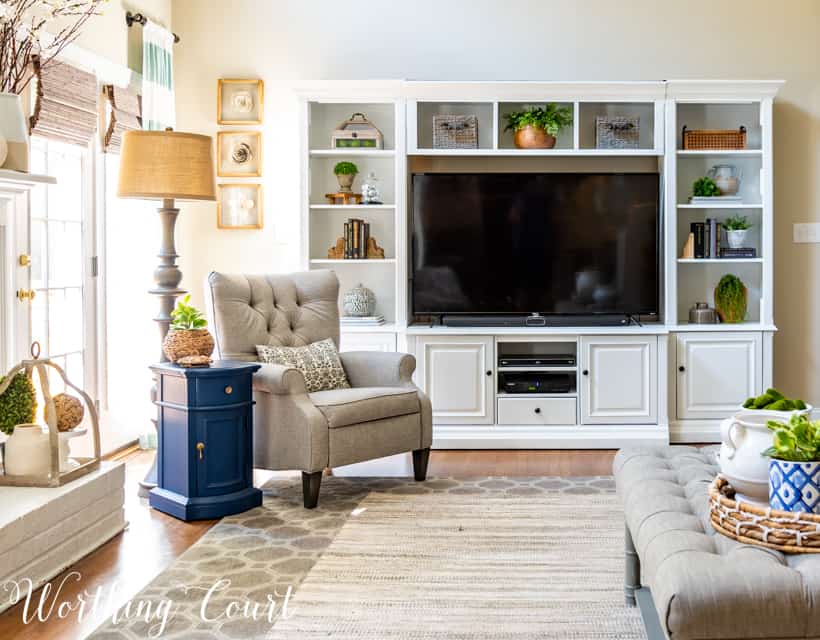 DEALING WITH MULTIPLE FOCAL POINTS
No matter what you consider to be your focal point, just remember, it should be the first thing that you see when you enter the room. That can sometimes be complicated by the fact that a room may have more than one focal or emphasis point. I even wrote a whole post about how to deal with multiple focal points in a room, which you can find by CLICKING HERE.
For example, a room with a fireplace on one wall and a large entertainment center on the other, such as this family room.
Another example could be a bedroom where windows on one wall are a focal point and the bed and headboard on another wall are both focal points.
In the case of my family room, there are two entrances into the space – one is from the kitchen, where you are facing the entertainment center as you enter and the other is from the foyer, where you face the fireplace as you enter the room.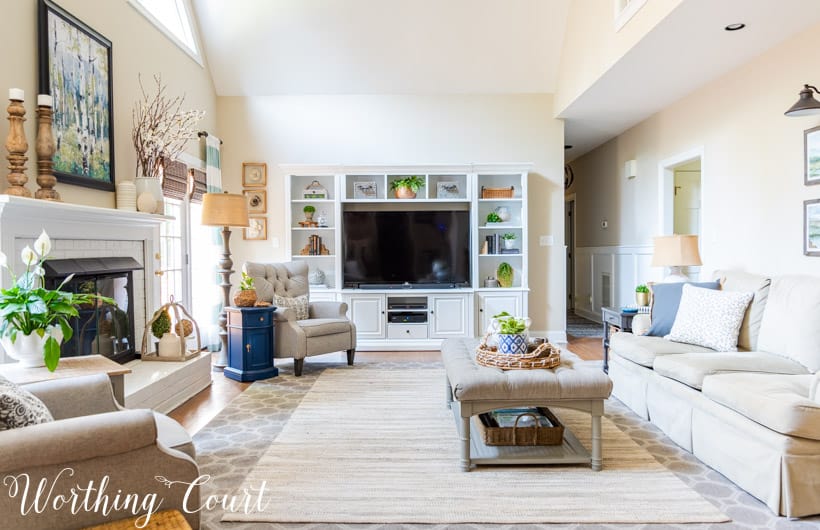 The 7 Principles Of Interior Design are time-tested guidelines to be used as building blocks to help you along the way to creating a well thought out and successful design for your home.