My Family Room Decorated For Fall + A Video Tour
A suburban meets farmhouse meets updated traditional fall family room tour.  Simple, no-fuss fall decorating ideas for a light, bright, yet cozy space.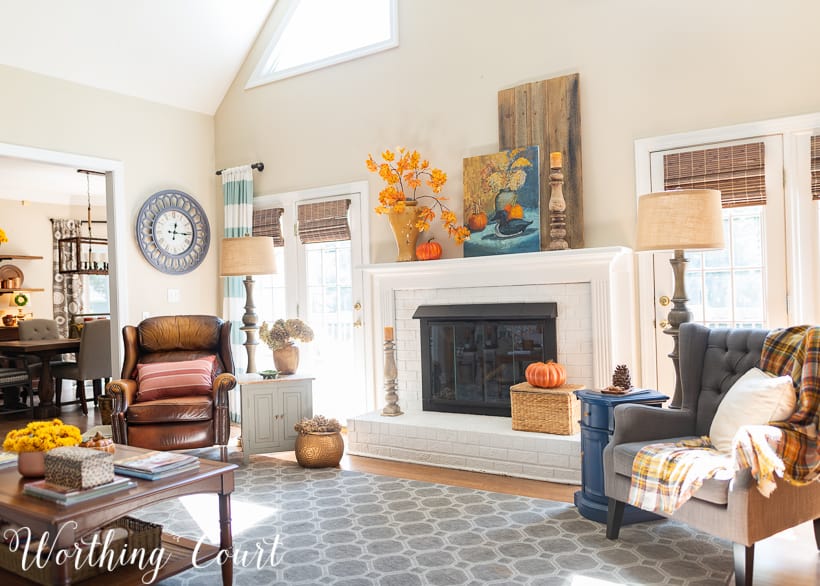 Pin
Earlier this week we took a close look at how I decorated my fireplace and mantel for fall this year.  And I also showed you how to easily decorate your coffee table for fall in just a few minutes.  Today, let's take a look around the rest of the family room!  There's a video tour of the space too, so be sure to scroll on down for that.
Fall is the time when I'm ready to cozy things up in anticipation of colder days ahead.  While I love the vaulted ceiling and having the generous amount of space our family room provides, it is often a bit challenging to make it feel cozy without filling it full with a lot of stuff.  So, this is a bit of learning experience for me – learning to simplify my decor, but still giving me the cozy fall vibes that I'm craving without going overboard.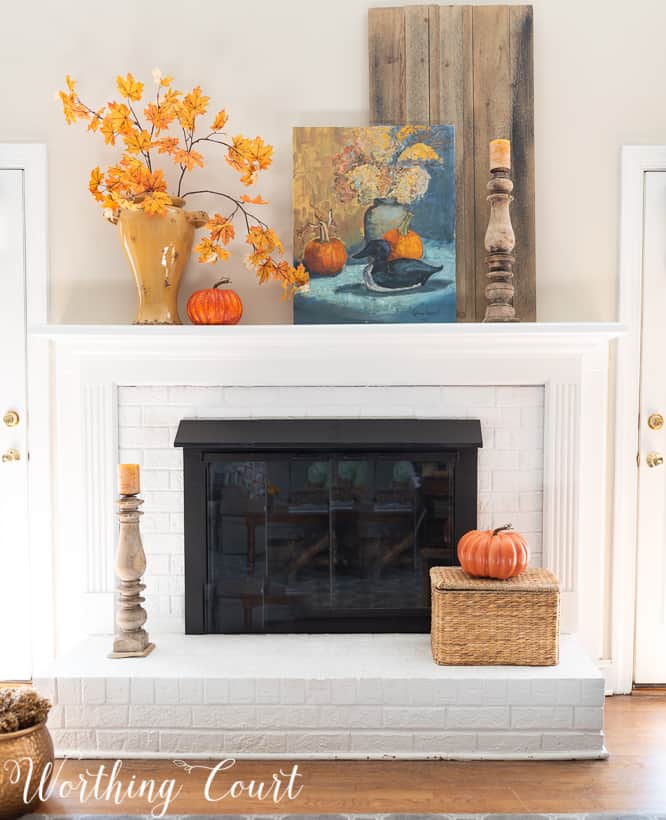 Pin
My family room can be very difficult to photograph, thanks to the two sets of French doors and the pair of triangular shaped windows that are high up on the walls, flanking our fireplace.  While I love the amount of light the windows allow into the room, they are a thorn in my side when it comes to taking photographs!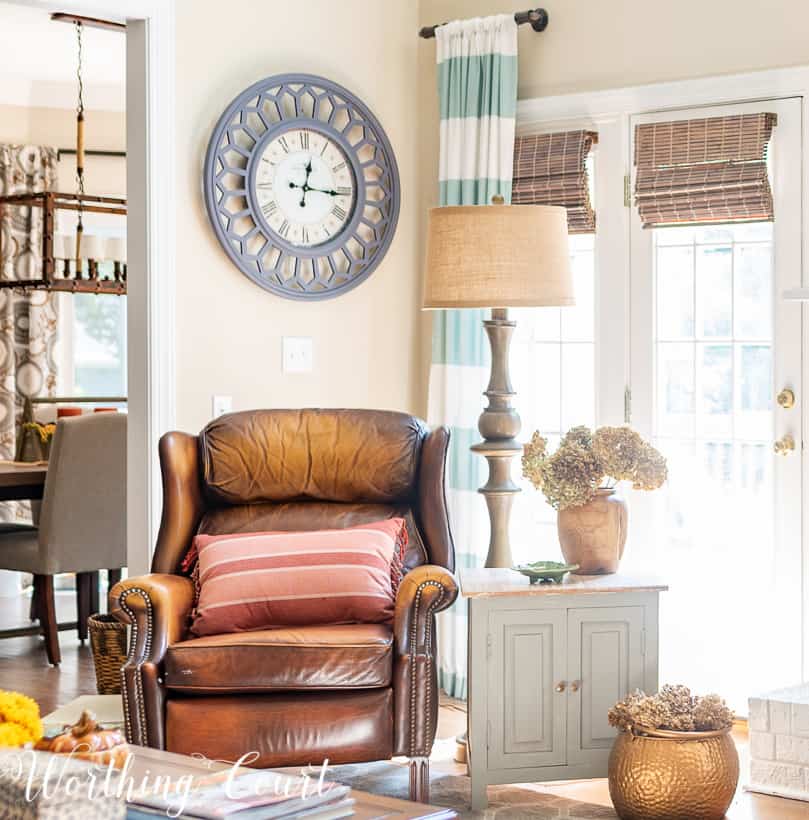 Pin
An oil painting, from my late aunt, that adorns the fireplace mantel was the inspiration for the fall decor throughout my home this year.  I love to use traditional fall colors this time of year, but I  love the more muted colors of the dried hydrangeas in the painting too!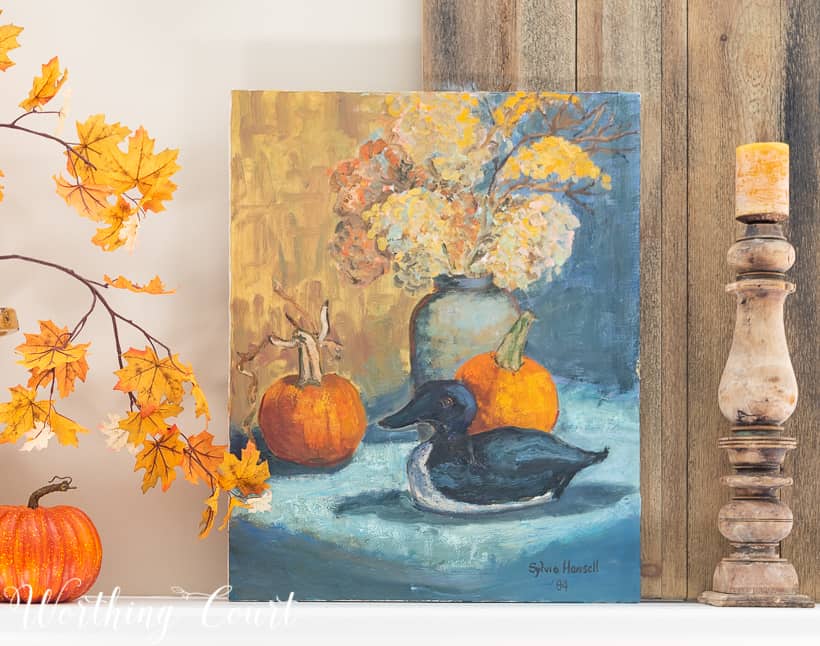 Pin
Our family room is visible from the foyer, so it's important that the decor seamlessly flows from one room to the next.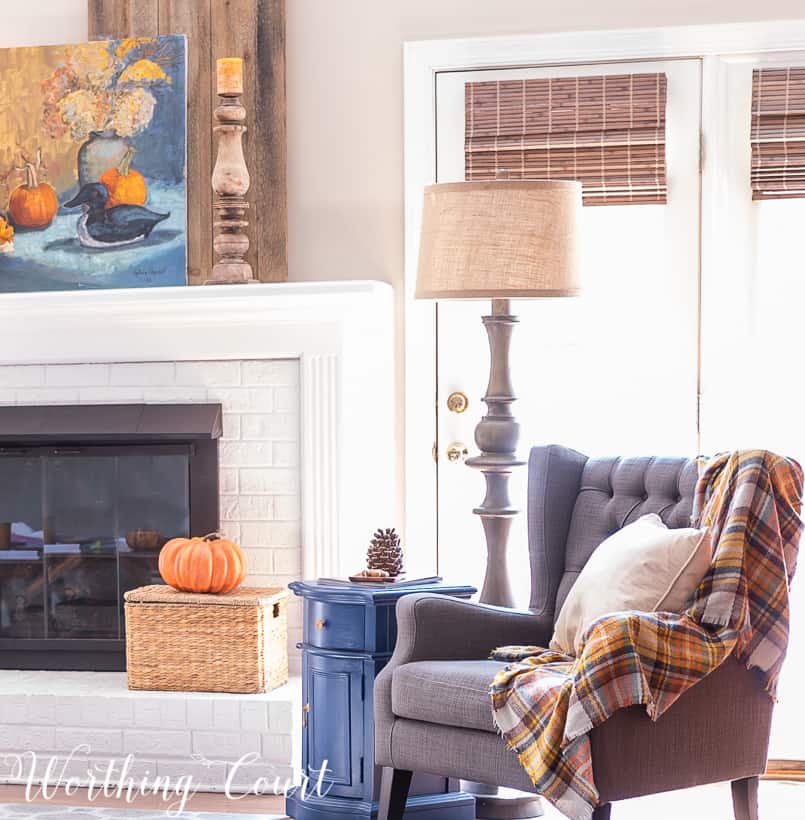 Pin
There is a large opening between our family room and kitchen/breakfast room too, where I'm giving you a sneak peek of the shelves that I've decorated with copper for this fall.  Hence, the copper pot filled with dried hydrangeas on the floor beside the fireplace and the copper container of mums on the coffee table to help tie the two spaces together.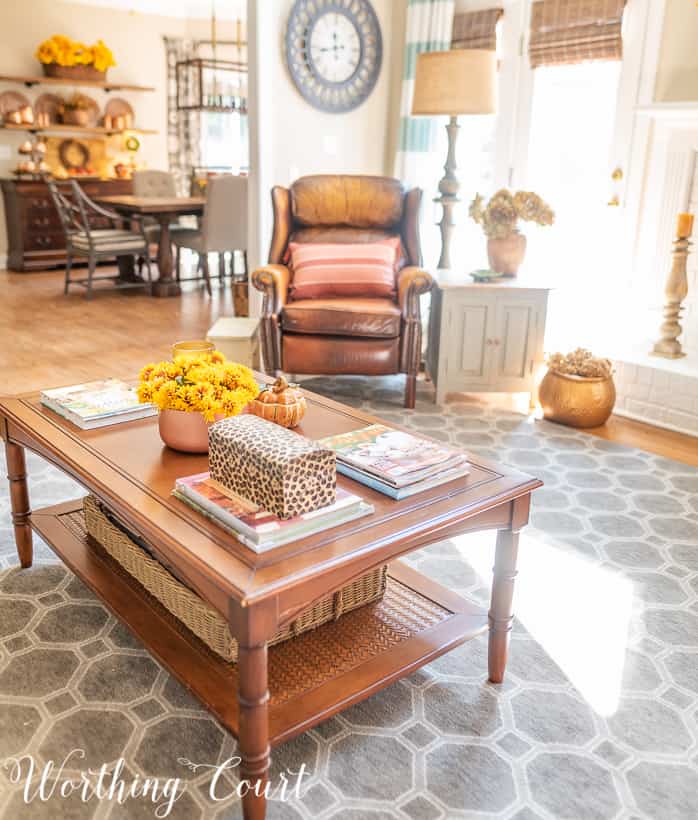 Pin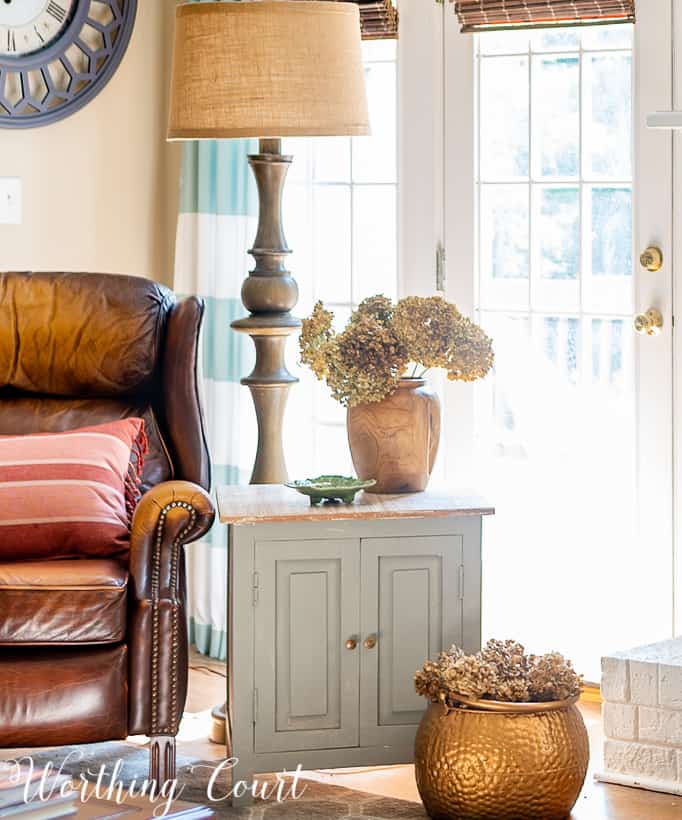 Pin
Just like with the fireplace and the coffee table, I kept all of the decor very simple in this room.  Nothing too fussy or complicated.  Of course it helps to have a cute, furry assistant!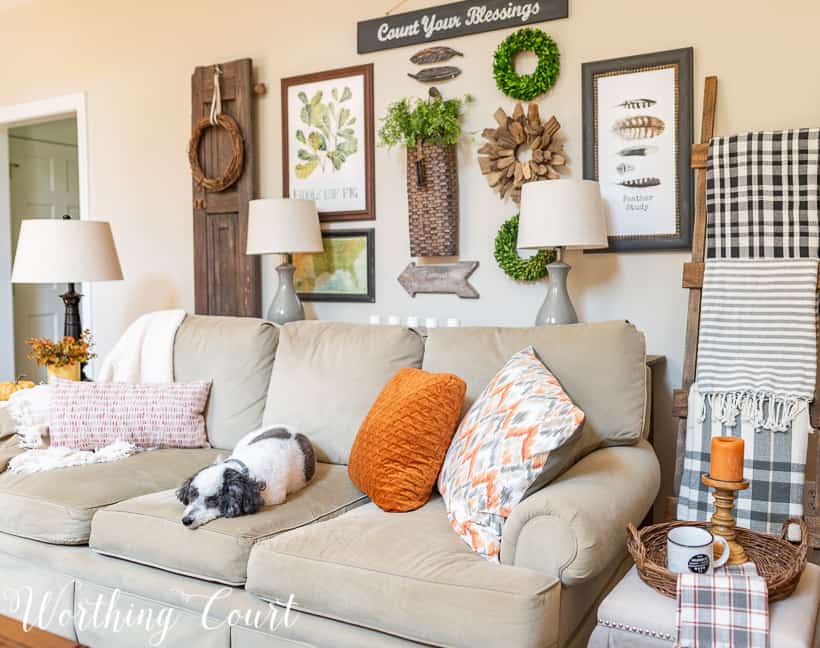 Pin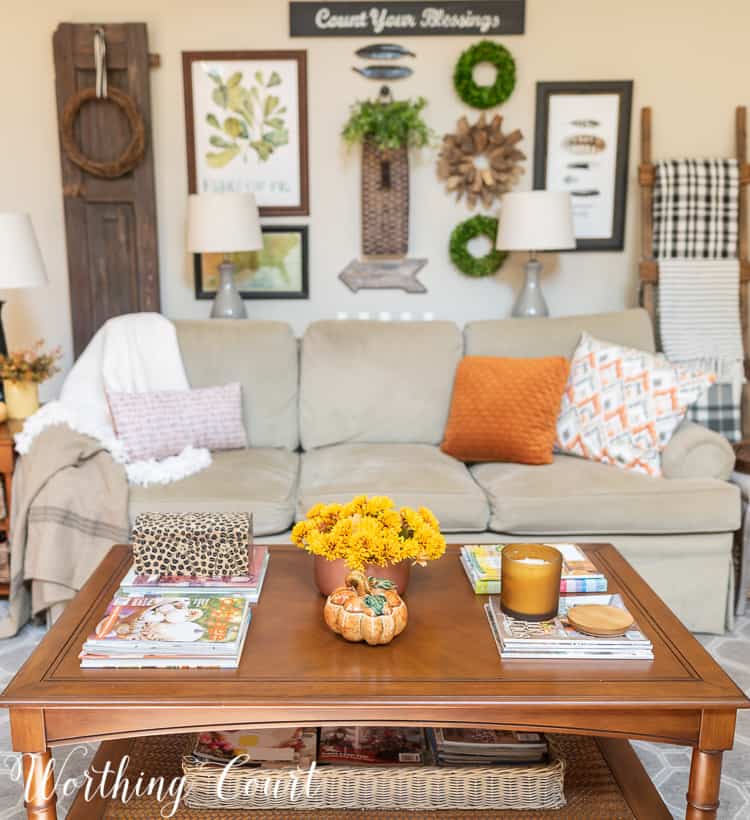 Pin
Just a very simple vignette is on the end table, but I do love the cozy look of the layered throws on the couch.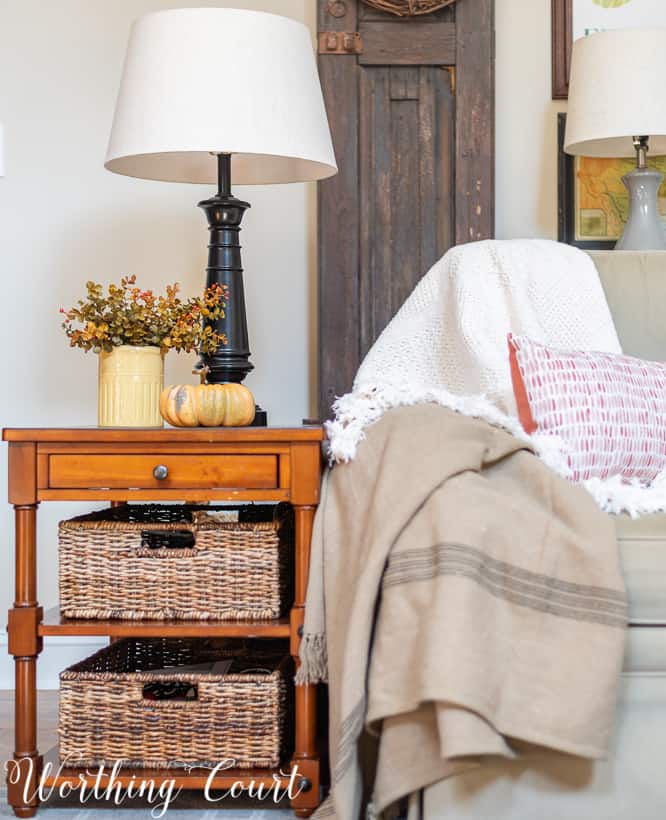 Pin
Check out the video tour to get an even better feel for the space!
Thank you for stopping by today!