Christmas In My Farmhouse Kitchen
I am very excited to share with you all my decor ideas for Christmas in my new farmhouse kitchen!
This time last year, we were in the throes of a total kitchen remodel and my kitchen was nowhere ready to be decorated for Christmas.  Shoot, I was proud of myself for even managing to get a Christmas tree decorated and the presents wrapped!  But I've made up for it this year.  There is barely a corner of my farmhouse kitchen that didn't get a little Christmas love.
Farmhouse Kitchen Decor
My decorated kitchen is a long room, with the functional part of the kitchen at one end…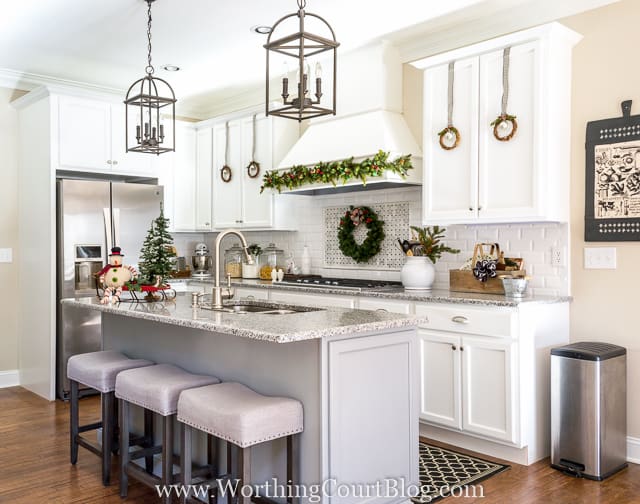 Pin
…and the breakfast area at the other.  We have two turrets on the back of our house, which I love, and the breakfast area sits in one of them.  The window gives us wonderful panoramic views of our backyard where we frequently are treated with deer trotting by.  I've never shown my breakfast area in its entirety before as there was always some renovation project or other that wasn't finished.  But everything has been completed in that area now, including window treatments, new diy rustic shelves above the sideboard and a new modern light fixture.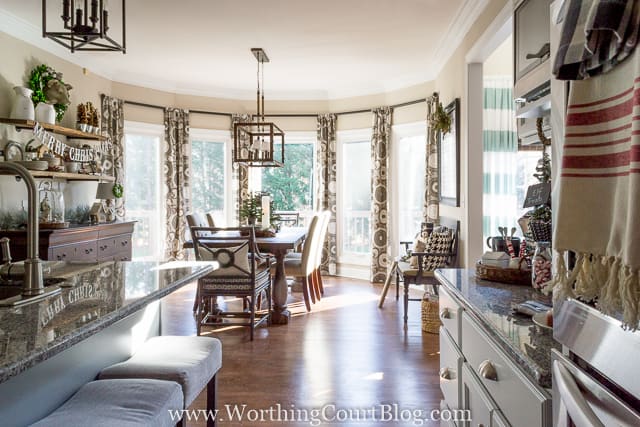 Pin
We'll look at more of the breakfast area in a minute.  First let me show you around the functional end of the kitchen.  I"m enjoying the first Christmas in our remodeled kitchen so much that I couldn't help but take a lot of pictures.  So grab a cup of cocoa and sit back and relax because this is a photo heavy post!
Farmhouse Kitchen Ideas
A Christmas garland added to the vent hood above my cooktop was my jumping off point.  Tiny battery operated lights add just a bit of holiday sparkle.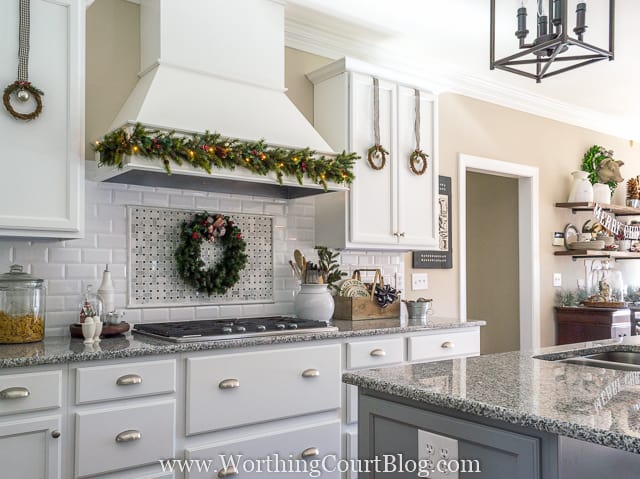 Pin
I added pretty wreaths with ribbon to the white kitchen cabinets.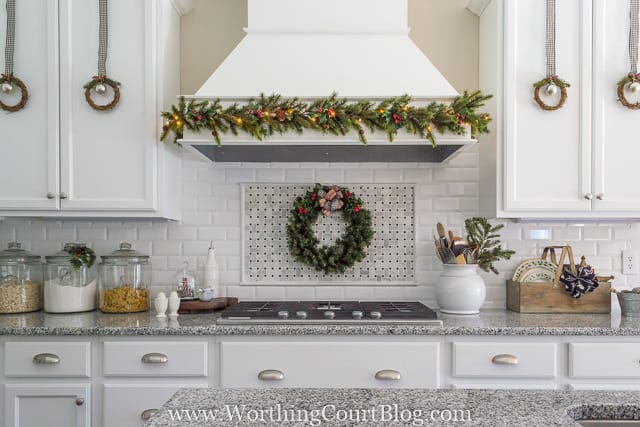 Pin
I mixed in Christmas touches with the everyday items that live on my kitchen counters all of the time.  Touches of pretty black and white ribbon were worked in all over the place.  In fact, I bought every single roll of black and white checked ribbon that two different Michael's had! Love that stuff.  Small pops of red were added here and there to bring it all to life.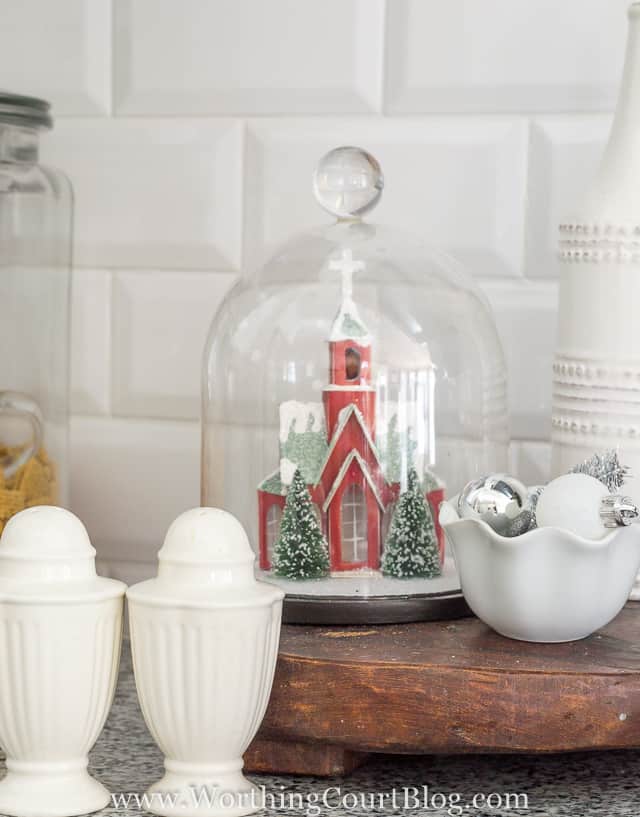 Pin
I love the mix of rustic and elegant in this wooden box that holds a bit of my gold rimmed Christmas china, along with some sentimental cookbooks and a rustic star.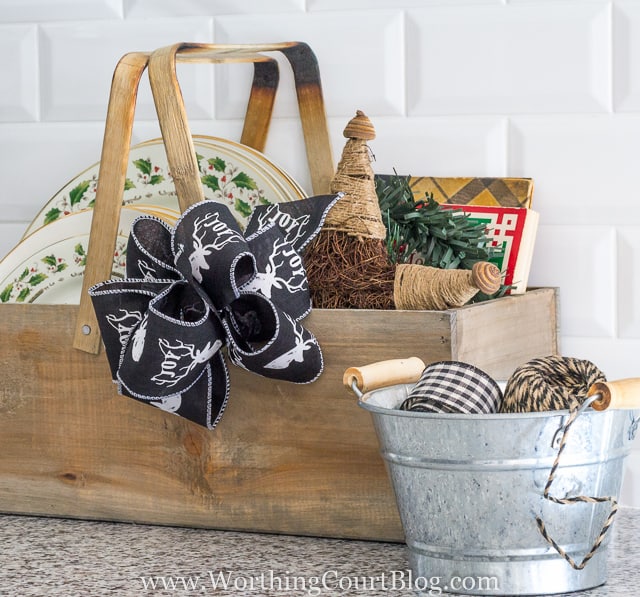 Pin
The island sports a squatty snowman on a red sleigh and a couple of snow laden trees.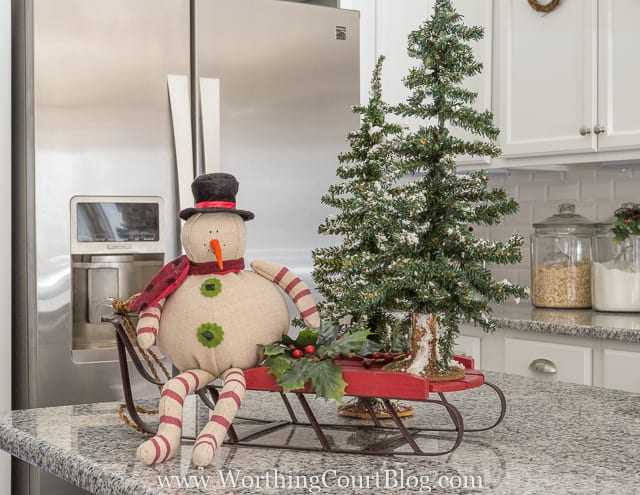 Pin
The other side of the kitchen, opposite the sink, is where the ovens, microwave and pantry are located.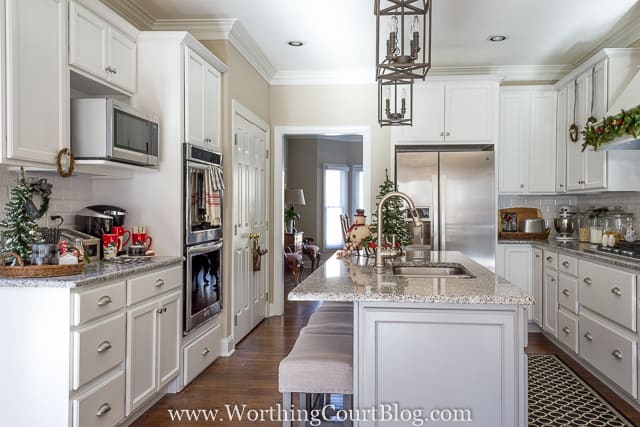 Pin
You might have noticed that that's where the most important thing in the kitchen is located too.  The coffeepot.  For our upcoming Christmas family gathering, I set the entire area up as a hot drink bar.  The long container in the center has a space for cocoa pods as well as regular and decaf coffee.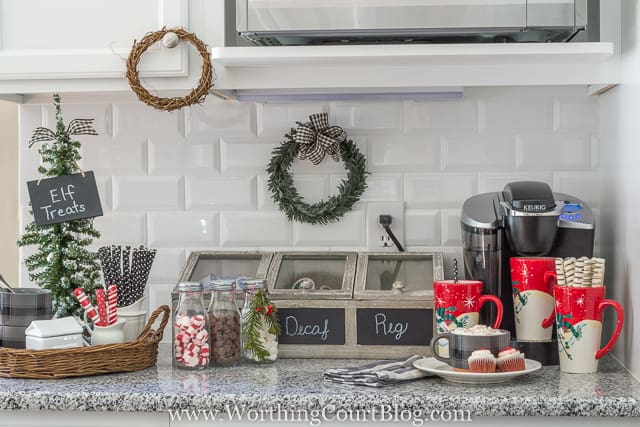 Pin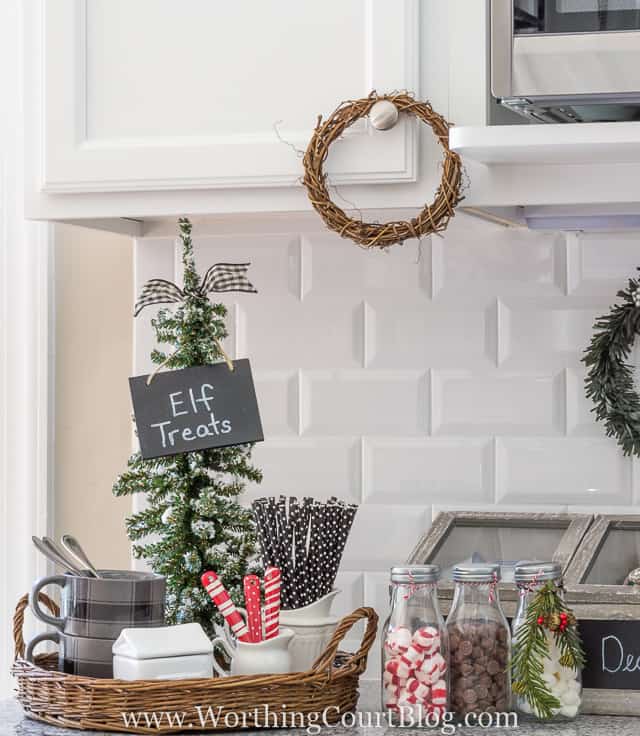 Pin
Now onto the breakfast area.  You may have seen that I shared my brand spanking new diy rustic shelves a few days ago.  Nothing really changed on them, except that I added a glittery Merry Christmas banner and a few red touches to tie in with the rest of the kitchen. I'm still trying to decide if the holiday banner is overkill, but the more that I live with it, the more I like it.  What do you think – too much?  I won't spend a lot of time on the shelves today since this post is already so long, so click HERE to take a closer look at them.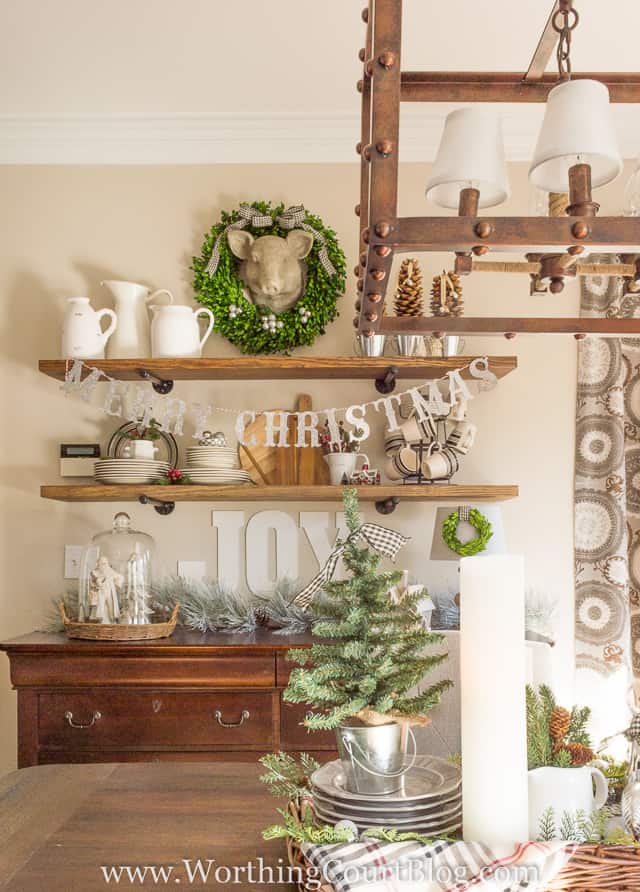 Pin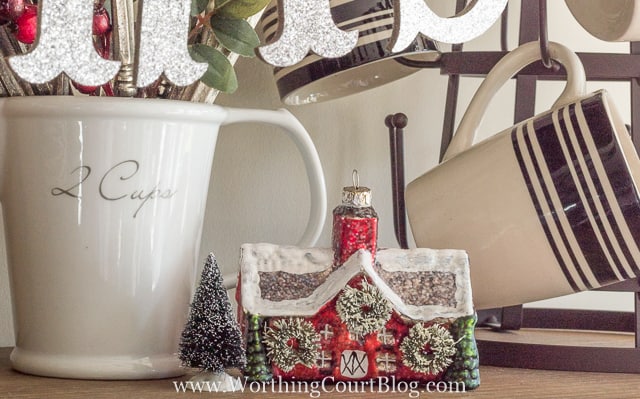 Pin
I mentioned earlier that I had made several changes in this area of the farmhouse kitchen.  It sure has come a long way since we first moved in a little over a year ago.  I'll be doing a separate post later to go over the details.  In the meantime, I'm loving the view from my spot on the couch.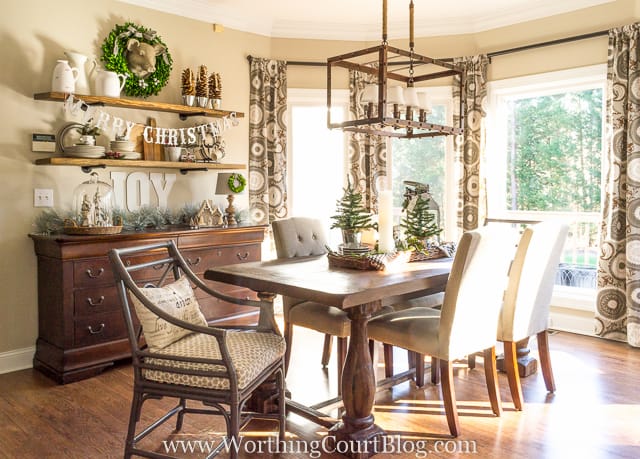 Pin
I still have the same bench and framed printable on the other side of the breakfast room. By the way, I made this large size printable and also a 9″ x 11″.  It's free, so click HERE if you'd like to download and print a copy.  I called this printable Each Day.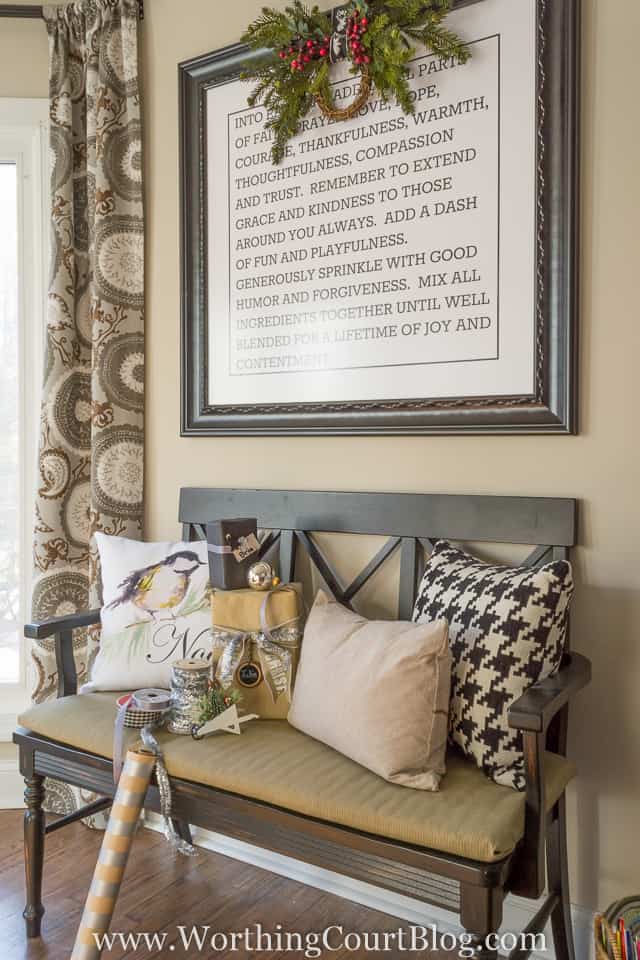 Pin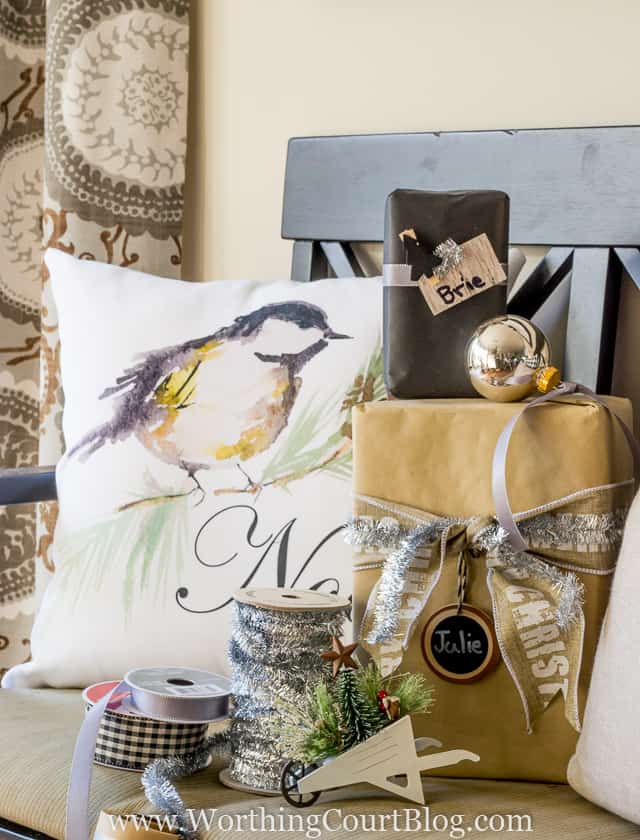 Pin
And lastly (bless you if you've stuck with me until the end!), I created a simple holiday centerpiece for the table.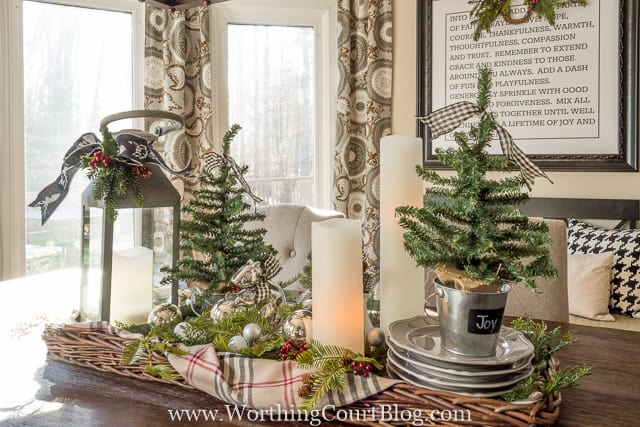 Pin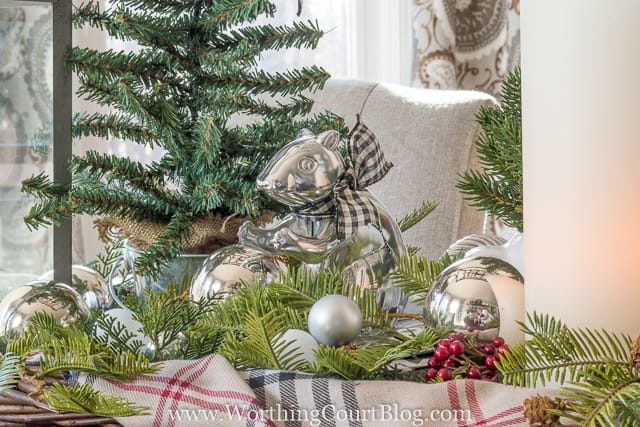 Pin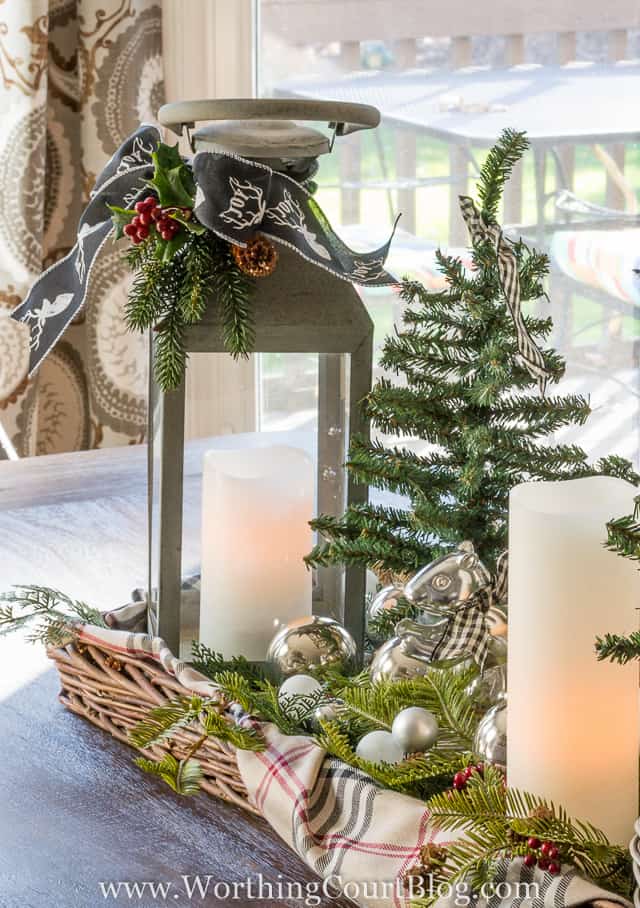 Pin
Thank you for letting me show you around my Christmas kitchen today.  I'm sending my warmest Christmas wishes to you, your friends and your family as we all celebrate the joyous occasion of our Saviour's birth.
Pin it for later!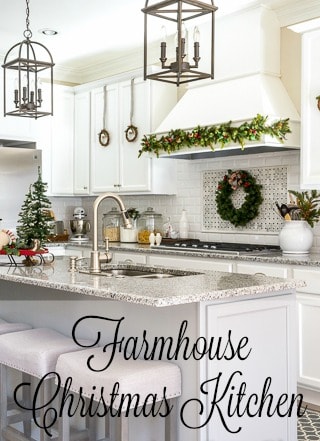 Pin