My Farmhouse Winter Fireplace Decor
I decorated my fireplace in a winter farmhouse theme as the snow is still falling outside!
As I sit at my desk, writing to all of you, I'm looking out at a cold winter's scene where the snow has been falling all day.  I know that many of you don't like the snow, but this southern girl loves it!  The outdoors is so beautiful with its fluffy blanket of white and I don't think there's a more peaceful sound than being outside while the snow is falling.  It's as if the world is standing still.
Judging by the amount of freshly fallen snow on my deck railing, I estimate that there's roughly 6″ so far and the snow is still falling hard.  What appropriate weather for sharing my winter fireplace with you today!
You'll find a full resource list at the bottom of the page.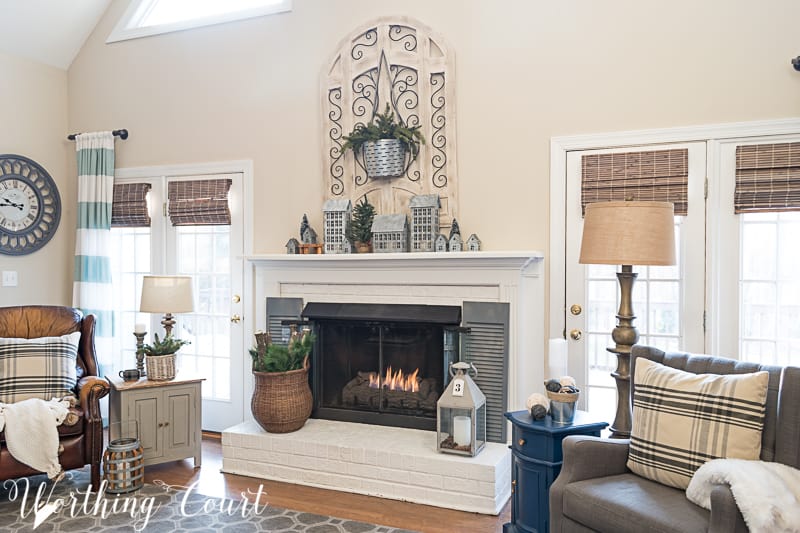 Pin
If you read my post last week about my Winter Decorating Recipe, then you can see that I used several of the "ingredients" in that recipe on my fireplace.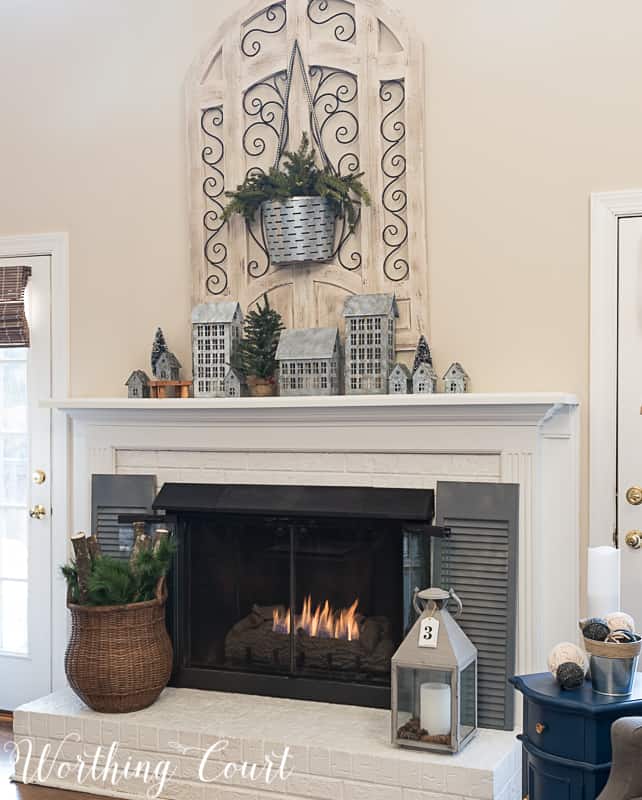 Pin
There are galvanized metal containers, evergreens, wood tones, white candles and bare branches.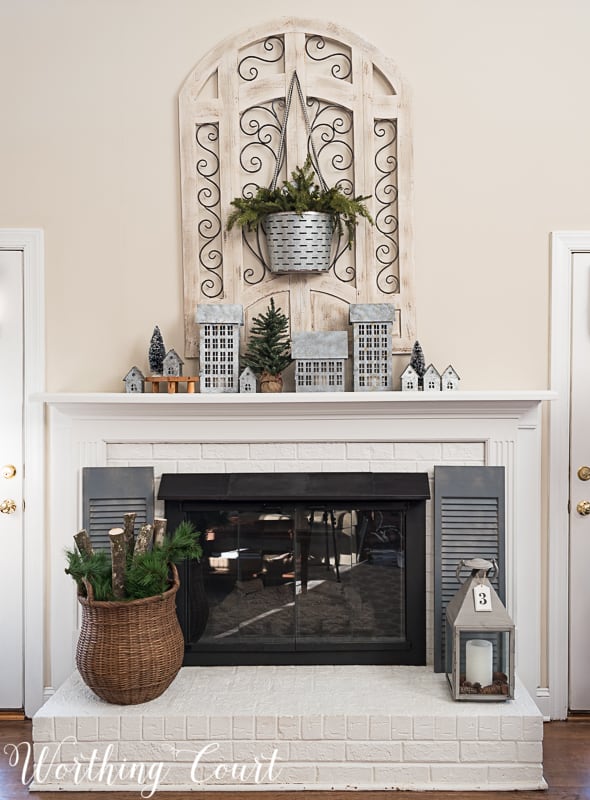 Pin
Pattern, candlesticks, lanterns and fuzzy throws come into play in Pookie's cozy corner right beside the fireplace.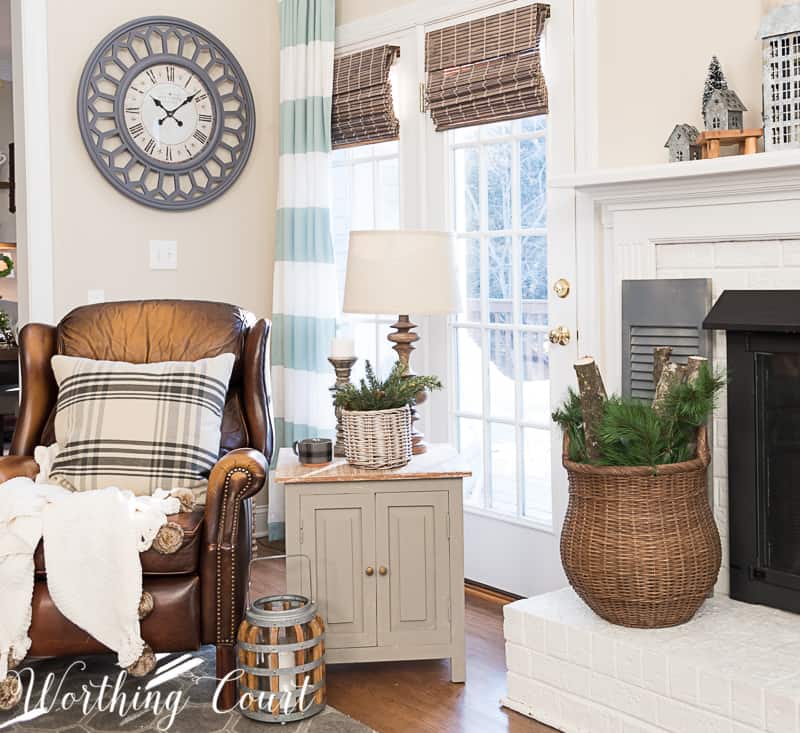 Pin
Did you take the tour of my family decorated for Christmas last month?  If you did, you may remember that I originally had this galvanized house village set up on the sofa table behind my couch.  As I was packing the decorations away, it occurred to me that they would look great on my mantel for the winter!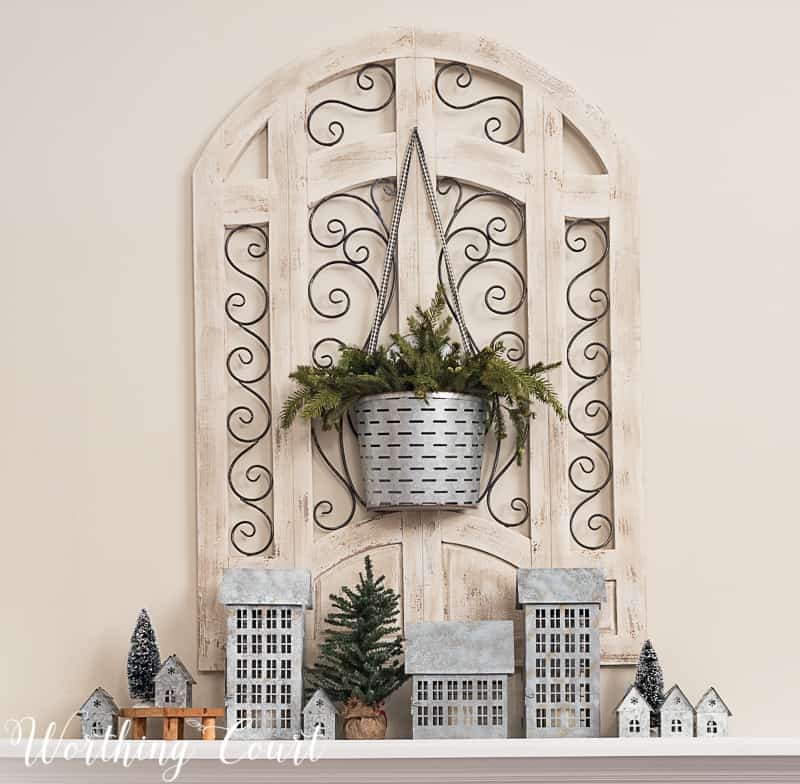 Pin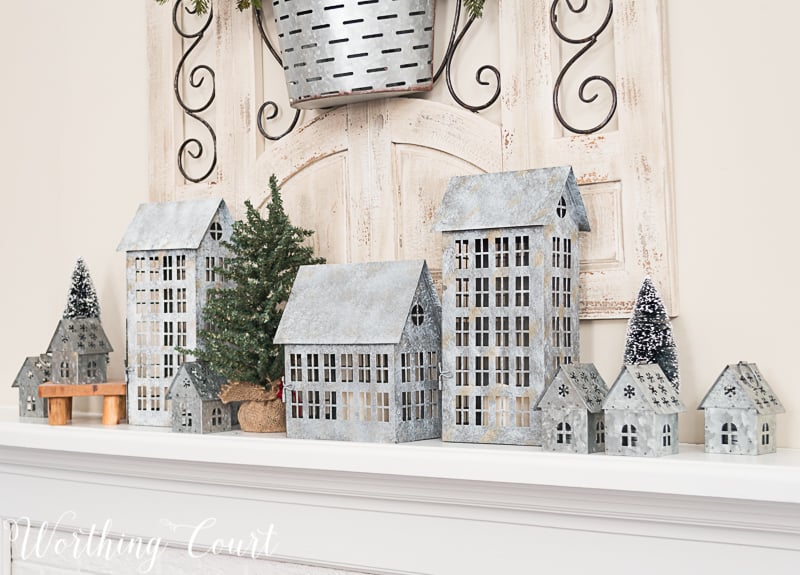 Pin
To continue the theme, I found an inexpensive metal container to hang above the village and filled it with faux evergreen branches.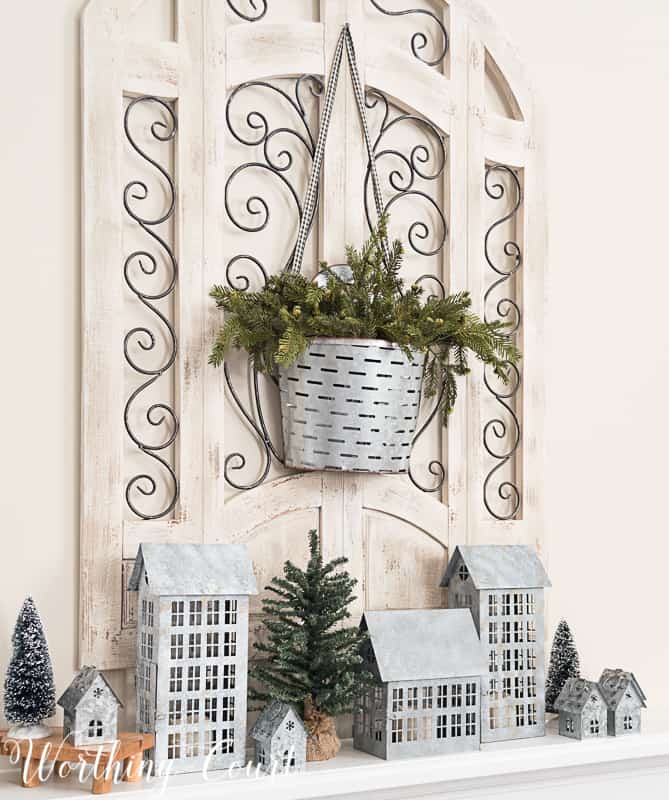 Pin
I kept all of the winter decor simple, including what I placed down on the hearth.  The gray shutters, that normally live up on the mantel, were moved to the hearth to flank the firebox and I simply added a pretty lantern and a basket filled with more faux evergreens and a few branches that were cut from the woods around my house.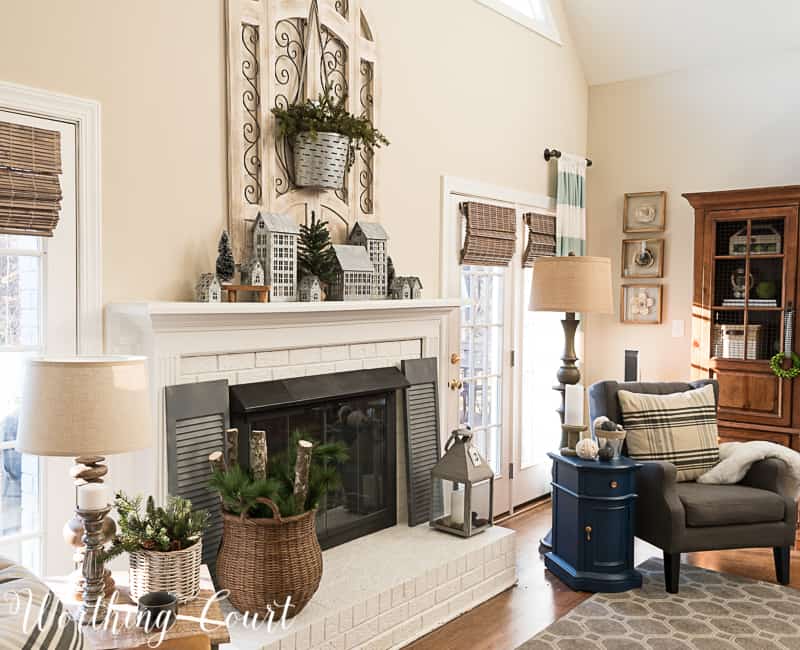 Pin
And did you notice?  There is a fire in the fireplace in just the first two pictures.  Yup – right smack in the middle of taking these pics, my gas logs seem to have died.  It's always something – right?  😀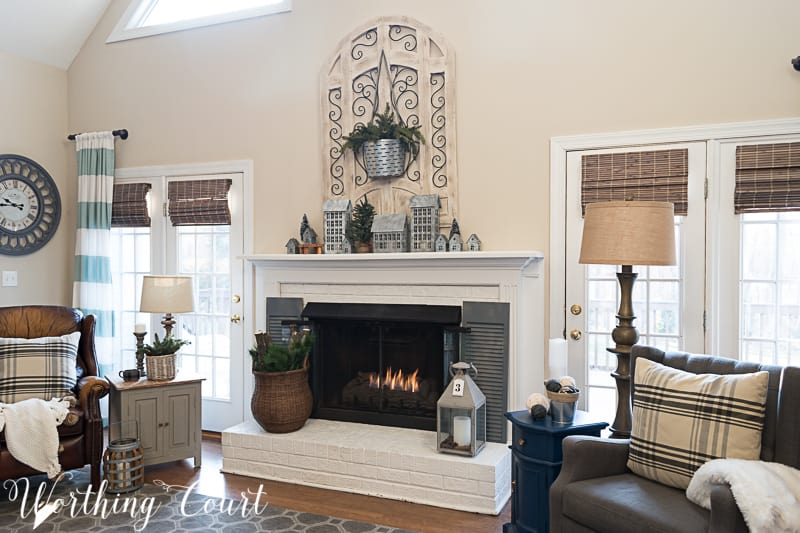 Pin
Pin


Pin
RESOURCE LIST: 
Where possible, I've linked to the exact product in my home.  If that product is no longer available, then I've linked to a similar item.  Click on the item name to follow the link.  Some affiliate links have been used.  See my full disclosure HERE.
Wall Color – Sherwin Williams Accessible Beige
Trim and Fireplace Brick Color – Sherwin Williams Extra White
Wood and Metal Plaque Above Fireplace – Kirkland's
Galvanized Village Houses – Pottery Barn (similar)
Hanging Galvanized Olive Bucket Basket – Hobby Lobby
Wicker Basket – Wayfair (similar)
Gray Metal Lantern – Wayfair (similar)
Faux Evergreen Branches – Amazon (similar)
Leather Wing Back Recliner – Wayfair
Floor Lamp – Kirkland's (similar), my exact one is temporarily sold out online
Table Lamp – Kirkland's (similar)
Blanket Throw with Fur Poms – Pottery Barn (similar)
20″ Square Plaid Throw Pillows – Wayfair (similar)
Gray Side Table, Blue Side Table, Shutters, candlestick, small wicker basket, yarn balls, small metal bucket – local shops or diy projects