6 Easy Ways To Add Instant Personality To A Room On A Budget
I am sharing my best tips for adding personality to a room without breaking the bank!
Have you ever walked into a room in your home and been bored?  Maybe you have a room in your home that you avoid at all costs because it makes you yawn.  Or perhaps you even have a room that you avoid showing to your guests.
What that room needs is some fun personality!  Now, don't go thinking that I'm saying you have to go out and spend a fortune redecorating a room – no, not at all.  All it takes is a few small tweaks.  What I think brings a room to life is adding touches that are uniquely you!
Here are just a few examples to inspire you for adding personality to the rooms in your own home – all easy and all done on a budget.  If I can do this, you can too!
Giving my traditional cheap-o fake cherry finish bookcases was a part of my total office makeover.  The bookcase transformation may look difficult, but it wasn't.  All it took to give these bookcases a completely new look was paint, barn door hardware and an easy diy barn door.  The beautiful transformation is nothing short of amazing and this room would not be the same without the new look!  Click HERE to find out how we did it and click HERE to see the before and after's of the entire space.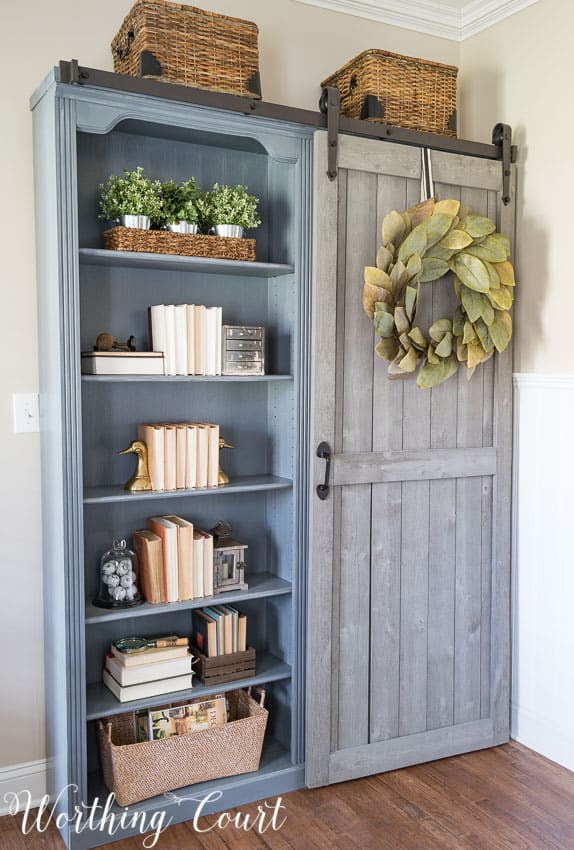 Pin
You'd be amazed at all of the different uses you can find for plumbing parts!  Galvanized metal pipes and fittings and pvc pipes of all sizes are two of my favorites!  I used galvanized fittings to make budget friendly drapery panel hardware in my family room and the breakfast room in my kitchen went from blah to wow with the addition of farmhouse open shelves, using plumbing parts for shelf brackets and by using pvc pipes for very cost effective bay window hardware.  Get all of the how-to's HERE and see the before and after's of the space HERE.
Pin
Many of us, myself included, have large entertainment centers to accommodate today's giant tv's.  For a long time, I considered painting ours, but decided that I could give it a bit of an update without going to that much trouble.  Exit glass door panes and enter wire mesh!  It was a super easy way to add a little personality to such a large piece of furniture and only took about thirty minutes.  You can see the before and after's HERE.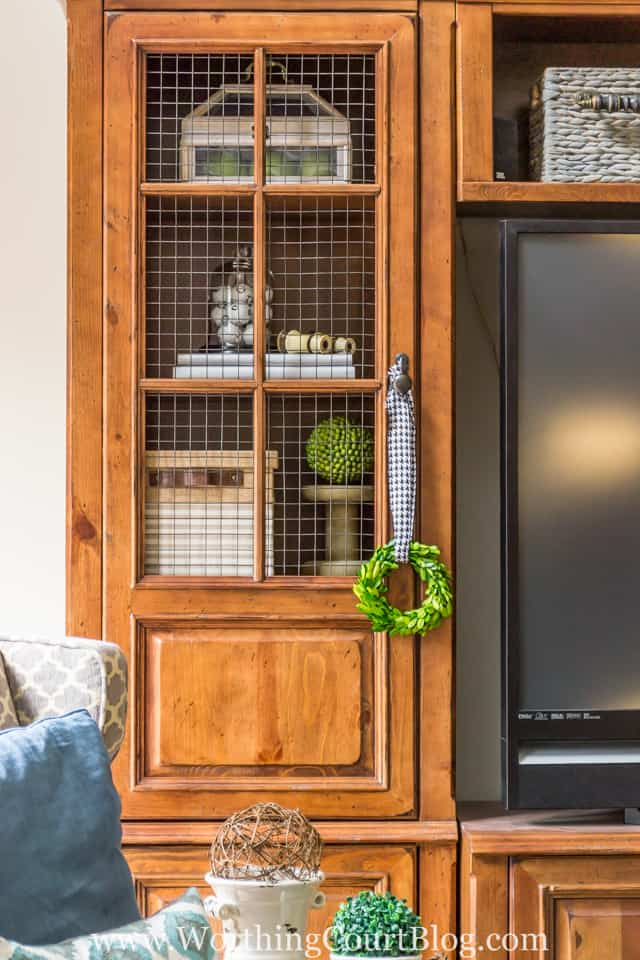 Pin
Y'all – I am not a super experienced wood worker!  I only have the most rudimentary carpentry skills.  I can wield a mean drill and use a chop saw, but that's about as far as I want to go with power tools.  If you haven't tried using those two tools, I highly encourage you to learn.  They're pretty simple to master and it will open up a whole new world of diy opportunities for you – you can imagine it and then build it!  Such was the case when I was giving my dining room a makeover.  I needed something to help fill the big blank wall that my buffet sits against and didn't want anything too dinky.  It's a large wall and needed something with some presence to it.  So….I dreamed up these diy hanging lanterns.  They were very easy to make – in fact a number of you have sent me pictures of your own lovely versions after using my tutorial – love that!  Get the directions for making these HERE and see the before and after's of my dining room makeover HERE.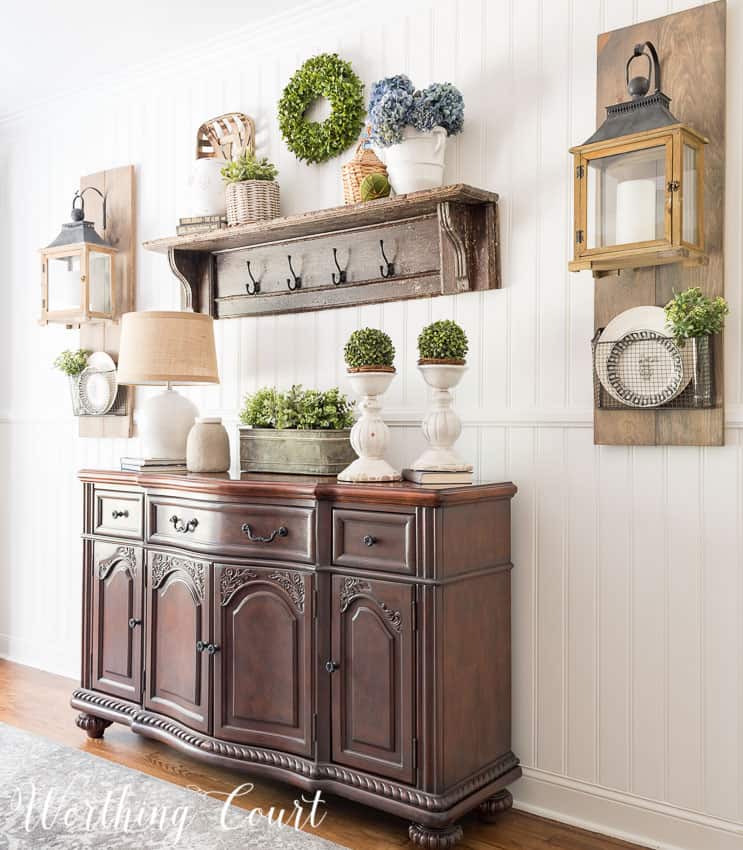 Pin
Talk about an easy and inexpensive project!  Using 1″ x 4″ boards to add a board and batten treatment to a wall will give an entire space instant personality!  Such was the case in our foyer where I needed to add a little sumpin' sumpin' to the boring wall right inside our front door.  The area doesn't have a lot of room, but the texture of the board and batten treatment and two diy upholstered benches were perfect for this area!  See the entire space HERE and find out how to make these easy benches HERE.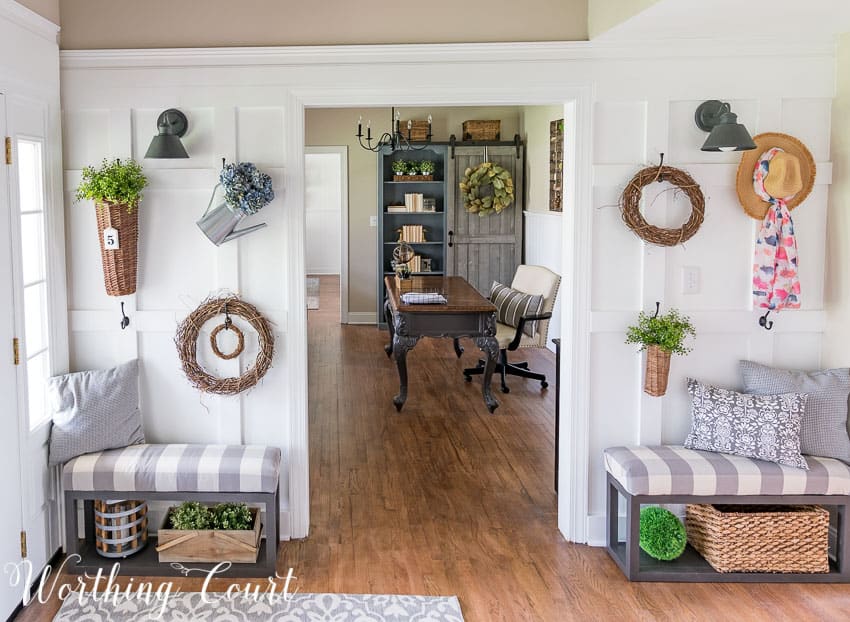 Pin
Maybe this idea is obvious, but I can't leave it off the list.  It's been said a million times, but the transforming power of paint is truly amazing!  I totally transformed my outdated dining room furniture with spray paint and mixed-to-match paint.  There's no denying that it was scary, but I'm so, so glad that I stepped out of my comfort zone and gave it a try.  Find out how I transformed my furniture HERE and see the entire dining room makeover HERE.  Paint came to rescue in my office makeover too!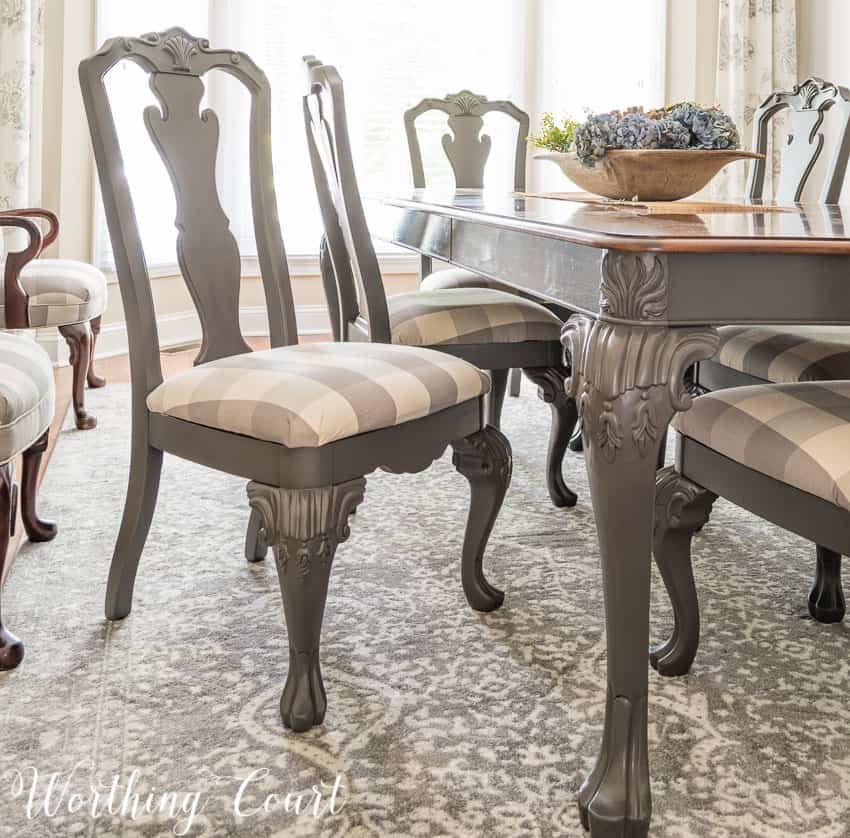 Pin
So, tell me in the comments – do you have any boring areas in your home that you need some inspiration for?
Pin

Pin