Fabulous Hand Painted Furniture And Recycled Furniture Ideas
I am hoping to inspire you to DIY with my fabulous hand painted furniture and recycled furniture ideas!
How many times have you heard that the transformative power of paint is truly amazing? It's true! Whether it's painting walls, furniture, light fixtures or decorative accessories, it's an easy, budget friendly way to transform your home!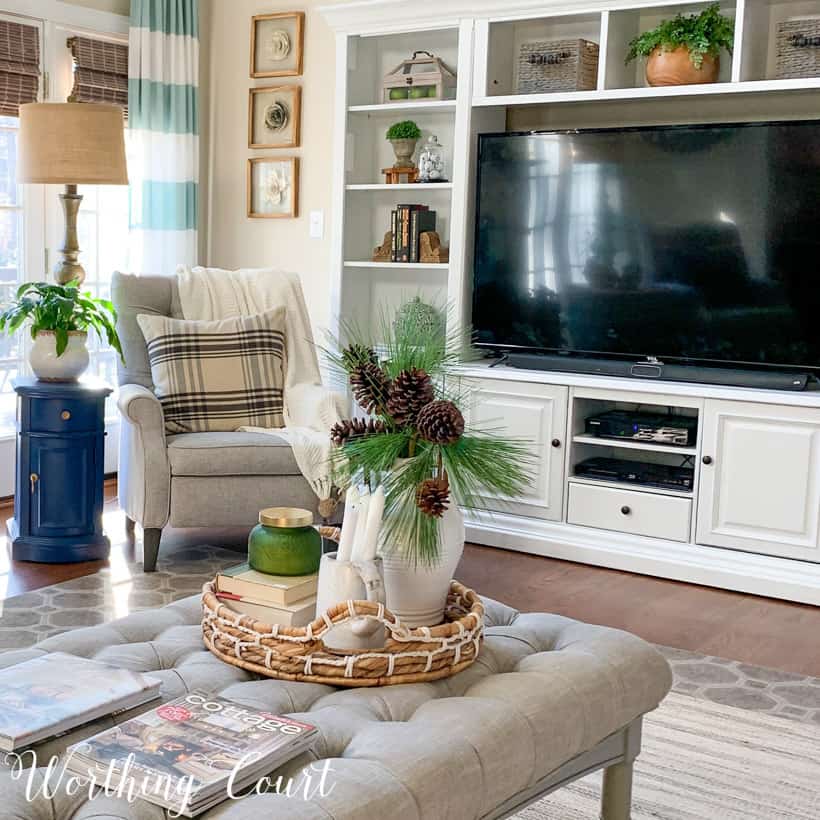 Pin
As I makeover and update the rooms in my home, I'm always trying to reuse as much of what I already own as I can, so hand painting furniture is a natural fit for me.
It was while I was hand painting the nightstands, for part of my master bedroom makeover, that I started taking a mental inventory of the many pieces of recycled furniture that I have throughout my home!  I want to share several examples with you in hopes that you'll be inspired too!
Click on the link above the photos to be taken to the blog post to see befores and to learn more.
Making the choice to paint my dining room furniture was one of the scariest things that I've ever done!  What if I didn't like it?  Oh – but what if I did?!?!
My dining room furniture is about 15 years old and was looking very dated to me.  I thought long and hard about it and ultimately realized that it was either replace it or paint it.
If I painted it, but didn't like it, I could still replace it, which was one of the options I was considering anyway, so I decided to just go for it.  BEST DECISION EVER!  By the way, the link to get the formula for this soothing gray paint color (my very favorite gray!) in the blog post.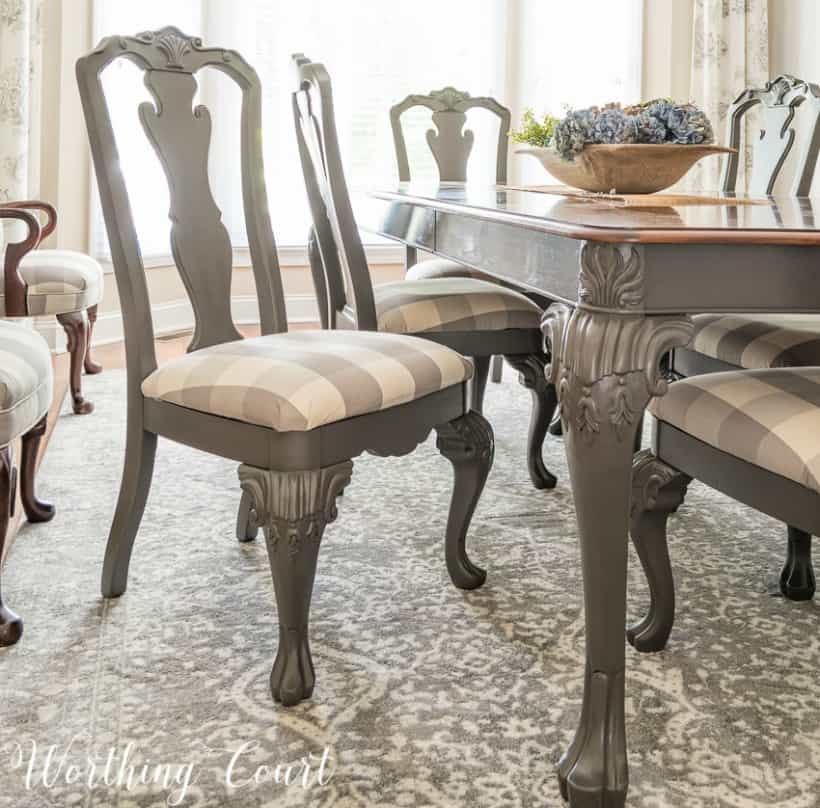 Pin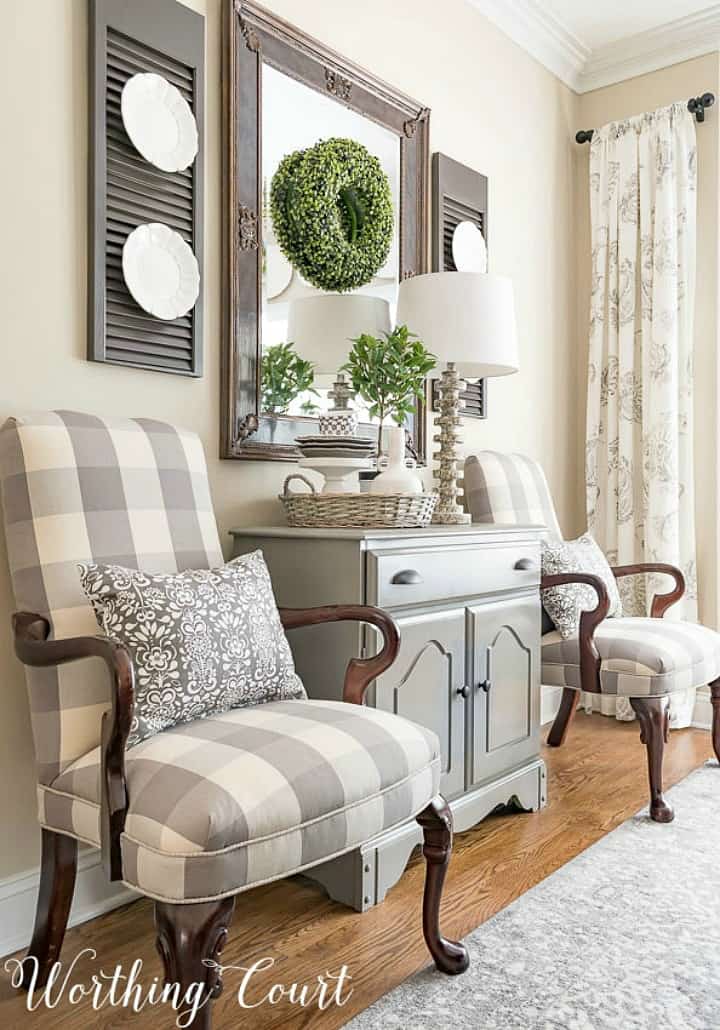 Pin
WARM & WELCOMING FOYER
Every time I post a picture of this little chest in my foyer, I get SO many compliments and questions about it!  Painting it with Sherwin Williams Network Gray and changing the hardware completely took transformed it from the cheery Queen Anne style chest that it used to be.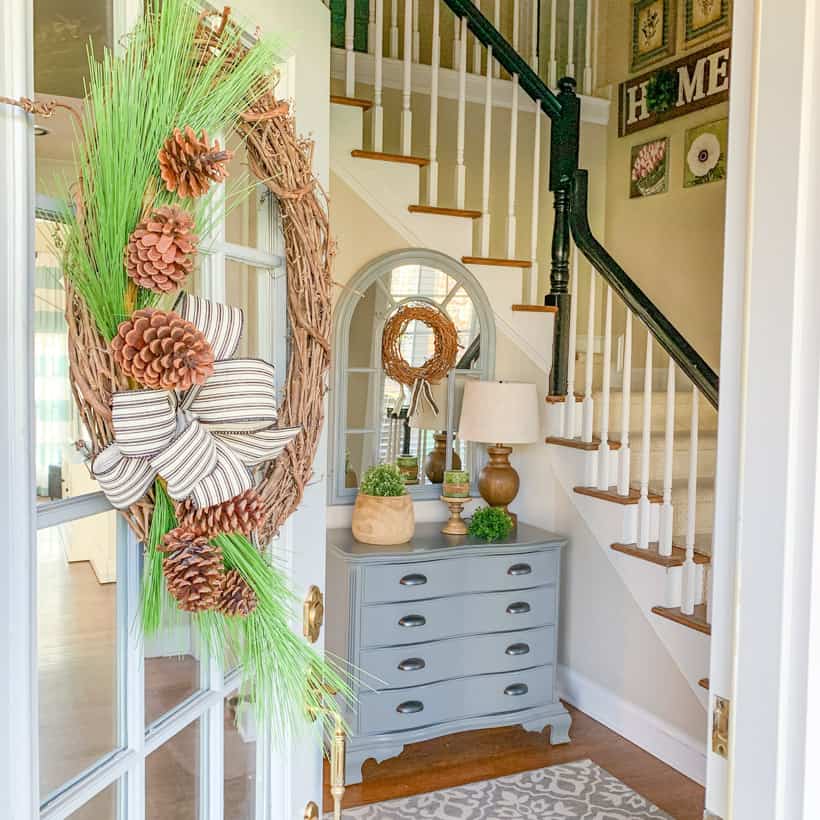 Pin
I have four different pieces of hand painted furniture in my family room. Two side tables, my entertainment center and my old coffee table turned upholstered coffee table.
Painting the entertainment center was another scary decision for me, but now I wonder what took me so long???  It's such a large piece that painting it immediately brightened up an modernized the whole room.
Pin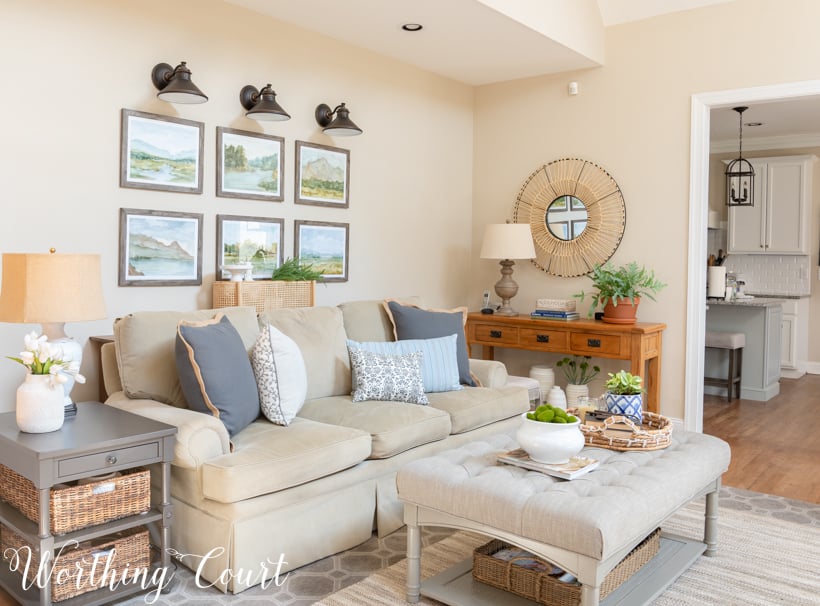 Pin
I adore the French country/shabby chic/farmhouse style paint treatment that I used to recycle the furniture in one of my bedrooms.  The technique that I used was so easy and so forgiving – anyone who can use a paint brush can do it!  There's the link to a the complete step by step tutorial for getting this look in the reveal blog post.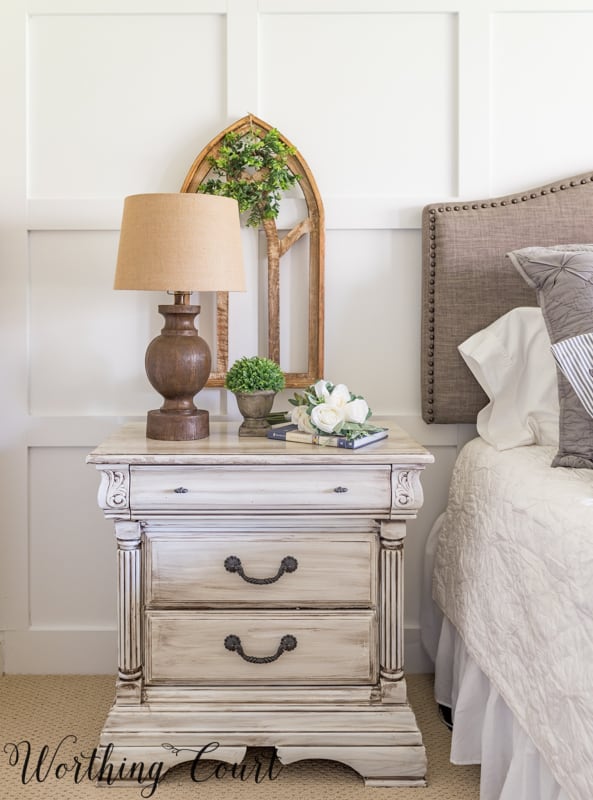 Pin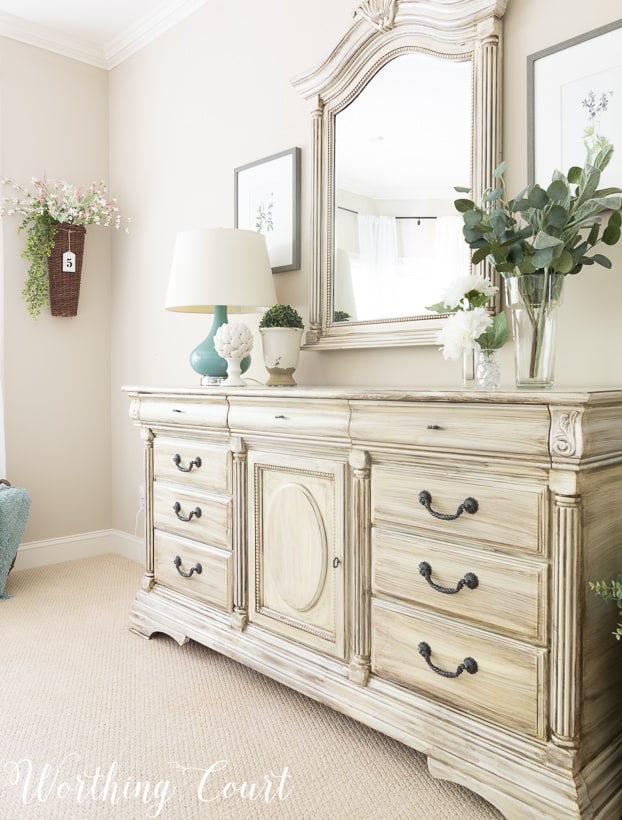 Pin
It's amazing to see how painting the lower portion of my existing desk brought out the stunning details.  I almost got rid of the desk when I decorated this room, but I'm so glad that I didn't!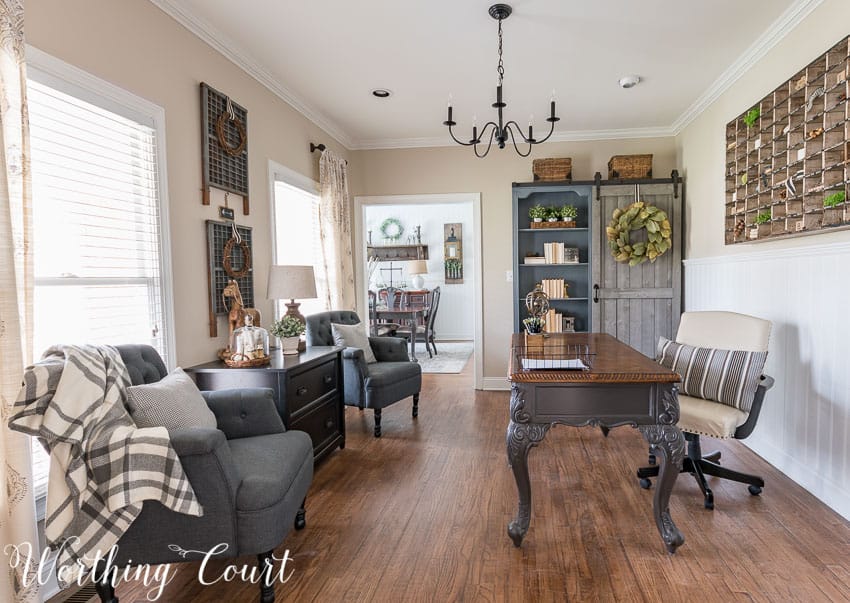 Pin
The transformation of the bookcases in my office is nothing short of amazing! Yes, it looks great with paint on it, but adding a sliding barn door was the ultimate in recycled furniture projects. Be sure to visit the blog post to see the before.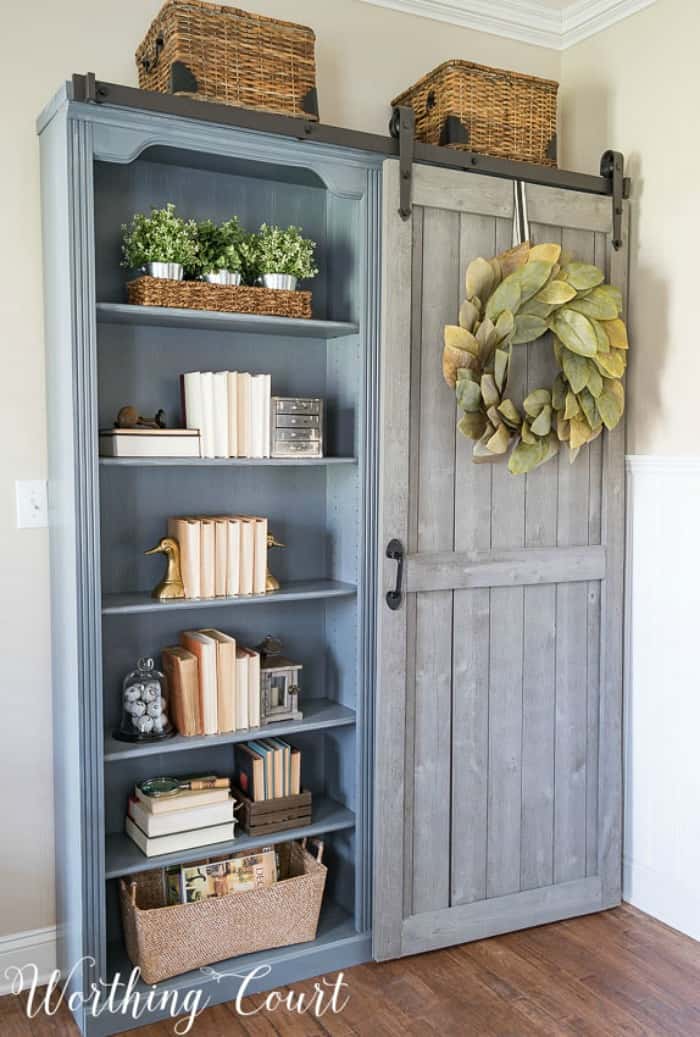 Pin
This may look like just an ordinary chest that was painted gray, but you'll never believe what it used to be.  Scroll on down to the next post to see!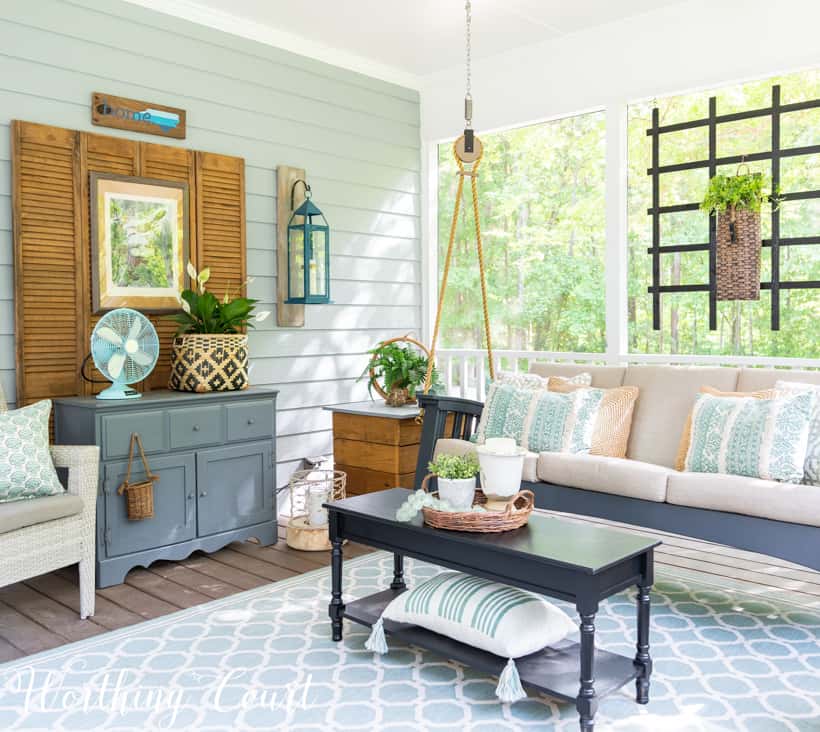 Pin
This is the top half of the gray chest pictured above on my screen porch!  Yup – this little guy is the top half the buffet that my husband inherited from his mom.  It wasn't an heirloom piece and I just know that Helen would be thrilled to see it now.  Click over to the blog post to see the before picture of the entire buffet.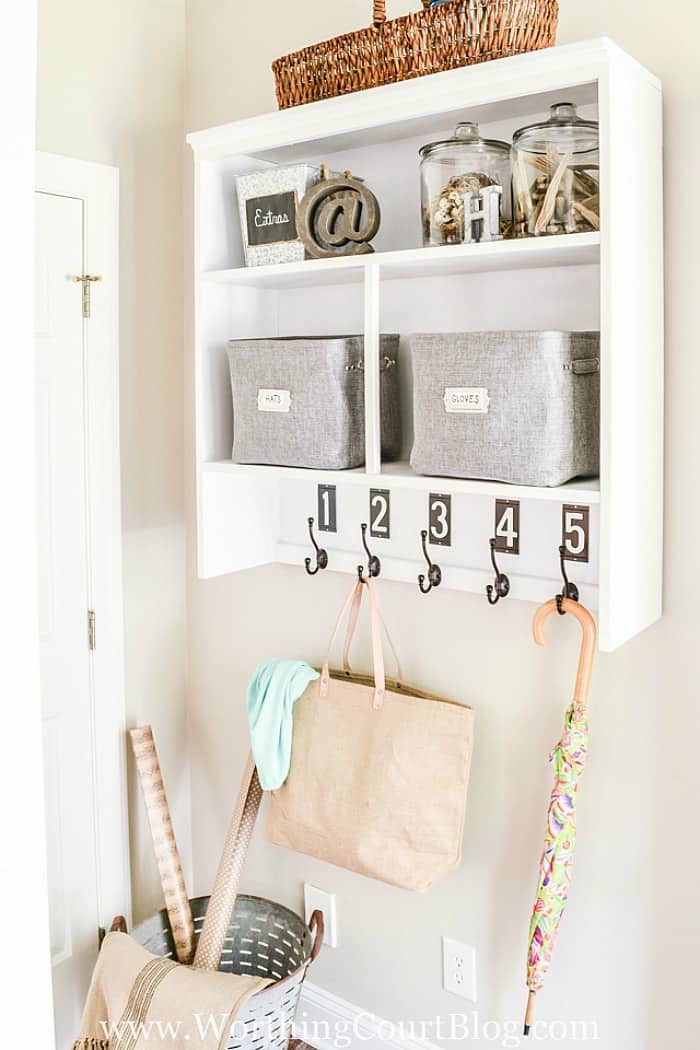 Pin
MASTER BEDROOM MAKEOVER PROGRESS REPORT
Lastly, my most recent project, and the one that prompted this post, is the painting of the faux cheery nightstands on either side of our bed.  Wow – what a difference they make in the room!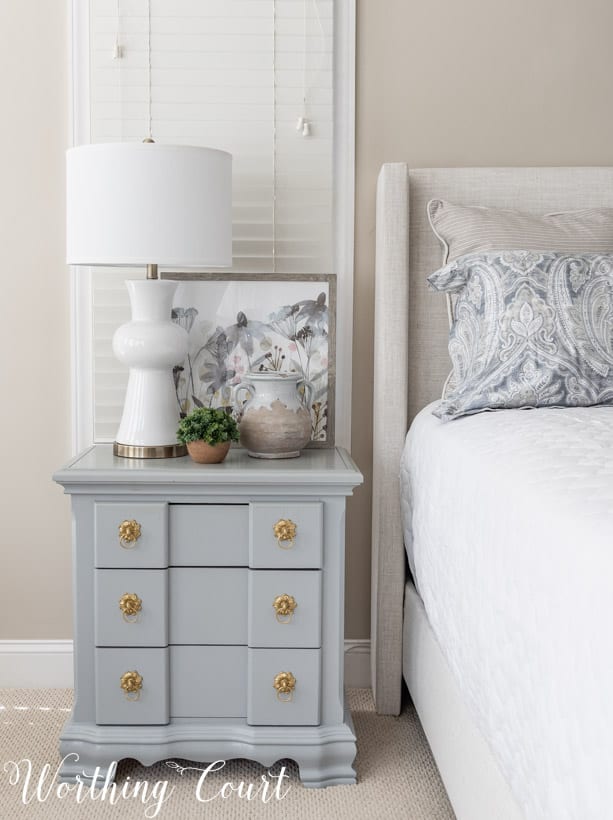 Pin
If you're a budget decorator like me, I highly recommend that you give recycling furniture with paint a try!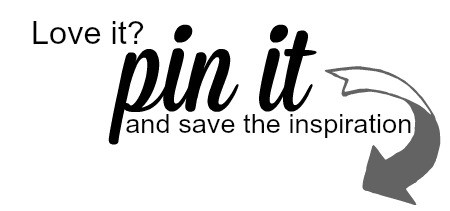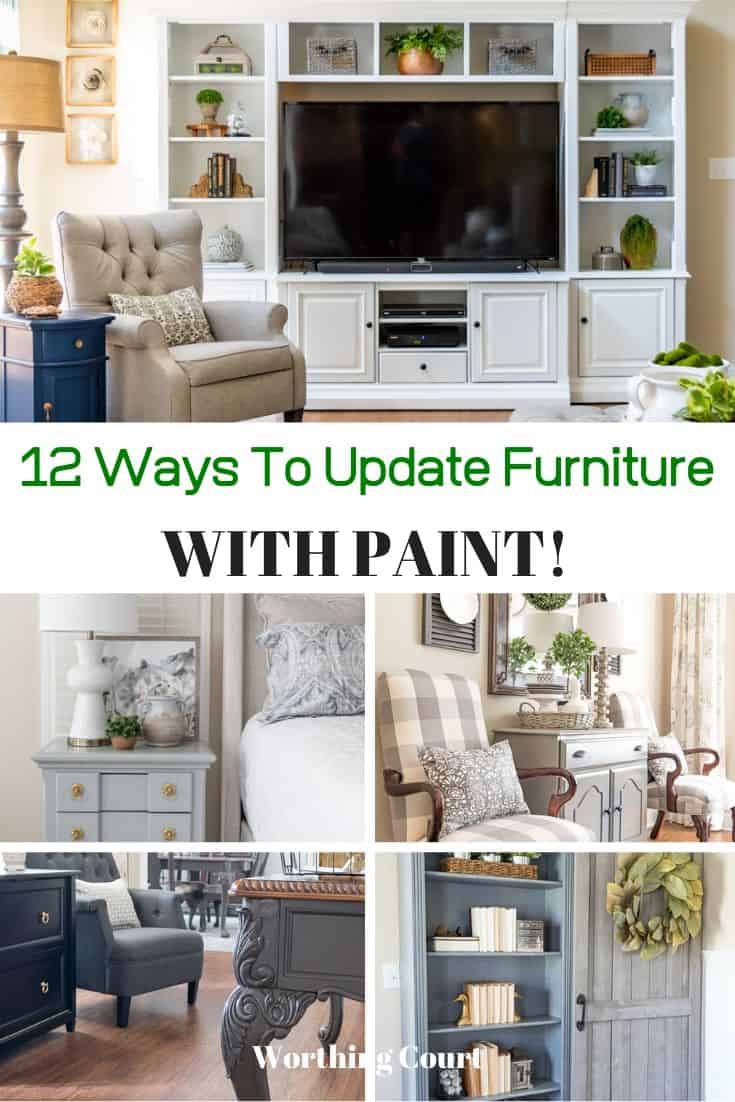 Pin