Master Bedroom Makeover Progress Report
HOW I'M TURNING MY VERY TRADITIONAL MASTER BEDROOM INTO A FRESH SPACE WITH UPDATED TRADITIONAL STYLE WITH A NEW BED, FRESH LINENS AND PAINT.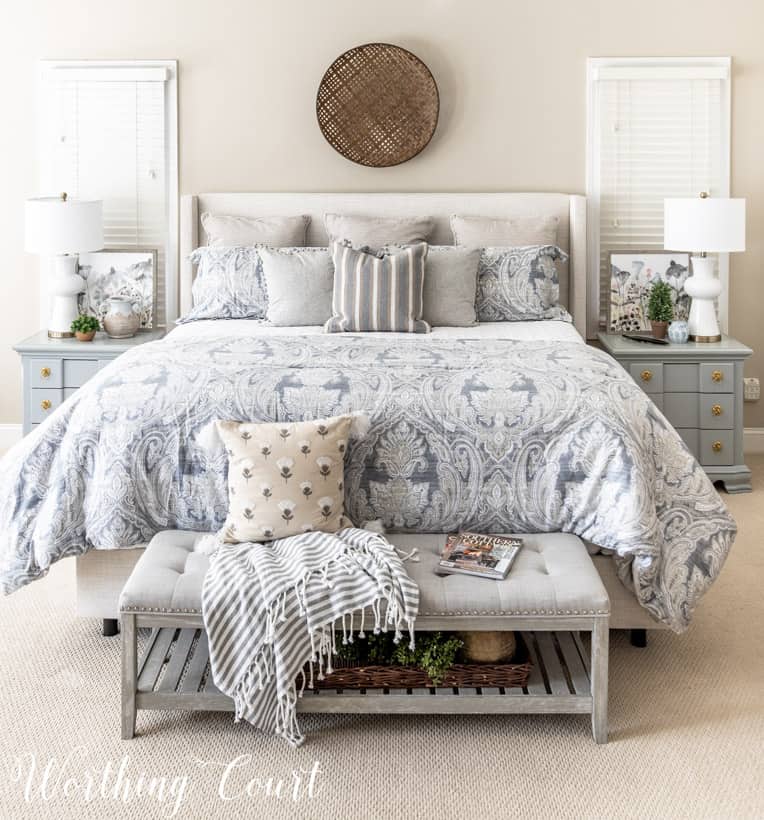 Pin
Affiliate links have been included in this post.  See my full disclosure HERE.
Completing the update of our master bedroom has almost been like awaiting the arrival a baby! Almost. That's because it's been 8, yes 8, loooong months since I've touched it.
That's right – I haven't updated a single thing in our bedroom, since I last gave you a progress report in June 2019. What started out with big plans and a great design board, quickly fell to the bottom of the to-do priority list as I became distracted with all the other life happenings during the summer. Then came fall and then Christmas and well, now, here we are. Sheesh.
I'm happy to report though, that the makeover is back in full swing and is the first of our planned 2020 projects that we hope to complete this year!  See below for paint colors and the resource list.
Here's where I last left you. We had added a new bed, new bedding, a new bench and a much needed new dresser and chest of drawers.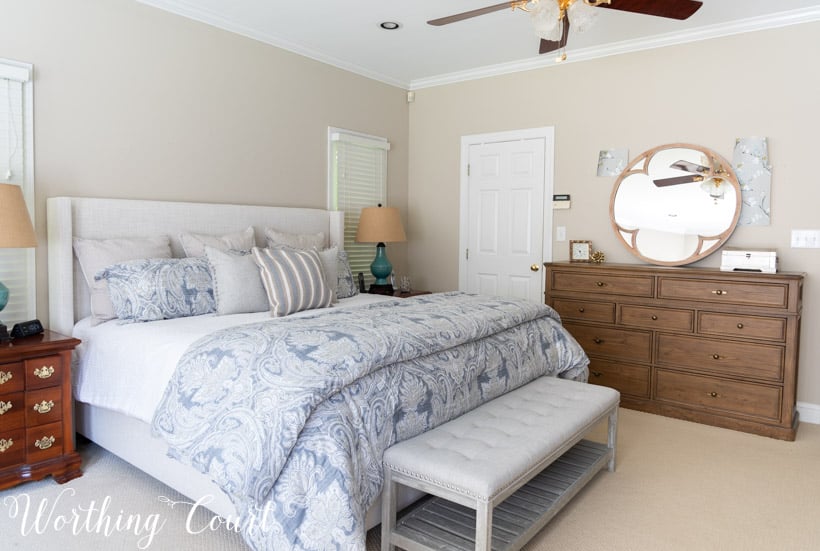 Pin
The mirror that I was planning to use was leaning against the wall with wallpaper samples taped around it while I considered whether or not to wallpaper that one wall.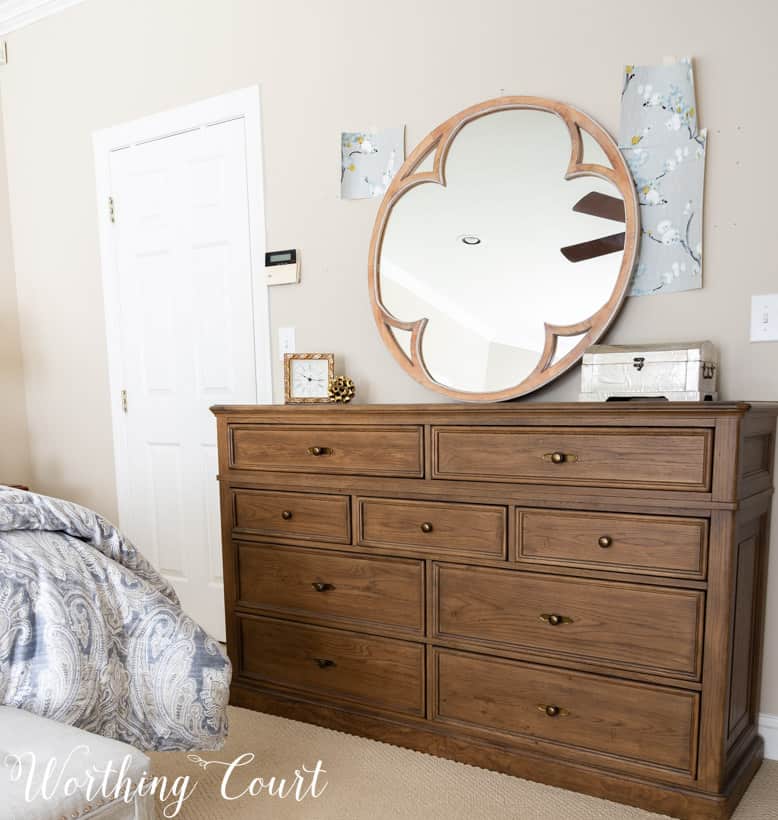 Pin
Shortly after that update, I removed all of the hardware from the nightstands in preparation for paint, but didn't actually get around to painting them until last month. During the last 8 months, I think my husband asked me how much longer we were going to have to live with no knobs on the drawers about 7924 times. Poor guy – my bad.
Even though there weren't any actual updates happening in the bedroom, there was a lot going on inside my head for all those months.  I was constantly thinking about what color to paint the nightstands and whether or not to hang the wallpaper.
Thank goodness, I finally stopped being wishy-washy about the color because I think the color that I finally settled on is perfect!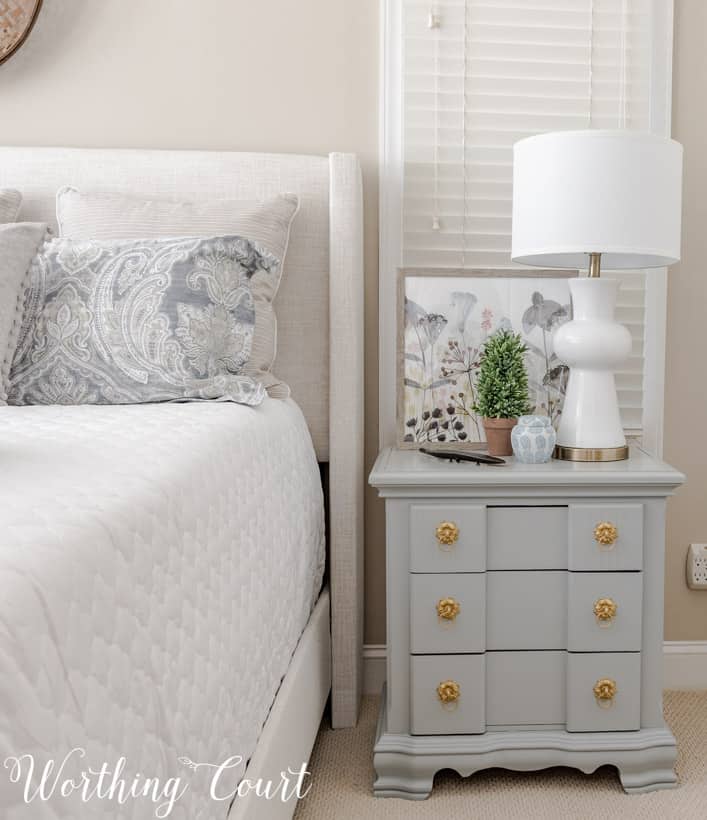 Pin
I'm still not 100% that this is the right hardware, but I'm going to live with it a while (translation: I'll probably never change it) BUT – I'm 1000% over the moon about the gorgeous new lamps and they were such a good deal!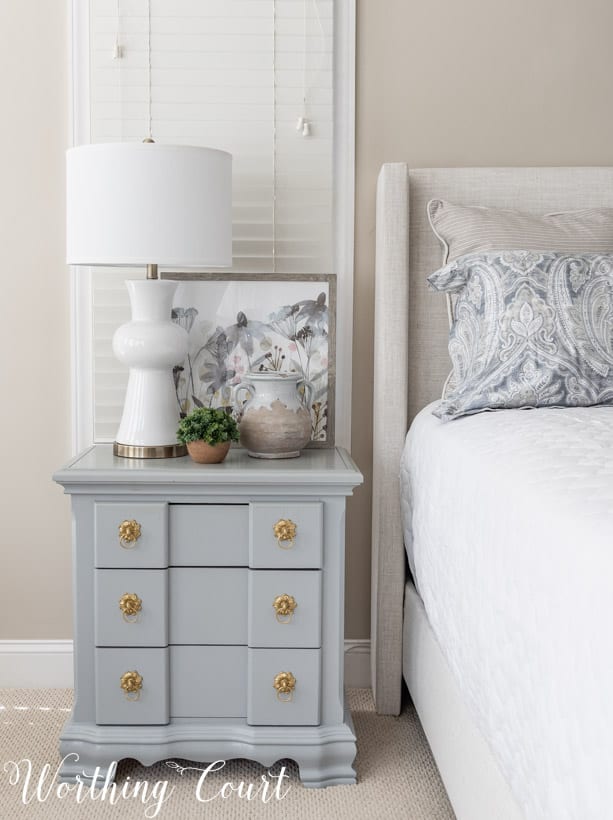 Pin
The dresser looks so much better now that the mirror has actually been hung and I added sconces to the wall on each side of it.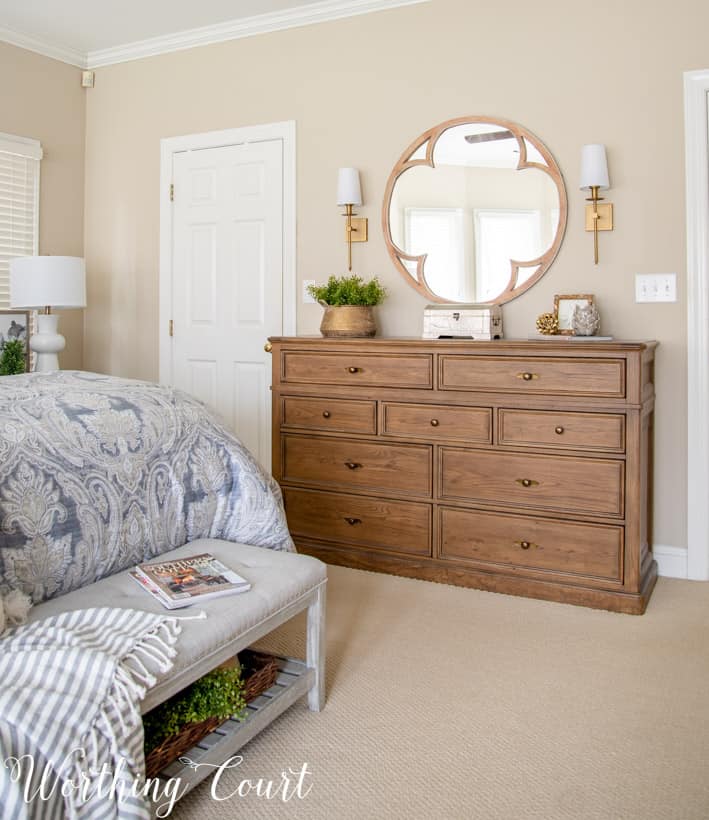 Pin
I guess it's pretty obvious that I made the decision not to do an accent wall with wallpaper. I still adore the wallpaper though, so I have a plan for where I can use a little of it somewhere in the room.  Stay tuned!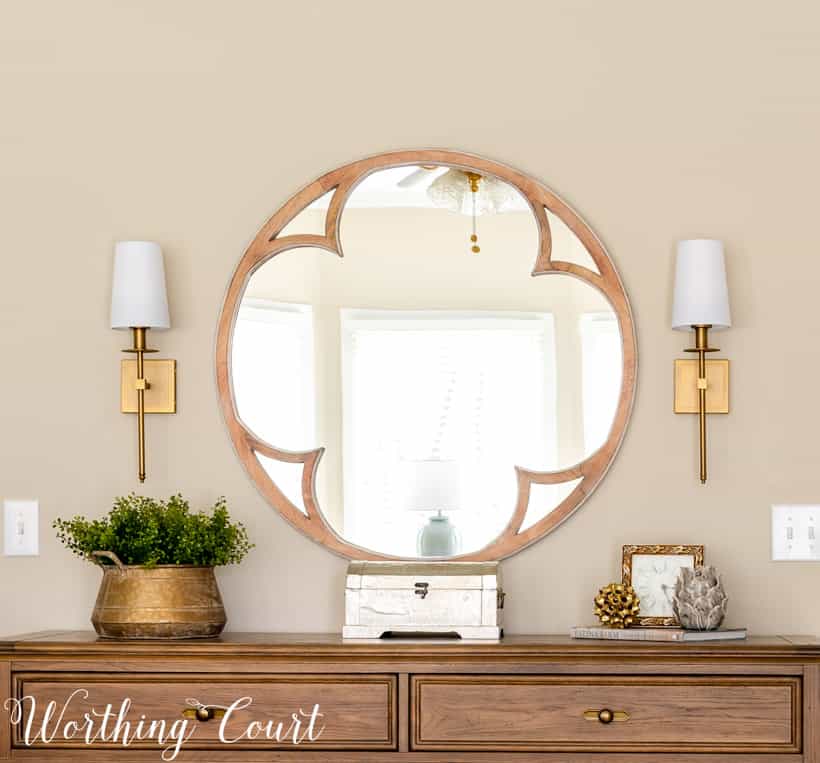 Pin
There's more to do, but this side of the room is looking so much better!
PAINT COLORS:
Wall color: Sherwin Williams Accessible Beige
Trim color: Sherwin Williams Extra White
Nightstand paint: Sherwin Williams Network Gray, Duration formula in the semi-gloss finish.
RESOURCES (click on the item name for more information):
Extra Wide King Size White Coverlet
Comforter (at the foot of the bed) and King Shams
White Table Lamps, Including Lamp Shades
Here's my to-do list, with a couple of things added:
Purchase new dresser and chest of drawers and change hardware.
Purchase new chairs.
Purchase new bed and bedding.
Purchase new bench for foot of the bed.
Hang wallpaper. Use wallpaper somewhere other than on a wall.
Replace and hang mirror above dresser.
Paint nightstands and change hardware.
Makeover or replace lamps on nightstands.
Add artwork above bed and above chest of drawers.
Add window treatments in bay window.
Replace ceiling fan.
Replace lamp in bay window area.
Purchase accent pillows.
Add sconces to either side of mirror above dresser.
Make roman shades for windows beside bed.
Address problem with extension cords and other wires
The next area that we'll be tackling are the windows in this sitting area.  I don't mind saying that I don't look forward to it, but I think the addition of window treatments is going to be quite a dramatic change!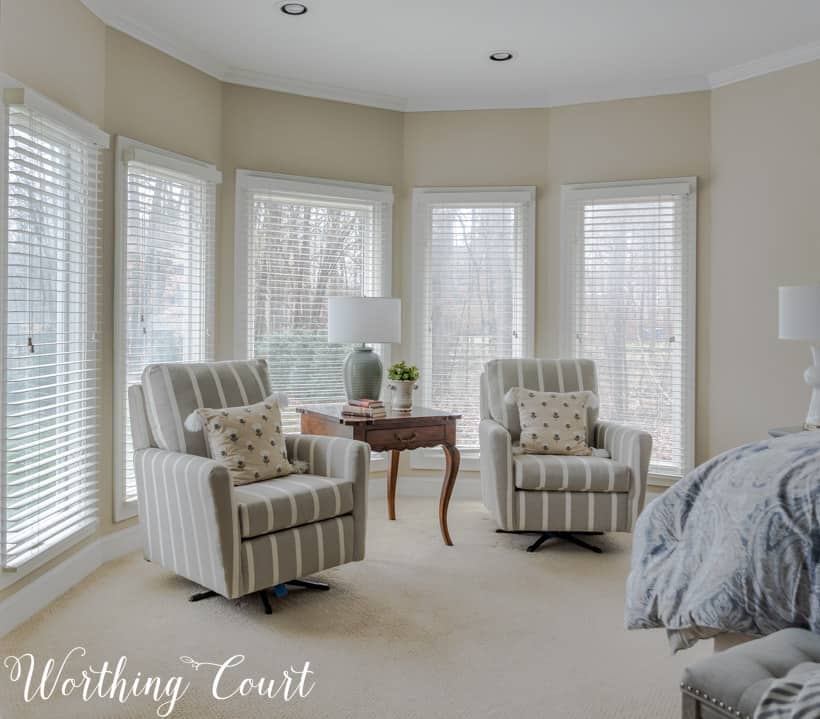 Pin