How To Make A Cute Yarn Ball Valentine's Day Wreath
Step-by-step directions for making a cute and super easy yarn ball Valentine's Day wreath with Styrofoam balls and yarn.
As Valentine's Day inches closer and closer (hurry up spring!), I've been feeling the urge to be a little creative. It could be all that cabin fever catching up with me. Ha!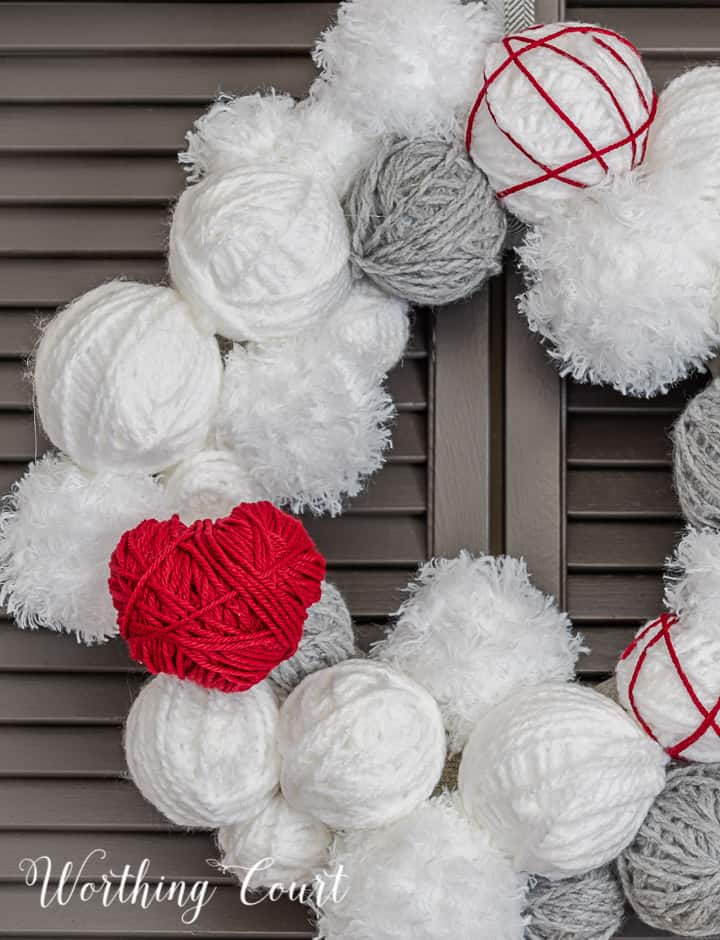 Pin
This post and photos may contain Amazon or other affiliate links. As an Amazon Associate I earn from qualifying purchases. If you purchase something through any link, I may receive a small commission, at no extra charge to you. All opinions are my own. See my full disclosure HERE.
Did you see the cute little pillow I shared last week? I call it a winter/Valentine's pillow because the small little hearts give a subtle hint at Valentine's Day, but the snowman says winter!
This wreath is another little something that has a subtle Valentine's Day touch too. The single heart really stands out and pops against the mostly white "snowballs" and the little bit of red yarn wrapped around two other balls provides an extra eye-catcher and helps to define the wreath too.
I love that the yarn wrapped balls create a bit of coziness for the winter!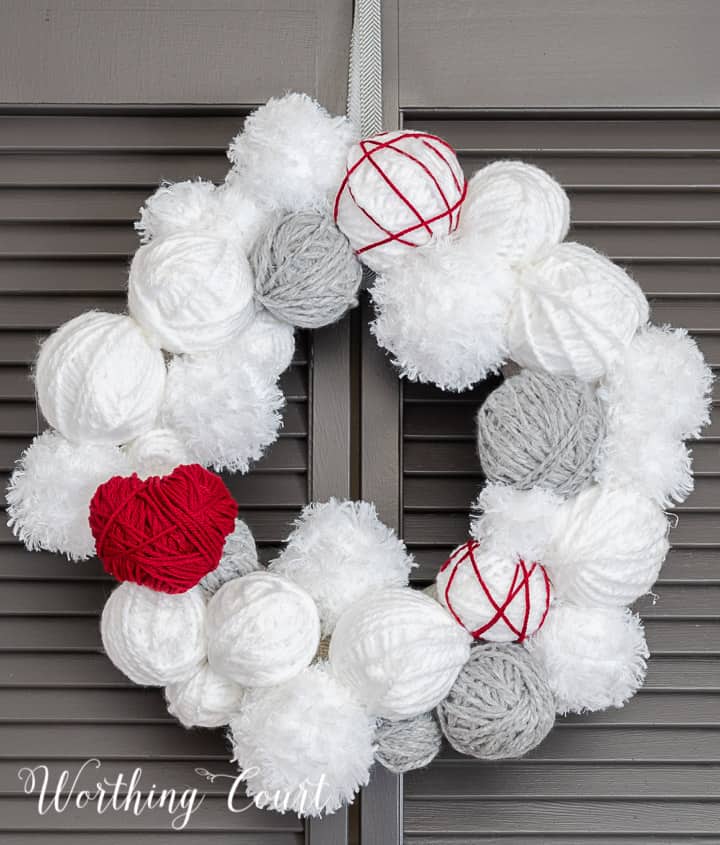 Pin
SUPPLIES NEED TO MAKE THE VALENTINE'S DAY WREATH
I've provided links to all of the items that I used below, but be sure to look at the tips right below the list before ordering anything.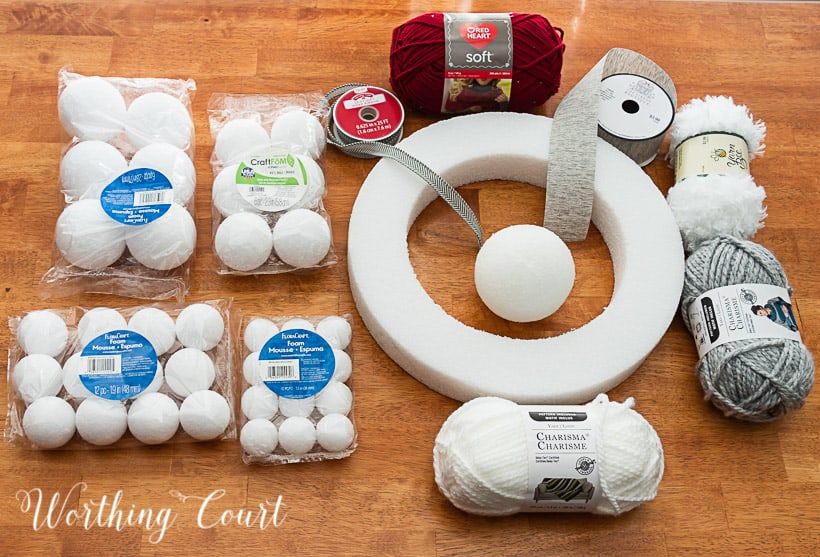 Pin
Several – 2.8″ Styrofoam balls
Several – 2.3″ Styrofoam balls
Several – 1.1″ Styrofoam balls
1 skein – white yarn
1 skein – fuzzy white yarn
1 skein – gray yarn
1 skein – red yarn
White or light gray, unwired ribbon for wrapping wreath
3/8″ wide accent ribbon to hang the wreath with – I found several cute ones
Glue gun and glue sticks – not pictured
Scissors – not pictured
TIPS:
I ordered the 13.8″ wreath because the addition of the yarn covered balls will make the overall size of the wreath larger.
Be sure to get "rough" Styrofoam balls, instead of smooth ones. The texture of the rough balls helps to hold the yarn in place.
The number of balls you'll need depends upon the size wreath that you use and your personal preference.
You need a larger skein of white yarn than the other colors if you make your wreath like mine. I actually only had a smaller one, but wish I had had more white yarn to get better coverage.
The amount of ribbon you use for wrapping will depend upon the size of your wreath and how closely together you wrap the ribbon around the wreath. I used 8 yards of 2.5″ wide ribbon, but could have used a little more. Do not use satin ribbon or glue may not adhere well.
The amount of accent ribbon depends up the height that you hang your wreath.
HOW TO MAKE THE YARN BALL VALENTINE'S DAY WREATH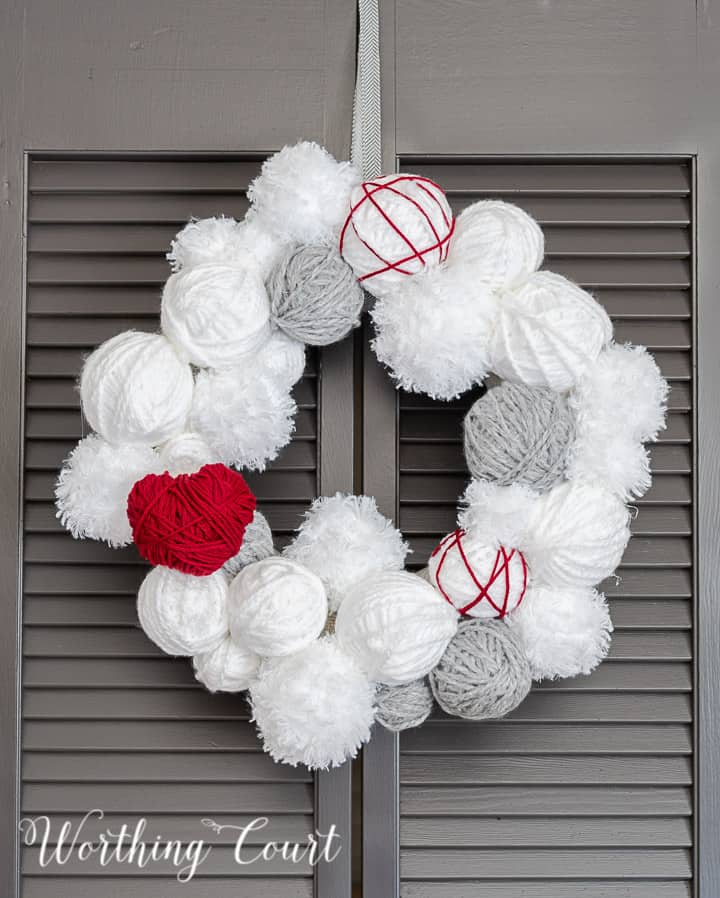 Pin
STEP 1: 
Completely wrap the wreath form with ribbon, using unwired ribbon. It doesn't have to be perfect, but you do want it to be as tightly wound as possible to avoid creating big gaps or wrinkles in the ribbon.
You can see that I wound up with a gap in mine. I should have spaced the ribbon out more when I was wrapping. I did unwrap and partially redo it, but I knew that I would be covering this up, so I chose not to unwrap and redo the whole thing. See how much farther apart the wraps are on the right side versus the left?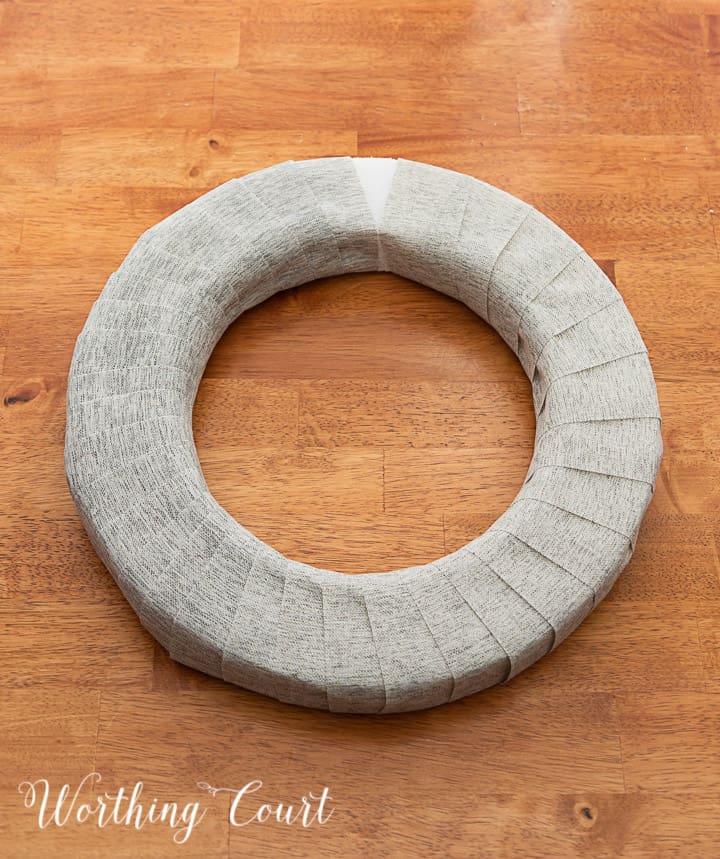 Pin
STEP 2:
Add the accent ribbon that you'll be using to hang the wreath with. You can also use jute twine, if you prefer.
You want to add the hanging ribbon now so that it will be up under the yarn balls. I didn't need to wrap the hanging ribbon around the wreath form this many times, but I did it to hide the gap in the base ribbon. You won't see it anyway, so it really doesn't matter.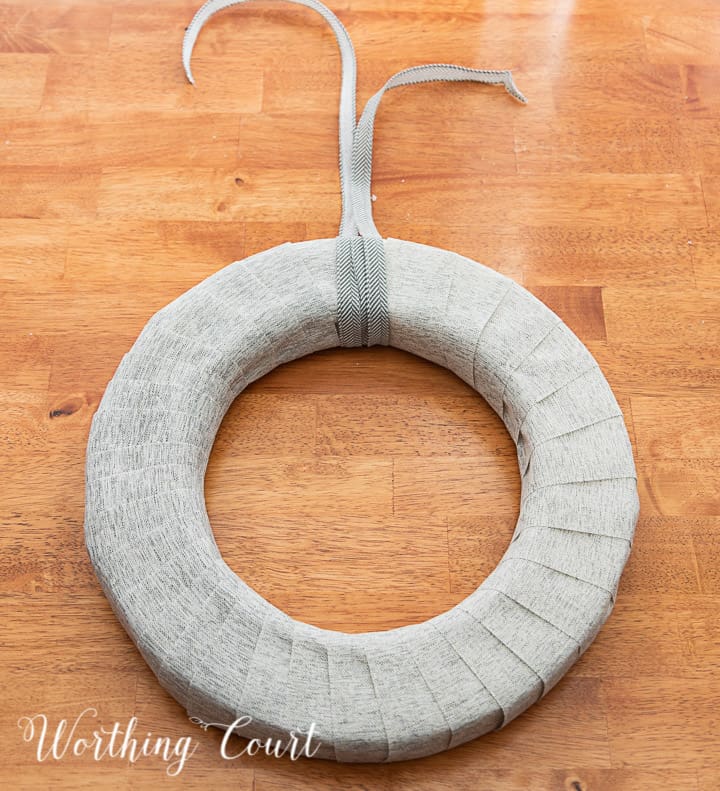 Pin
STEP 3:
Using a large sharp knife (be careful!), cut the 4.7″ styrofoam ball in half so that it's flat on the back.
Use a smaller knife to cut one half of the ball into a heart shape. Make sure that the "v" at the top of the heart is pronounced so that you won't lose the heart shape once it's wrapped with yarn.
I just free handed my cut, slicing a little off here and there until it was mostly symmetrical and had a good heart shape.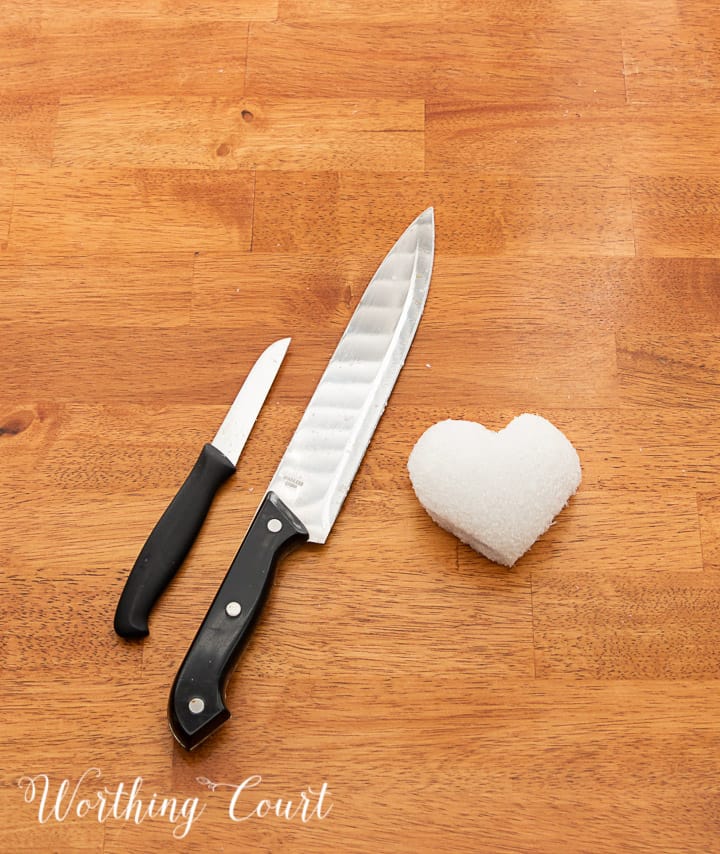 Pin
Wrap the heart shape with red yarn. You don't need to attach the beginning end in any way because all of the loops will hold it in place, but I did use a tiny dot of hot glue to hold the end in place.
This is just an image of what the heart will look like.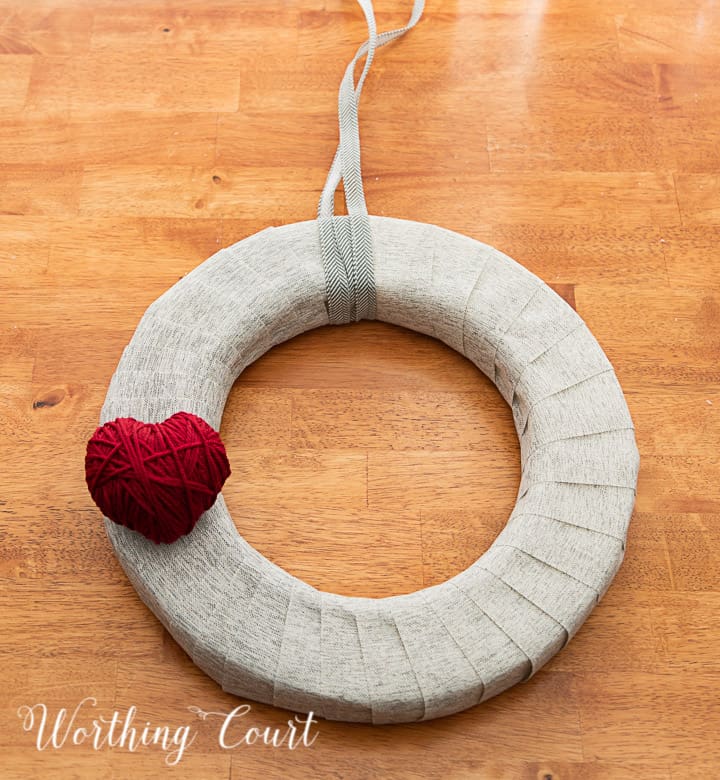 Pin
STEP 4:
Wrap all three sizes of balls with white yarn and a few with gray yarn. Be sure to use some of the fuzzy white yarn too.
Start out wrapping as many as you think you'll need because you can always wrap and add more, which is what I did.
Choose two or three balls and add a little bit of red yarn over the top of the white.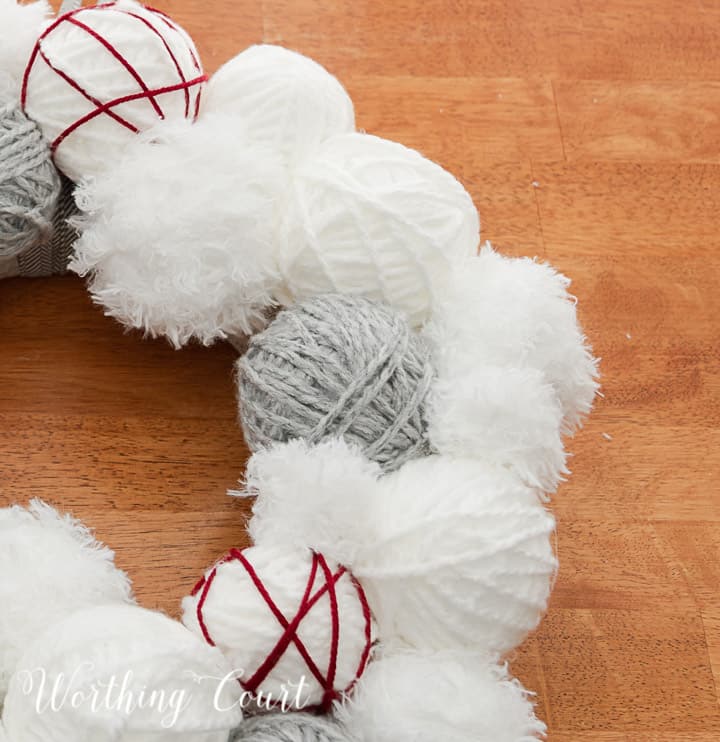 Pin
STEP 5:
Attach each yarn wrapped ball to the wreath form, using a generous amount of hot glue. Hold the ball in place for a few seconds to let the glue set. I also added a small amount of glue to the sides of the balls where they would touch to help hold them all together.
You can see that I mixed and matched the different size balls with one another. I wound up adding a few more after this photo was taken to give the wreath a better shape.
Attach the balls first, then glue the heart on top. I made the mistake of attaching the heart before the balls (like this image shows) and wound up having to pull it off, add a couple of small balls in the gap and gluing the heart to the top of those.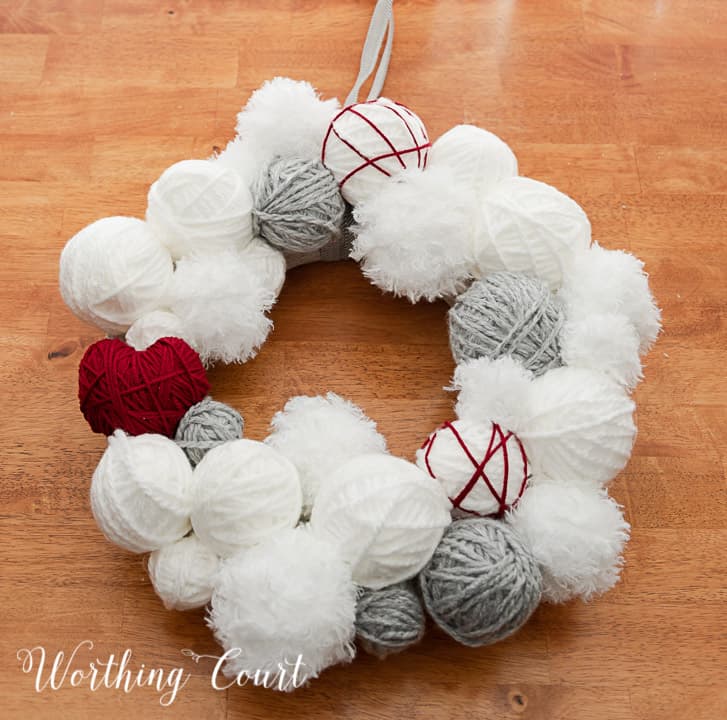 Pin
The heart is an accent piece, so you need to attach it to the top of the balls to give it dimension and help it to pop. Plus, by attaching it to the top, you can better tell that it's a heart. 😀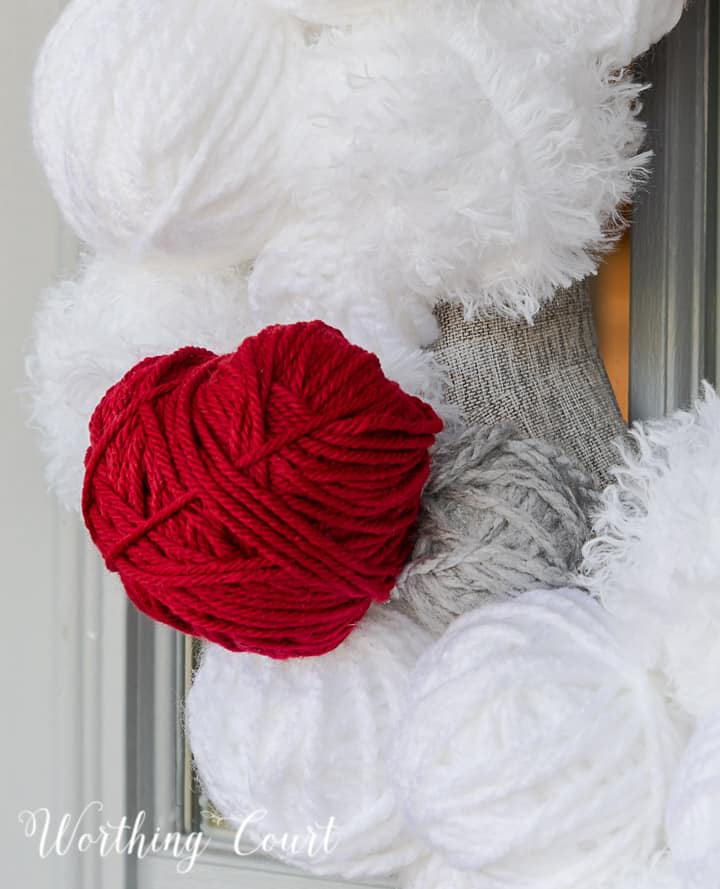 Pin
And here's my wreath all finished and hanging on my front door. So stinkin' cute!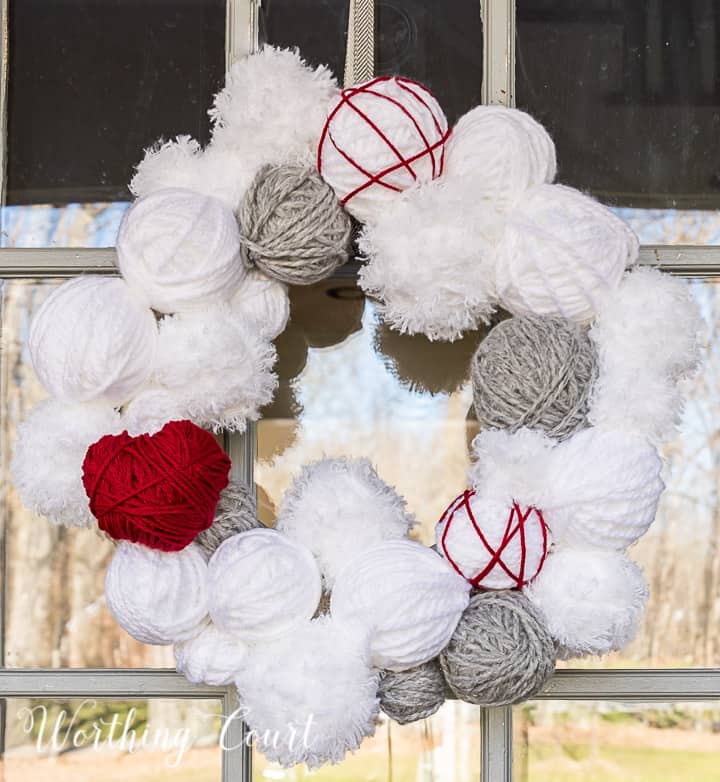 Pin
There's an image especially for you to pin to Pinterest down below, but you might also like:
NO-SEW VALENTINE'S DAY /WINTER PILLOW COVER
Pin
DOLLAR STORE VALENTINE'S DAY ACCENT WREATH FOR UNDER $10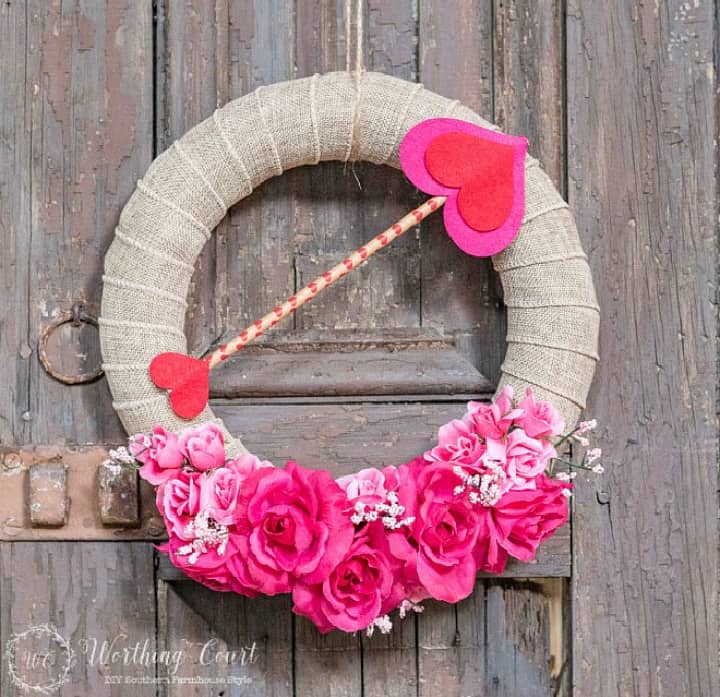 Pin
FREE VALENTINE'S DAY PRINTABLE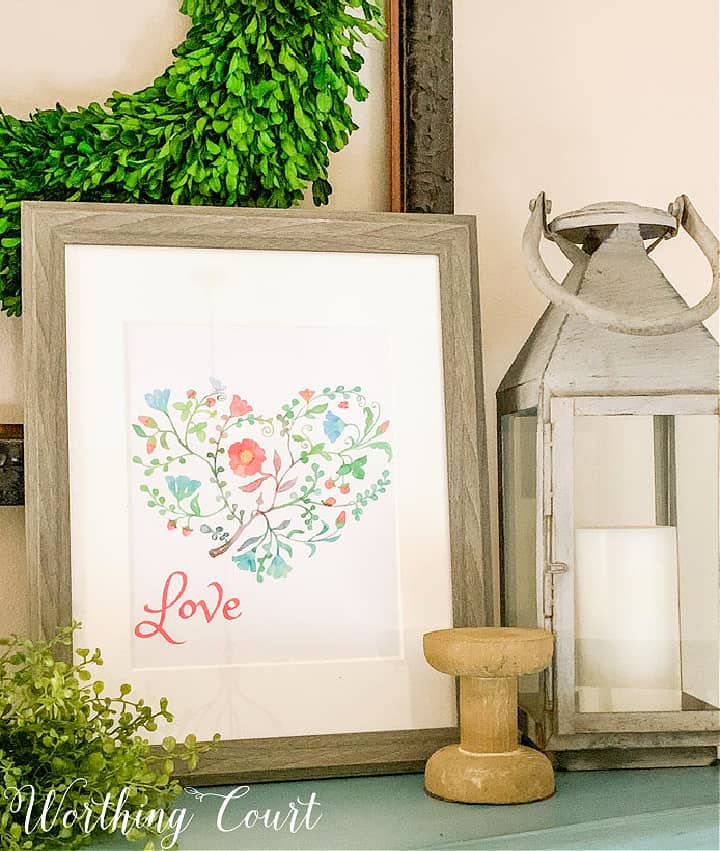 Pin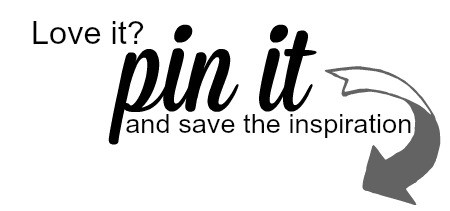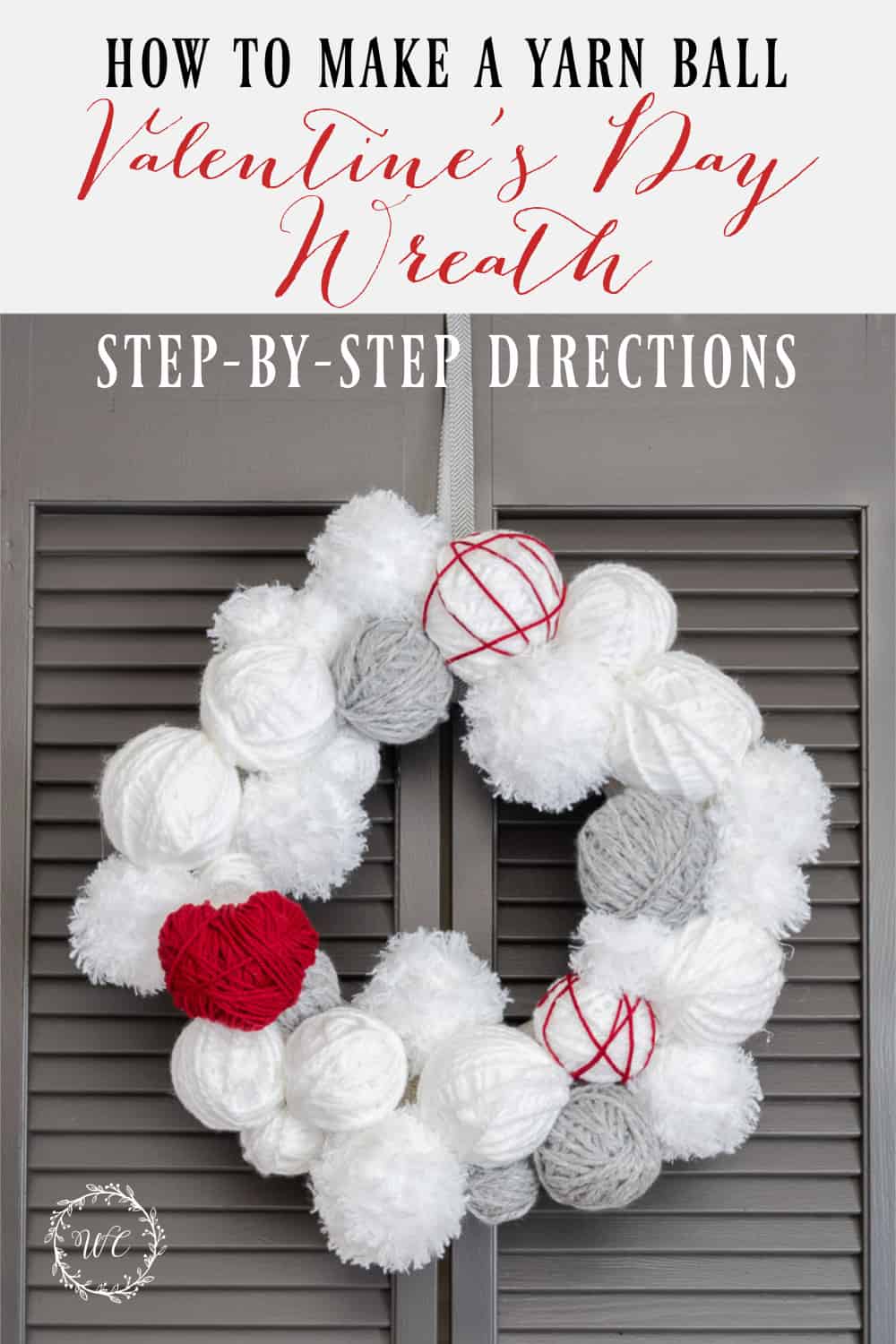 Pin