While I'm spending a few days this week at the High Point Furniture Market, I hope you'll enjoy re-visiting my friend Nancy's fabulous deck.
I'm ready to primp up my own deck and although mine isn't anywhere near as spectacular as Nancy's, I can certainly gain some inspiration from her!
~ ~ ~ ~ ~ ~ ~ ~ ~ ~ ~ ~ ~ ~ ~
I teased you a few days ago with a
little peekaboo
at my friend, Nancy's new deck.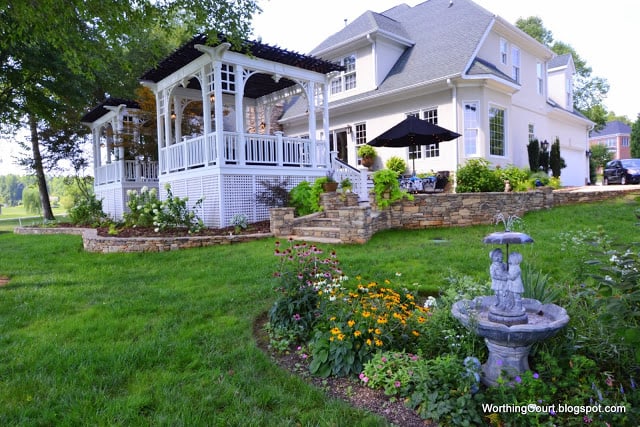 Nancy designed the deck herself after doing lots on online research and pulling all of her favorite components together.  She then put her design into the very capable hands of Paradise Decking, a local deck, sunroom and porch builder.
As you look around, pay attention to all of the architectural detail.
The deck contains two pergolas and looks out over a golfcourse.
The space between the pergolas was specially designed to accommodate the existing Japanese Maple tree.
Stepping out of the house through the french doors, the pergola to the right contains a lovely, shady dining area.
I love these jugs that reside in one corner.  They were out of camera range, but I wanted to make sure that you saw them.
Here's a sneak peek of the table in the dining area.  I'll be sharing more of it with you later in the week.
The lounging area is located in the pergola on the left.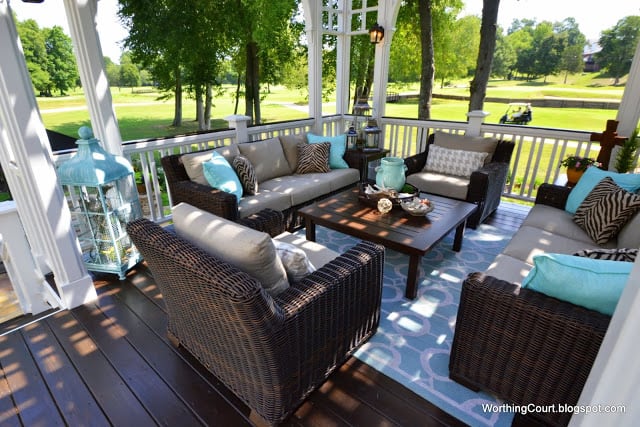 Could I take a nap here?  Only if you twist my arm!  😉
Nancy is the vignette queen.  One of these days, I'm going to put together a post showing some of the many beautiful vignettes on the interior of her home.
Take a closer look at the vignette residing on the coffee table.
Light wrapped branches reside in a pretty basket in one corner…
…and this to-die-for birdcage resides in another.
A cookout area, outfitted with a granite topped custom work station fits nicely between the two pergolas.
Nancy's special touches are everywhere!
The rock chimney is dressed with a bountiful hanging basket.
Steps lead down to a flagstone patio.  This is where the fishy tablescape is set up.
The patio area can also be accessed from the driveway.
So tell me, if you were a golfer would you stop and pause in the shade of Nancy's lovely yard?
And listen to the cooling sound of sprinkling water?
I bet she'd offer you a cool glass of lemonade!
Here are a few before and after's just for fun.
BEFORE
AFTER
BEFORE
AFTER
BEFORE
AFTER
~ ~ ~ ~ ~ ~ ~ ~ ~ ~ ~ ~ ~ ~ ~
So…are you inspired???