Our Kitchen Remodel – The Good, The Bad And Kudos To My Husband
Wow – the evolution of our kitchen, the remodel and the before's and after's was one long post yesterday. Click HERE to see it, if you missed it. As promised, I'm back today to share why we made some of the decisions that we did- both the good and bad. If any of you are going through something similar, or think that you may remodel one day, I hope this will help you!
THE GOOD
Good Decision #1: Waiting until the old kitchen was totally removed to complete the layout plan. There were certain elements that I wanted, like a feature wall containing my range hood, an island and double wall ovens, but beyond that I was pretty open. So with painter's tape and a measuring tape in hand, Pookie and I spent several nights figuring out what would work the best for us.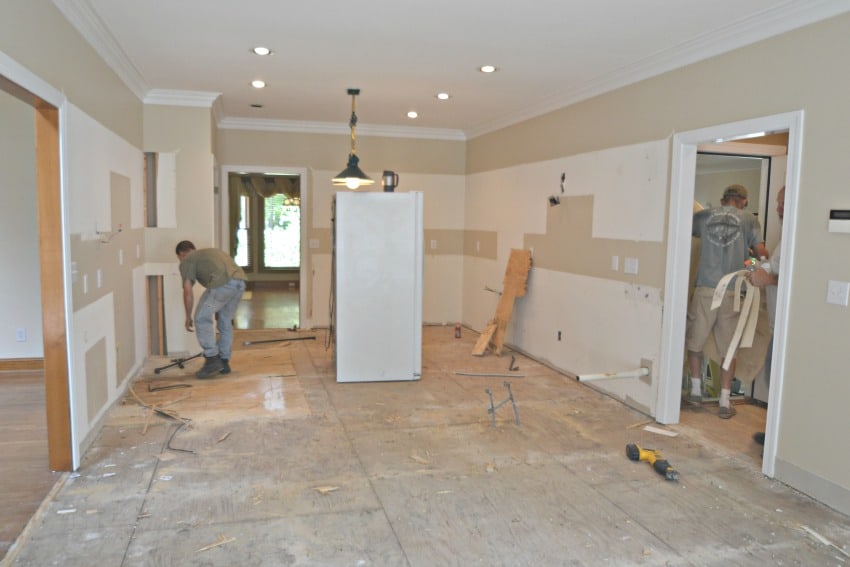 Pin
Good Decision #2: Taking the time to plan and tweak the layout over and over again. We were trying to fit the largest island that we could in the middle. Annnnd, we wanted it to accommodate counter stools. We had to make sure that there was plenty of room at the end of the island to open the refrigerator doors, that we could still walk through when the dishwasher door was open and that no one would get their back burned while sitting at the counter when a hot oven door was opened.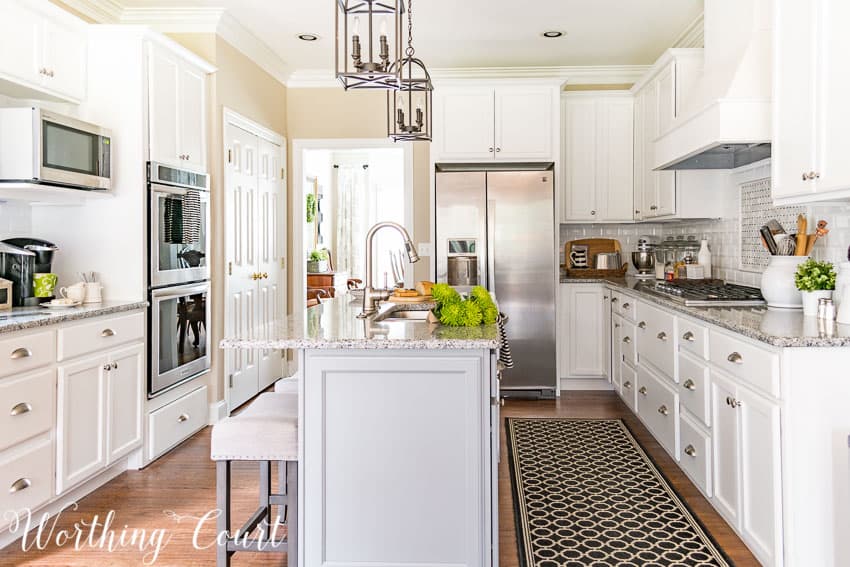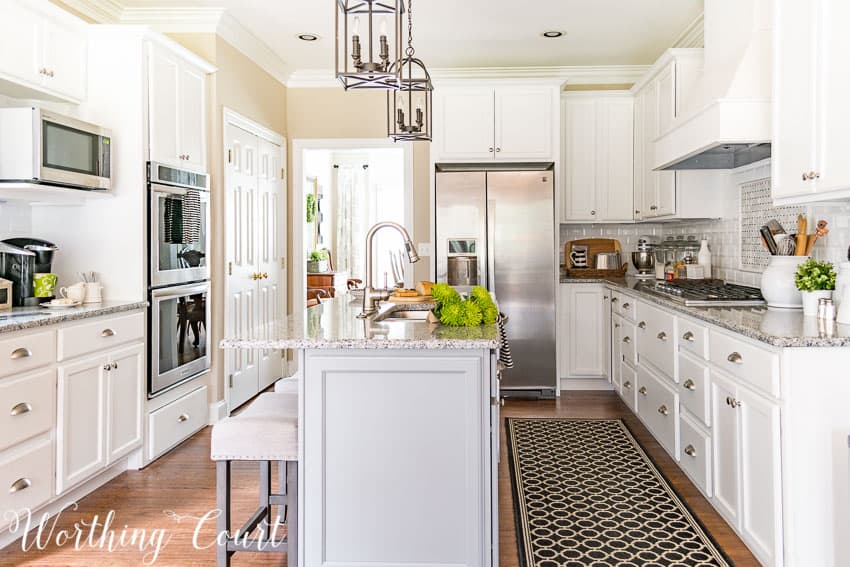 Pin
Good Decision #3: Adding a deep drawer below the ovens. Perfect spot for holding all of my cookie sheets.
Good Decision #4: Placing deep drawers below my cooktop, instead of cabinets. I store all of my pots and pans in these two drawers and it's super convenient to just reach down and pull out what I need, without fumbling around in a cabinet while I'm cooking.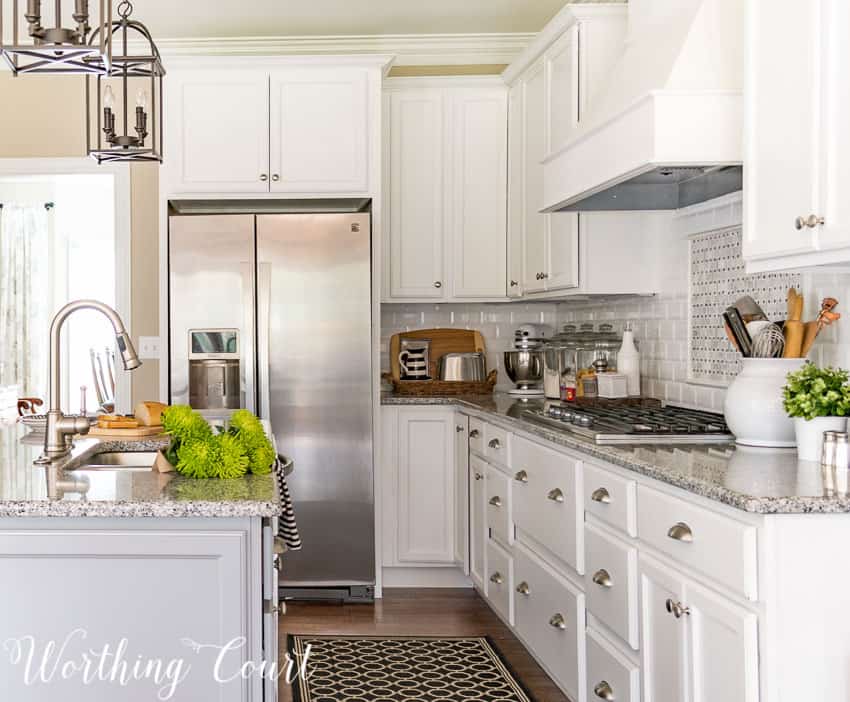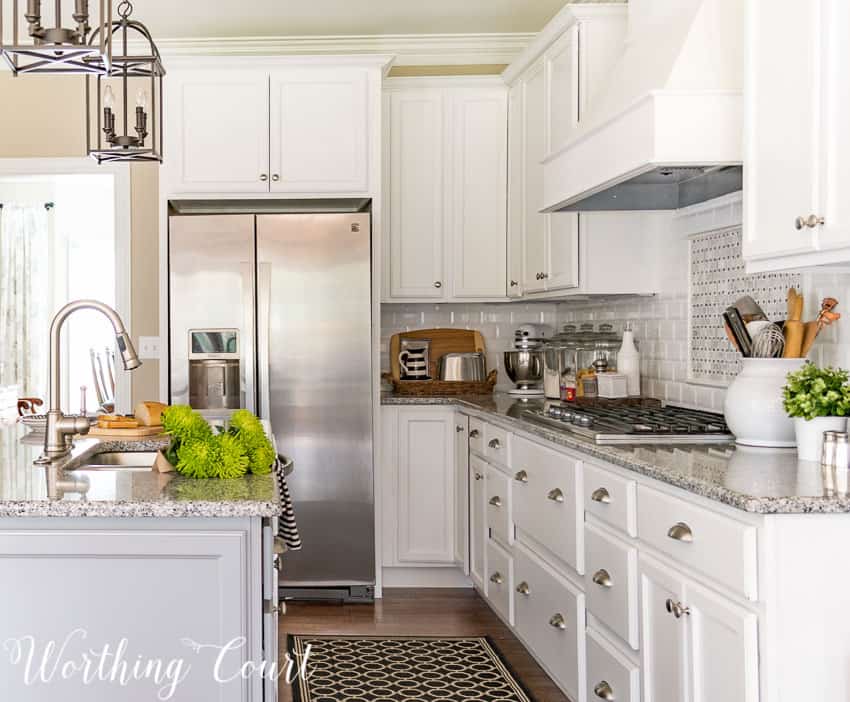 Pin
Good Decision #5: Placing everything within easy reach. Since Pookie and I have no experience with kitchen design, the convenience of working in this kitchen is a bit of a happy accident. Sort of. I credit it to the large amount of time we spent getting the layout just right. The counter at the far end of the island was left open to give me plenty of prep space. I literally only have to turn my body and take a step or two when cooking. And when prepping a dish to go into the oven, well – the oven is right there.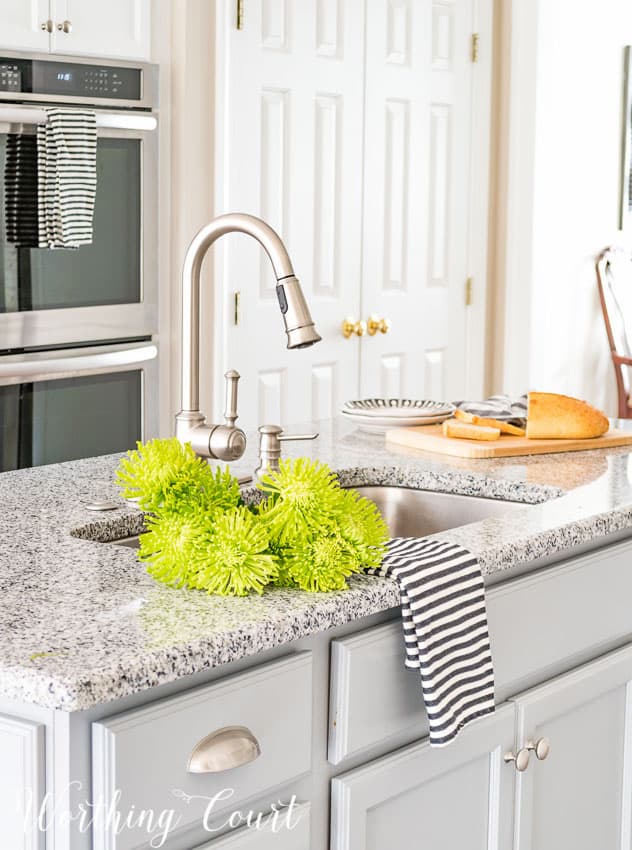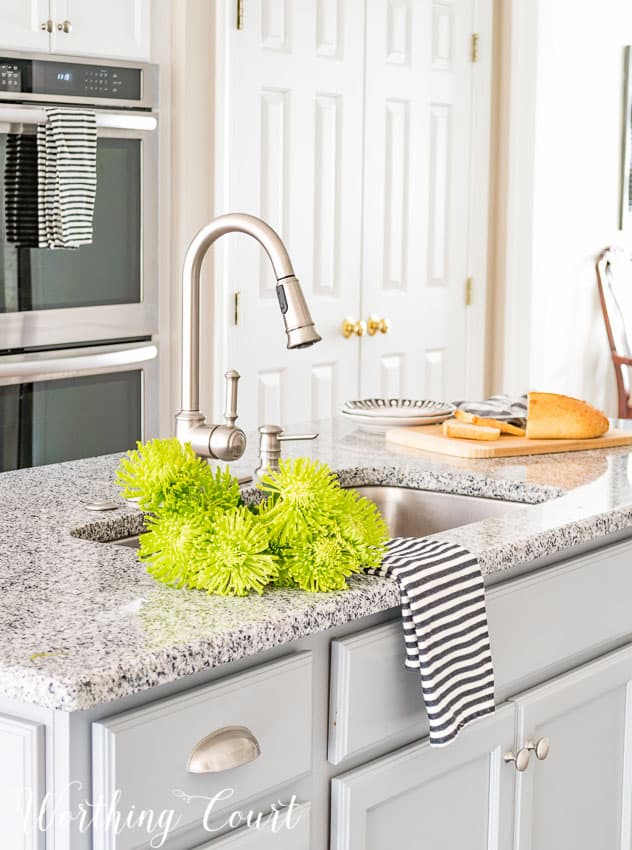 Pin
Good Decision #6: Pookie will disagree with this one, but I'm extremely happy with where I placed my trash can. I had the option of using the cabinet to the left of the sink for a slide-out trash can holder, but I figured I would spend a lot of time cleaning in and around it when we accidentally spilled something. Pookie was rooting for me to go with one less cabinet on the wall oven side and place the trash can there so that it wouldn't be visible from the family room. I played the "I'm the cook" card and opted to place it on the other side of the kitchen, closest to the sink.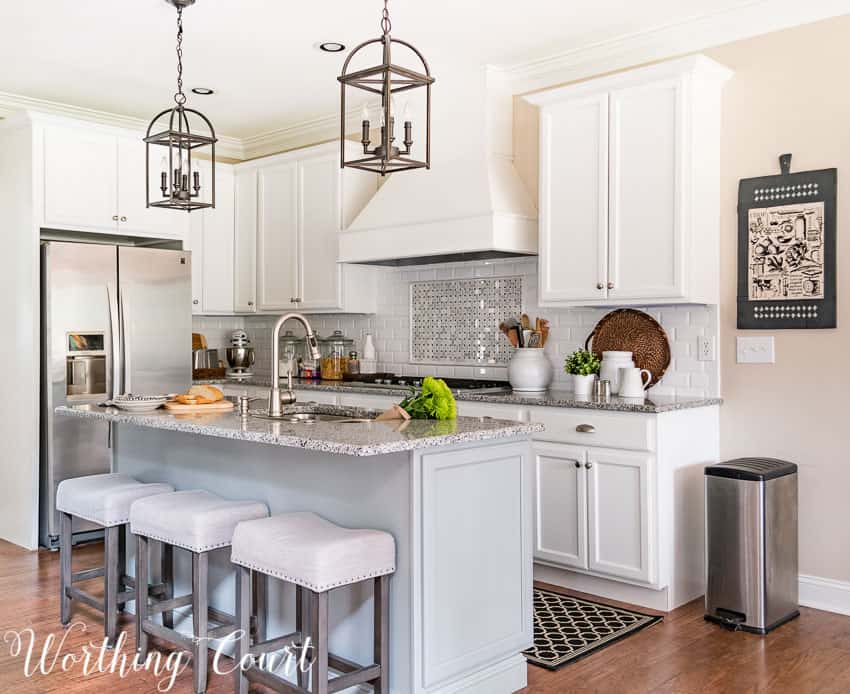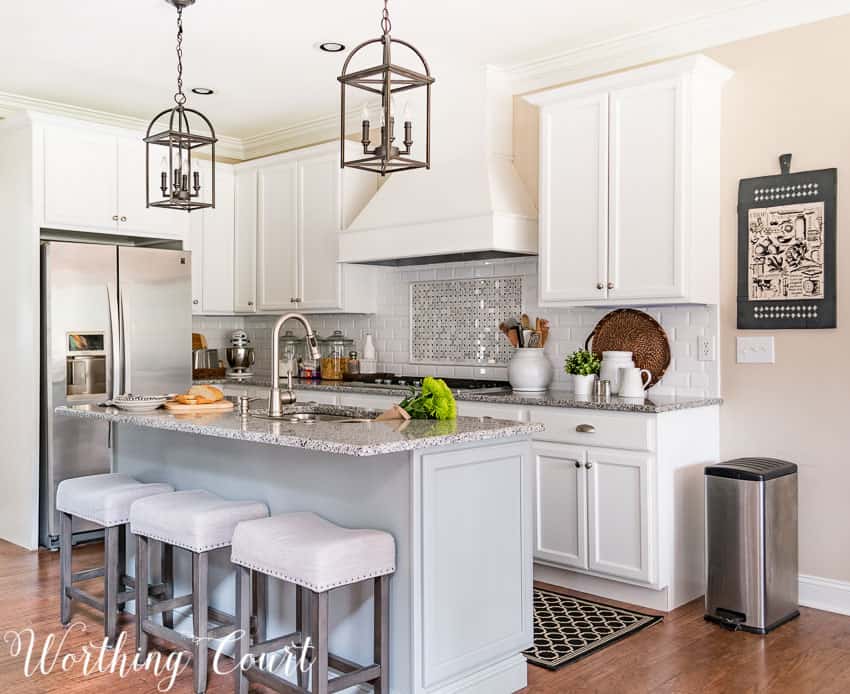 Pin
Good Decision #7: Using cabinets of a different color in the island than are in the rest of the kitchen. I think that it adds warmth to the kitchen and keeps all that white from looking too cold and sterile.
THE NOT SO GOOD
Not So Good Decision #1: Not using professional cabinet installers. To save money on the installation, we allowed our regular remodeling crew to install the cabinets. Overall, they did a good job, but there are a few details that aren't the best. For example, you can't see it in the photos, but there are a couple of places where the crown moulding was pieced together that aren't done well. First of all, if they had planned their cuts more carefully, there was no need to cut and piece the crown mould. Secondly, you can see the seams and caulking in a couple of places where they did piece it together.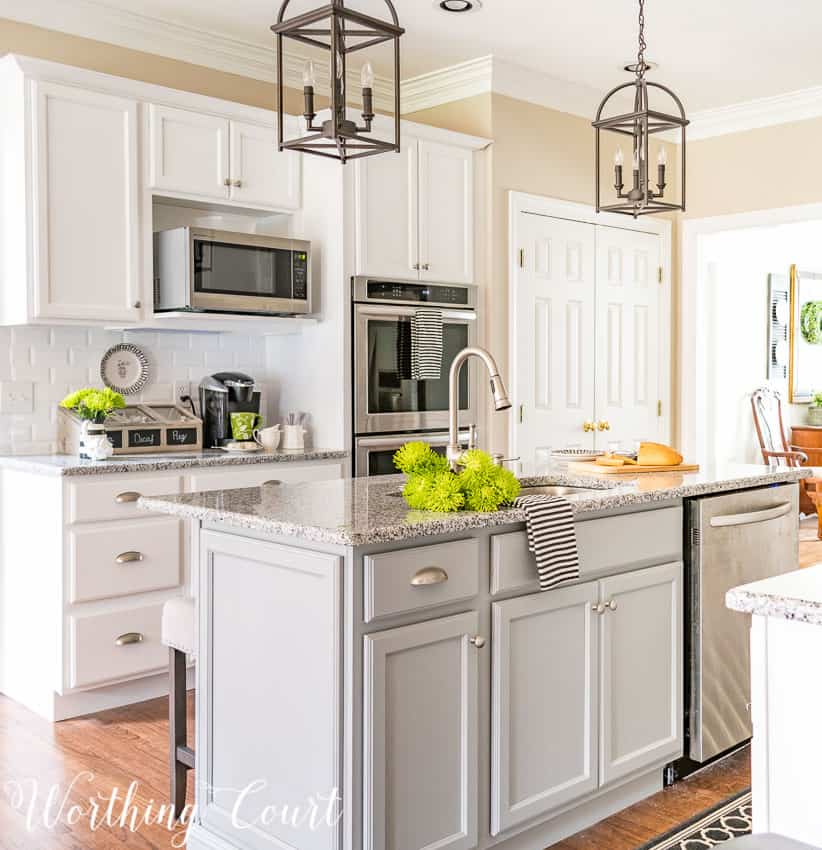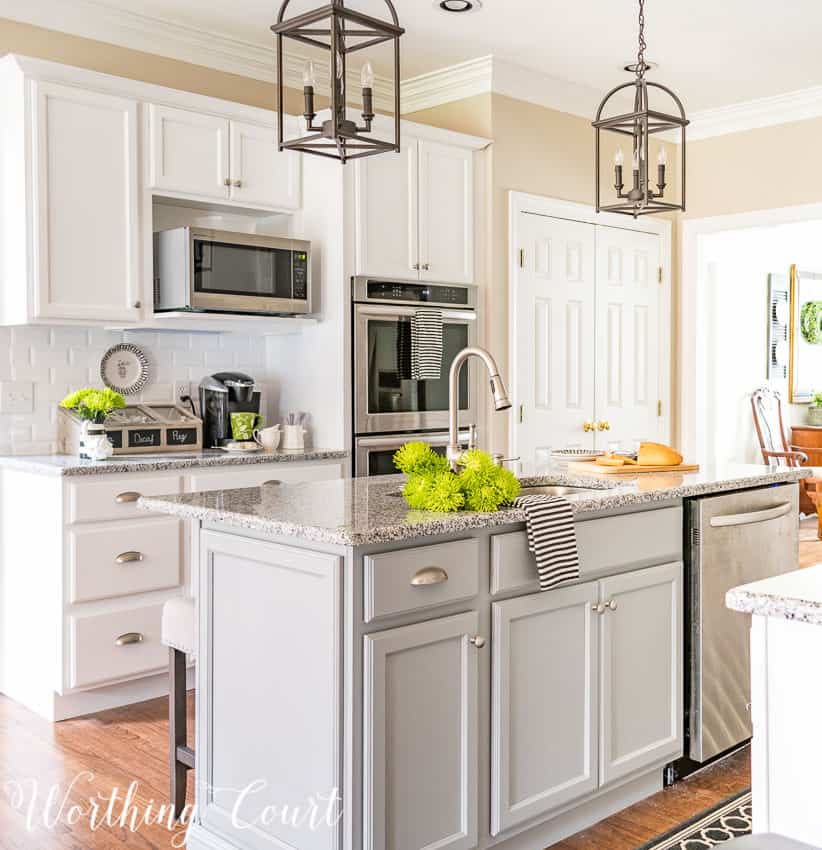 Pin
Not So Good Decision #2: Not adding more pull-out shelves in our cabinets. The cabinets that we chose came standard with one pull-out shelf, but I should have paid the extra money to make the top shelf a pull-out one also. It never fails that the one thing I need is way in the back on the top shelf, which is stationary.
Not So Good Decision #3: Getting into the corner cabinet to the right of the refrigerator is a little bit tight. I'm not sure what else we could have done though, because to make the corner larger would have meant a big layout change to the entire kitchen. I decided that having the hood and cooktop on a wall by themselves was more important to me than living with a little bit of a tight space in the corner.
Pin
Not Good Decision #4: Assuming that just because an appliance is a well known brand and looks good, it's the best one for my needs. Our dishwasher looks exactly like I wanted it too, It's a well known brand, has a stainless steel interior and is unbelievably quiet. The problem? I have to use the longest cycle to get my dishes totally clean. It takes forevvver! Yes, I pre-rinse my dishes, but this dishwasher takes twice as long to run its cycle than the builder grade one in my old house did.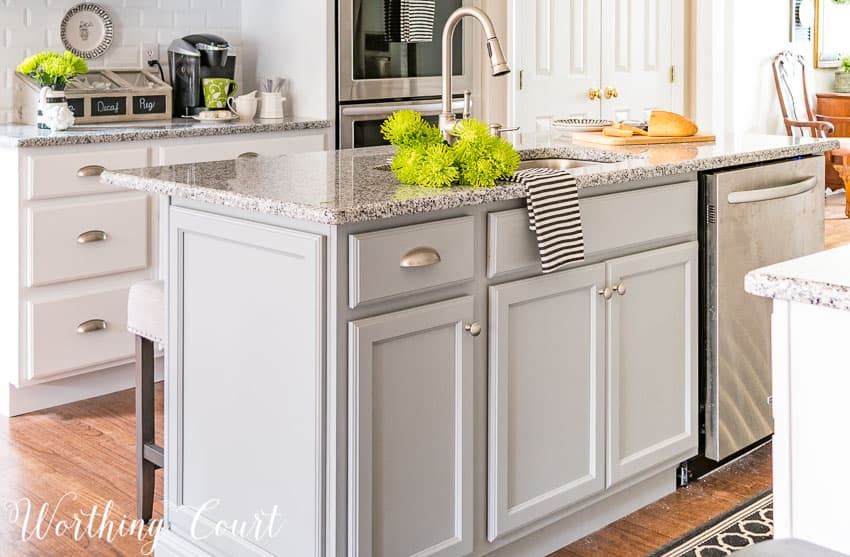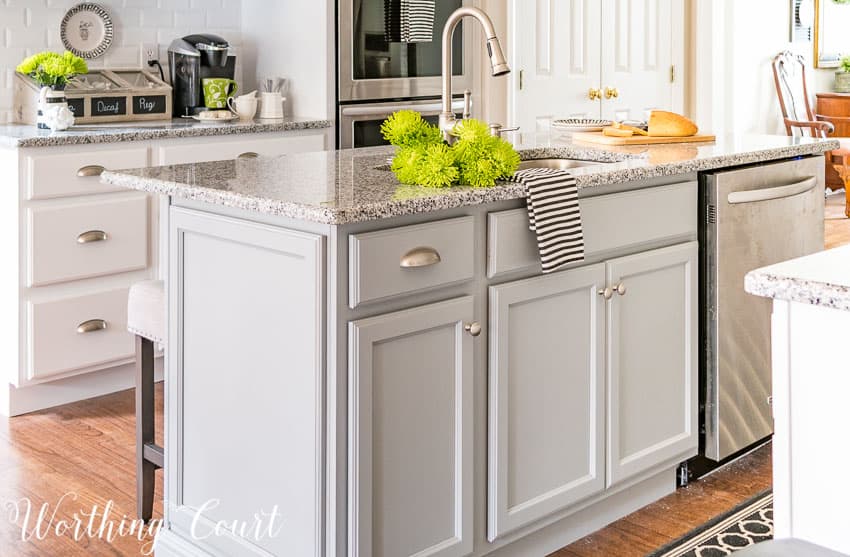 Pin
In spite of the mis-steps that we made, I have absolutely no regrets with how our remodeled kitchen turned out. It has to be the easiest and most convenient kitchen that I've ever used.
I can't tell you about our kitchen remodel without giving oodles of praise to Pookie. You see, Pookie is an engineer with an engineer's practical mind and the need to maximize every square inch of space. We worked together to design the kitchen and while having that hood on a wall all by itself may not have been the most efficient use of space, Pookie realized that it meant a lot to me. So THANK YOU my sweet Pookie, for helping my kitchen vision dream to become a reality.
Sharing at THESE great parties.