No Stress Easy Fall Decorating Tips
Here are the best fall decorative ideas DIY with the emphasis on stress free!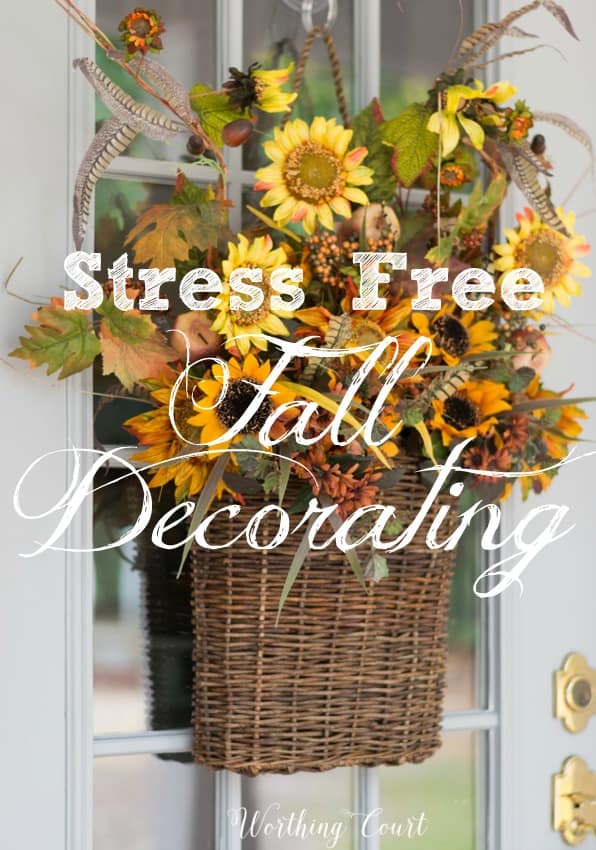 Pin
Don't you agree that decorating your home should be enjoyable instead of stressful and frustrating?  It doesn't matter if you're working on the overall look for a room or your entire home or just trying to decorate for an upcoming season or holiday – I believe it should be fun!  We all have enough drama and frustration in our lives, so let me give you a few no stress ideas to make your fall decorating a joy instead of a chore.
KEEP CENTERPIECES SIMPLE
This fall centerpiece, on the dining room table in my former home, is one of my most favorite ever!  It may look complicated, but it isn't.  Fill a container, any container, full to overflowing with colored pumpkins (real or faux) then tuck in a few candles and sprigs of greenery (again, real or faux) into the empty spaces.
CLICK HERE TO SEE MORE OF THIS FALL CENTERPIECE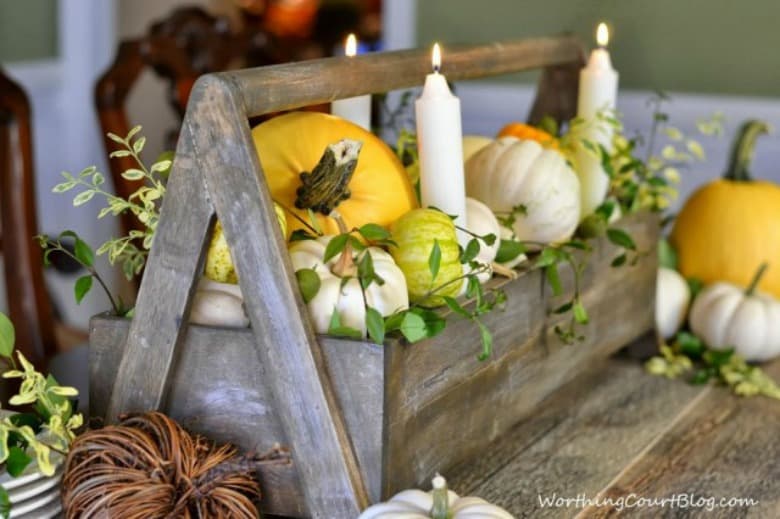 Pin
Better yet, put together a table centerpiece in all of 5 minutes!  I recently put this DIY centerpiece together for late summer, but it will probably wind up staying through fall.  You can look at it and tell how easy and simple it is.  Bread boards make a great base for a centerpiece, then all you need are just a few things arranged on top of it.
CLICK HERE TO SEE MORE OF THIS CENTERPIECE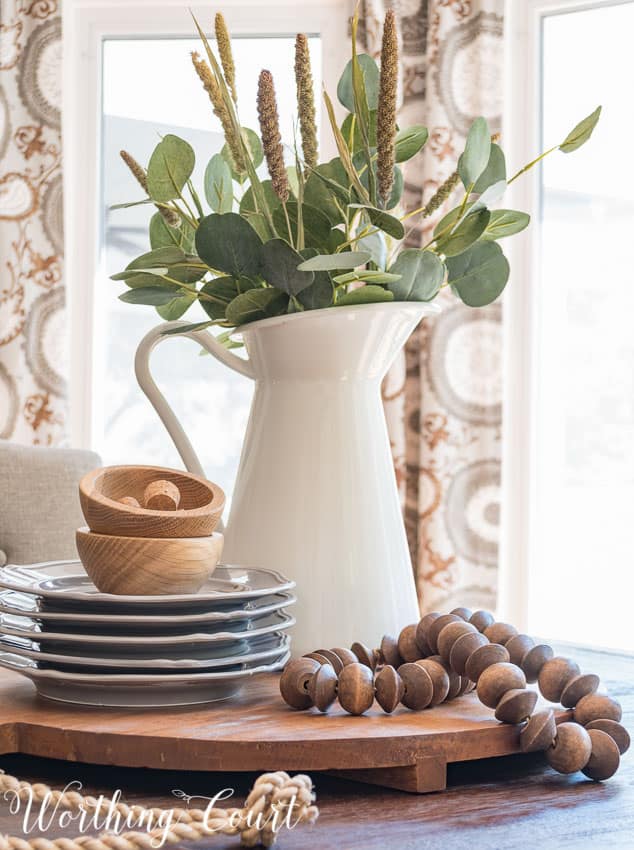 Pin
VIGNETTES
I created this elegant looking (but easy!) fall vignette in the foyer of my former home, by plopping a yellow mum into a container, adding raffia (or you could use Spanish Moss) around the base of the plant, and placing a mix of pumpkins and gourds on a tray beside the mum.  Finish the vignette off by adding one more fall'ish item from your crafting stash.
CLICK HERE TO SEE MORE OF THIS FALL VIGNETTE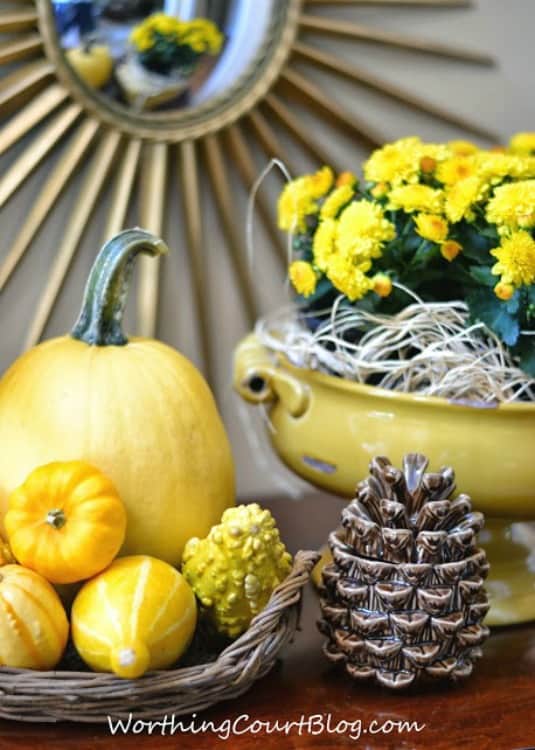 Pin
Three candlesticks + two pumpkins + one candle = instant fall. Y'all it doesn't much easier or stress free than this!  They don't even have to match, but using various height candlesticks adds more visual interest.
CLICK HERE TO SEE THE ENTIRE FALL MANTEL AND FIREPLACE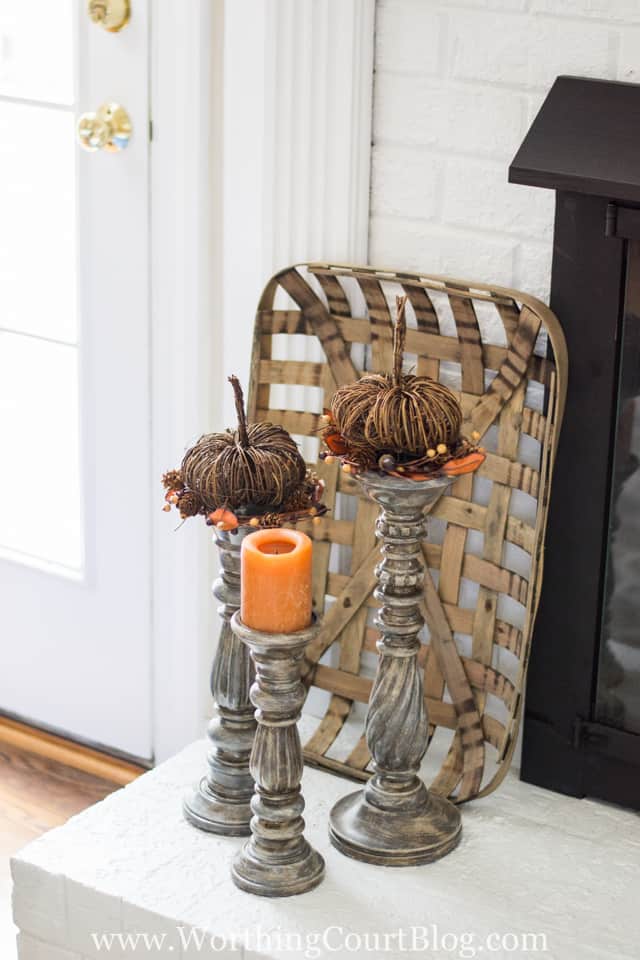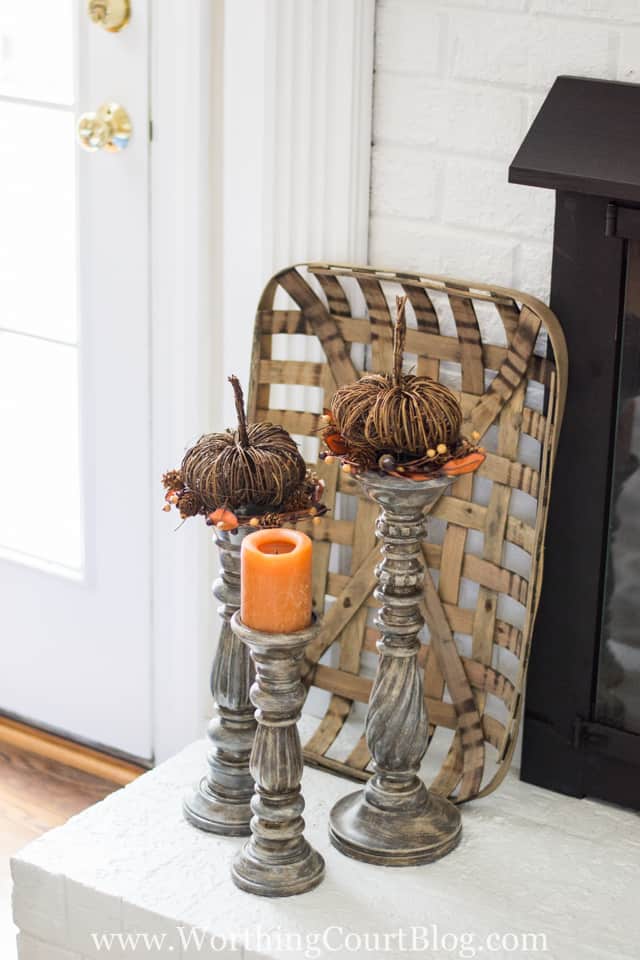 Pin
You're bound to have a basket of some sort lying around.  I simply arranged sticks from my backyard, a throw and some fake pumpkins to create this cozy fall display.  And here's a secret – the bottom of the basket is stuffed with old sheets to fill it up.  You can't see them though, because they're covered by the pumpkins piled on top.
TO SEE THE ENTIRE FALL MANTEL AND HEARTH CLICK HERE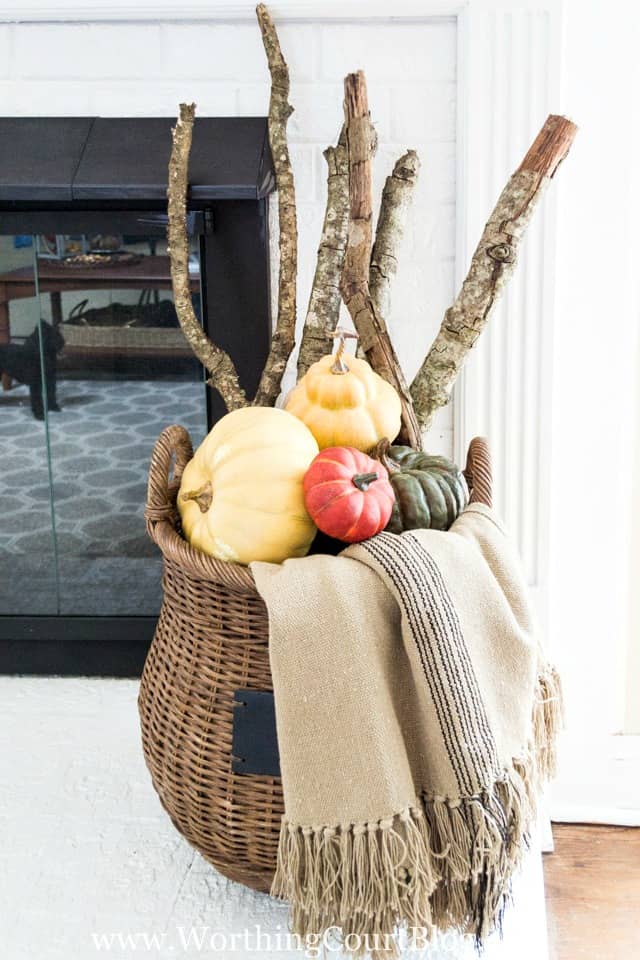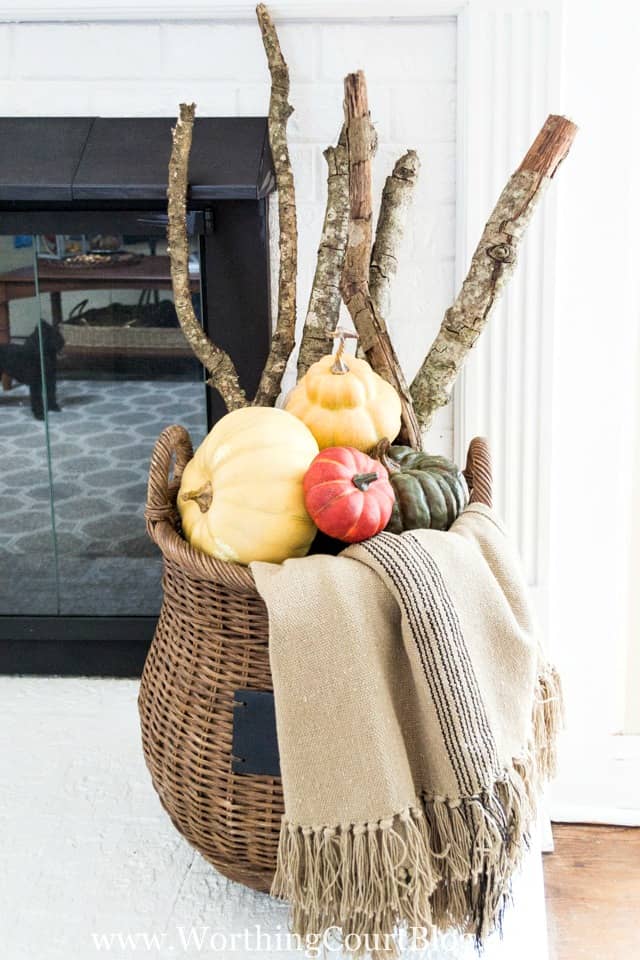 Pin
OUTDOORS
You don't have to make an elaborate fall wreath for your door.  Grab a hanging basket and fill it with artificial autumn foliage bushes.  The retailers continue to sell more and more realistic looking faux plants and combining them all into one bush sure does make decorating much easier.
SEE THE ENTIRE FALL PORCH HERE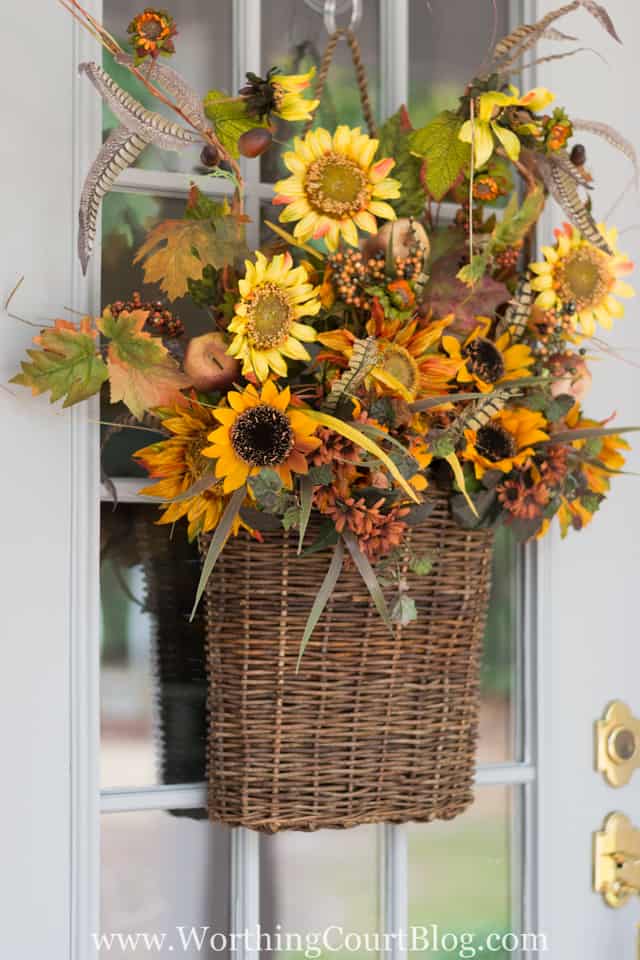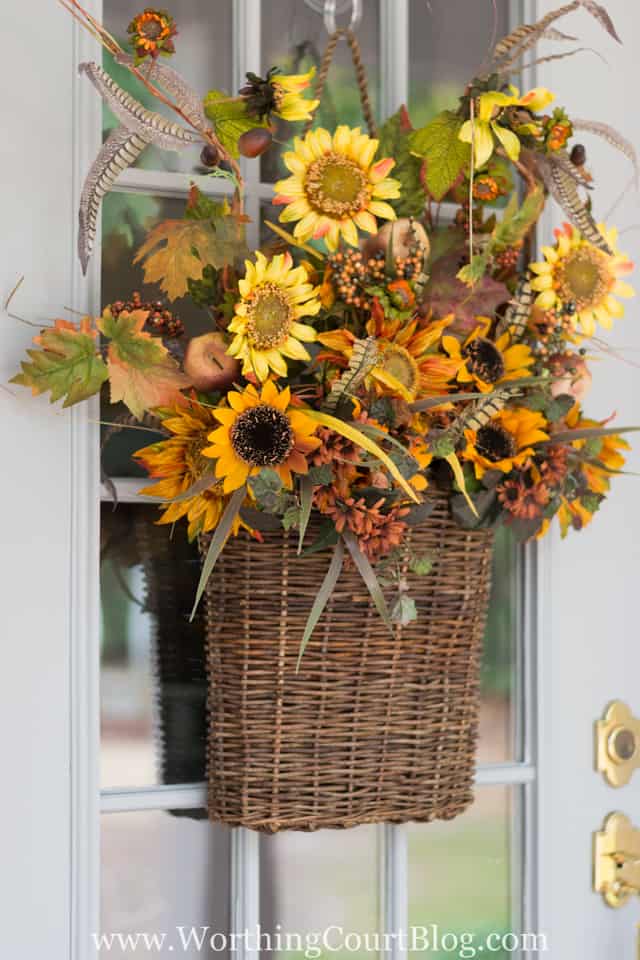 Pin
Try something different with your outdoor containers besides filling them with traditional mums.  These planters were soooo unbelievably quick and easy to create and I received many compliments on them.  Everyone loves something unexpected!
CLICK HERE TO SEE THE ENTIRE FALL ENTRY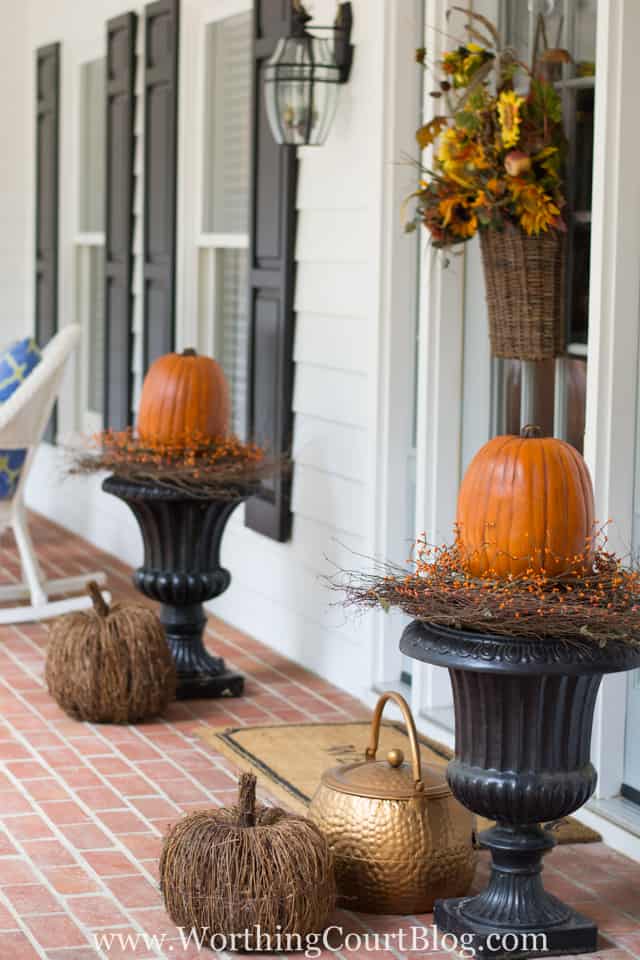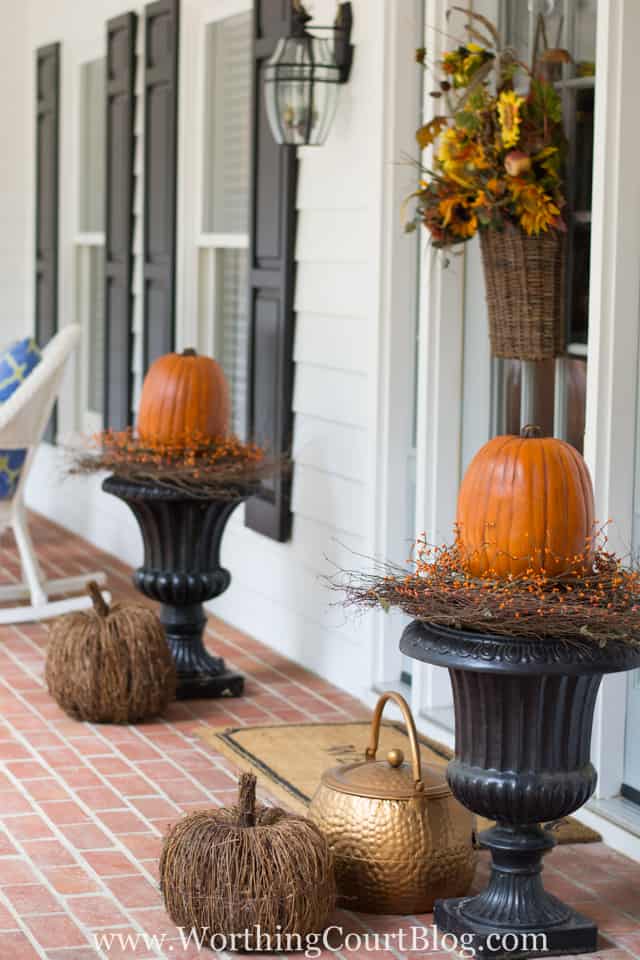 Pin
Do you get stressed out and frustrated when you decorate?  I admit that sometimes I put so much pressure on myself, that I'm easily frustrated if something doesn't turn out just right the first time around.  Note to self: Relax – it's only decorating.
YOU MIGHT ALSO ENJOY
MY 5 BEST TIPS FOR CREATING A FABULOUS FALL CENTERPIECE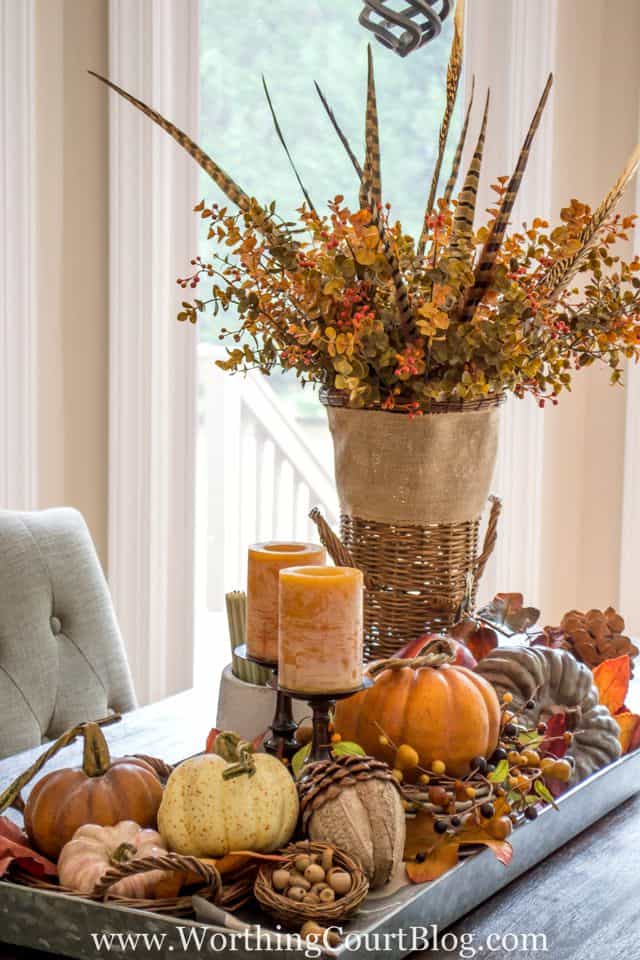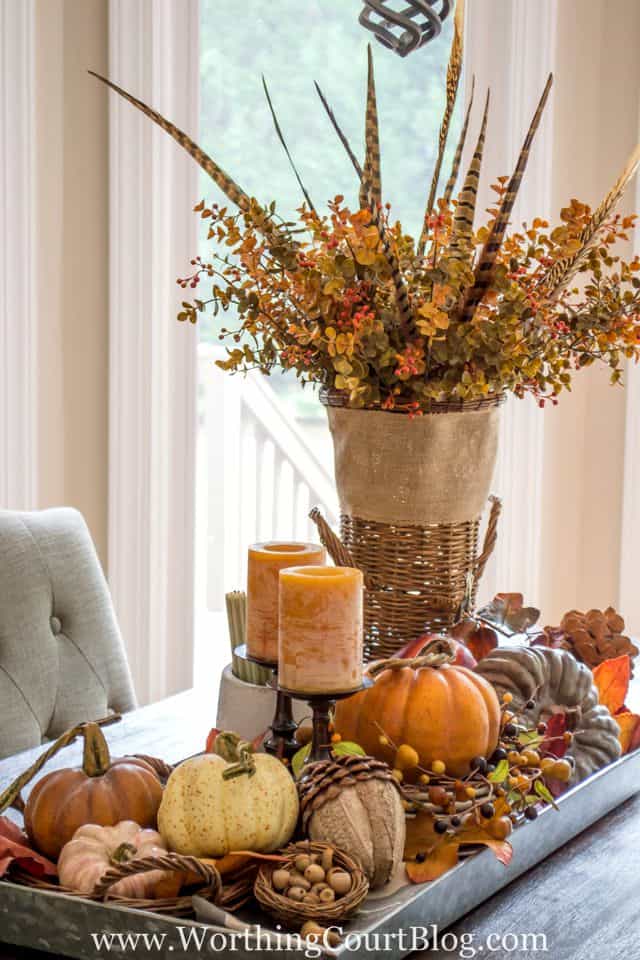 Pin
I hope you enjoyed all my fall decor ideas and tips!
Sharing at THESE great parties