7 Easy Ways To Give Your Home A Late Summer Refresh
It's late summer.  Is your home looking a bit tired?  Use these 7 easy ideas to freshen things up for the rest of the summer!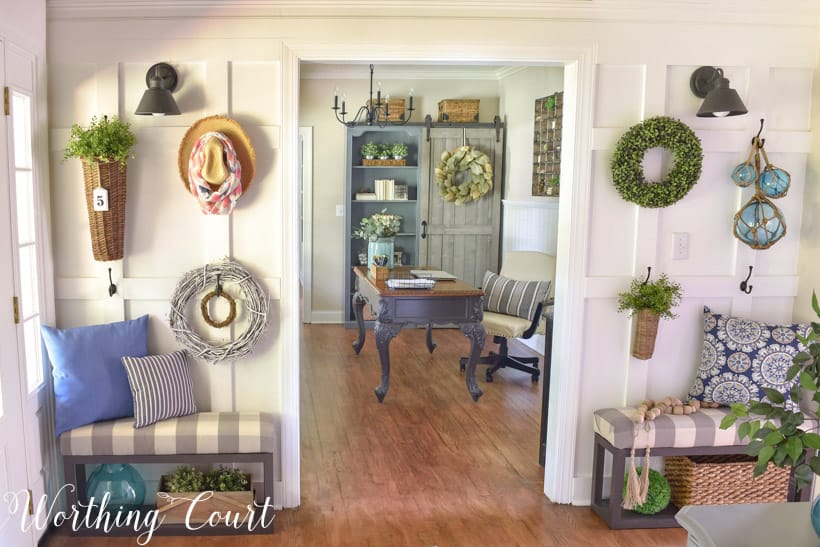 Pin
Now that it's officially late summer, have you noticed that what was looking so fresh and happy a month or two ago, is now starting to look a little tired and in need of a little decor pick-me-up?
Even though fall is definitely on the horizon, it's too early to pull out those fall decorations just yet.  So what's a girl to do?  Here are a few ideas to see you through. 😀
ADD SOME WHITE TO YOUR DECOR
Nothing refreshes and brightens a room more than when you add white accessories to a room.  White has a naturally breezy and cooling feel to it, so even though it may be scorching outside, you'll feel nice and cool while you're inside.  The added benefit is that is goes with absolutely everything.  There's no need to change anything else that's in the room!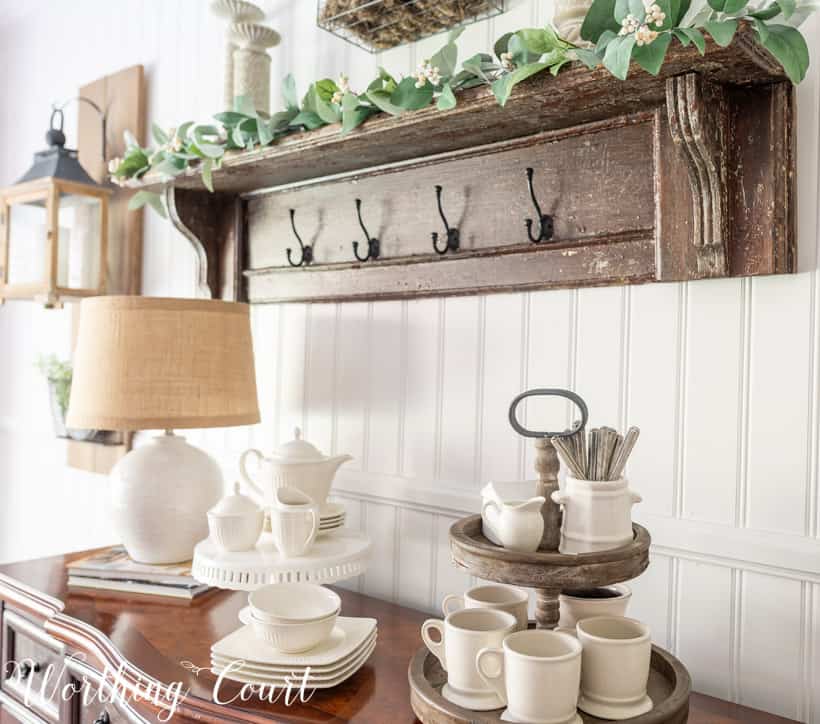 Pin
HEAD TO THE GROCERY STORE
I'm willing to be that you're already in the grocery store at least once per week, so be sure to check out the floral department the next time you're there.  It's a great place to find affordable flowers, both cut and potted, to use to perk your home up with.
For an easy centerpiece, simply line up multiples of the same plant or flowers down the center of your table.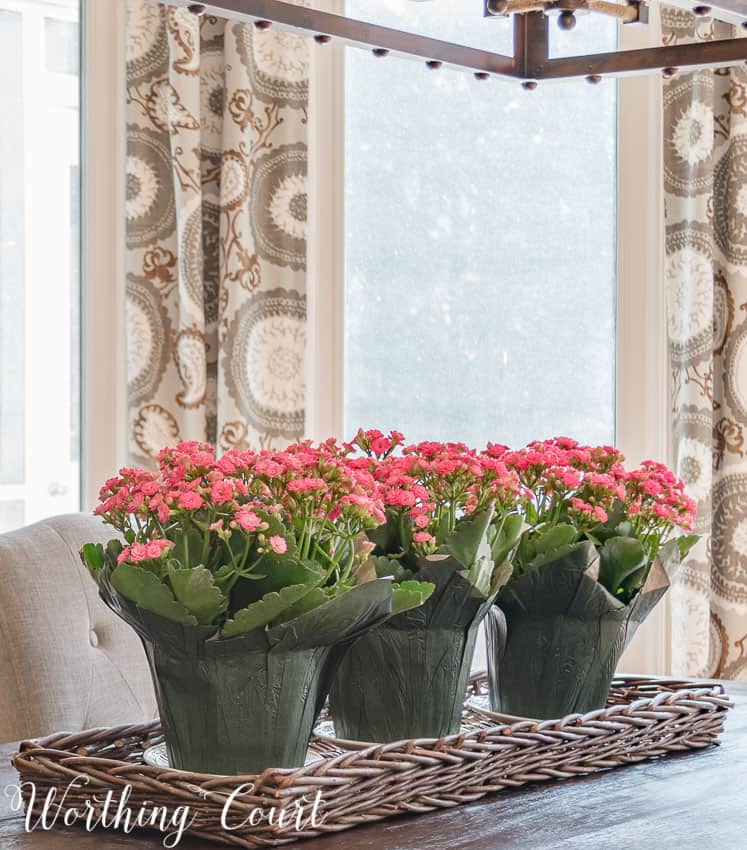 Pin
WORK IN SOME GREEN APPLES
I know, I know – fall is when apple season officially kicks in, but adding just a few faux green apples to your decor right now is easy to do.  You don't need a lot – the addition of just a few strategically placed ones will add a fresh pop of bright color and will act as a foretaste of what's to come in just a few short weeks.  Click right HERE to order some affordable, lifelike ones from Amazon.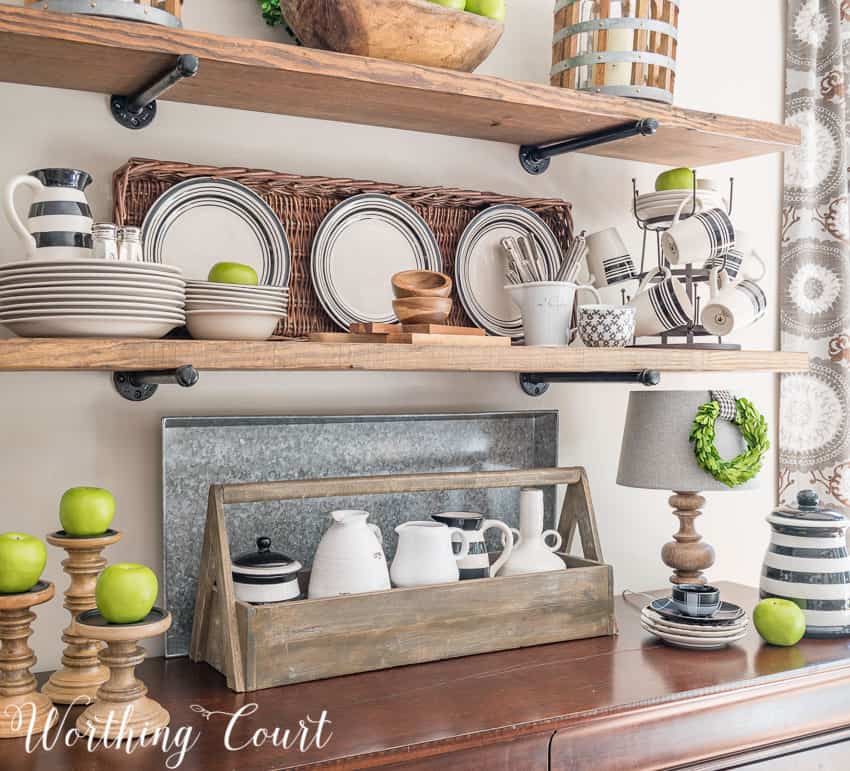 Pin
CHANGE OUT PILLOWS AND THROWS
OK – this is probably a no-brainer and is one of the easiest things in the world to accomplish, but it's certainly worth a mention in the context of perk-up projects.  If you've never tried it, you'll be amazed at how simply changing the pillows on your sofa or chairs or changing up the throws you have on display can freshen up a room fast.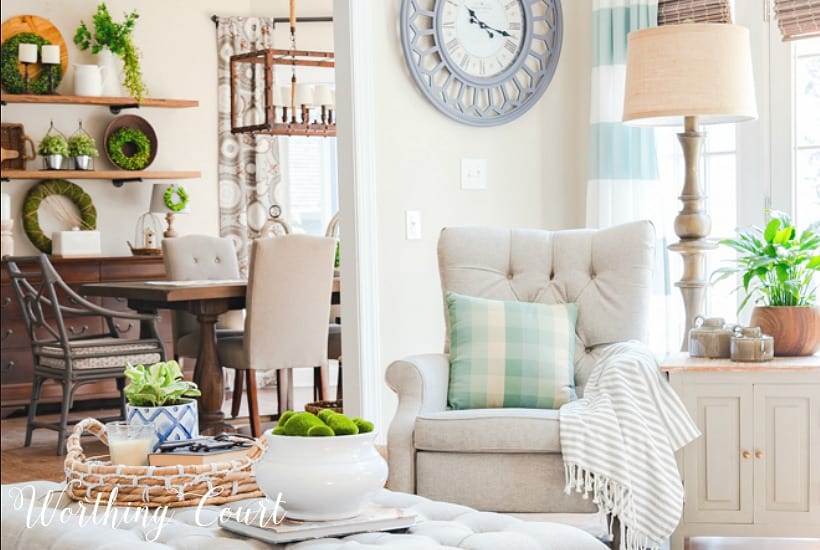 Pin
CREATE A MEANINGFUL PIECE OF ARTWORK
One of my favorite DIY projects in our home is the faux watercolor portrait that I created for our foyer.  The image and the wording that I added is unique (no one else has one exactly like it!) and is especially meaningful to us.
Spend this weekend creating one of your own home – it's very easy to do!  The step-by-step tutorial can be found HERE.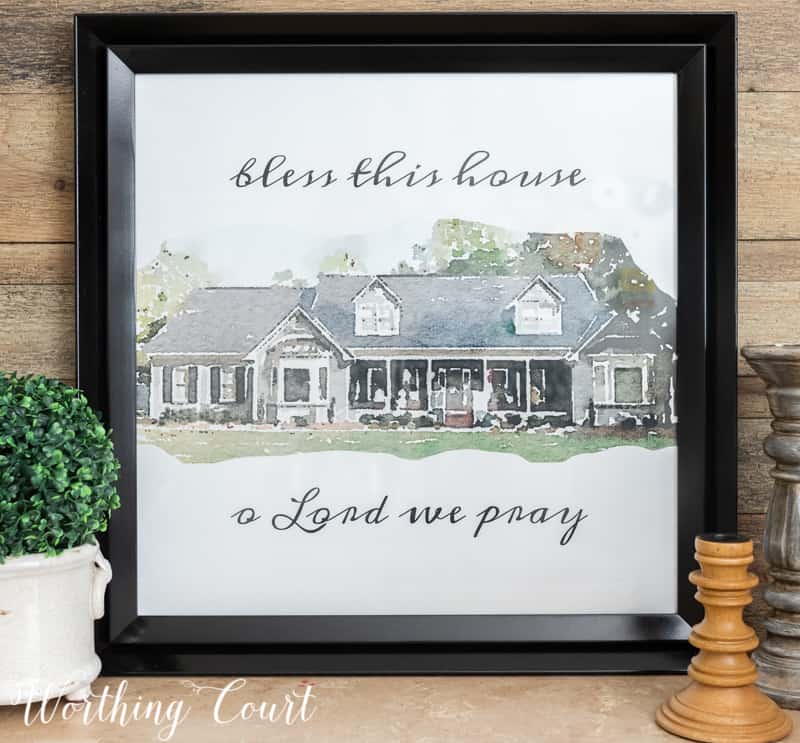 Pin
BUILD A WHAT YOU NEED
Late summer is a great time to tackle those DIY home projects that you'd like to complete before the holiday season arrives!
We all have places in our homes where we need just the right piece of furniture, but can't find exactly the perfect thing in the stores or online.  Am I right???  The solution is to build what you need!  I don't consider myself a professional furniture builder by any stretch of the imagination, but this project is very inexpensive, straight forward and simple to do.
Steer clear of dark fabrics with small patterns if you are trying to lighten up your decor.  Get the step-by-step tutorial HERE.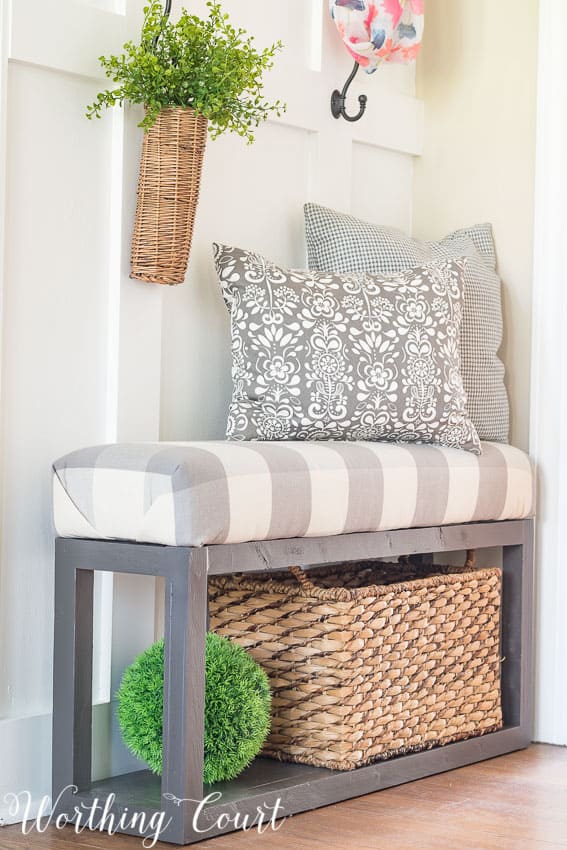 Pin
ADD SOME TEXTURE TO YOUR WALLS
Here's an easy peasy way to add interest to a wall and to freshen up your late summer decor.  When giving our dining room a makeover, I was on the hunt for ideas that I could use to turn the wall where my buffet lives and my diy hanging lanterns are into a feature wall.
I seriously wanted to do shiplap on that particular wall, but didn't want to go the trouble of cutting all those boards or go to the expense of purchasing ready-made shiplap wood.  While browsing the aisles of a big-box home improvement store one day, I discovered gorgeous panels of tongue-in-groove-look paneling.  This ain't your grandma's fake wood paneling from the 70's!
I'm in love with the result!  Tour the entire finished dining room and get a closer look at our feature wall HERE.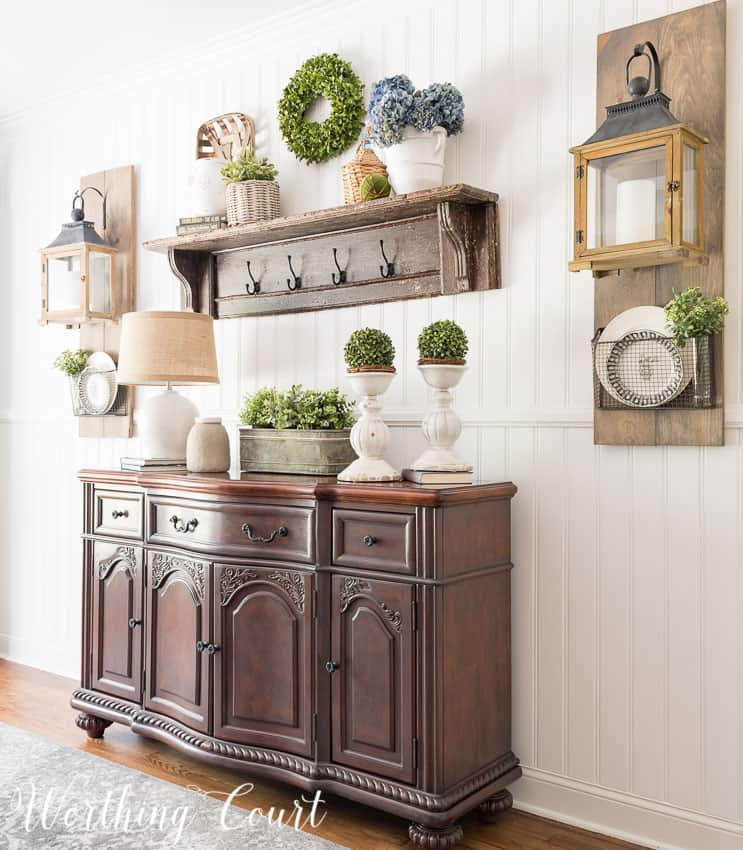 Pin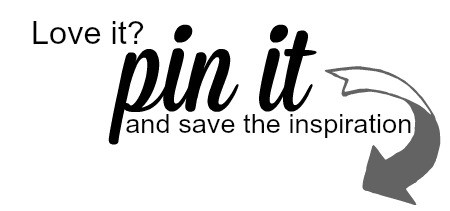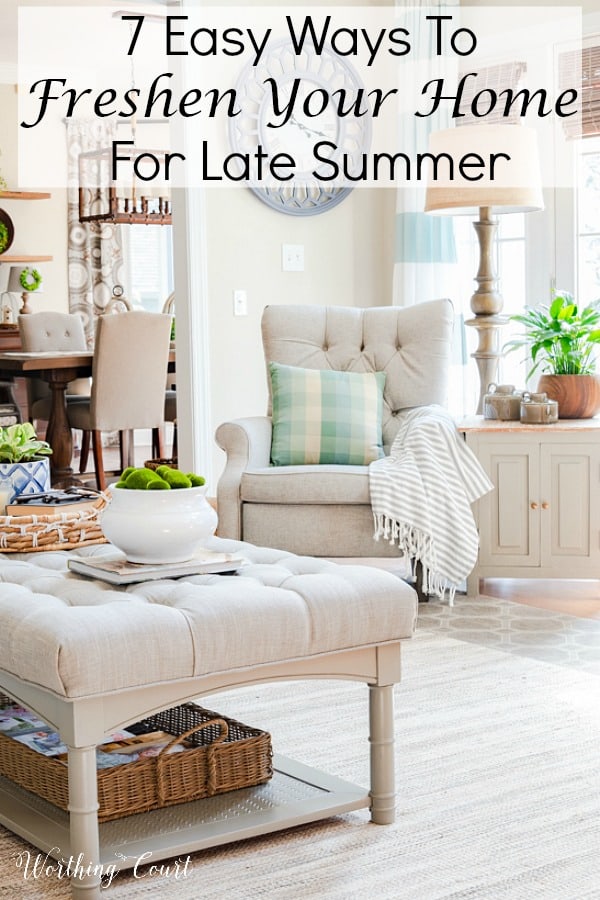 Pin
Any one of these home decor ideas will go a long way toward giving your space a little late summer freshen-up and tide you over for just a few more weeks until the seasons change again.  Don't worry – you'll be able to pull out all those pumpkins and fall leaves before you know it!