Celebrating The Season With Plaid Christmas Decor In My Breakfast Room
 Create the perfect touch with easy and cheery plaid Christmas decor for a dining room or breakfast nook.
Welcome to my breakfast room all decked out with happy pops of red and white and plaid Christmas decor!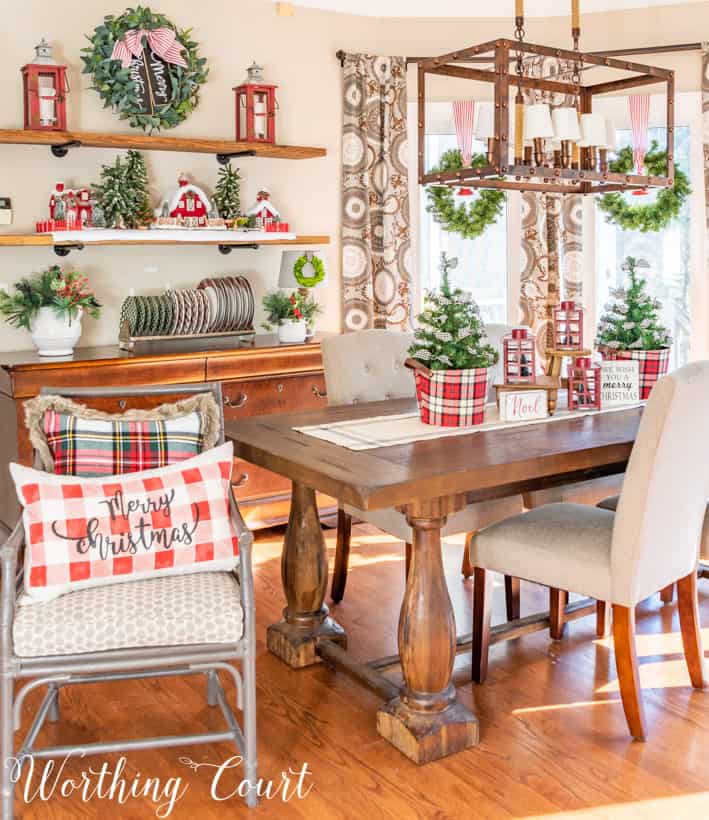 Pin
Before we go any further, I also want to welcome you to the Celebrate Christmas bloghop hosted by my friend Leen at Sand Dollar Lane.  Leen has put together a fantastic group of over 25 of your favorite bloggers sharing home tours, diy gift ideas and tables and centerpieces!

If you're coming over from Paula's house at Virginia Sweet Pea, welcome! Isn't her Christmas living room beautiful???  Take a full tour of the room HERE.  Paula is just the sweetest (yes, I actually know her!) and her home is filled with wonderful vintage treasures.  You can see the full lineup and get links to everyone else's inspiration below!
Speaking of vintage, about the only thing vintage in my breakfast room is the bedroom dresser turned sideboard that I picked up at Salvation Army not too long after we completed our whole house remodel.  It was one of those pieces that I had to stand guard over until they could get it loaded in my car!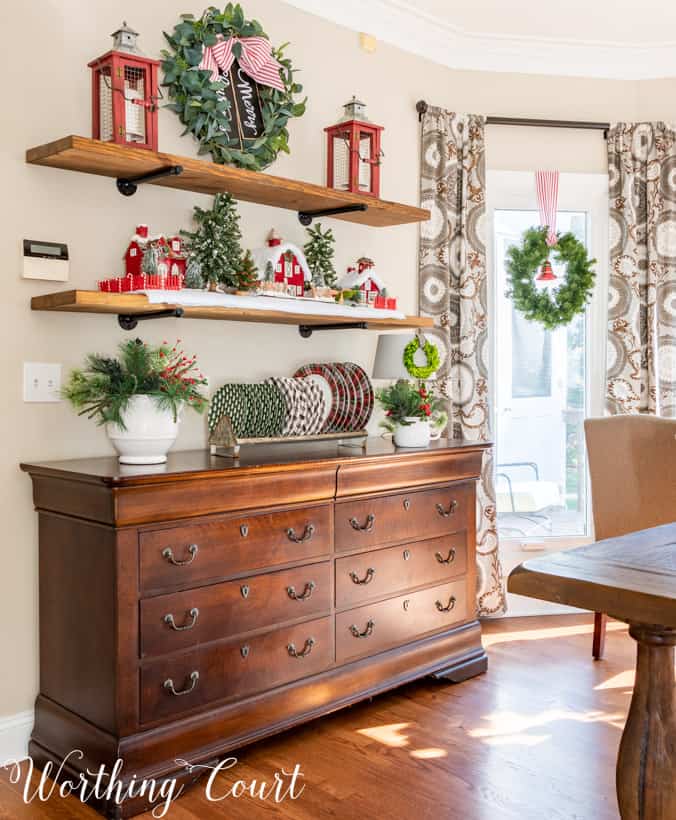 Pin
The diy shelves that I added above it are one of my favorite things in our breakfast room.  I have so much fun changing up the decor for every single season and holiday!
Sometimes coming up with something new several times a year can be a challenge, but this year, the decorations on my shelves was inspired by the cheery red Christmas houses that I had wired into my Christmas tree last year.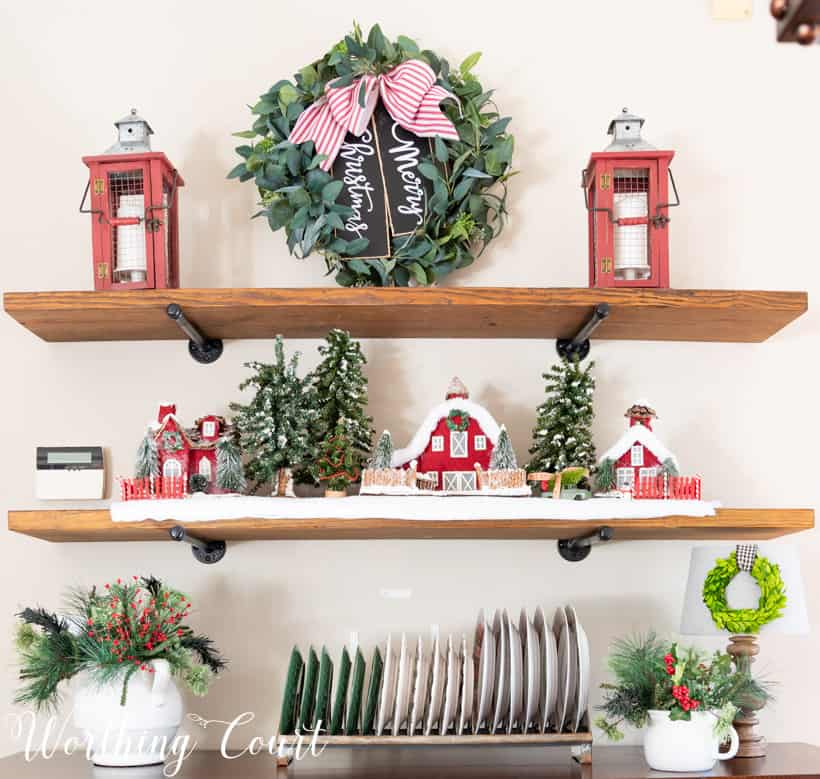 Pin
A piece of regular ole drapery interlining acts a blanket of fresh snow for my little pretend village.  Then I simply filled in around the houses with a few mini trees and a little truck holding a Christmas tree.  So stinkin' cute!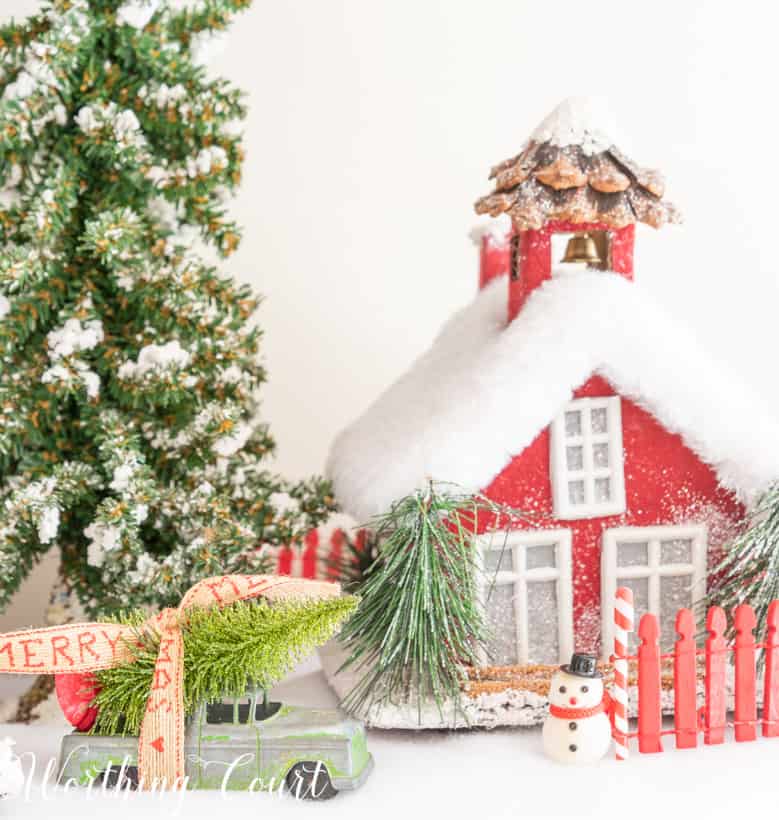 Pin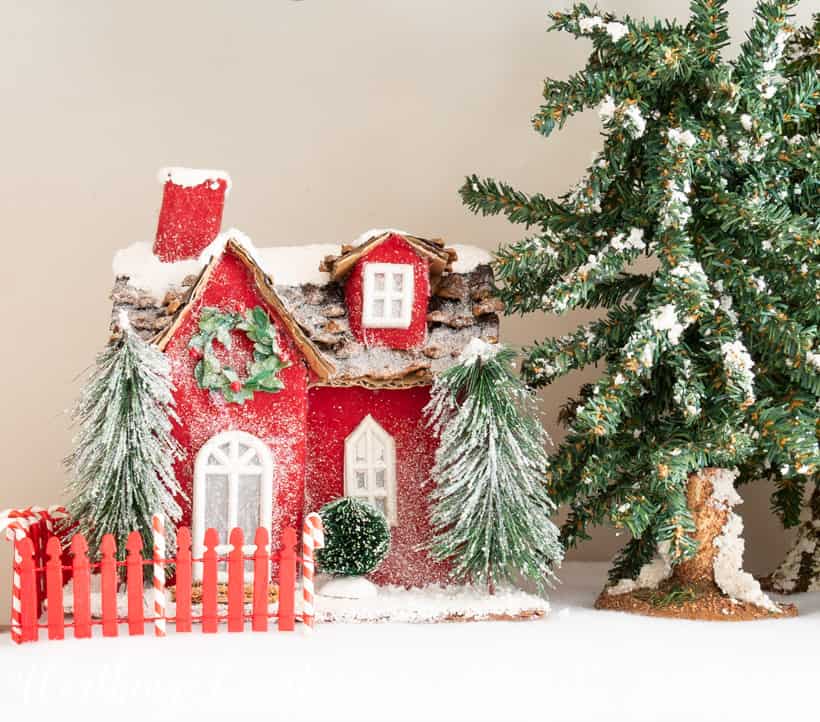 Pin
The top of the shelves are graced with a eucalyptus wreath that I attached a Merry Christmas sign to and a bow made of the same red striped Christmas ribbon that I used on my Christmas tree this year.  Wish I had more of that Christmas ribbon because I used it everywhere!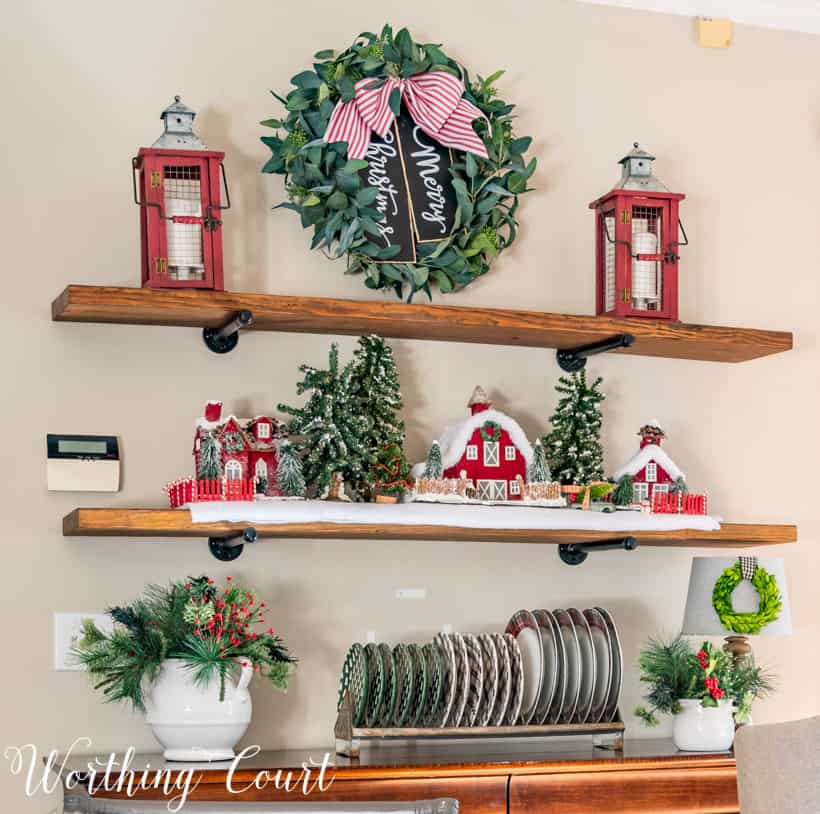 Pin
The top of the sideboard holds a new plate rack that I ordered recently and is filled with some of my favorite Christmas dishes, especially the Christmas plaid ones.  You can find a link to the rack in my Favorite Home Decor Amazon Shop by clicking HERE.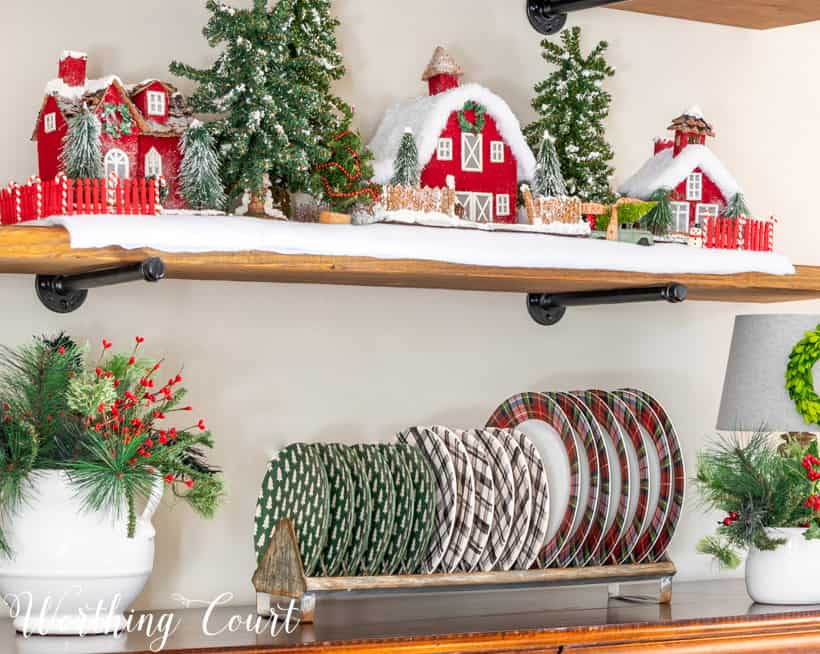 Pin
By the way, if you visit my Amazon storefront, you might want to take a peek around.  I have shops for my Favorite Christmas Finds, Favorite Christmas Entertaining Finds and even one for Christmas Storage Finds.  Click HERE to go shopping!
The Christas centerpiece on my table is a reflection of all the colors that I used on my open shelves.  I introduced yet another plaid Christmas pattern with the flannel covered buckets that are holding the mini Christmas trees.  I love to mix patterns! The trees themselves have another pop of pattern with black and white gingham checked ribbon that I tied to the branches.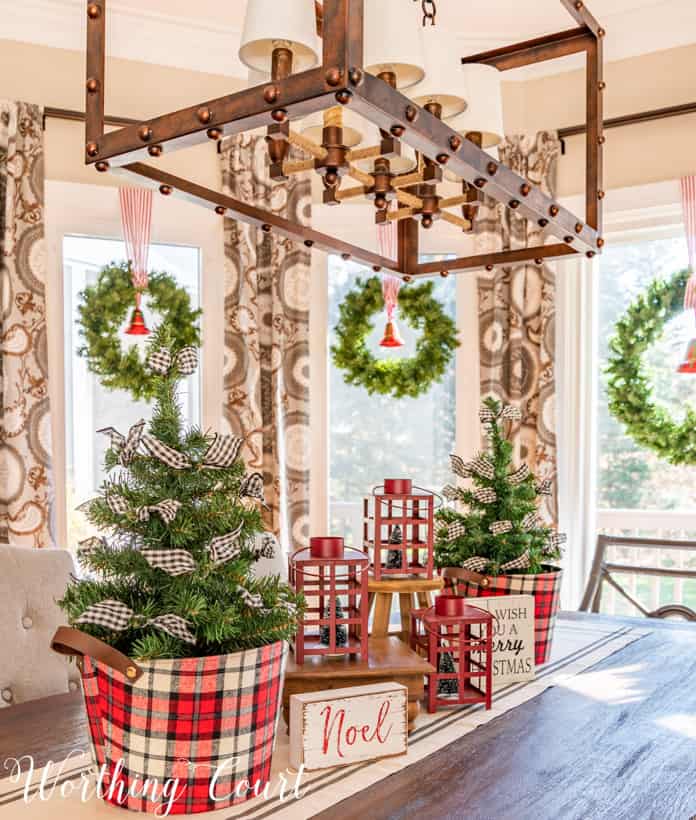 Pin
Small lanterns on risers are filled with tiny boxwood trees instead of candles and cute little stand-up signs complete the centerpiece.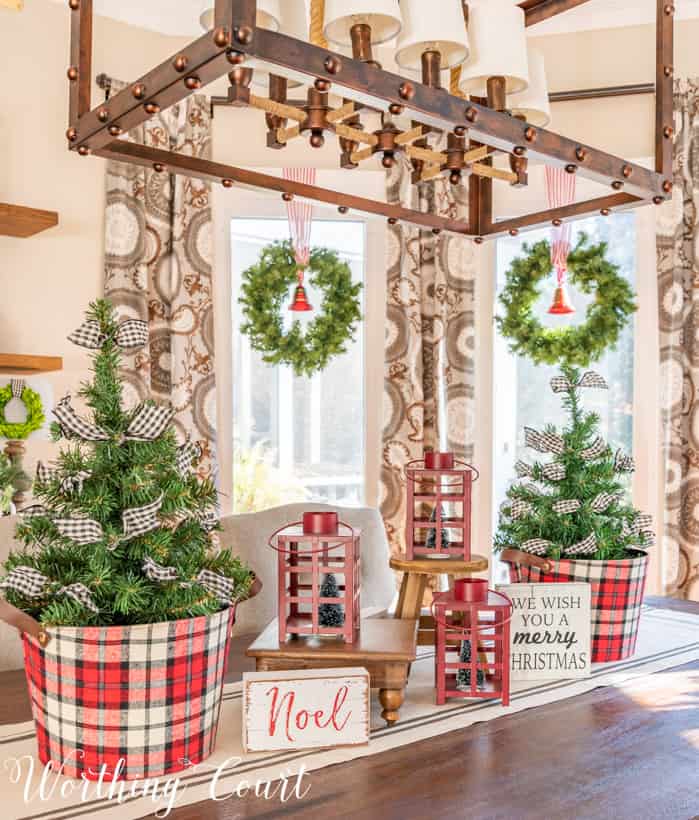 Pin
To finish the room off, I added a holiday wreath in each of the windows in the bay area.  I attached them to the window frame with more of that awesome red and white striped ribbon and added a cute little plaid Christmas bell to the center of each one.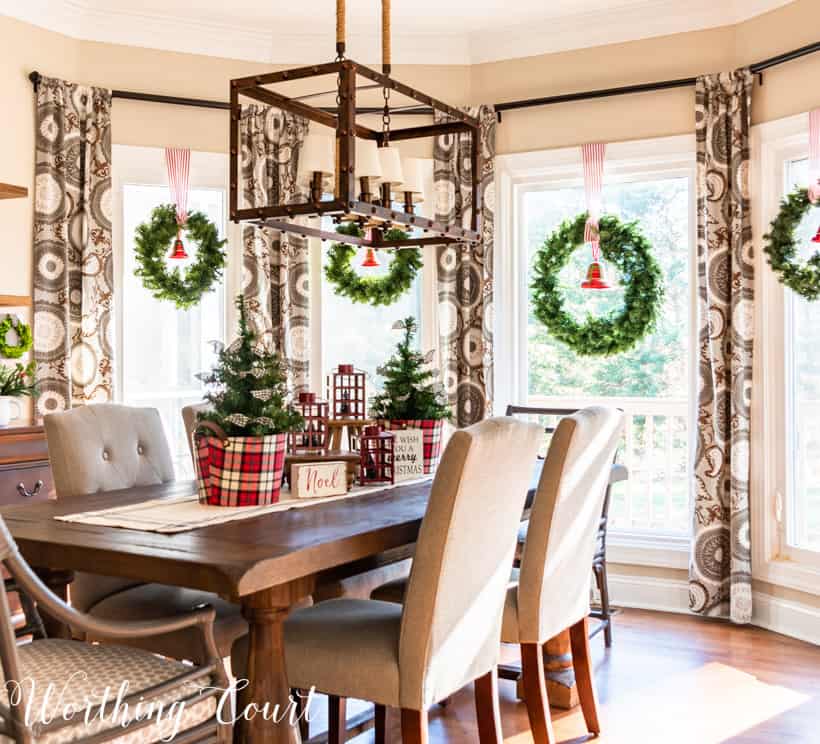 Pin
I hope you enjoyed this little tour of my breakfast room filled with some of my favorite plaid Christmas decor!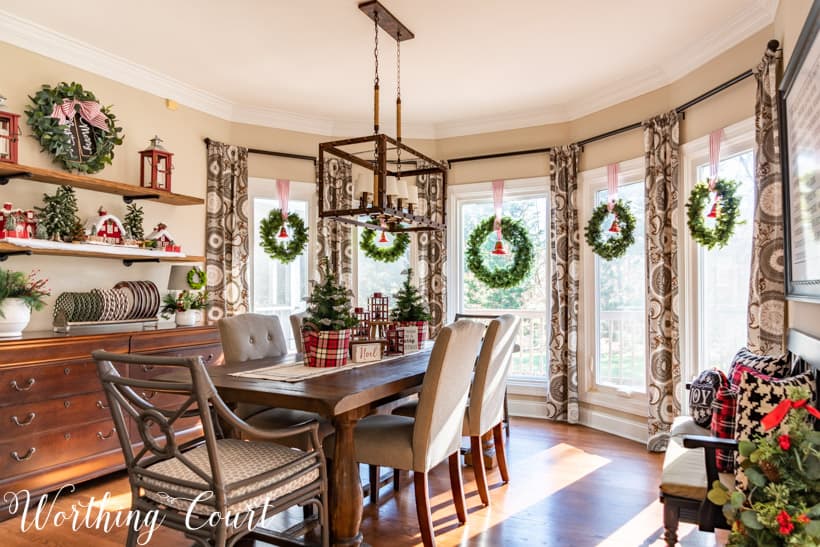 Pin
Now head over to my friend Amy's house at Atta Girl Says (yes, we're really friends!) to take a Christmas tour of her home.  Click HERE to see her gorgeous home!


Pin

Pin
Sand Dollar Lane  //  Aratari at Home  //  Postcards From the Ridge  //  Sweet Pea

Pin
Worthing Court  //  Atta Girl Says  //  Sonya Burgess  //  Kippi at Home

Pin
White Arrows Home  //  Cribbs Style  //  Dabbling & Decorating  //  One House 2 Barns

Pin
My Family Thyme  //  The February Fox  //  A Life Unfolding

Pin

Pin
My Wee Abode  //  The Tattered Pew  //  Thistlewood Farms

Pin
Artsy Chicks Rule  //  2 Bees in a Pod  //  Zucchini Sisters (not shown)  //  The Little by Little Home

Pin

Pin
The French Blue Cottage  //  Elizabeth Joan Designs  //  Joy in Our Home

Pin