Principles Of Interior Design Week 1:Unity, Harmony And Balance
As you're about to learn, there are many time tested elements that make up the principles of interior design. Today, we're going to focus on the principle of unity, harmony and balance.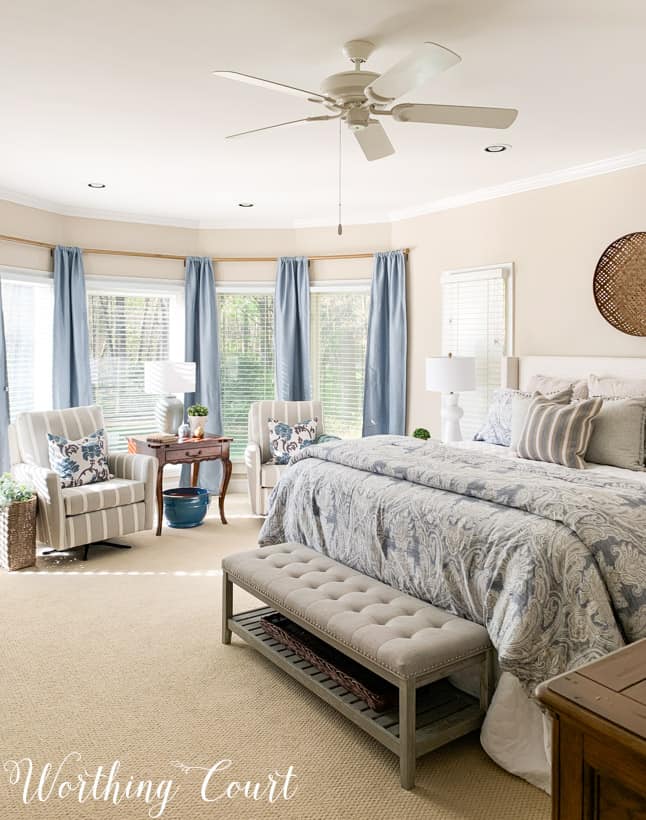 Pin
This post and photos may contain Amazon or other affiliate links. As an Amazon Associate I earn from qualifying purchases. If you purchase something through any link, I may receive a small commission, at no extra charge to you. All opinions are my own. See my full disclosure HERE.
First of all, you should know that there are several basic design principles that are used by every successful professional and amateur designer/decorator. This design post is the first in a series of seven. Scroll to the bottom for links to the rest of the articles.
So, what does unity, harmony and balance in design even mean? Let's dive right in! We'll use my master bedroom as an example today.
PRINCIPLE OF INTERIOR DESIGN: UNITY
Unity in interior design goes hand in hand with creating harmony and balance in your home. When designing and decorating your home, you should think of your house as whole unit, even if you are only focusing on one room at a time.
This doesn't mean that every room in your home should look exactly the same – it means that you should have a common theme and design style so that your rooms flow well together.
If you strive to follow this principle, all of the rooms in your home will be unified, will compliment one another and strengthen the overall composition of your aesthetic.
One of the easiest ways to create unity is with the use of color. For example, select three or four compatible colors and use them in varying shades throughout the rooms in your home.
This is where an Interior Design Color Wheel can be your best friend! This handy tool will help you to harmonize the colors used in all of your interior design projects.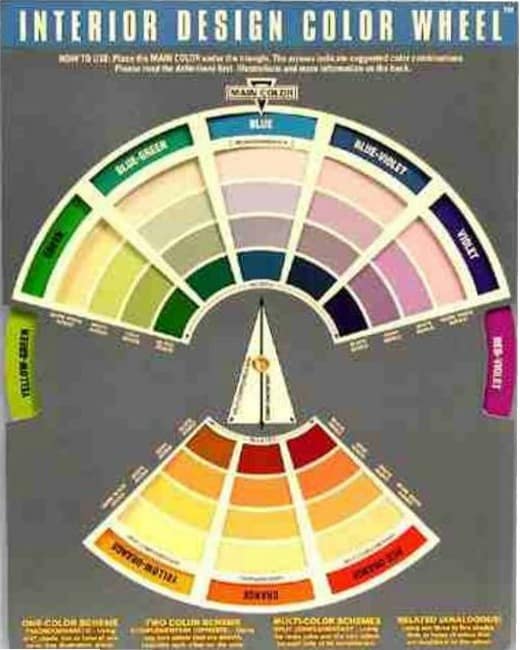 Pin
Other ways to create unity include using similar patterns and textures, repetition of elements and spacing of design objects.
PRINCIPLE OF INTERIOR DESIGN: HARMONY
It's difficult to achieve unity without harmony. These two principles actually work hand in hand when all of the elements compliment one another.
Dictionary.com defines harmony as a consistent, orderly, or pleasing arrangement of parts; congruity. To take it a step further, it means seeing how each element in the space as a whole, plays a part in the harmonious transition from one element to another.
Harmony is achieved by the repetition of colors, shapes and textures. All of these individual elements work together to create a sense of harmony in the design of a home.
FOR EXAMPLE:
In the photo below, the principles of harmony and unity are seen in several ways. Notice that the colors and soft shades of blues and grays in the draperies, pillows, bedding, artwork and accessories and the warm tones in the wall color, the chest of drawers and details on the accessories are carried throughout the space.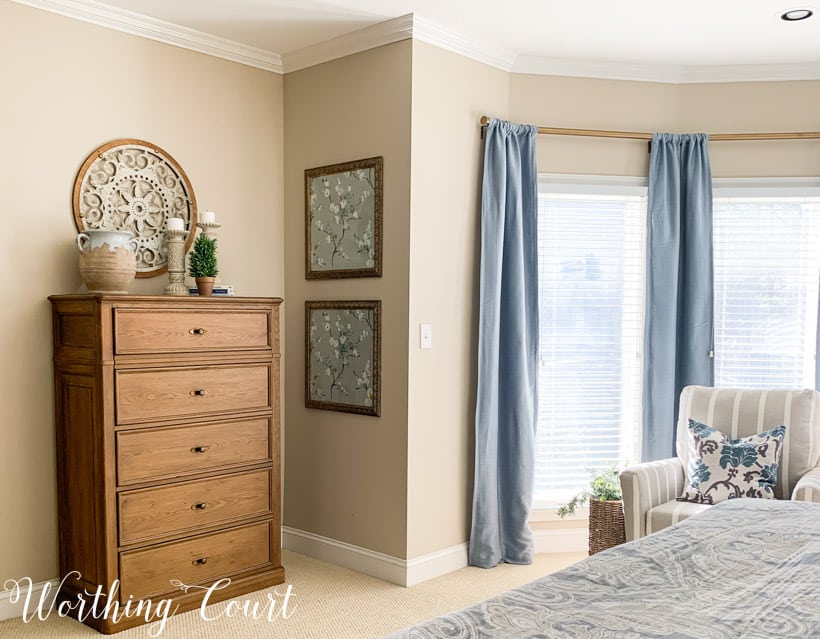 Pin
PRINCIPLE OF INTERIOR DESIGN: BALANCE
When referring to balance in interior design, it's all about the visual balance in a room. It means distributing the three types of balance, symmetrical, asymmetrical and radial, evenly throughout a space.
Symmetrical balance doesn't only mean using matching items on each side of the center.  It also means arranging elements on each side of the center in an equally weighted manner.
Asymmetrical balance is when you have unequal visual weight on each side of the center, but those two unequal visuals still balance one another.
Radial balance refers to the balance of items within a circle, such as the location of globes on a round chandelier or the arrangement of chairs around a table.
FOR EXAMPLE:
The photo below is a good example of symmetrical balance. Notice the matching nightstands, white lamps and art on each side of the bed and also the symmetrical arrangement of the throw pillows on the bed.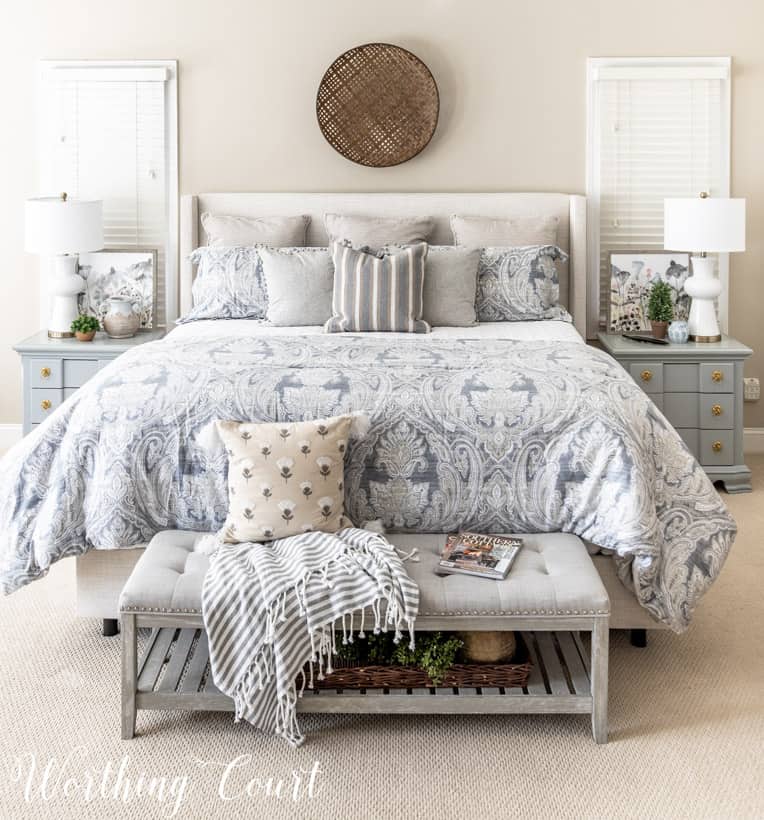 Pin
The interior design principles of unity, harmony and balance make up just one of the necessary building blocks for successfully designed spaces.
I'll leave you with one final thought: don't be too rigid when applying these decorating "rules" in your home. Play around and be creative! That's how you'll truly create a home that you'll love.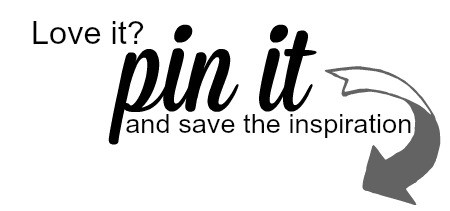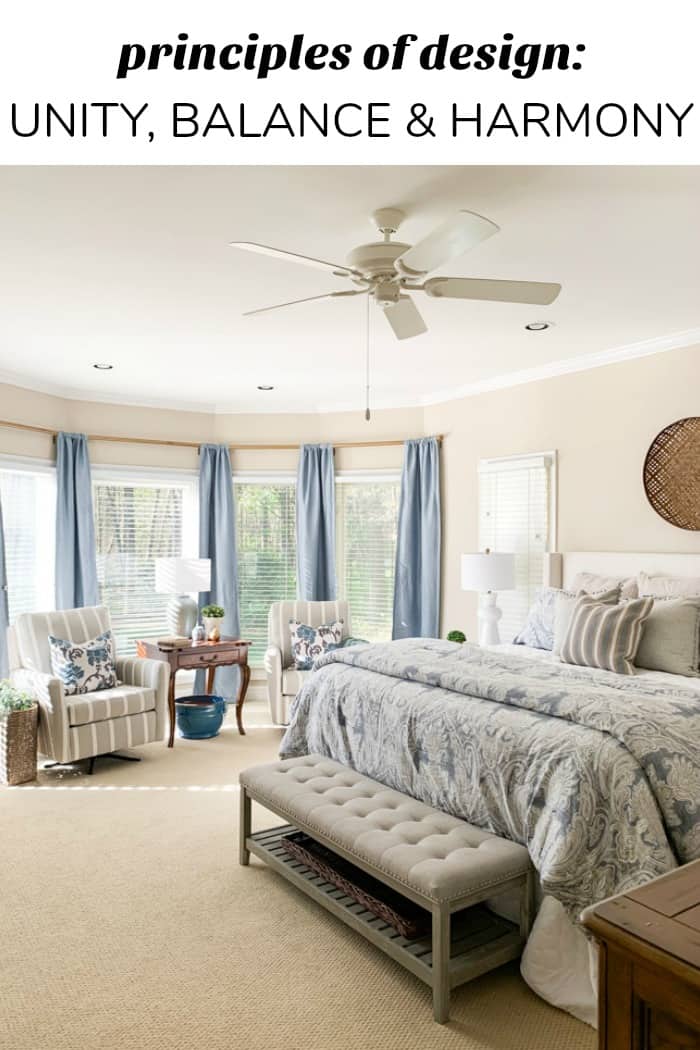 Pin
HERE ARE LINKS TO THE REST OF THE SERIES:
WEEK 1: PRINCIPLE OF UNITY IN DESIGN
WEEK 2: THE PRINCIPLE OF EMPHASIS & FOCUS
WEEK 3: THE PRINCIPLE OF CONTRAST
WEEK 4: THE PRINCIPLE OF DESIGN, RHYTHM & MOVEMENT
WEEK 5: THE PRINCIPLE OF SCALE & PROPORTION
WEEK 6: THE PRINCIPLE OF USING NEGATIVE SPACE