An Urban Farmhouse Holiday Home Tour
I invite you all to take a tour of my urban farmhouse holiday home tour!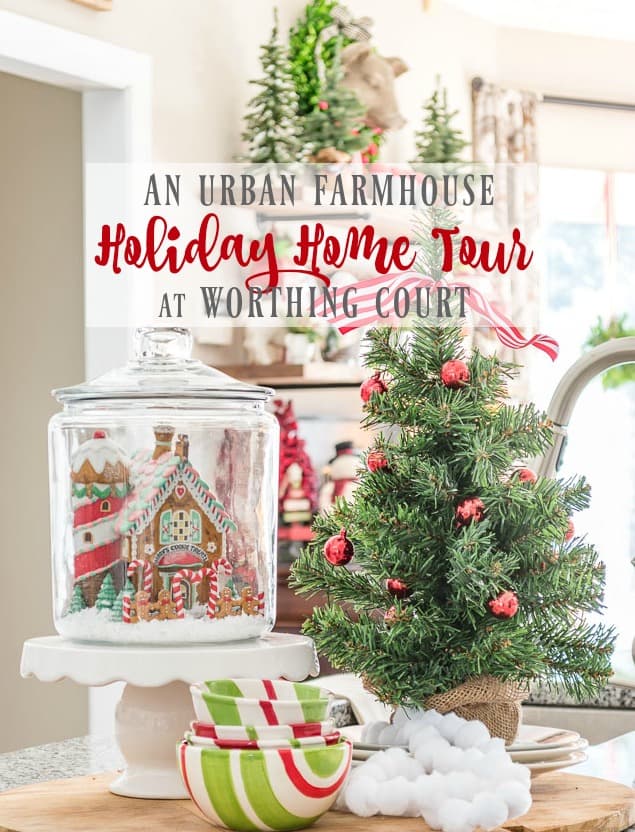 I've been eagerly awaiting this day for weeks and today is my day!  Worthing Court has come alive for Christmas and I'm honored to be joining some of your favorite bloggers for the 2016 Holiday Home Tour hosted by Chloe from Celebrate & Decorate.  There are house tours lined up for everyday this week, so be sure to scroll to the bottom for the links to the other blogger homes.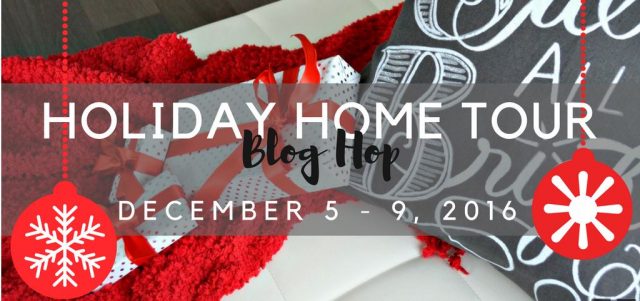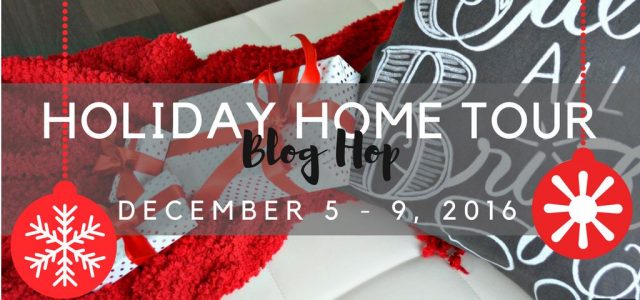 I've already shared several areas of my home all decked out for Christmas, but today I get to share everything all in one place!  Plus, I'll give you some peeks into my kitchen and foyer.  After the years of my Tuscan phase, I had pretty much banned red from my home.  What was I thinking???  I love red, especially at Christmas.  You'll see that I've welcomed it back with open arms this Christmas!
Christmas Home Tour
Let's start at the beginning – the front porch of my house.  We have a deep and wide front porch, which is a blessing here in the south, but all that space can make it a bit difficult to decorate.  After purchasing our dated, twenty year old home, two years ago and completely remodeling the interior, this is the first year that I've gone all out on my porch for Christmas.  What fun it has been to see the reactions of our guests as they arrive at Worthing Court!  Click HERE to take a full tour of the porch.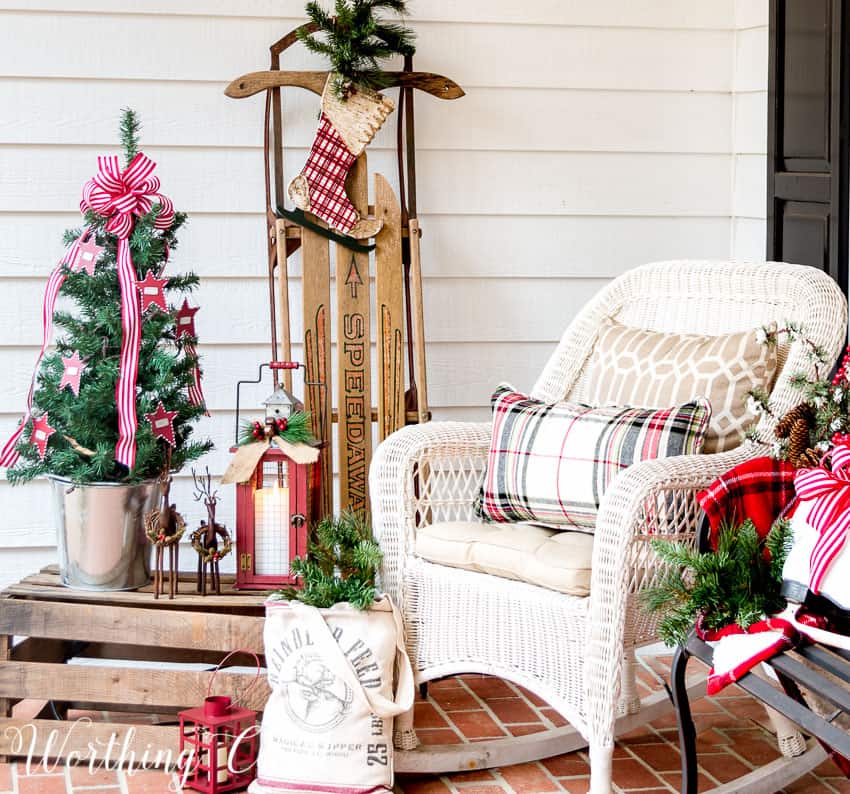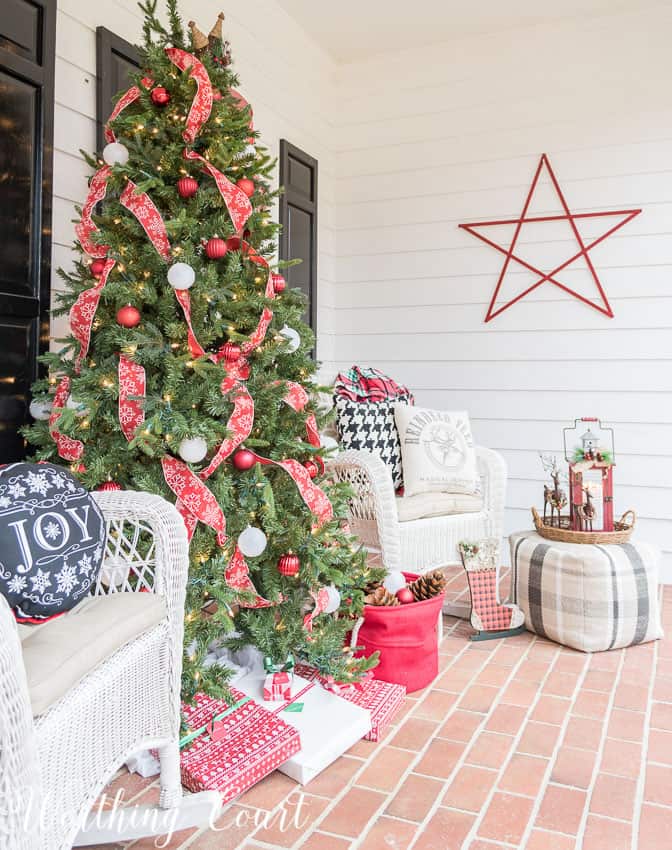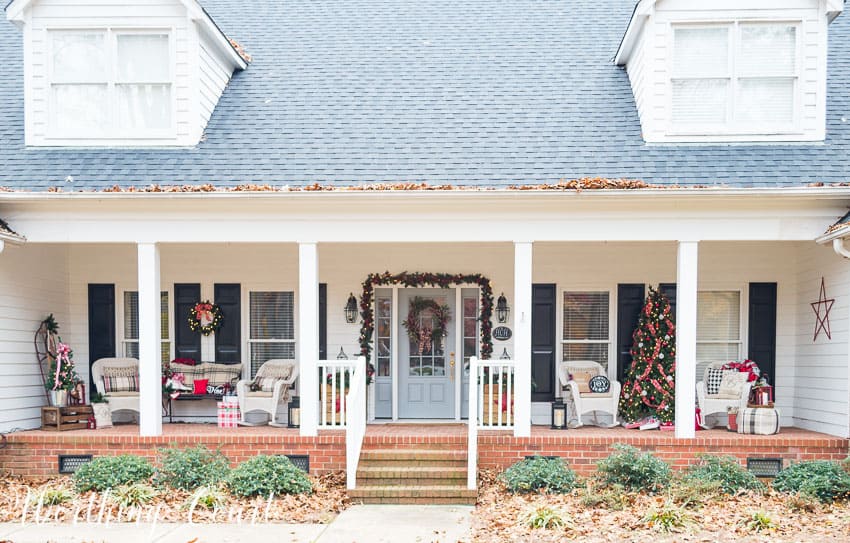 Come on in through the front door into our foyer.  I can only give you a sneak peek of it today because I have a commitment for a full Christmas foyer reveal on Monday.  I'll hope you'll come back for a visit then!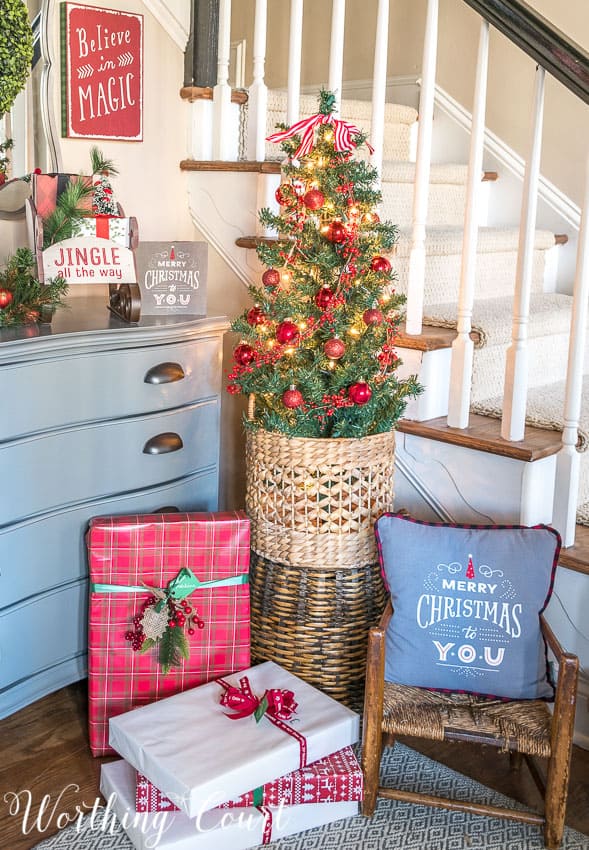 From the foyer, let's go into the holiday decorated family room.  This is where all the action will be when we hold our annual Christmas gathering at our house.  I used a lot of tartan plaid ribbon on the tree and mantel, but it's the festive red and white checked ribbon that I think really brings the tree to life!  Click HERE to take the full tour of my cozy Christmas family room.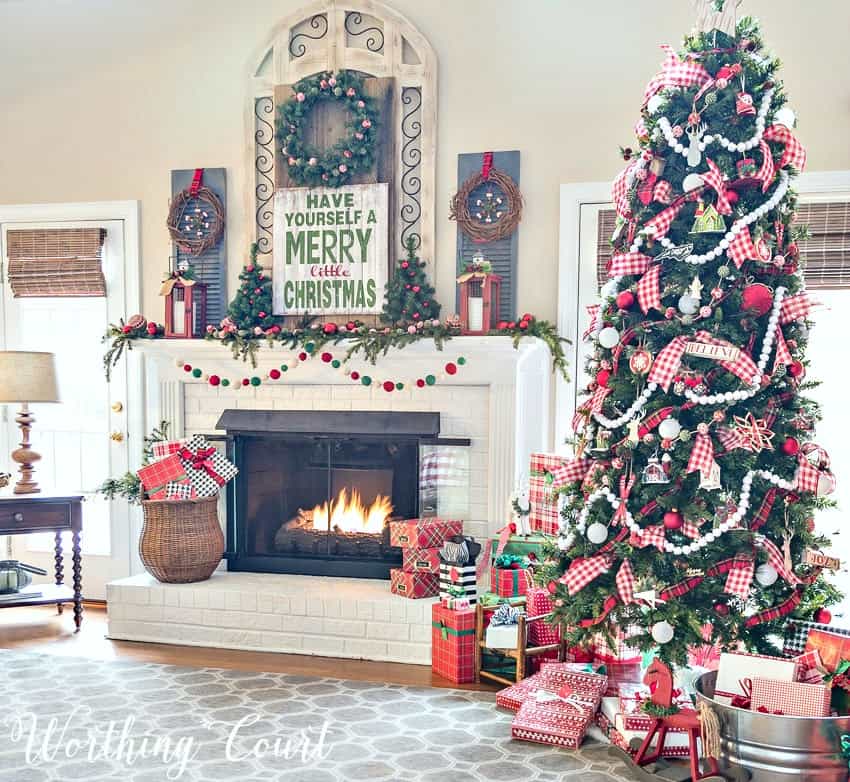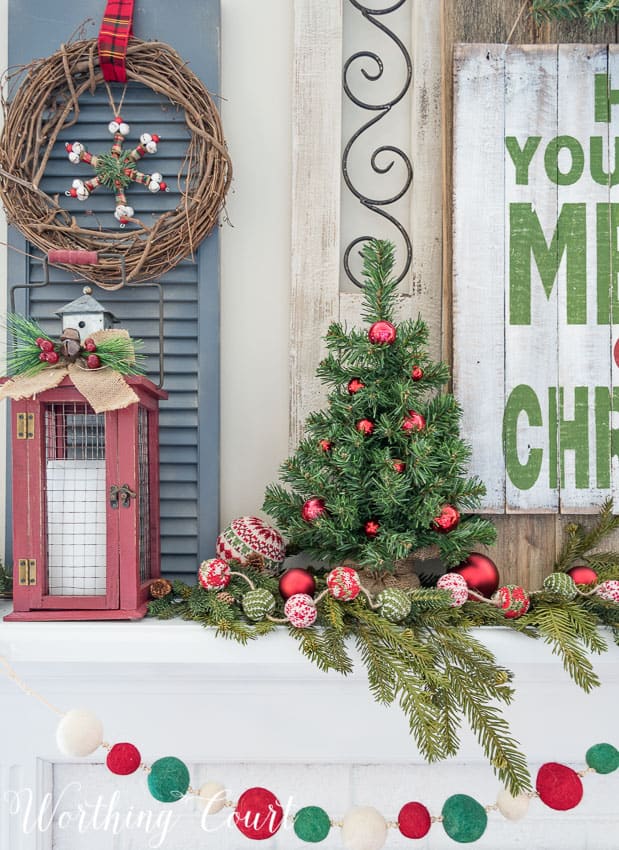 I always get so excited to see my children and grandchildren open their gifts every year!  This year I used a variety of red, white and green wrapping paper and ribbon to create festive packages.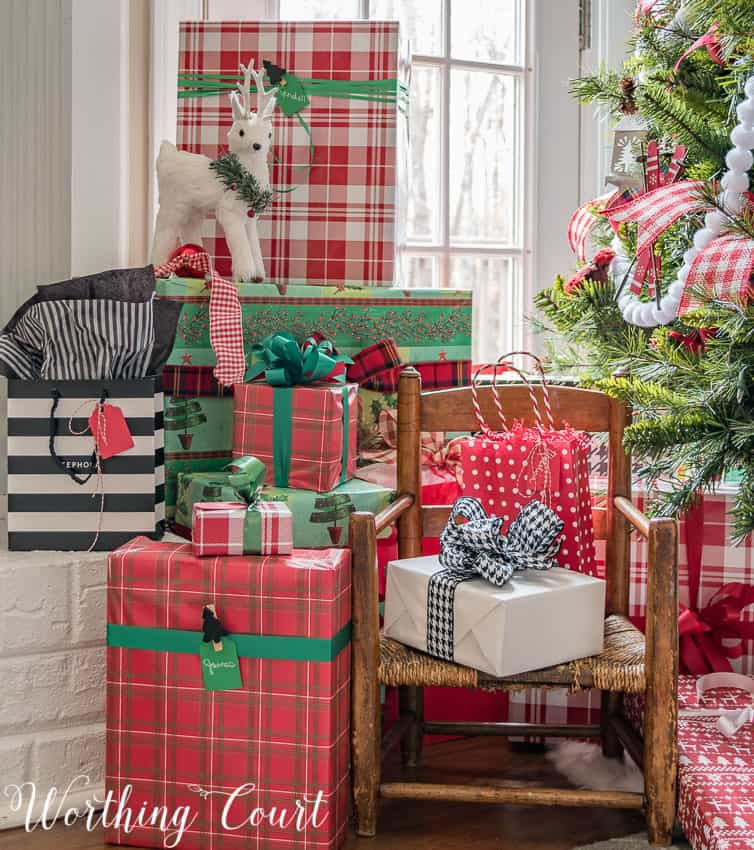 I literally threw together this vignette on the coffee table in about ten minutes!  And my diy rustic ladder got all dressed up for the holiday too.  Find out how I built the easy-peasy rustic ladder for under $20 HERE.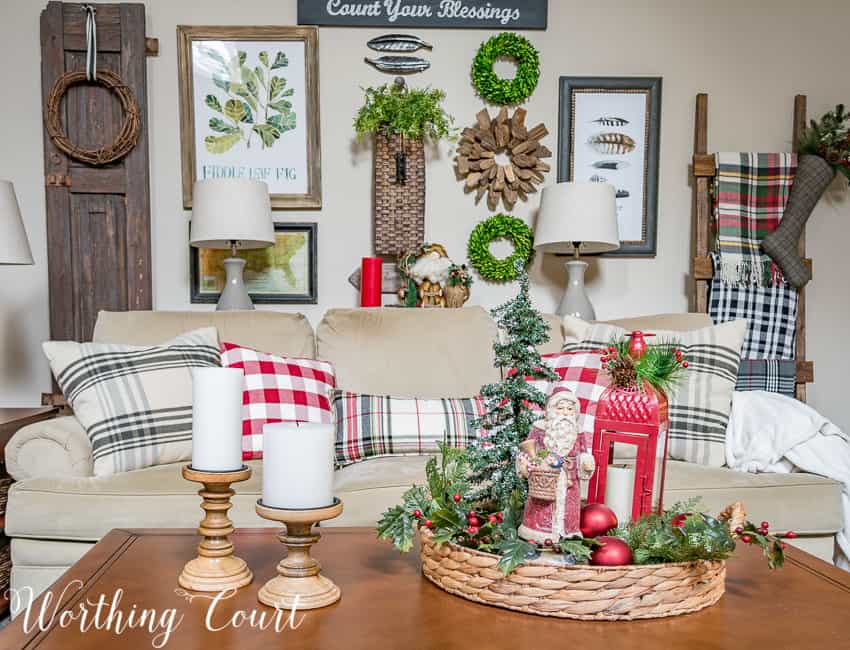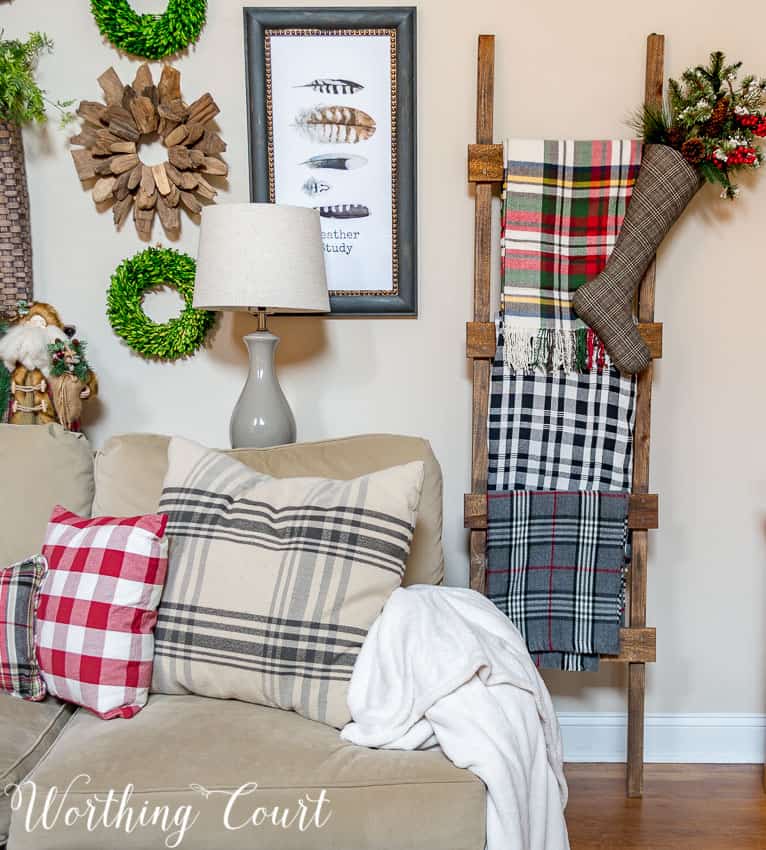 Let's move on into the breakfast nook.  These farmhouse open shelves, above my sideboard, are where the Christmas decorating really started this year.  I found the plaid plates on clearance a few months ago and knew that they would take center stage and be the inspiration for all of my Christmas decor!  BTW – you can take the full tour of the breakfast nook HERE.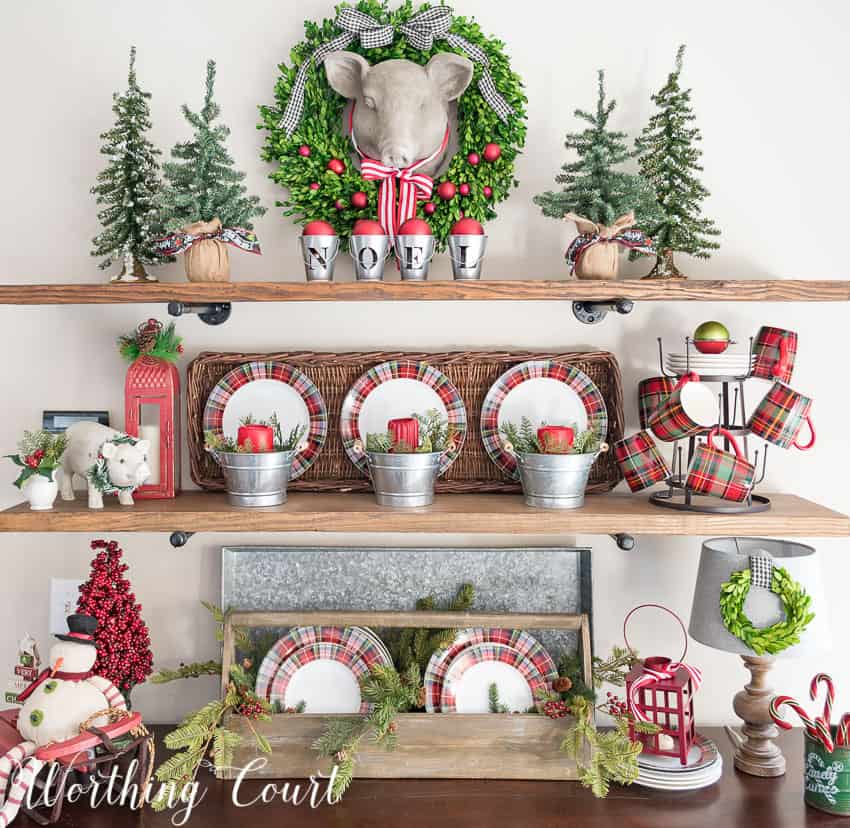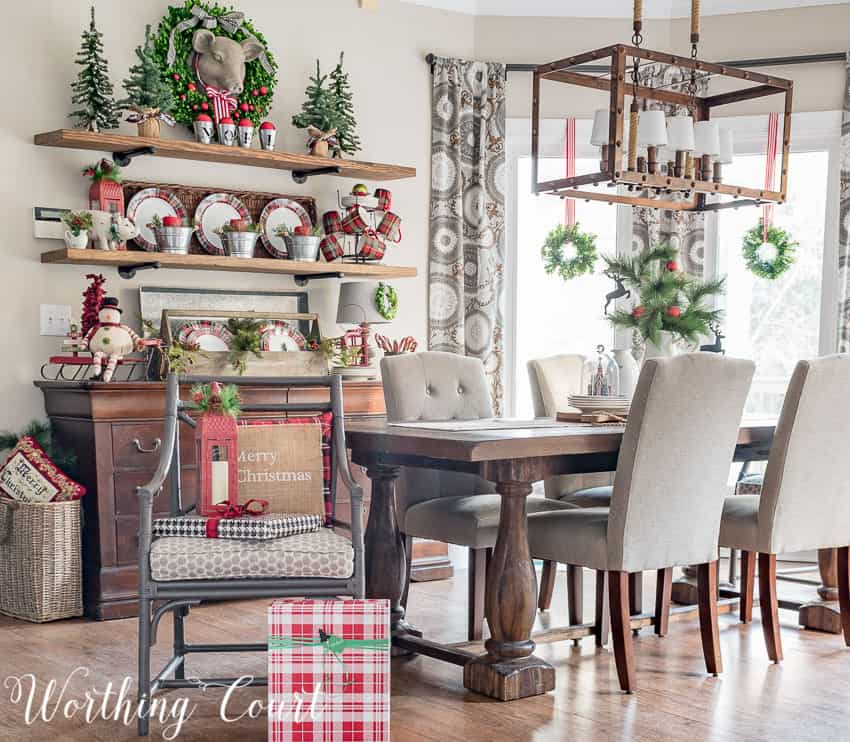 My kitchen is one long room, with the breakfast nook at one end and the actual kitchen part at the other.  I haven't posted my full Christmas kitchen tour yet, so I'll be giving you a few sneak peeks today.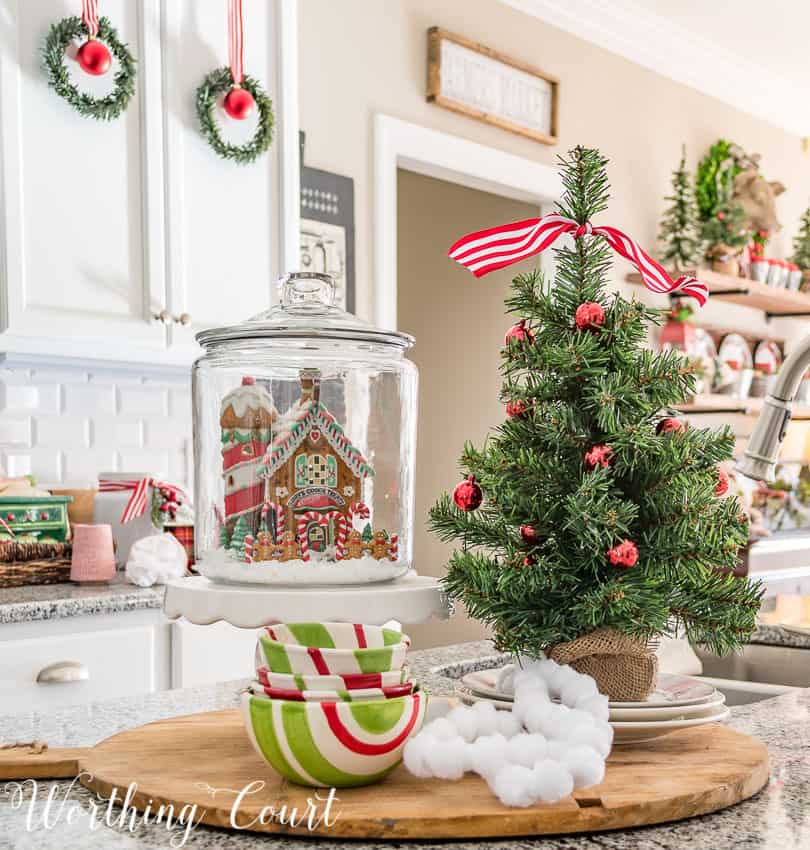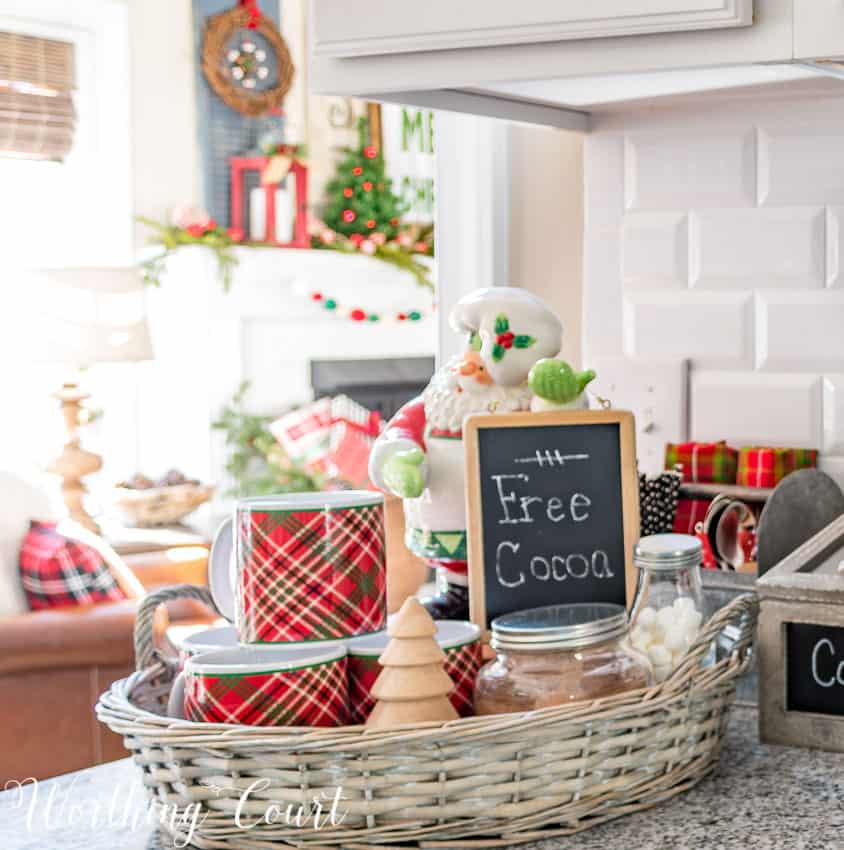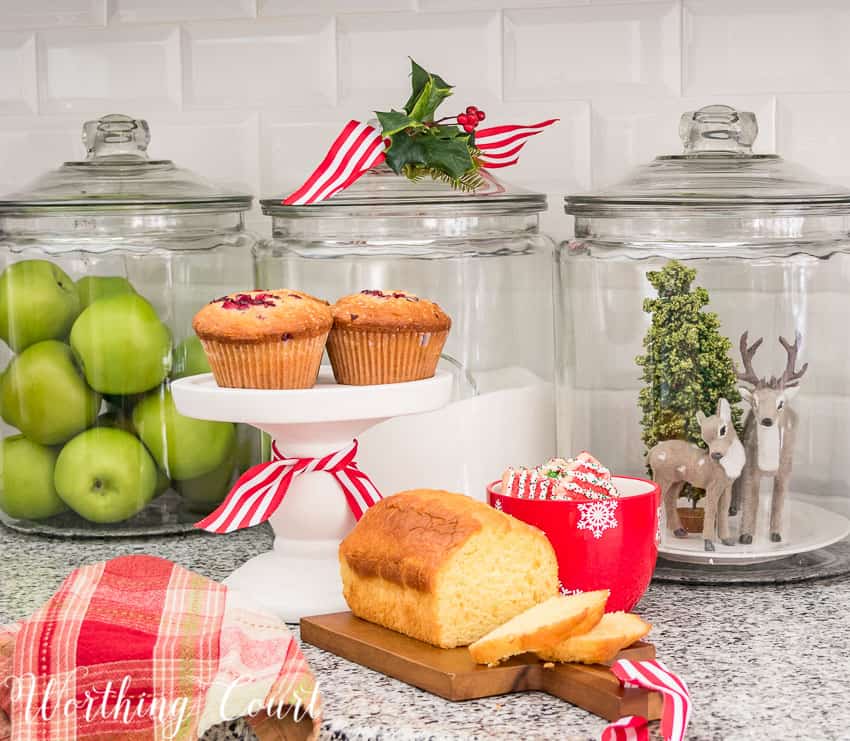 I'll end this year's Christmas tour with the dining room because it is soooo different from the rest of the house!  I feel like the dining room should be dressed a little more special for Christmas, since that's where our formal Christmas meals will be served. The dining room is rustic-glam all the way!  Click HERE to take the full Christmas dining room tour.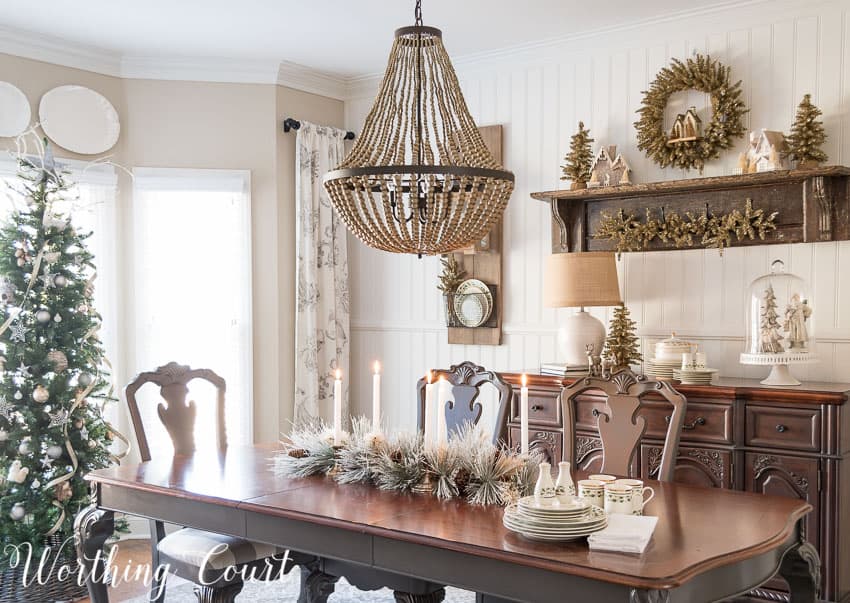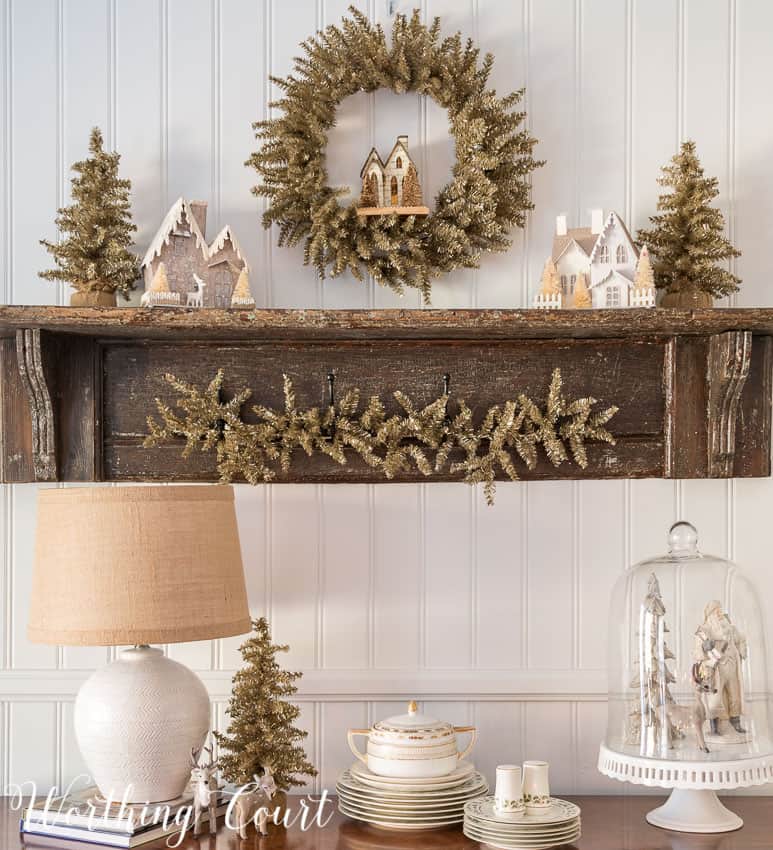 Thank you so much for dropping by for a Christmas visit at Worthing Court today!  If you haven't already, I invite you to sign up for my daily newsletter.  Join me as I work my way through my house to put the finishing touches on the complete interior remodel that we did. You'll have access to special tips from me that no one else gets.  Plus – you'll know right away when my latest monthly Reader Appreciation Giveaway goes live!  You can read all about this month's giveaway for a $100 Visa Gift Card by clicking HERE.
Make sure to check out each and every one of the other blogger Christmas homes!
Monday
Everyday Living | Rustic – Refined | Bluesky Kitchen
Tuesday
Rattlebridge Farm | Starfish Cottage | My Kentucky Living
Wednesday
Cozi Nest | Belle Blue Interiors | A Toile Tale | Dining Delight
Thursday
Worthing Court | Ramblings of a Southern Girl | The Painted Apron | Rosemary & Thyme
Friday
Sharing at THESE great parties!