Why You Should Be Decorating With Trays And How To Do It
Find out why trays are the ultimate home decorators weapon.  Whether decorating the dining room table or a side table or any other spot, trays are one of the most versatile weapons in your home decor arsenal.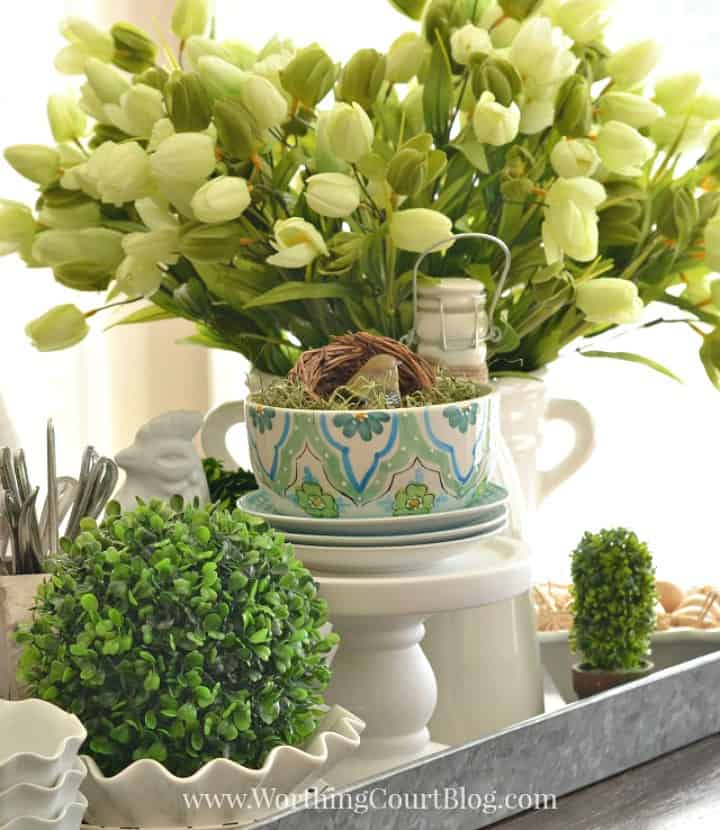 Pin
Did you know that trays can be your bff in the world of home decor?   I can't get enough of them and you'll usually find one in most any photo of my home.  I guess you could say that I'm a tray collector and have them in a variety of materials, sizes and shapes to use throughout our house.  Check out some of my favorite tips for decorating with this functional and flexible decor staple.
SMALL TRAYS MATTER
Don't think that you should only collect large trays.  I have quite a collection of small ones too and their small size makes them perfect for corralling a few decor items together to brighten a spot where a large tray just won't work.  An added bonus – using a tray on a stool like this one turns it into a side table of sorts, so that someone could actually use it as a place for a drink when sitting on that end of the sofa.  See the rest of my summer decorations HERE.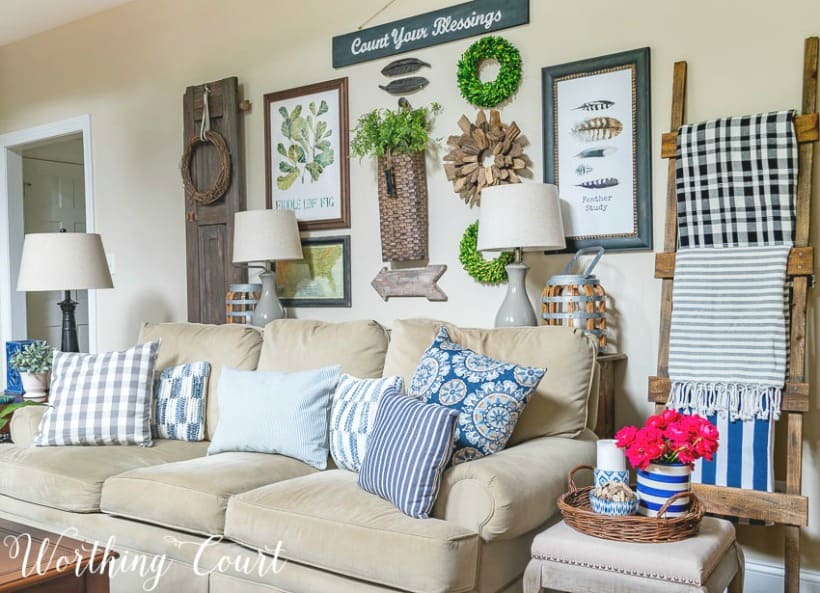 Pin
TRAYS MAKE THE PERFECT BASE
OK – this technically isn't a tray – it's a breadboard, but it became a tray when I used it to serve as the base for a centerpiece on my kitchen table.  Nine times out of ten, you'll find me using a tray to serve as the base of any centerpiece that I put together – it might be an actual tray, a breadboard or maybe just a table runner.
Centerpiece Or Vignette
Any centerpiece or vignette always has more presence and looks more 'important' and cohesive when the components are grouped together on a base of some kind.  If you're unsure of how to create a unique centerpiece like this one, you can find step-by-step directions HERE.  You'll be able to pull items from your home decor stash and apply the same principals explained in the tutorial for your own table.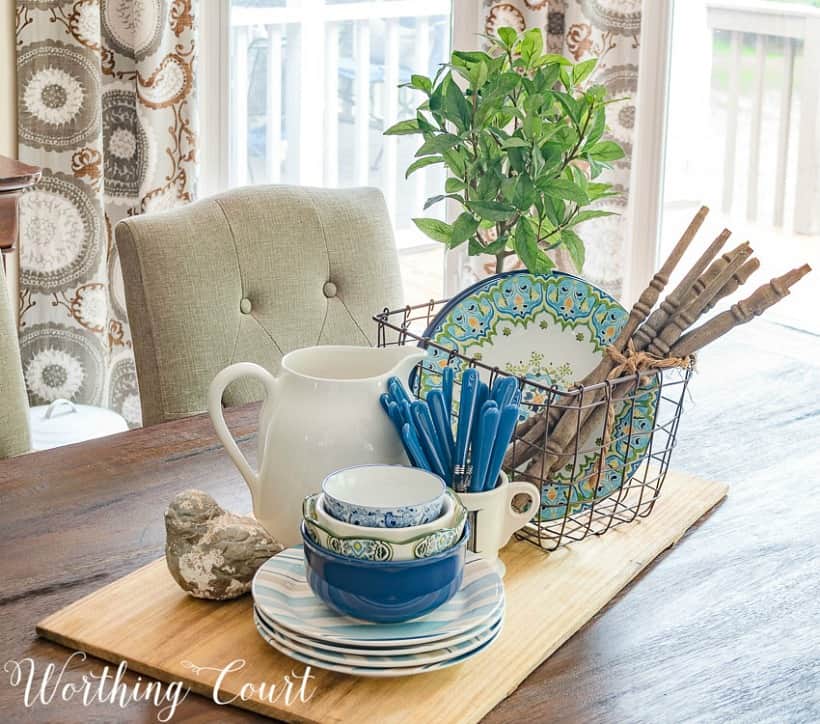 Pin
DON'T ONLY THINK SMALL
Because it's confined, it's easy to think that you should only include small pieces within a vignette for a tray.  I say pooey on that!  Now of course it depends upon how large your tray is, but using substantial pieces grouped together looks great and makes a more noticeable statement than if you only used several small items.
Just be sure to vary the height and shape of the pieces that you use.  And remember the rule of three's – whenever you create a vignette, you should always include at least three items.  It's true that things arranged in groups of odd numbers are more appealing and memorable.  Take a tour of the rest of my screen porch HERE.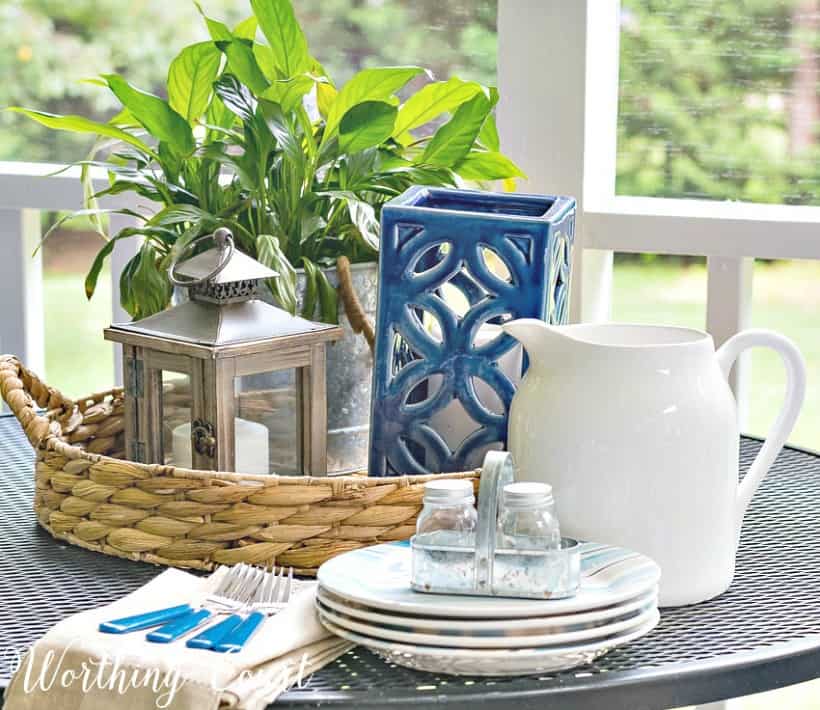 Pin
TRAYS MAKE IT SO EASY
Here are two examples of one of the easiest ways you can use a tray as part of a centerpiece.  Again, depending upon the size of your tray place three appropriately sized items together and voila! – instant centerpiece in five minutes or less.  Get more centerpiece ideas HERE.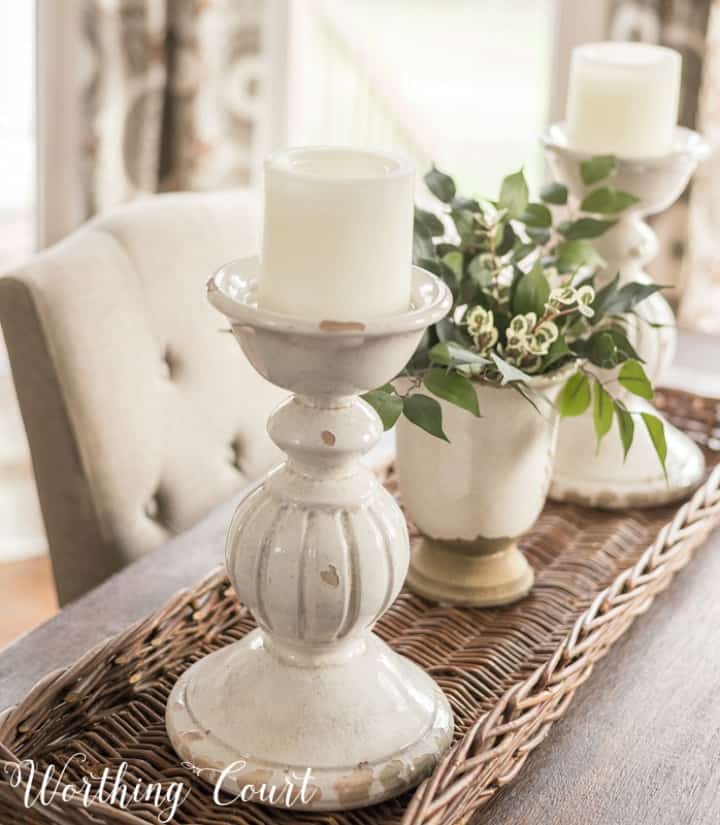 Pin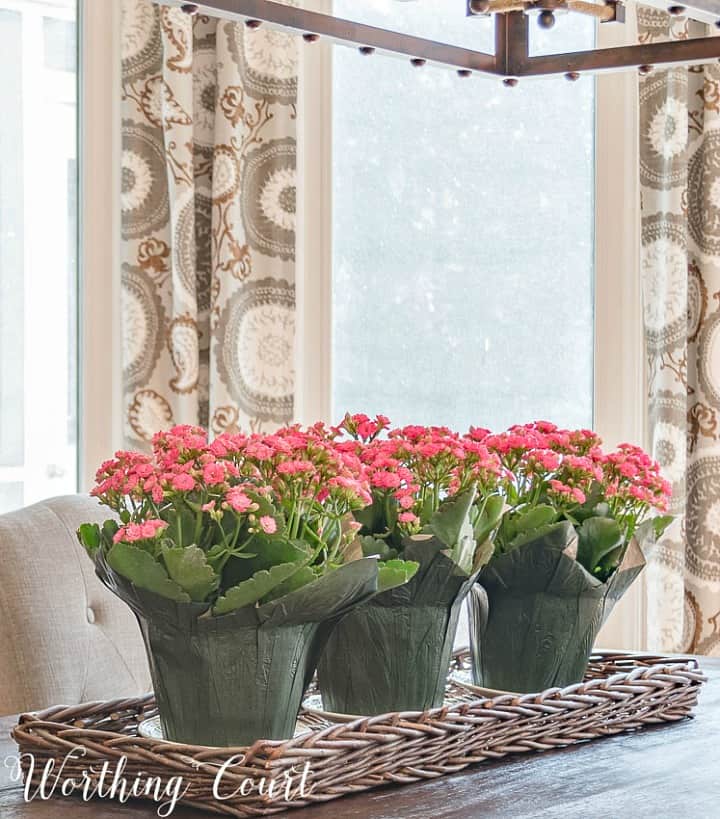 Pin
USE A TRAY TO WELCOME YOUR GUESTS
This tray placed on the bed in my guest bedroom is styled for photos, but imagine it filled with beautiful essentials for your overnight guests.  What a great place to corral special soaps, reading material, a couple of bottles of water, some chocolates and other niceties.  When putting together a guest room tray, I'd also include a little framed printout of our WIFI password.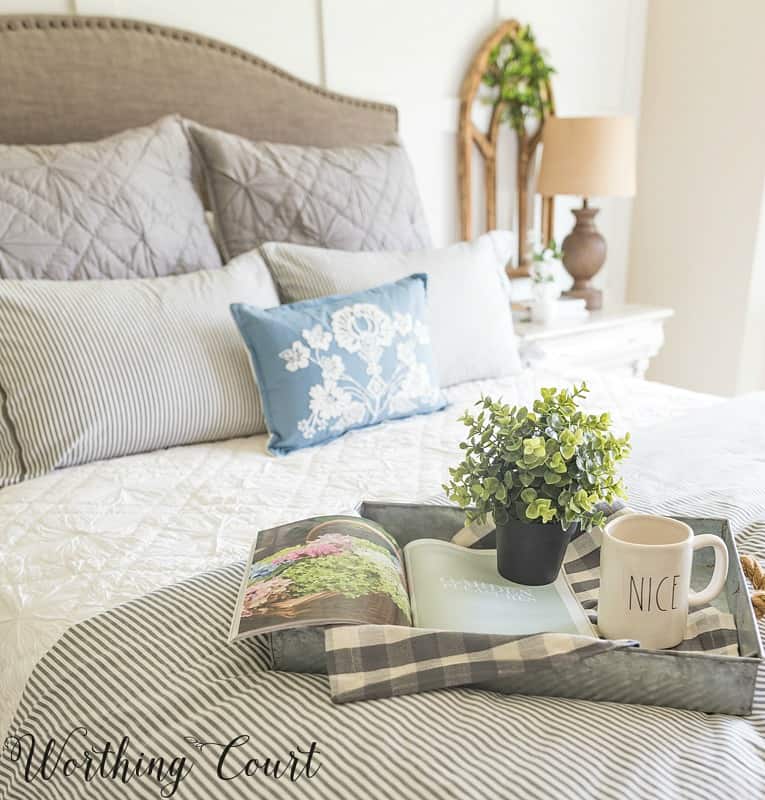 Pin
TRAYS MAKE GREAT ORGANIZERS
You can keep anything organized with the help of a decorative tray.  We've all seen specialty organizing trays for bedroom dressers, nightstands and for the inside of drawers – right?  But – try thinking about organizing in plain sight and still keeping it a part of your decor.
I use two different trays on my kitchen counters – one to hold my cutting boards and toaster and another to hold my cooking utensils and dog treats.  All items that I want at my fingertips, but look so much prettier arranged in a tray.  See the before and after of my remodeled kitchen HERE.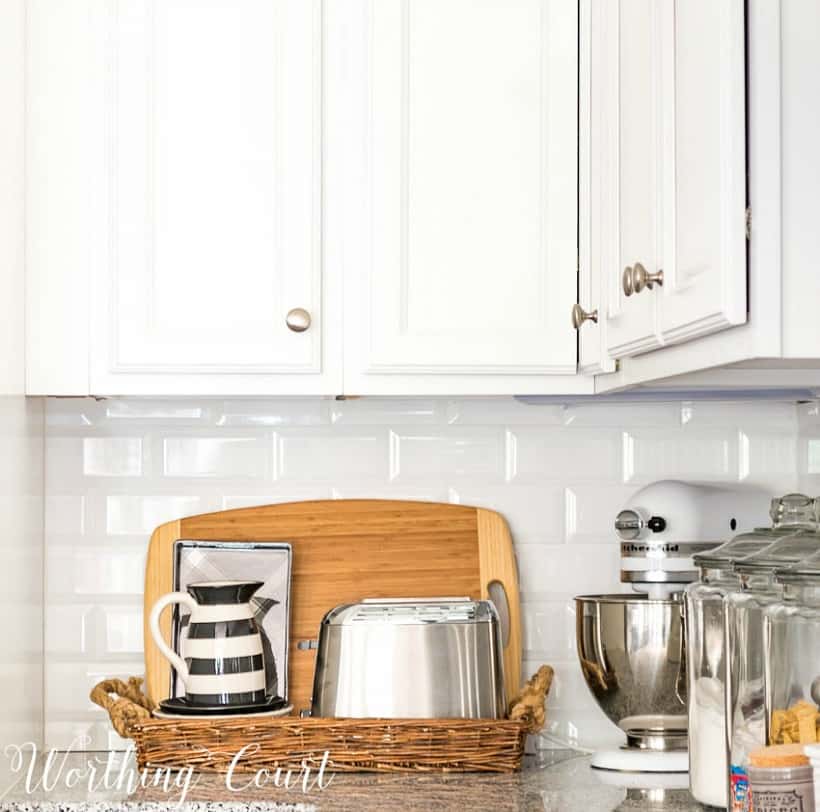 Pin
3 ELEMENTS OF THE PERFECT TRAY-SCAPE
It doesn't matter if you're using your tray as a base for a centerpiece or to create a display somewhere in your home, there are three elements that you should always include: varying heights, texture and empty space.
Varying heights add interest, texture adds depth and a bit of empty space keeps the tray from looking like it's crammed full with just a bunch of stuff.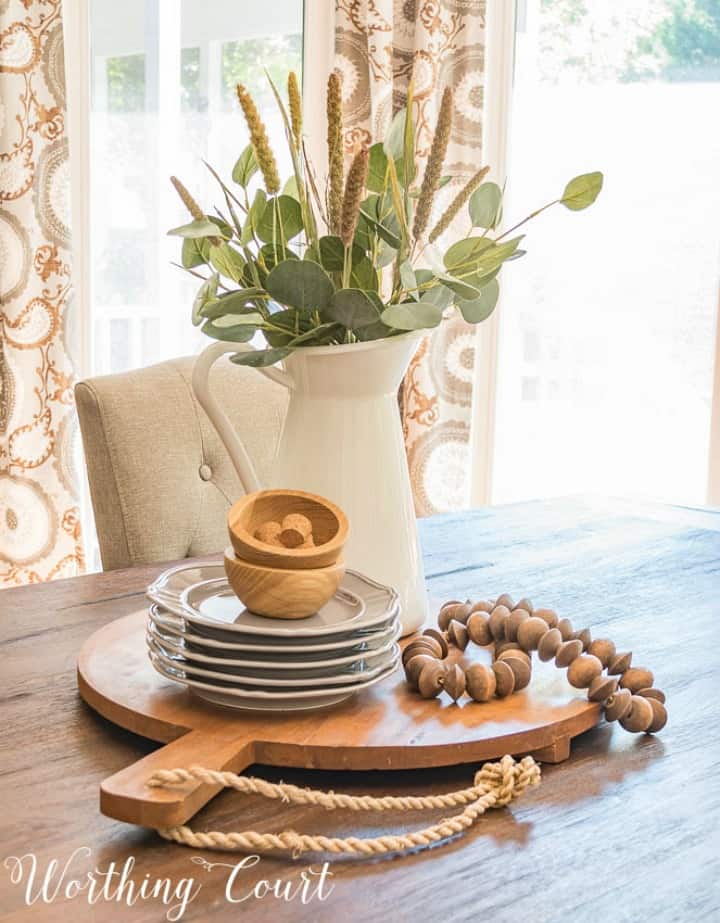 Pin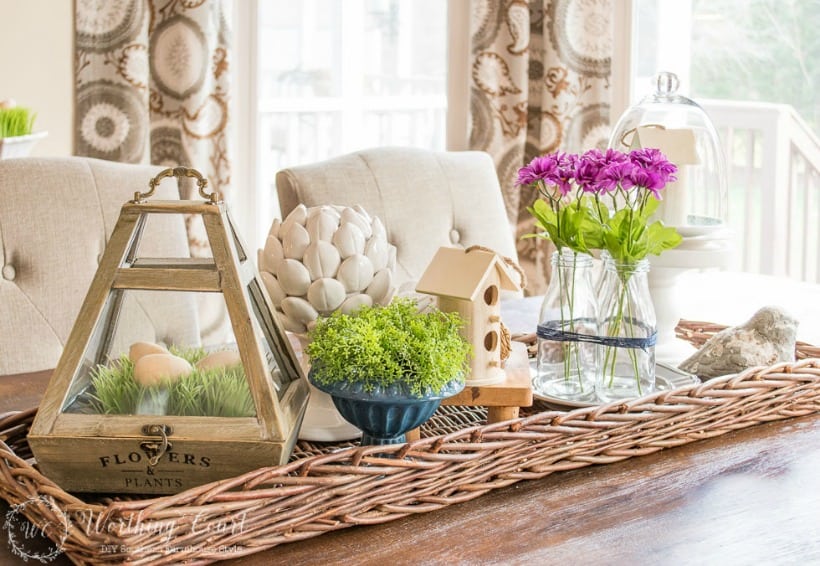 Pin
THINK OF A TOOLBOX AS A TRAY
Reproduction toolboxes are pretty easy to find in home decor stores and online and they are super versatile.  I keep one of the sideboard in my kitchen almost all of the time and just change out what I display in it, depending upon the holiday season.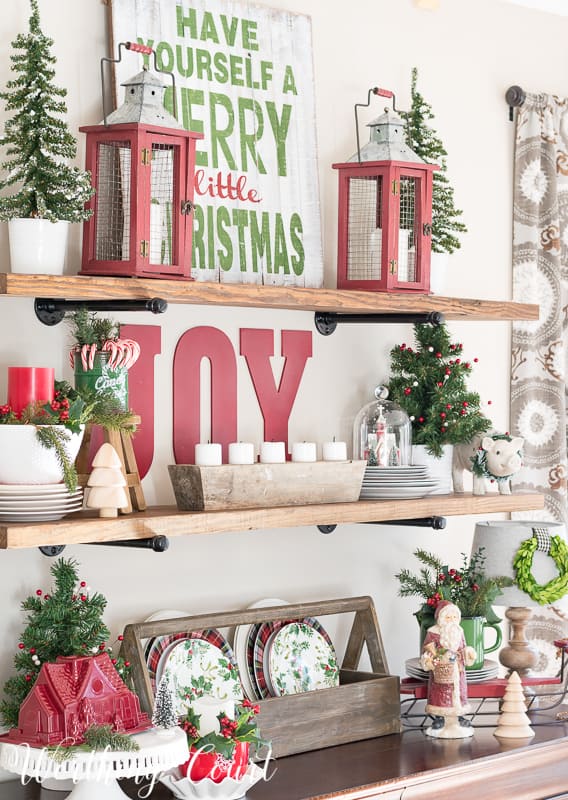 Pin
USE A TRAY FOR FILLING EMPTY SPOTS
I'm not fond of seeing a lot of empty space in the back of bookcases or on the back of open shelves.  It just feels empty to me when I see too much wall.  Using a tray as a backdrop to the decor gives the whole display a completed and cohesive look.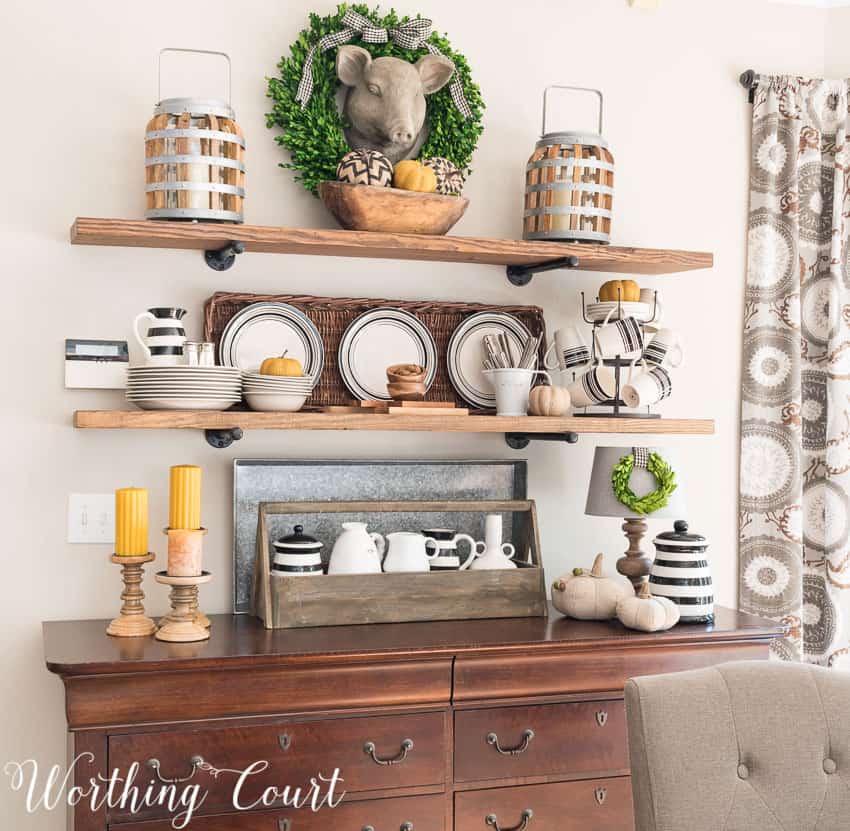 Pin
Trays come in many shapes and sizes – round, square, rectangular, with sides and without, in metal, wood and wicker – they'll truly be your decorating bff if you'll let them!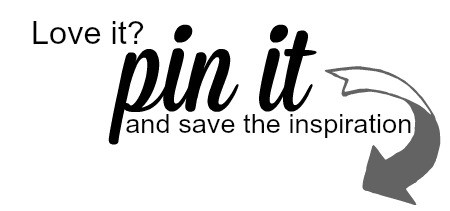 Pin
Pin