How To Organize A Small Closet
What is the best way to organize a small closet? Here are is a comprehensive list of tips, ideas and resources for making the most out of the space you have! 
SCROLL DOWN TO THE BOTTOM FOR RESOURCES OR CLICK HERE TO SEE MY AMAZON STOREFRONT!
Does this look familiar?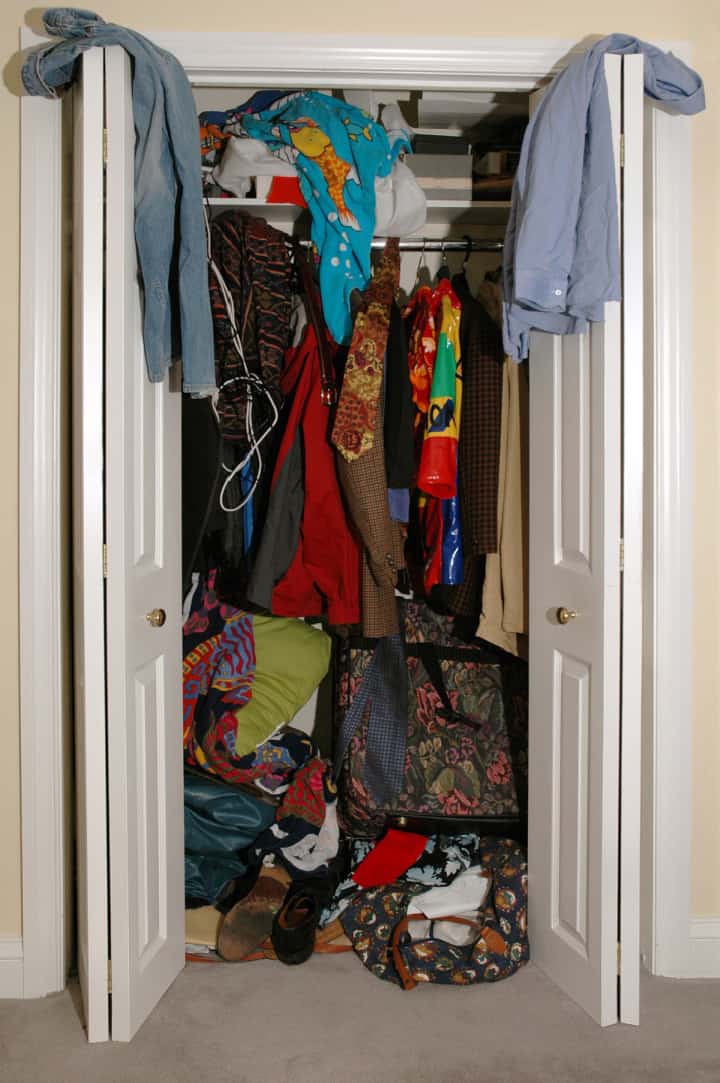 Anyone who has ever lived in a home with small closets can testify to the challenges that they present! Every closet and it's storage needs are different, but there are basic steps that can be taken to make the most of your small space.
CLEAN OUT & PURGE YOUR CLOSET
Before you can even get started, you need a clean slate to work with, which means emptying your closet and sorting through your wardrobe and any other belongings.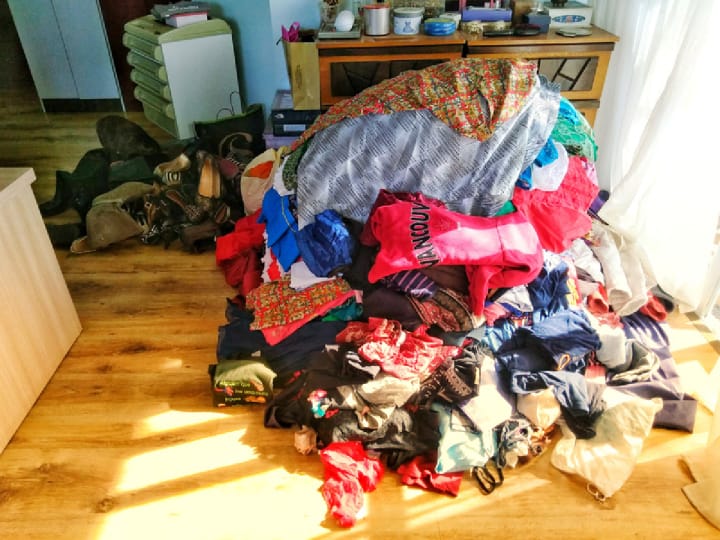 Put anything that you no longer want or need into a donations pile. Get rid of anything that you no longer need or wear. If you're serious about maximizing your closet space. You must be ruthless when it comes to getting rid of the clutter!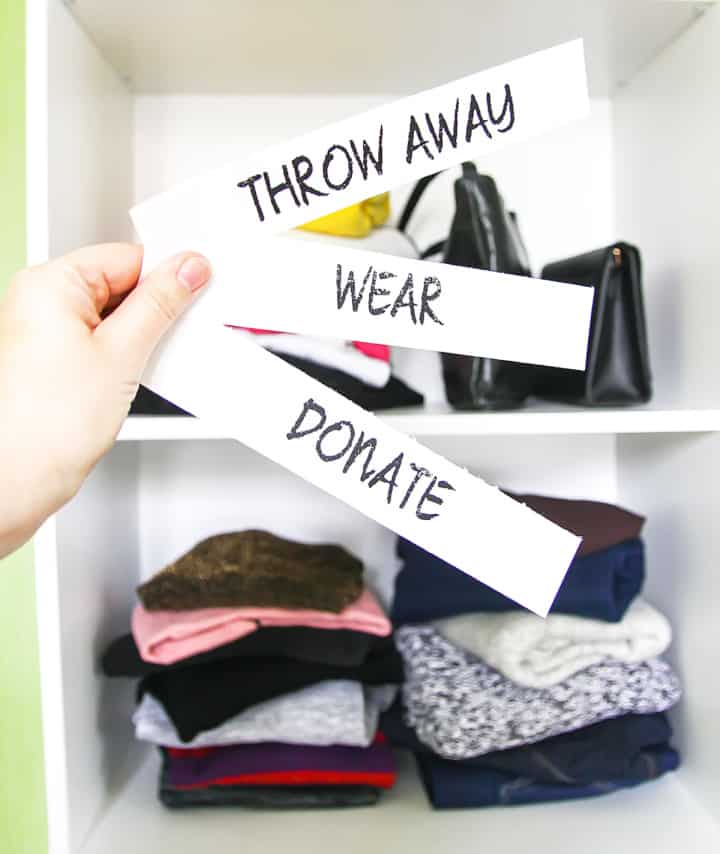 Ask yourself these questions when deciding what needs to go and what to keep:
Does it fit? Don't hang onto an item that you intend to lose weight to fit into. Often, you no longer even care for the piece once the weight is gone.
How long has it been since you've worn it? The general rule of thumb is to get rid of anything that you haven't worn for a year or more.
Even if you've worn it within the last year, have you worn it more than once?
Interchangeable clothing items are wonderful, but having too many can easily lead to decision paralysis. For example: if you have five pairs of khaki pants, you probably aren't going to wear them all.
Is it something you've been hanging onto because you need to purchase something special to go with it?
Is it worn or stained?
Is it comfortable?
Is it out of fashion? If you think it might be, it probably is.
Are you limited by how you can wear it? Do you have to layer a sweater over a blouse to hide a stain or tear?
Does it need to be altered before you can wear it?
Are you keeping an item for sentimental reasons or just for special occasions? If so, think about storing it elsewhere.
And the #1 hardest of all – it may fit, but is it flattering? (That's a tough one for me when I love something!)
TAKE ADVANTAGE OF THE EMPTY CLOSET
Now that the closet is completely empty, it's the perfect time to make improvements.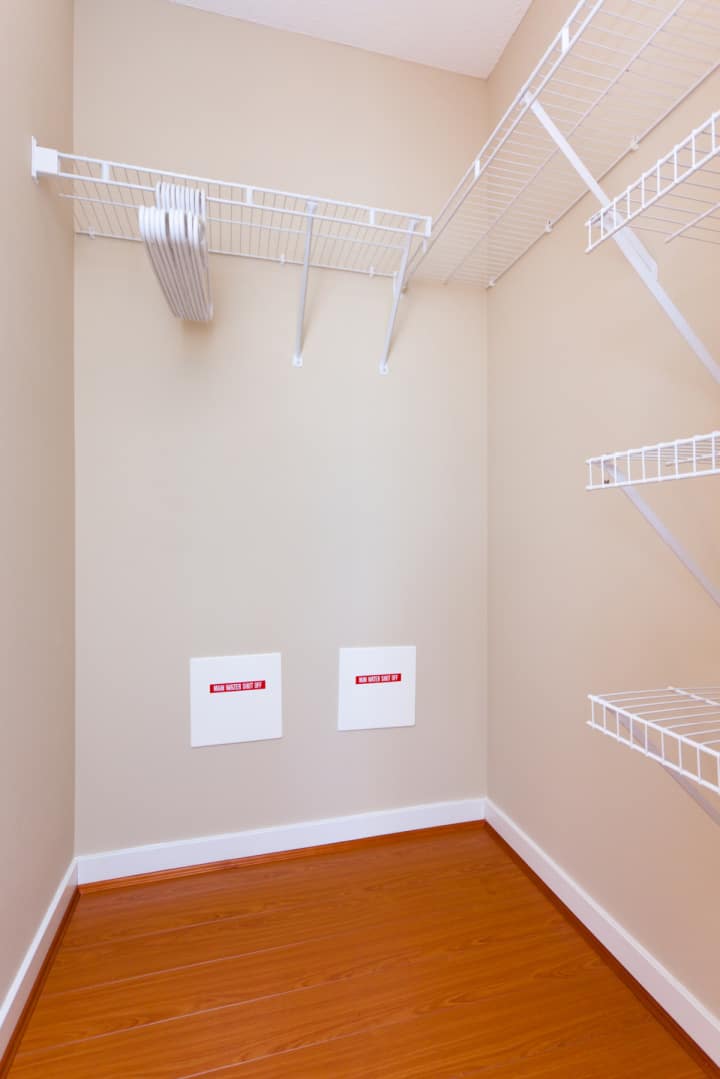 Give the walls a fresh coat of paint. You'll be surprised at how dingy paint gets over time and how scuffed up the walls get from everyday usage. Dingy walls can make your clothing look dingy.
I recommend painting your closet walls white, so that no odd colors reflect onto your clothing.
Wallpapering a small closet might seem like a fun idea, but I would think twice before doing it in a clothes closet.
Unless you're going to use a very subtle pattern and neutral color, a wall paper can be very distracting and make it difficult to choose colors or to put outfits together. And most of it will be hidden by all of the clothing anyway.
While the closet it empty, take measurements of each wall and make note of any oddities. Some closets have bump-outs, lower ceilings, etc. This will come in handy, especially if you're going to add a small closet organizer.
TAKE INVENTORY
Map out a plan for how you will reload the closet. Take inventory and make a list of all the items that you need to store in the space.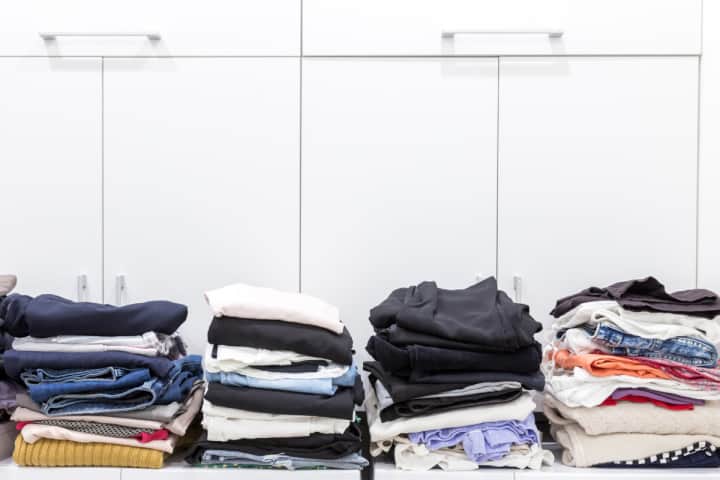 One of the most difficult obstacles to overcome with a small closet is storing seasonal clothes year round. For example, winter clothes are typically bulkier and therefore take up more space.
Consider storing seasonal clothing in bins under a bed. Clothing can also be stored in an attic, basement or storage unit, as long as it isn't damp at all.
You'll want to make sure that any containers you use are airtight and will keep out bugs and dirt.
Vacuum storage bags are one of the most space conscious storage solutions. THIS ONE has over 63,000 reviews and can be used with your regular vacuum cleaner or the included hand pump.
DRAW A DIAGRAM
Now that you know what must go back into the closet, use the measurements you took to draw a diagram of what your want your organized closet to look like.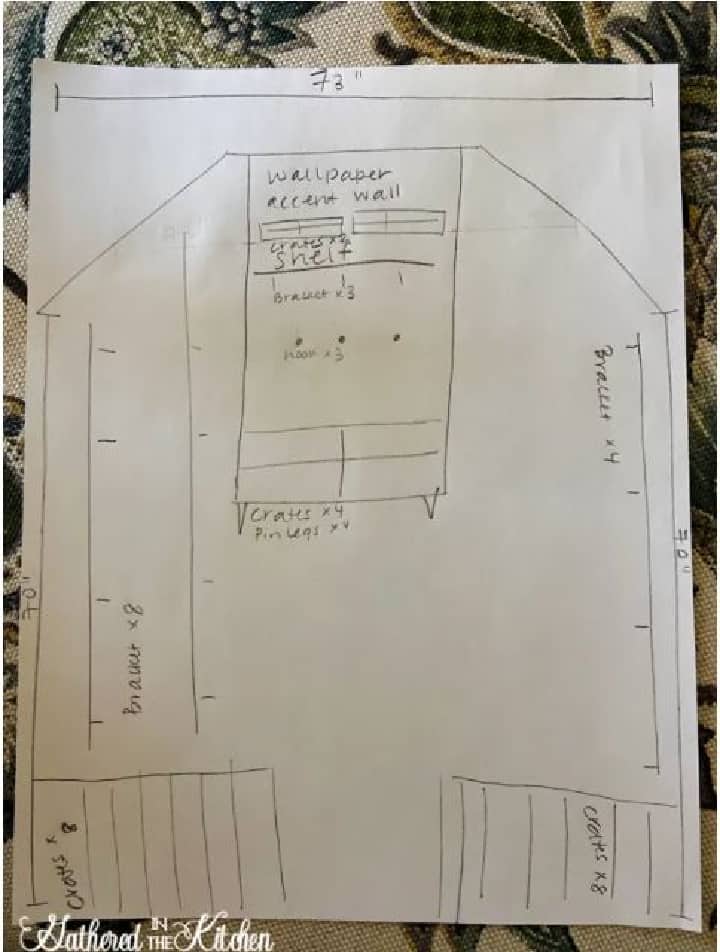 Follow my SMALL CLOSET PINTEREST BOARD for lots of organizing ideas.
There is a plethora of small closet organizers and specialized storage solutions on the market today!
Cascading hangers can hold multiple pairs of pants or skirts, practically in the same hanging space as one garment on a hanger.
Baskets and drawers can corral sweaters, folded shirts from the dry cleaner, socks, underwear and other small clothing items.
Hooks can hold belts, scarves, purses, jewelry and other accessories. Hooks in a row on the wall take up a lot of wall space – instead consider pull-out sliding hooks that mount to the wall or hangers made with hooks on them.
A shoe rack can be hung from the closet door and can be used to hold all sorts of smaller items, in addition to shoes.
Shelf dividers do a great job of keeping stacks of folded sweaters, shirts and pants in orderly piles.
Hanging shelves, that hang from the closet rod, can hold stacks of folded clothing, shoes, purses and clutches.
You don't have to go to the expense a closet organization system to give yourself plenty of room in a small closet space. There are lots of DIY ways to add extra storage.
Don't forget to look up! Do you have room to add an extra shelf to the top of your closet? The top shelf makes a storage space for things that you don't need to access on a daily basis.
Also, don't forget to look down. Raise the existing clothing rod so that you can add a second rod below. You'll be able to hang jackets and shirts above and pants below. It practically doubles your closet space! Don't forget to leave a spot for hanging those long items though.  
Cardboard boxes can become budget friendly options for storage. Consider covering them with a pretty paper or fabric.
DON'T WASTE CLOSET DEAD SPACE
The back of your closet door and any unused wall space is valuable closet real estate – don't waste it!
There are a multitude of over-the-door hanging closet organizers available. There are versions of them with pockets, pouches, bins and shelves. You'll find them made from canvas, plastic and wood and in all price ranges.
There are even over-the-door organizers especially for holding jewelry. There are budget friendly ones made with pockets and pricier ones that are basically a hanging jewelry cabinet with a door.
Adding shelves or a shoe rack is an obvious option to add to a piece of empty wall space in a closet. But have you ever thought about putting a small dresser in your closet?
Not only do the drawers provide lots of extra storage, the top of the dresser is an added bonus for holding jewelry boxes, makeup and even a tabletop mirror.
One more tip about closet doors – if your closet has folding doors, consider replacing them with standard doors so that you can take advantage of this valuable spot.
MORE TIPS
Consider organizing your hanging clothes by type and color. This won't increase your space, but putting outfits together will be much easier than trying to wade through all of your clothes in a small space.
An expandable accordion wall rack is a quick and easy way to add hanging space for scarves, belts and ties.
If your closet only has hanging room on one side, don't forget about the end. You may be able to squeeze a small rod or some shelves in there.
Here's a great tutorial for building your own closet shelves if you are working with a small budget. This be a great way to use up scrap lumber.
When organizing a small closet for young kids, don't forget that they usually have different clothing and storage needs.
I love this idea for using labeled drawers in a young child's closet!
If you prefer to store your shoes in a bin, snap an image of the shoes and place it in the front of the bin to easily see what's inside.  Using a self laminating kit will keep the photo from getting destroyed over time.
Many great items for closet organization are below, but click HERE to see the entire comprehensive list in my Amazon storefront.