How To Decorate And Add Style to a Small Bedroom
A small bedroom can be a
challenge
,
but it doesn't have to be boring. Here you'll find loads of  smart ideas for how to organize, decorate and add style to a small bedroom.
I adore the coziness of small bedrooms, but figuring out how to organize, decorate and add style to them can be a challenge.  Instead of tackling the entire room at once (which can be overwhelming), let me show you how to break the process down into smaller parts that you can take care of one at a time.
1. Stylish Walls
Many people will say that the walls in a small space should always be light in color.   I believe it's purely a matter of personal preference.  If you crave a bright and airy bedroom, then light walls are definitely the way to go.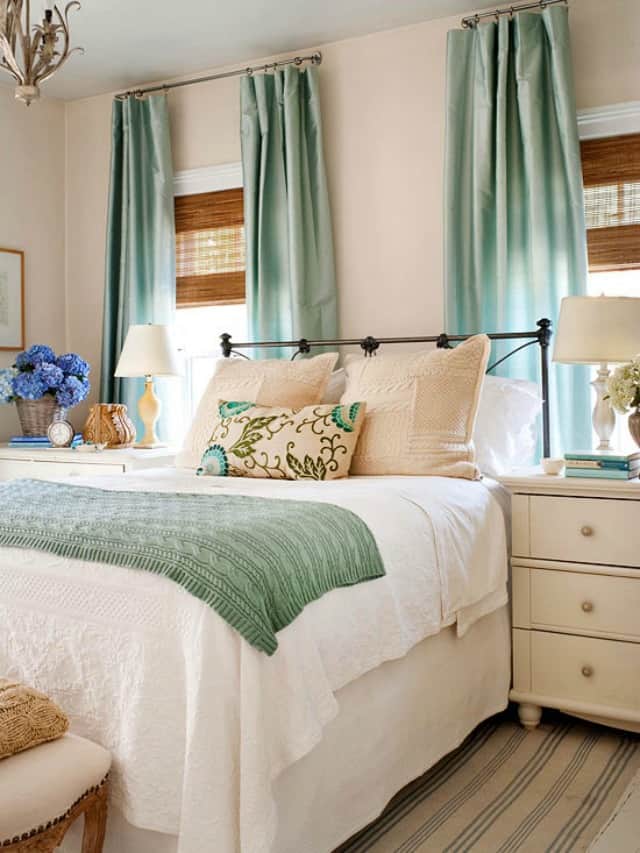 Pin
CABLE KNIT THROWS
But if you desire an intimate and cozy space, then start with dark walls.  You'll have an instant cocoon to nestle in.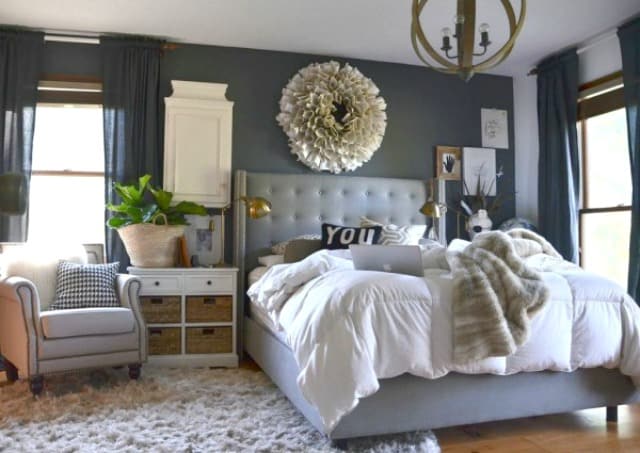 Pin
You might prefer a monochromatic color scheme, but be sure to use varying shades of the color and to add in texture and to keep the room from looking flat.
Pin
Want some color on your walls?  Consider using a soft color – a bright, bold color can be "in your face" in a small bedroom.  Be sure to repeat the color throughout the room for a cohesive look.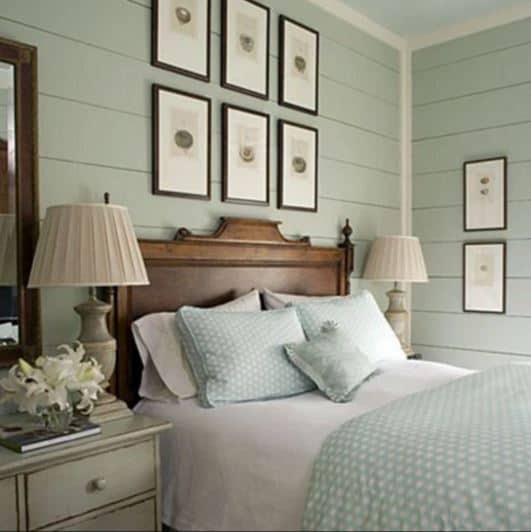 Pin
Painting one wall a darker color than the surrounding walls will add a sense of depth.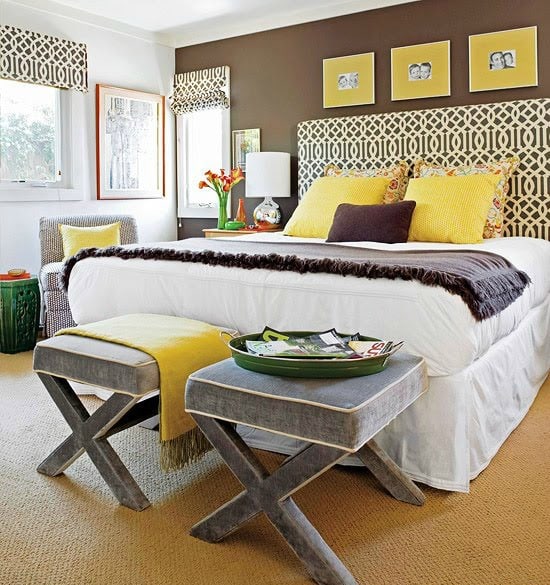 Pin
Sign up to be able to download and print the Small Bedroom Checklist for Decorating, Organized and Adding Style by clicking HERE.  If you've already signed-up, access the complete Printable Library by clicking HERE.  The link and the password to access the library is at the bottom of every email I send.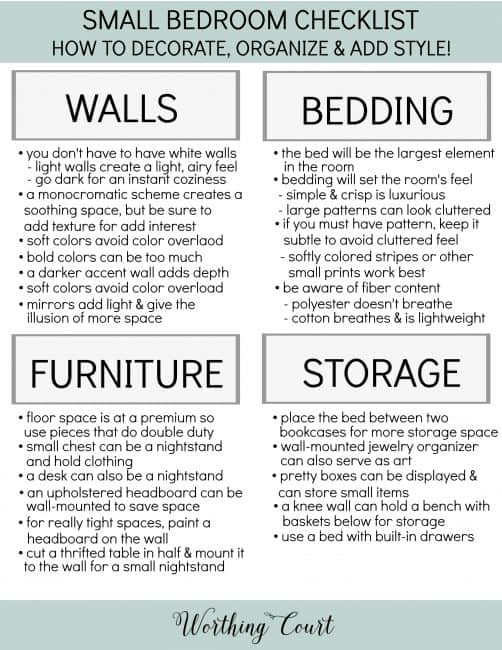 Pin
2. Stylish Bedding
The bed is likely to be the largest single element in your bedroom.  How you dress it will make all the difference in the world!  Keeping it simple and crisp will create an open feel while still looking inviting and luxurious.  Bedding with a lot of pattern, no matter how beautiful, has the potential to create a cluttered look.
Image via Pink To Green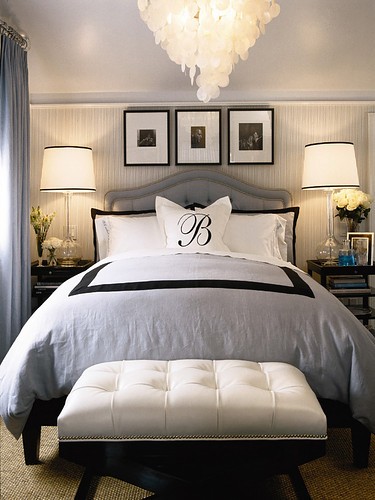 If you must have patterned bedding, keeping the pattern subtle and not overly large will cut down on the busy look.  This example is a wonderful mix of patterns, solids and colors.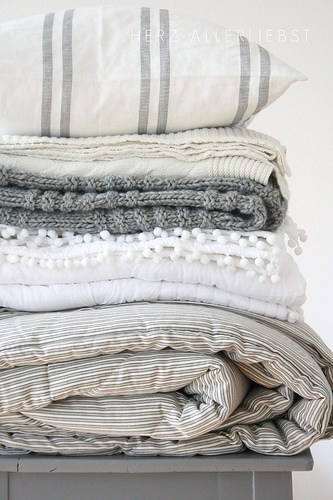 Pin
Here's a perfect example of a mixture of subtle patterns and soft colors.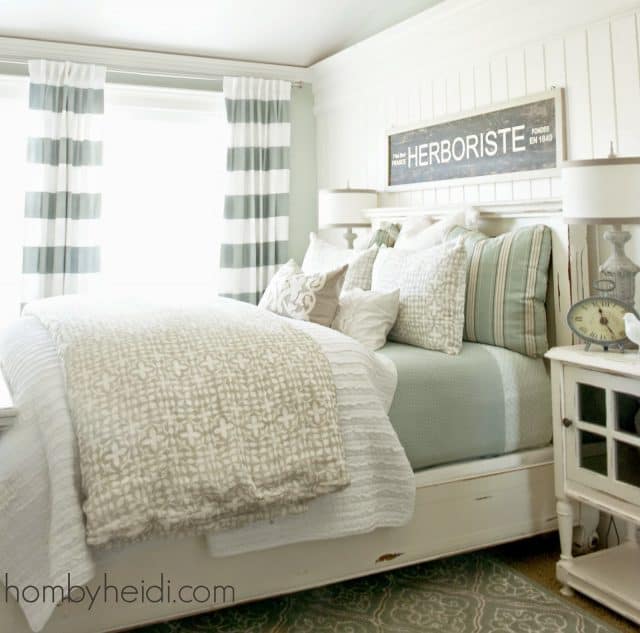 Pin
3. Stylish Furniture
Since floor space is at a premium in a small bedroom, use pieces that do double duty.  A small chest can serve as both a nightstand and hold clothing.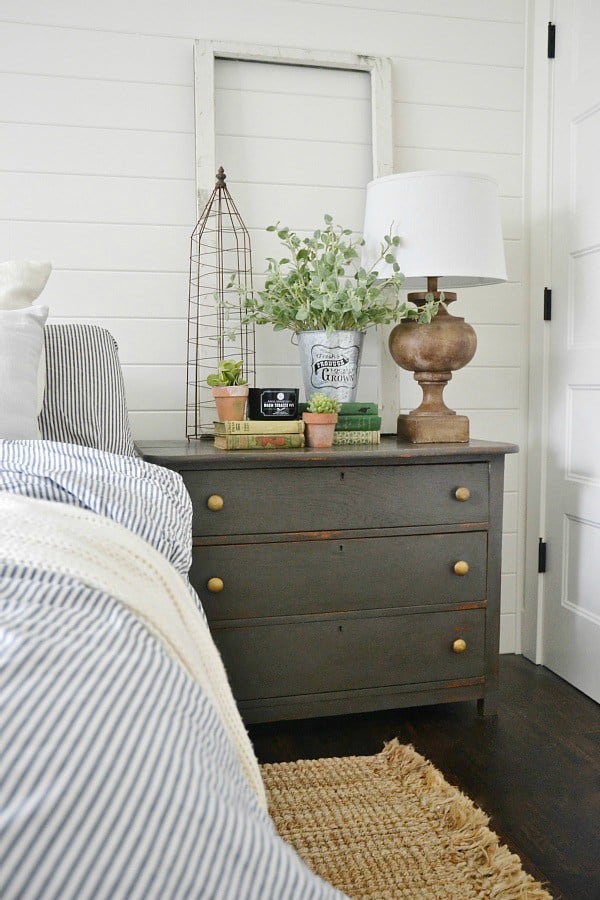 Pin
Need office space, but don't have a dedicated room for it? A small desk can double as a nightstand. The chair will provide a spot to sit when working or when putting on your shoes. Even better if you can wrap it around a corner and add shelves above.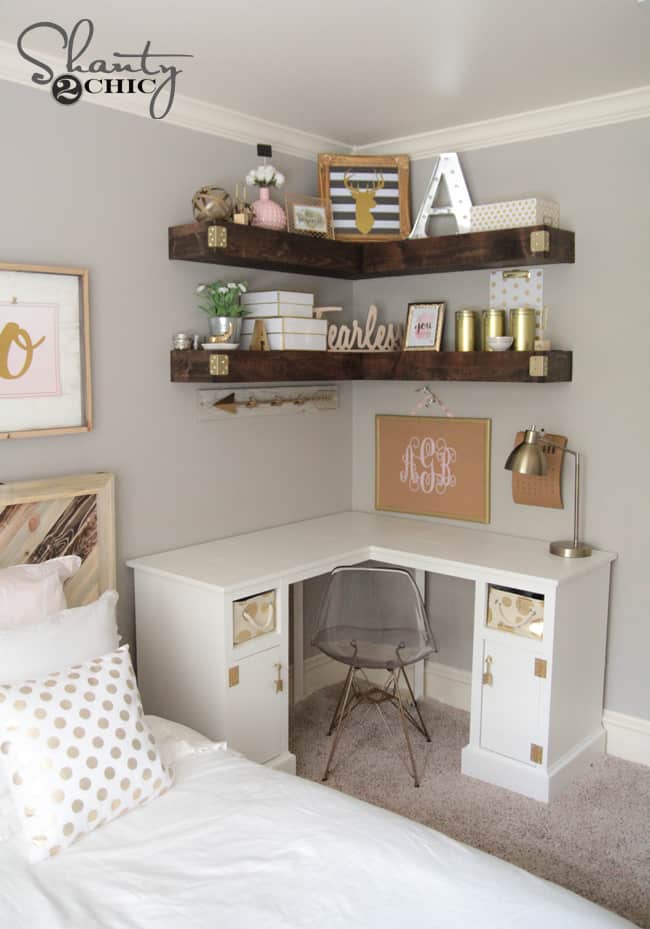 Pin
An upholstered headboard can add a real feeling of luxury to your bedroom and will create a wonderful focal point.  They've gotten so affordable over the last few years!  This is a great place to add a pop of color and/or pattern without overwhelming the room.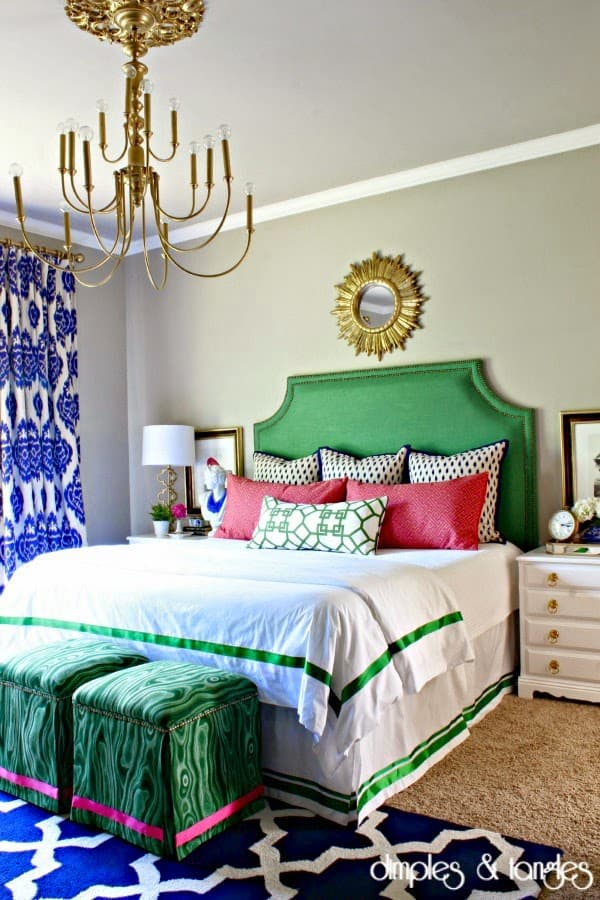 Pin
If the space in your bedroom is so tight that you can't spare the inches for a headboard, painting a faux headboard is a great money saving option and takes up zero floorspace.
If a knee wall is the only place for your bed to go, don't despair.  Swagging a piece of fabric is a stylish headboard solution.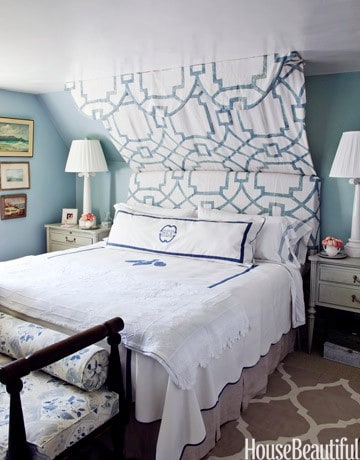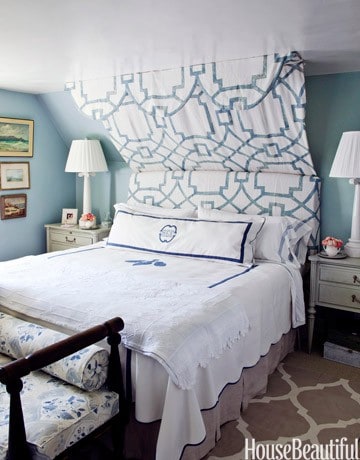 Don't have room for a full size end table?  How about cutting a table in half (or even smaller) and attaching it to the wall with small angle irons.  Paint it a bright color for a fun POP!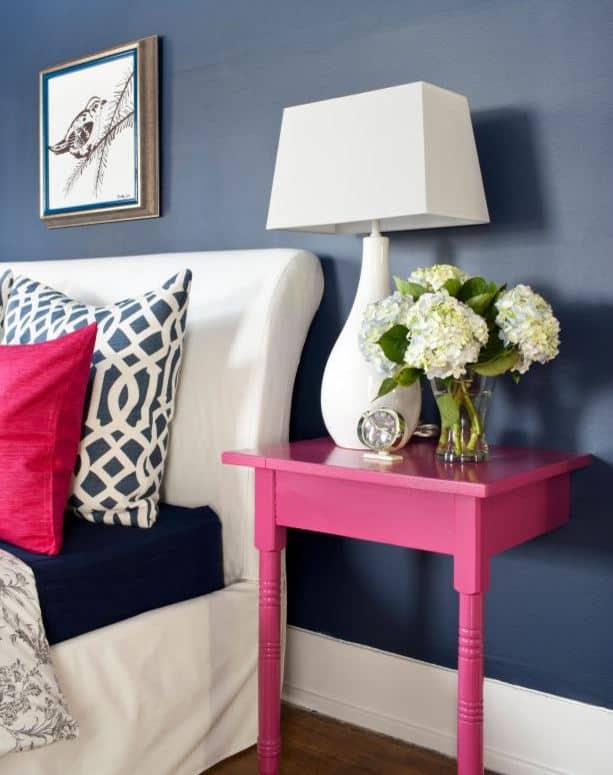 Pin
 In a child's room or guest room, a daybed saves valuable floor space.  Built in bookshelves allow for storage and act as a place to hold bedside lighting.
Original Source Unknown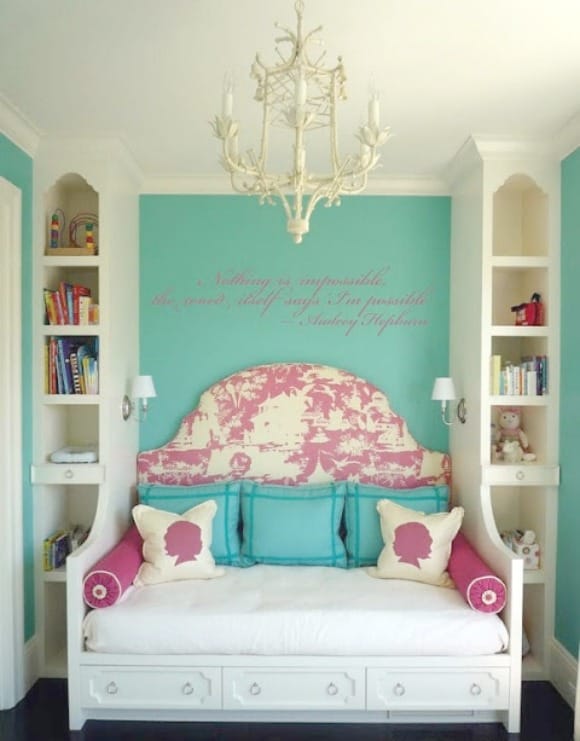 Pin
Speaking of children's rooms – bunkbeds are another great space saving option.  But why not dress them up?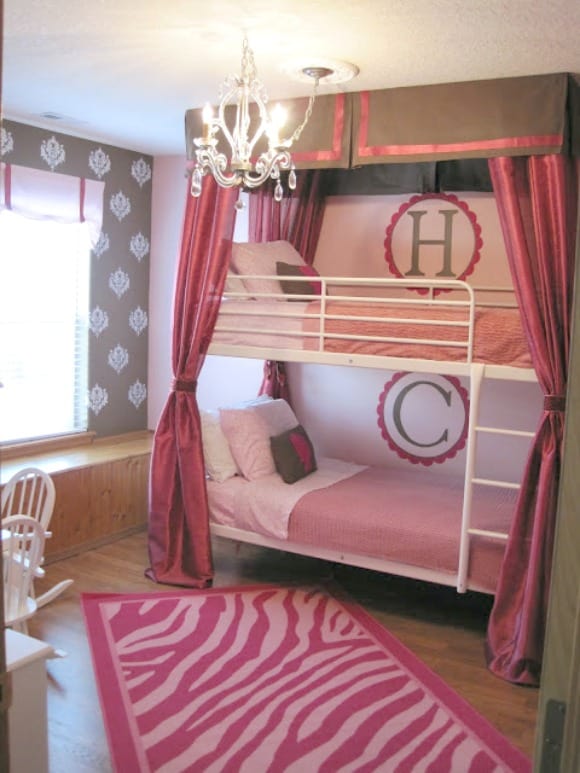 Pin
4. Stylish Storage
We all know that being organized is a must in a small bedroom.  A wall mounted jewelry organizer not only stores your jewelry, but can serve as a piece of art too.  Plus, a wall mounted organizer won't take up any space on your dresser.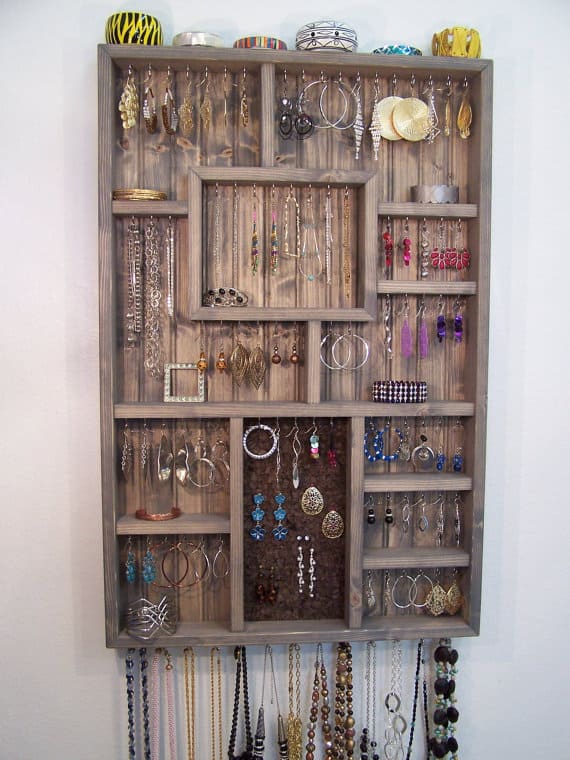 Pin
Swinging closet and bathroom doors take up a lot of floor space.  Try a sliding door instead.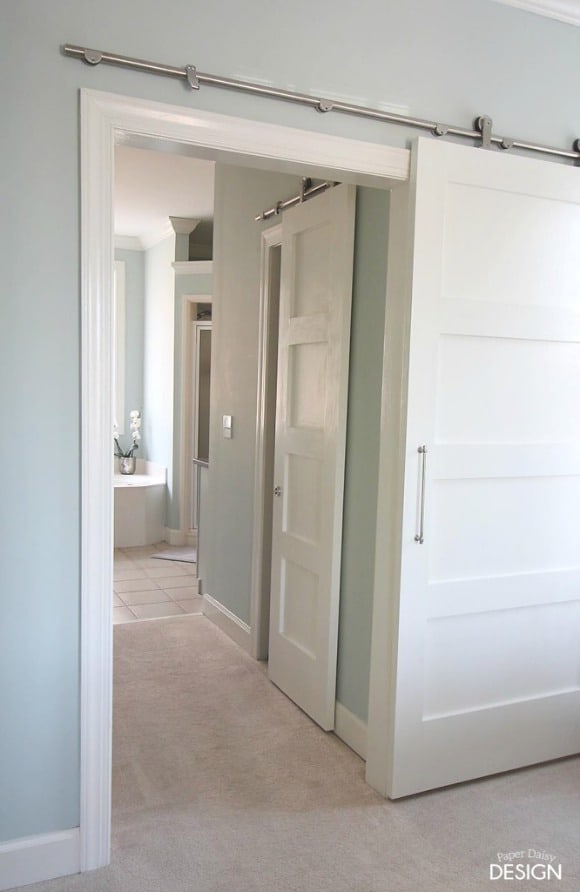 Pin
Pretty boxes, stacked together, are a great way to store smaller items in a stylish way.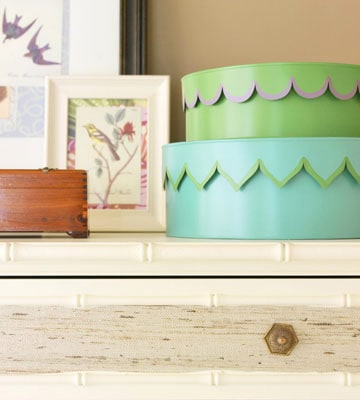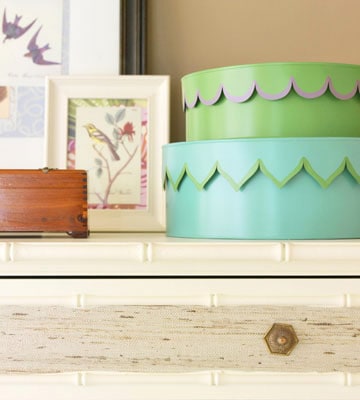 Pin
Don't let a knee wall be get you down.  Add a bench for display space.  The empty space below becomes a great place for pretty storage baskets.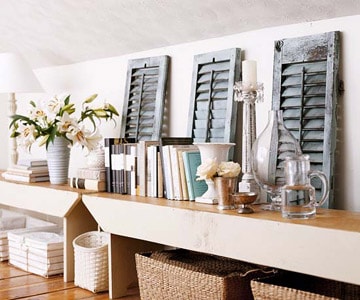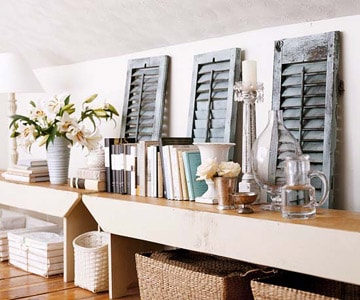 Pin
Beds with drawers below have come a long way in the last few years.  There are many, many styles and price ranges to choose from.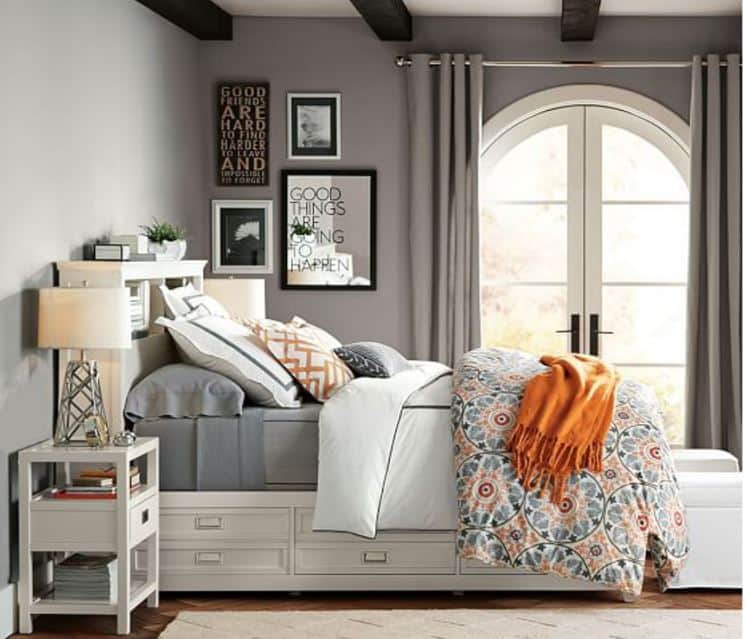 Pin
Turn your closet into a feature.  Opening your closet up can give the illusion of a larger room.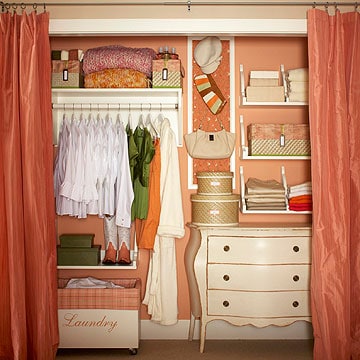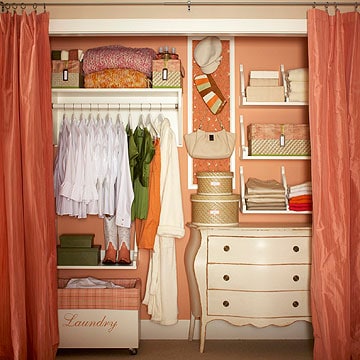 Pin
5. Stylish Accessories and Lighting
Plenty of light is key to giving the feel of more space in a small room.  Dark corners will make a room feel even smaller.  Wall mounted light fixtures are a great alternative if there isn't room to place a lamp on a table beside the bed.
Image via James Thomas Interiors via Houzz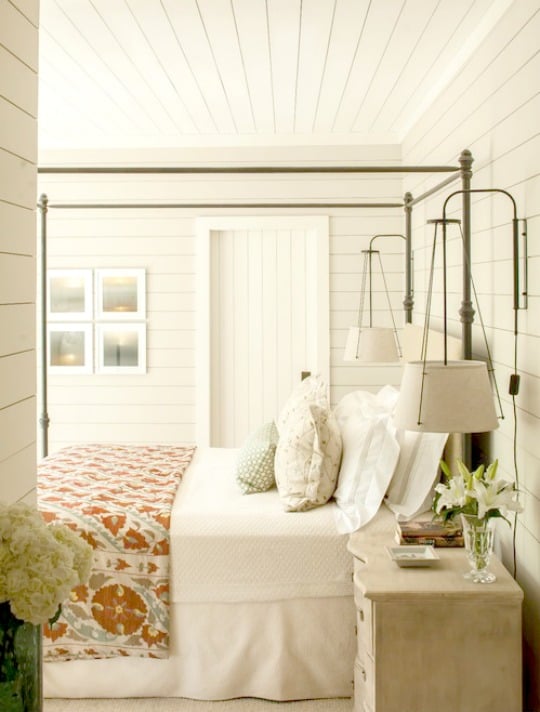 Pin
An attractive hanging light fixture or the sparkle of a chandelier can bring a small space to life.  Just be careful of the size and the fussiness of the fixture.  A too large or too fussy light fixture can visually fill up a room.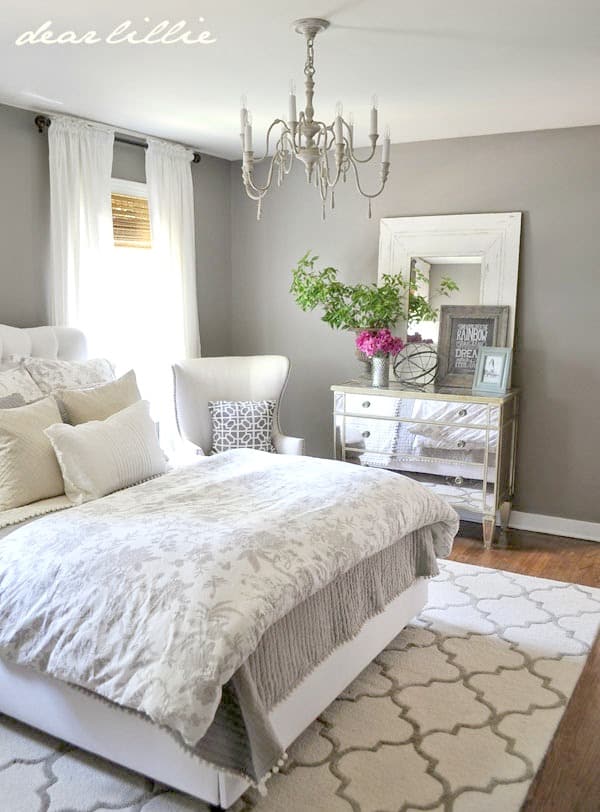 Pin
A rug with just the right pattern can do wonders for a room.  Look for a large pattern that isn't too busy.  A striped rug can make a room feel wider or longer.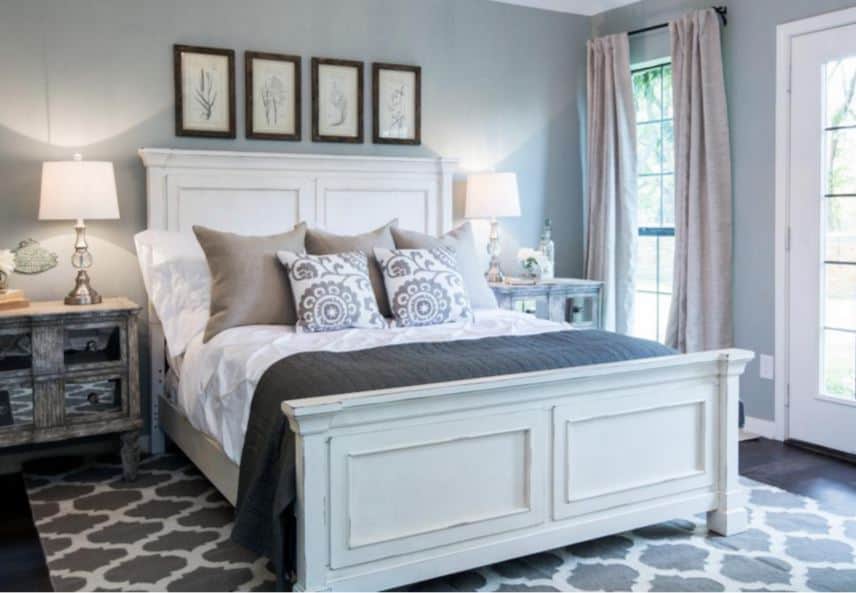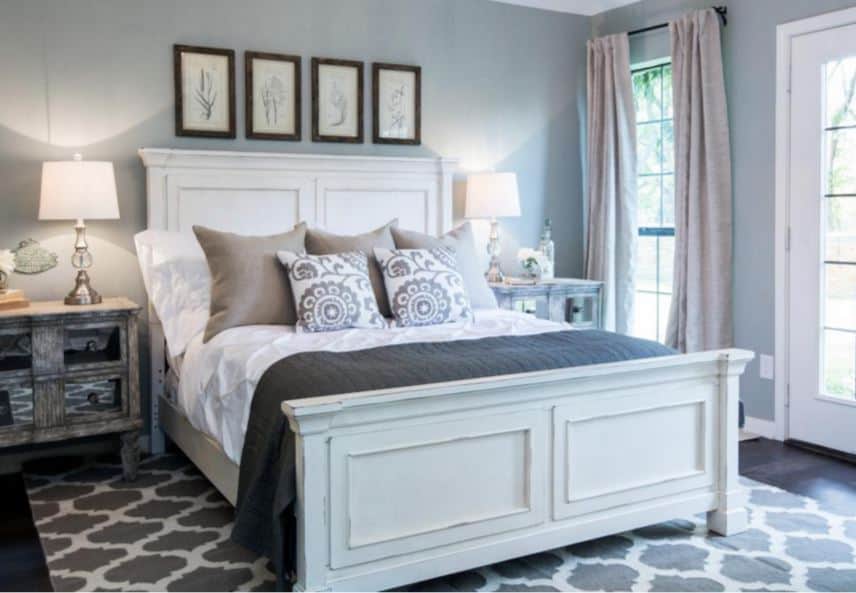 Pin
In a small space, you have to be especially careful with accessories.  Too many will create the appearance of a lot of clutter.  Too few will create a not so stylish sparse or unfinished look.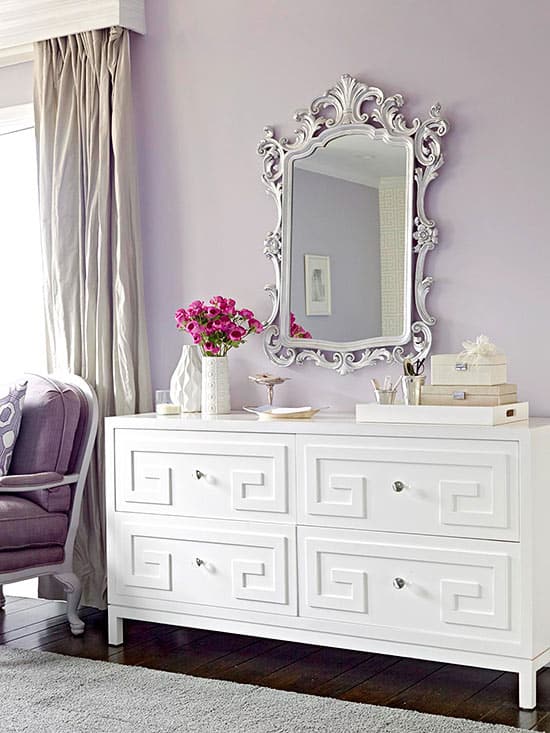 Pin
Besides the obvious utilitarian use of a mirror, they also bring additional light into the room.  More light equals a more spacious feel.
Original Source Unknown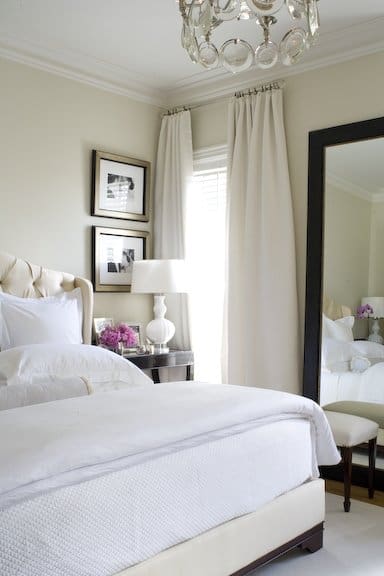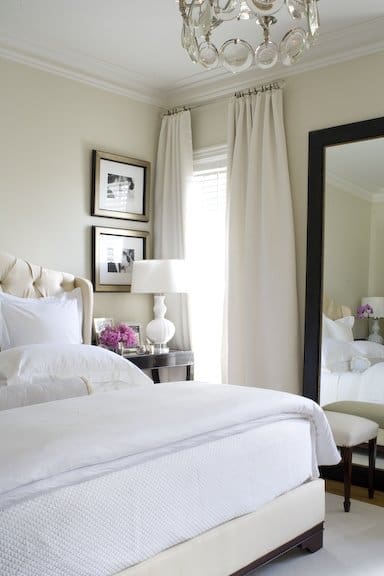 Pin
Hopefully, you were able to get some tips for your own small bedroom.  Do you have a small space that you struggle with?
PIN IT FOR LATER!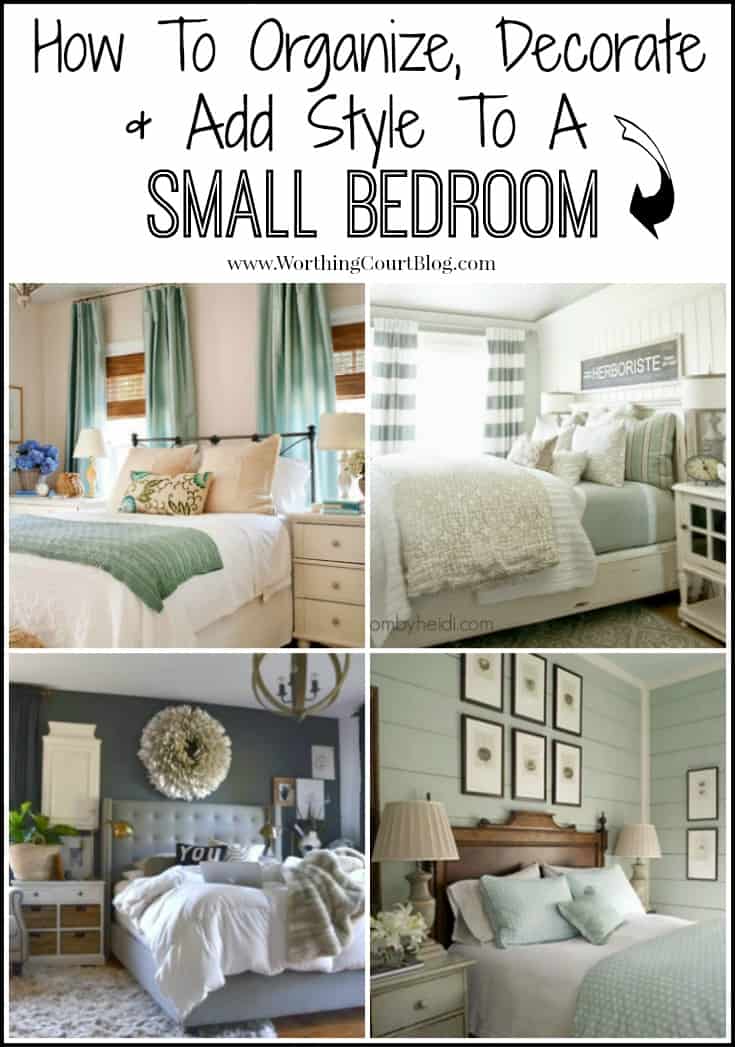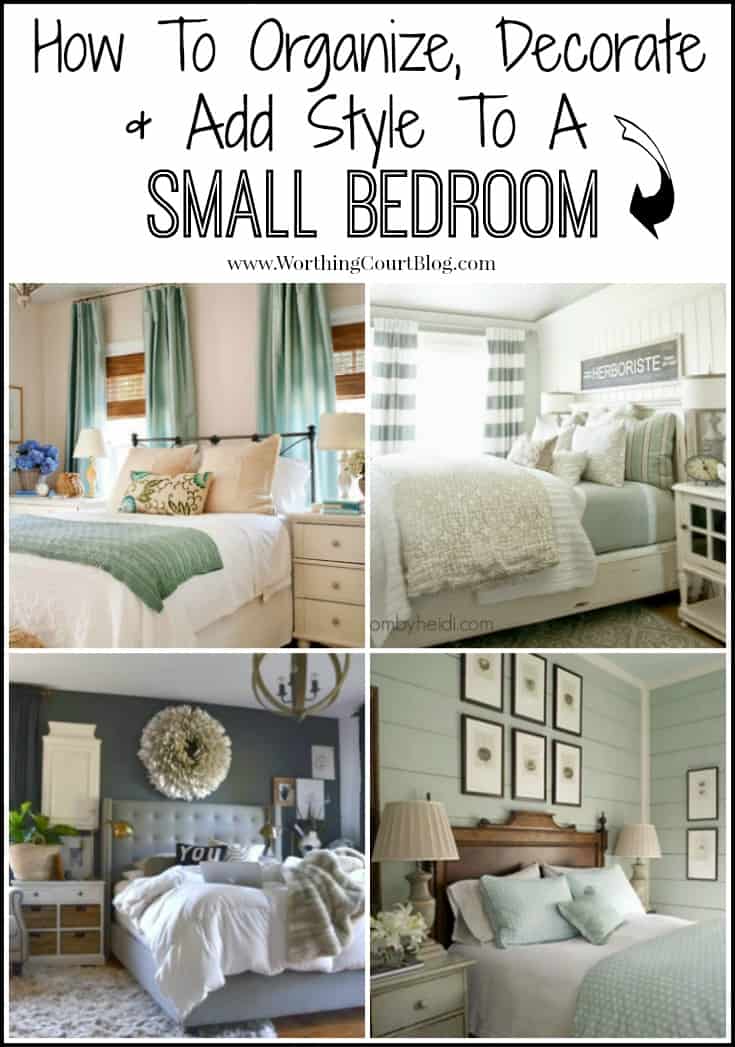 Pin