How To Makeover A Bedroom On A Budget
Step-by-step tips and ideas for how to give a bedroom a makeover on a budget. Hint – you don't need to purchase all new furniture.
A few days ago, I gave you a sneak peek of a refresh that I did in one of our guest bedrooms when I shared my spring home tour.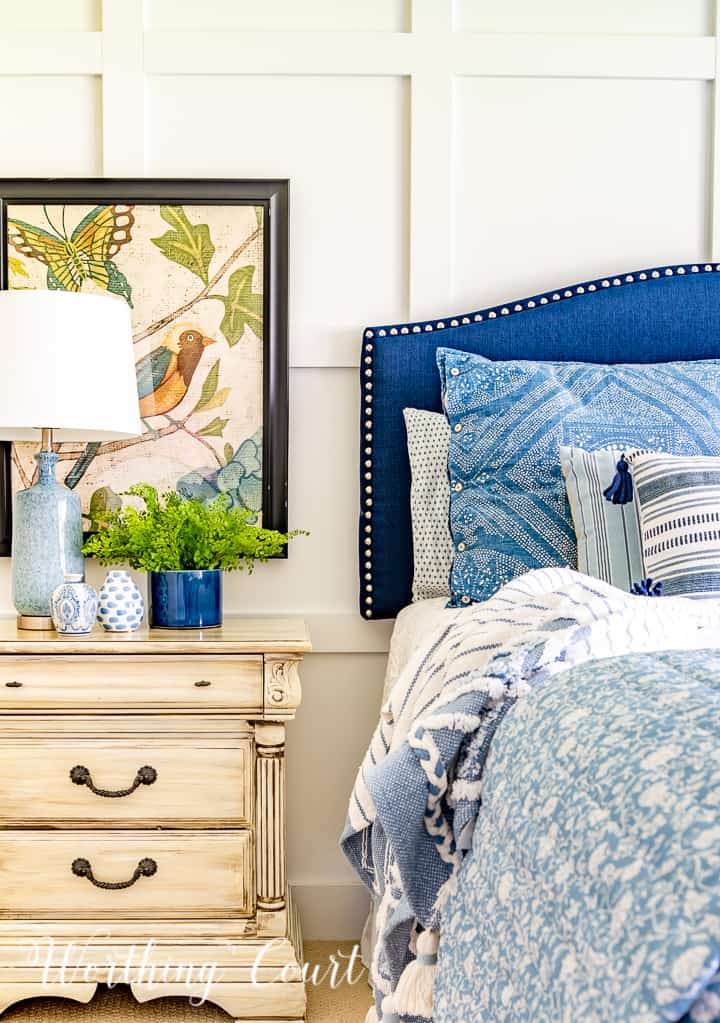 Pin
HEADBOARD || WALL ART || BLUE LAMP BASE || FAUX FERN IN BLUE PLANTER
This post and photos may contain Amazon or other affiliate links. As an Amazon Associate I earn from qualifying purchases. If you purchase something through any link, I may receive a small commission, at no extra charge to you. Where possible, the exact product has been linked. If that product isn't available to link, I've linked something similar. All opinions are my own. See my full disclosure HERE.
It's been a few years since I originally decorated this bedroom, so it was time for a refresh! This image below gives you an idea of what the bedroom looked like before its makeover.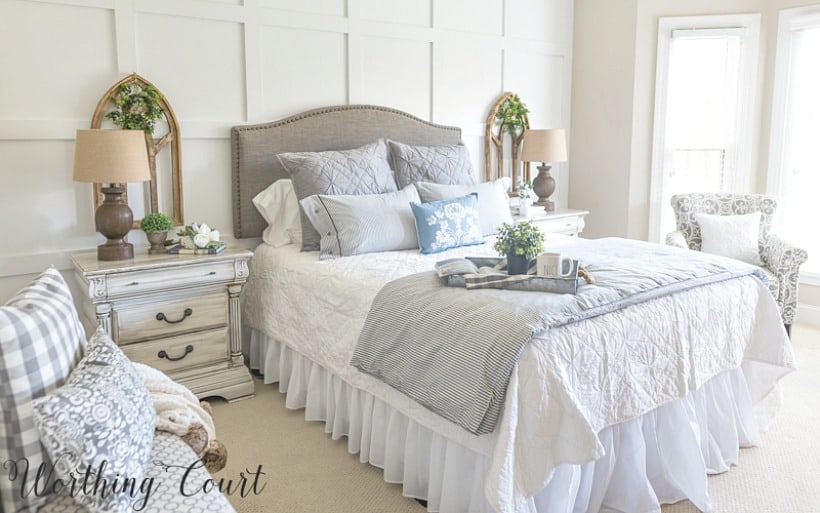 Pin
I still found it to be a pretty room, but you may have seen in other posts that my decor style is moving away from farmhouse style into transitional cottage style and it only took a few budget friendly changes in this room to give me that cottage'y vibe.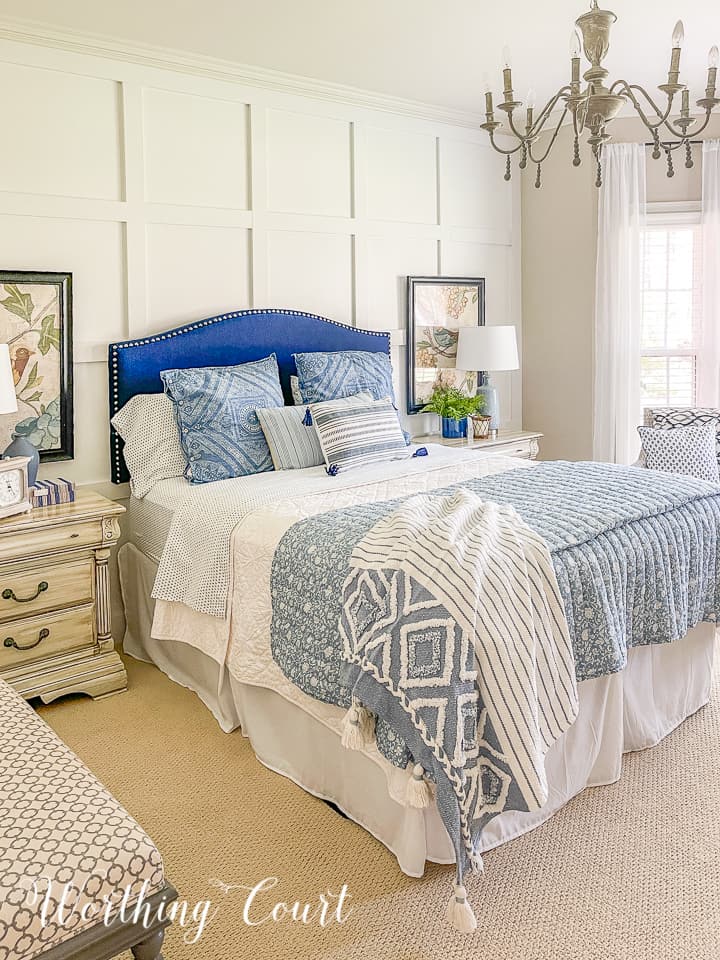 Pin
UPHOLSTERED HEADBOARD || BLUE FLORAL COVERLET
If you're trying to determine whether or not it's time to do a makeover or a refresh to a room in your home, you might find the article I wrote, 5 GOOD QUESTIONS TO ASK YOURSELF BEFORE REDECORATING A ROOM", helpful!
I definitely wanted this to be a budget friendly bedroom makeover, so I didn't do anything too far fetched. I hope that you'll find some ideas that you can use in your own home!
DECIDE ON THE DECOR STYLE & ANALYZE YOUR SPACE
Deciding on your decor style is very important step and is one that you don't want to skip! It's what will make the difference in whether or not your home is cohesive and flows well from room to room or is a disjointed hodgepodge of decor styles that you probably won't be happy with.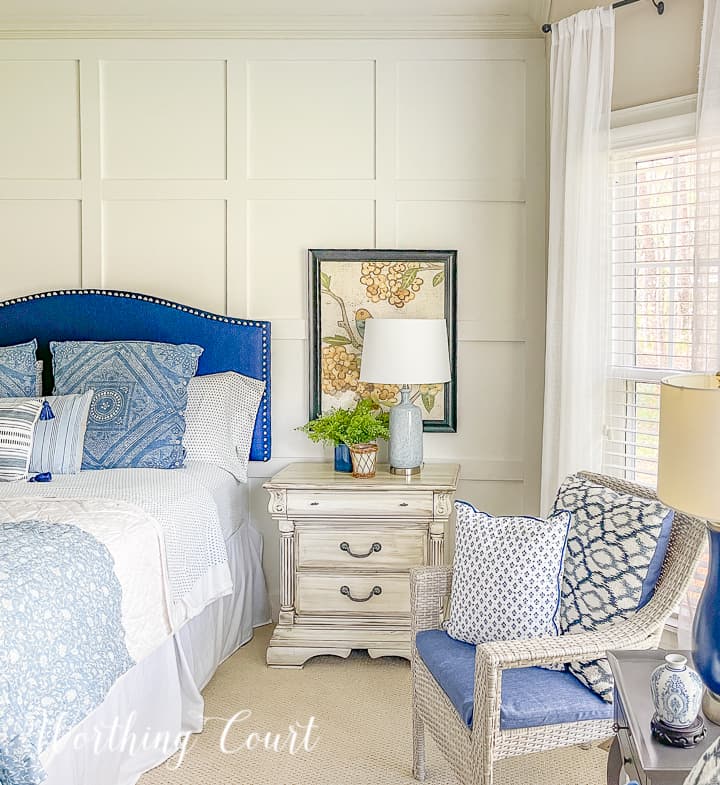 Pin
WALL ART || FAUX FERN IN BLUE PLANTER || FAUX FERN IN BLUE PLANTER || BLUE LAMP BASE || CHAIR
If you have trouble determining what your decor style is, you may want to check out the article that I wrote. It covers 15 of the most common interior design styles and their characteristics. I think you'll find it very helpful if you're struggling to put your finger on exactly what it is that you like!
Once you've determined the decor style that you want to pursue, take a good, hard, ruthless look at your room to determine what needs to be changed.
This is the list of budget friendly changes that I came up with that would allow the room to move away from farmhouse style to transitional cottage style:
change the color scheme
replace the wooden arched pieces above each nightstand
replace the arm chairs
replace the lamps
replace the hanging basket on the wall
replace some of the bedding
replace the throw pillows
replace the throw blanket
To keep the cost way down, I did not:
replace the dresser or nightstands
replace the chandelier
replace the bench
replace the draperies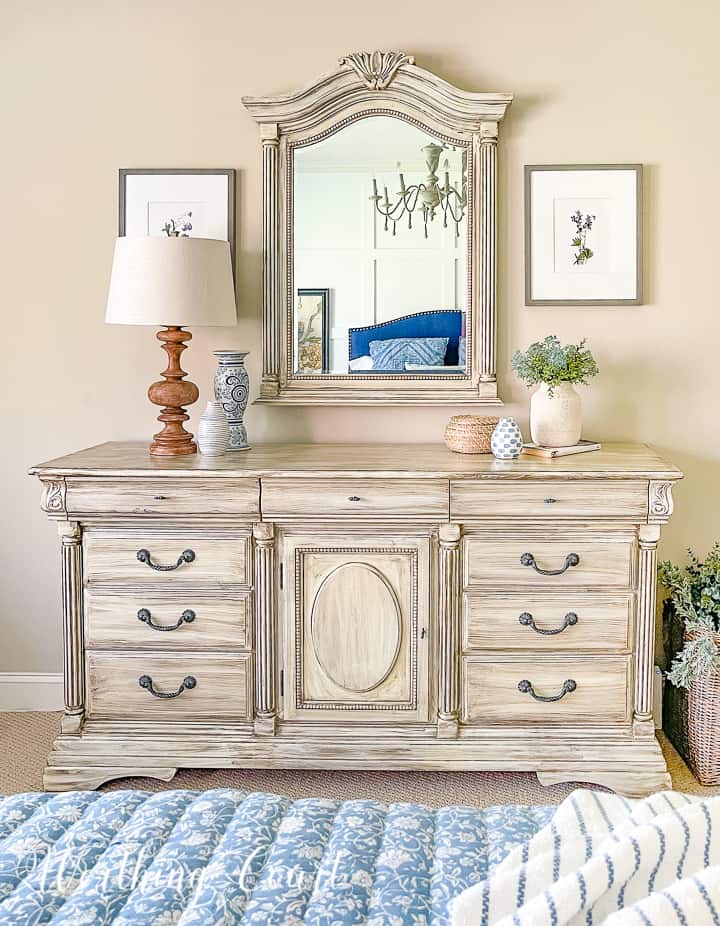 Pin
MAKE A MOOD BOARD
This is another step that I highly recommend! There is an endless amount of things to get distracted by when you're doing any shopping. Having a mood board (and even printing it and carrying it around with you) is a super helpful way to keep you on track and ultimately save you money and time.
I've also found having a mood board helps to keep my frustration down if I start to struggle with a decision. Going back to my original plan usually helps, even if I need to tweak things a bit.
I wrote an article for how to create a mood board. It's easy to do and is actually a lot of fun!
MAKE THE LARGEST SIZED CHANGES FIRST
I recommend changing the largest items in a room first and then filling in with the smaller pieces later.
The largest items will often take the biggest chunk of the budget and by putting those pieces in place first it will help to start seeing your vision come together.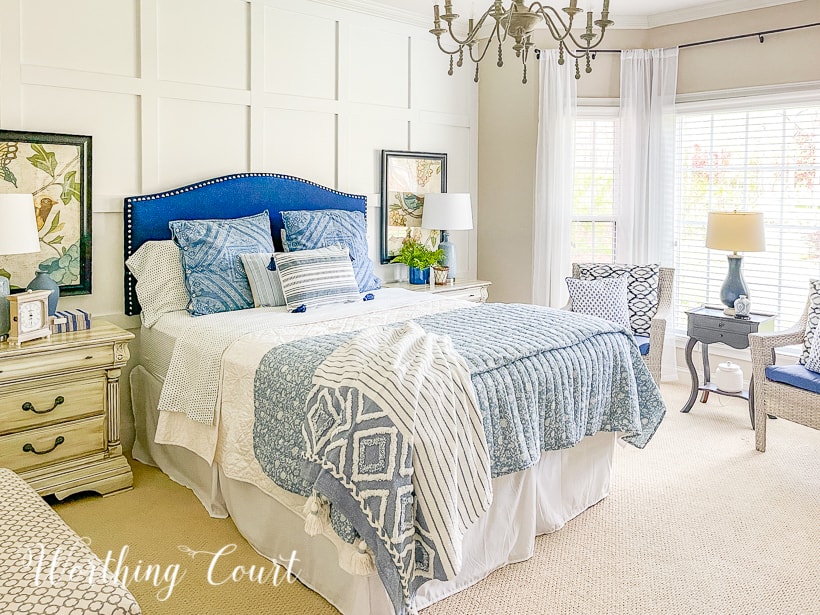 Pin
WALL ART (LEFT) || WALL ART (RIGHT) || HEADBOARD || BLUE FLORAL COVERLET
For this room makeover, the largest items that I wanted to replace were the armchairs and the headboard.
You may think I'm crazy on this one, but to avoid spending several hundred dollars on a pair of arm chairs, I chose two outdoor chairs. They were very affordable and I think they work just fine in this room with cushions and pillows added.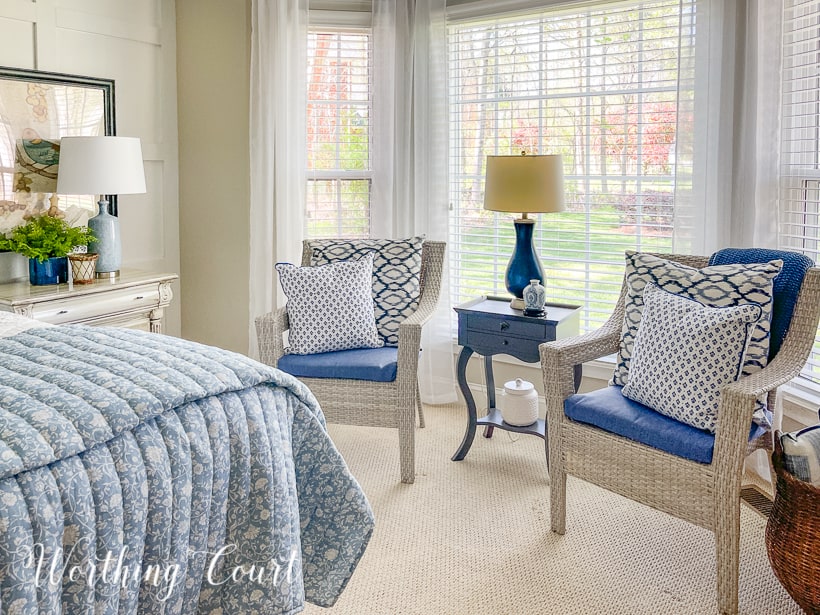 Pin
18X18 BLUE & WHITE THROW PILLOWS || CHAIRS
Upholstered headboards are a great budget friendly option! Of course you can find ones that aren't so budget friendly, but I've used this particular headboard five different times (in different spaces) and have found that it's a well made budget friendly option!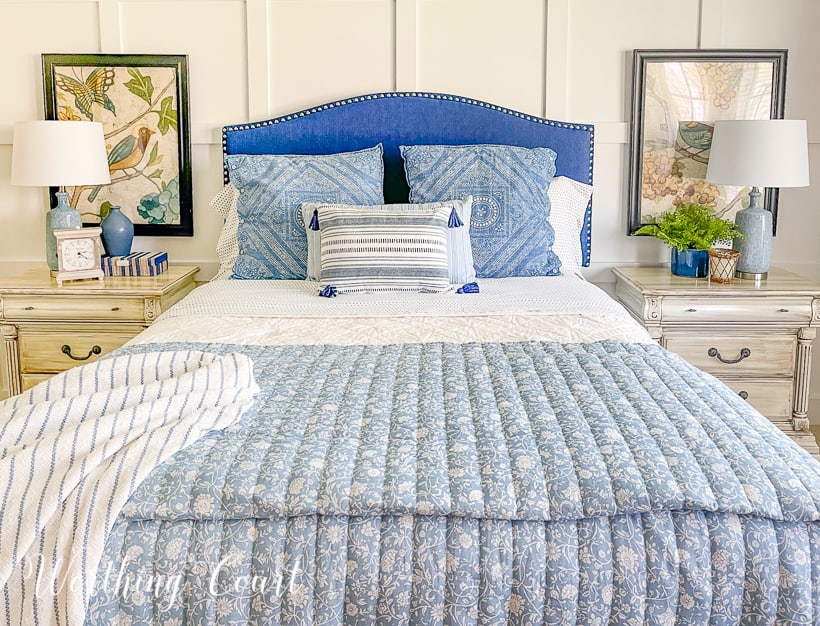 Pin
WALL ART (LEFT) || WALL ART (RIGHT) || FAUX FERN IN BLUE PLANTER ||BLUE LAMP BASE || HEADBOARD
TIP: If your headboard comes with separate legs, don't attach them. The legs will prevent the headboard from sitting flush against the wall because of the baseboard. Instead of attaching the legs, attach a D ring to the back of each corner and hang the headboard on the wall instead. That will also allow you to hang the headboard as high or as low as you want it to be.
If I were replacing the window treatments in the room, this is the time when I would also do that, but I wasn't doing that as a part of this refresh.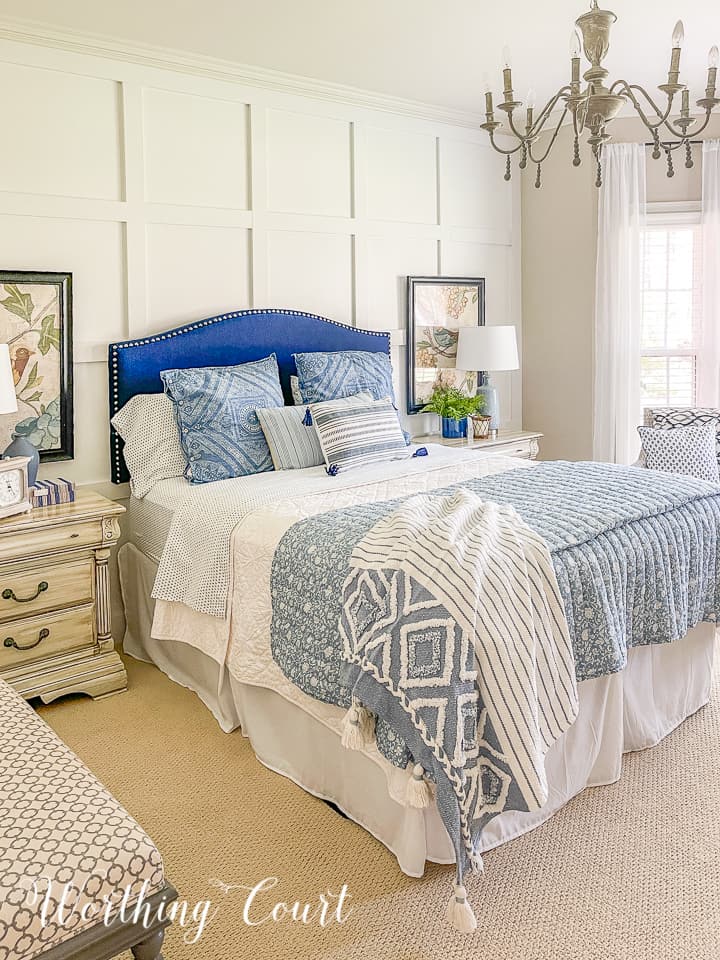 Pin
SHEET SET || BLUE FLORAL COVERLET
REPLACE THE BEDDING
Once I've made the largest changes in a bedroom, my next step is to get the new bedding in place. Since your bed is likely the largest visible piece in your space, getting the bedding changed will be a good indicator if your design plan is going to work out for you.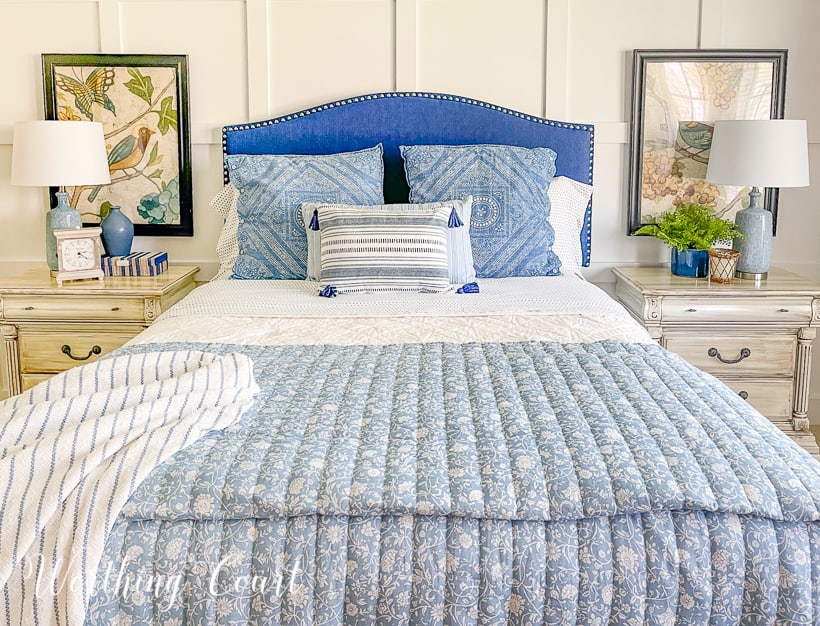 Pin
WALL ART (LEFT) || WALL ART (RIGHT) || BLUE LAMP BASES || HEADBOARD || BLUE FLORAL COVERLET
I kept my original coverlet and only changed out the sheets, folded coverlet at the foot of the bed and the Euro shams, but it took me three different try's to get the patterns and colors that worked well with my design vision.
A favorite trick is to place the top flat sheet on the bed upside down, then fold the coverlet, blanket and sheet back to expose the pretty pattern. Remember – it's all in the details!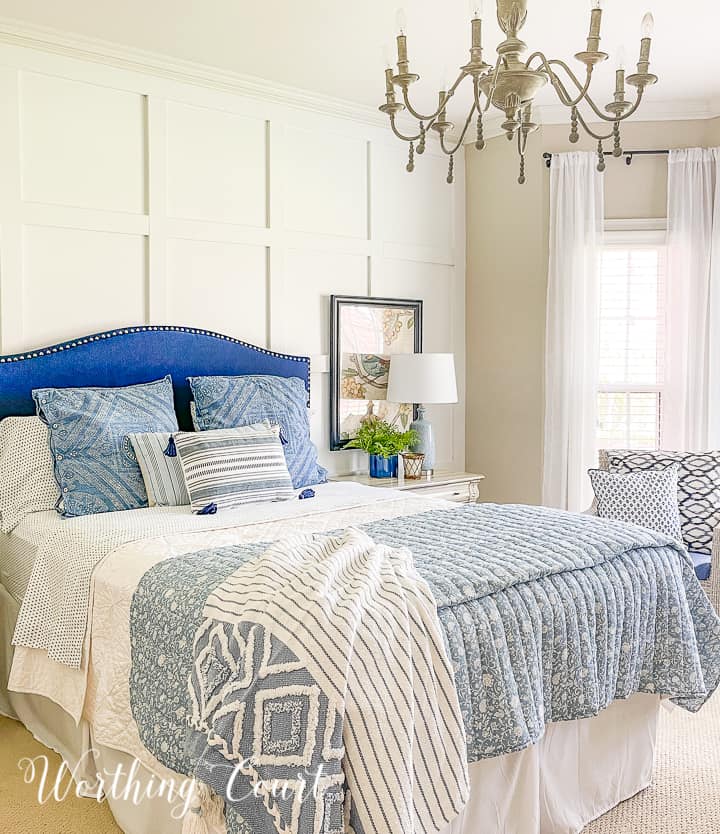 Pin
SHEET SET || BLUE FLORAL COVERLET
ADD LAMPS & ARTWORK
My next step is to change out the lamps and artwork in the room that won't be staying.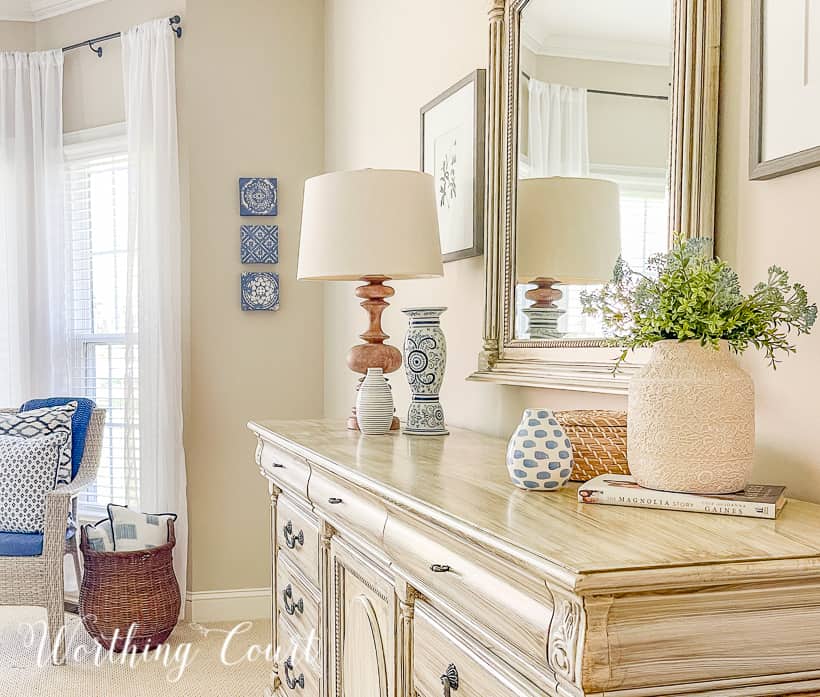 Pin
This one was a bit tough for me in this room. I felt I needed large'ish art pieces to replace the wooden arches that were above the nightstands because the ceilings in this room are 9′ high. Plus the board and batten on the wall seems to make it look even taller.
I also didn't want to compete with other artwork that was in the room and I wanted to colors to all work well together. After quite a bit on searching, I was able to find two coordinating, but not matching pieces that I think work well in the room.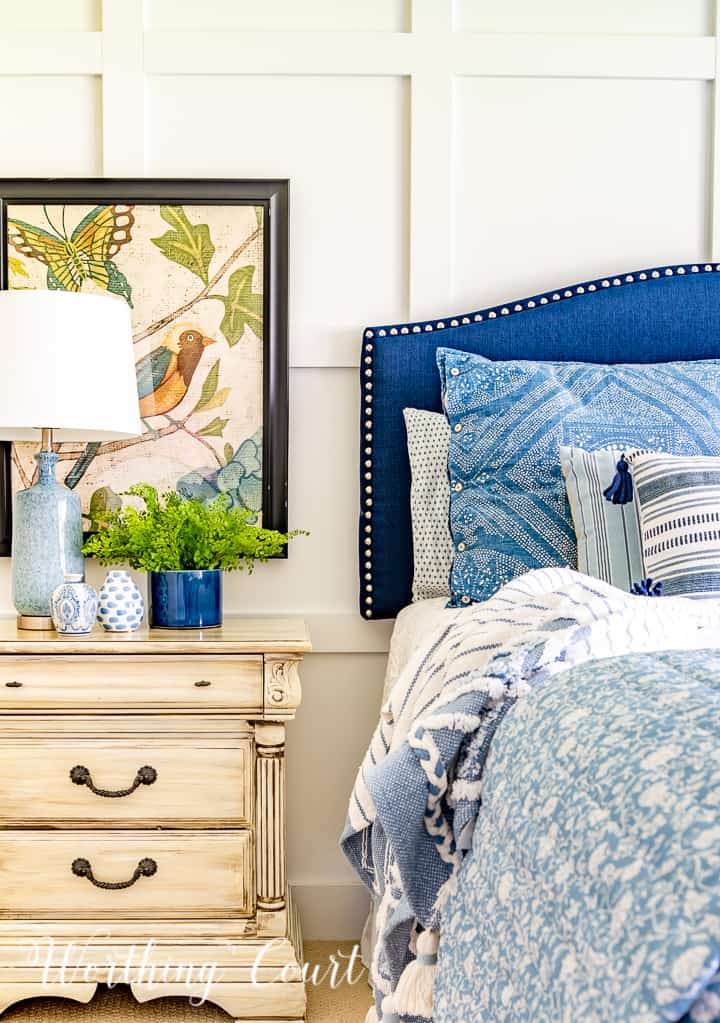 Pin
The next challenge was in finding lamps. I needed lamps that were tall enough to give good lighting while in the bed, but weren't so wide that they blocked all of the artwork.
The only way to avoid completely blocking the main design and colors in the artwork was to either go with super short lamps (which I didn't want) or else place the tall lamps that I did wind up using off-center on the nightstands.
ADD THROW PILLOWS, BLANKETS & ACCESSORIES
Now let's add those final touches that are the jewelry in the room! Things may have looked blah before, but adding the small items will bring the whole room together.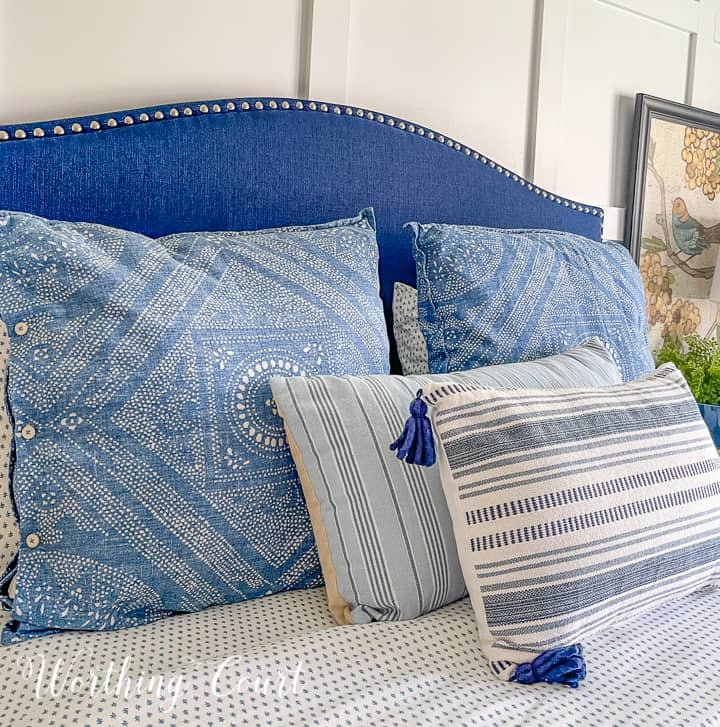 Pin
I adore mixing patterns, so I always have fun with pillows and throw blankets. As you can see, I've used a total of four different pillow patterns on the bed, plus a patterned sheet set, a patterned coverlet folded at the bottom of the bed and a pretty pattern throw that's draped over one corner.
I added even more pattern with the pillows in the arm chairs and the ones displayed in the basket. That's a lot of pattern, but I think it all works well together.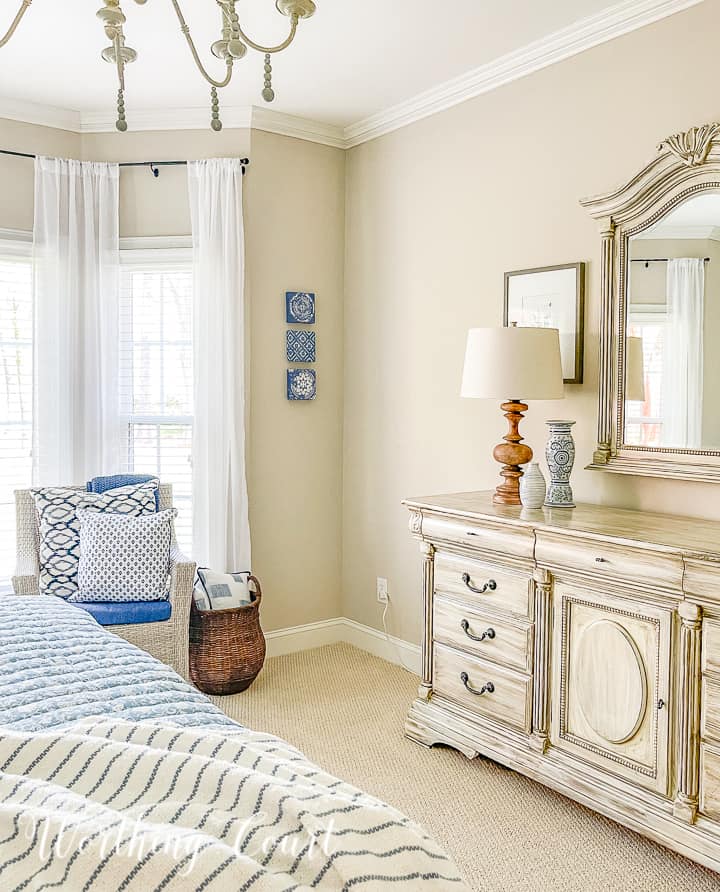 Pin
When it comes to adding accessory pieces, what you're doing is really creating vignettes around your room. In a bedroom, I typically add small vignettes to the dresser and nightstands. Just remember to keep things fairly simple on the nightstands so that your guests will still have space to place their personal items beside the bed.
DON'T BE AFRAID TO MAKE CHANGES
My last tip is to not be afraid to make changes. You may have followed your mood board to a T and still not like some or all of the results.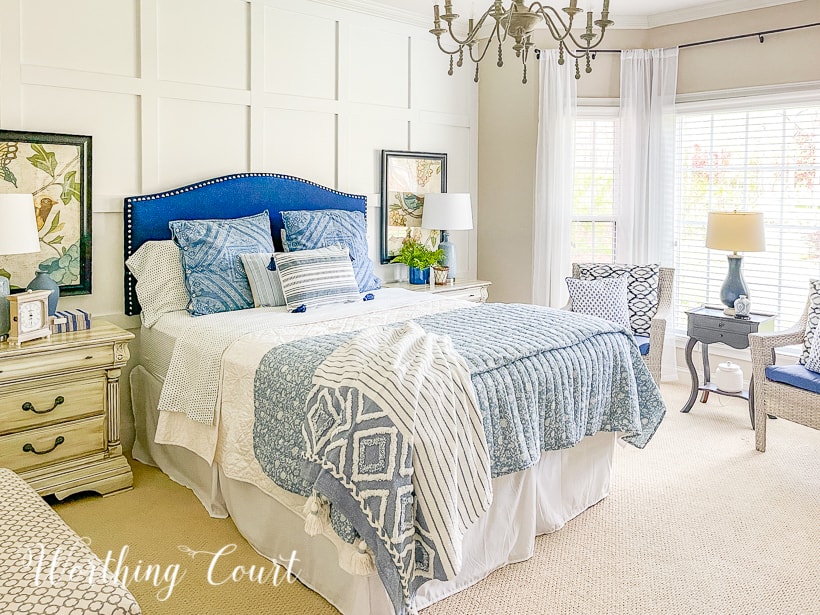 Pin
It's totally OKAY and happens to all of us! If that happens to you, I encourage you give yourself grace, be patient and not to give up, but to keep tweaking until you get things looking exactly the way that you want them to. It's worth it in the end!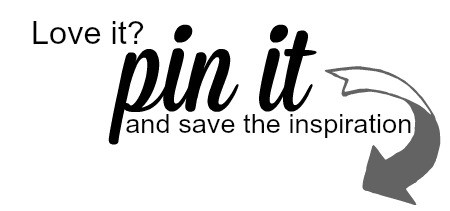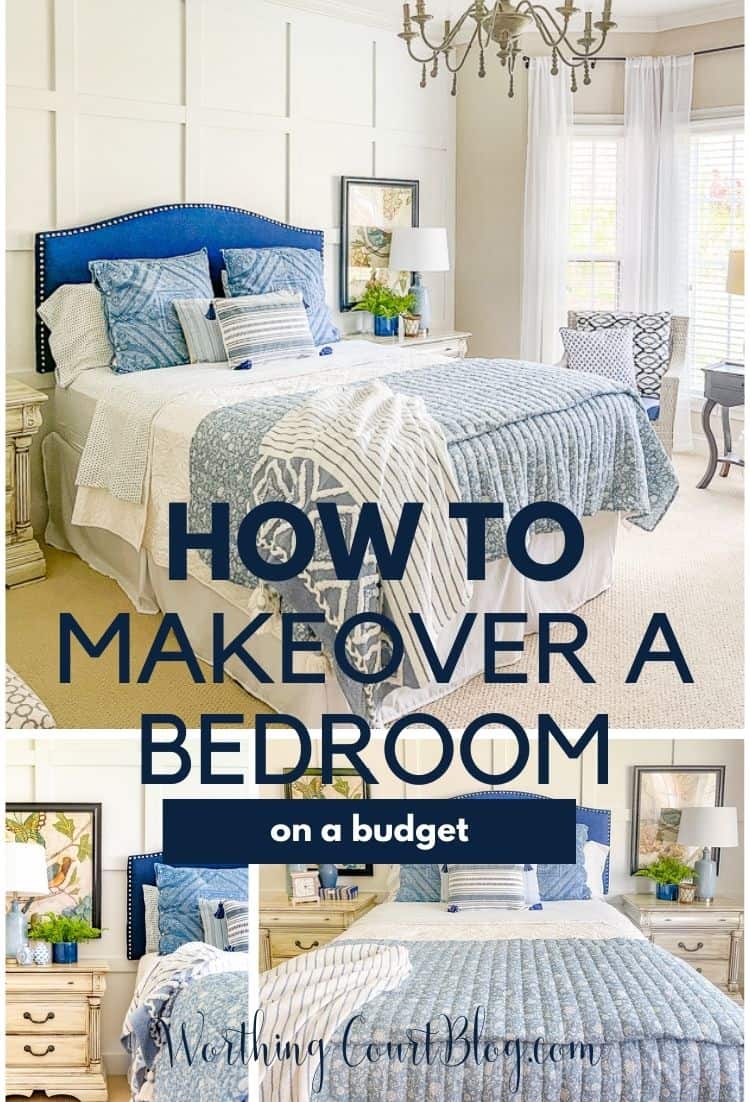 Pin